Candy Cane Frosted Swirl Cookies. Take the classic candy cane cookie and give it a modern update by rolling it and frosting it with crushed candy canes!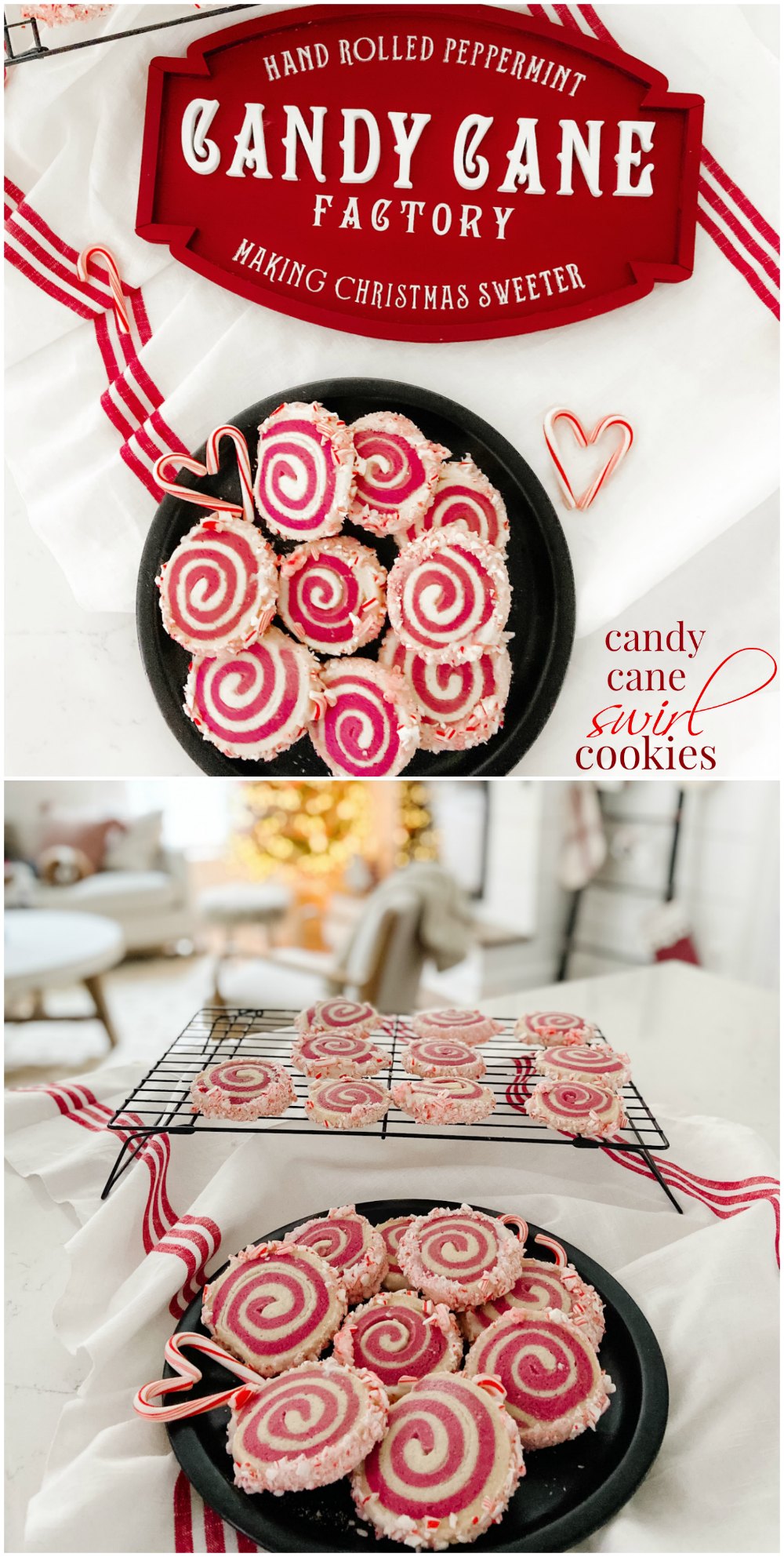 Candy Cane Frosted Swirl Cookies
I took my childhood classic candy cane cookie recipe and rolled it out into sheets, creating a holiday swirl and added some yummy frosting, sprinkled with crushed candy canes for an updated favorite!
13 Holiday Cookie Recipes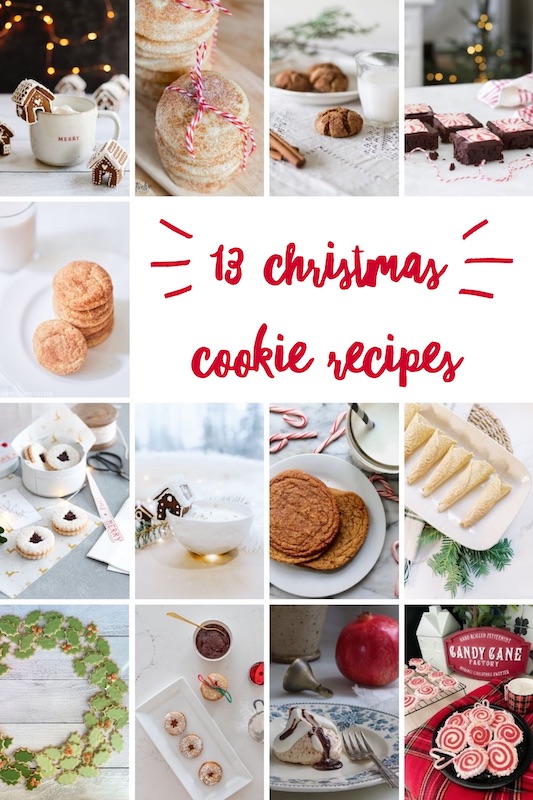 My friends and I are sharing our favorite cookie recipes – perfect for cookie exchanges.
Holiday Cookie Exchange Recipes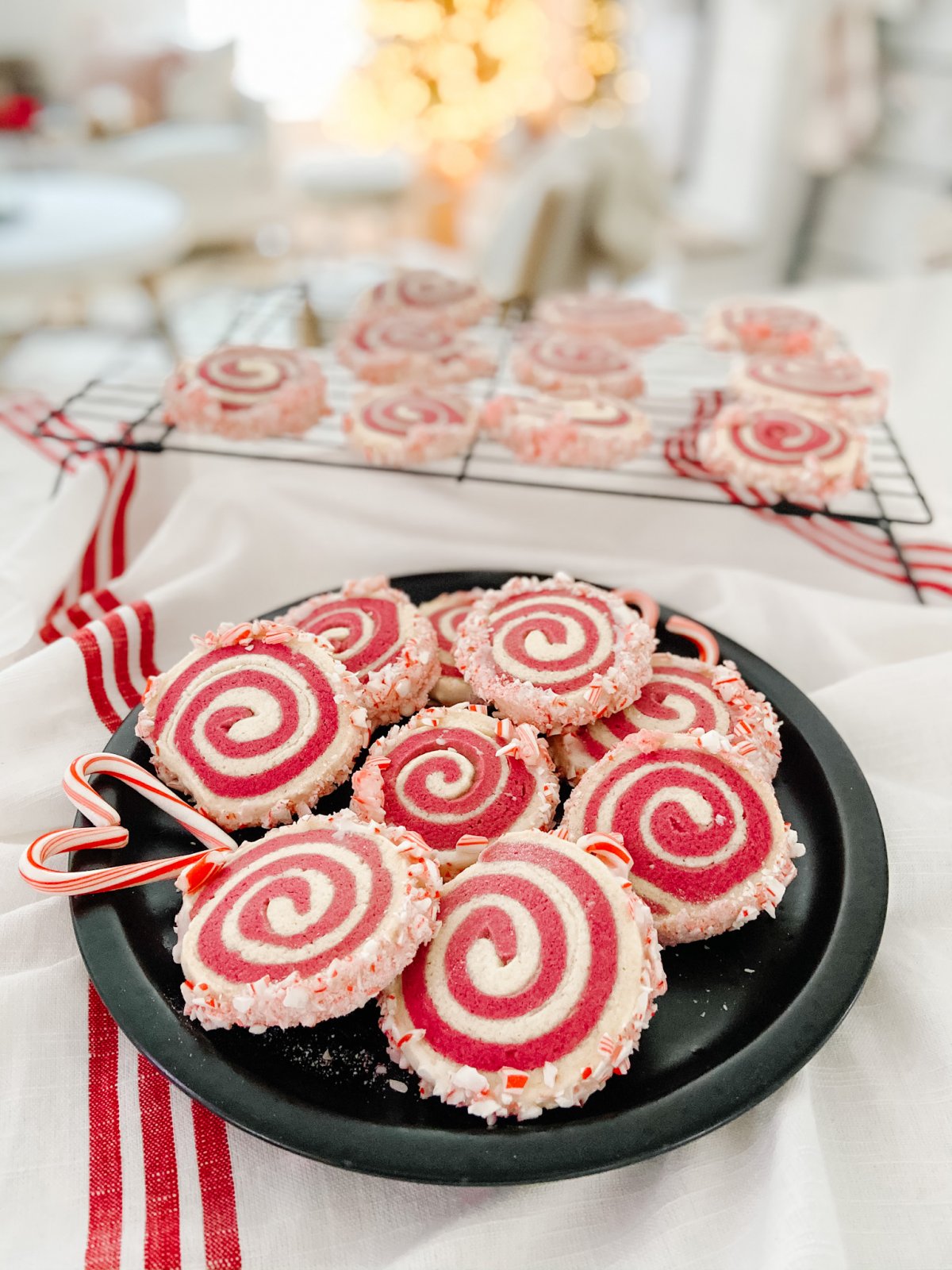 Life might be different this year but cookie virtual cookie exchanges can still happen! My friends and I have joined up to give you some of our favorite holiday cookies ideas. Bake up a couple and take some over to a neighbor's or friends and even exchange some cookies by leaving them on each others' porches!
My Childhood Favorite Candy Cane Cookie Recipe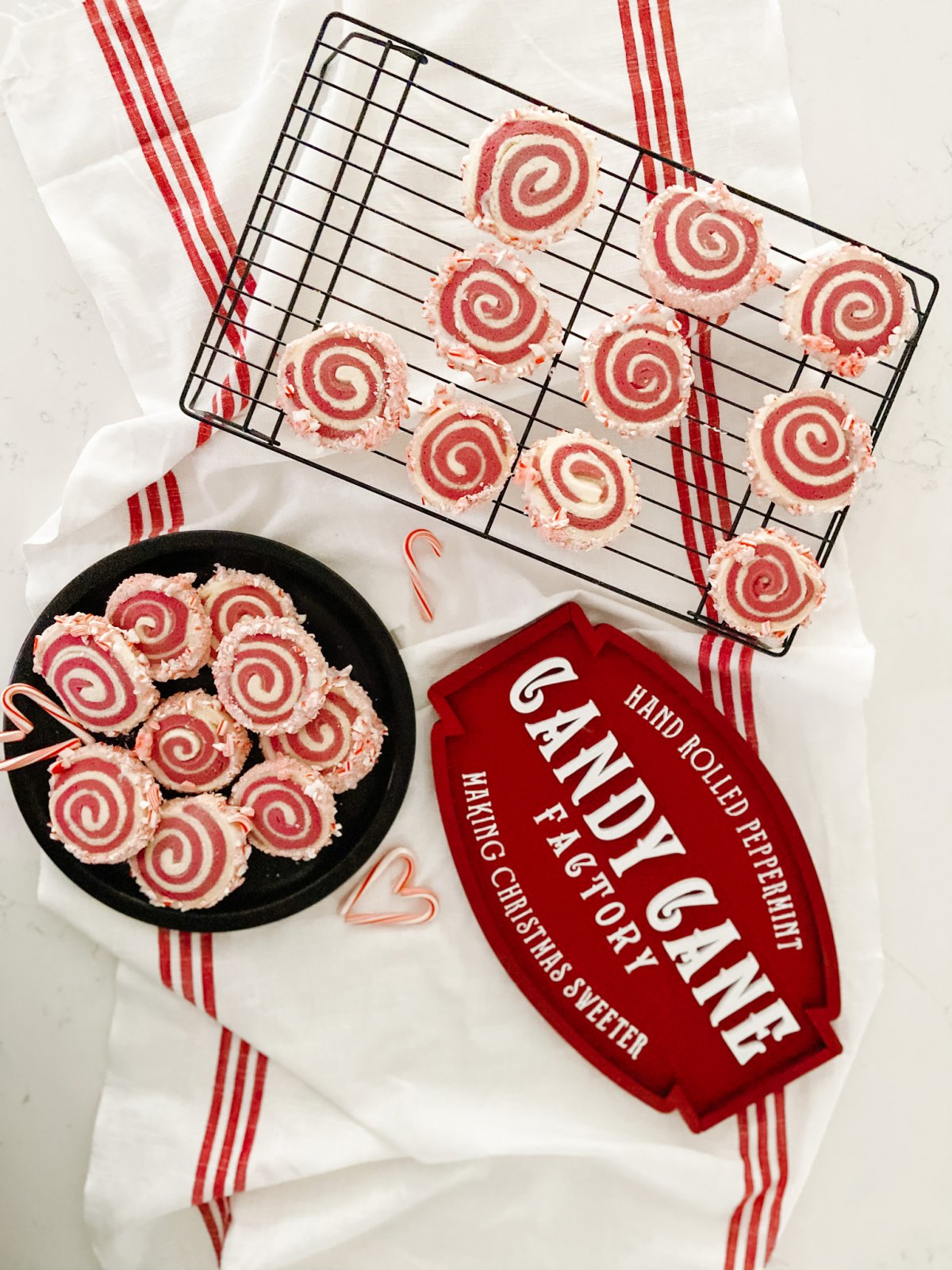 I know I've shared the family recipe book my mom made for us when my kids were very small. I have treasured the book for YEARS and I use it almost every day! One of my favorite memories growing up is making cookies with my mom at Christmas. My sister loved making cornflake wreaths and I loved making candy cane cookies!
Updating My Classic Candy Cane Recipe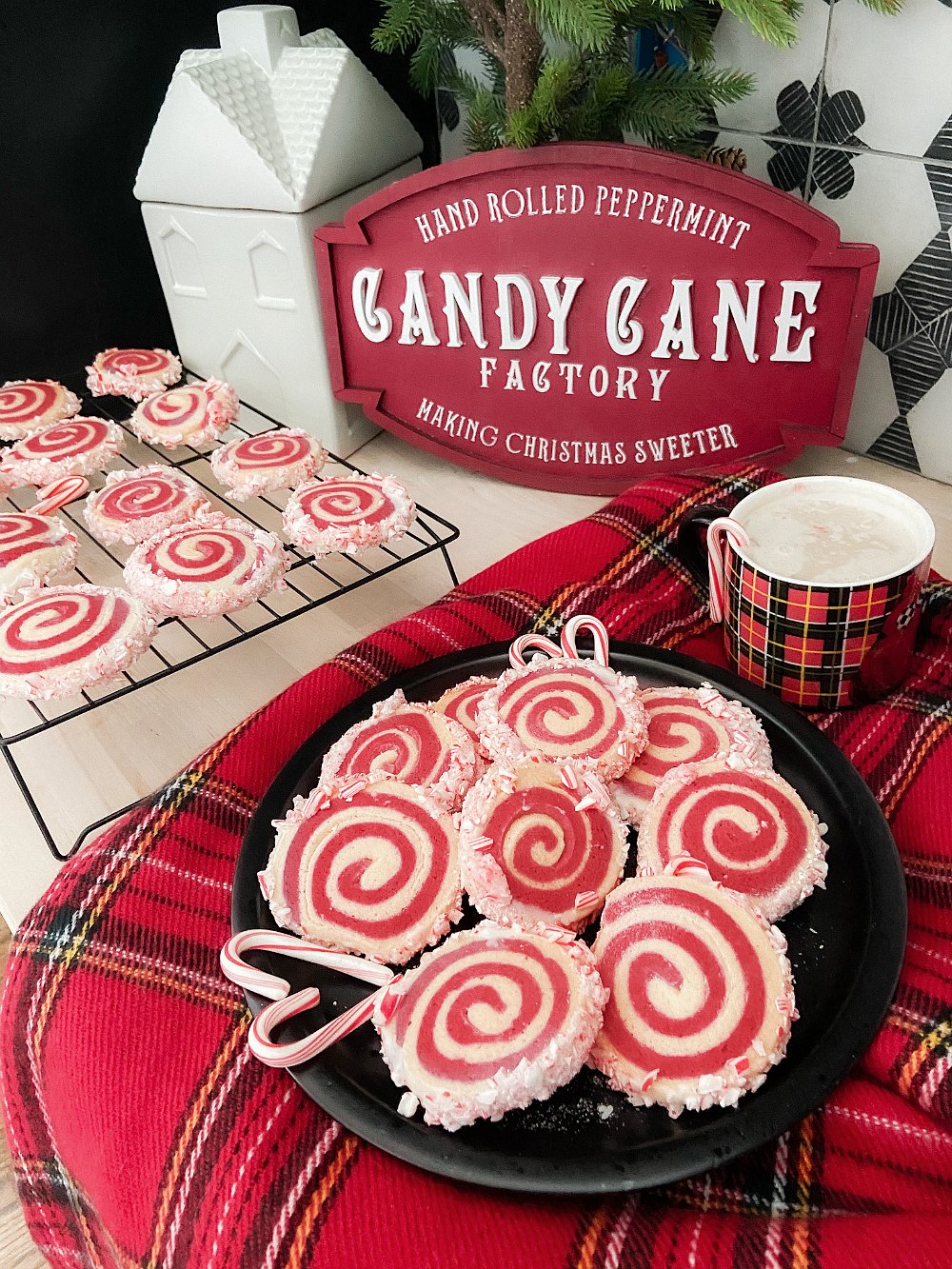 I love a holiday theme for my holiday decor. I decided to go with CANDY CANE LANE as my holiday theme. So of course I had to make my favorite candy cane cookie recipe. But I decided to experiment and I love these swirl cookies.
Easier Candy Cane Cookies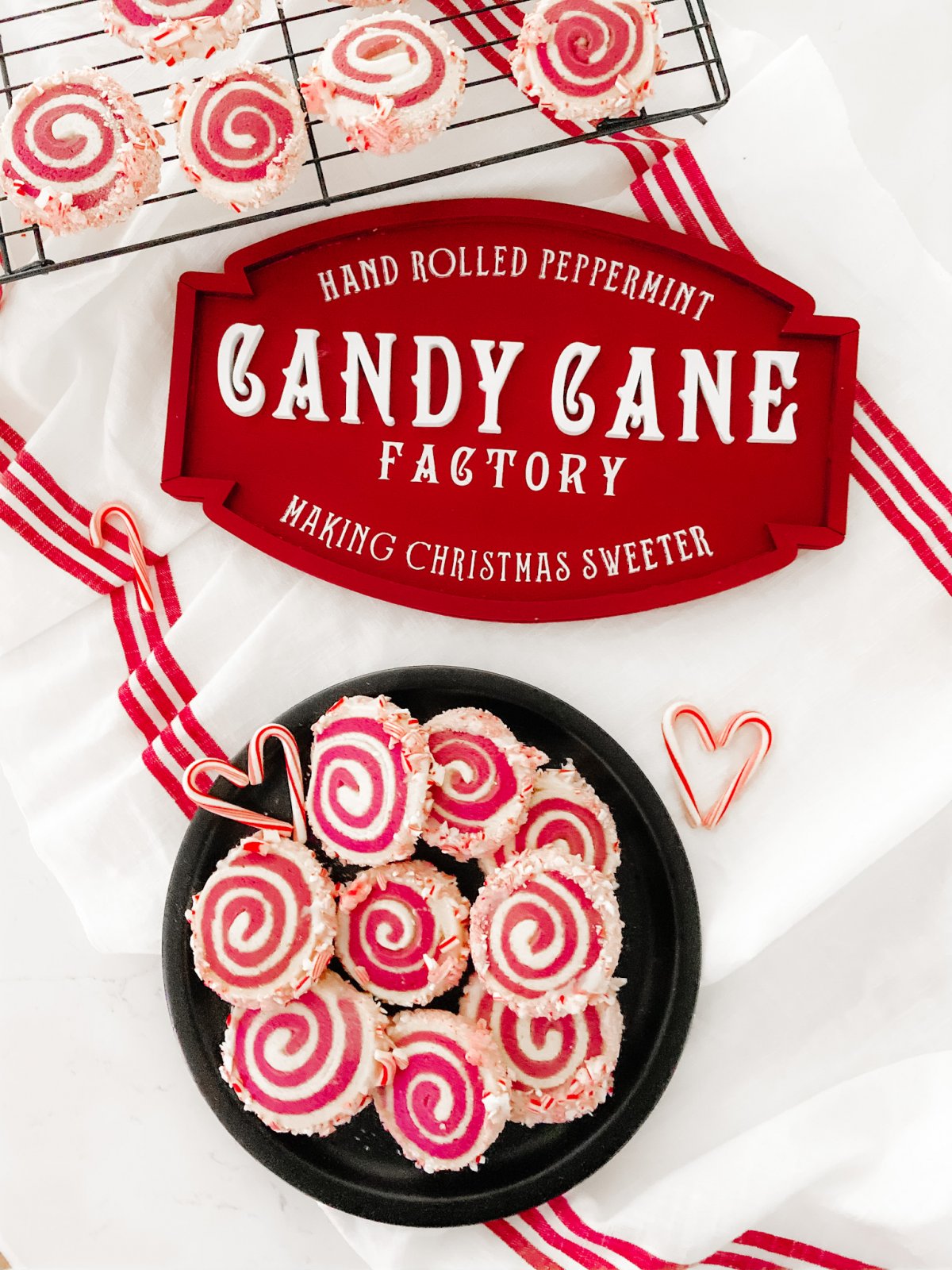 By rolling the dough into sheets, instead of rolling each part of the candy cane cookie separately, it saves so much time and makes creating these cookies SO easy! Just roll the sheets out, lay them on top of each other, roll and then cut into swirl -shapes.
Lay the Uncolored Cookie Sheet On The Bottom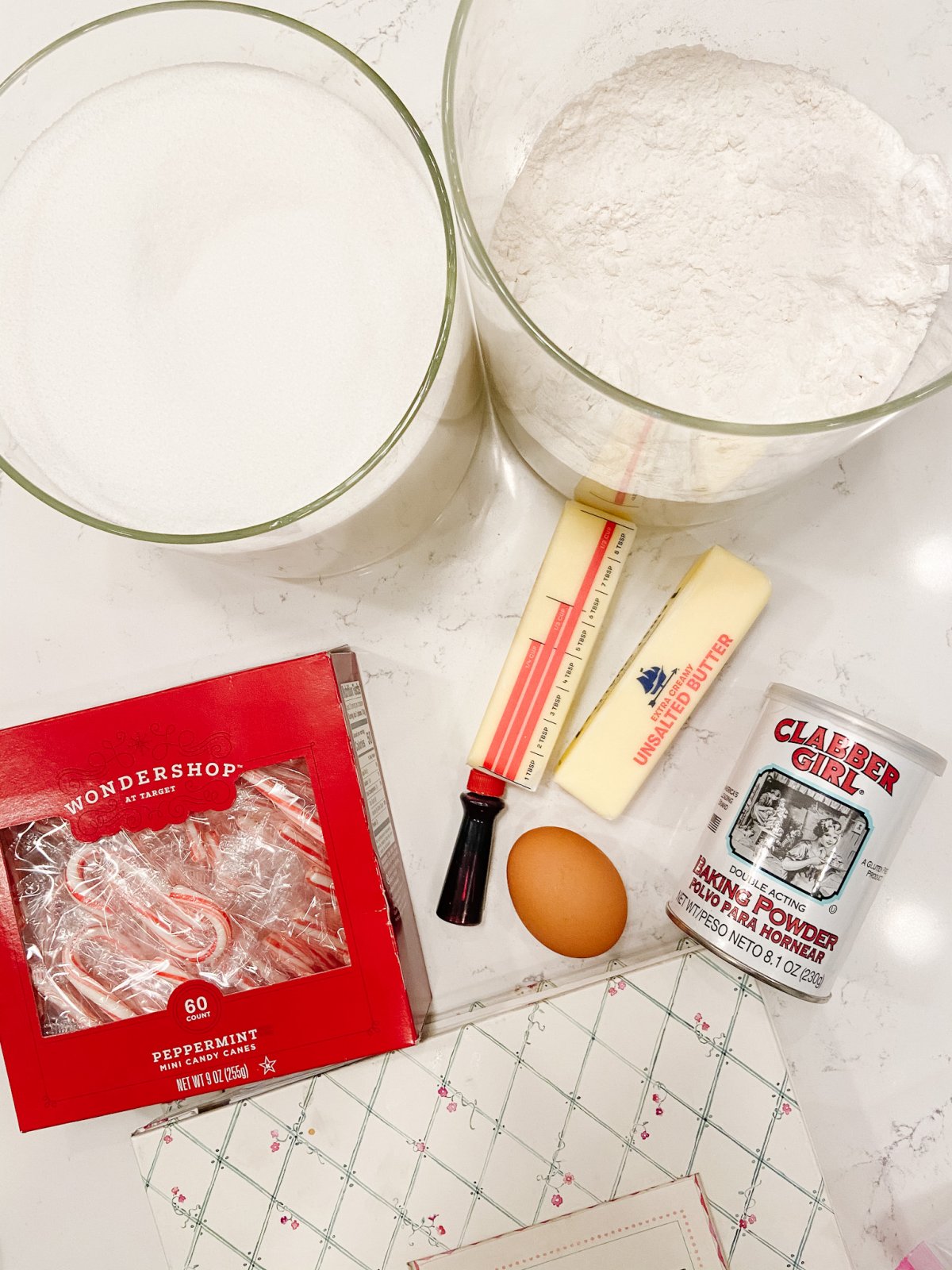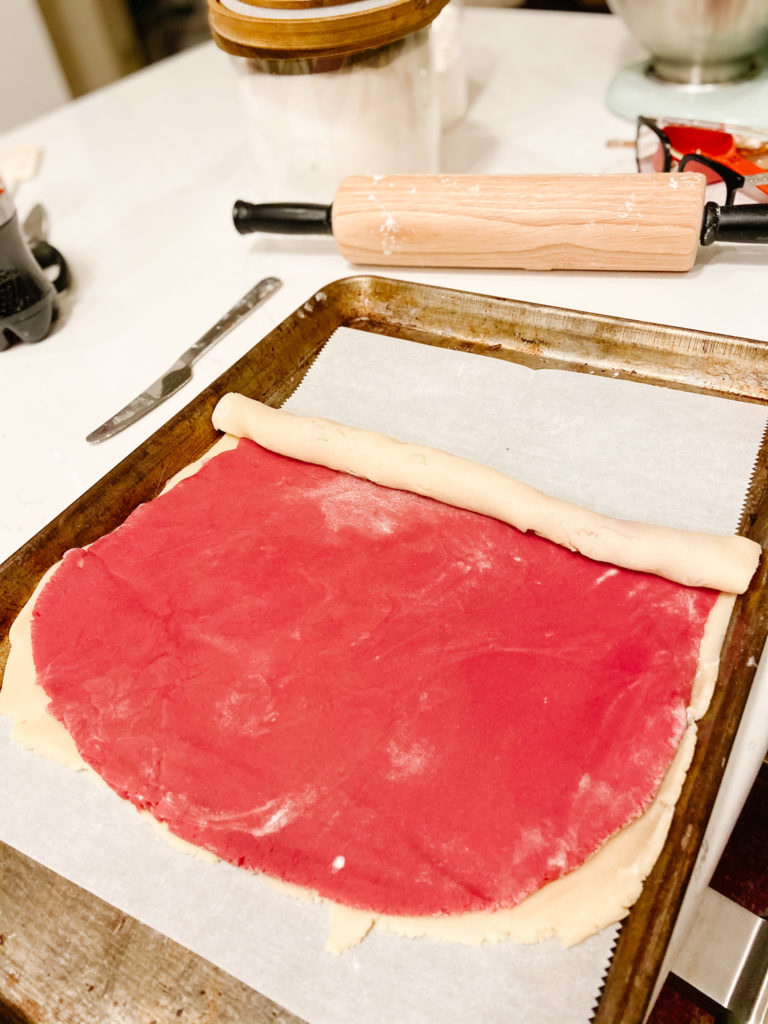 I made a few batches of these cookies to make sure they turned out as good as the traditional candy cane-shaped cookies I love. One thing I discovered is that you need to lay the uncolored sheet on the bottom before you roll them up. The reason is that adding food coloring to the dough changes the texture of the dough and makes it fall apart if it is on the bottom. When the colored dough is in the middle the plain dough sheet keeps the shape together so the swirls turn out.
Chill Rolled Up Cookie Log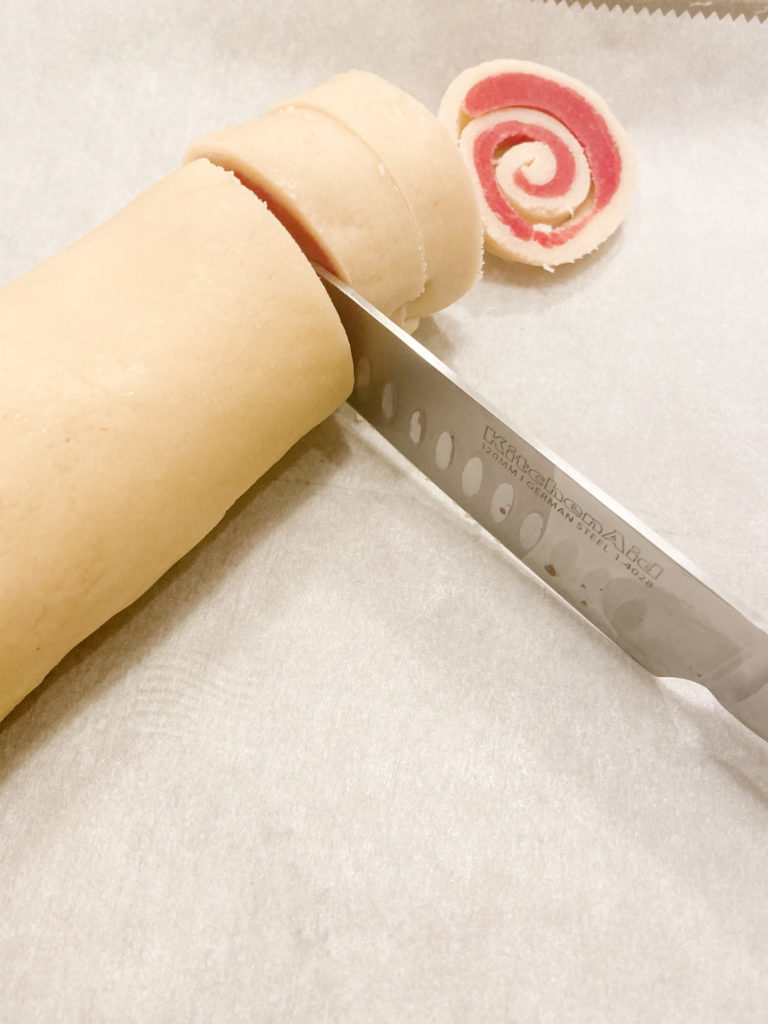 Another tip to make these cookies turn out well is to chill the dough log once you have rolled it up. Wrap the log in plastic wrap and refrigerate it for at least an hour. This makes the dough harder so that it retains its round shape when you cut the slices.
Dip Cookies in Frosting and Candy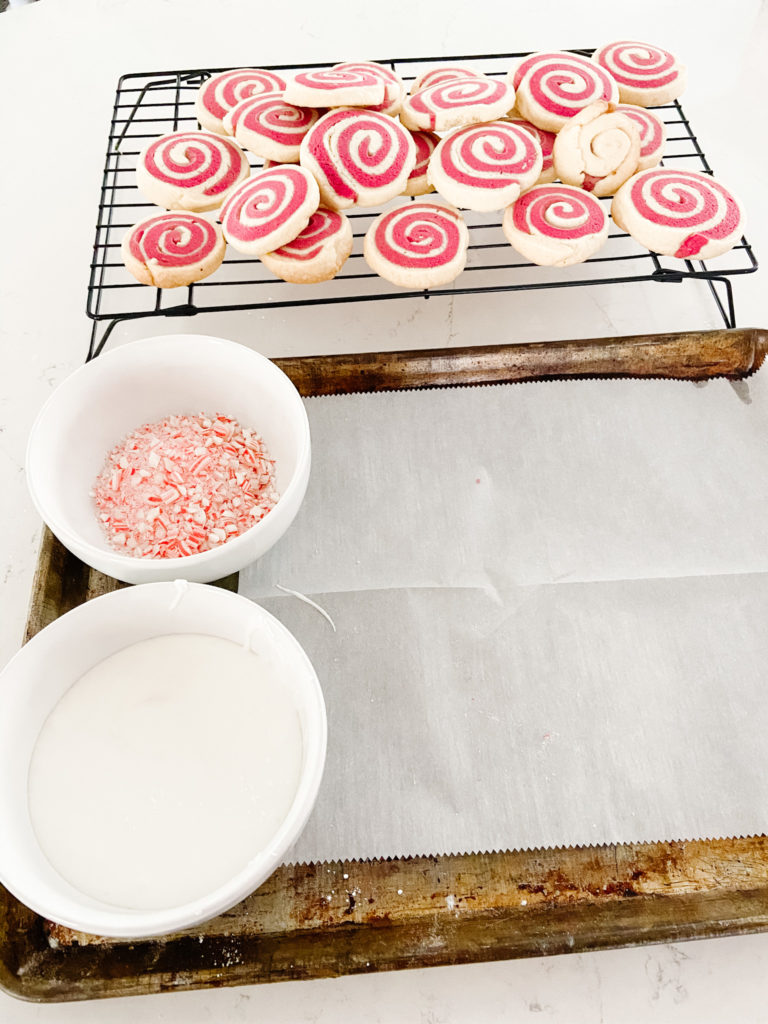 You can enjoy these cookies plain and they are delicious! But if you want to increase the WOW factor and taste – roll the edges in icing and then dip them in crushed peppermint for a cookie exchange-worthy cookie that is as beautiful as it tastes!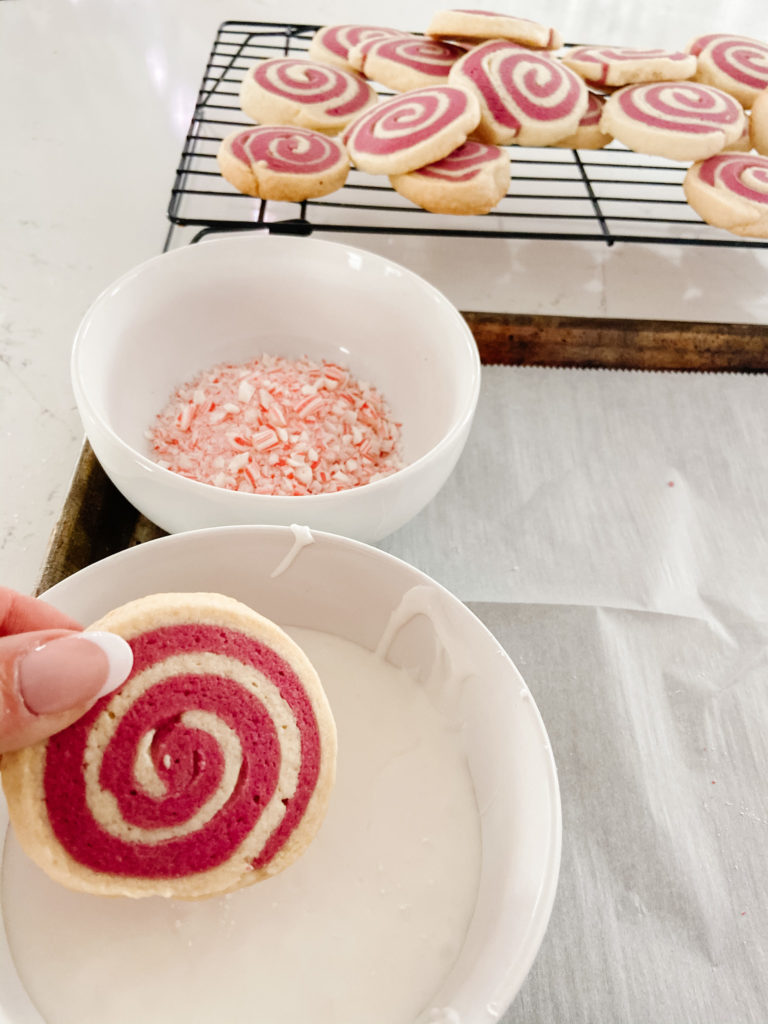 Freeze Swirl Cookie Dough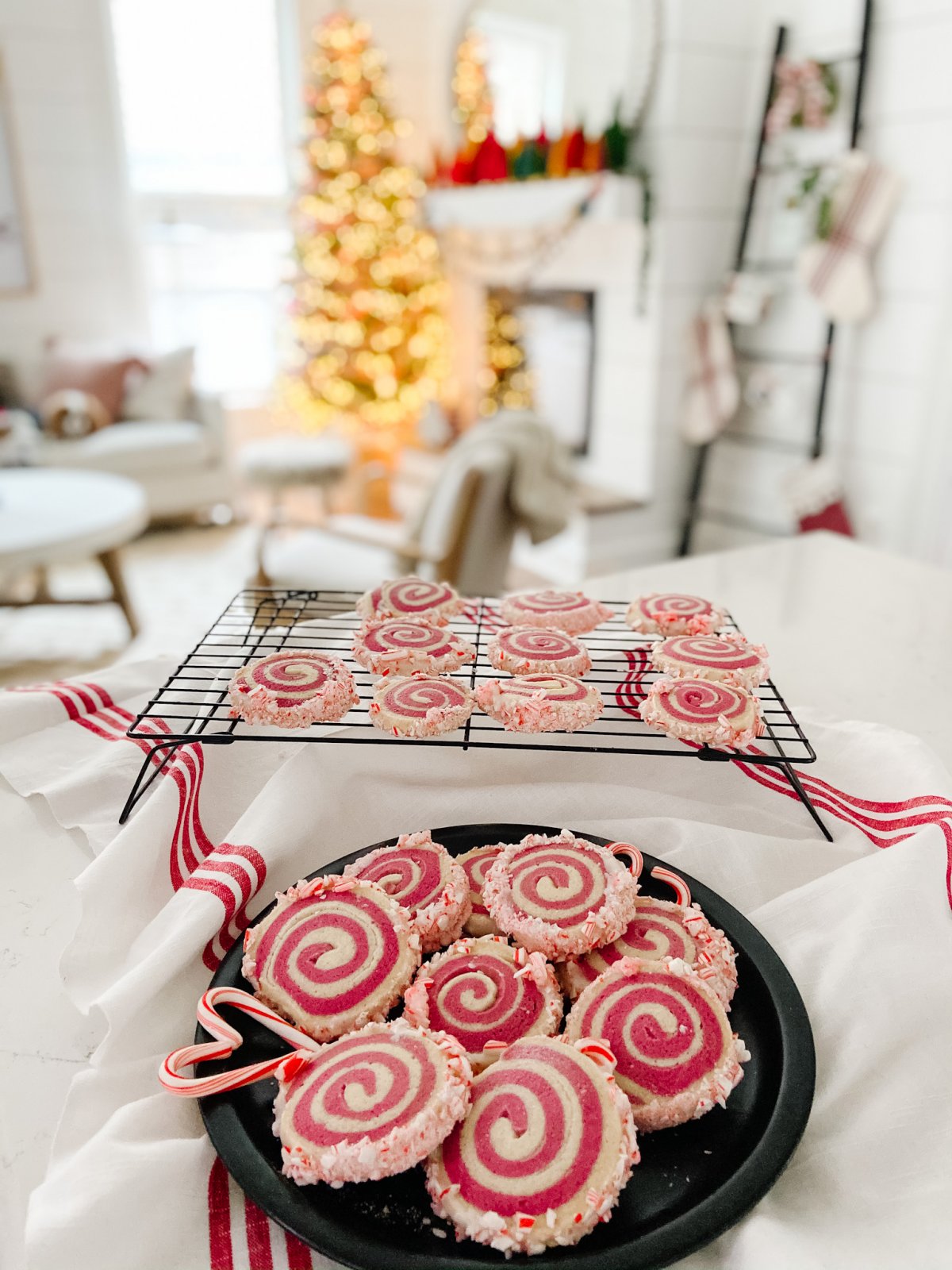 I tried freezing the dough and then making the cookies. I discovered that the dough freezes well. If you are going to freeze the dough, cover it with plastic wrap and then wrap that in aluminum foil. When you want to use the frozen dough, just take the cookie dough log out of the freezer, take the aluminum foil off and put the plastic-wrapped cookie dough log in the fridge overnight to thaw. Then cook as directed.
Candy Cane Frosted Swirl Cookies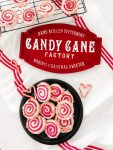 Candy Cane Frosted Swirl Cookies
Candy Cane Frosted Swirl Cookies. Take the classic candy cane cookie and give it a modern update by rolling it and frosting it with crushed candy canes!
Prep Time 1 hour
Cook Time 18 minutes
Ingredients
1/4 cup granulated sugar
3/4 cups butter,softened
2 cups flour
1/2 teaspoon baking powder
1 large egg
1/4 teaspoon red food coloring
1/2 teaspoon salt
1 cup powdered sugar
6 tablespoons milk
20 small candy canes
Instructions
Beat butter and sugar until creamy.

Add flour, baking powder and salt and mix until a ball forms.

Take half of dough out and add food coloring to the remaining dough. Mix until food coloring is distributed throughout. If you want redder dough, add more food coloring until desired red color is achieved.

Roll out each dough separately on floured surface.

Lay the red dough on top of the uncolored dough. Roll it up into a log shape.

Wrap the dough log in plastic wrap and let it chill in the fridge for at least an hour.

After an hour, take the dough out of the fridge and preheat the oven to 350-degrees.

Cut dough log in 1/4 inch sections. Lay the cookies on a parchment papr-lined baking sheet.

Bake cookies for 16-18 minutes. Take out and let cool.

While cookies are cooling, make frosting.

Combine powdered sugar and milk until it's a thick consistency.

Crush up candy canes in a zip lock bag and put candy into a bowl.

Dip the rim of each cookie into the frosting and then in the crushed candy canes.

Lay cookies back on parchment paper and let the frosting set.
Recipe Notes
You can freeze the dough log. Wrap it in plastic wrap and then in aluminum foil. The night before you want to make the cookies, take the cookie log out of the fridge, remove the aluminum foil and put the plastic-wrapped cookie log in the fridge to defrost. The next day bake them as directed.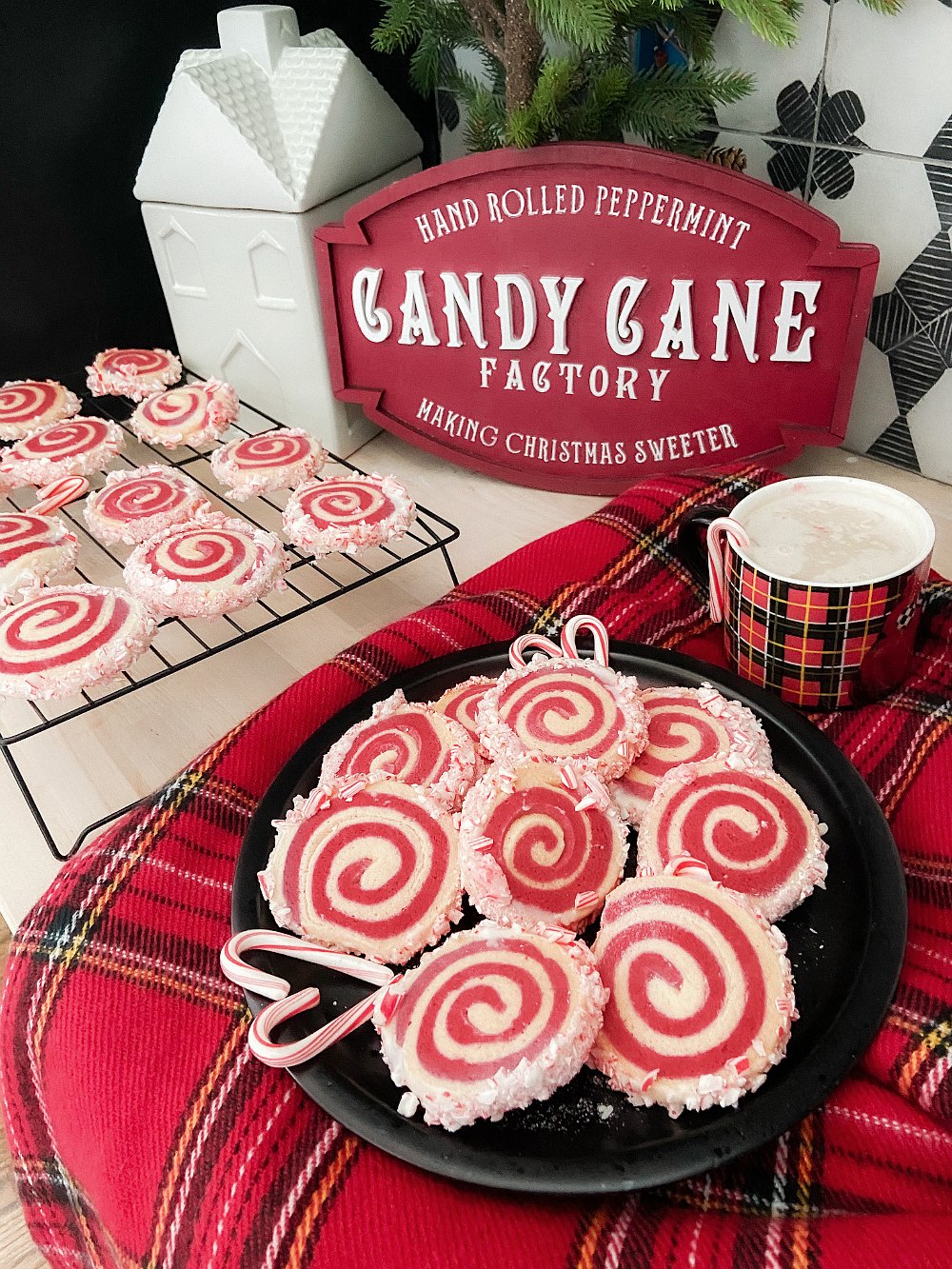 13 Christmas Cookie Recipes





More Holiday Cookies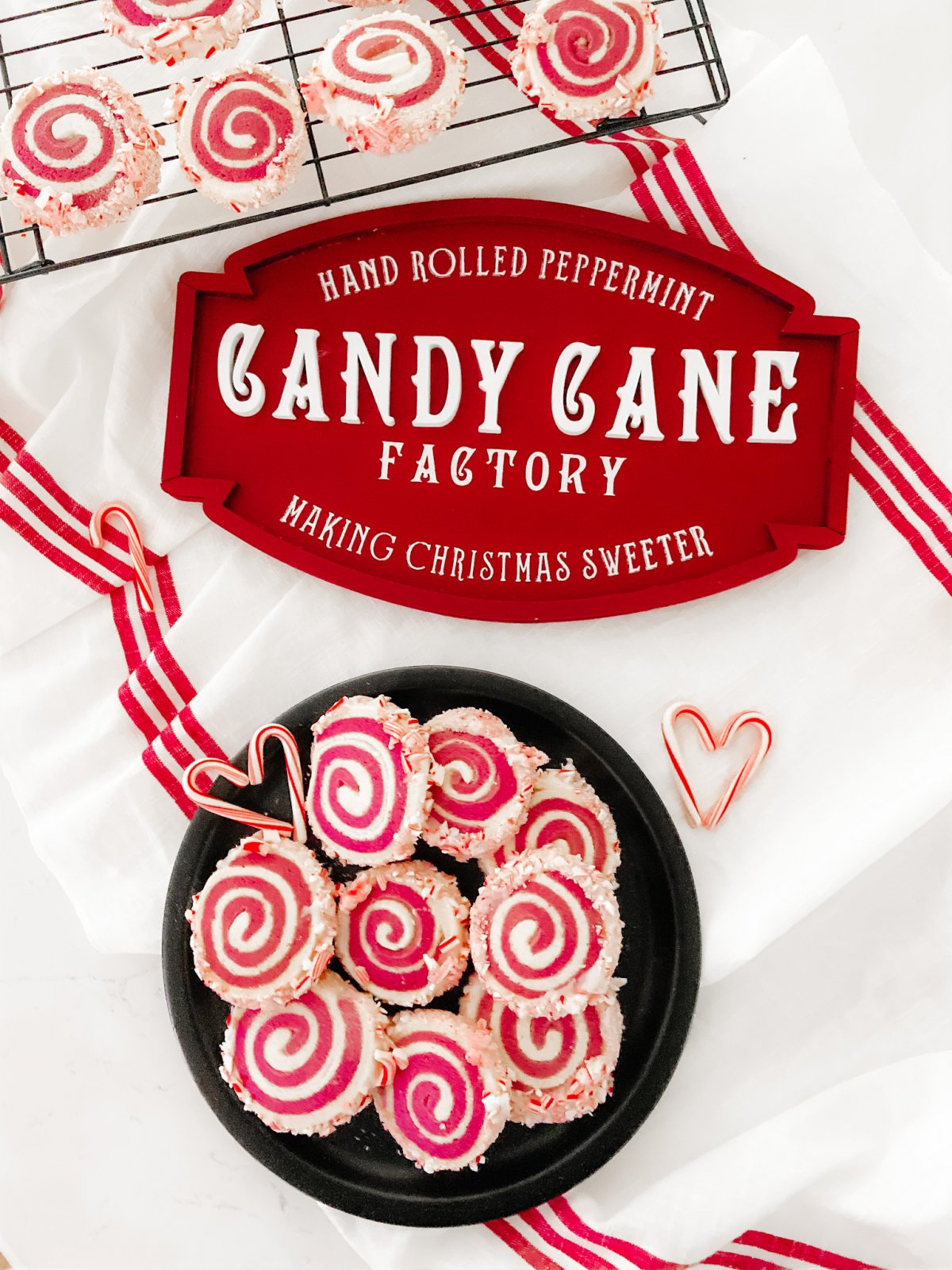 Which cookie recipe do you want to make first?
xoxo