I'm embarrassed to admit this, but there have been quite a few times when I have accidentally thrown away important school papers. It just seems like the little desk area in our kitchen is a dumping ground for my kids. It's an area that always seems to be cluttered and messy.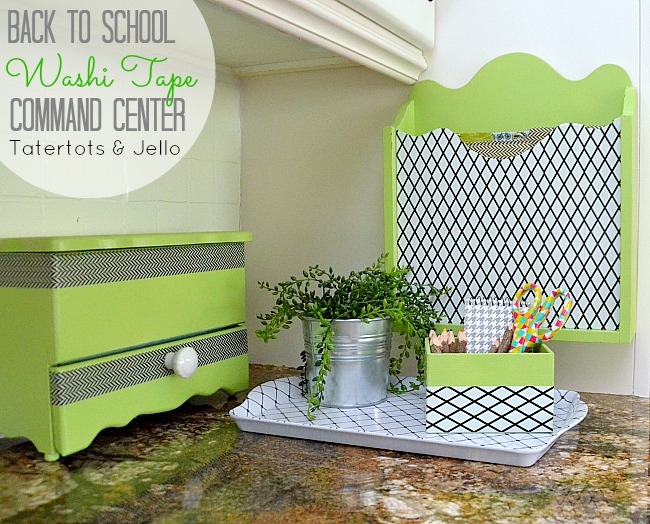 So this year, in an effort to organize my home and help myself stay a little bit sane, I decided I need a place to keep all of those papers so they aren't lost. Plus, we can't ever find a pen or pencil! Does your home have a giant black hole like ours does which sucks any writing utensil into a never-to-be-seen-again vortex?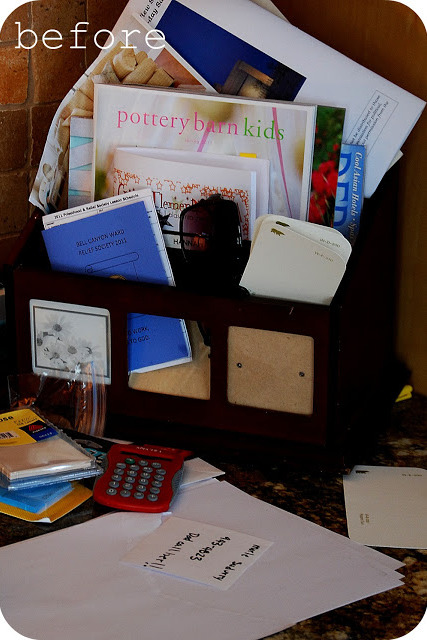 This is an older picture, but it's basically what this area looks like generally.
I needed a place where we can keep things the kids need for assignments, pencils, pens, scissors, a calculator and then also folder for each person in the family for papers that need to be returned or filed. And a place to charge phones. Kind of a Homework Station and all-around Family Command Center.
So when Scotch Expressions (3M) contacted me and asked me to create a project with their super adorable new line of Scotch Expression Tape for Back-to-School (#ScotchBTS), I knew what we needed!
This post is brought to you by Scotch Expressions. All opinions and ideas are 100% mine.
Here's how I created our new and happy Family Command Station:
I went thrifting and found a vintage wooden jewelry box, a wooden file box and a little wooden box that would be perfect for pencils. Yay!
Then I took them home and gave them a coat of primer and then a coat of Apple Green Spray Paint.
One they were dry, I got to the fun part — tape!!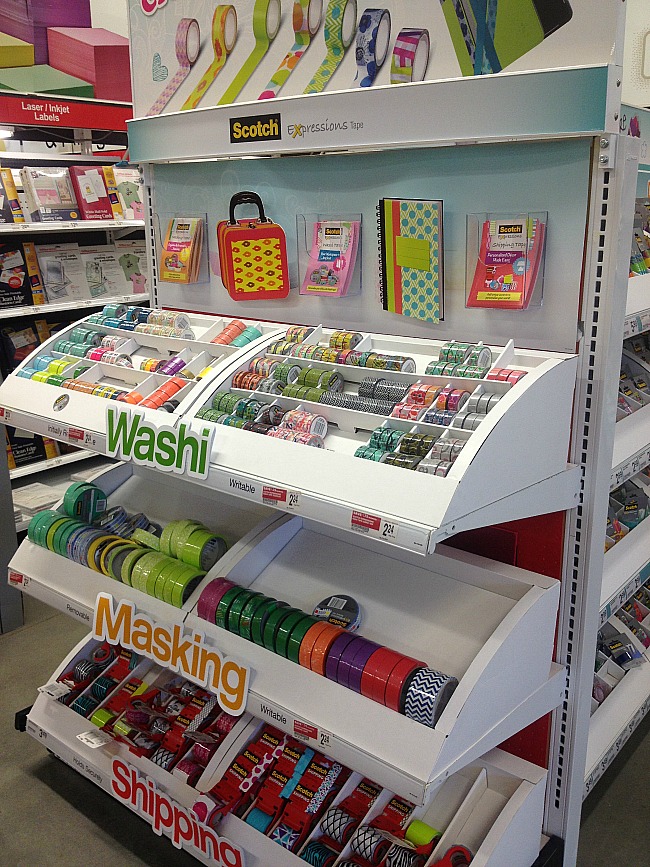 Have you seen the new Scotch Expressions Tape?? They have so many amazing colors and designs of washi tapes, masking tapes, shipping tapes and more! I had a fun time at my local office supply store picking out some patterns and colors that would go with my home's decor.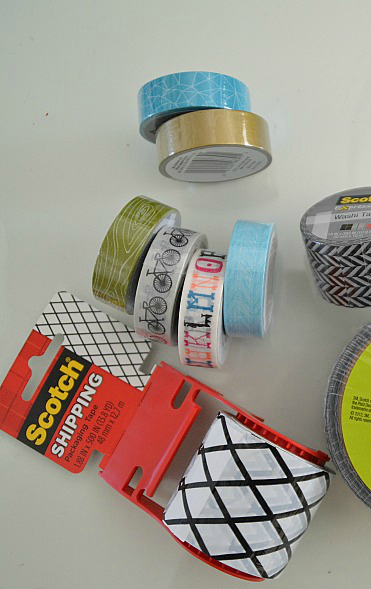 I took my thrift store finds and covered them with some of the cute tapes! I love the way they turned out!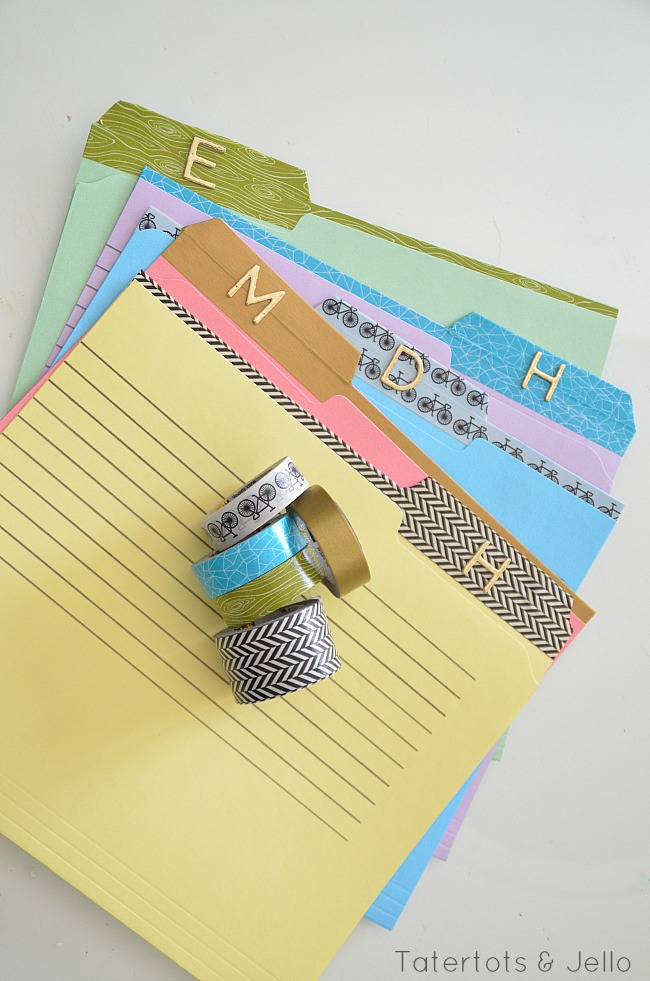 And I also took some manila folders and attached Scotch Expressions washi tape to the tops for each of the members of my family and then an initial at the top. (they even have GOLD washi tape!!)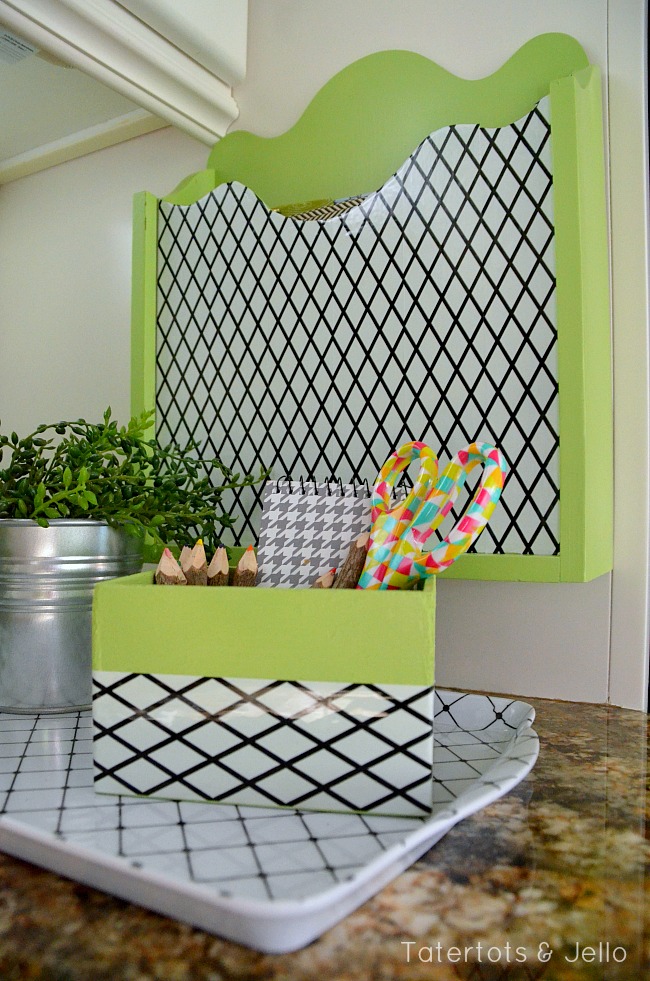 I attached the wooden file folder to the wall with Command Strips – so I didn't have to put any holes in my walls.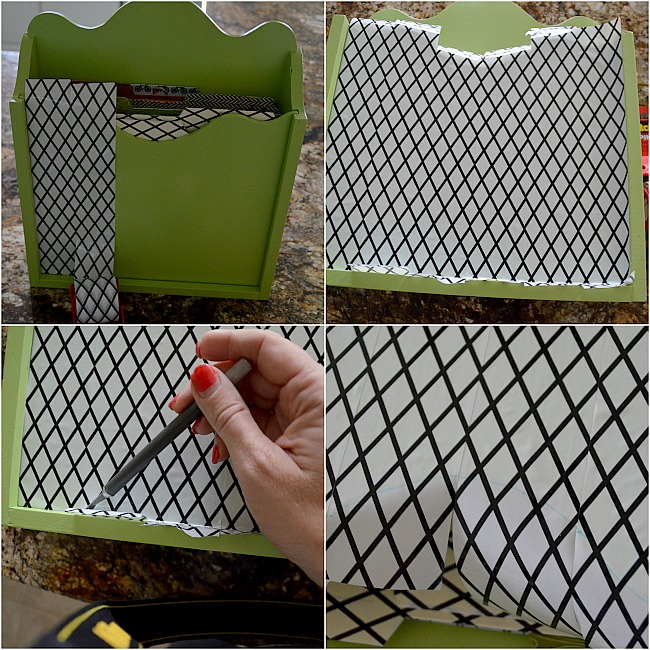 And I loved that the Scotch Expressions black and white shipping tape I picked for the front of the file folder holder almost exactly matched a resin tray that I bought a few years ago. You can create the same look on a plain tray by smoothing some of the same packing tape on a flat tray and matching up the strips. And the shipping tape is smooth so I think it could be wiped down with a damp cloth.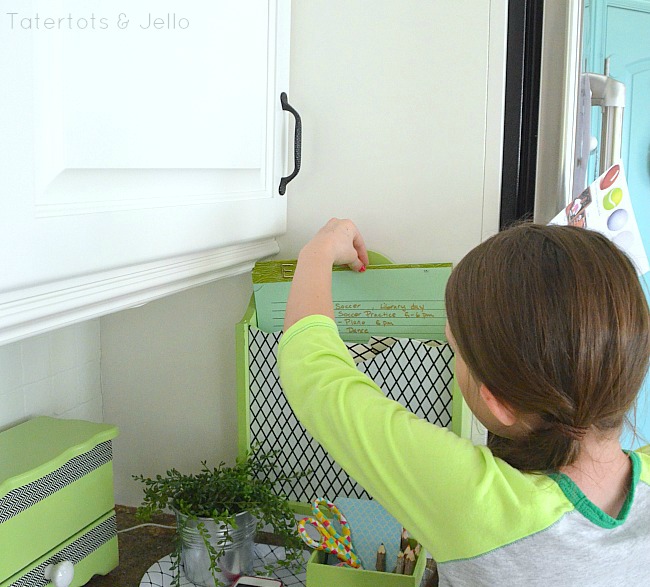 To make the tape seamless on the front of the file container –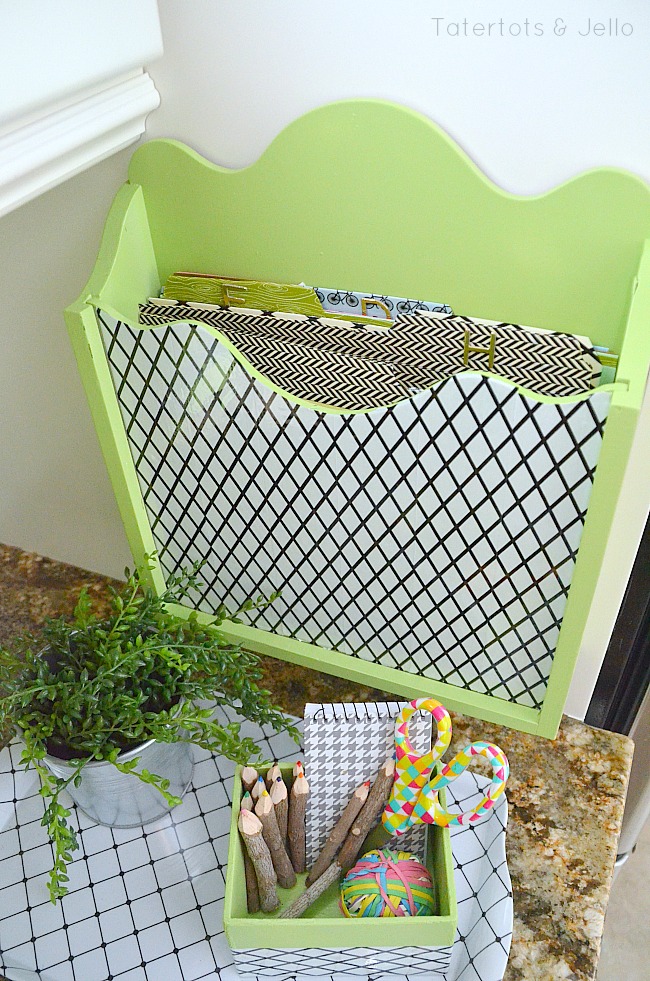 I lined up the tape with the sides of the wooden file box.
Then I lined up more tape pieces all the way across the box – matching the pattern, leaving a little excess at the top of thebottom.
I used an x-acto knife to trim the sides and bottom pieces of he tape.
At the top of the box, where there was a curved line, I traced the shape all the way across with a light-colored pen.
Then I cut the tape at the top along the lines.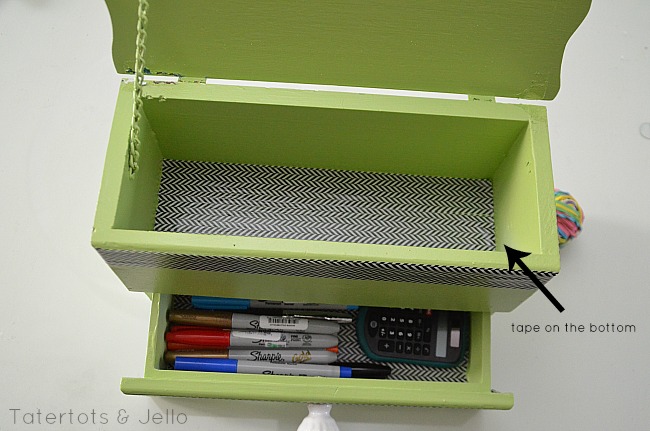 And I even put some of the tape on the bottom of the drawers. It's such a pretty POP against the green.And I even added a shiny new knob to the drawer!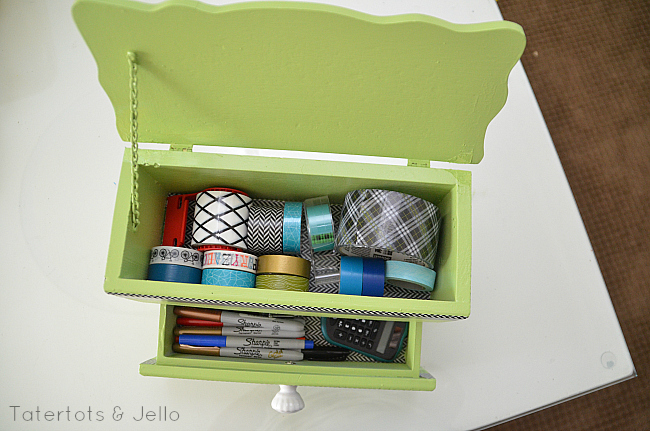 I love this little organized area of my kitchen!!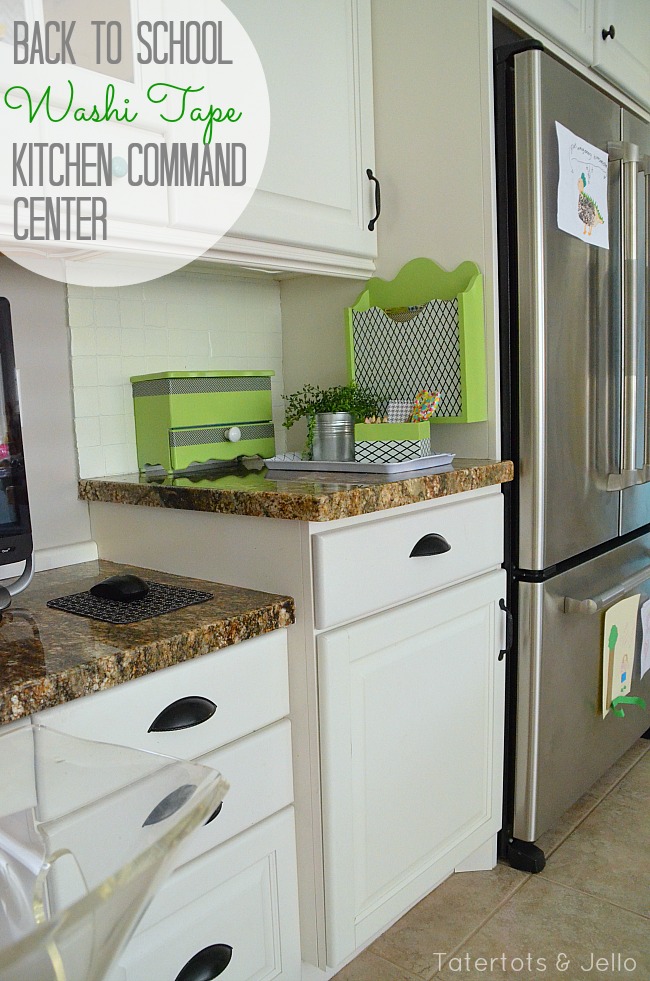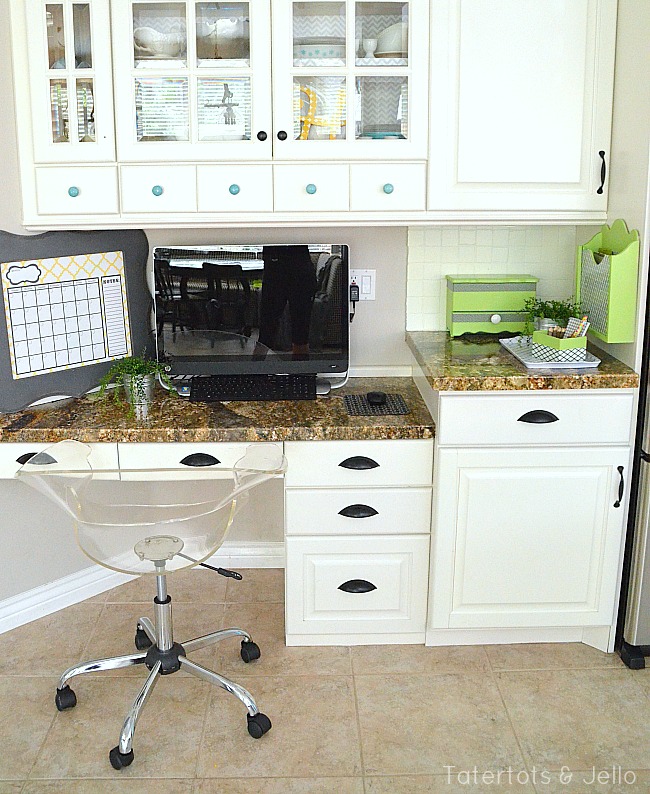 And be sure to check out a FUN contest that Scotch Tape is running right now for the Most Gifted Wrapper! Eight finalists will win 3-night all-expense paid trip to New York to compete for a $10,000 Grand Prize and the title of the 2013 Scotch® Brand Most Gifted Wrapper™. So awesome!! Be sure to see how YOU can win — the deadline to enter is coming up soon — September 22nd. Don't miss out!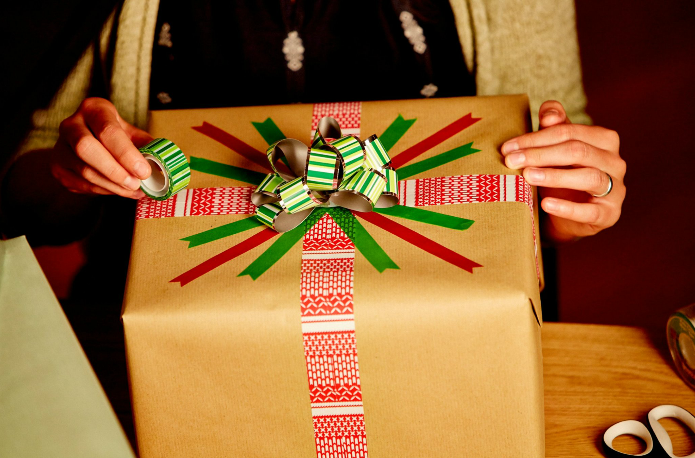 Be sure to enter to win!!
How do YOU keep your family organized??
Share YOUR ideas with me in the comments. I would love to know!
Have a Creative Day!!
xoxo

Disclosure: 3M provided me with product and compensation for this post. Regardless, I only post about products or companies I love. All ideas are 100% my own. See my disclosures for more information.