25 Gorgeous Modern Farmhouse and Cottage Kitchen Tile Ideas. Update your kitchen easily with tile. There are some gorgeous on-trend ways to bring style and personality to your home!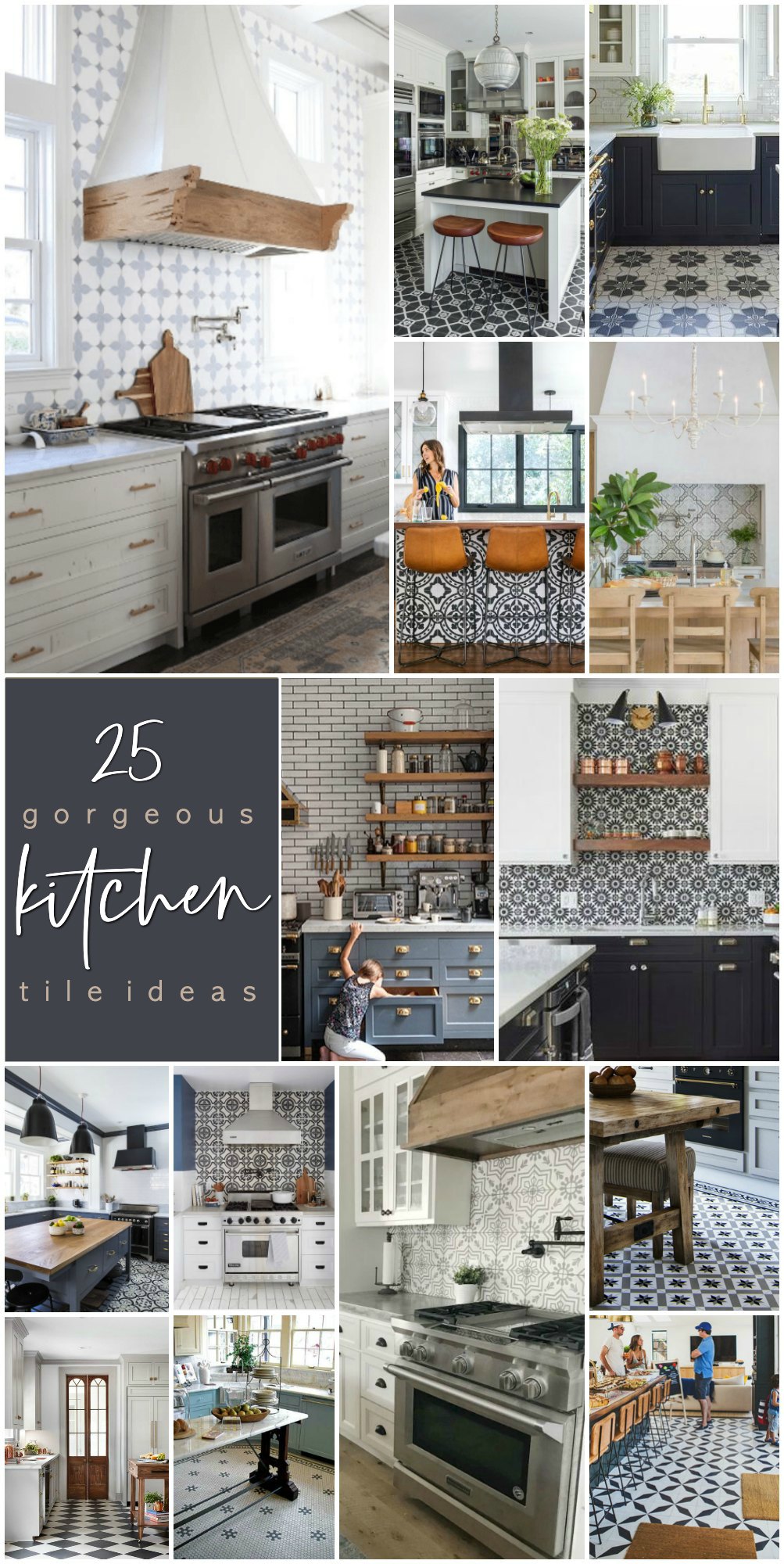 1891 Avenues Cottage Remodel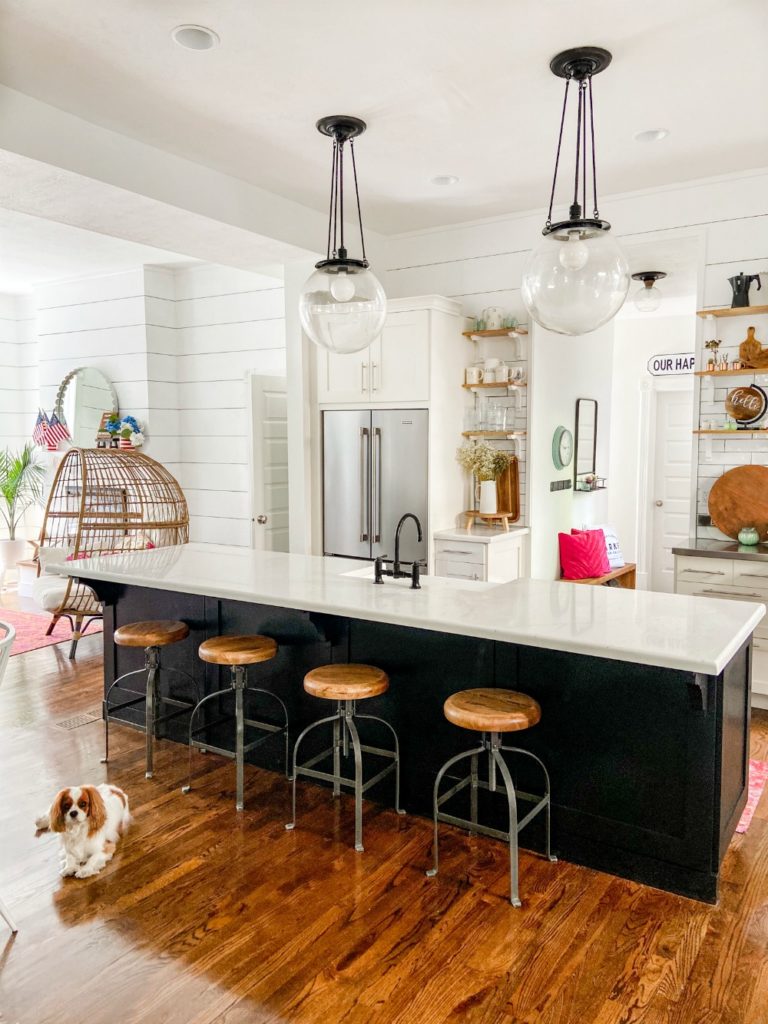 We are just finishing up our #1891AvenuesCottage kitchen remodel and I couldn't be MORE excited! I painted our island last week and installed the new knobs this week! So my mind is ALL about kitchen design right now!
Kitchen Tile Makes a Huge Statement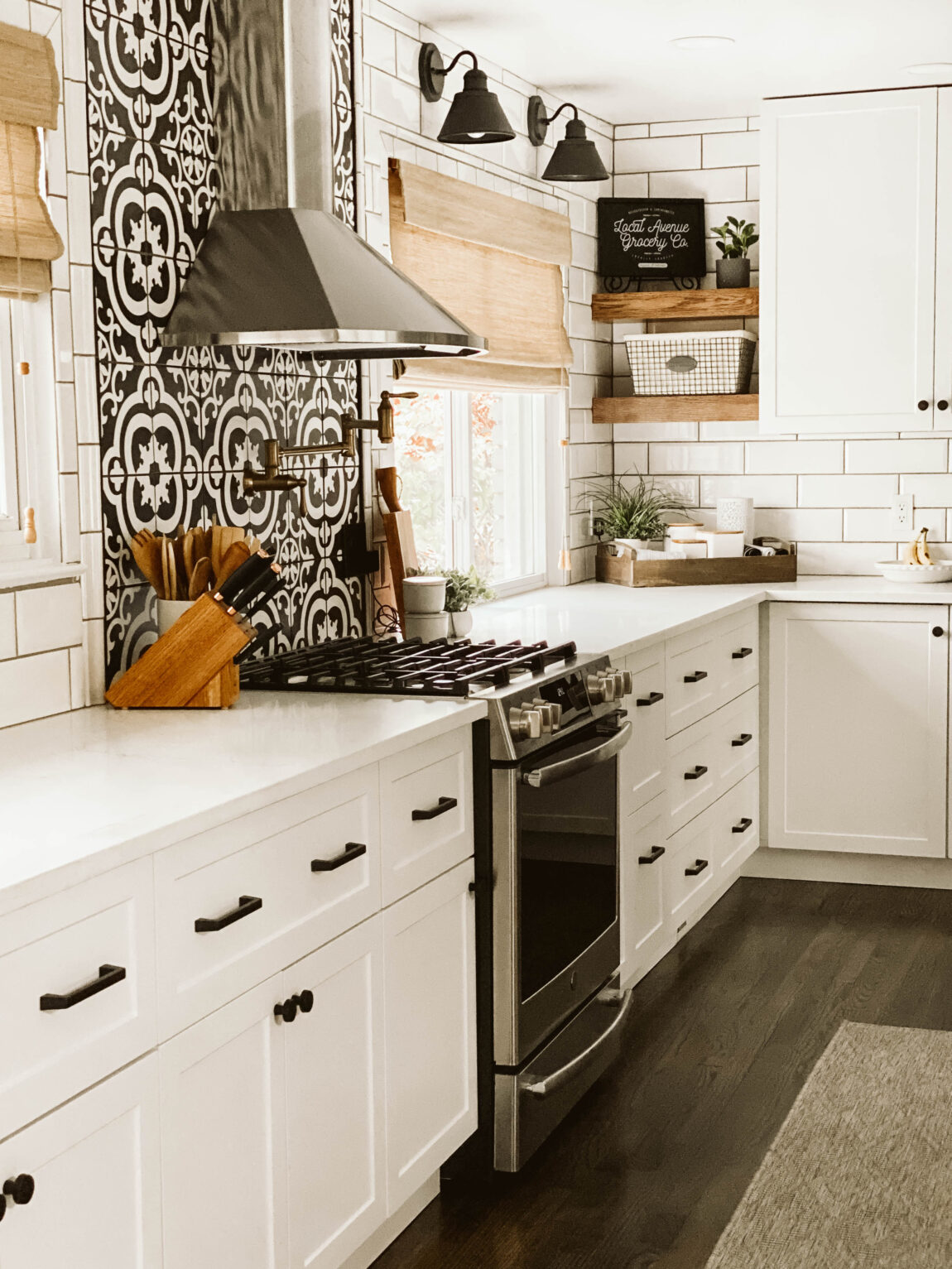 Clark + Aldine Kitchen remodel
Installing new kitchen tile might seem overwhelming but it's really a simple way to bring a potentially HUGE statement to your kitchen. I learned how to tile a few years ago as I was working on my 1905 Cottage remodel. And even if you don't want to install the tile ourself, you can contract it out for a very reasonable price. The tile itself is pretty inexpensive.
Consider Hiring an Expert
While tiling a straight wall as you find in new homes is pretty straight-forward. If you have an older home like ours, your walls might be crooked or uneven which makes installing the tile more difficult. For our new home I worked with Frank from Frank Smith Renovations and he did such a great job on our walls!

What Types of Tile are Considered "Farmhouse" or "Cottage"?
Farmhouse tile is typically tile that was around in the time farmhouses were the typical family home, generally anytime around the turn-of-the-century or before. Think subway tile, brick, simple tile or stenciled tile. Modern farmhouse takes that trend and adds a modern element such as a different color, pattern or design that plays off of that farmhouse aesthetic. Cottage is generally the same as farmhouse. The nice thing now is that a lot of tiles that are considered "modern" can be incorporated into a more farmhouse feel and bring a fun spin on the traditional farmhouse look!
25 Gorgeous Modern Farmhouse and Cottage Tile Ideas
Whether you decide to go with timeless tile, bold and patterned tile or a mix of both, here are some ways you can add remarkable style to your kitchen with TILE!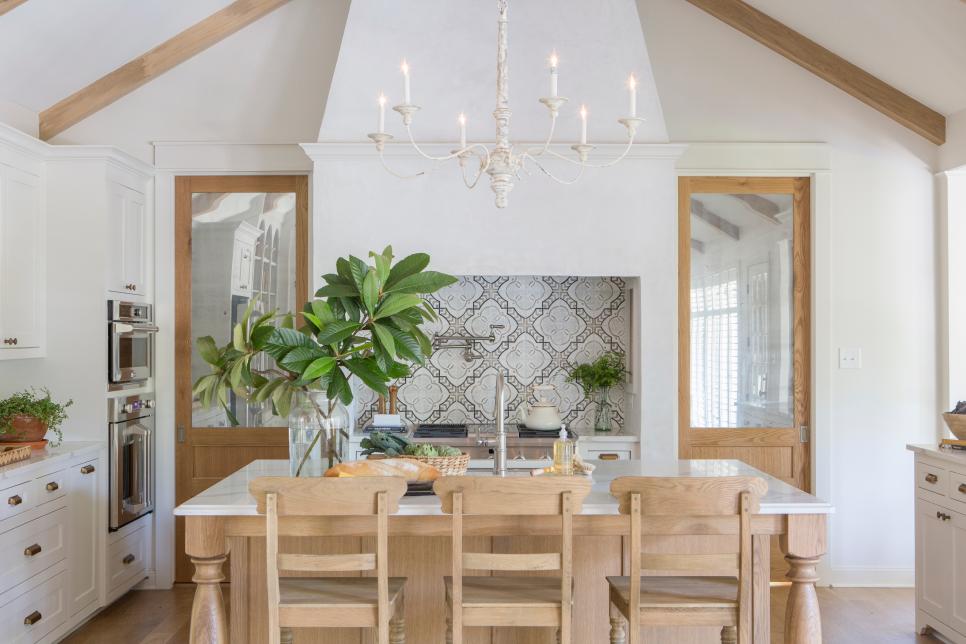 Joanna Gaines is famous for bringing modern farmhouse into trend. I love the way she uses traditional materials and puts a beautiful spin on them. In this case she took the stove area and used bold tile to create a beautiful focal point.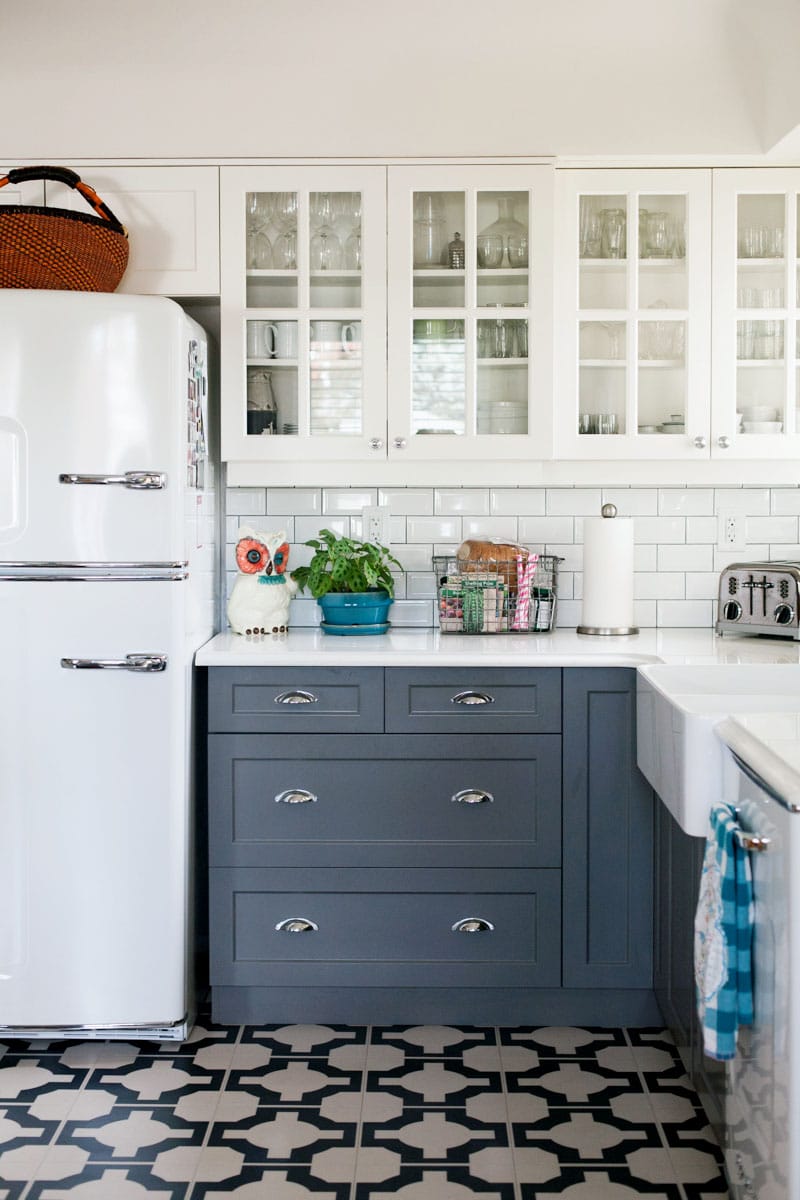 This 1952 farmhouse makeover kept the traditional farmhouse elements of subway tile, classic pulls and simple cabinets and added a stunning geometric floor that looks modern but also has a vintage feel.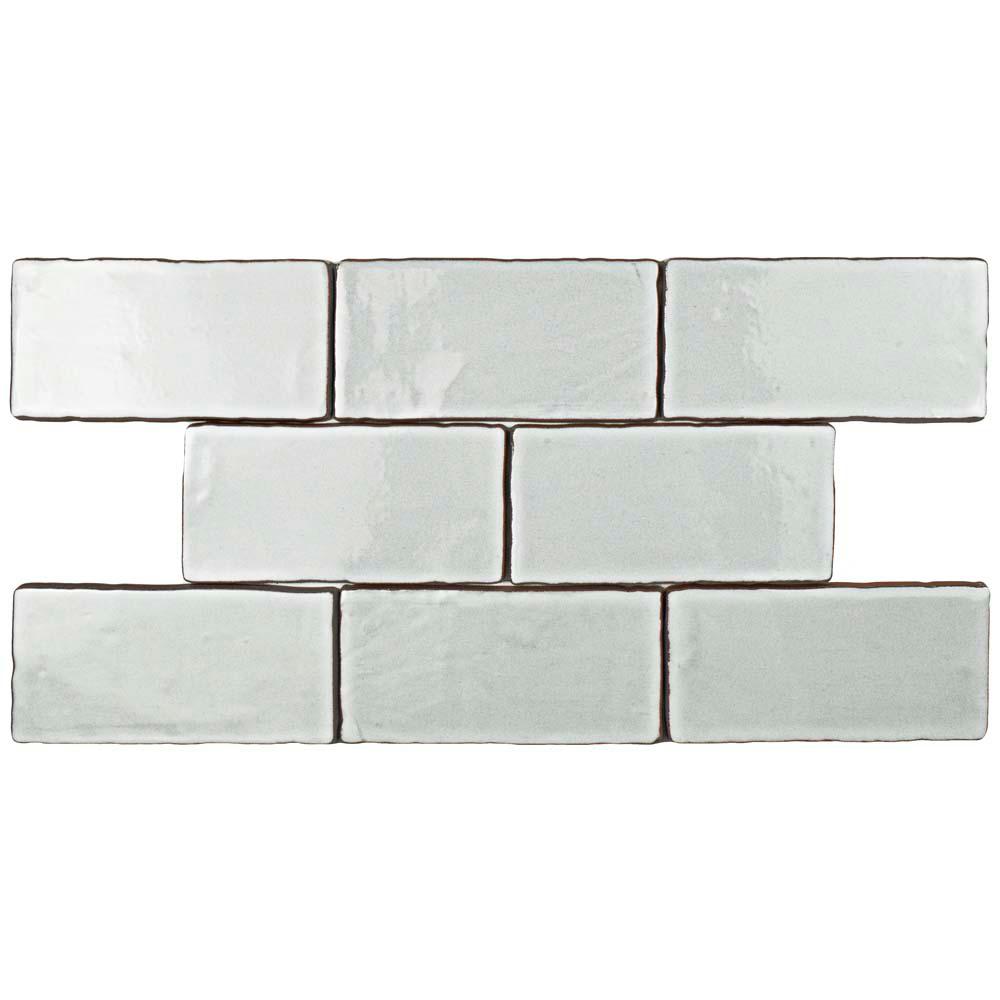 Subway tile is such a classic look, and there are so many different tiles you could use. Here's one I really like that you can easily order online and pick up at Home Depot.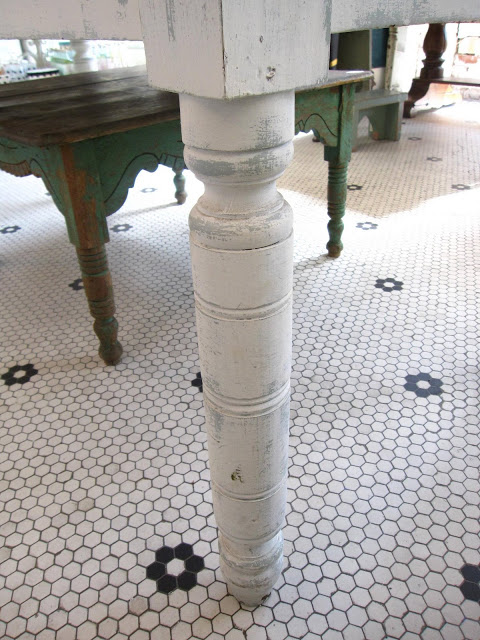 This hex mosaic tile is one of my very favorites. I plan to put it in our bathrooms at our cottage. I love the geometric shape which feels very modern but it's a classic pattern that can be found back in many original farmhouses and cottages.
These bold ceramic and concrete tiles are very trendy in modern farmhouse styles right now. If you like this look but are afraid it is too trendy, consider either stenciling it on your wall or getting peel and stick floor tiles. I did this in the original 1891 fireplace hearth and I love how it updated the space. But if I get tired of it I can peel them off and go back to the original hearth.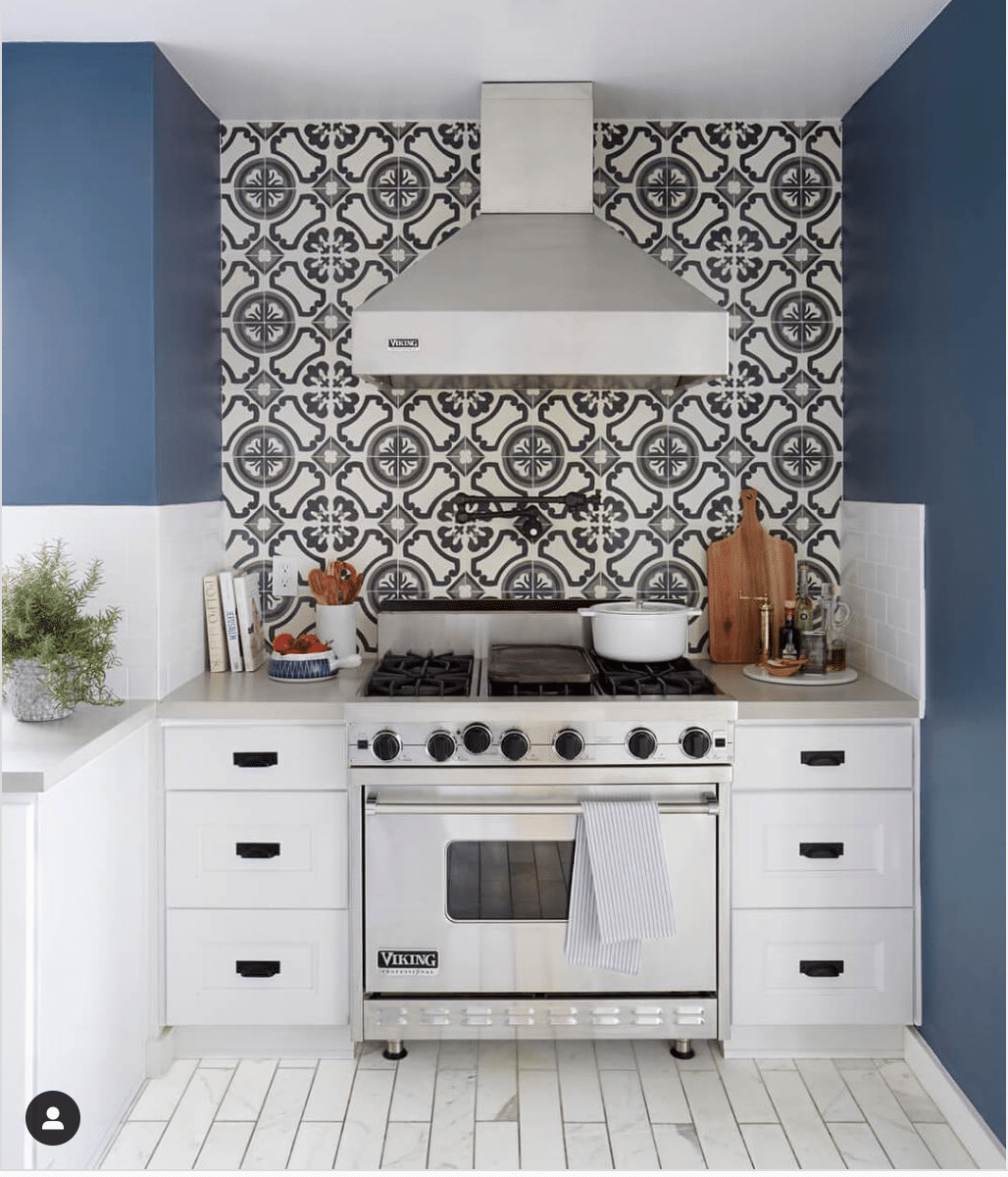 Bold geometric black and white tiles are very modern farmhouse, but you can also find them in cottages and bohemian kitchens as well. You can use them on the floor, but another idea is to use them as a backsplash!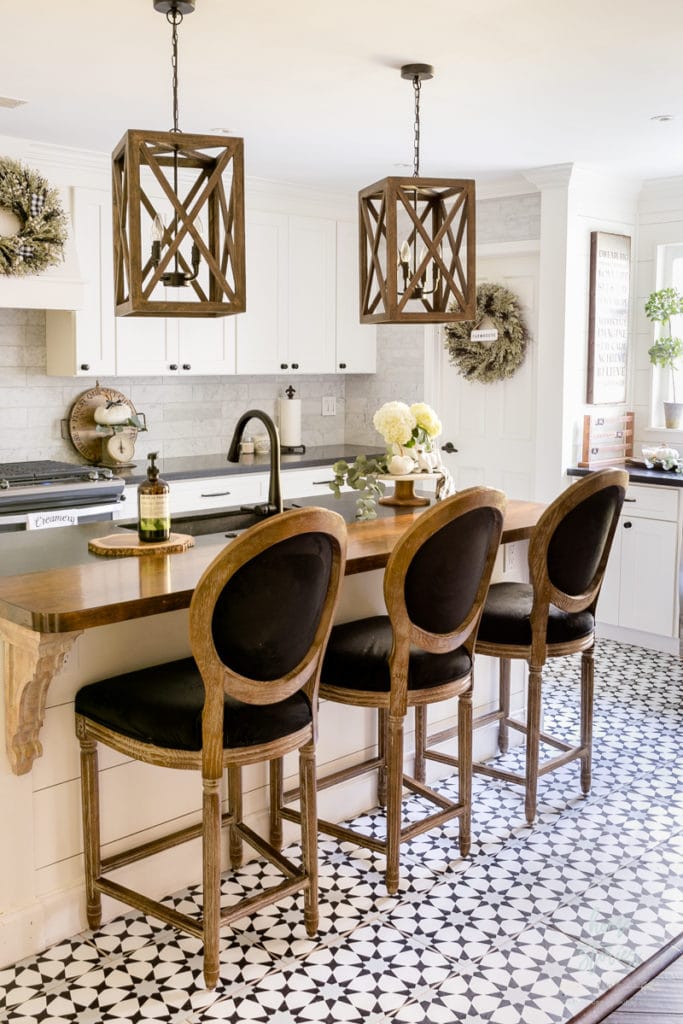 This is my friend Beth's kitchen. She used Wall Pop adhesive tiles to create a stunning focal point in her kitchen. Such a wonderful transformation!
If you love the look of the bold black and white geometric cement tiles but want something a little more subdued, consider a softer look. These cement tiles in grey are lovely and still give a kitchen a striking focal point.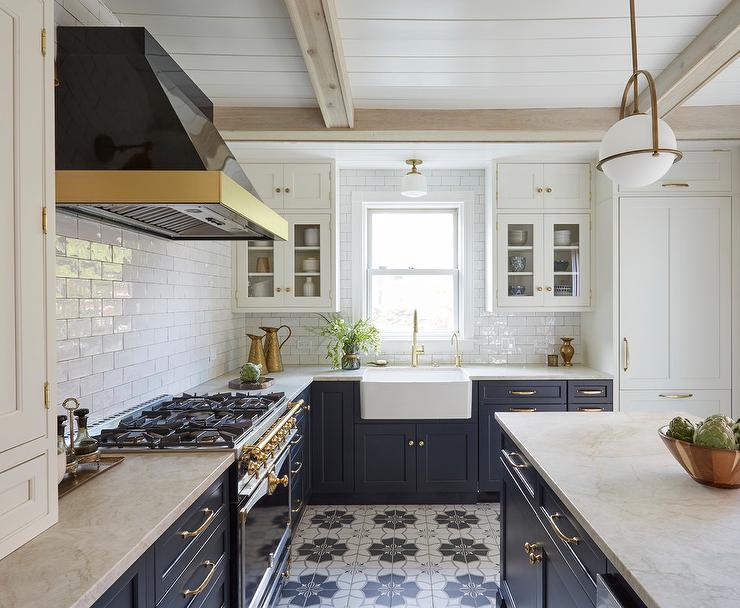 There's something magical about this kitchen with the navy cabinets and stunning bold floral tiles. I think it works because the rest of the kitchen really coordinates and lets the floor design shine. I love the white subway tile above the counters that gives the room texture but doesn't clash with the bold tiles on the floor.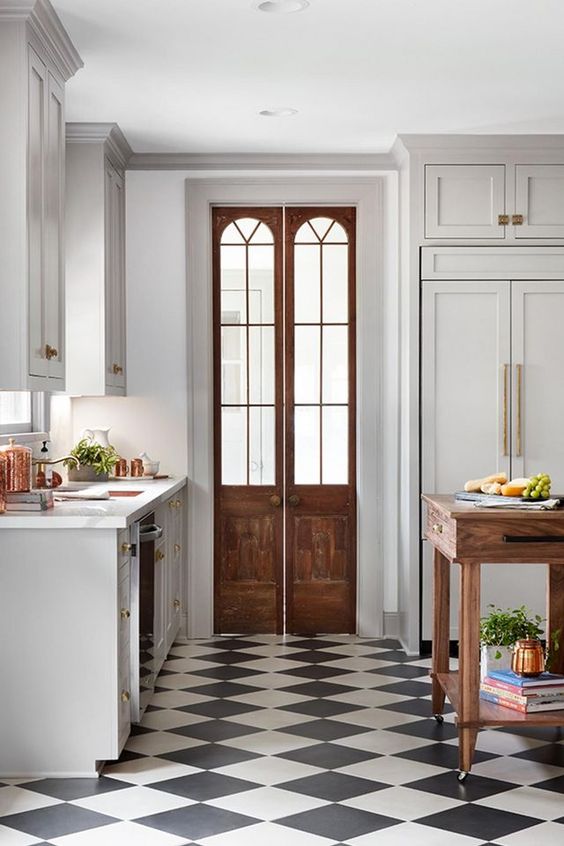 Black and white checkered tile seems so classic to me. It feels very European and old-world. I love it in this kitchen as it compliments the natural woods in the island and swinging doors.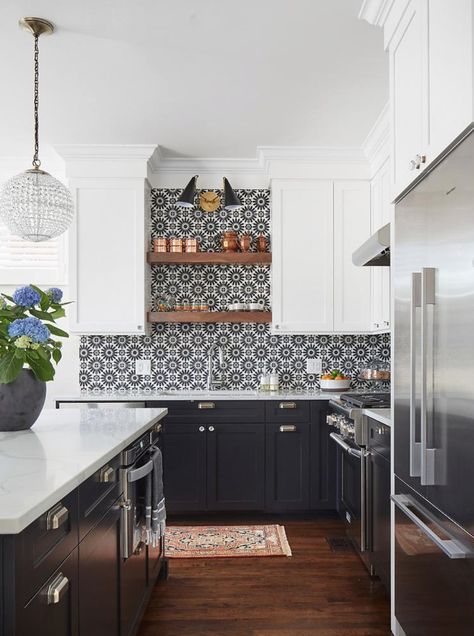 Black and White Boho Farmhouse Backsplash
Another trend in cottage and modern farmhouse decor is floating shelves. Tiling behind a floating shelves really accentuates the shelves and gives the whole kitchen an eye-catching spotlight.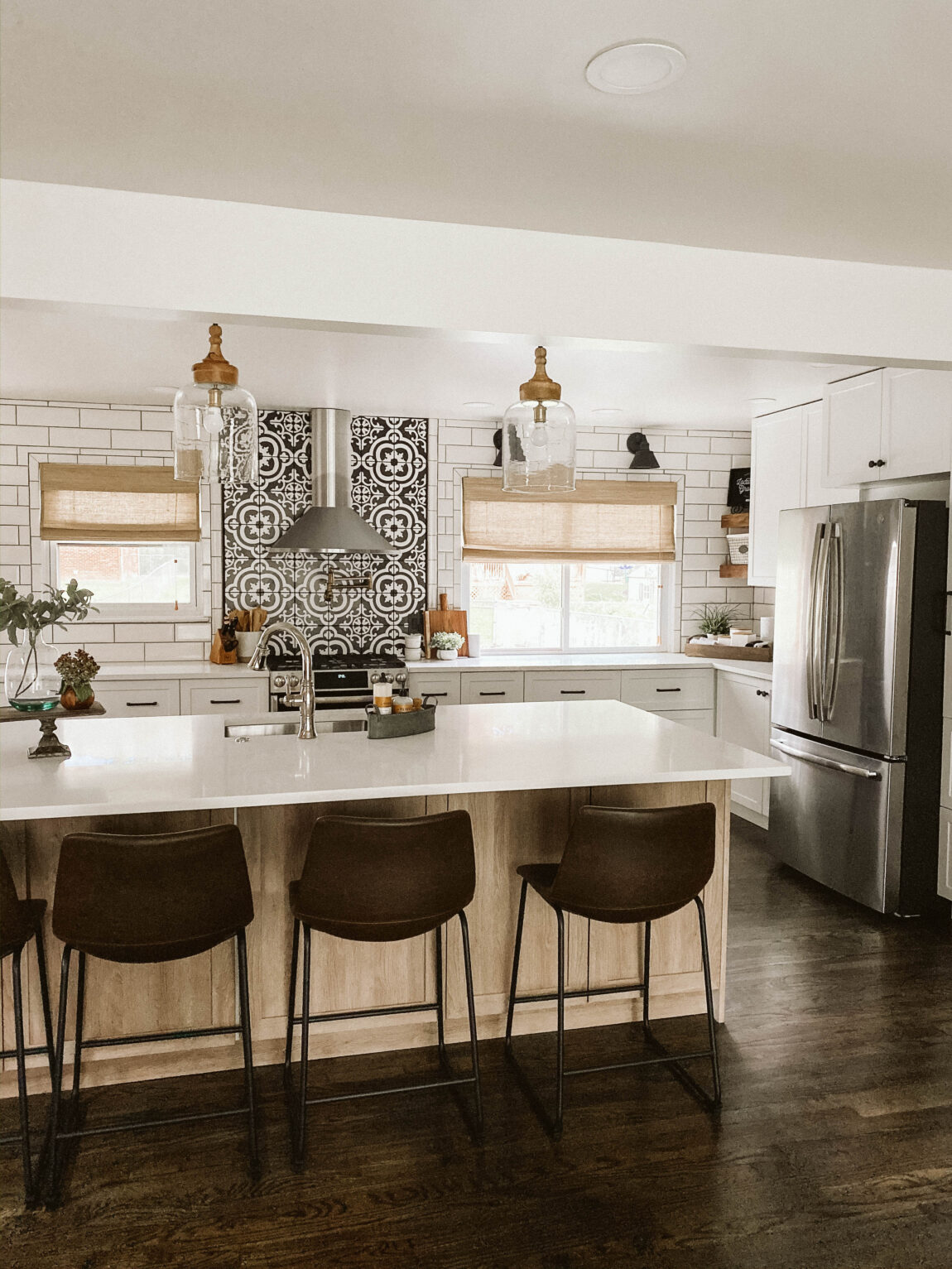 Some bold tiles might seem a little busy, but if you use them in a small space they draw the eye in. I think this is he perfect example. The black and white tile sets off the traditional subway tile and gives the whole kitchen an interesting feel.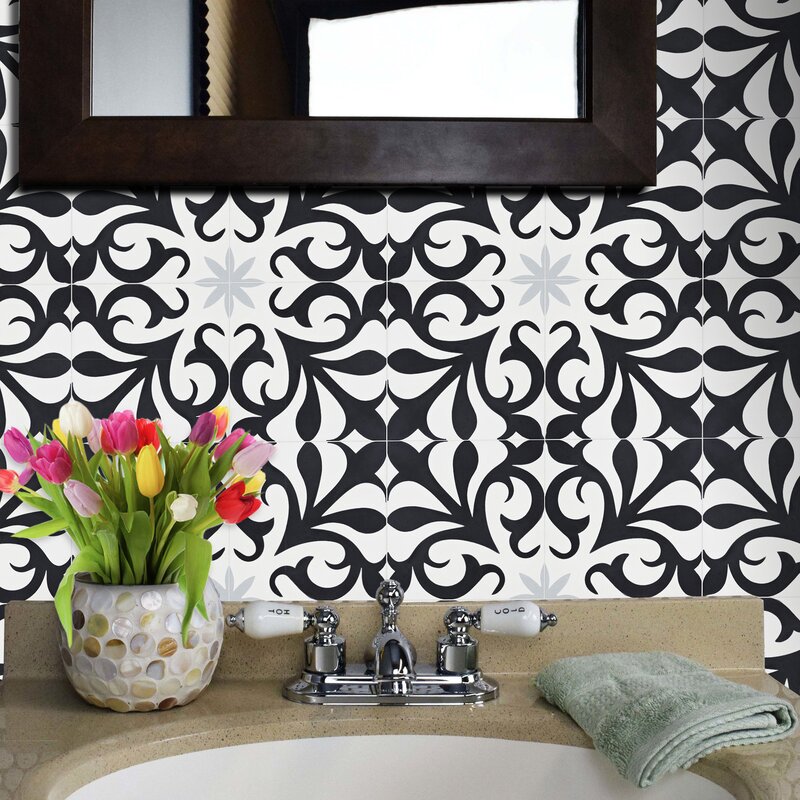 The trick to the perfect statement wall is finding a tile you absolutely love… and the smaller the statement wall the louder the pattern you can use! Here's a tile I really like to help jog your creativity.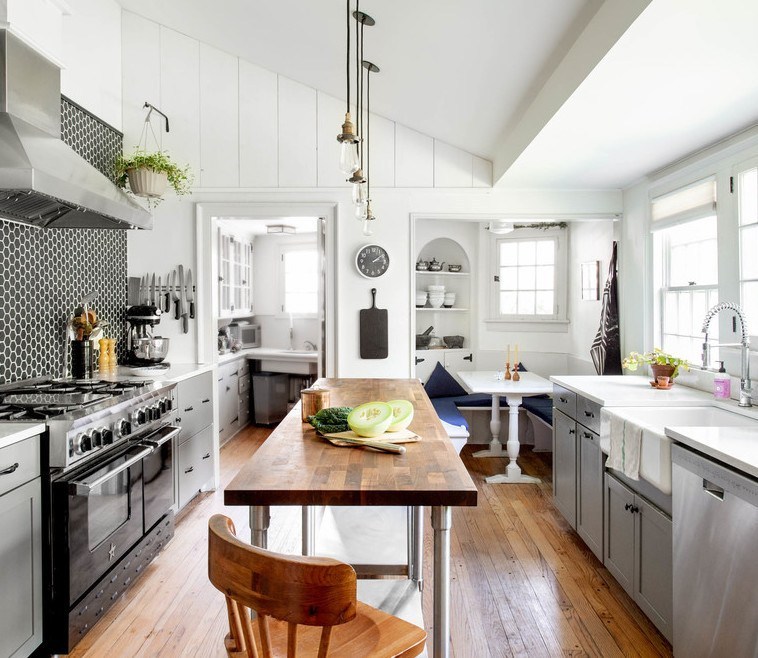 This kitchen is one of my favorites. The black and white tile behind the industrial stove is traditional but running it vertically gives it a modern feeling. Also the kitchen nook at the end of the room is so cozy and the matching butler's pantry at the other side offsets the space so well for a really warm, welcoming feeling!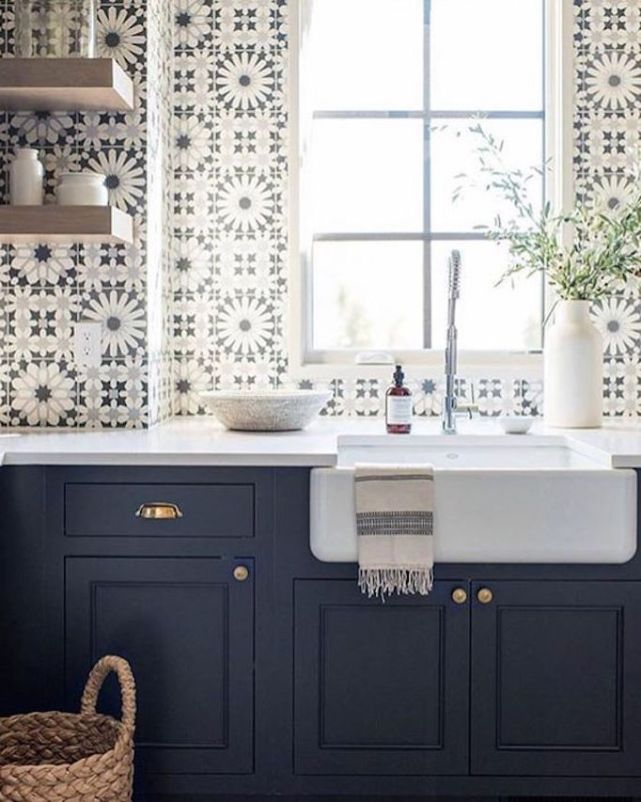 Another example of using bold tile to make a statement. The rest of the kitchen is very simple and traditional and lets the more modern element shine through.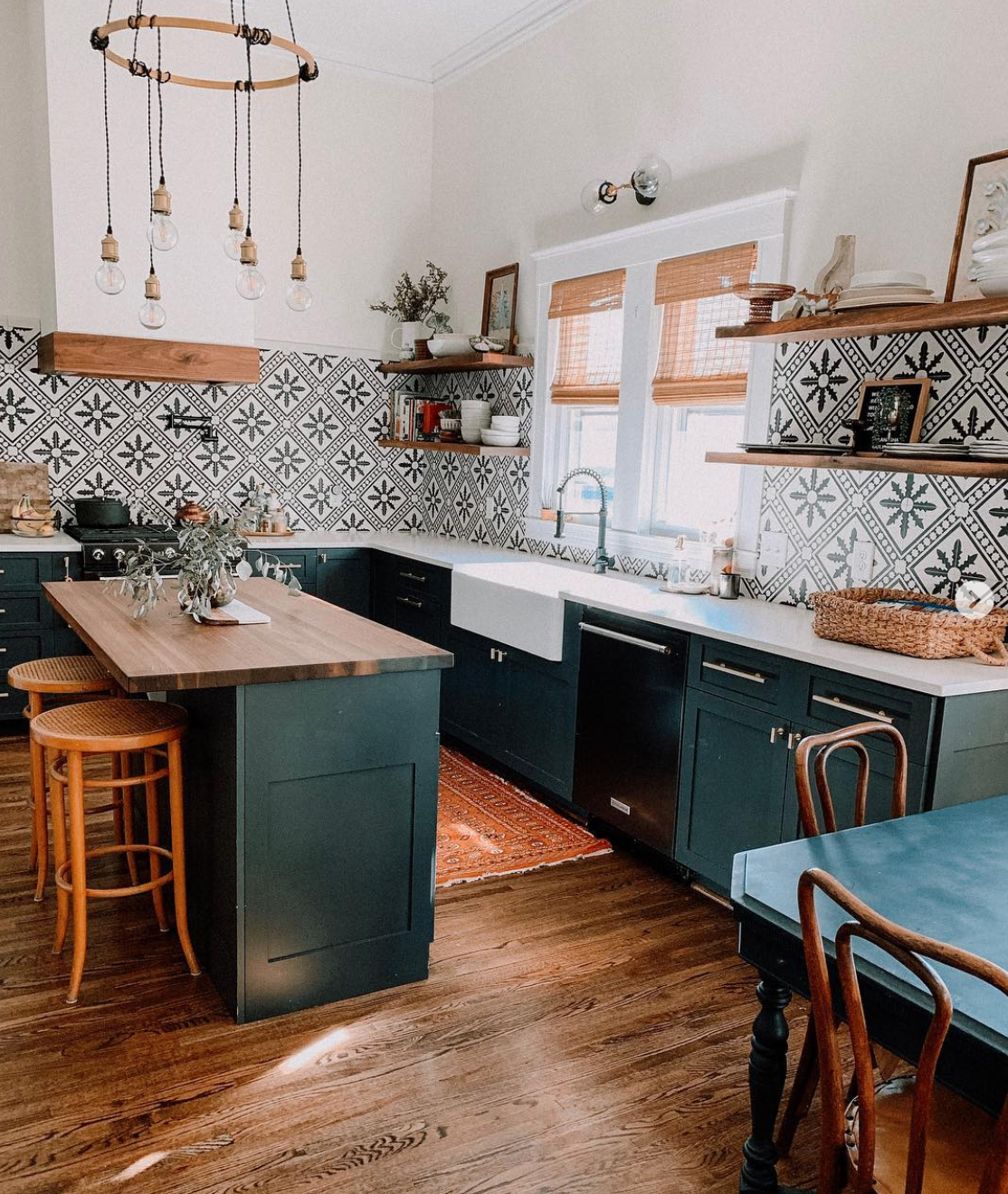 This geometric tile is one that I haven't seen very often. Using it along with all of the natural woods in the room and black cabinets give the whole kitchen a very bohemian farmhouse feel. If the tile was subway instead of the bold geometric tile this room would have a much more traditional farmhouse vibe. The modern tile really give the farmhouse theme a refreshing twist.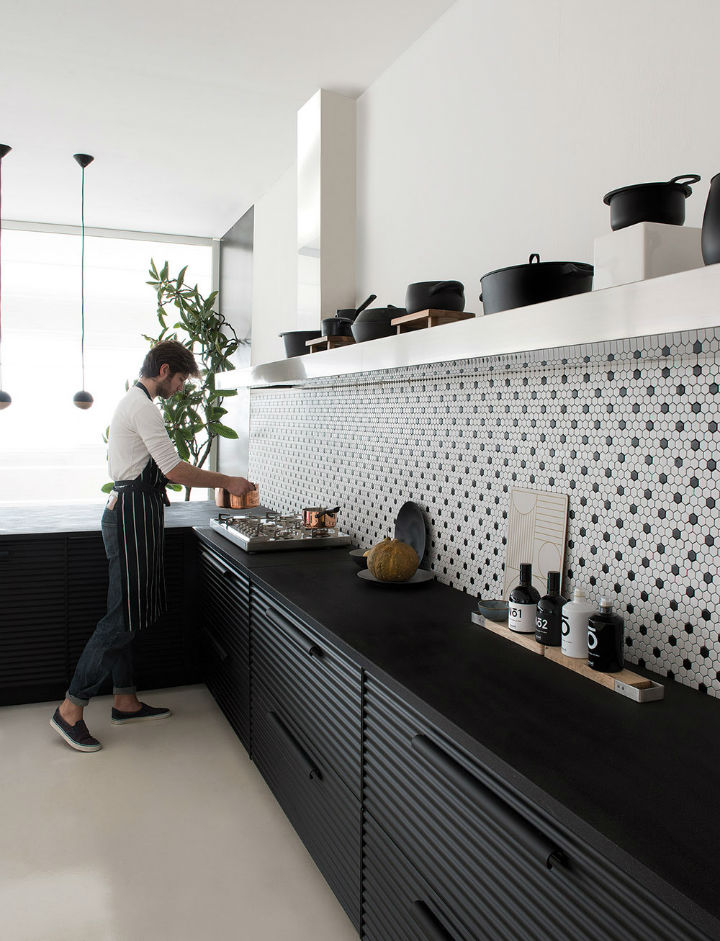 Black and White Hex Tile Backsplash
This is the black and white hex mosaic that I featured earlier in the post. I've almost always seen this tile used on a floor. What a refreshing change to see it as a backsplash. And paired with such modern cabinets the whole room is very surprising and charming.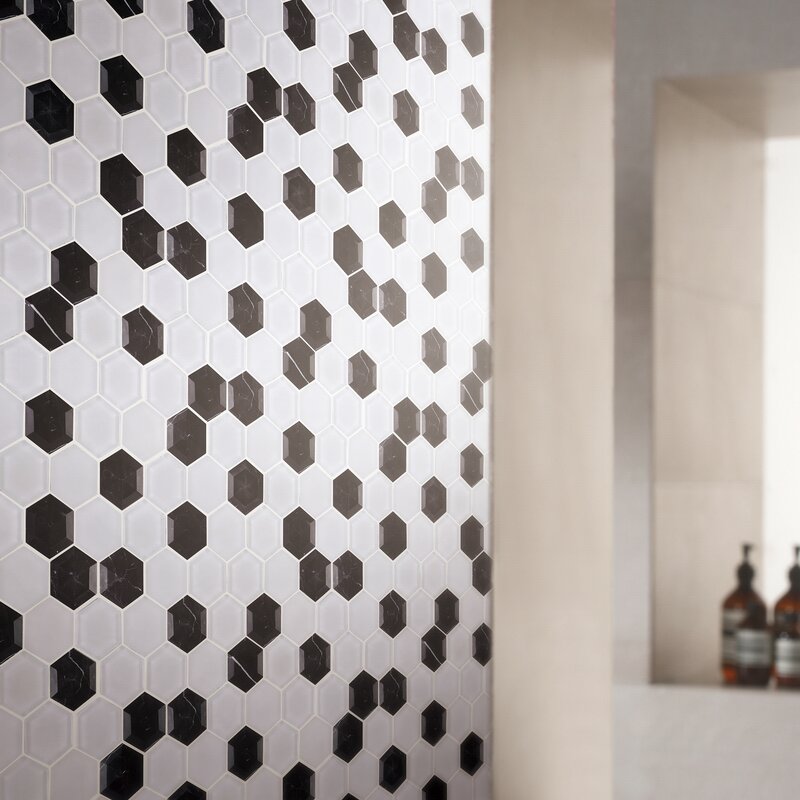 I also love the idea of mixing and matching a black and white hexagon tileset like the one linked here to create your own wholly unique backsplash!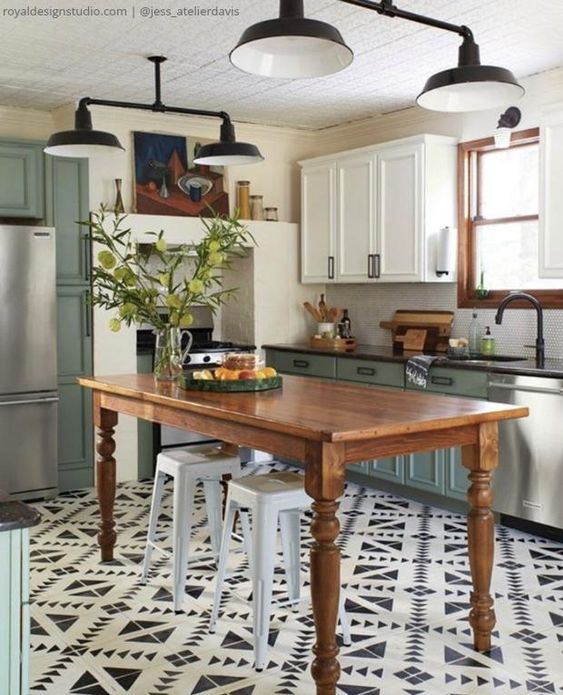 As I said before, if you are nervous about committing the time and energy into installing a tile floor, consider stenciling your floor first. This works especially well if you already have a vinyl or tile floor. You can paint right over it!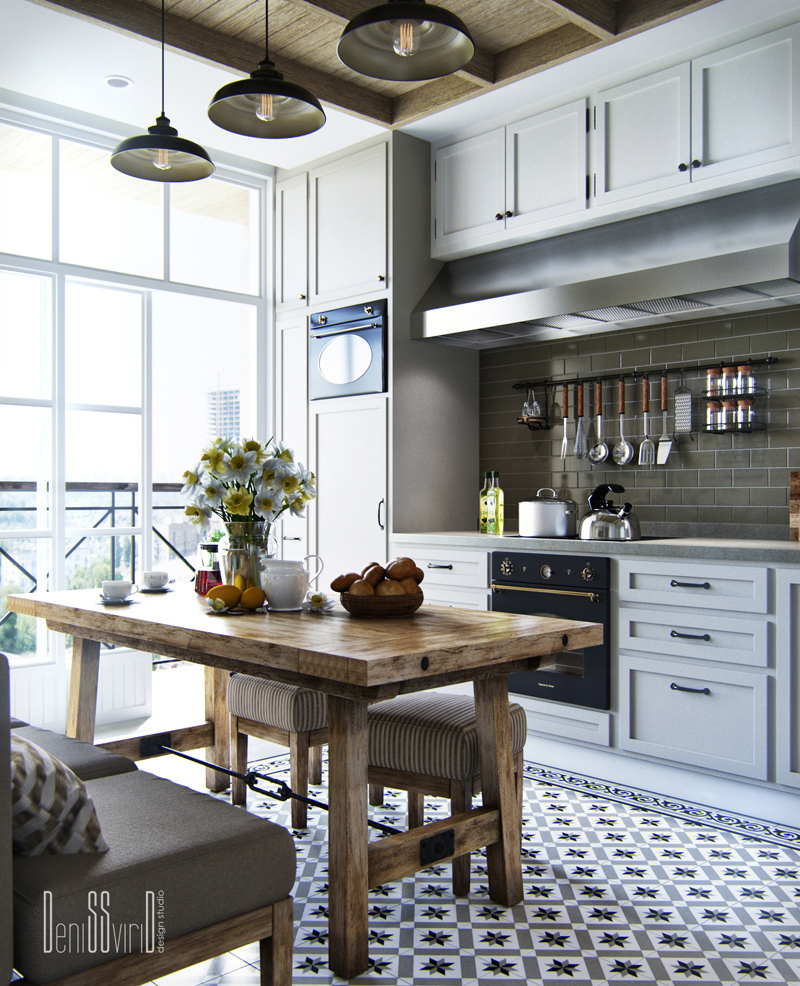 The pattern in this Provence kitchen floor is utterly vintage-looking and charming. The pattern could be a modern one but is undeniably old and is a great argument that patterned tile can withstand the test of time and be timeless.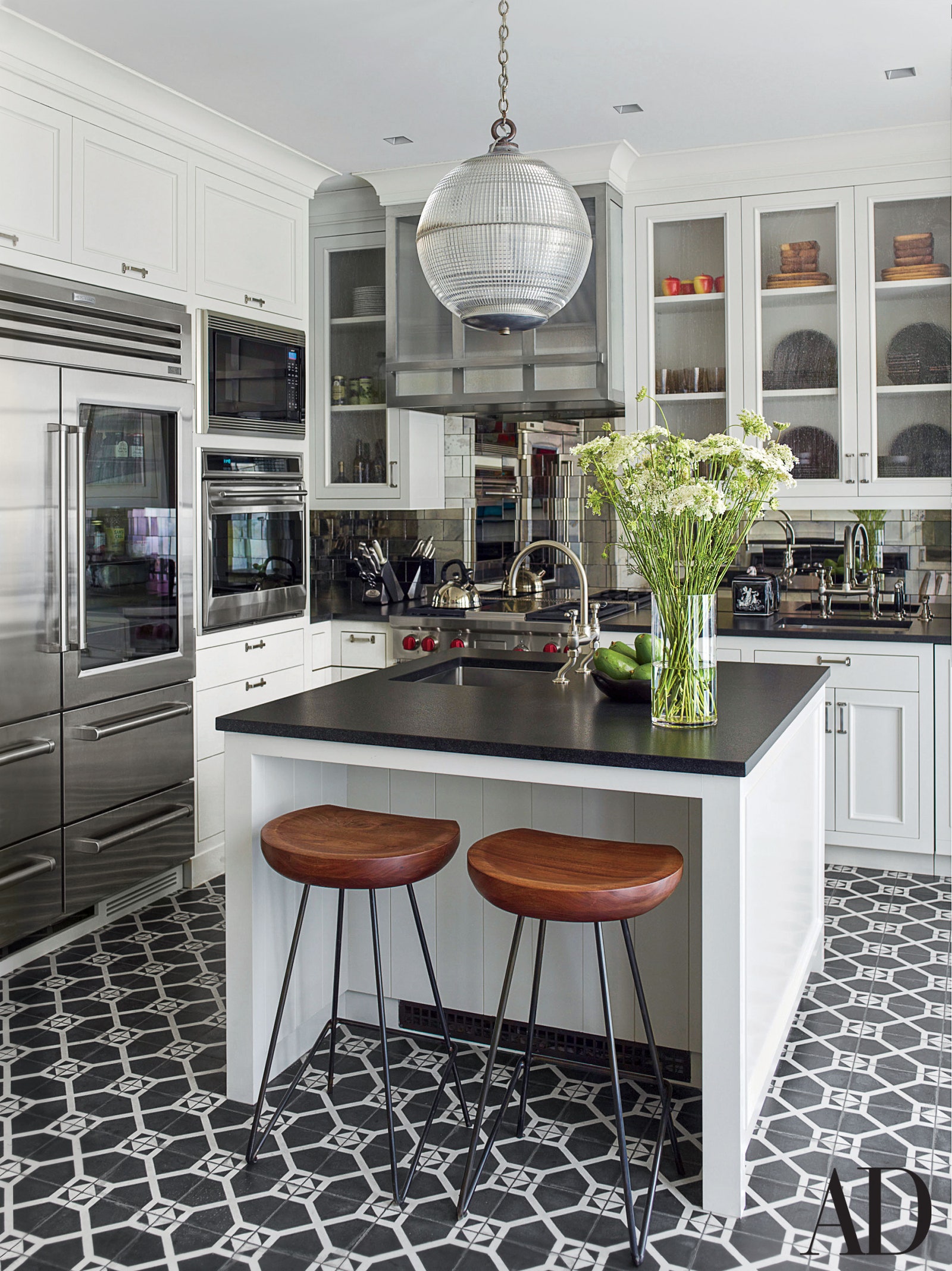 This kitchen is a perfect example of one that doesn't fall into a style mold. I would say this kitchen is timeless. The black and white patterned floor is neither modern nor farmhouse. This type of tile can be used in any design style and the items you include will decide what type of style your kitchen is.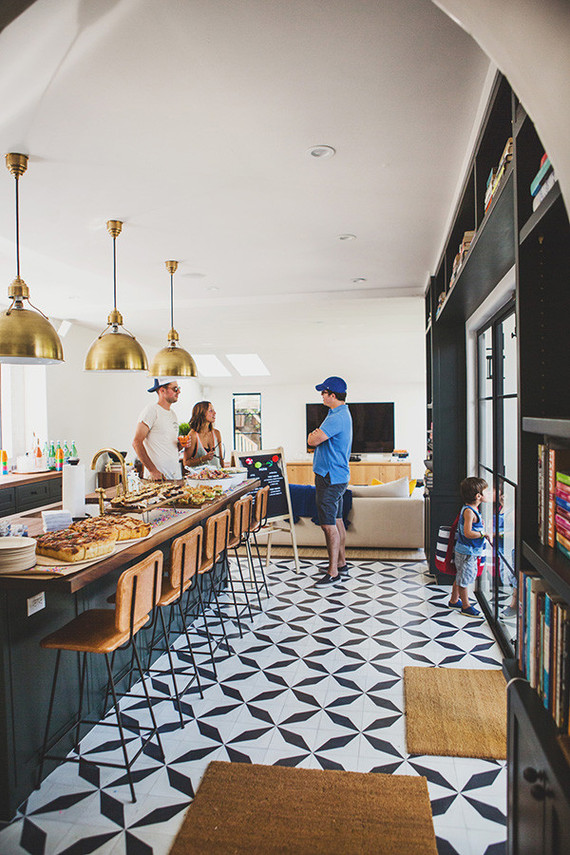 Another bold and classic tile. I love the pattern in this striking tile floor. Paired with navy cabinets and wood accents, this kitchen is classic yet very on-trend.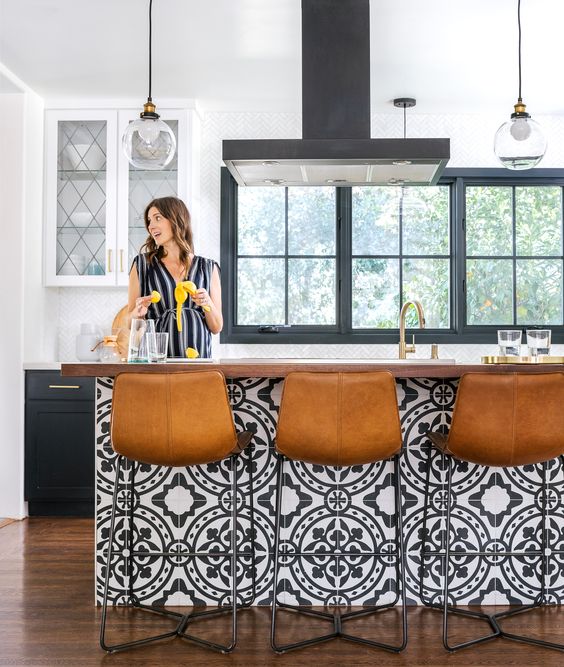 One big trend in the past couple of years is tiling the bottom of an island as a big focal point. I actually love this idea. I think the trick is only using bold patterns on the island and sticking to neutrals in the rest of the kitchen to really let the island tile stand out.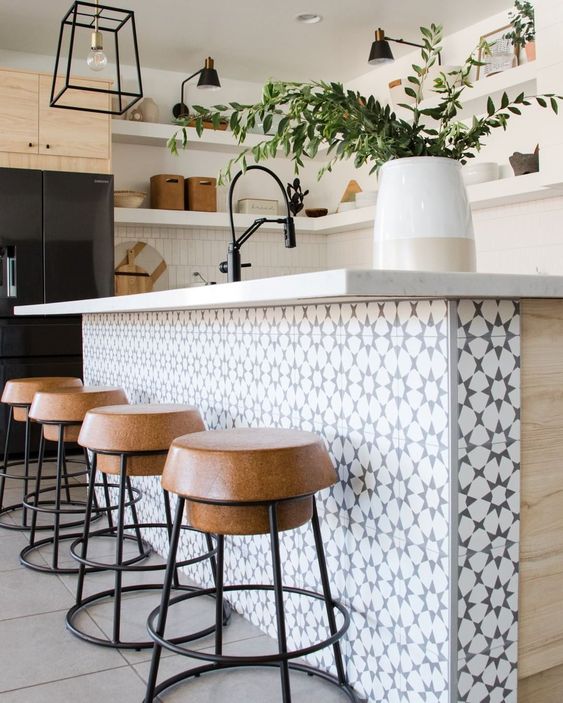 Another example of the island tiling trend I love the smaller star pattern of this tile. I think it would look amazing as a wall tile or floor tile as well,. But not all together, obviously LOL!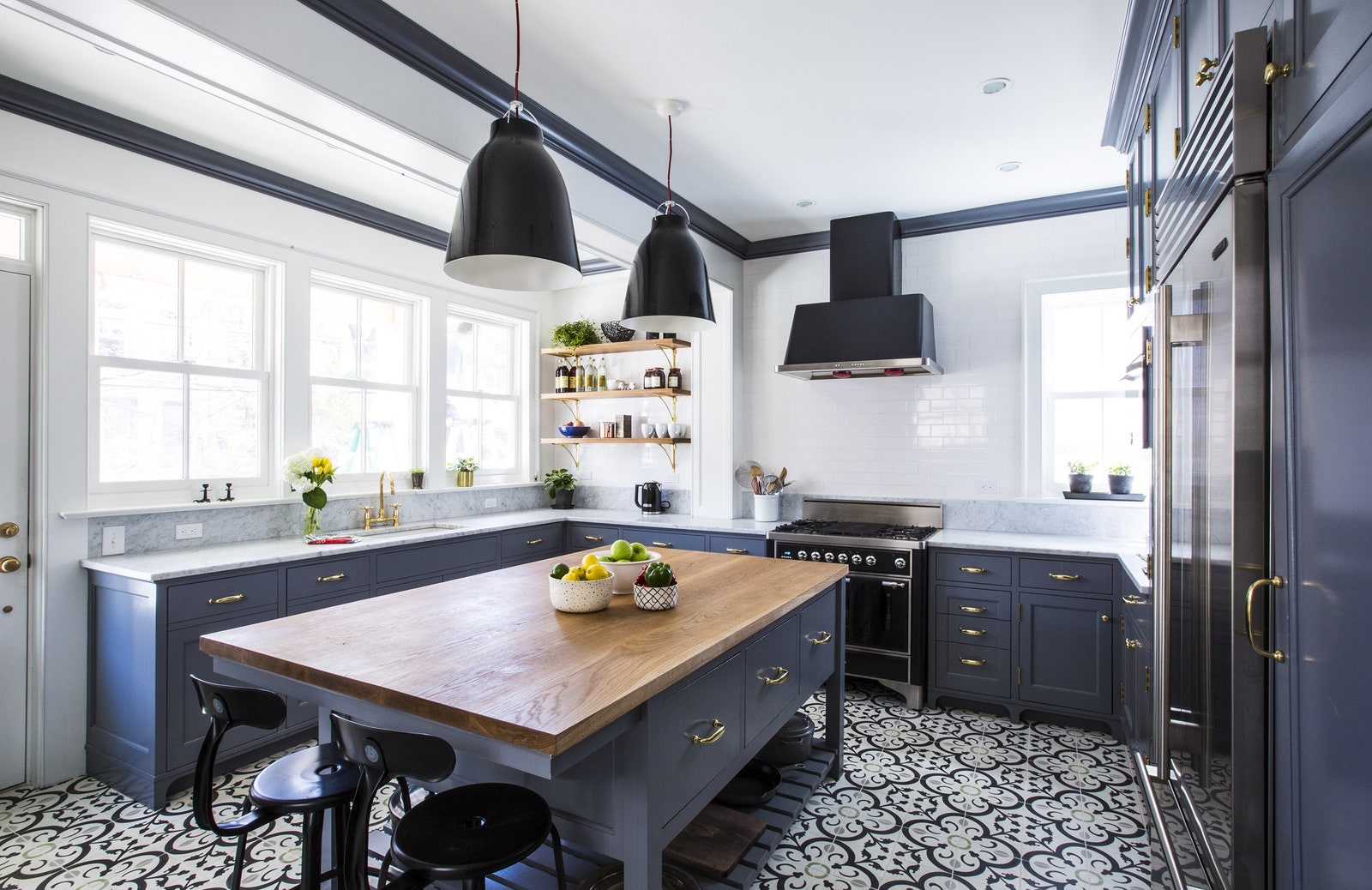 Sometime people think you can't use a big, bold tile pattern in a small room because it will overwhelm the small room and make it look smaller. I think the opposite is true. I feel that using larger tile and even larger furnishings in a small room makes the room seem bigger and makes the tile into more of a statement. The owners of this small kitchen used big tile and a large island and instead of overwhelming the room it makes the room even more interesting and gives it a cozy feeling.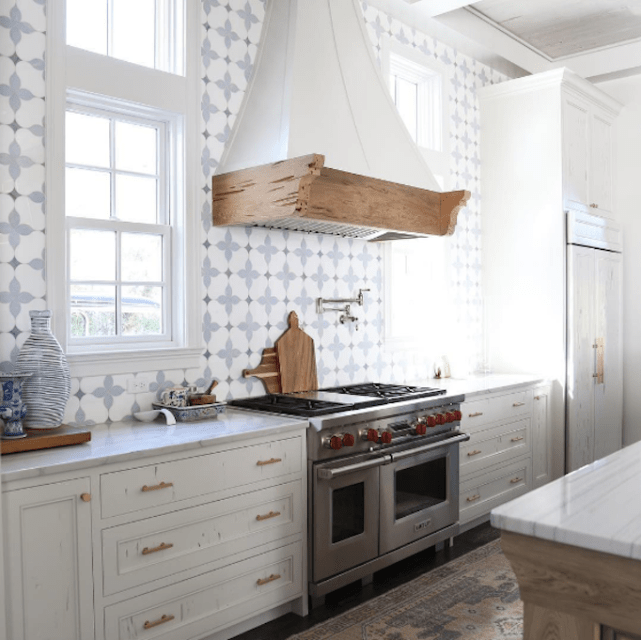 There's something old-world and charming about the pattern of this grey cement tile. I love the pattern and I think the use of white in the tiles makes it a tile that you can use on a whole wall without looking busy or crowded.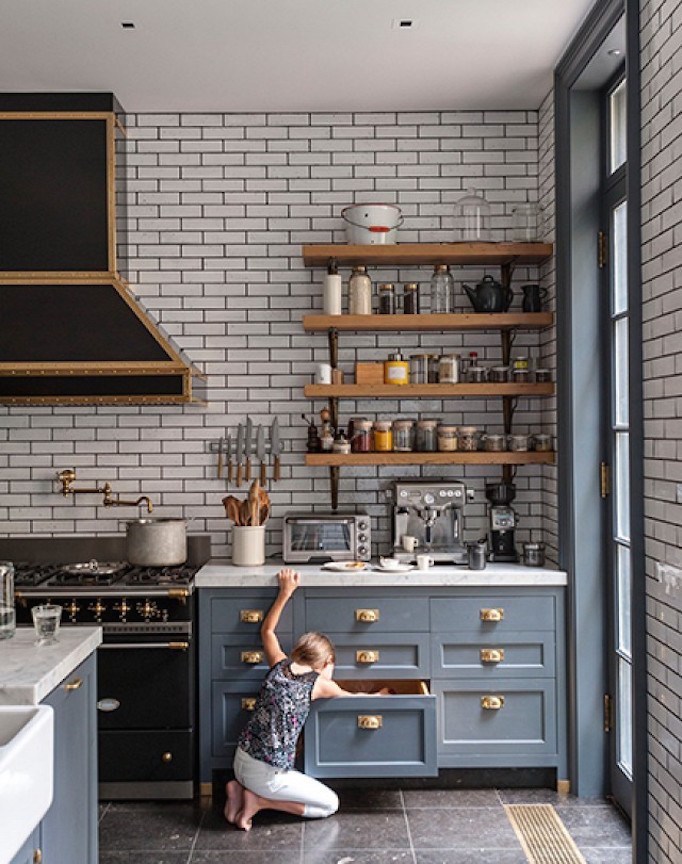 Of course subway tile is a classic choice in any modern farmhouse or cottage kitchen. The use of black grout in this one gives it an old-world feel but also elevates the kitchen by emphasizing the pattern of the subway tile.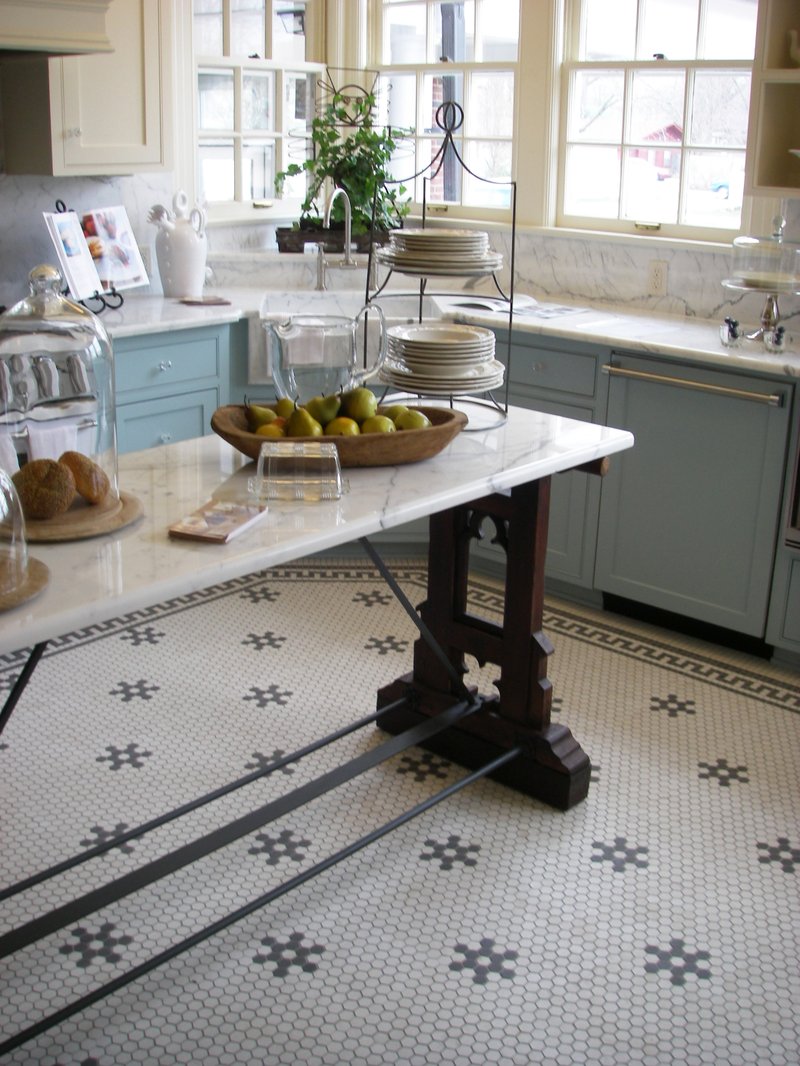 Another mosaic hex tile pattern that I love! I love the snowflake design and I feel that these hex tiles can be used in any type of kitchen – from modern, retro to classic farmhouse, modern farmhouse, bohemian and cottage kitchens alike!
Which Kitchen Tile is Your Favorite?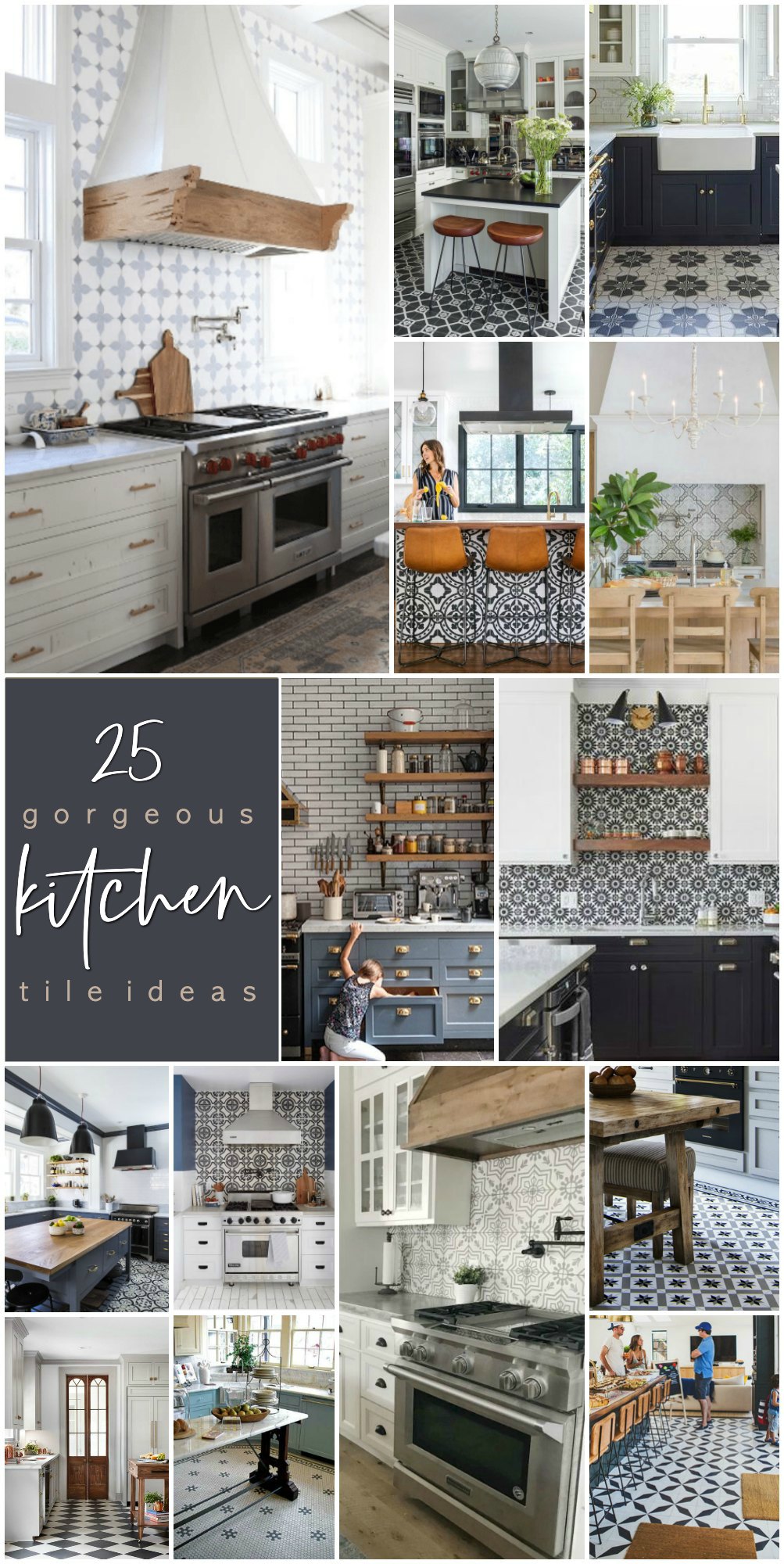 Those are a few of my favorite modern farmhouse and cottage tile ideas? Which kitchen did YOU like the most? I'd love to hear!
Follow Along with Our 1891 Cottage Renovations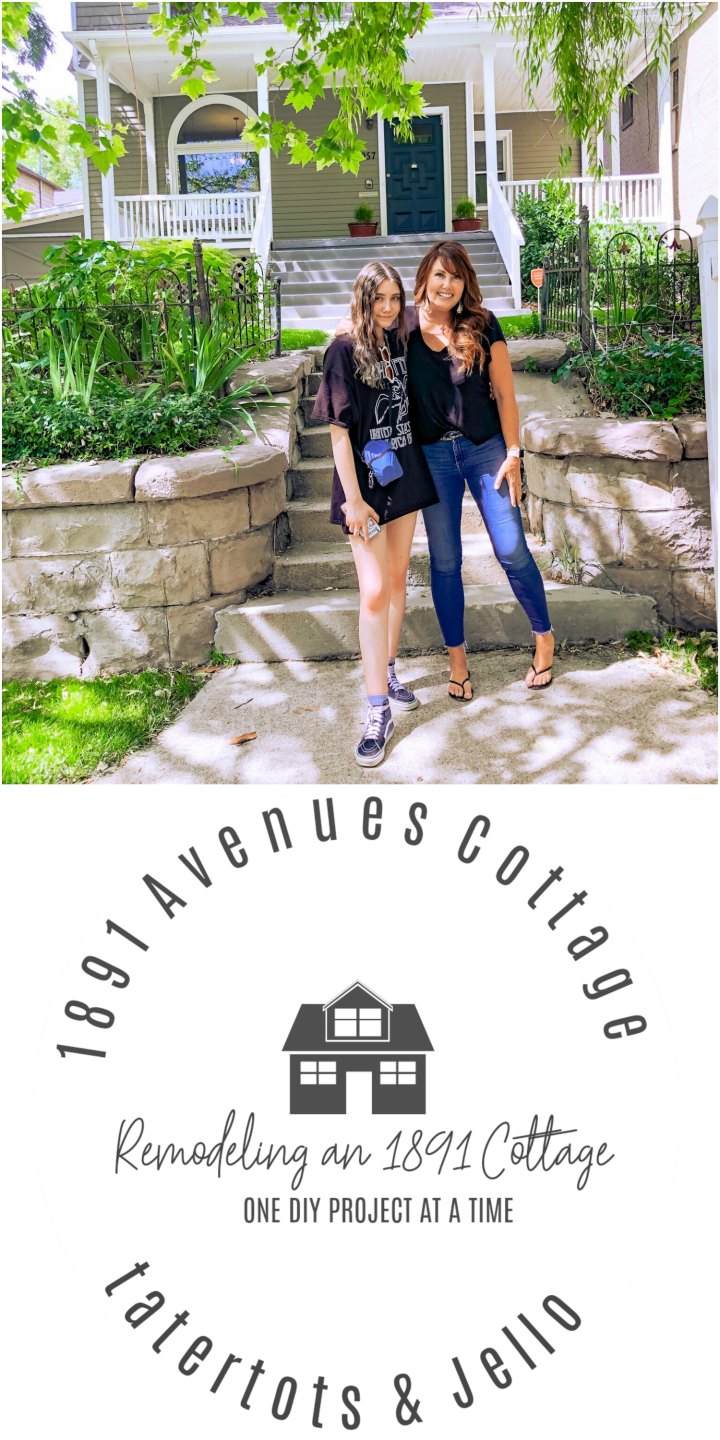 Tag me on Instagram at @tatertotsandjello with YOUR projects! I would love to see what YOU are doing. And I'd love to have you follow along with our 1891 Cottage remodel. I share behind-the-scenes projects on my Instagram page!
More Modern Farmhouse and Cottage Tile Idea!
Here are a few other tile ideas that I love for bathroom and laundry rooms!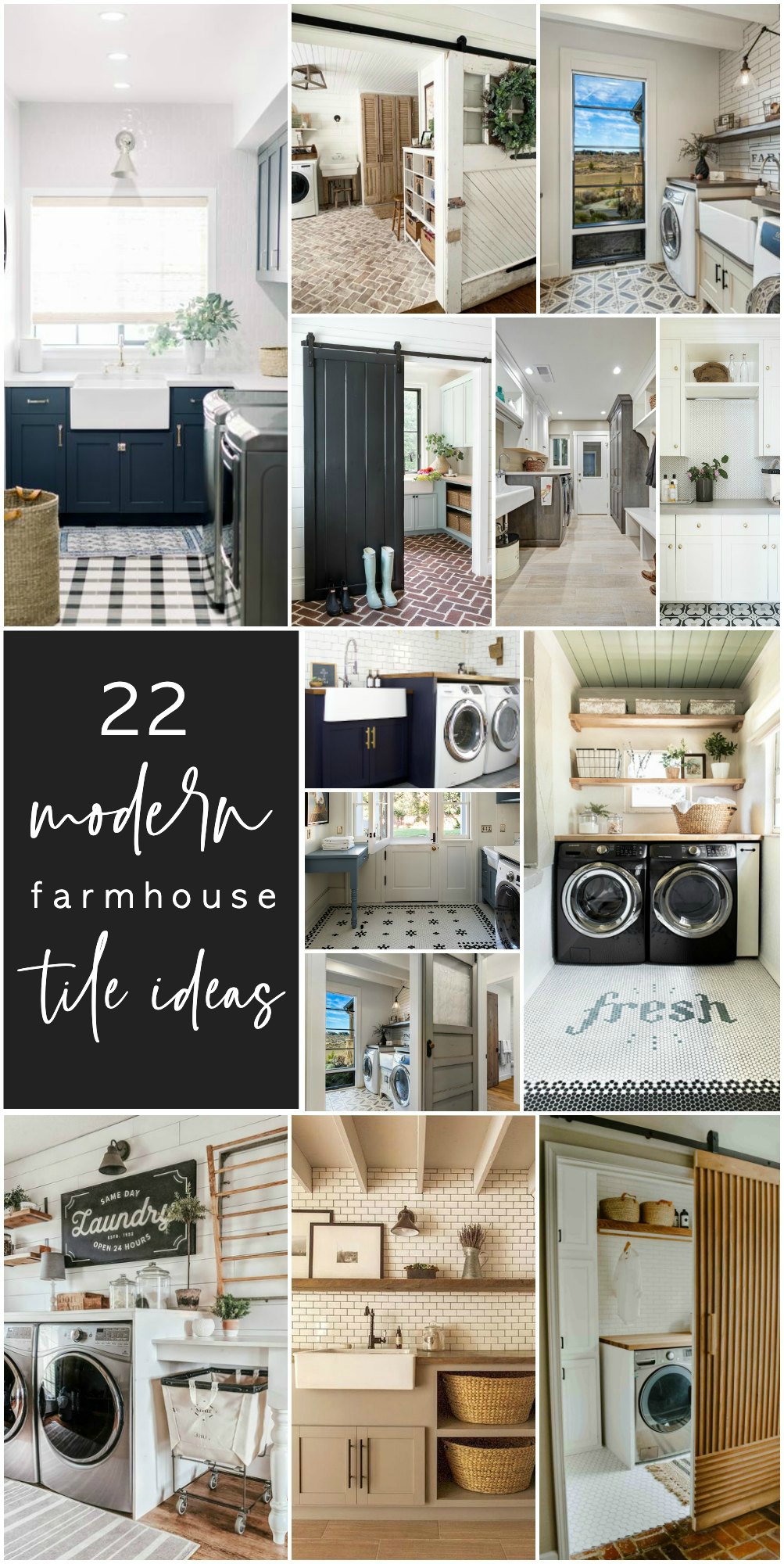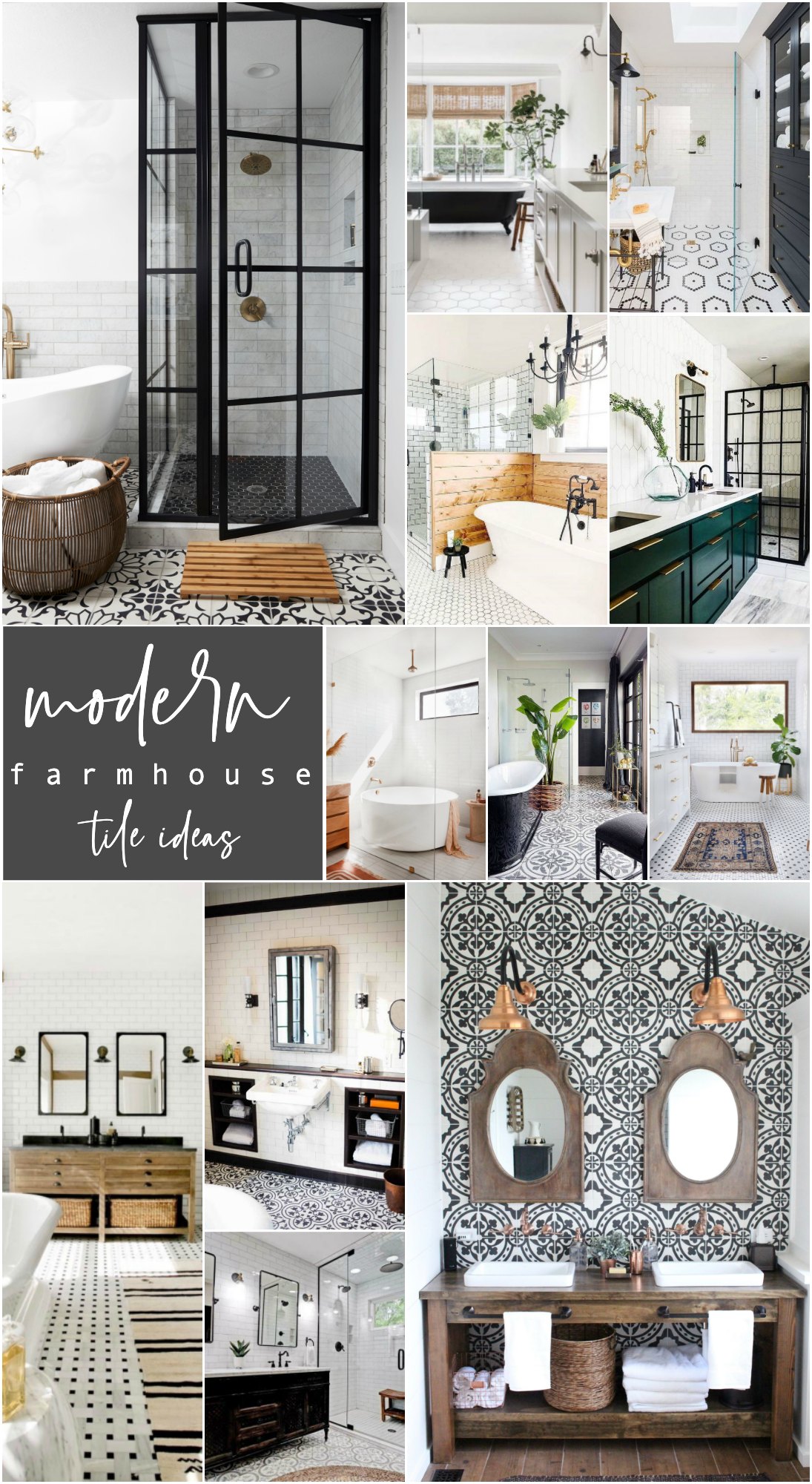 Have a Beautiful Day!
xoxo