15 Best Kitchen Ideas for 2023! Update your kitchen with these 15 easy DIY and decorating ideas for 2023!
15 BEST Kitchen Ideas for 2023!
Hi friends! You've heard the saying, "the house is the heart of the home", and I think it's absolutely true! Today I'm sharing 15 amazing ways you can update and refresh your home to make it even more cozy and comfortable for your friends and family. You will want to pin these ideas because they are easy to do and will elevate your kitchen in so many ways. So let's get started!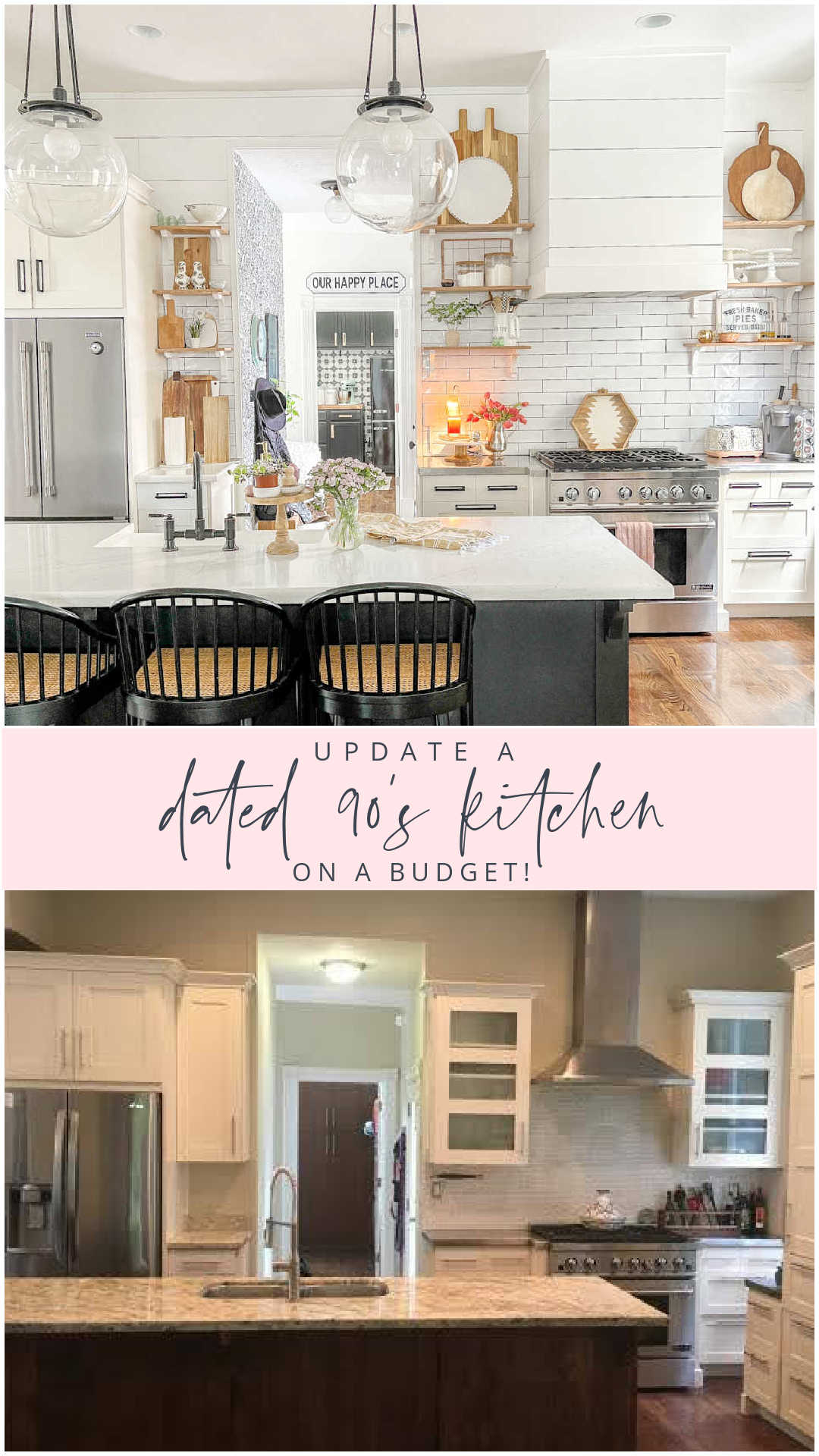 If you've been following along with me on my blog or Instagram, you might know that we moved into our 1891 home about three and a half years ago. Since then we've been updating our house and one of the first projects we tackled was the kitchen. I am sharing some easy ways that we updated our kitchen on a budget in this post!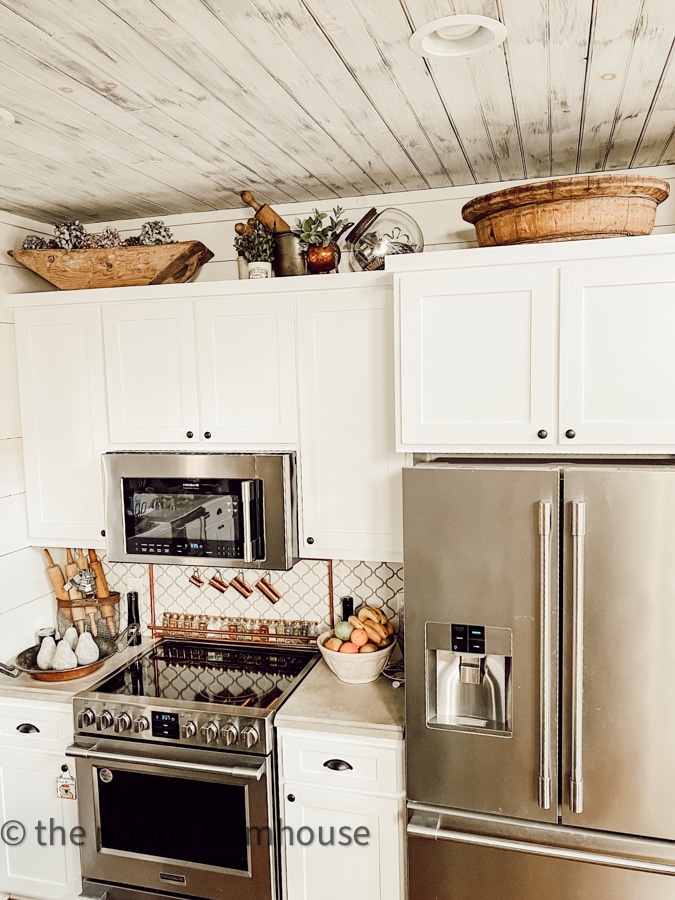 Looking for ideas on how to decorate above kitchen cabinets with a modern farmhouse style? Rachel shares tips for creative decorating using collectibles and more. I love the way that Rachel used vintage items above her kitchen cabinets to add interest and detail. Be sure to hop over to Rachel site she has a beautiful Home full of character!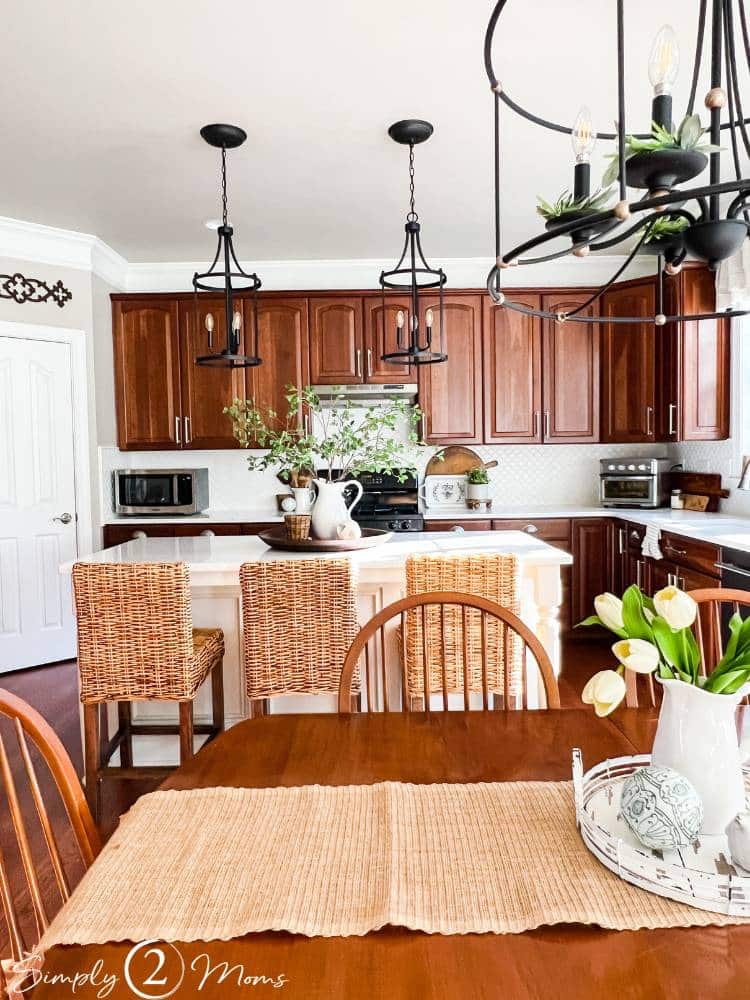 Who says a kitchen with cherry cabinets can't look modern? We've got ideas to update your kitchen with wood cabinets without painting them! Did you know that wood cabinets are coming back in style? They bring so much warmth to a kitchen and I love the ideas that simply 2 Mom's are sharing on how you can have natural cabinets and create a warm welcoming kitchen that has charm!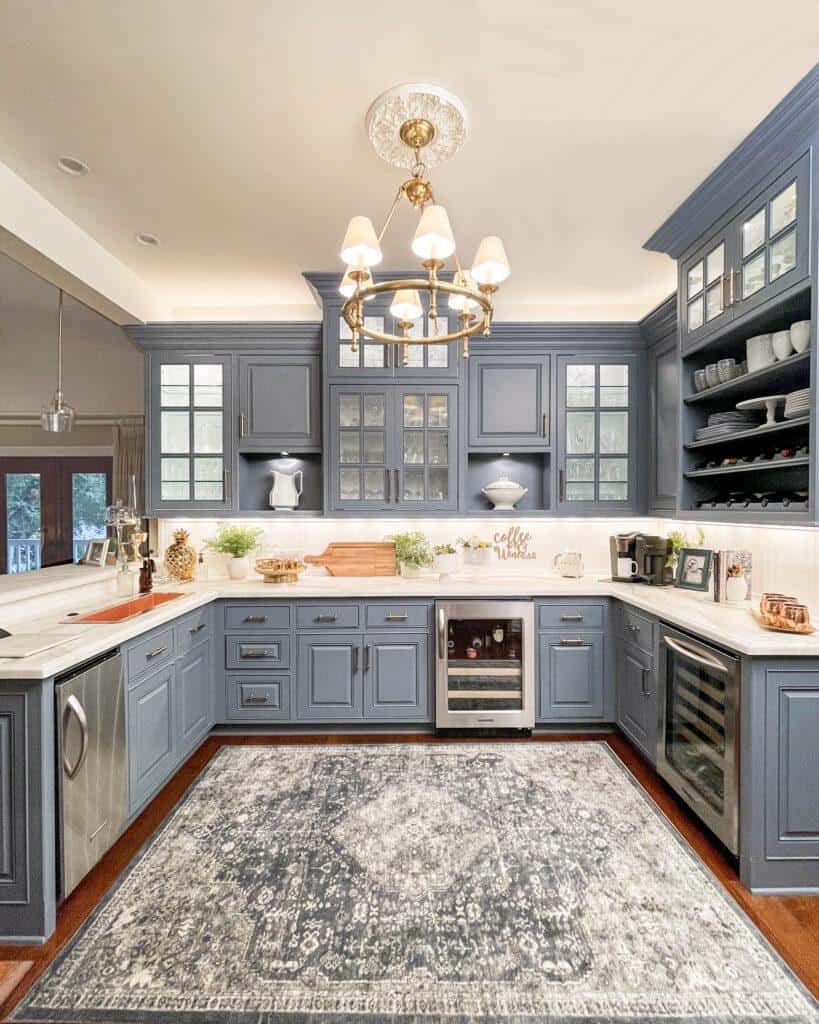 Looking to update your butler's pantry with a few DIY projects on a budget. Learn how to lay a beadboard backsplash over your existing tile. paint your cabinets and pour epoxy countertops. Wendy's Butler's pantry is just amazing, be sure to hop over and see how she created it!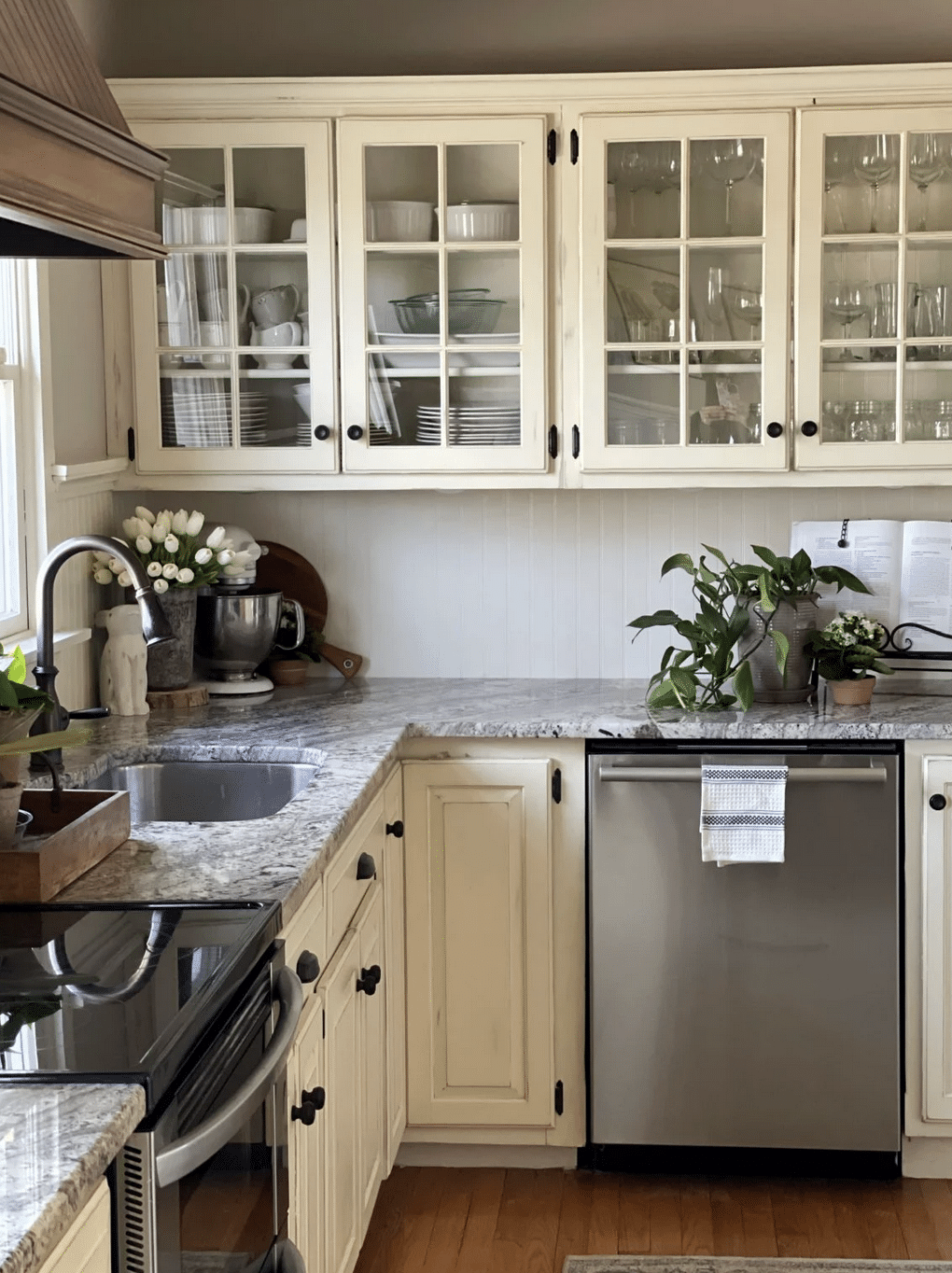 Looking to update your kitchen on a budget? Learn how to paint wood cabinets with chalk paint with my good friend Stacy from Bricks 'n Blooms. It's a budget-friendly remodel that is easy to do and totally worth the effort! Head over to Stacy's site to see this amazing tutorial, and be sure to check out her yard it is incredible!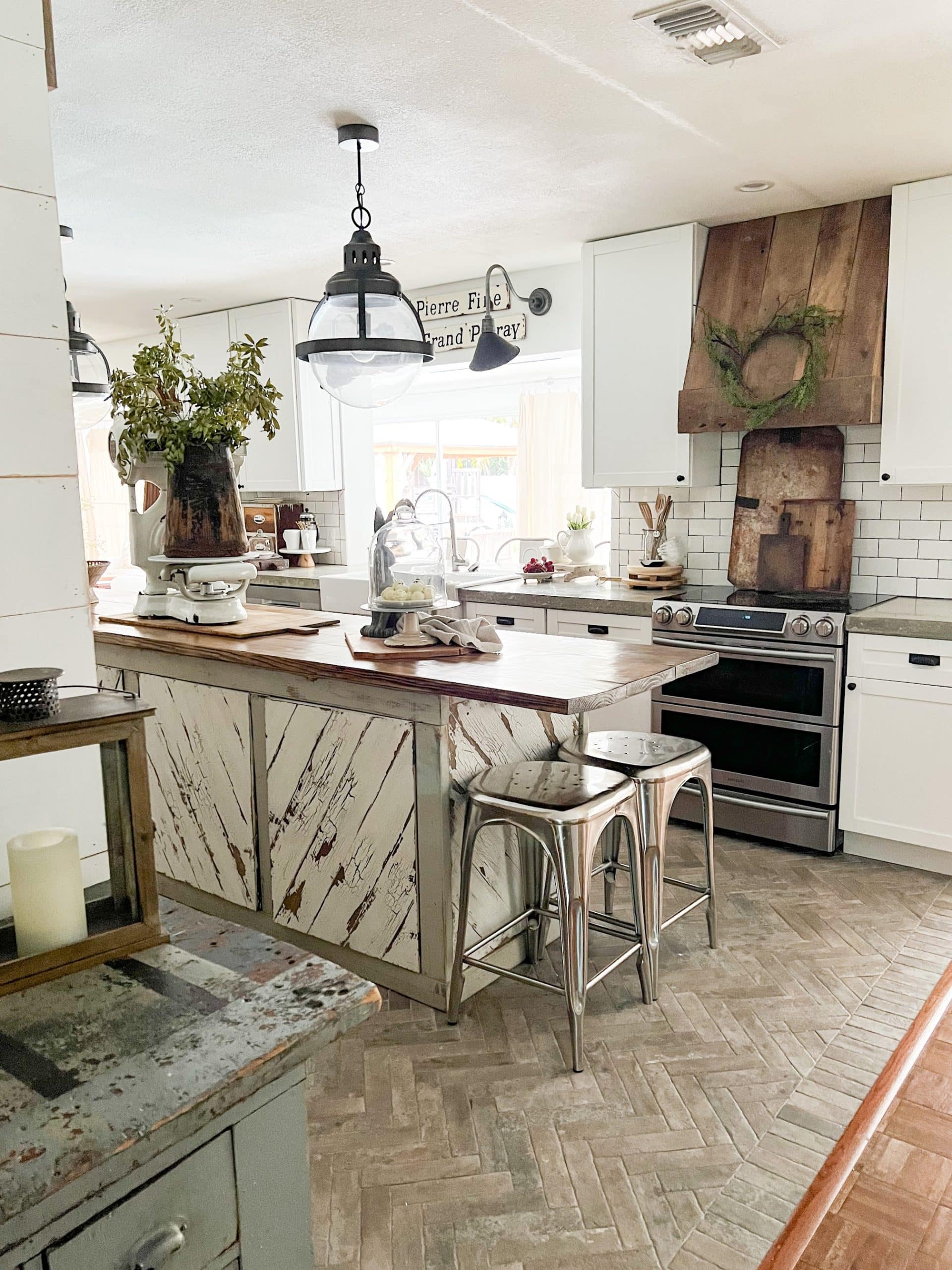 It is tricky to decorate kitchen countertops in inviting ways without feeling cluttered. Follow these simple tips for to make kitchen counter and kitchen island decorating a breeze! Robyn's home is so inspiring. You are going to love visiting and seeing all of her ideas!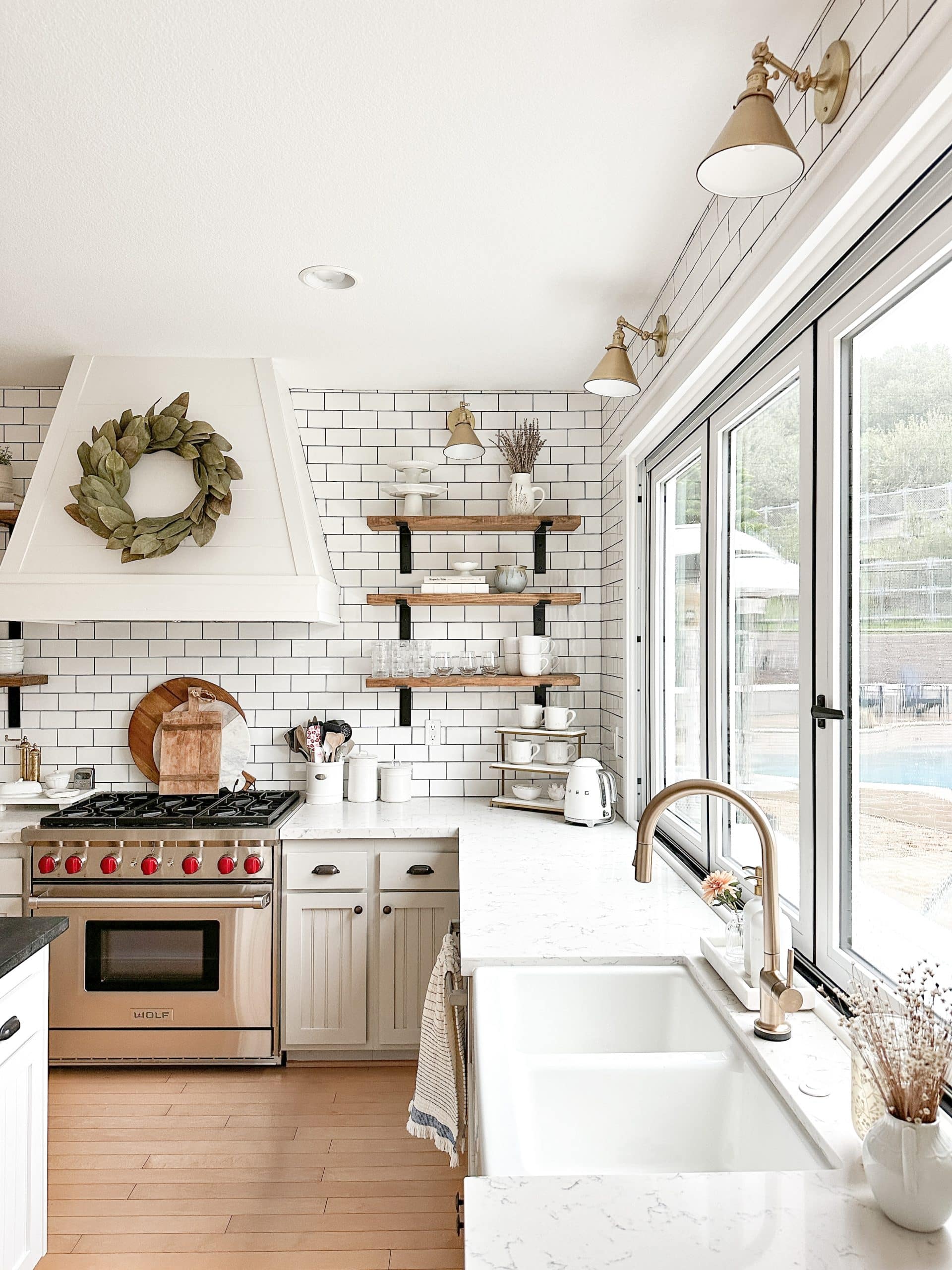 Open shelves are a controversial kitchen addition. This post gives you all the reasons you should install them in your kitchen. I adore Pasha's home and all of her ideas!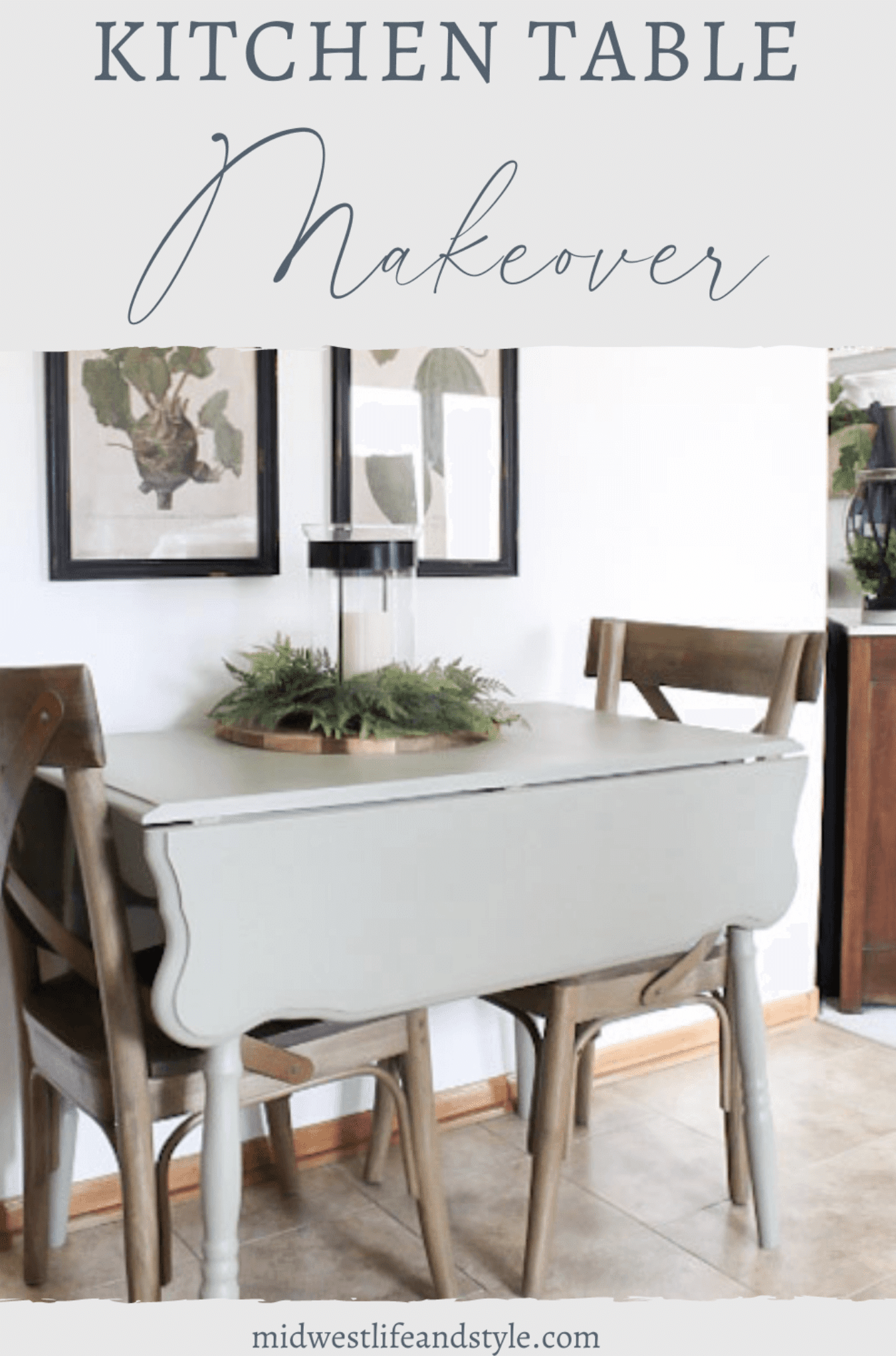 Do you have an outdated table that could use some TLC? Jen shows you how easy it is to give your kitchen table an affordable makeover with just a bit of mistint paint. You will love visiting Jen site and while you're there be sure to check out all of her tablescape ideas!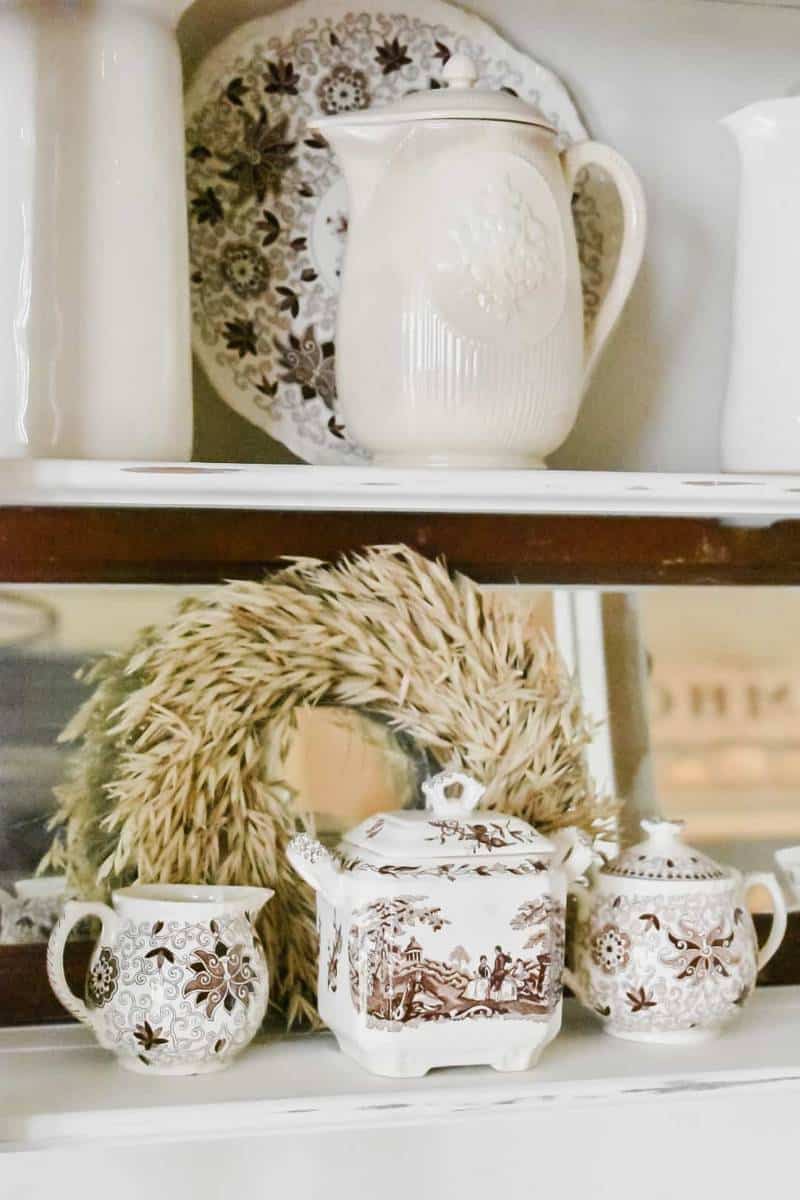 Do you have trouble styling your china cabinet or kitchen hutch? I have some easy step by step ideas on how to decorate you hutch with layers that add uniqueness and interest.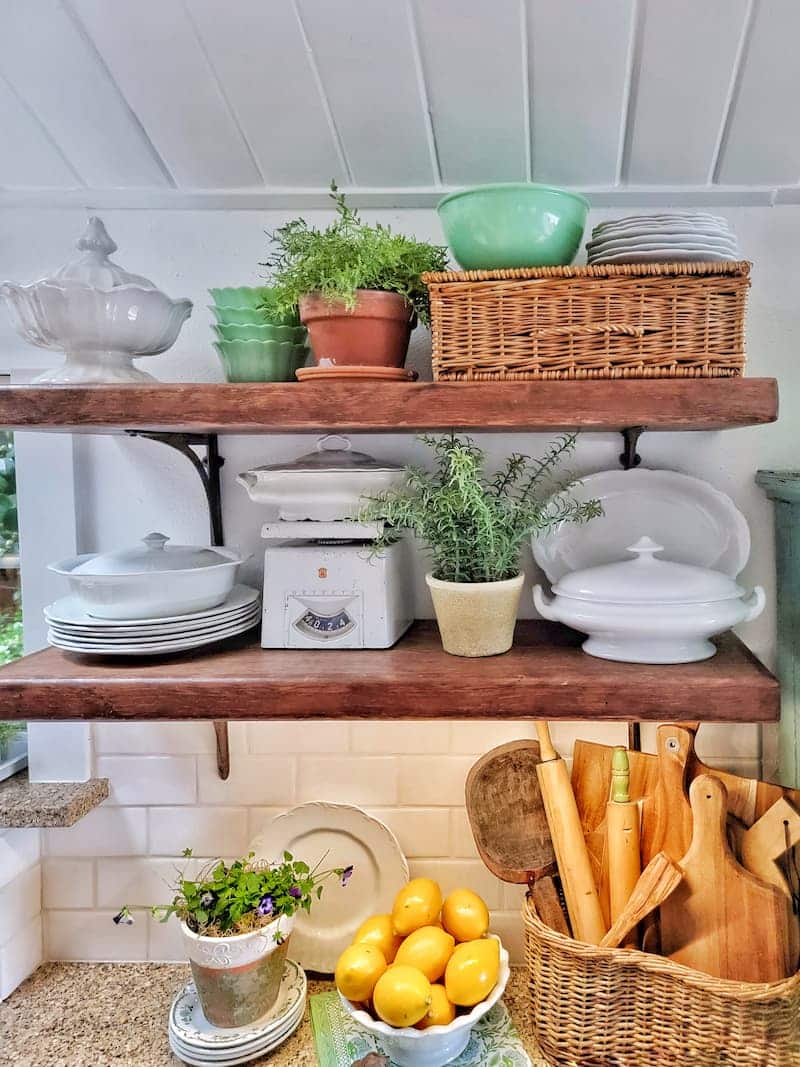 Have you considered transforming your kitchen into a more relaxed and cozy space? Kim will show you 13 simple ways to create a charming cottage-style kitchen. I love Kim's home and her garden is amazing!!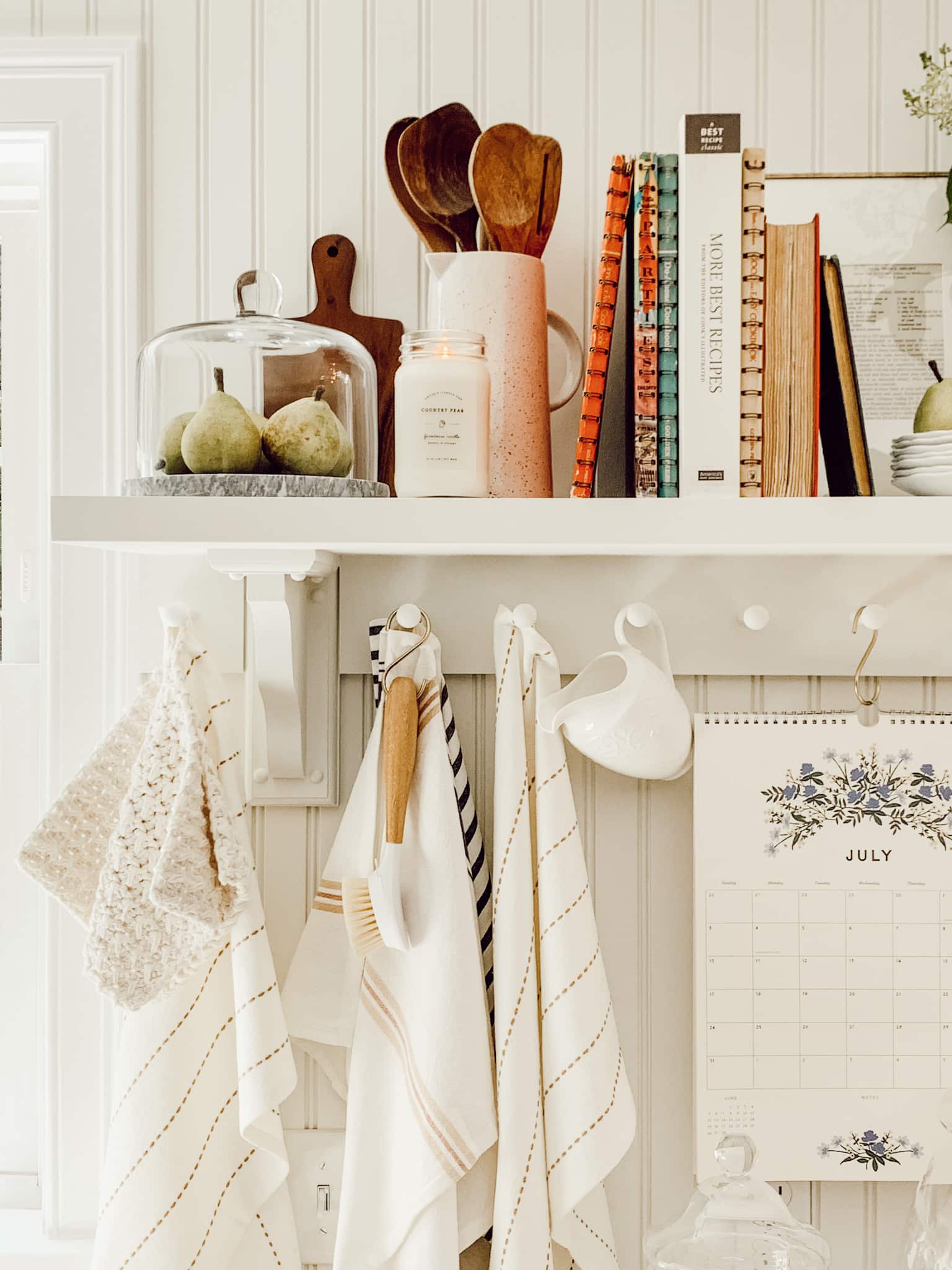 8 simple, universal tips & tricks for styling open kitchen shelving that can be applied to any shelf, in any room, regardless of personal style. Heidi has such good ideas. You are going to love her home!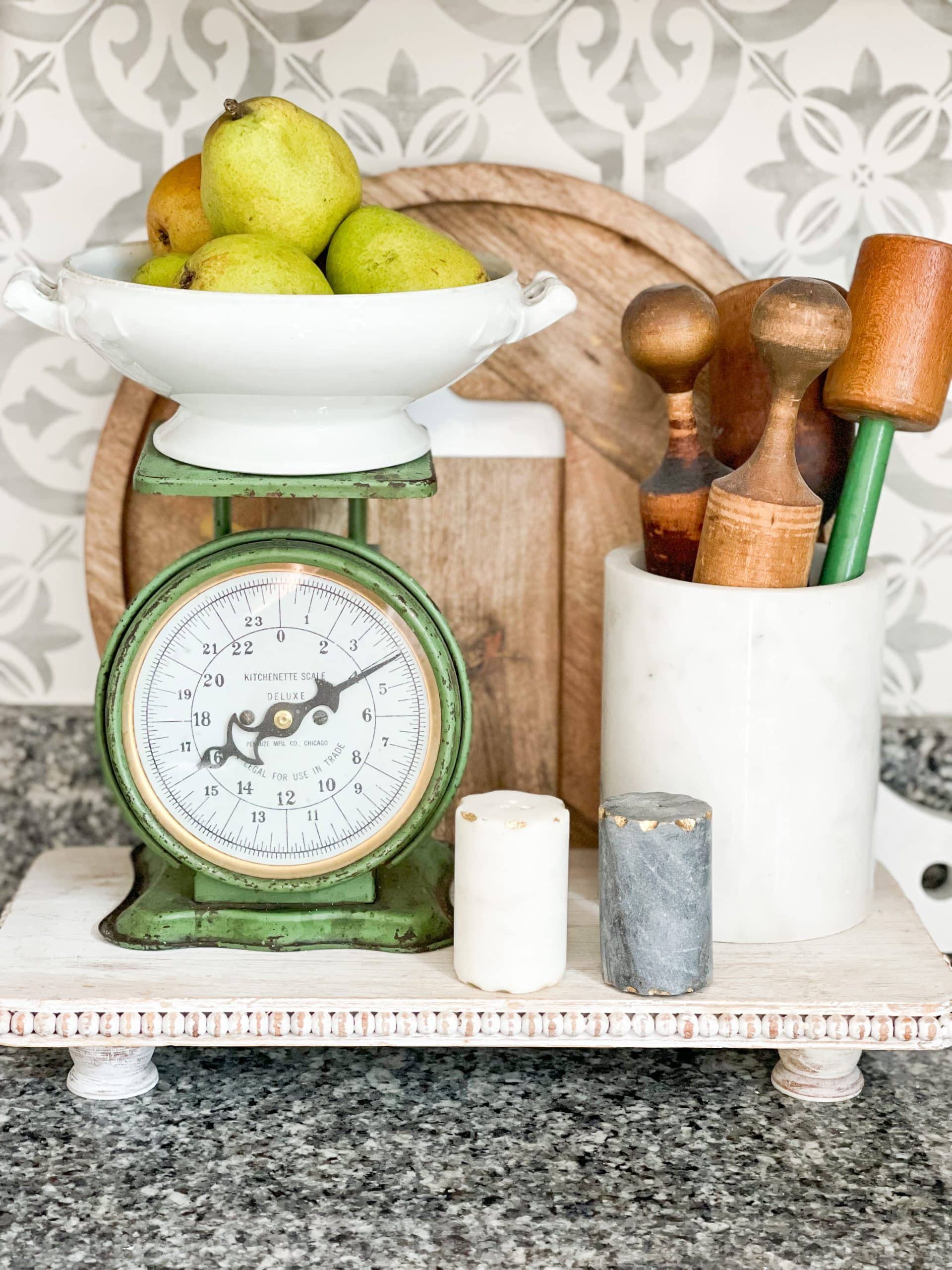 As we transition into spring, do you struggle with how to style your kitchen counters? You can have beautifully styled kitchen counters without a lot of fuss or clutter. Let me show you ways to bring in spring accents.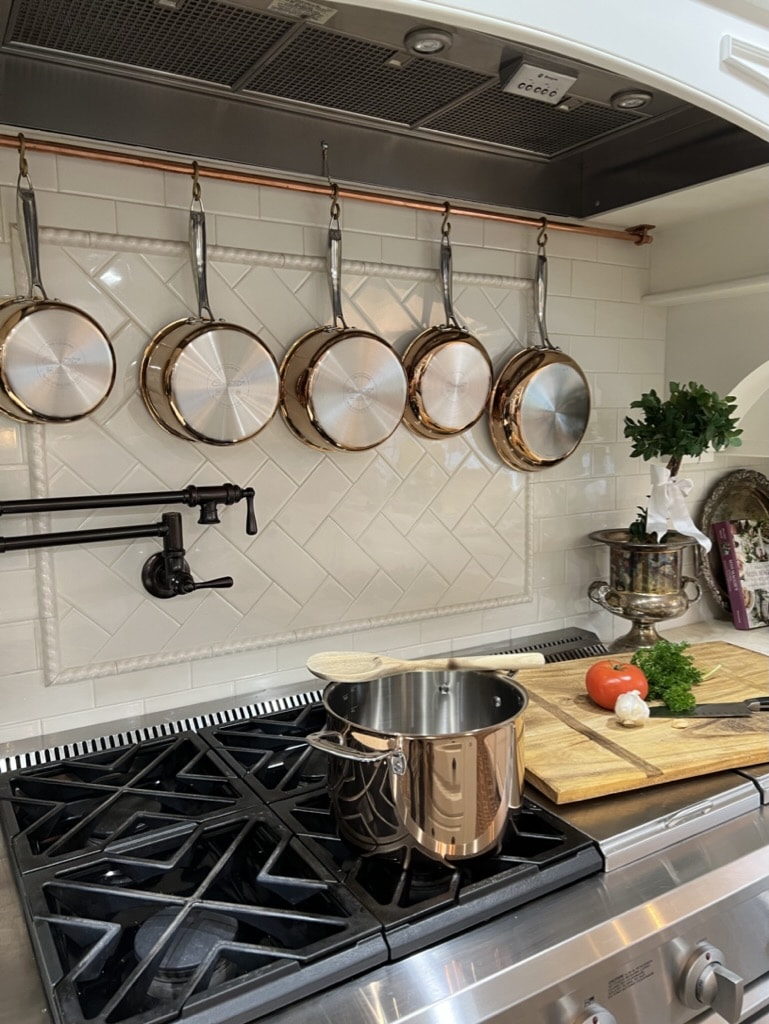 Follow along as we show you how to make an elegant pot rack from copper pipe. See our full step by step instructions! I am absolutely in love with this DIY project that Renee shares be sure to check it out!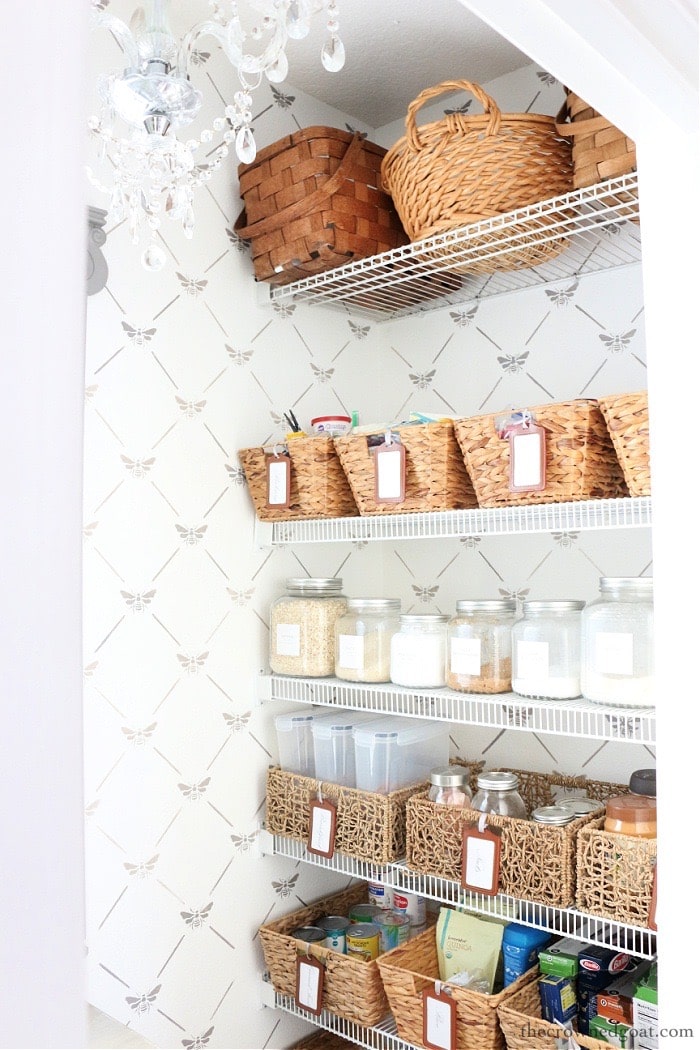 Simple tips and tricks on how to keep your pantry and refrigerator neat and tidy all year long Such great tips!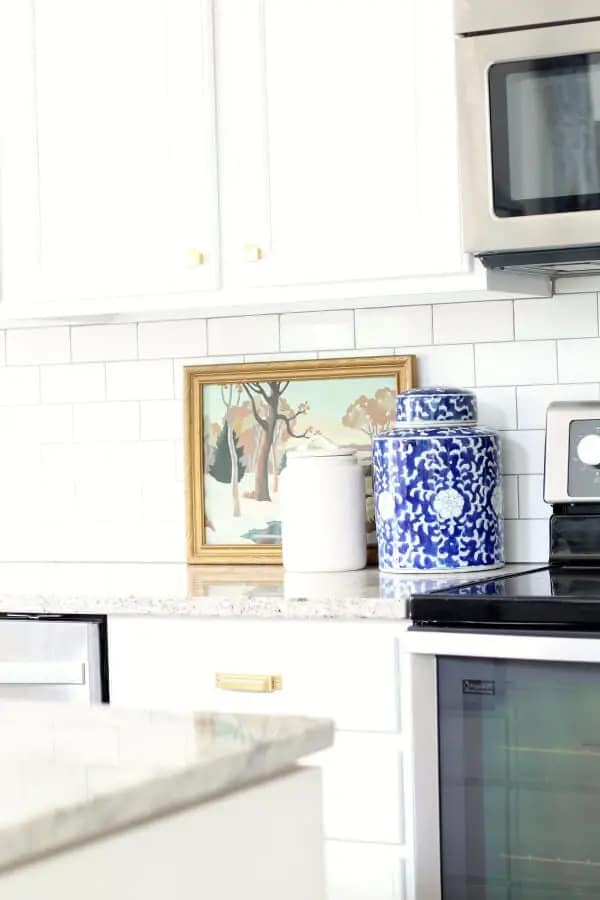 Thinking about redoing your kitchen cabinets? Then my post is a must read on why refinishing kitchen cabinets is a good idea! Kelly is one of my favorites. Be sure to click over and see her home and ideas!
More Kitchen Ideas
Here are a few other kitchen ideas!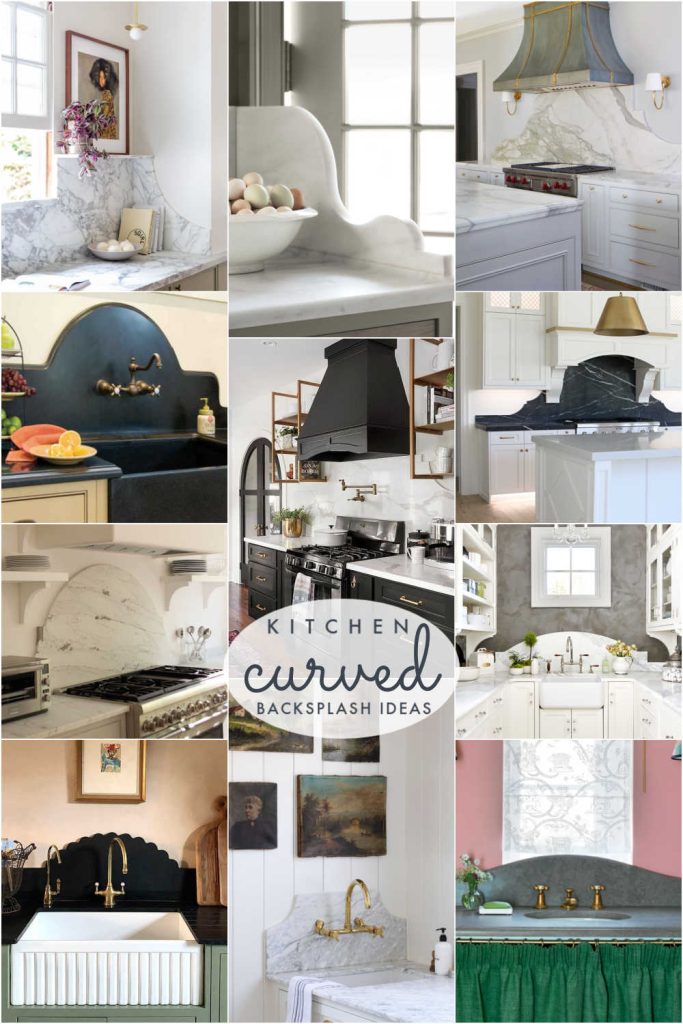 Curved Kitchen Marble Backsplash Ideas. Add a curved marble backsplash to your bathroom or kitchen for a timeless architectural element.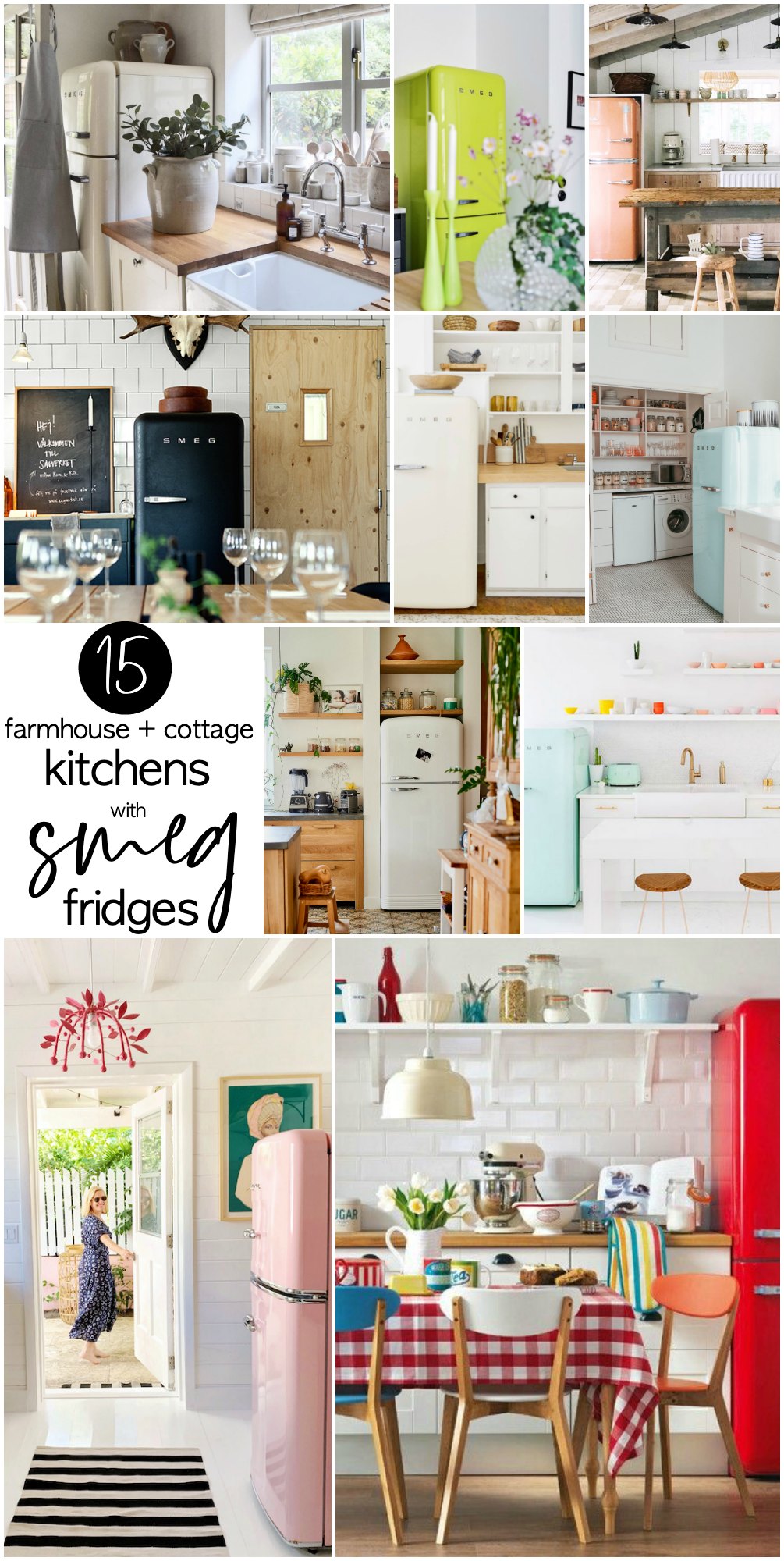 15 Farmhouse and Cottage Kitchens with Smeg Fridges. How to incorporate a sleek and colorful SMEG to your farmhouse or cottage kitchen for a boost of style!
Which Kitchen Idea is YOUR Favorite?
Let me know in the comments!
XOXO