12 Black and White Porch Ideas! Create a striking neutral porch with these gorgeous black and white porch ideas!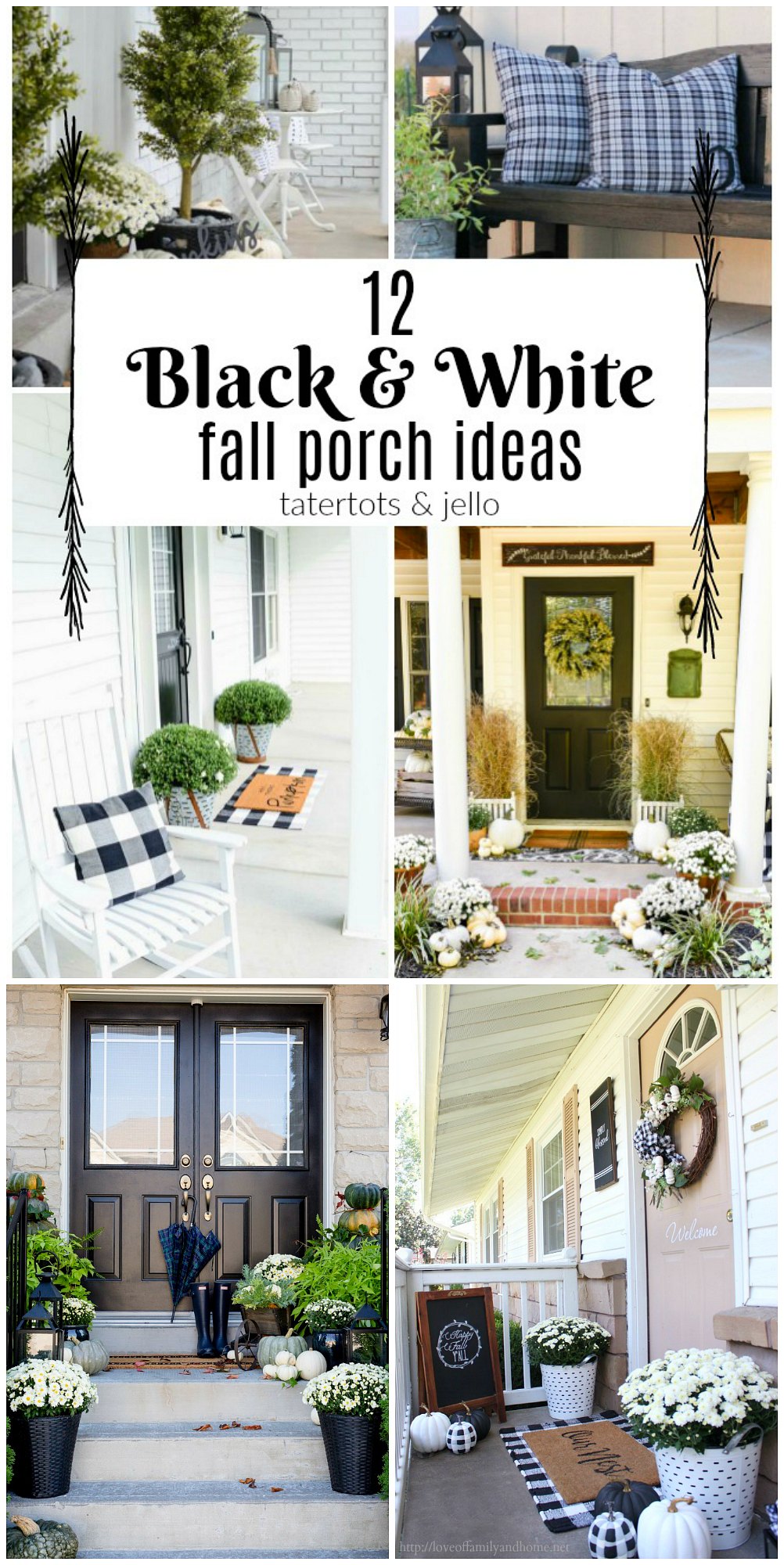 12 Black and White Fall Porch Ideas
Fall is one of my favorite seasons for home decor! There is something so simple and elegant about black and white decor, especially for fall!
***
I've known Beth for years and I have always been so impressed with her style! She recently moved into a new home and the porch is gorgeous. Check out her Fall porch and also her black and white kitchen!
These potted trees are so pretty for Halloween. Add some pumpkins and you have a beautiful black and white porch with a dash of natural green color!
Tonya is another blog friend that I have loved following along with over the years! I love the buffalo check that she brought into her porch in the pumpkins, rug and wreath! So cute!
12 Black and White Fall Porch Ideas
Rachel's porch is so inviting. I would love to have a couch on our new porch. I also love all of the patterns and textures that Rachel brought into styling her fall porch.
This black and white porch is classic with the big checked patterns. Pot some mums in galvanized pots for a gorgeous clean autumn porch.
Lucy has amazing style. Her fall porch with pops of green is so refreshing. Be sure to peek inside Lucy's home and see her outdoor patio too!
I love this black and white porch with pops of pink! A great idea for fall is putting pumpkins inside lanterns like Kris did. So cute!
One of my very favorite wreaths for fall is this one from Nest for Less. The two patterns of black and white work so well together and really make the pumpkins POP!
Taryn is another blogging friend that I have had the chance to work with. I love her modern, simple style! All of the natural elements in her porch are so gorgeous together. And be sure to hop over to her site to find the tutorial on how to make those metallic drip pumpkins!
I love the rustic elements on Shayna's porch – especially that bench. Hop over and see how she fixed her bench up and put together this gorgeous space!
Using neutral colors in fall really lets the natural elements shine through. I love the wood in this porch as well as the pumpkins and mums.
There are so many elements that are fabulous in this porch by Cuckoo 4 Design. The skeleton topiary is so clever and that black and white rug is so striking. Be sure to click over and see ALL of the amazing black and white elements that make this space POP!
***
Pin Black and White Porch Ideas for Later!
Pin this idea so you can easily find it when you want to decorate YOUR home!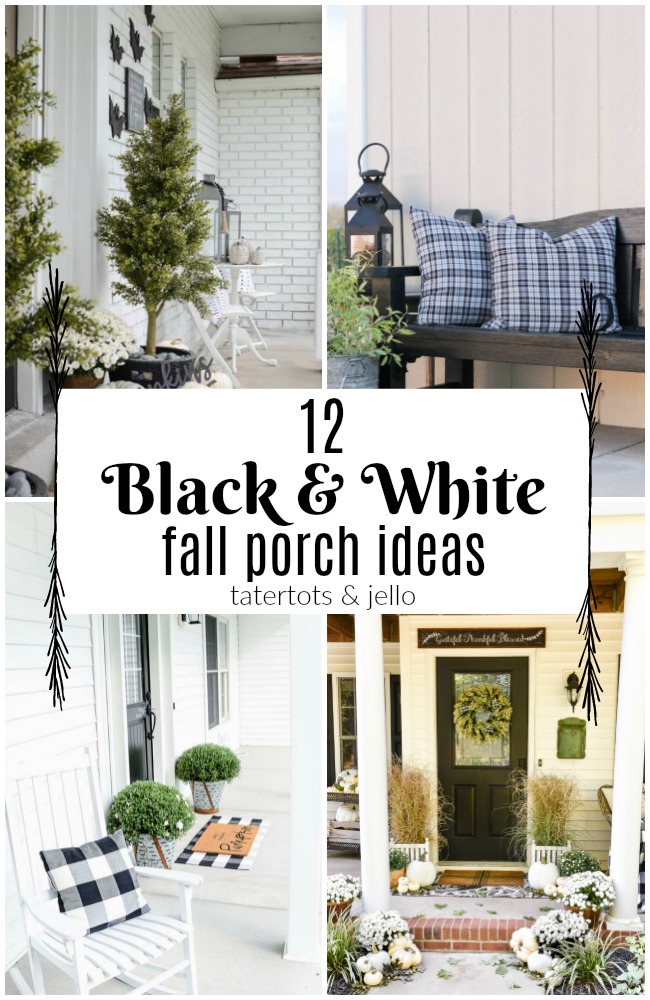 Here are some more black and white ideas for fall!
This is one of my very favorite Halloween projects I've made. Simple foam pumpkins are spray painted black and white. Then we drilled holes through the bottom at different angles and put a rod inside! I still have the topiary and I plan on using it this year at our new #1891AvenuesCottage!
I love making pillow covers! It's such an inexpensive way to change up the look of a room. And using pillow covers makes sense because they are so easy to store. Just use the pillow insert over and over and store the pillow covers flat in a plastic bin!
One of my favorite spaces to decorate is our dining room. I love creating a Halloween plate wall and using black and white elements to celebrate Autumn.
This is an alternate idea to a traditional wreath! I found a basket at the craft sore and decoupaged a wood block and added "31". I loved the way it looked on our porch last year!
***
Show me some of your fall front porch ideas!
Share them with us! Tag me on Instagram at @tatertotsandjello and share YOUR ideas!
xoxo