This post was sponsored by Princess Cruises. All opinions are my own.
We got married a few weeks ago! And while we were planning everything out we really thought about where we wanted to go for our honeymoon. We knew we wanted some quality alone time together – things get a little crazy with 5 kids LOL. We also knew we wanted something adventurous and fun; but also low stress. I'm SO excited to share all of our honeymoon adventures with you and why we LOVED going on a Ruby Princess Alaskan cruise for our honeymoon! These reasons are also excellent for a romantic anniversary trip or ANY special occasion!
10 Reasons to go on an Alaskan Honeymoon Cruise!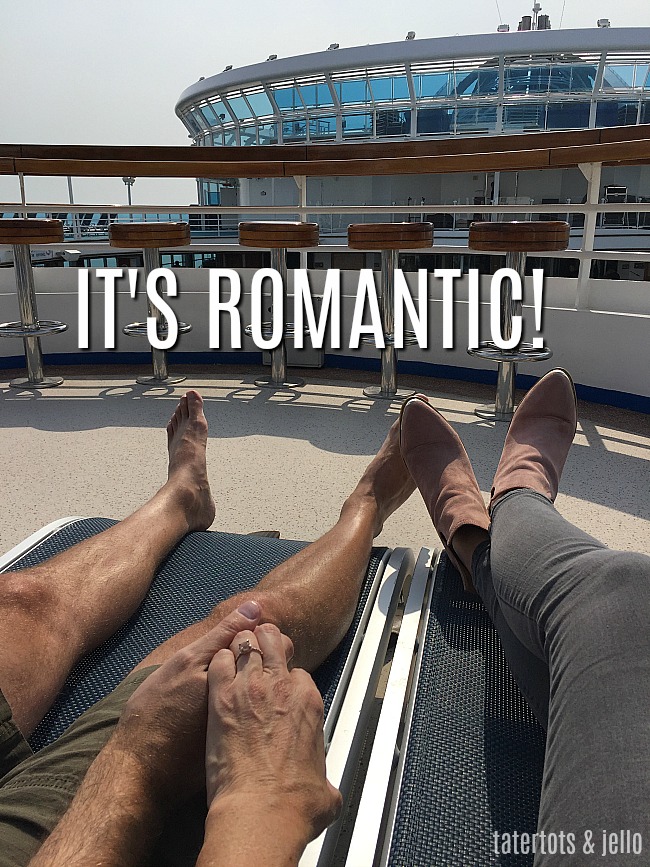 1. It's Romantic!
We arrived at our room to see balloons and a congratulations sign on the door and flowers in the room! The state room was beautiful and much roomier than we had expected. We also loved that it had a balcony!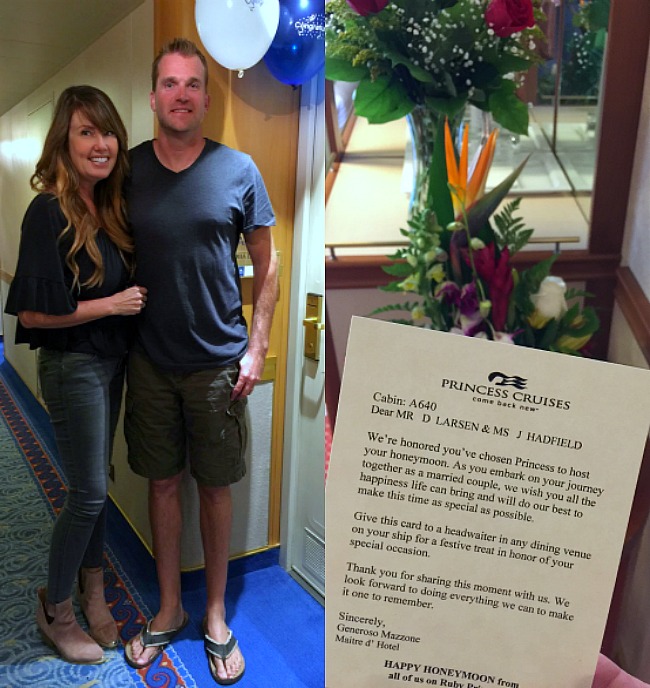 If you have the choice of a balcony room, consider it. We loved being able to sit on the balcony. Plus at night we had our door open and the moon was so amazing in Alaska, shining into the room. It was SO romantic.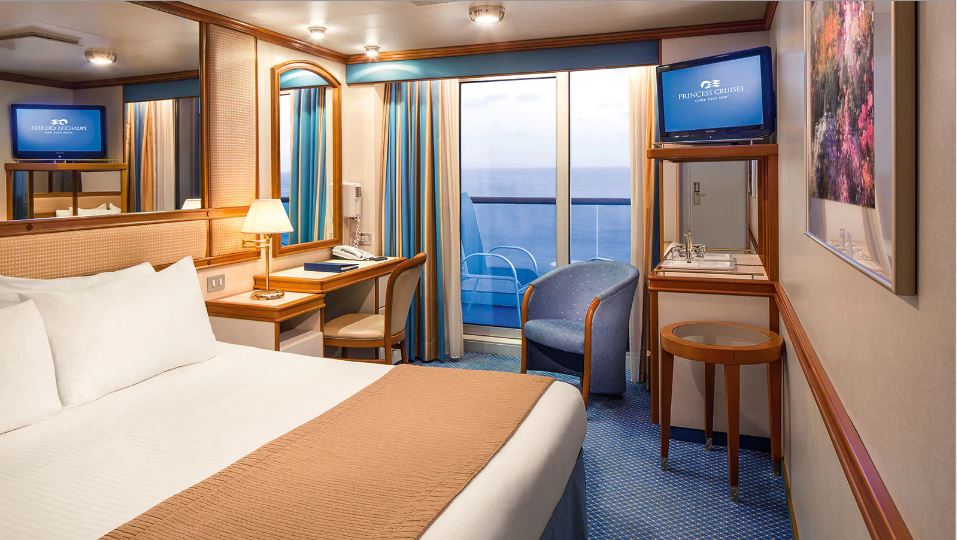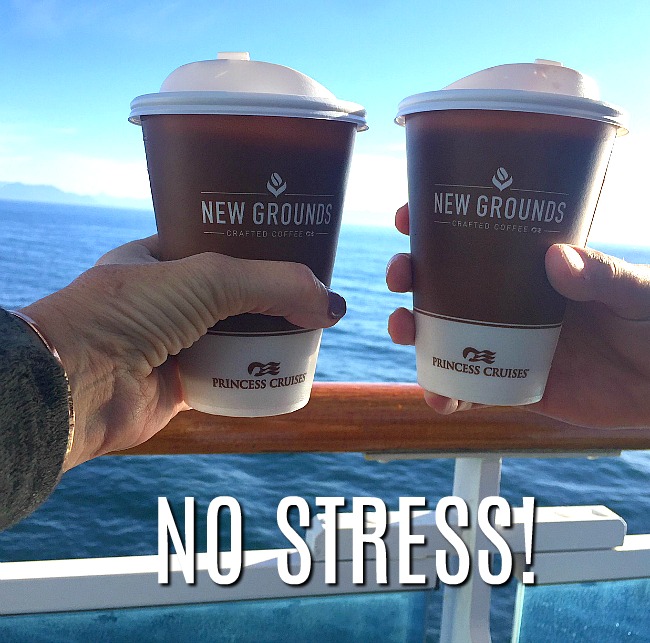 2. No Stress!
Going on a cruise takes the stress out of your trip. Getting away from the stress of jobs, kids, planning a wedding and all of the other pressures felt so refreshing. Once you get on the boat there is NO stress. Everything is on-board — entertainment, spa treatments, every kind of dining, activities. And the amazing thing about cruise travel is that almost everything is included in the price. And the food is delicious. Everything is baked and cooked FRESH on board the ship – I will posting another post all about the food!

3. You can visit multiple destinations!
Probably my favorite part of cruising is the fact that you get to travel to several cities and explore easily! A honeymoon or anniversary cruise to Alaska is perfect because you get to relax while on the ship but you also get to explore at the ports! I LOVED seeing the brightly colored towns and exploring each one! I will be doing another post about all of the different excursions – but just know that in each town there are literally dozens of different things you can do! From helicopter tours onto a glacier, to crab fishing on the ocean, train tours into Canada, whale watching tours with sunset dinners, salmon bakes in a mining town, high tea in a castle… The list is truly incredible and there is something perfectly suited for EVERY person's taste!! Plus, it's awesome that you don't have to pack and unpack multiple times. Your stateroom is your base and all of your things remain in there. It's so easy!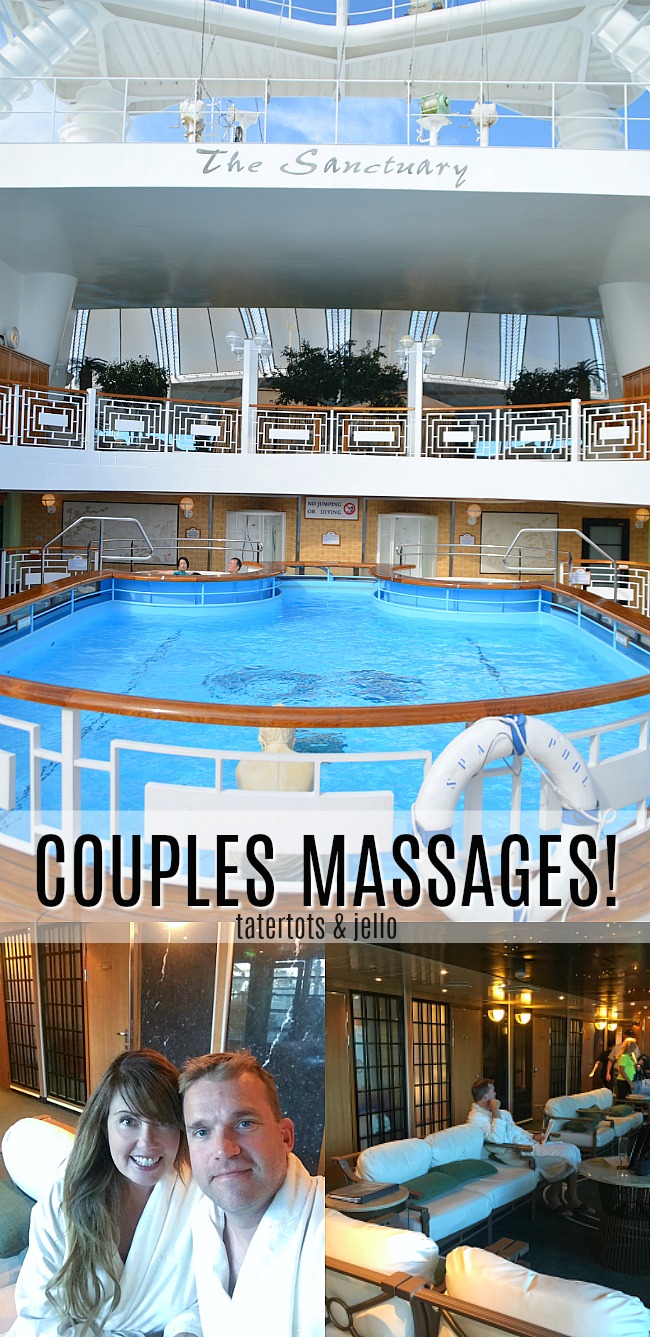 4. Couples massages on the ship!
What is more romantic than couples massages?? There were so many relaxing options to choose from at the Princess Cruise Ship's Lotus Spa. Facials, scrubs, massages, body wraps and a full-service salon as well as a fitness center with so many daily classes! Dave chose the chocolate massage which was so cool. They used two types of chocolate and it smelled SO good!I opted for the hot stone massage and it was heavenly. After 75 minutes I felt like a new person!! The spa on the ship was ultra deluxe and so relaxing. There is a whole section of the ship called The Sanctuary, which is an adults-only area, with a domed glass ceiling, deluxe lounge chairs and it even has it own pool. We wrapped up in fluffy robes and spent a morning being pampered. It was delightful.

5. The food!
The food was absolutely delicious on-board Princess Ruby. There is such a variety of food and restaurant options. There were amazing buffets that changed daily, deluxe restaurants, quick on-the-go cafes and grills, and amazing room service. I will be sharing a behind-the-scenes post about how they prepare the food and everything that goes into making dining such a treat. You can grab the most delicious pizza on deck any time of the day, with a specialty pizza that changes daily. There is also a grill on deck where you can order burgers, fries all day and night. Two nights of the cruise we dressed up for dinner which was very romantic. We also experienced Princess Ruby's specialty restaurants — SHARE, by award-winning chef Curtis Stone; Salty Dog, which served creative gastro pub with small plates and gorgeous presentation; and Crown Grill an up-scale steakhouse with the best steak and seafood we've ever had. Plus there are almost a dozen bars clubs and lounges where you can get a delicious drink and enjoy dancing, comedy, karaoke and more. We loved Club Fusion where they had music trivia one night and zumba one morning which was so fun to do as a couple! We made some new friends too!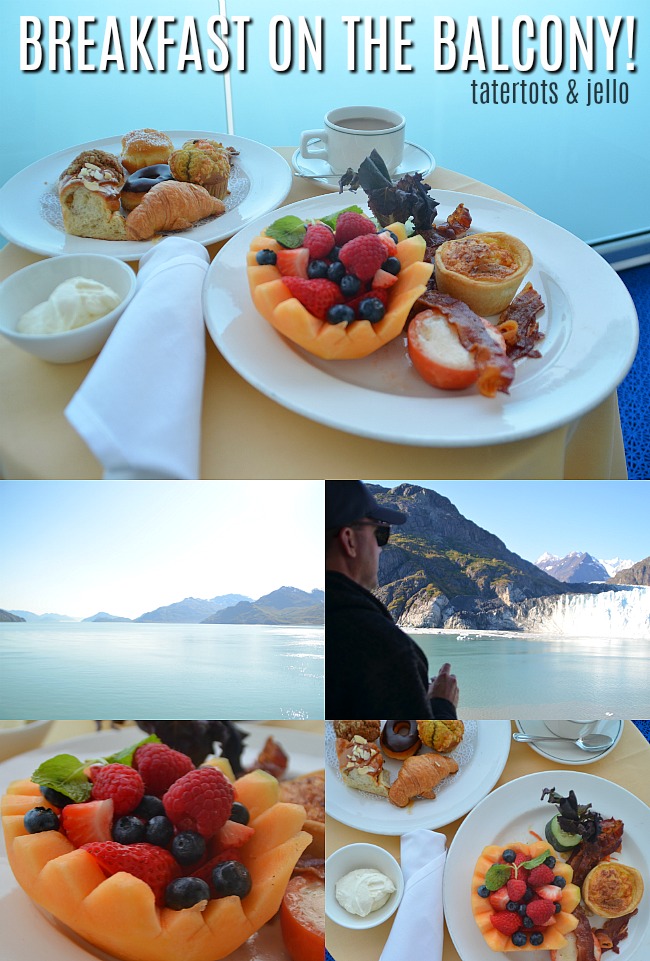 6. Breakfast on the balcony!
The morning we cruised into glacier bay, we ordered room service on our balcony and watched the glaciers as we had the most exquisite breakfast of our lives. They brought us a flakey, savory quiche, warm fresh croissants and pastries, a baked tomato and fresh fruit in a melon!! The presentation was gorgeous and the scenery from our balcony was absolutely breaktaking. It was the MOST romantic morning. We sat on the balcony in our fluffy Princess Cruise robes and felt like the luckiest people alive.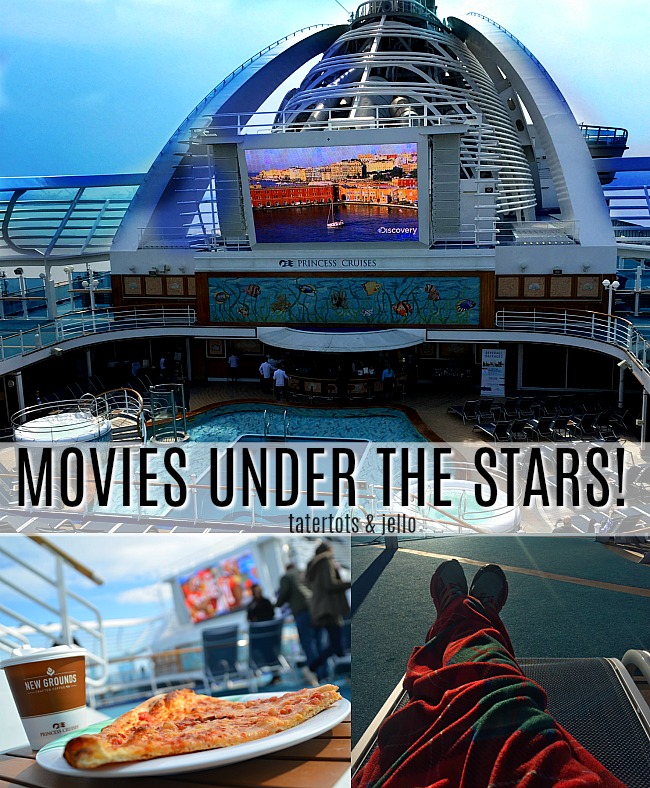 7. Movies under the stars.
Princess Cruise Ships have huge, palatial, beautiful decks. We loved getting up each morning and going for a walk around the decks under the crisp, clean air. Each night the staff puts cushy cushions on all of the lounge chairs, along with a soft pillow and fluffy blanket. They have two movies a night played on a GIANT screen. It was so fun to cuddle up on our lounge chairs, order hot cocoa and watch movies together. Right to the side of the deck is the pizzeria and it was fun grabbing a couple of slices. I couldn't resist their pizza – it was SO good!!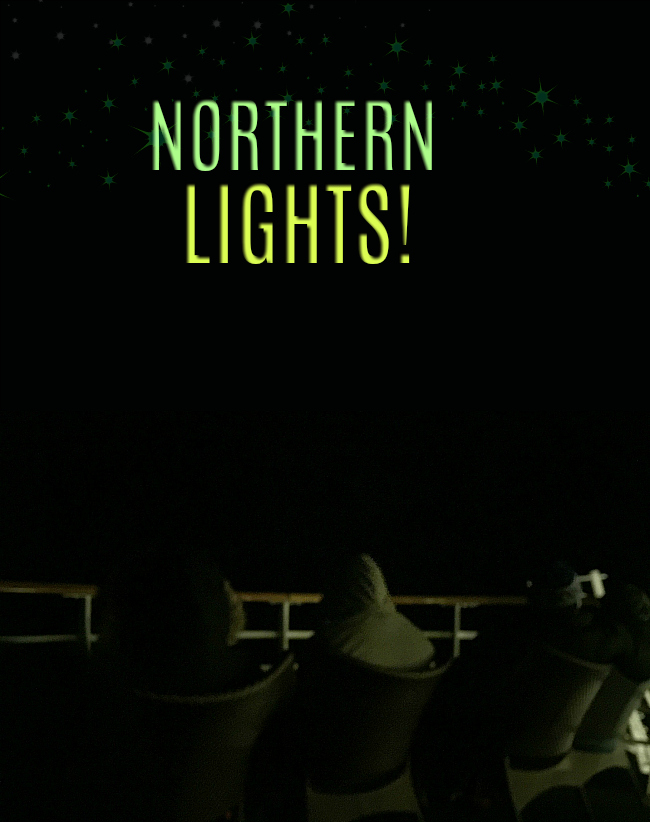 8. Northern Lights.
Some times of the year you can see the Northern Lights in the Alaskan sky from the ship. We were lucky enough to catch a glimpse of them one night on our cruise. We had dinner and then bundled up and set up camp with a few of the other guests on the top of the ship. After while we were able to see the colorful rays shining up from behind the Alaskan mountains. It was magical and so romantic! As you can see in the picture above, I wasn't able to get them from my camera because I didn't have a tripod. So bring a tripod just in case – that tip is going into my What to Pack for Alaska Tips post and is coming up in a few days!!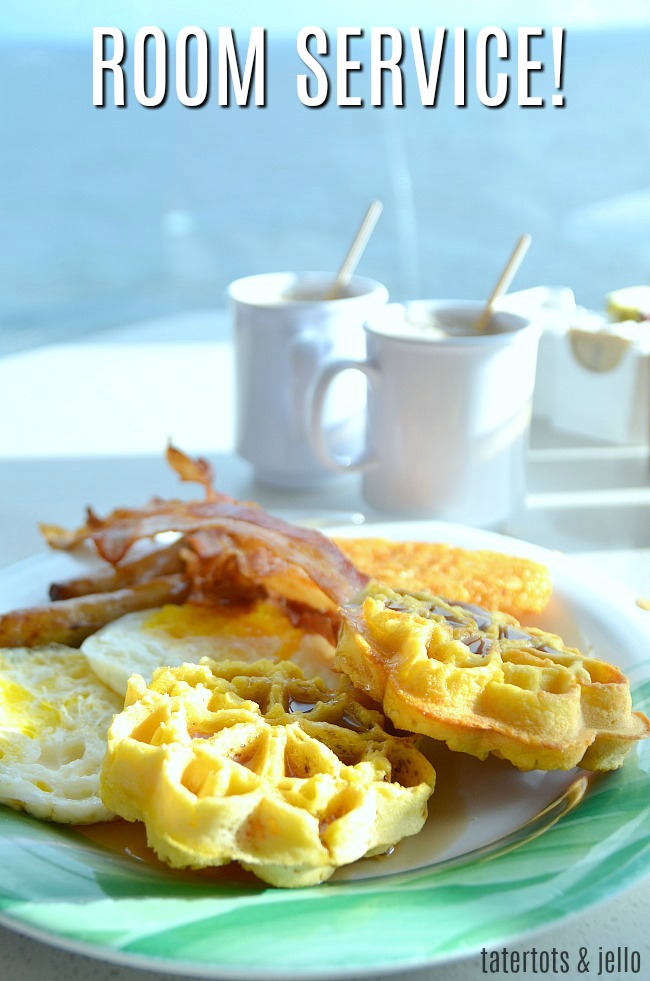 9. Room Service!
It was so fun dining on the ship during our honeymoon but one of the most romantic things we did was have room service brought in. It was so nice being able to have alone time to connect and we loved that Princess ships have room service 24/7. There's no need to leave your room if you don't want to. Both food and delivery are included in the price. Gratuity is extra. And the room service menu is extensive and wonderful. Dinner on our balcony under the Alaskan stars was one of my favorite memories.

10. So many date night options!
Every night on the cruise was date night! There were so many things to choose from! Each day your porter will bring you a newsletter with 2-3 pages of activities and times everything happens. It was fun choosing what to do each day and night. There are concerts, movies, live music by the most talented performers, game shows, they even have a version of The Voice show that is a live singing competition. There is literally dozens of things you can do at any moment of the day or night on the ship. There was a balloon drop and dancing in the main lobby the last night of the cruise, which we loved. They even had a miniature golf course at the top of the ship. SO fun!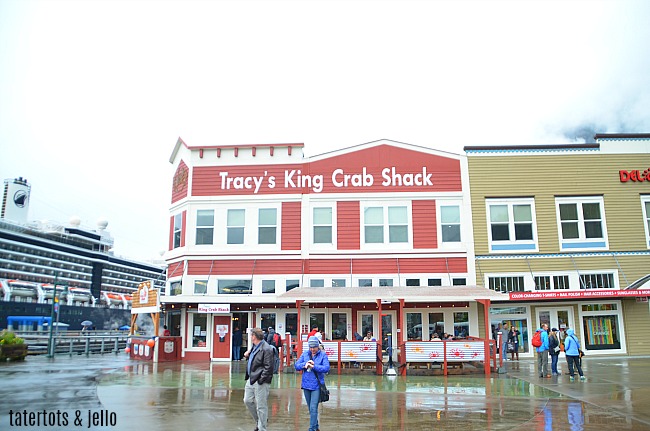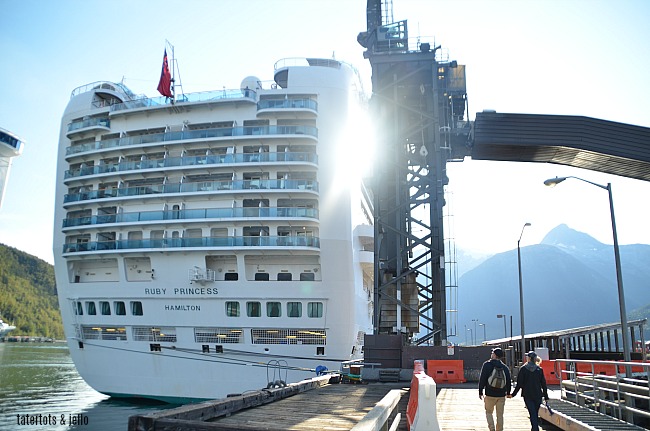 I can't wait to share more about our cruise. I will be sharing a behind-the-scenes food tour, some packing tips and what to wear on an Alaskan cruise, as well as some of the fun excursions you can take and more! Princess Cruises has a motto – Come Back New and going on their cruise really did make us feel like we came back new – refreshed – with memories to remember always.
And I just found out about Princess Cruises Ocean Medallion program. This November, Princess will debut Ocean Medallion – a free, wearable device that facilitates extraordinary guest vacation experiences to make cruising more personal and simple than ever before. The Medallion holds your unique digital identity which is encrypted and communicates with thousands of sensors on-board and in port. It lets the Crew see information they can use to serve you better. That's in addition to using Medallion for payments, unlocking your stateroom door, speeding up embarkation and much more. Such a cool idea!
And lastly I just wanted to let you all know how grateful I am for everyone that has stuck with me on this crazy journey. It's been a tough few years and I am so grateful for all of the friendships and connections I have made through blogging. I have learned to never take a second for granted with those I love. I hope you will continue with me and I am SO excited about this next chapter!!
Let me know if you have any questions about visiting Alaska or taking a cruise. I would love to answer them!
And a huge THANK YOU to Princess Cruises for sponsoring our honeymoon. It was a dream come true!
You can find out more about how to plan YOUR Princess cruise:
Have a beautiful day!
xoxo