My daughter LOVES sloppy joes! She requested them again this week and I decided to switch things up a bit with an Indian twist. The fragrant aromas of cumin, coriander and ginger blend with a tomato base to make a zesty taste sensation. I served these on naan bread – but they would also be delightful on soft small buns. You could even serve it over rice!
Zesty Indian Sloppy Joes
Scoop the aromatic meat mixture onto your naan bread and top with chopped green onions and cilantro. You might never go back to traditional sloppy joes again!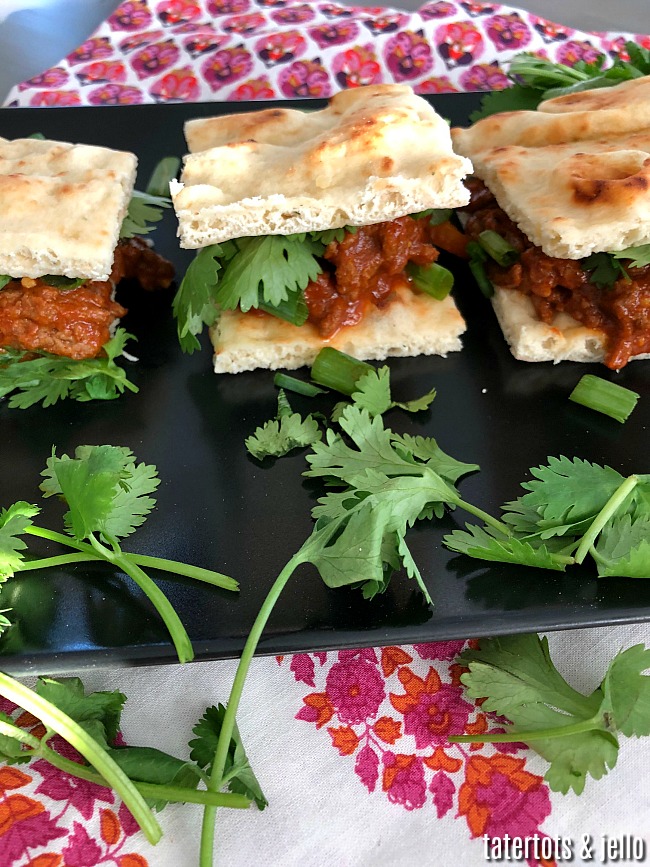 Here's the recipe for Zesty Indian Sloppy Joes:
Zesty Indian Sloppy Joes
Zesty Indian Sloppy Joe Recipe
Recipe Type: dinner
Cuisine: Indian
Author:
Prep time:
Cook time:
Total time:
Serves: 8-10
Zesty Indian Sloppy Joes are a fragrant twist your taste buds will love. Cumin, coriander and ginger create an flavorful combination, serve on naan bread and top with cilantro!
Ingredients
1 pound ground beef
1/2 onion, chopped
2 Tbs. olive oil
3 Tbs. chopped garlic
2 tsp. ginger
2 small tomatoes
1 yellow or red pepper, chopped
2 tsp. cayenne pepper
1 tsp. cumin
1 tsp. black pepper
1/2 tsp. salt
1 cup water
1/2 cup ketchup
1Tsp. lemon juice
Instructions
Heat oil in a medium skillet and add onion. Cook onion until softened and add ground beef.
Cook mixture until beef is cooked through.
Add spices and continue cooking for another 2 minutes.
Add chopped tomatoes and pepper and cook until mixture boils.
Once boiling, turn the burner down to a simmer and add ketchup, lemon juice and water.
Stir and then cover and let simmer for 10 minutes, the mixture will get thick.
Warm the naan or rolls in the oven or microwave until they are soft.
Scoop a spoonful of the meat mixture onto a roll and add a bit of chopped green onions and cilantro to the top and cover with the other side of the bread or roll.
Serve!
Try them out. Your family will be in for a zesty surprise!!
Here are a few other easy dinner we love to make: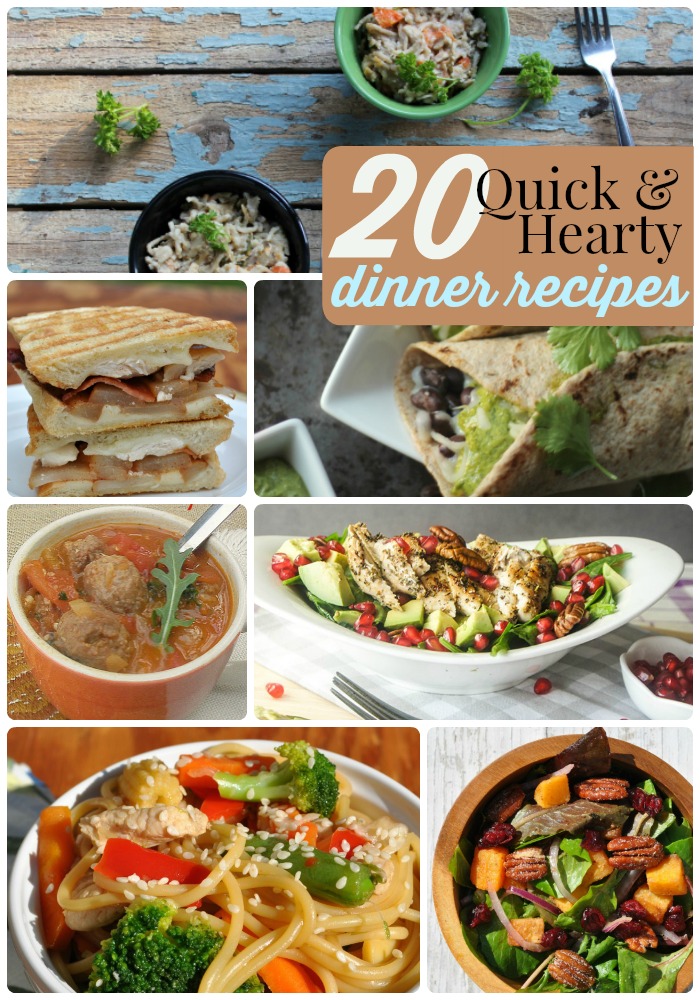 20 Quick and Hearty Dinner Recipes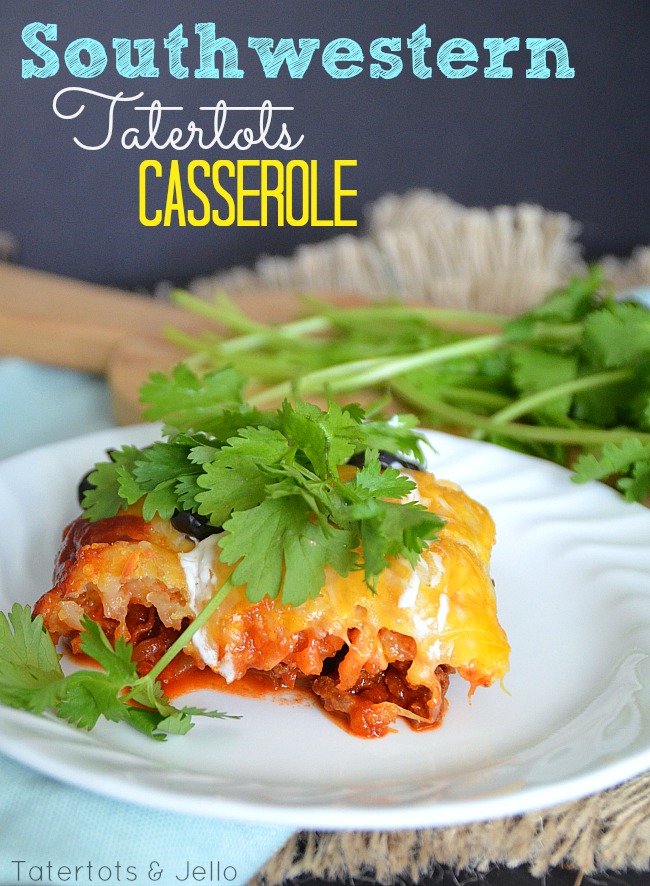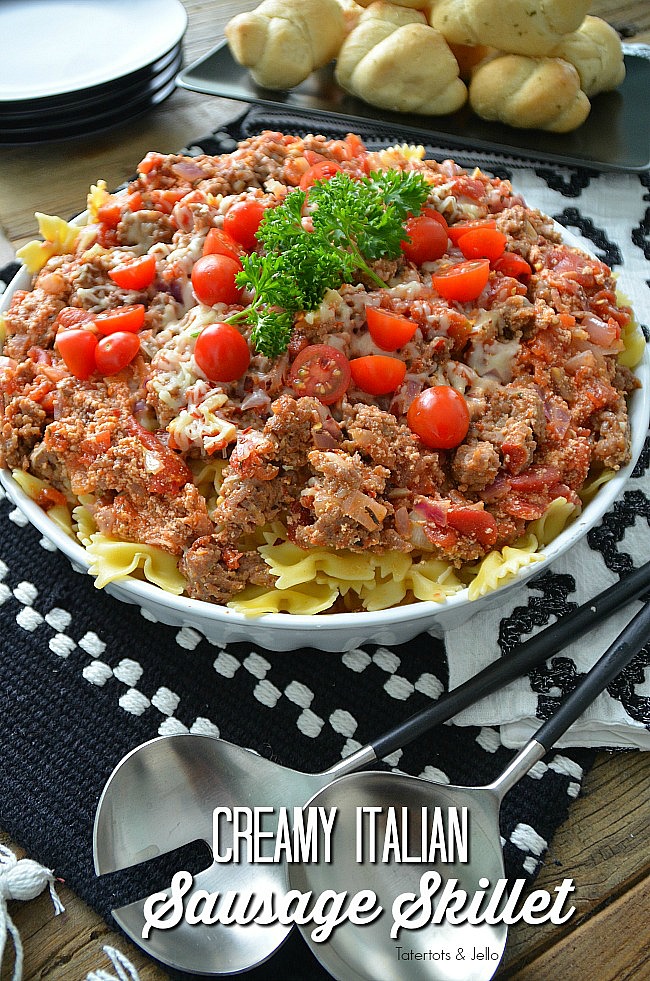 Creamy Italian Sausage Skillet
Do you have any favorite recipes to make that your family LOVES?
Share them with us in the comments!!
Have a yummy day!
xox