Valentine XOXO Mantel Ideas. Upcycle and paint some easy XOXO signs, add paper hearts and you have an adorable mantel or shelf vignette!
Valentine XOXO Mantel Ideas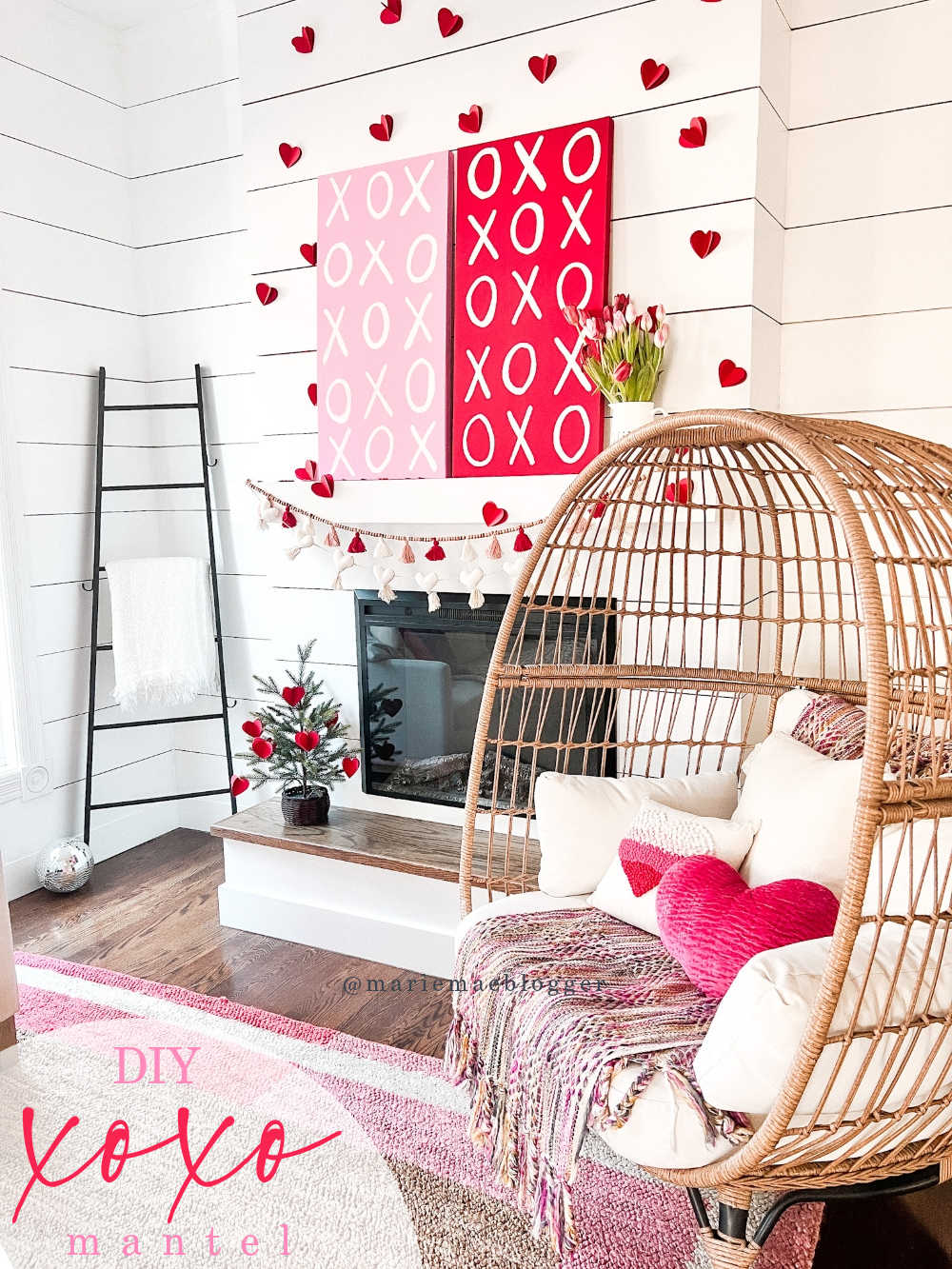 I LOVE decorating for Valentine's Day! There's something so happy about adding red and pink, especially in the cold dark winter! One of my favorite things to decorate for is my Valentine's Day mantel! The last couple of years I went with a BE MINE theme and they were so cute. I'll link to those mantels at the bottom of the post. Ever since I was a teen, I would sign my letters with an XOXO and I've been signing my posts on my blog with an XOXO for the past fourteen years. So I thought it was appropriate to create an XOXO theme this year!
Valentine's Day Decorating Ideas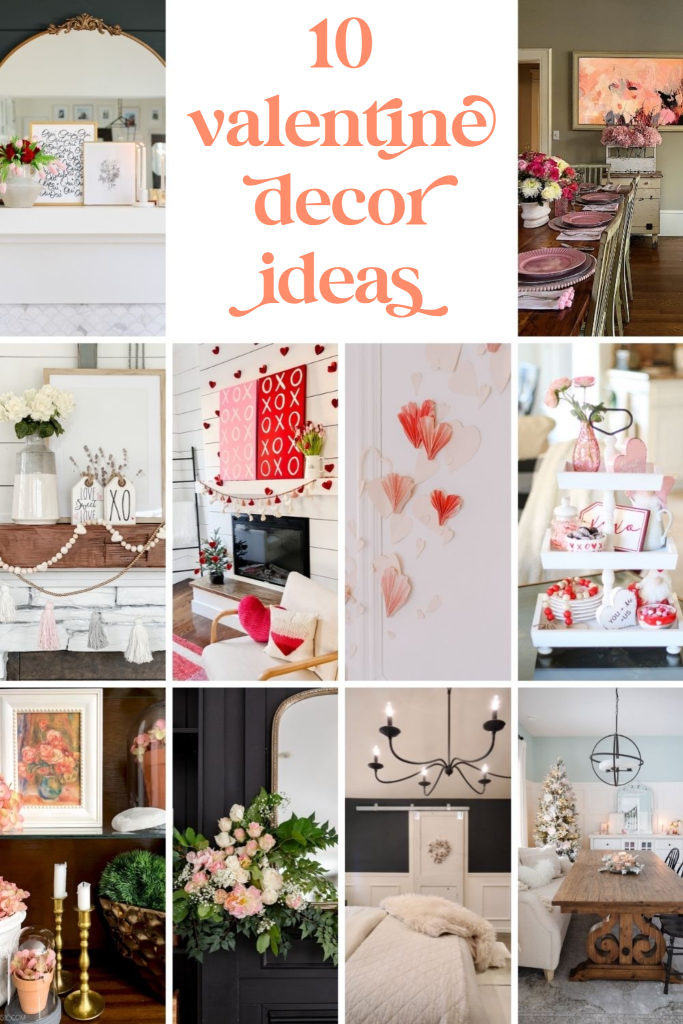 I am joining my crafty friends who are all sharing the cutest Valentine's Day decorating ideas. Be sure to scroll down to see their tutorials! We love sharing easy ways to celebrate!
DIY XOXO Signs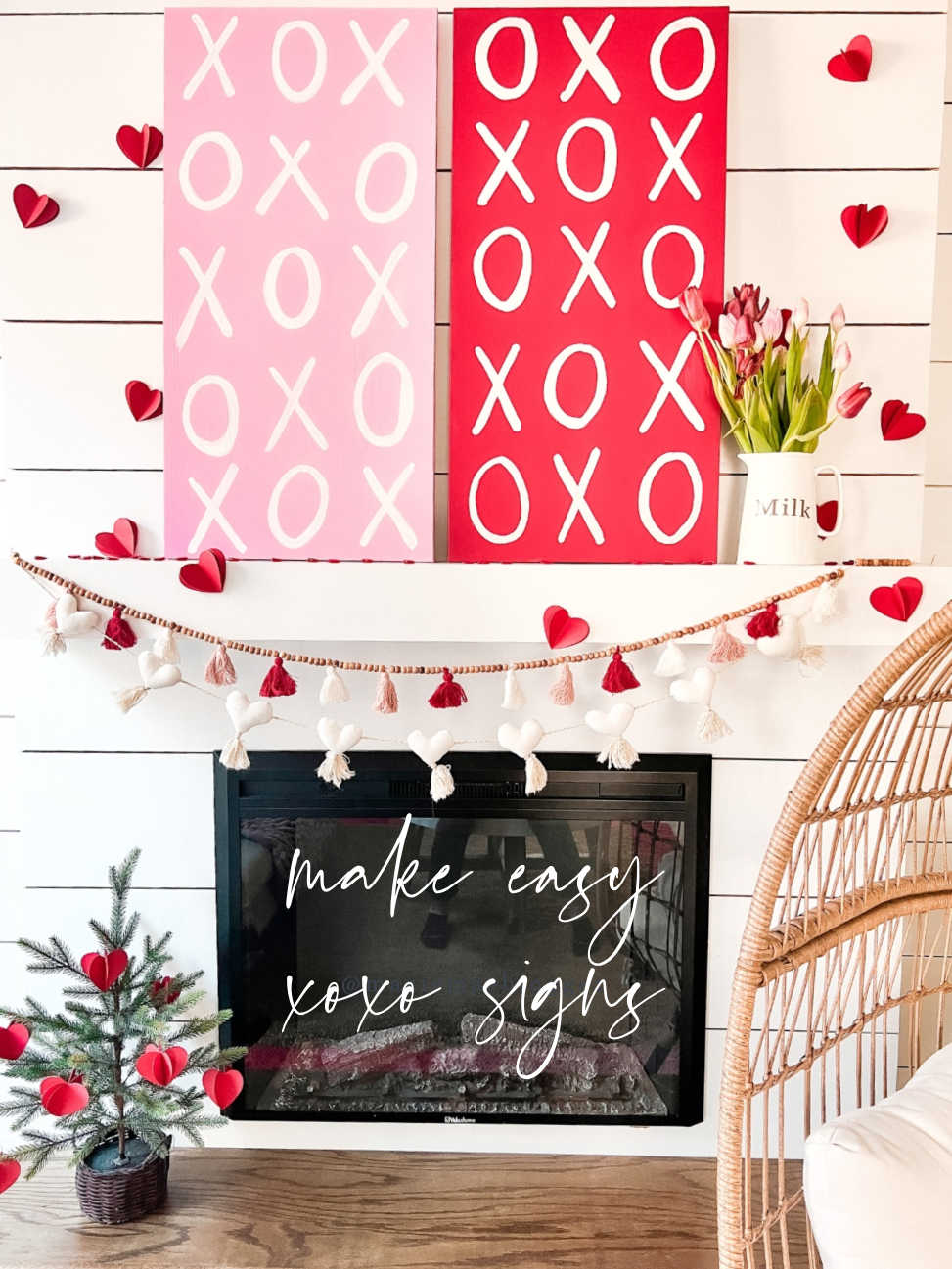 I love snagging big signs at Hobby Lobby's 75% section. That's what I did to create the BE MINE signs I used in my BE MINE mantels. So this year I headed over to see if I could find two signs. And I did! They were a pair of signs packaged together that started off at 80.00 and I got both for 13.00.
XOXO Signs Directions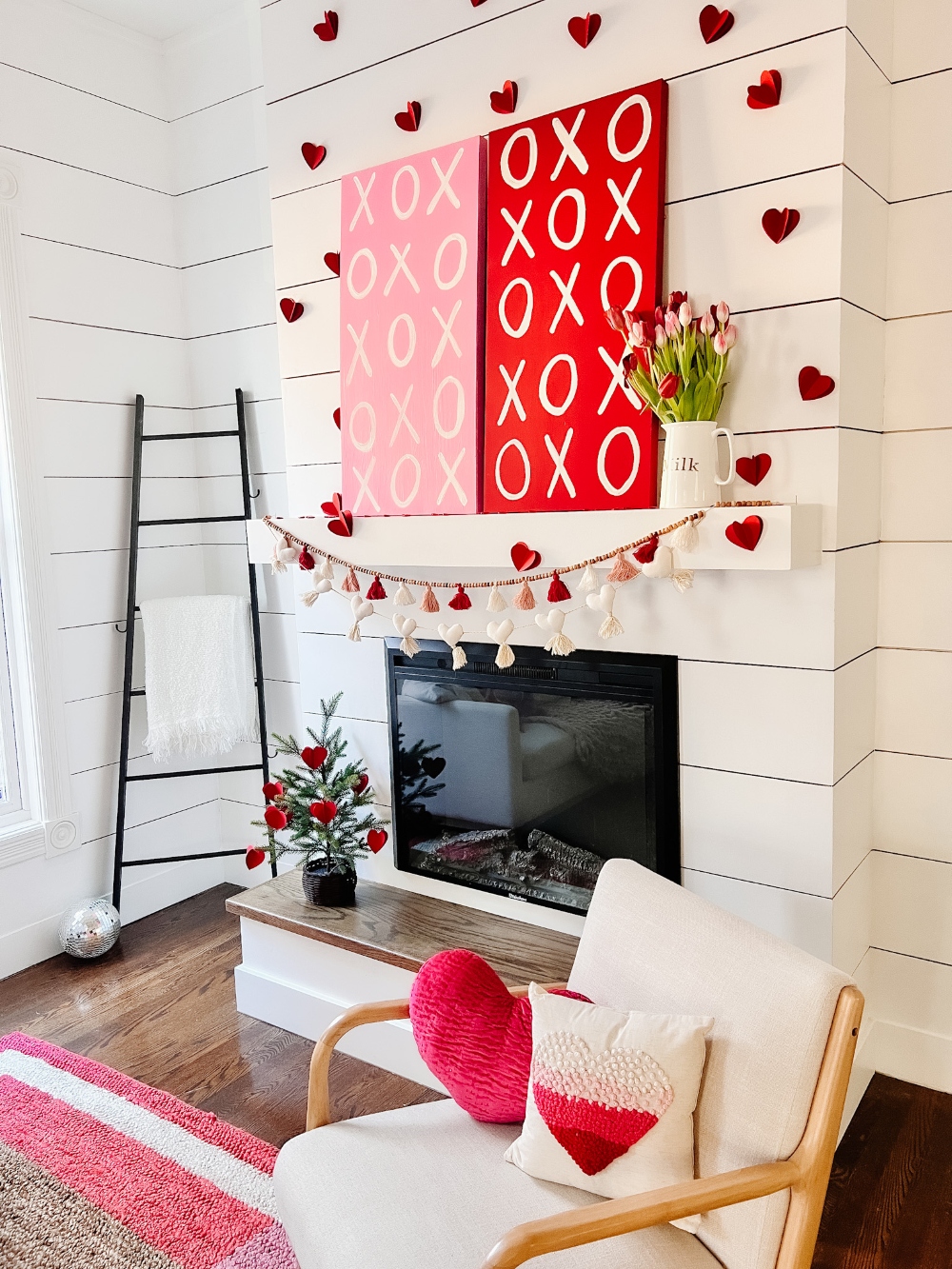 It's so easy to do! This is how I created these signs
I painted one sign red and the other sign pink. Looking back on it I think it would have been easier to spray some primer over the signs first. They started out black so it took a few coats of paint.
Once dry, take one sign and decide how many rows you can fit on the sign and the spacing. I wanted the signs to be able to be put together and have the XOXO's line up and go together. So on one sign I painted XOX and the other I painted OXO.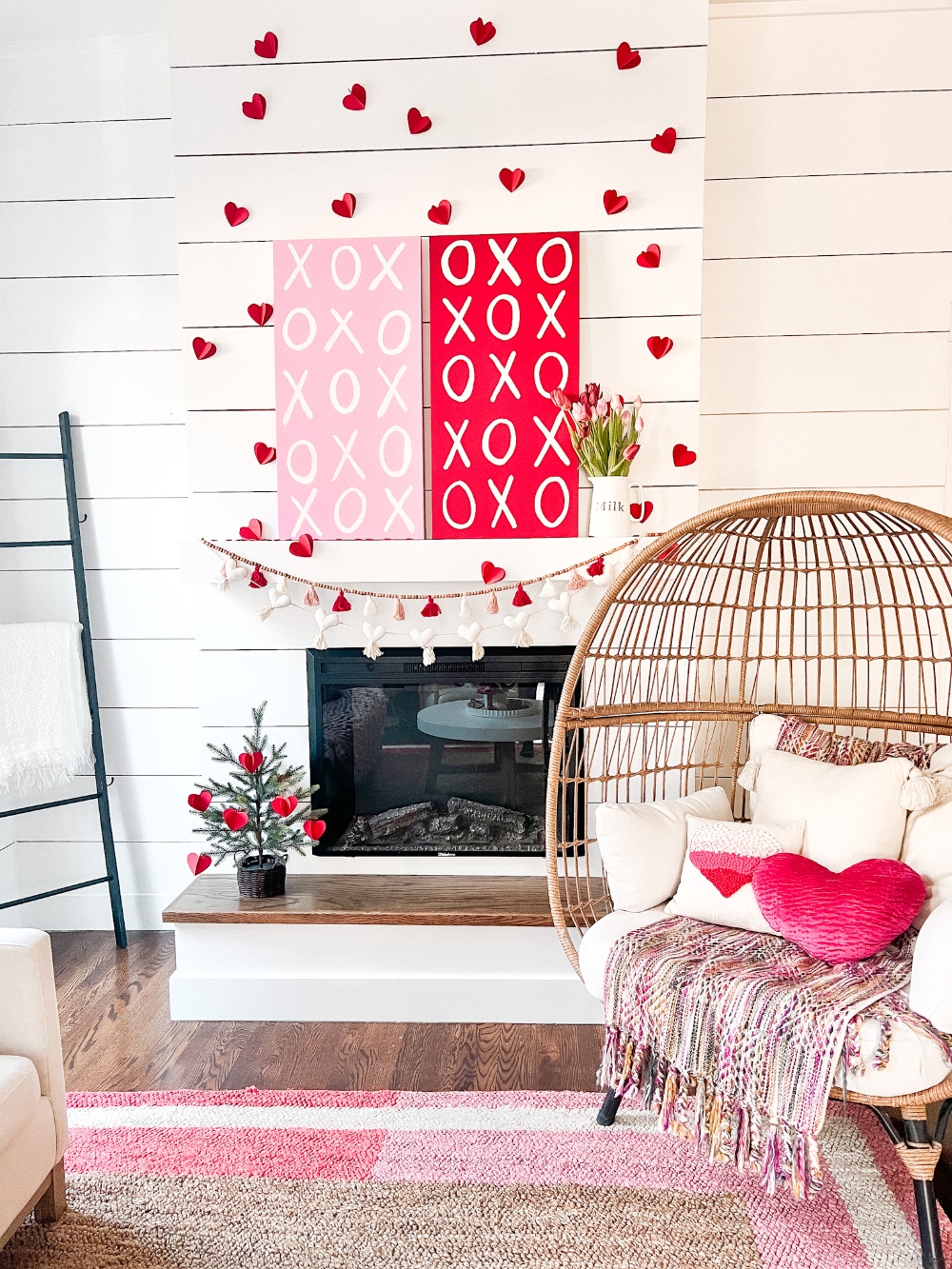 Paint the XOXO's on the first sign.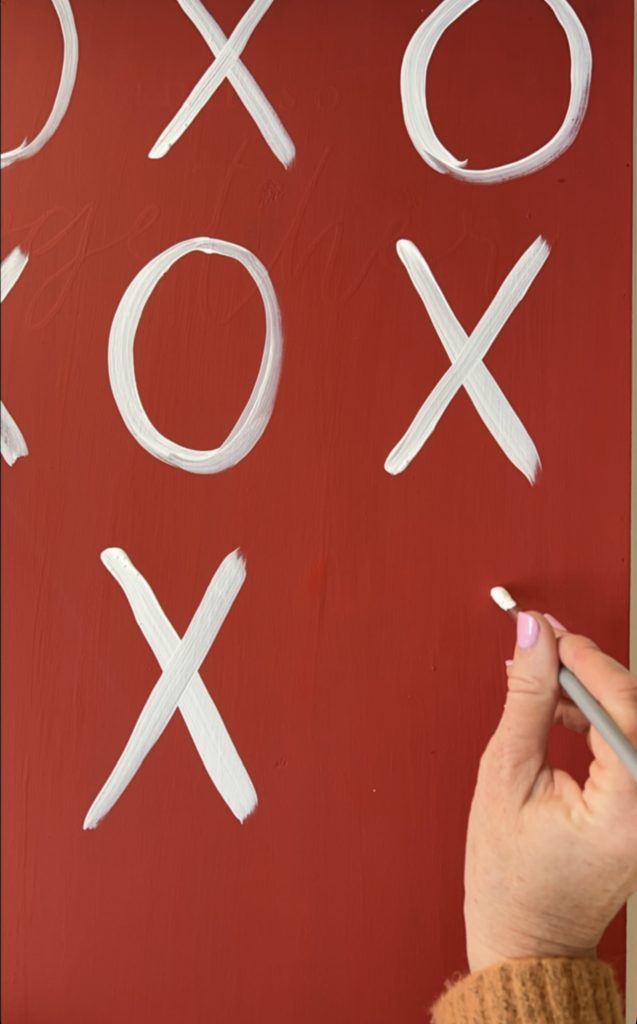 Put the next sign side-by-side with the first one you painted. This way you can make sure the lines match up and the sizes are the same. Paint the second sign.
You can go back over the XOXO's with 2-3 more coats of paint to make the white paint really stand out if you want.
Add Dimensional Hearts around the Signs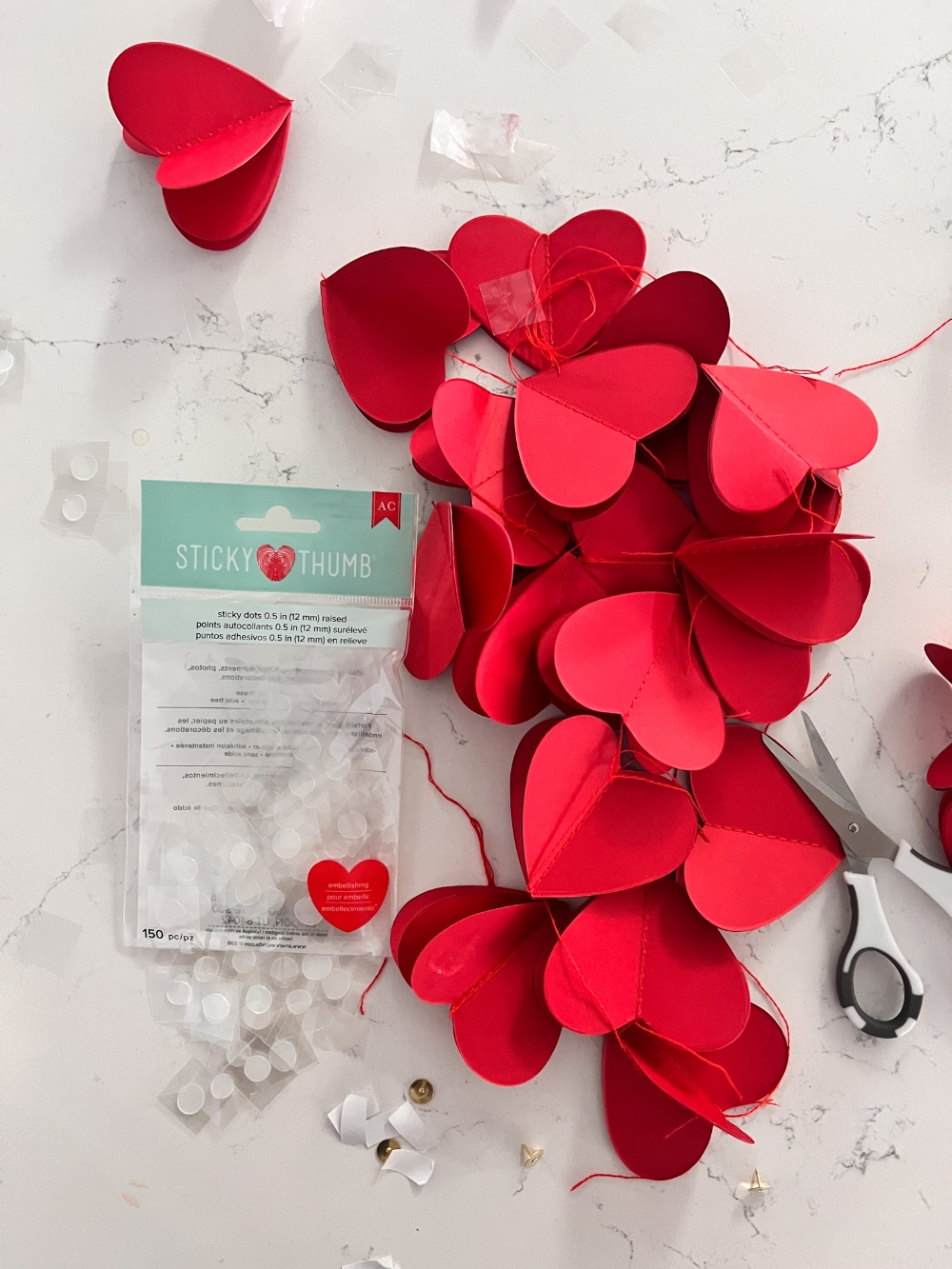 I took the banners I used last year and cut the hearts apart. Then I added glue dots to attach them to the wall. I put two glue dots on each heart. I had a few hearts left over and I tied them onto a small ever green tree and placed that at the bottom of the fireplace.
Hang Banners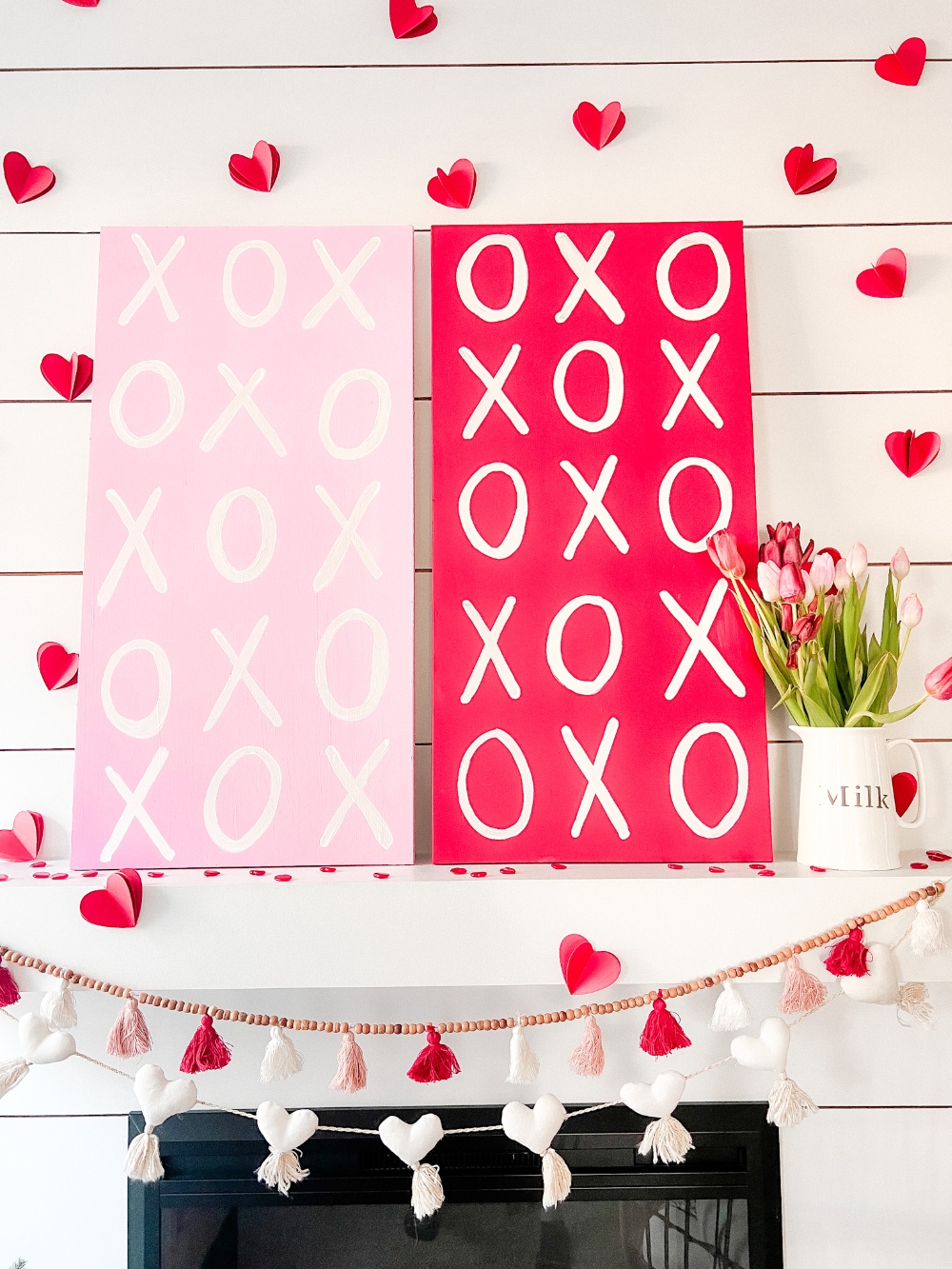 I love banners! I hung these two pretty tassel and felt heart banners and I love how they look!
Fresh Pink and Red Flowers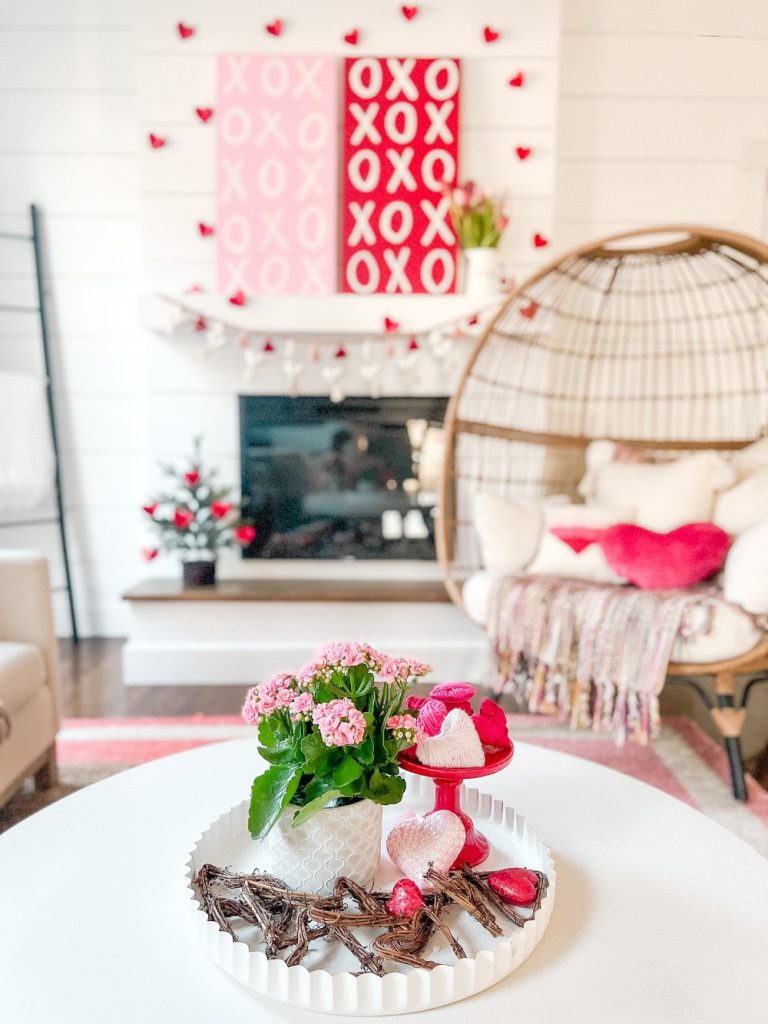 Adding flowers gives the mantel a sweet look. I found fresh red and pink tulips. I love how happy tulips are. You can add faux flowers too if you want or even a pretty houseplant to bring a little organic layer to your mantel or shelf.
Heart Pillows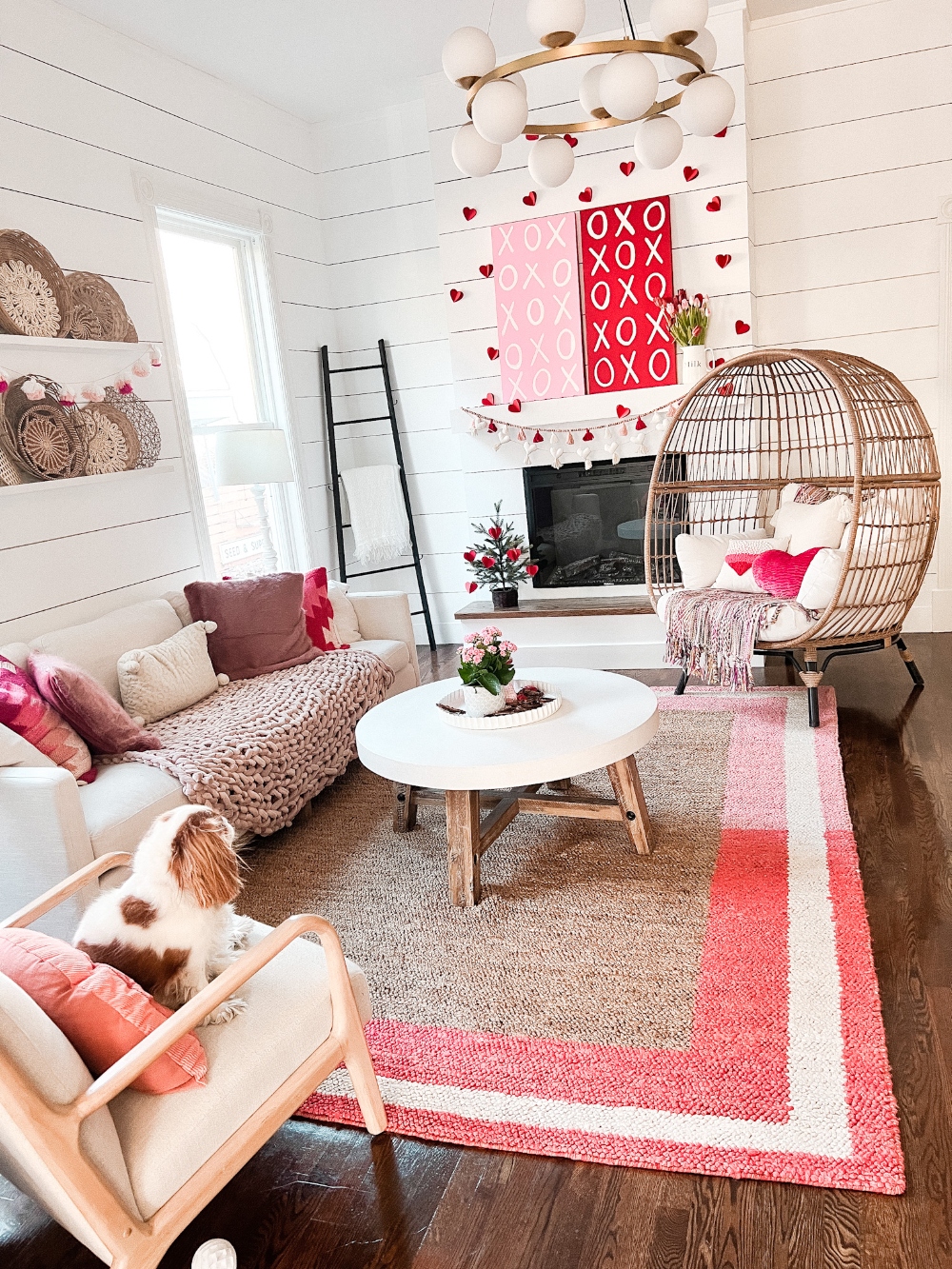 I added a couple festive heart pillows to the chair in front of the fireplace. I switched the chairs around. Which one do you like better in front of the fireplace. I am leaning toward leaving the egg chair there!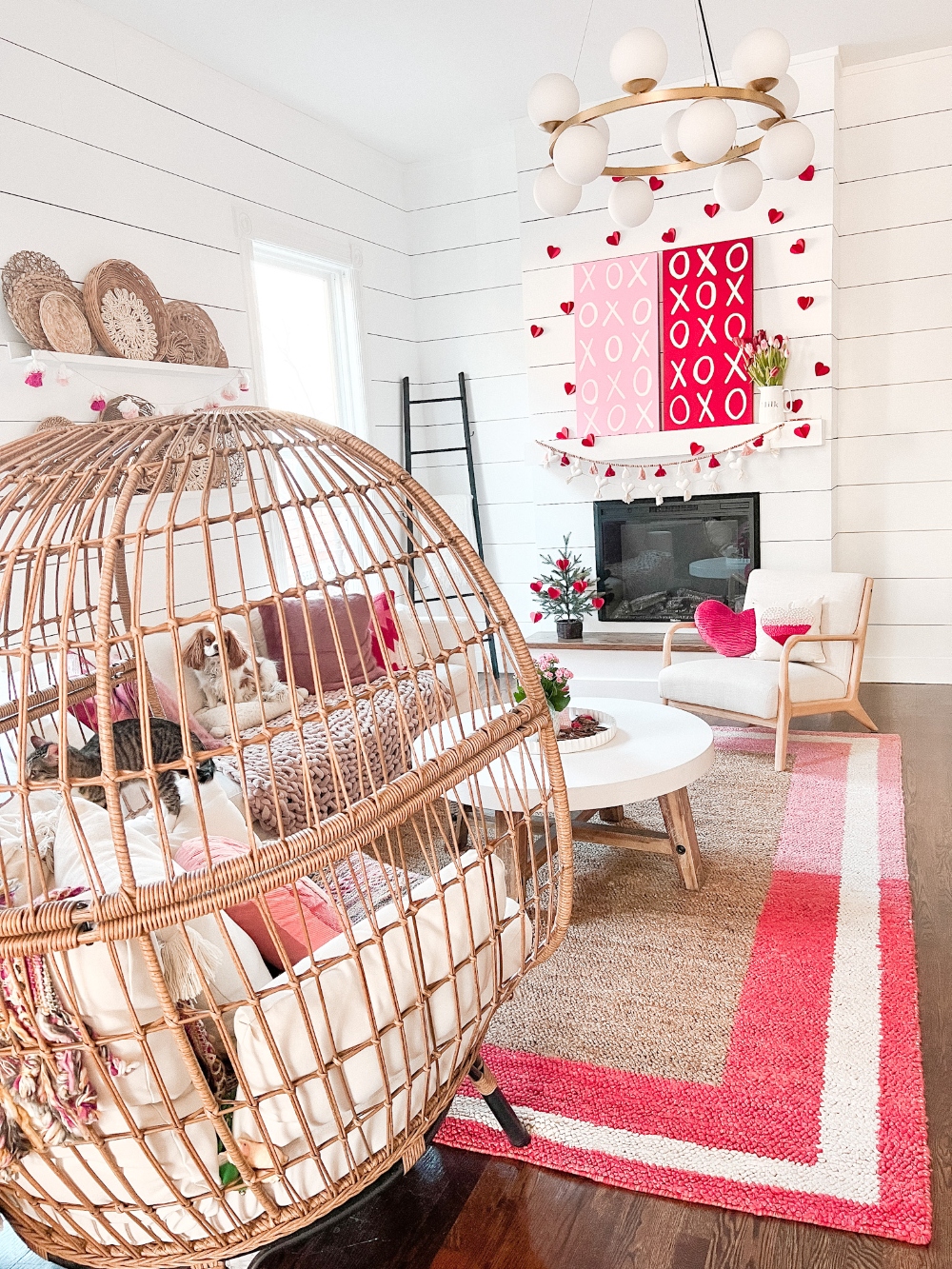 10 Valentine's Day Decorating Ideas

Mantel Flower Arrangement for Valentine's Day // Craftberry Bush
Paper Heart Valentine's Day Decor // Finding Lovely
Vintage Elegant Valentines Day Home Decor Ideas // The Happy Housie

Pink Decor In The Family Room // My 100 Year Old Home
Easy and Subtle Valentine's Day Decor Ideas // Pasha Is Home
7 Simple Valentine's Day Decor Ideas for a Cozy Home // The DIY Mommy

XOXO Mantel Ideas // Tatertots & Jello
Sophisticated Valentine's Day Decor // Modern Glam
Tiered Tray Decor Ideas // The Design Twins
DIY Valentine's Day Heart Wreath // My Sweet Savannah
More Valentine Mantel Ideas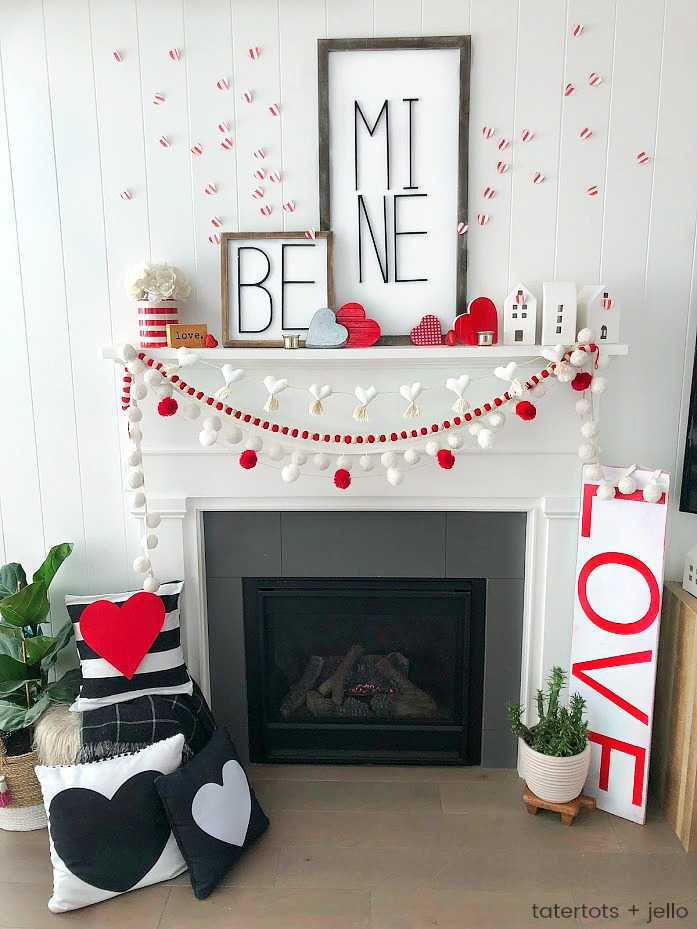 This was the first Be Mine mantle. I added my giant LOVE sign, some heart pillows, wood hearts and paper hearts that I folded in half.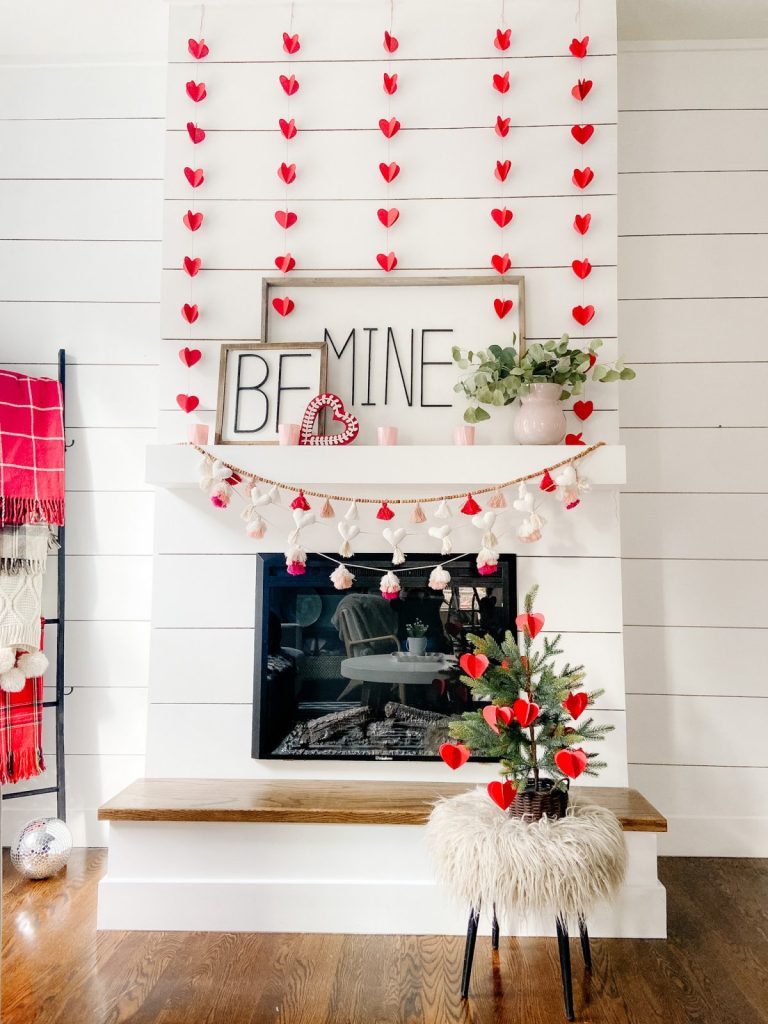 Here's my BE MINE mantel from last year. I ended up taking the MINE letters and rearranging them on the sign. Then I hung paper heart garlands from the ceiling. These are the paper hearts I cut apart for the mantel this year. What ended up happening is that the banners got so tangled in the ziplock that I couldn't separate them because I was going to hang them from the ceiling again. But I actually like how they are spaced out on the mantel this year.
More Valentine Projects Coming Up!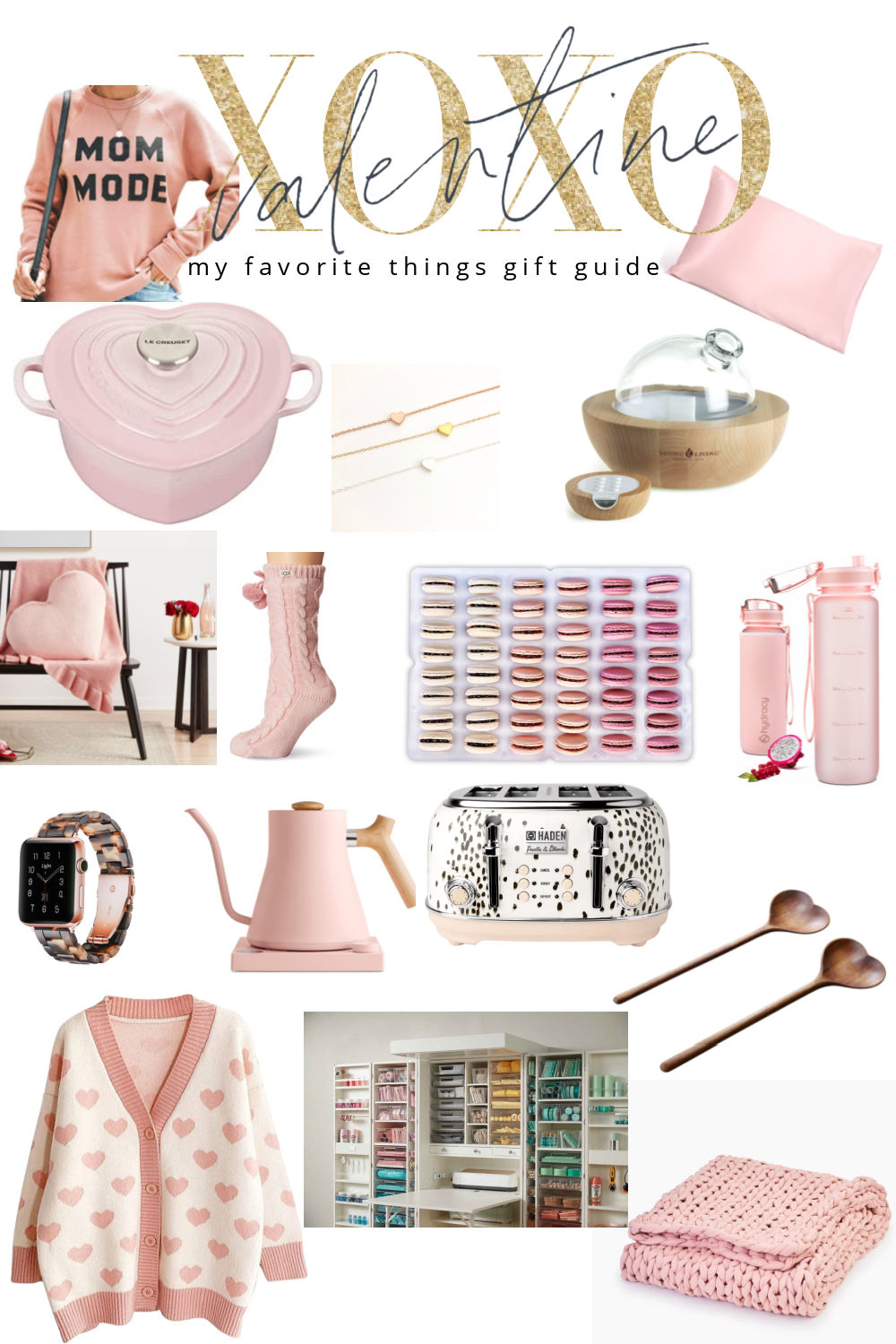 I was home quarantined last week and I got so many projects done! I hope I have enough time to write them all up and share them before Valentine's Day! And wonderful gift guide with my FAVORITE gift ideas. Send this one to your husbands, ladies!