Turn a Closet into a Pantry in one hour! Get organized by turning a coat closet into a pantry in this project that can be put together in one hour!
Turn a Closet into a Pantry – Kitchen Organization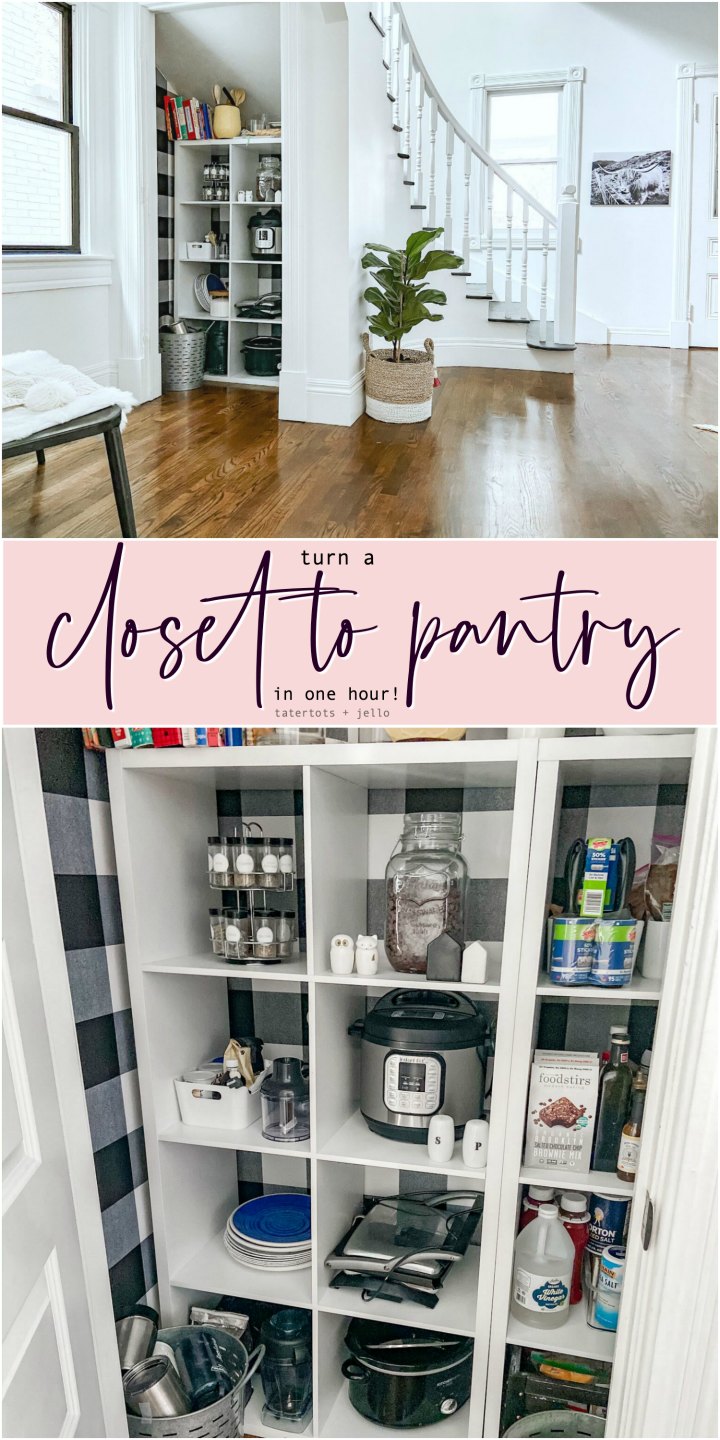 We've lived in our new home for 4 months and we love it so much! One thing we missed was having a pantry! We have plans to turn the room behind our kitchen into a laundry room and pantry space but it's not on the remodeling budget for quite awhile.
So in the meantime, I came up with a plan to organize our kitchen. We have a closet under the stairs in the middle of our kitchen that is the perfect place to turn into a temporary pantry!
21 Amazing Organizing Ideas
Get ready to get organized!! I am sharing our closet turned pantry, and I am joining some creative friends who are also sharing 20 organizing ideas! Everything you need to get YOUR home organized! Scroll down to the bottom of the post and click over to see ALL of the organizing ideas!!
Declutter Your Kitchen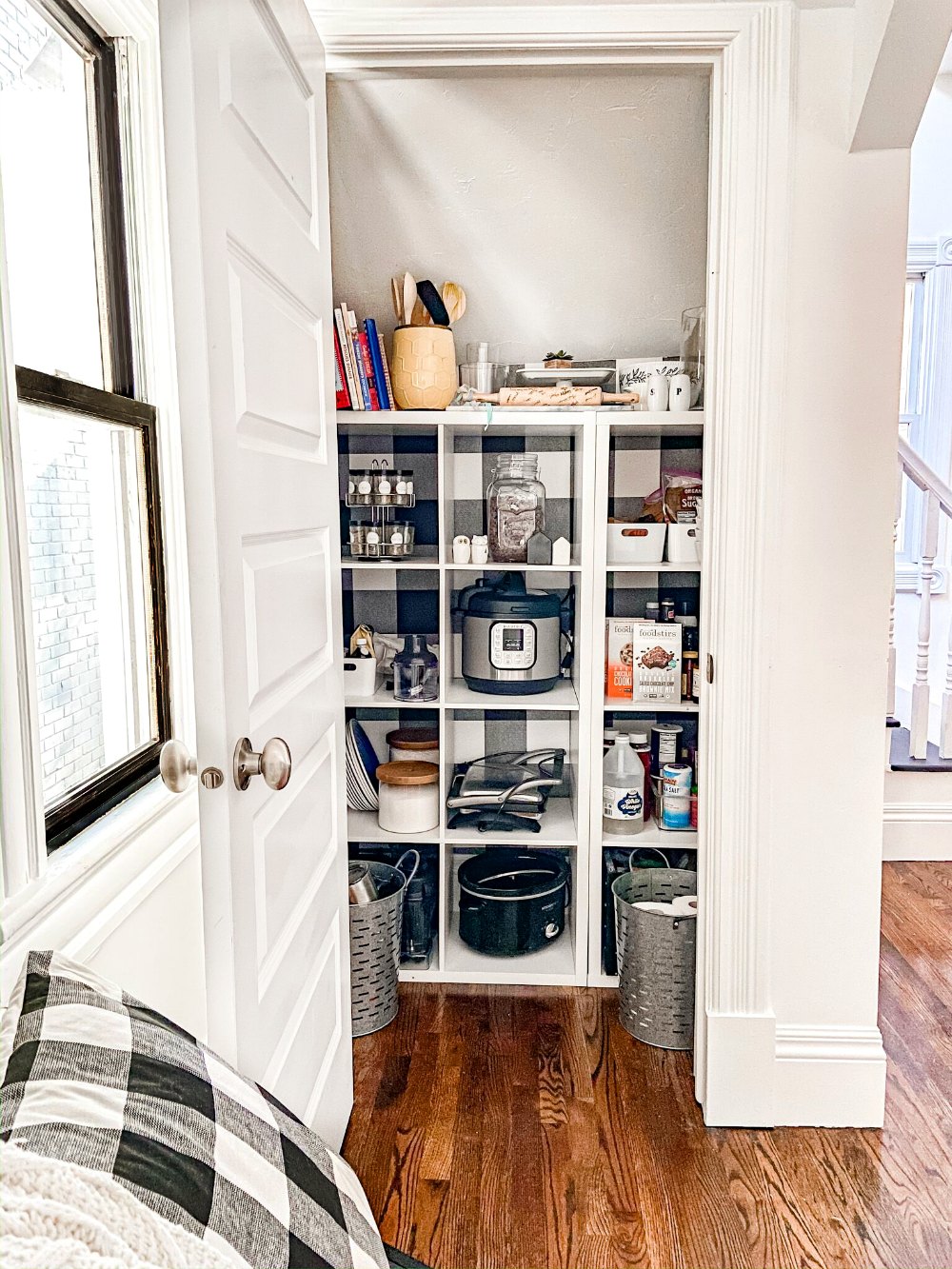 I filled it with all of the boxes of extra pantry items from our old house as well as serving pieces and items that we couldn't fit in the cupboards in our new kitchen. Once the holidays were over I knew it was time to tackle the pantry!
Closet to Pantry DIY
And I have a really great Decluttering Challenge this month. We tackle one space every day in January and by the end of the month we have a really clean and organized home. This space was perfect to do this month for the decluttering challenge!
You Can Do This Project in An Hour
This project took me about an hour to put together (not including the time it took to put the shelves together – I made my husband do that for me earlier LOL)
Find or Build Pantry Shelves
I Measured the closet and found some cubical shelves that were the perfect fit. I put them together and got started on organizing the closet.
Customize Your Pantry
The first thing I did was unpacked the closet and organized all of the items in the boxes. I rearranged some of the cabinets in the kitchen. For example, I had brought our crock pot and instant pot over earlier and we have been using them all fall, but they took up so much space in our kitchen cupboard that I was able to move those items to the new closet space and that freed up space in the cupboards for dry goods and items that were in some of the boxes.
Take The Closet Rod and Shelf Out
We took the rod and shelf out of the closet so the shelves could fit up against the wall.
Make It Pretty with Removable Wallpaper
I had some leftover removable wallpaper from my plaid office redo and I used tat to wallpaper the back and side of the closet.
Install New Shelves
Then we put the new shelves in side. There was a moment when I thought they were not going to fit. Luckily I perservered and ended up lifting the smaller shelf up over the molding on the floor and back into the closet and it fit perfectly – whew!
Arrange Your Pantry Items
The fun part was arranging everything inside. You can turn a closet into a pantry and keep whatever you need inside. I have a cupboard in my pantry where I keep all of our canned goods and small items. What I needed this closet for was bigger appliances, baking items and serving howls, platters, extra plates and baking supplies.
Enjoy Your New Pantry
I love the way that it turned out that I want to show it off. If I have the door open it blocks one of the windows in our kitchen. So I took the door off the hingers and have the pantry on display. It's set into a little nook in our kitchen and I think it's really pretty!
21 Amazing Organizing Ideas
 9 Tips For Kitchen Organization - Happy Happy Nester || Bathroom Organization Ideas - Lolly Jane // Textured Polka Dot Utensil Holder - Craftberry Bush // Turn a Closet into a Pantry - Tatertots & Jello  Organizing Your Party Planning - My 100 Year Old Home // Organizing Laundry Supplies - Zevy Joy // Spice Drawer Organization - Finding Lovely // How to Declutter and Decorate a Beautiful Home - So Much Better With Age  How To Organize Kitchen Drawers - Modern Glam // How I Keep My Home Organized - My Sweet Savannah // Whole Home Organization Ideas to Declutter Your Life - Grace In My Space // Medicine Cabinet Organization Ideas and Tips - Twelve On Main  10 Week Organizing Challenge - The Happy Housie // Fridge Organization and Storage - Inspiration for Moms // How to Organize Your Pantry - The Handmade Home // A Budget Friendly Linen Closet Makeover - The Tattered Pew   Mudroom Lockers Organization - Two Twenty One // Small Pantry Organization Ideas - The DIY Mommy // How to Organize Kids' Rooms - Cassie Bustamante // 5 Easy Steps To Create An Organized Junk Drawer - She Gave It A Go // Organizing Tips for Traveling with Kids - Pink Peppermint Designs 
What Projects are YOU working on for 2020?
Share them with us in the comments!
xoxo