Spring Mushroom and Moss Wreath. Celebrate Spring by making this DIY wreath with wooden mushrooms, butterflies and moss!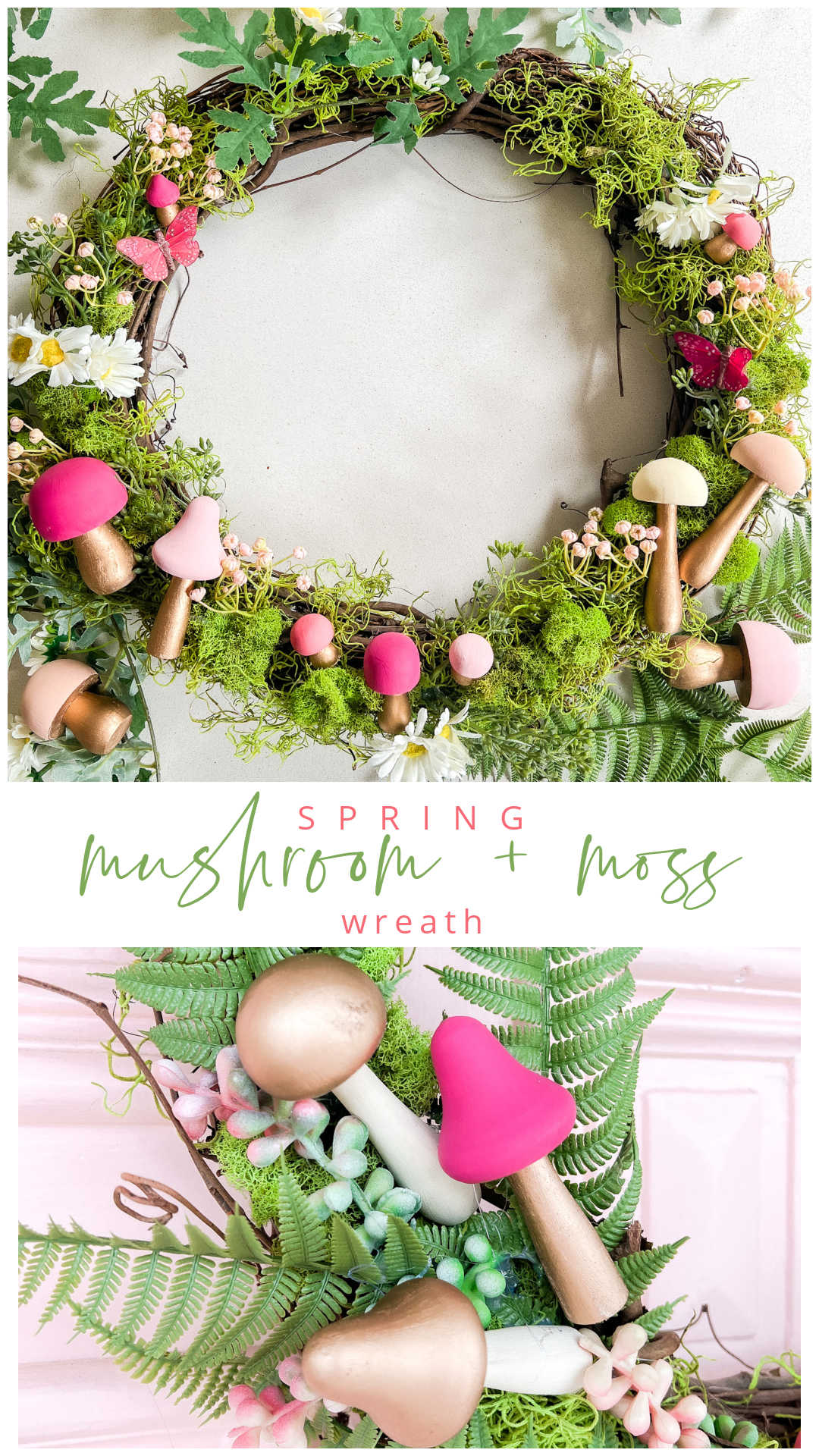 Spring Mushroom and Moss Wreath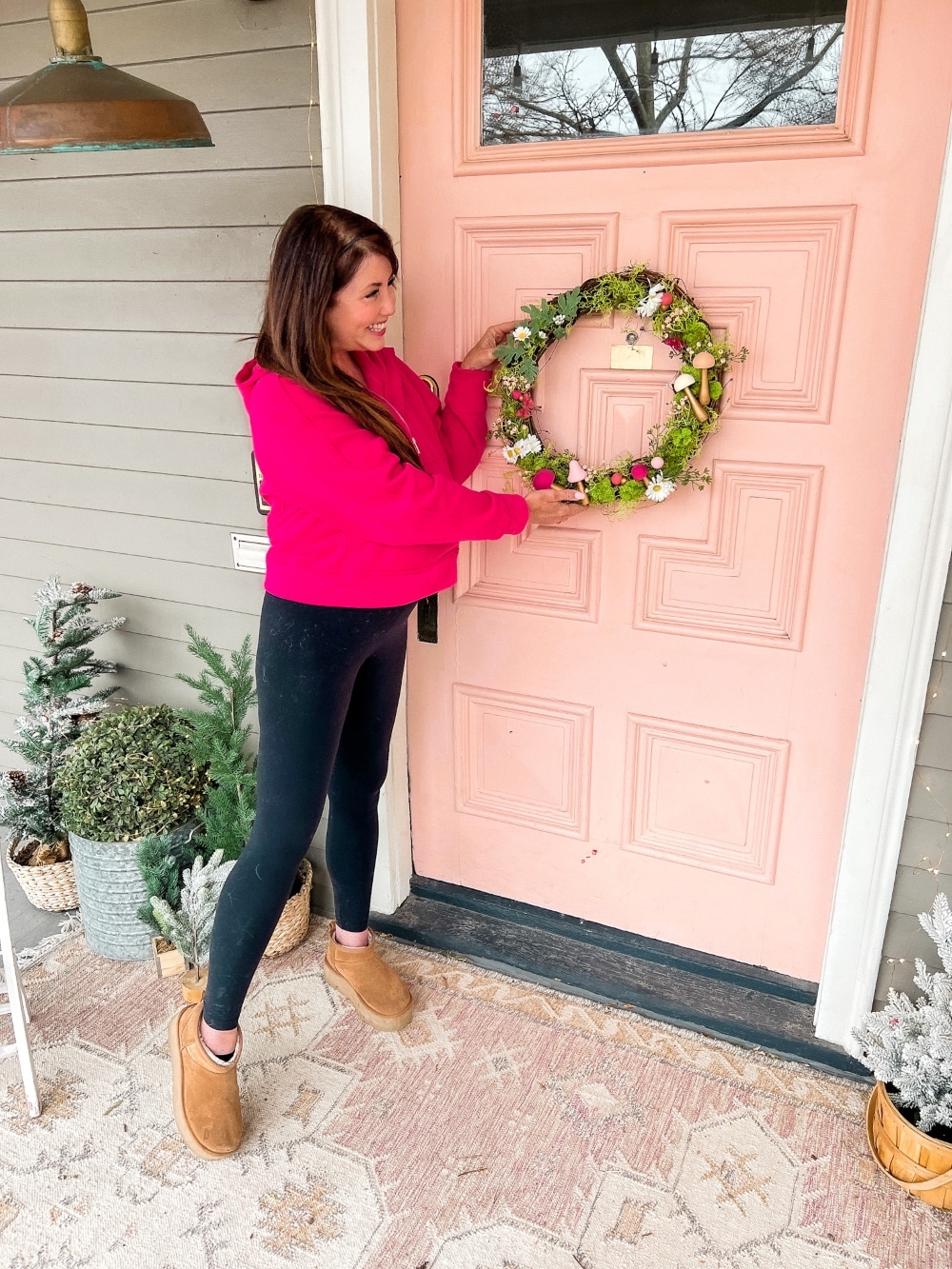 Hi, friends! It's Springtime and I couldn't be more excited. It's still snowing here but I am channeling all the warm spring vibes with this bright mushroom and moss wreath! Scroll down to find out how to make it!
9 DIY Spring Wreaths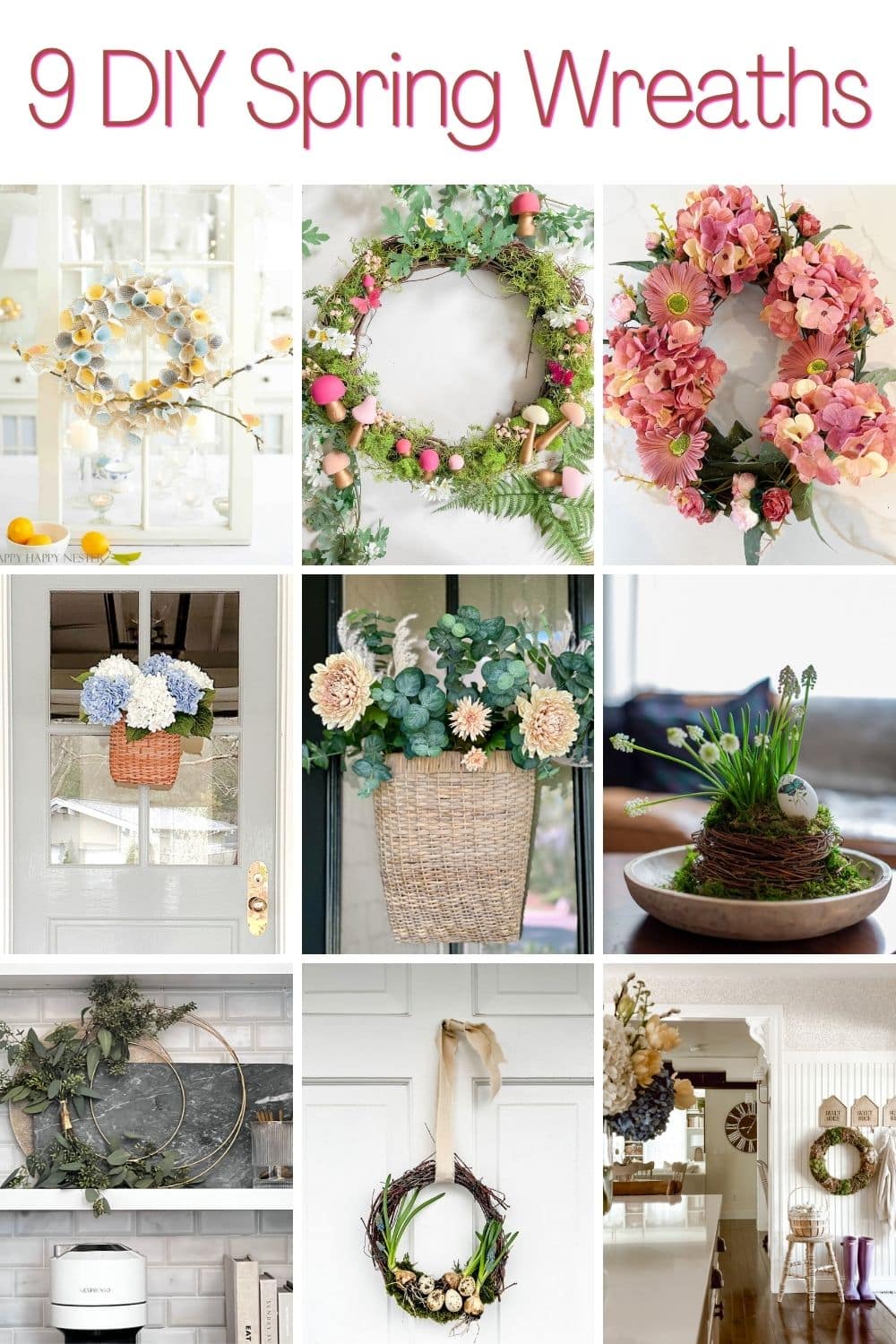 I'm joining some of my favorite blogging friends who are also sharing DIY Spring wreaths! Look at all of these creative ideas. Be sure to scroll down to the bottom and click over to see the DIY tutorials!!
Spring Mushroom and Flower Theme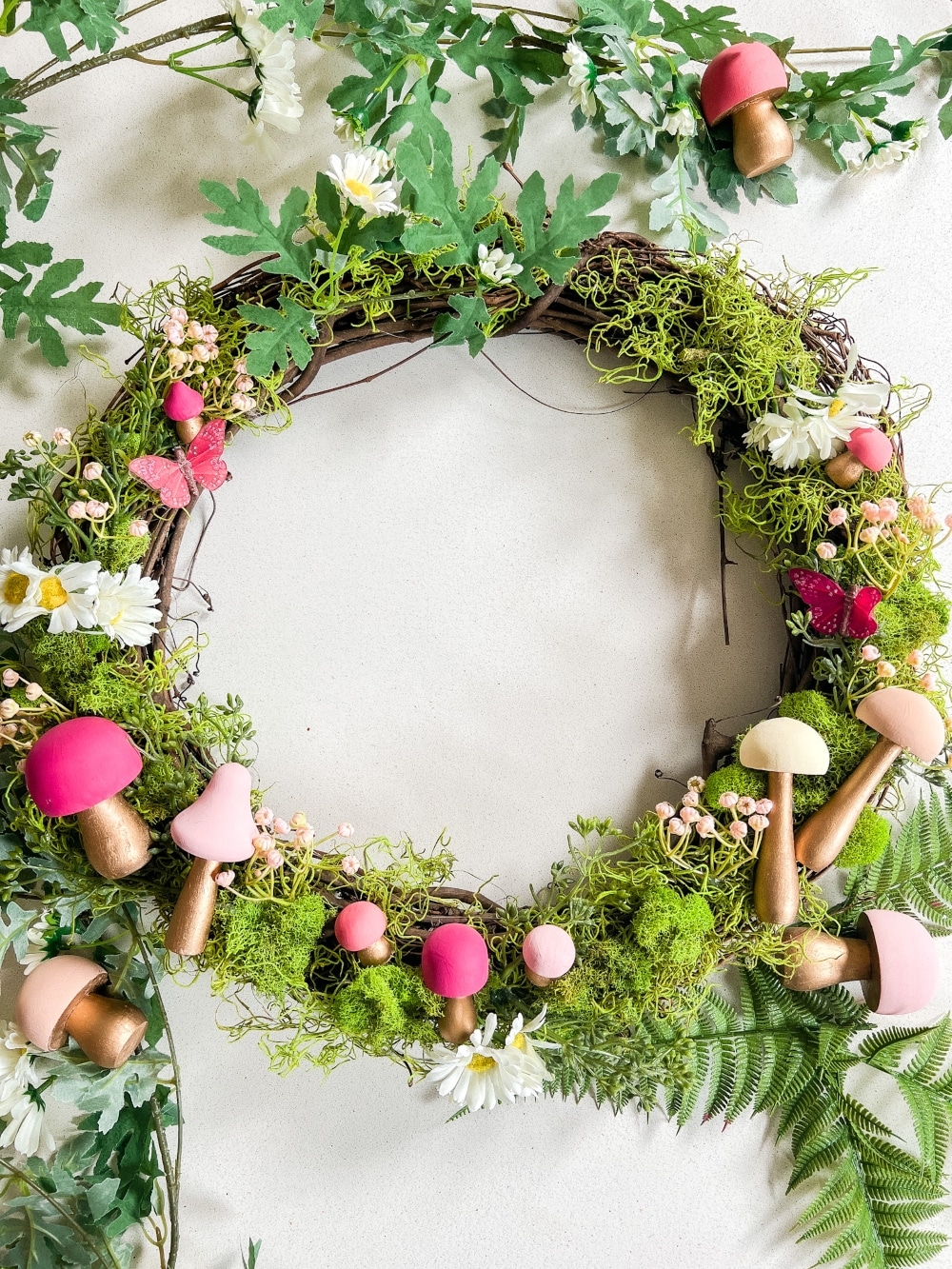 I love a theme for Spring! I was debating between strawberries and mushrooms for my Spring front porch. When I found this mushroom doormat from Anthropologie, I decided to make a mushroom and moss wreath to go along with it! I love the mushrooms and the flowers for Spring!
Wooden Mushroom Set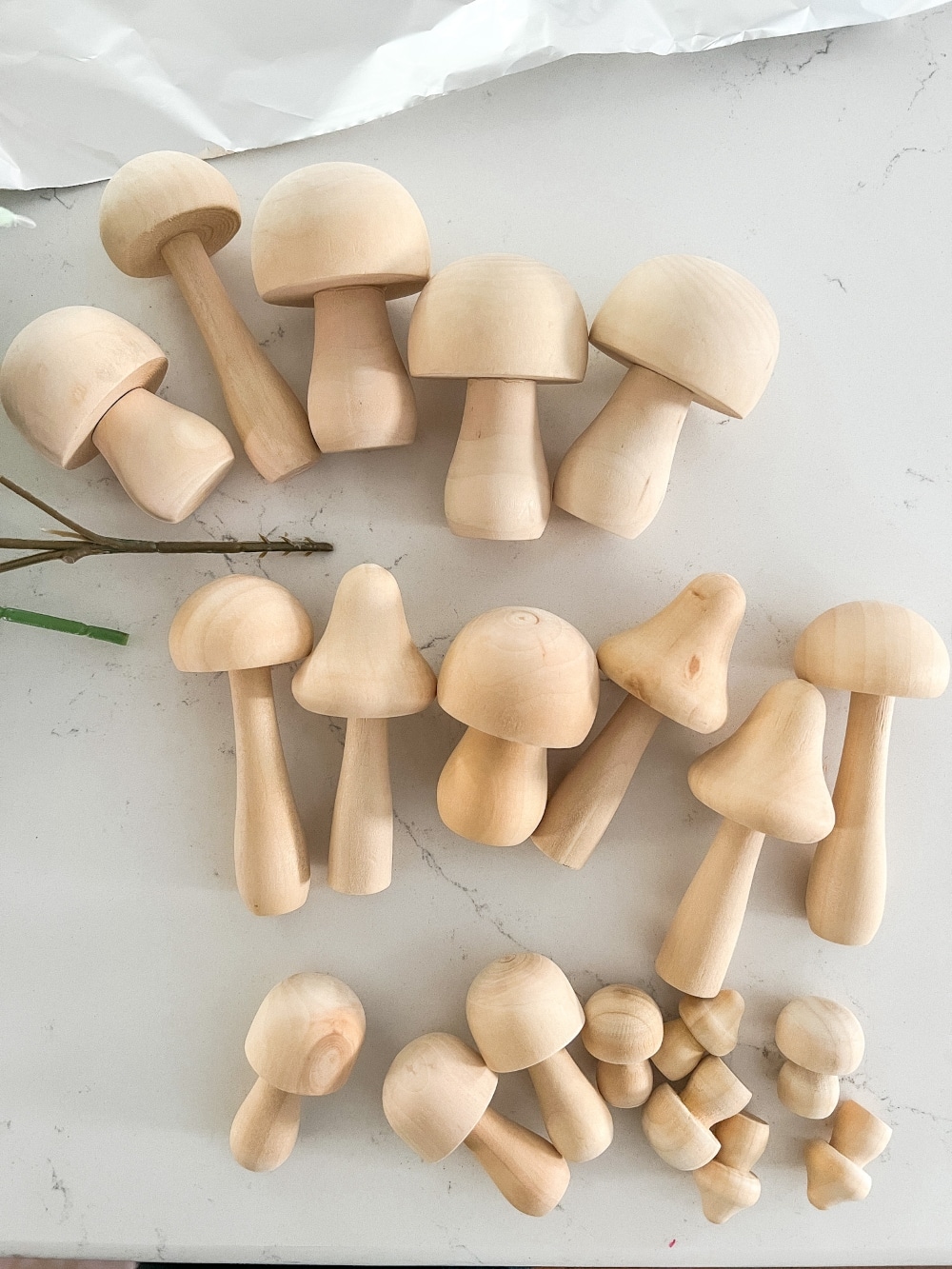 As I was debating how to make the mushrooms, I found this wooden set of 21 mushrooms. I love that the set comes with so many different sizes and shapes of mushrooms. Aren't they just so cute!! I decided to make TWO mushroom and moss wreaths – one for my front door and the other for our mantel. I am going to have a mushroom-themed mantel too for Spring! The wooden mushroom set is an amazing price at $17.99.
Supplies to Make Spring Mushroom and Moss Wreath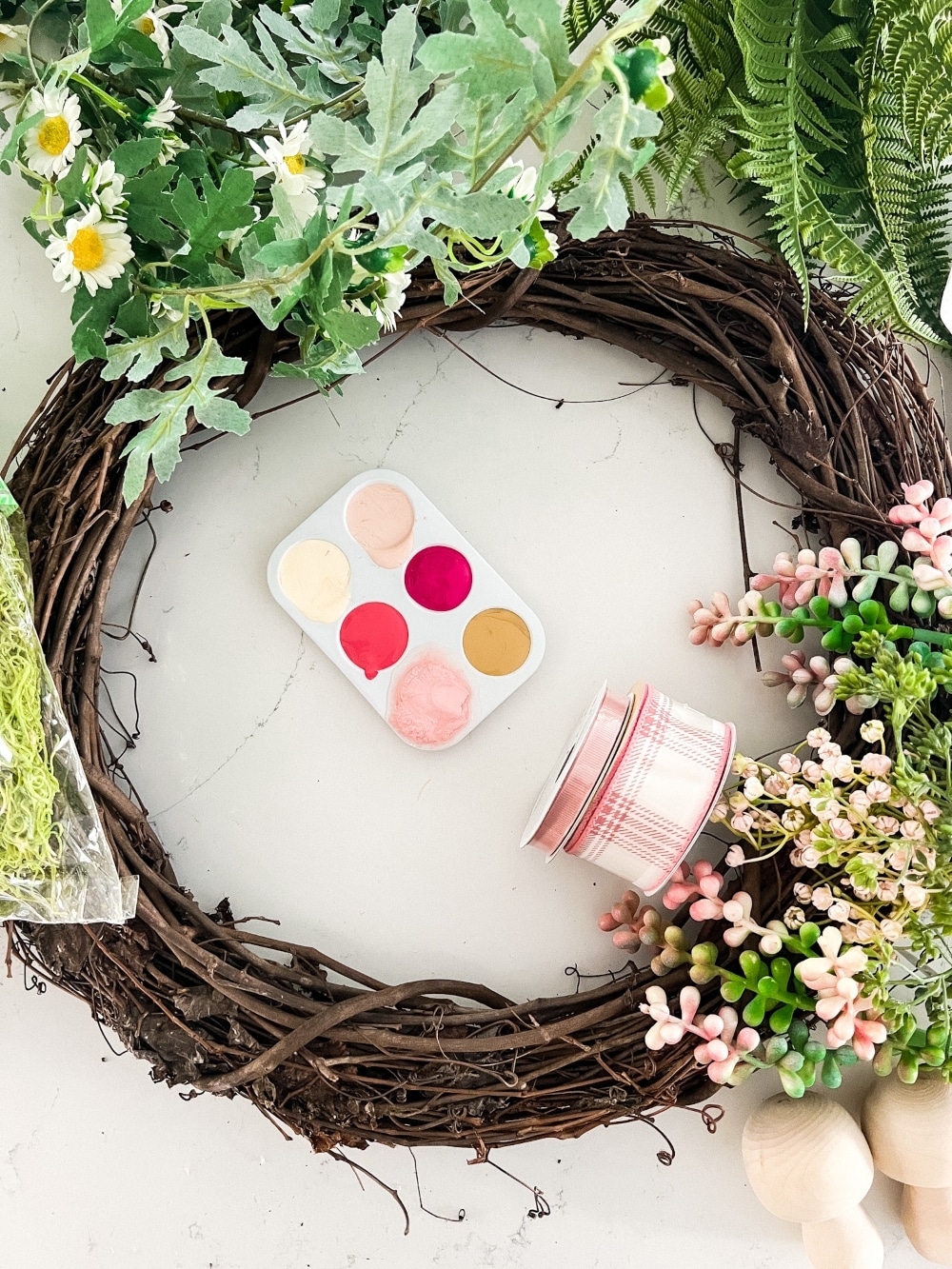 Here are the supplies you need to make this trendy and cute Spring mushroom and moss wreath:
How to Make a Spring Mushroom and Moss Wreath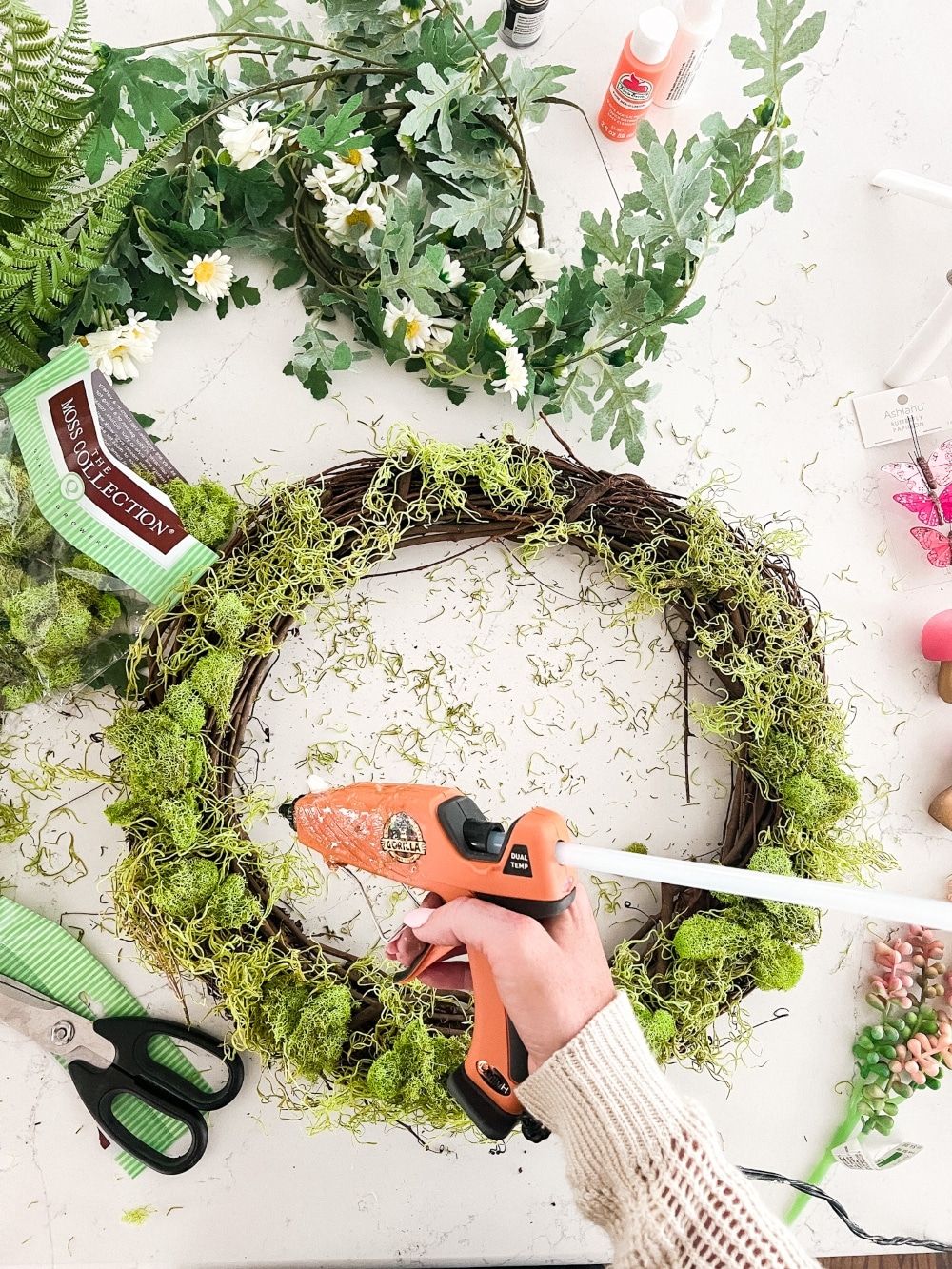 Here are the easy instructions to make this happy Spring wreath!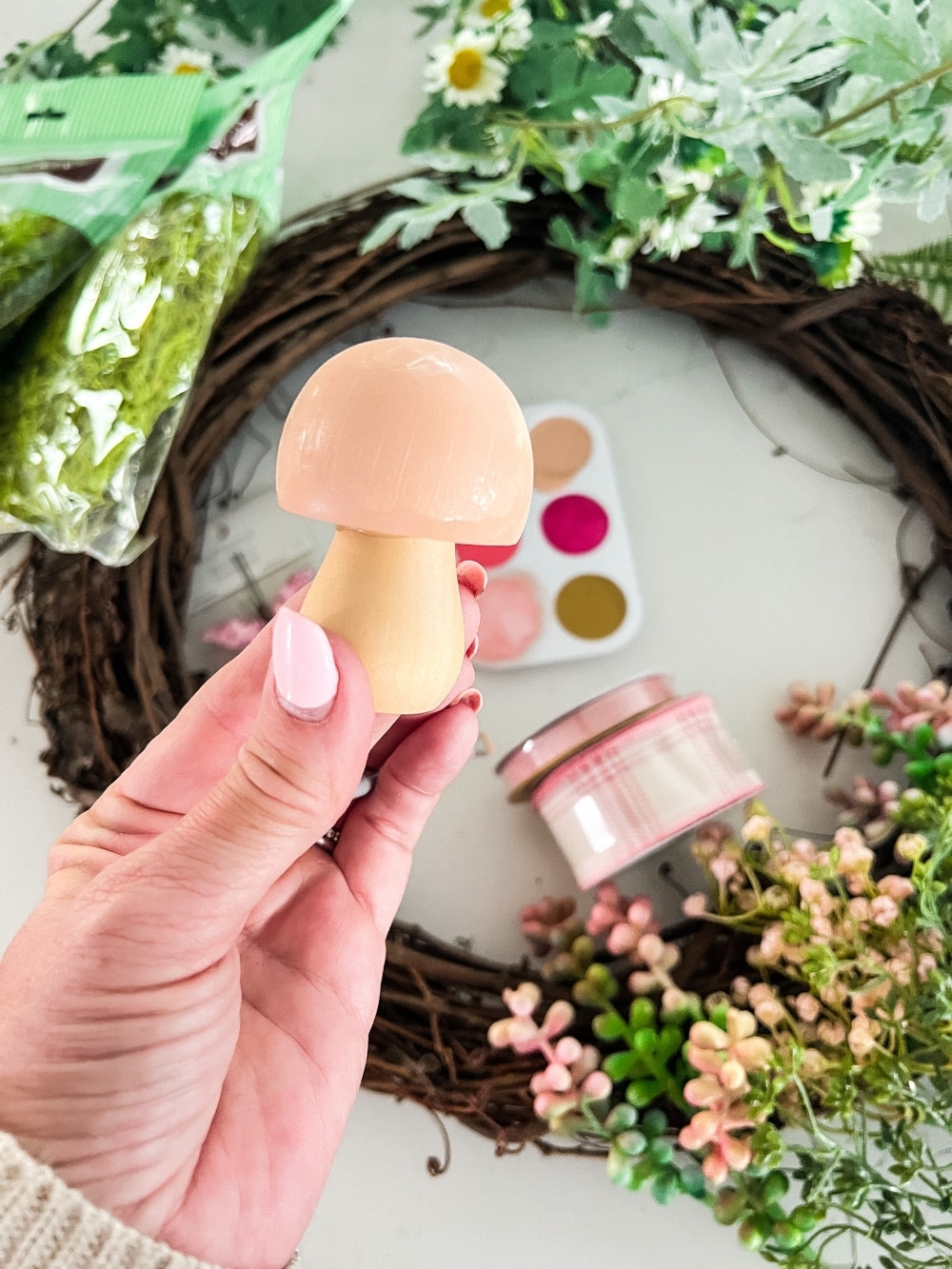 Lay the grapevine wreath on your work surface.
Lay spanish moss around the wreath.
Now layer the natural moss pieces around the wreath.
Hot glue the spanish moss and natural moss onto the grapevine wreath. I just lifted up sections and glued everything together while it was on the grapevine wreath.
Paint the mushrooms. I used six different colors, including gold. Then I painted the stems gold.
After the mushrooms have dried, arrange the mushrooms on the wreath.
Hot glue the mushrooms onto the wreath.
Add faux flowers to the wreath.
Hot glue the flowers to the wreath.
Hang up your new Spring wreath!
Wasn't that easy??
Make a Succulent and Mushroom Wreath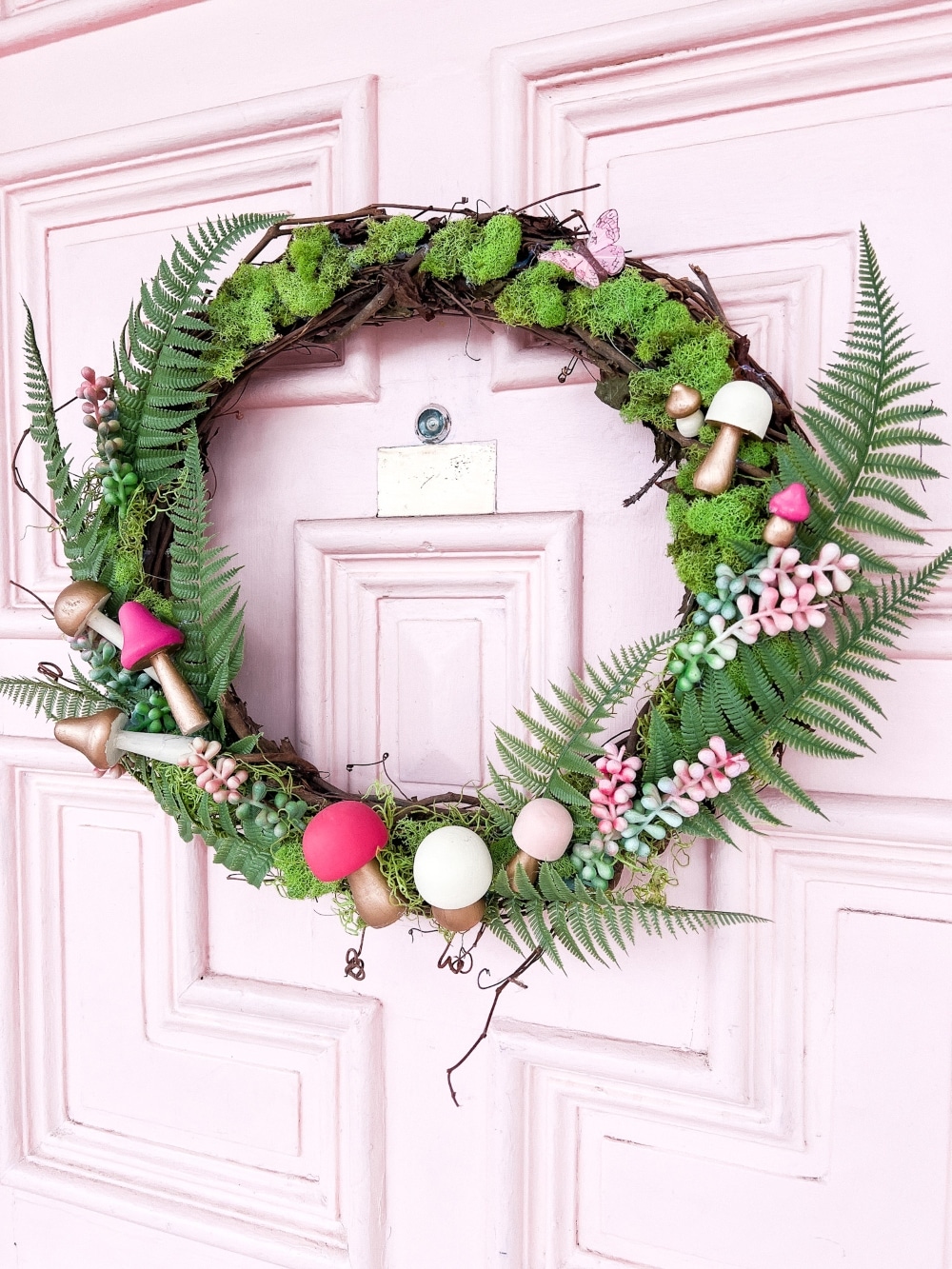 The second wreath I made for our front door is a little more sturdy to be outside. It still has a base of moss, but I used big plastic fern leaves on top of those to protect the moss and keep it in place since it's going to be outside. I also used succulent flowers instead of the delicate flowers I used on the first mushroom and moss wreath.
What Colors Should the Mushrooms be Painted for a Mushroom Wreath?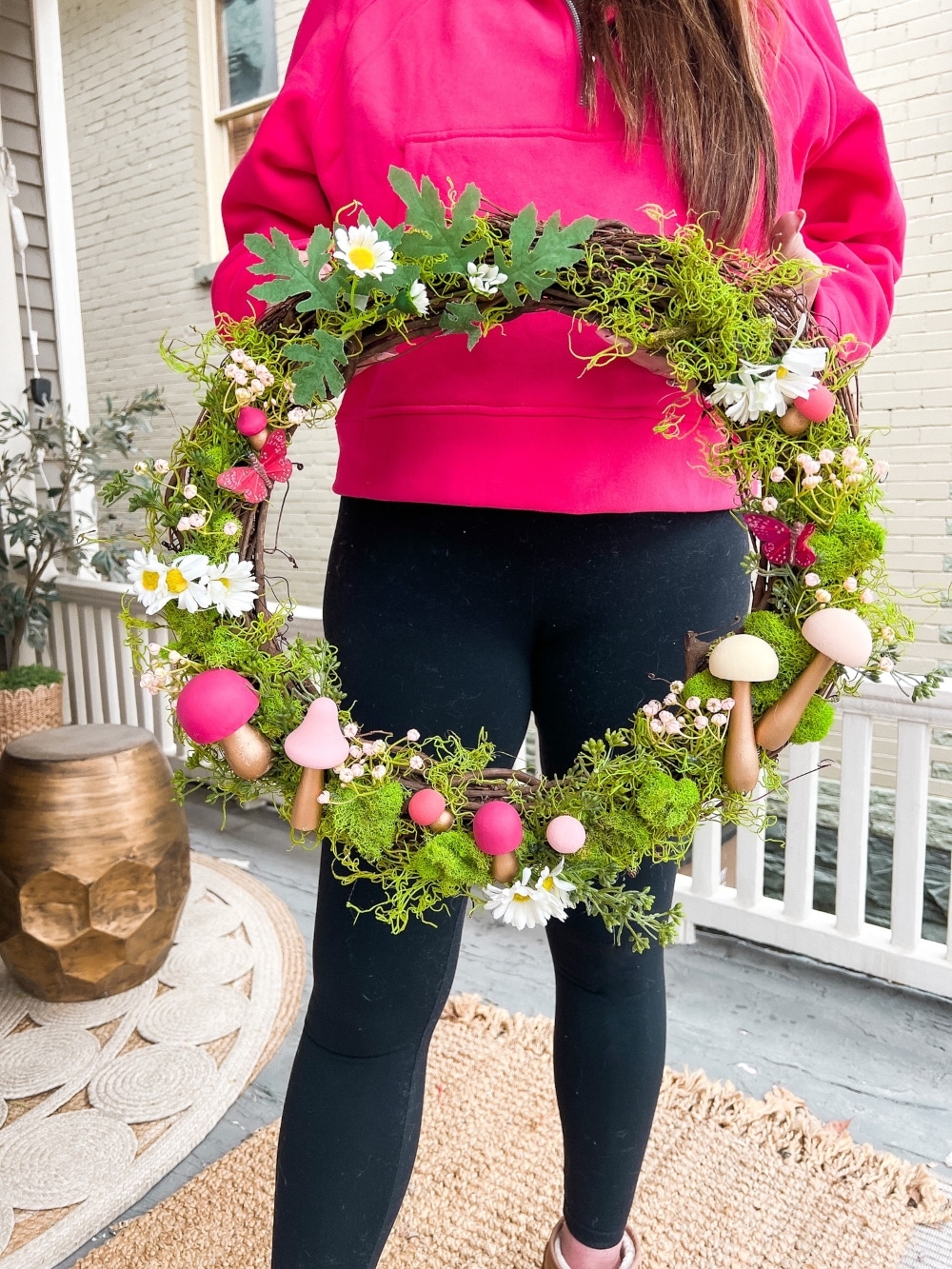 I spent a long time deciding what color to paint the wooden mushrooms. I love the look of classic mushrooms with red tops and white dots. But our home and our front door is more pinks and yellows so I went with those colors. six paints I used for the wooden mushrooms are: a bright pink/red, a blush pink, an orange/pink, a light orange, a light yellow and gold. But you can use ANY color! I think using stains for the tops of the mushrooms would be super pretty and neutral too!
NINE Beautiful Spring Wreath DIYS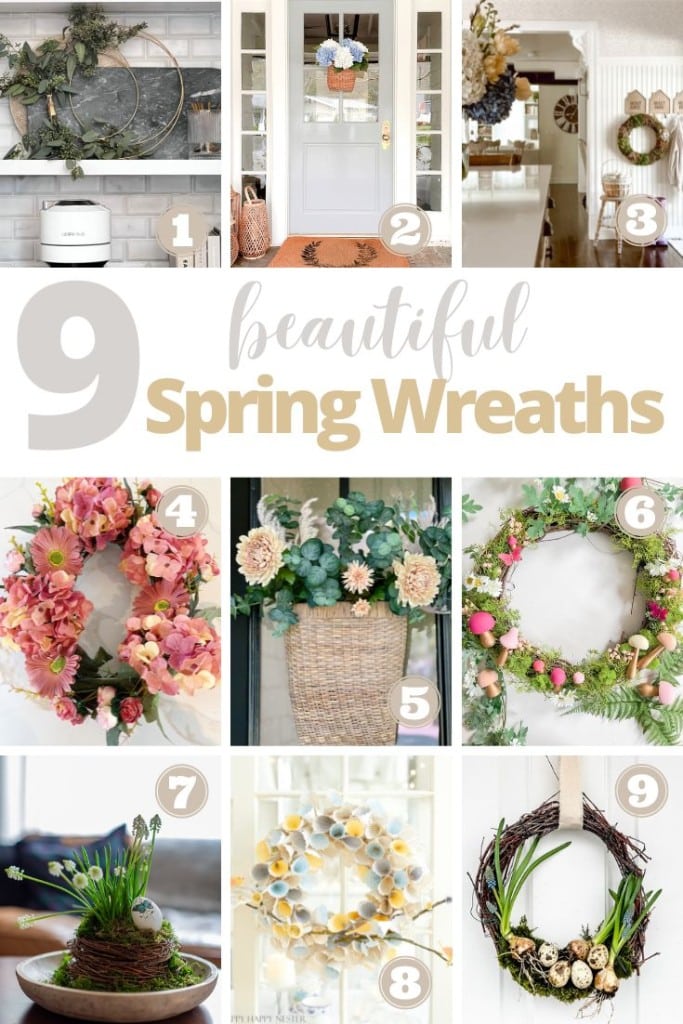 Blogger's Best Spring Wreaths
Pin Mushroom and Moss Wreath to Make Later!
Pin this idea so it's easy to find when you want to make it later!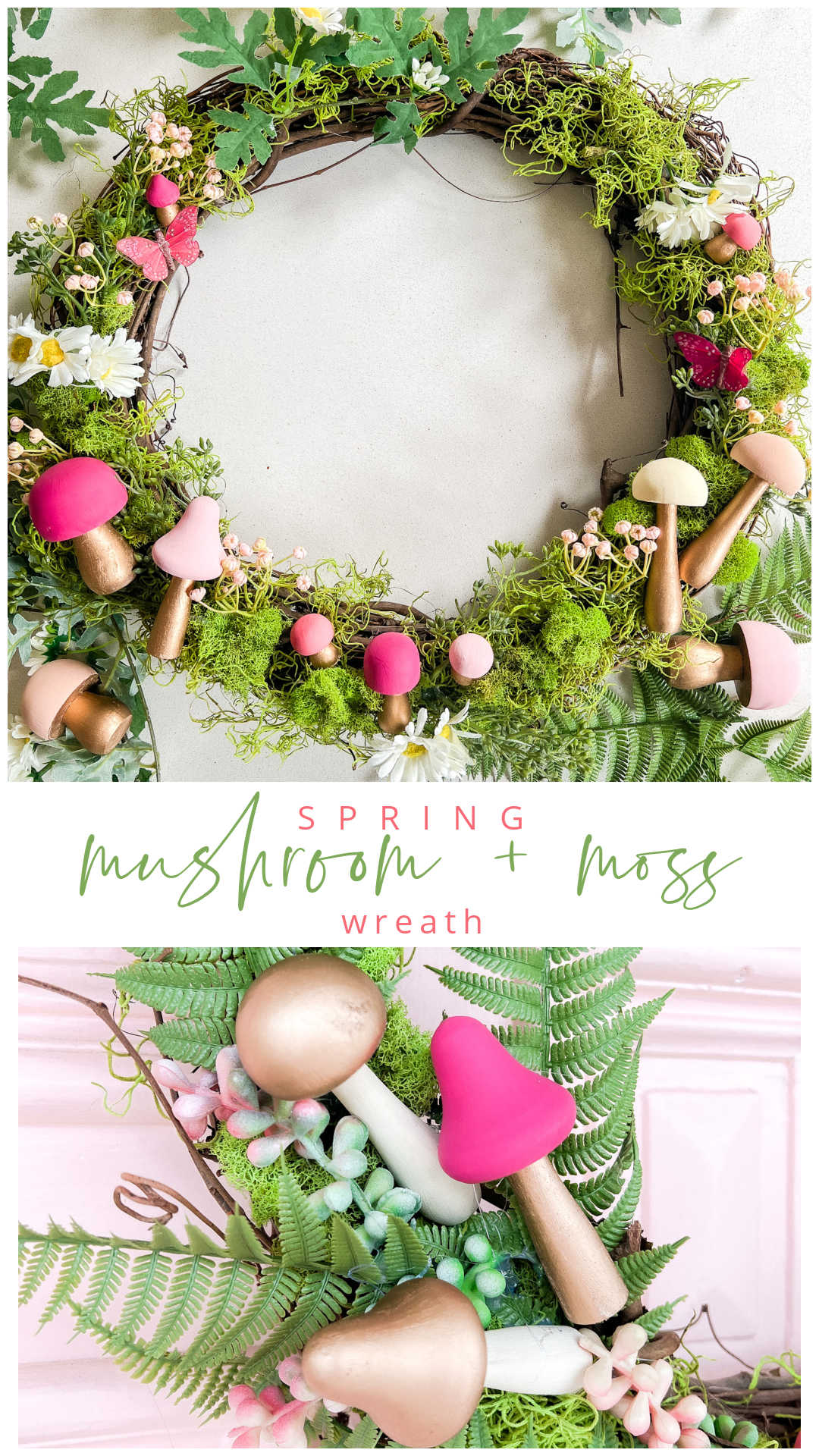 More Spring Wreath Ideas
Here are a few Spring wreaths I've made for inspiration!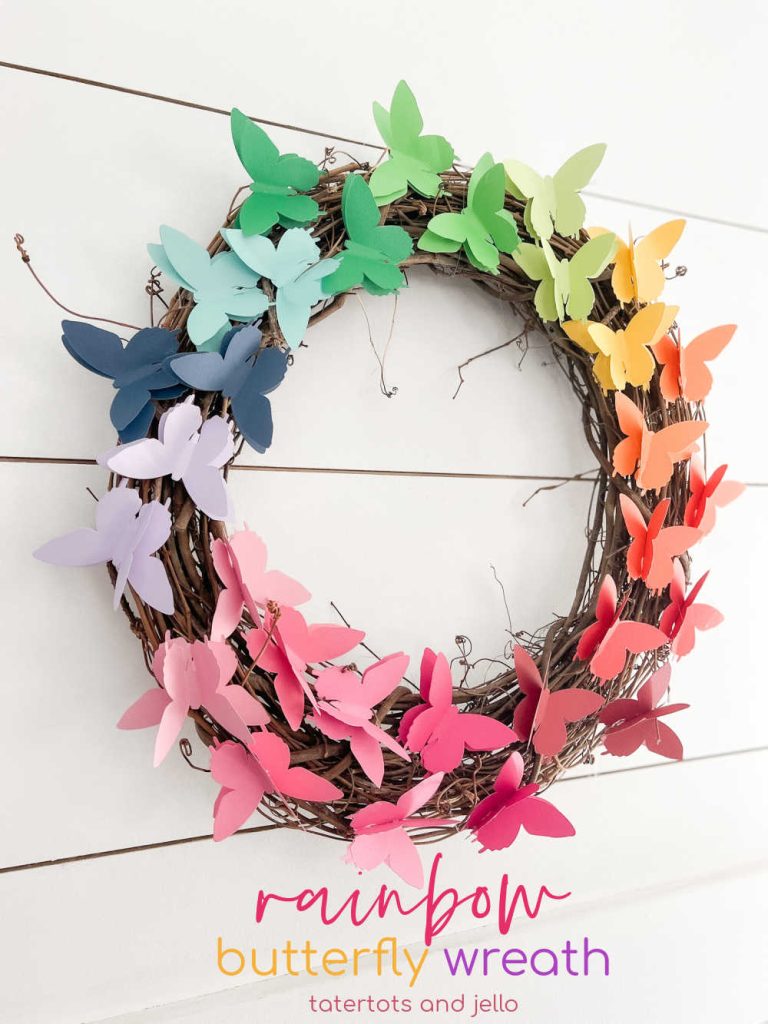 Easy Rainbow Butterfly Spring Wreath. Cut butterflies out of pretty paper for a happy rainbow wreath you can use all summer long!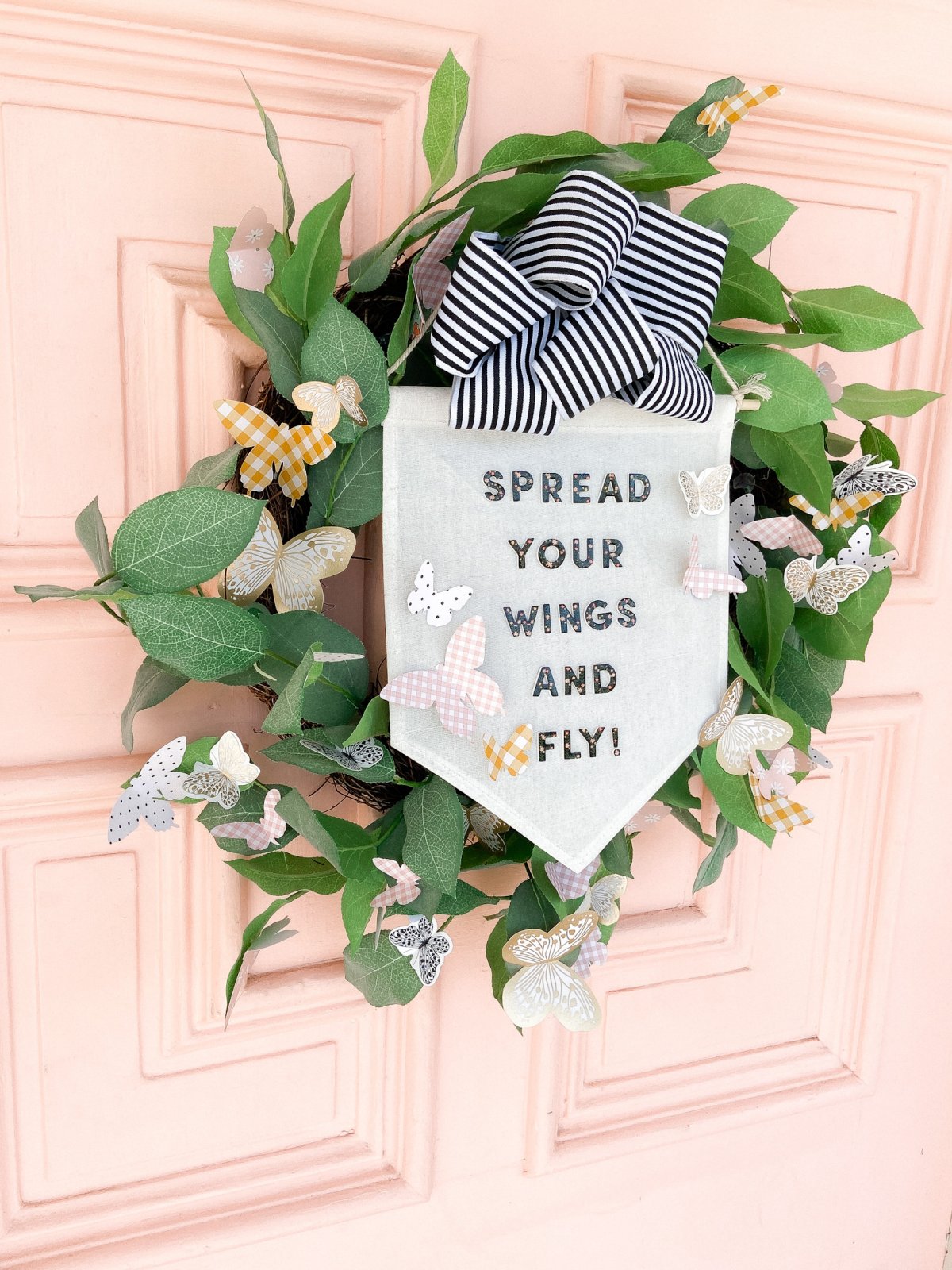 Spring Butterfly Pennant Wreath. Celebrate spring by making this simple wreath with butterflies cut out of cardstock and a big pennant in the middle and a spring saying!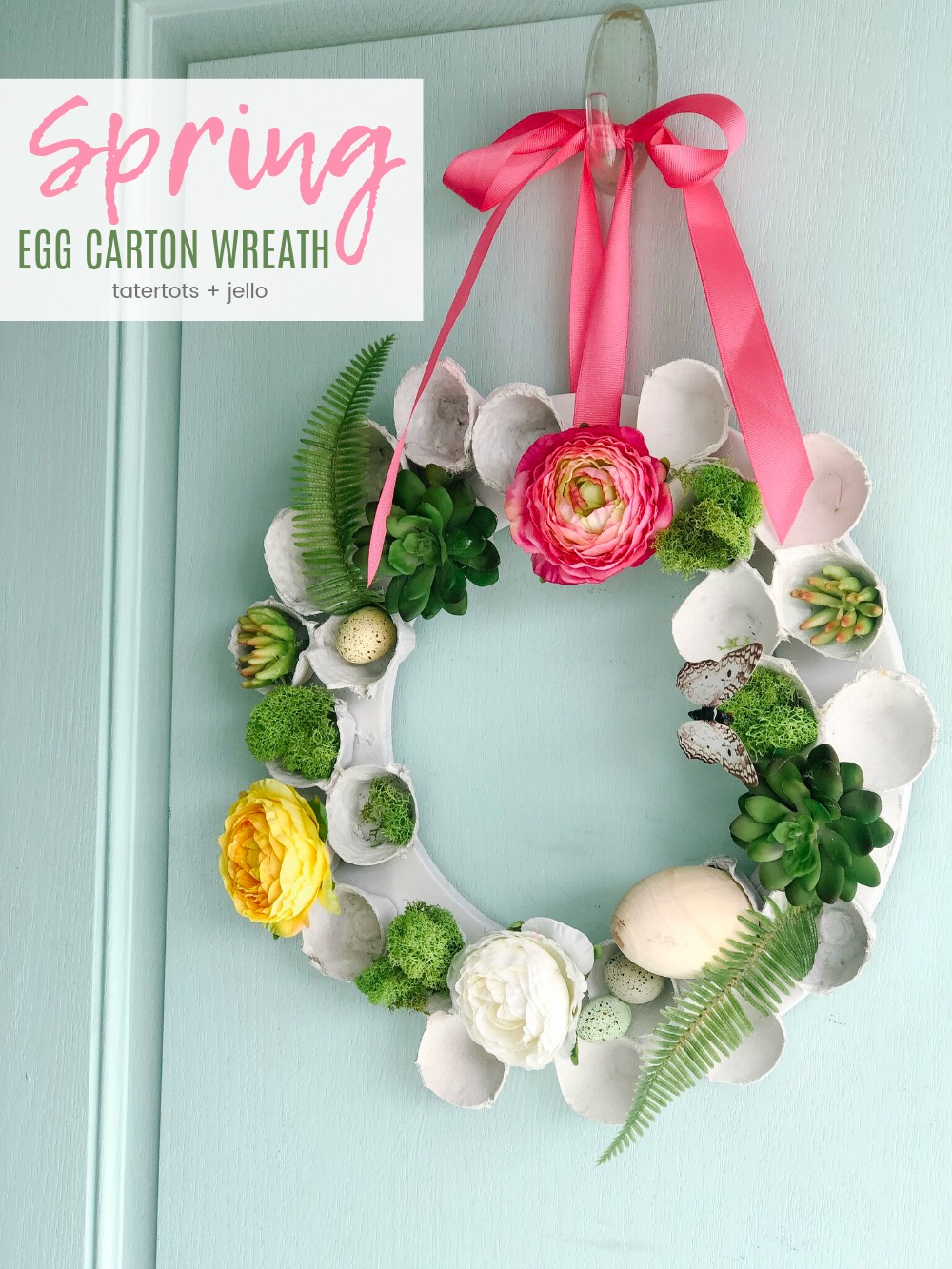 Egg Carton Spring Succulent and Flower Wreath Centerpiece. Don't throw your old egg cartons out, upcycle them into a beautiful Spring wreath centerpiece!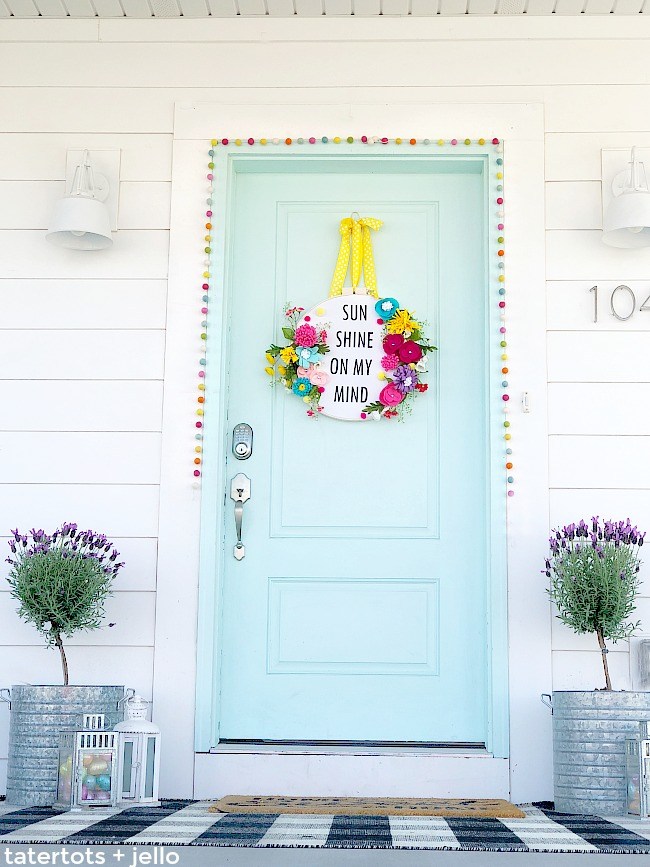 How to make a felt flower embroidery hoop saying wreath. Create a saying for spring and put it inside an embroidery hoop with felt flowers. It's fun to make and will welcome visitors to your home all summer long!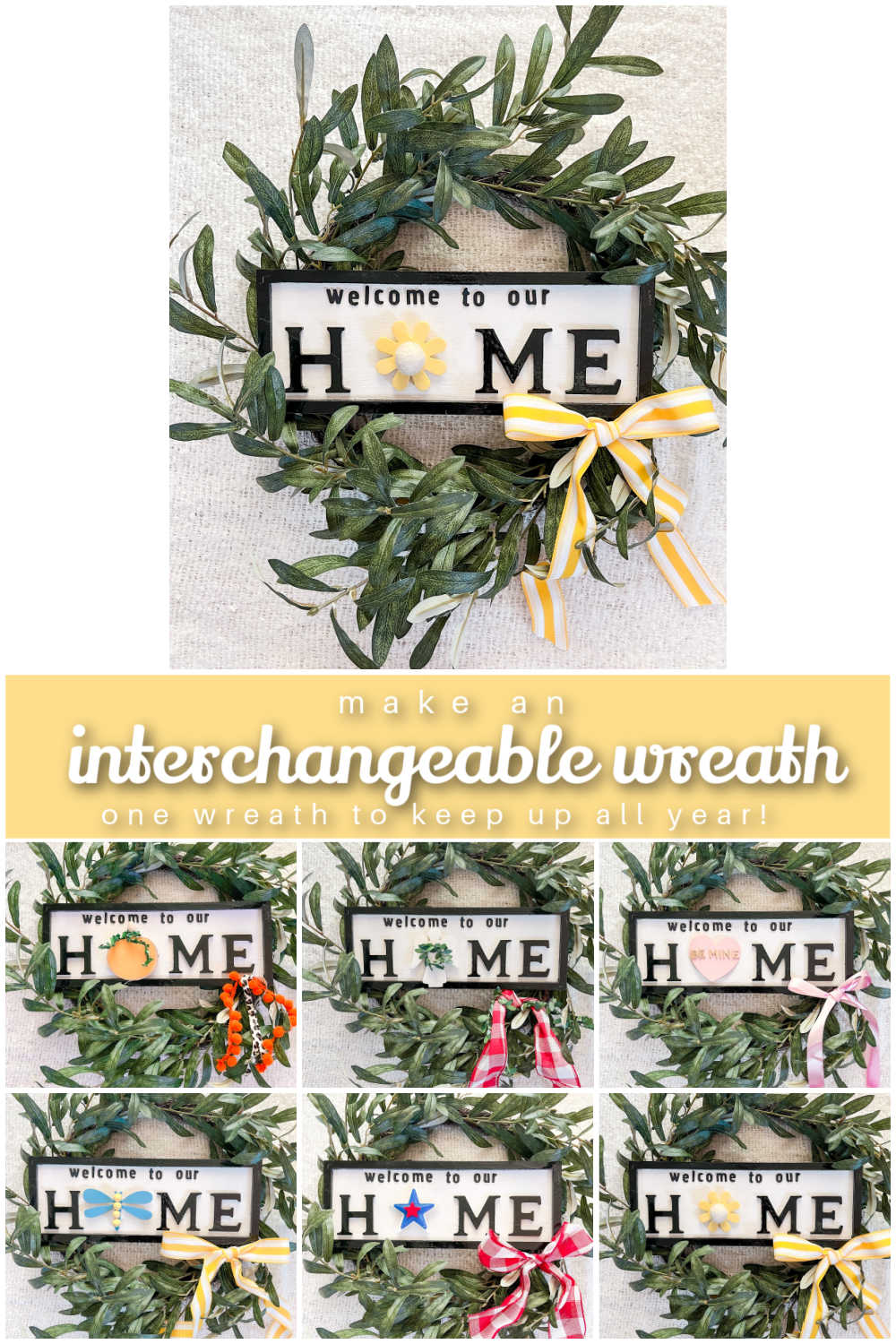 Year-Round Interchangeable Wreath. Create a wreath you can leave up all year by switching out seasonal wood decorations!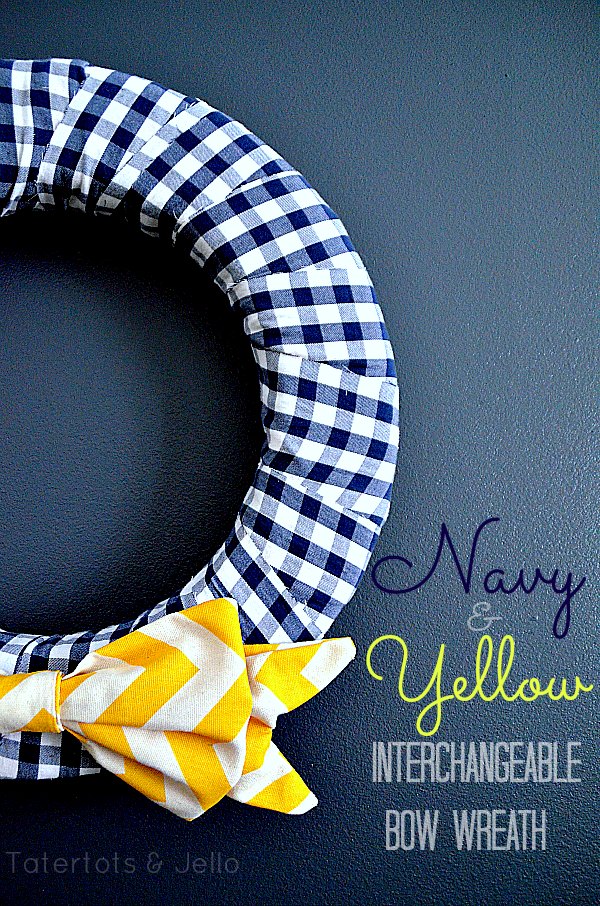 I made this plaid wreath about 10 years ago and I still love it! Different colored bows can be changed out for different seasons. I love navy and yellow together 🙂
Which Wreath do YOU want to make first??
Let me know in the comments!
xoxo