Spring Brunch Tulip Toast. Tulip toast will look beautiful on your Spring brunch table and it's so easy to make!
Spring Brunch Tulip Toast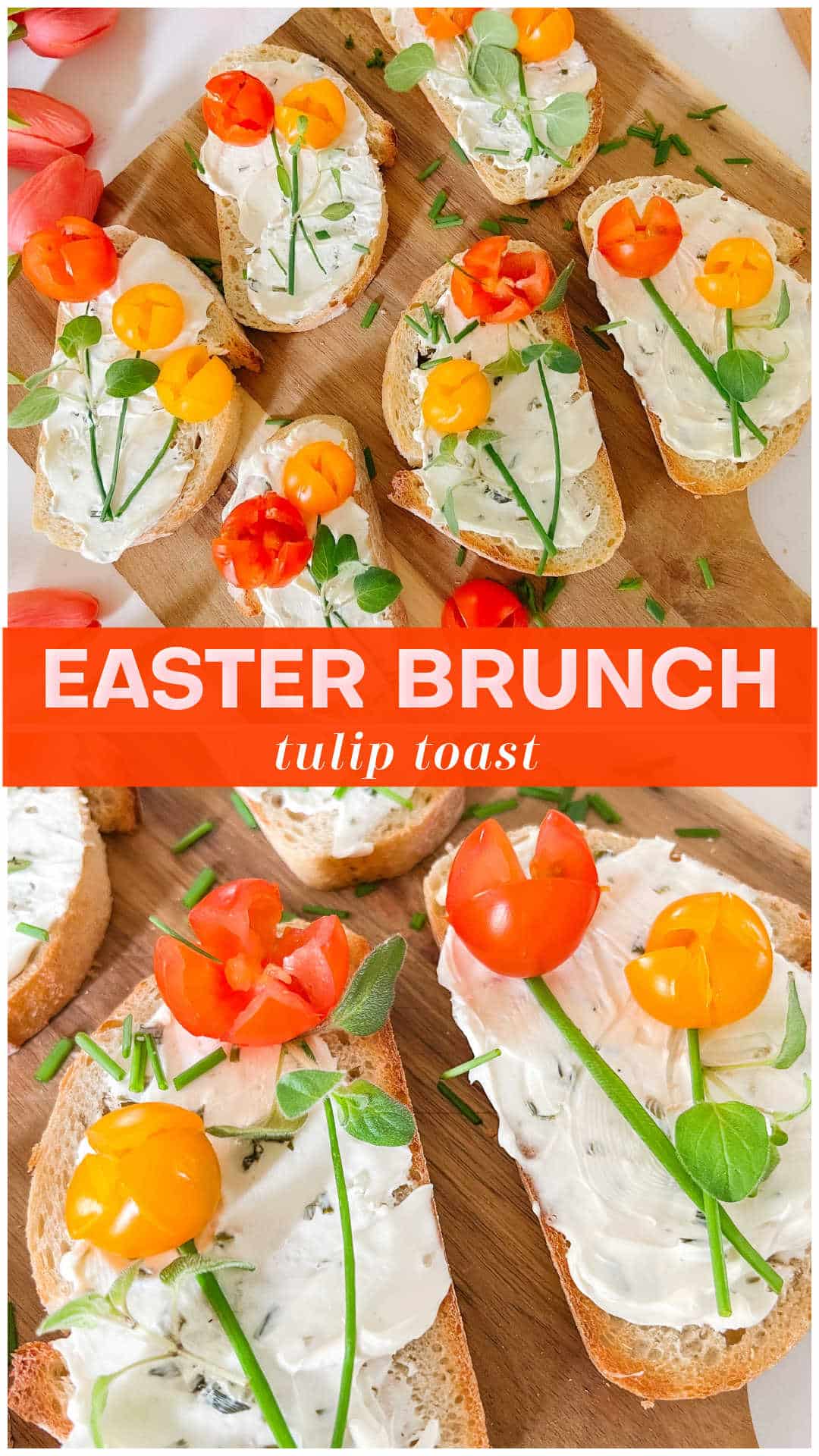 Hi, friends! Can you believe that Spring is just DAYS away?? I can't wait for warmer weather, working in my yard and garden, long walks in our historic neighborhood and spring parties and brunches!! Today I am sharing a sweet and easy recipe that will be a highlight on your spring brunch table OR so easy to make to brighten up your morning anytime!
Easy Brunch Recipe
Tulip toast is an idea that you can whip up in MINUTES! I found this idea through MacKenzie Biehl while looking at ideas on Pinterest. All you need is a toaster. Gather the ingredients and make some for Easter brunch or for any spring weekend! Your kids are going to love making these pretty tulips out of cherry tomatoes.
Ingredients to Make Tulip Toast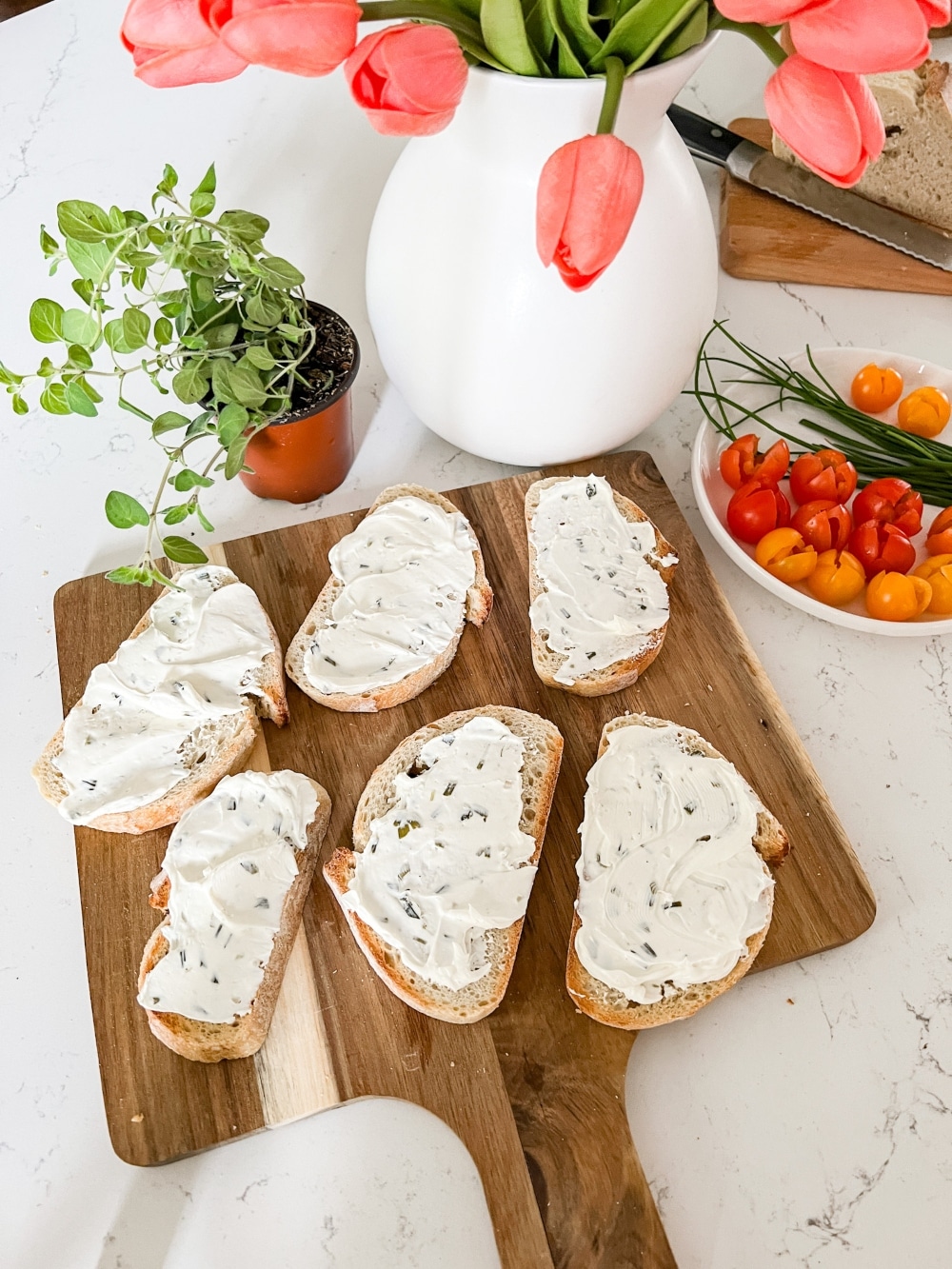 small french bread loaf
Cherry tomatoes – red and orange.
Cream cheese spread – I used whipped chive cream cheese spread.
Chives.
Oregano leaves or basil for flower leaves.
How to Make Tulip Toast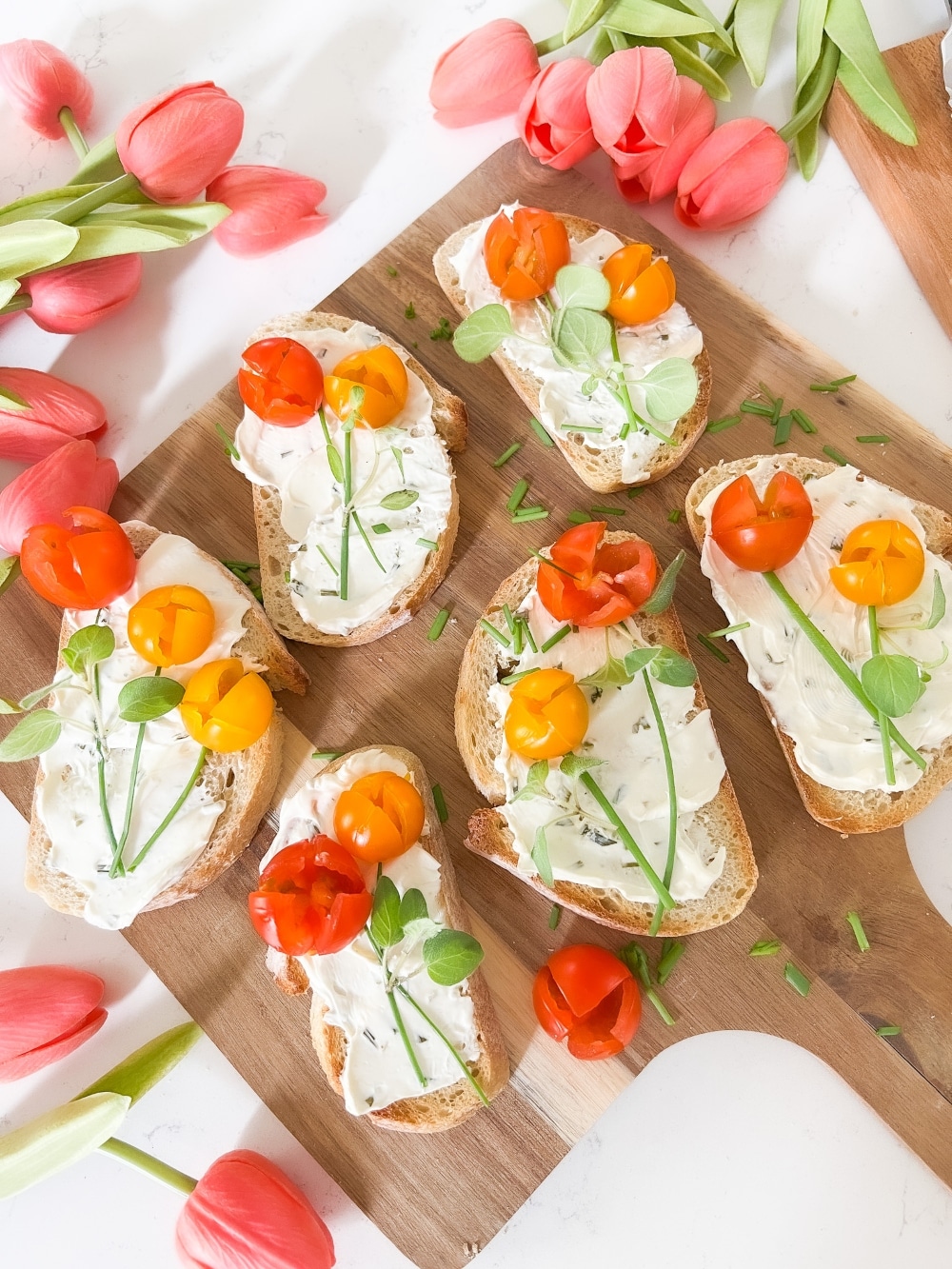 It's so easy to make tulip toast. Here's how to do it!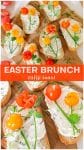 Spring Brunch Tulip Toast
Spring Brunch Tulip Toast. Tulip toast will look beautiful on your Spring brunch table and it's so easy to make!
Ingredients
6 slices bakery bread
1/2 cup whipped cream cheese
10 long chives
24 pieces herb leaves – used Oregano but you can also use Basil.
13-14 cherry tomatoes
Instructions
Slice 6 slices of bread (you can make more or less, depending on how many people you are making these for)

Once cooled, spread whipped cream cheese on toasted slices.

Add chives on top of the cream cheese. These will be the stems of the tulips. I put 2-3 stems on each piece of toast.
Make Tulip Heads
Take each cherry tomato, make slices at the top of the round side of the tomato. Make one slice going horizontal across the top. Then make anther slice going horizontally,. You can also make three or four slices, having all of the slices intersect at the middle.

Scoop out the seeds inside of each tomato.

Add a tulip head (tomato) at the top of each chive.
Add Leaves
Place leaves connecting to the chives to look like tulip leaves.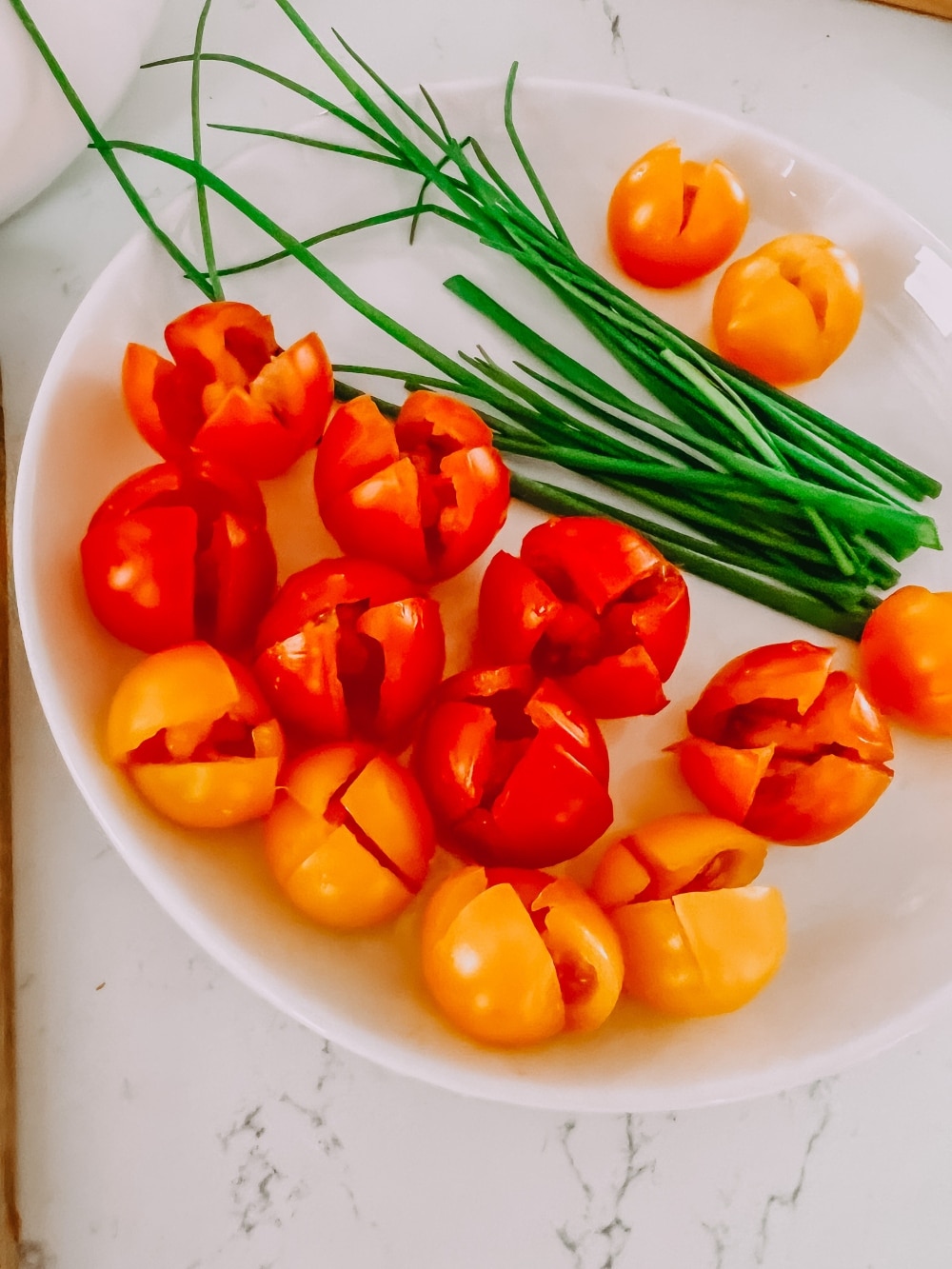 Cut french bread into slices.
Toast bread.
Spread cream cheese on toasted bread slices.
Cut cherry tomatoes. Make a horizontal slice and a vertical slice. at the round end of the tomato.
Scoop out the seeds.
Lay the chives as stems and trim them to size with kitchen sheers.
Put the red and green cherry tomatoes at the top of the chives.
Add oregano or basil leaves to the tulip flowers.
Enjoy!
Kids Will Love Making Tulip Toast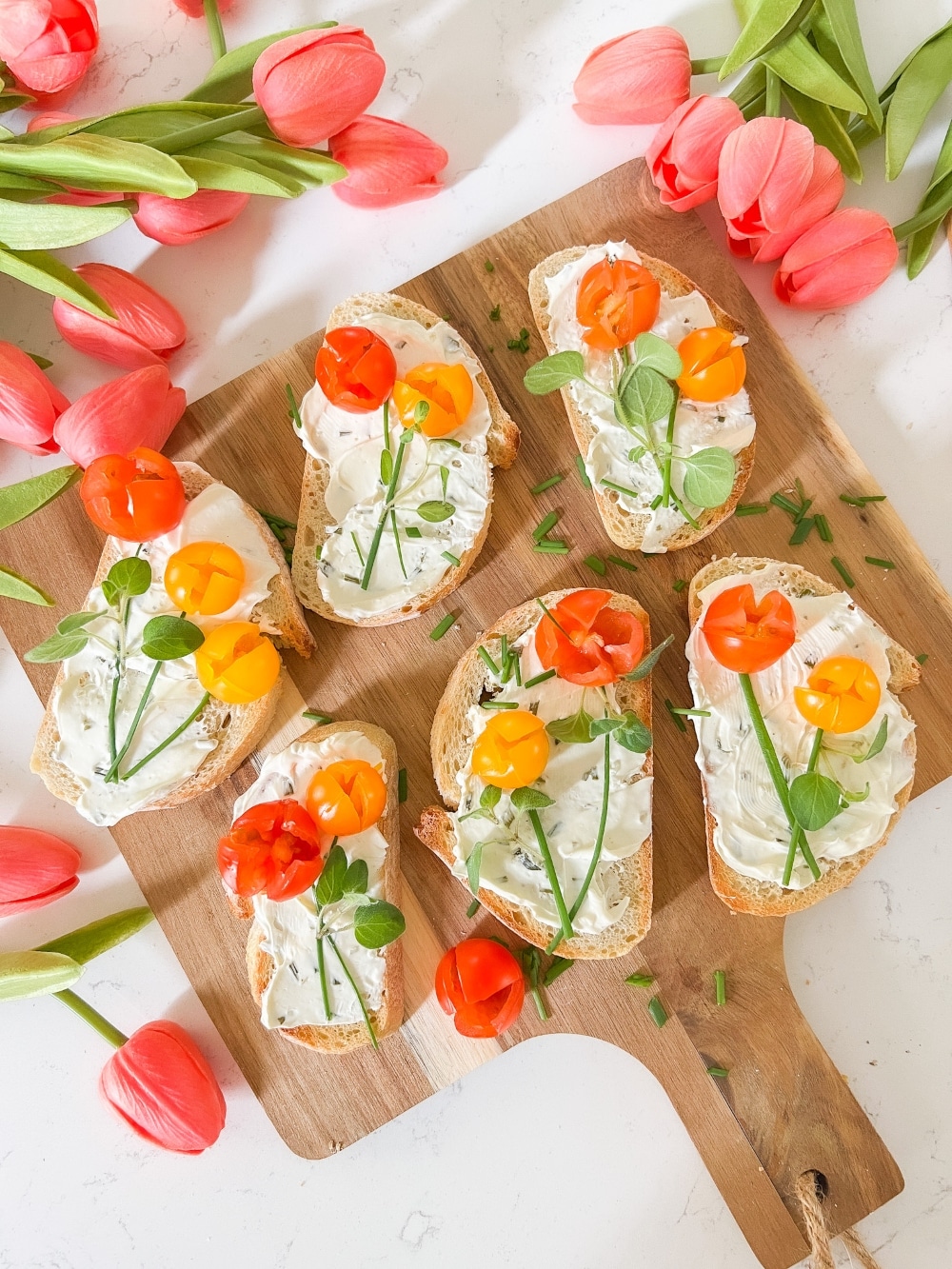 This is a fun idea that kids will love! Let them experiments and make their own beautiful tulip creations!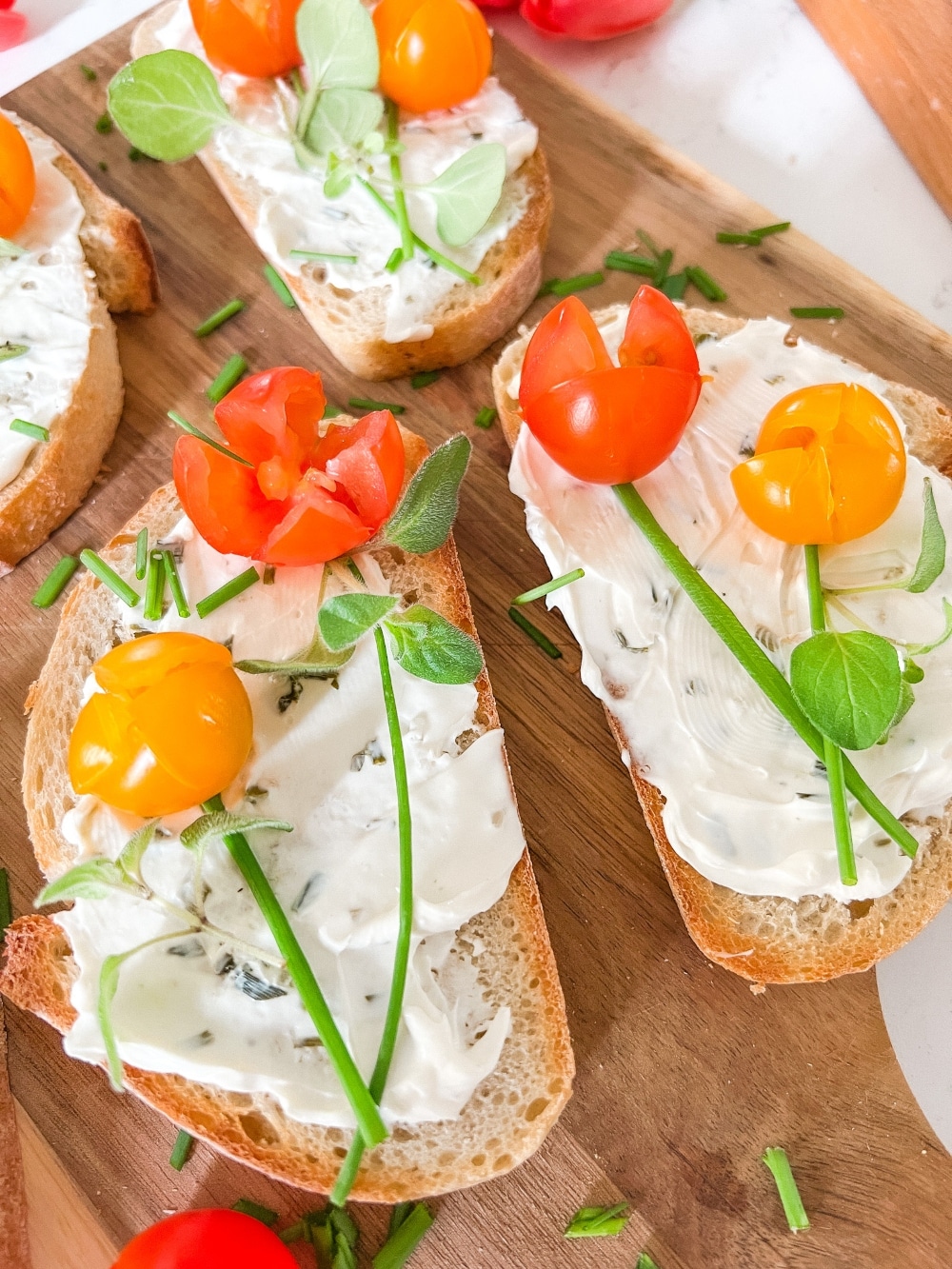 Spring Tulip Toast Video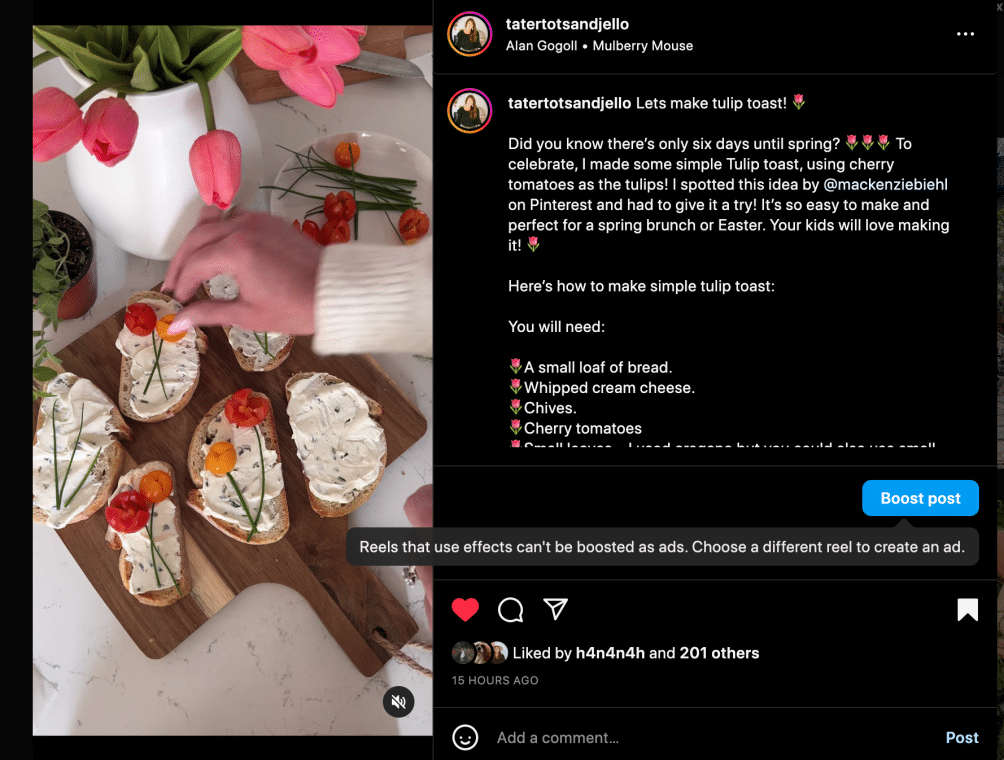 I made a little Instagram reel sharing how to make this easy recipe! Hop over and check it out — How to Make Spring Tulip Toast! And let's connect on Instagram – it's a fun place where I share behind-the-scenes ideas and inspiration. I love communicating in real time there! Let's connect!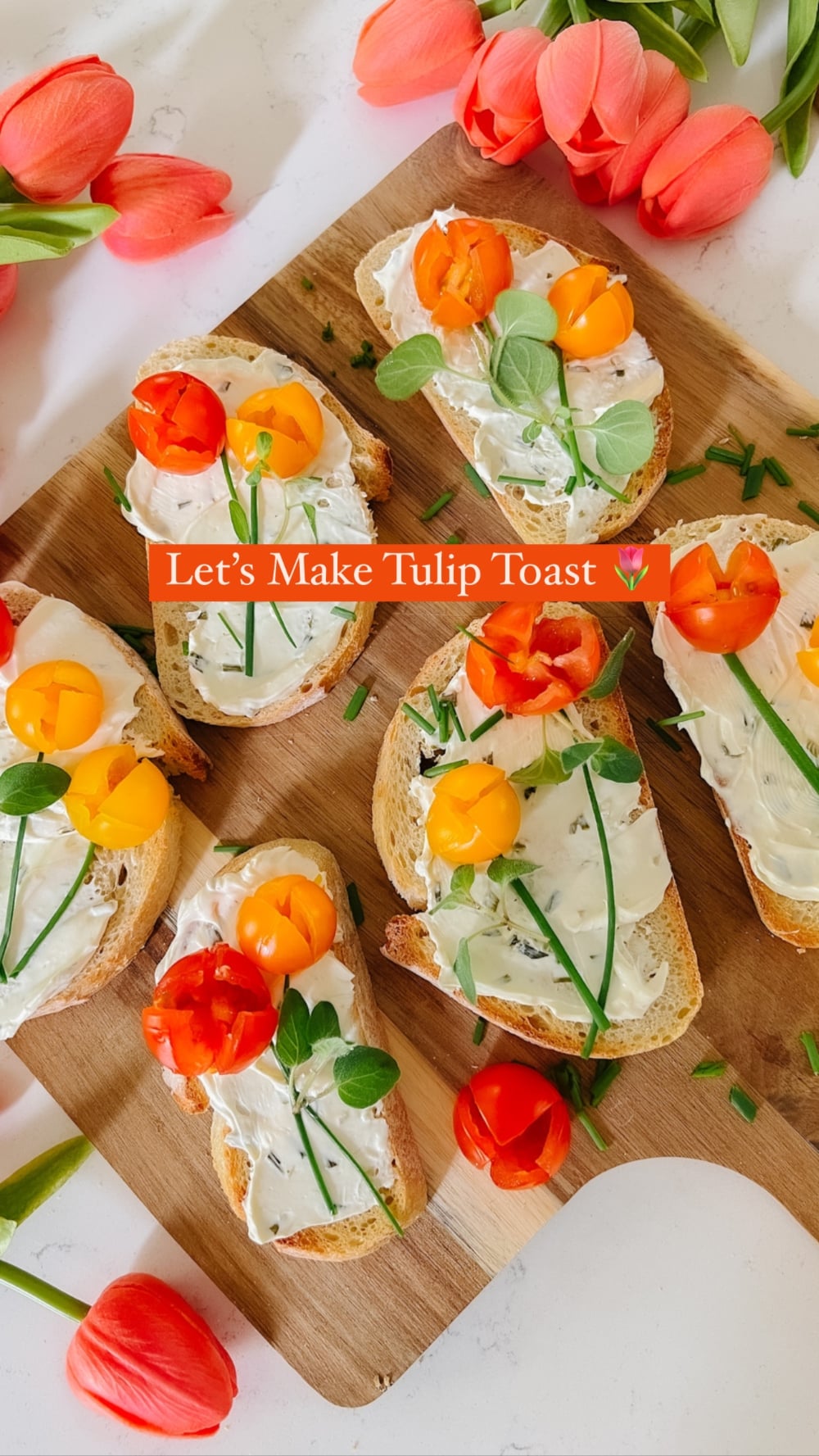 More Easter Brunch Recipes
Here are a few easter brunch recipes for inspiration!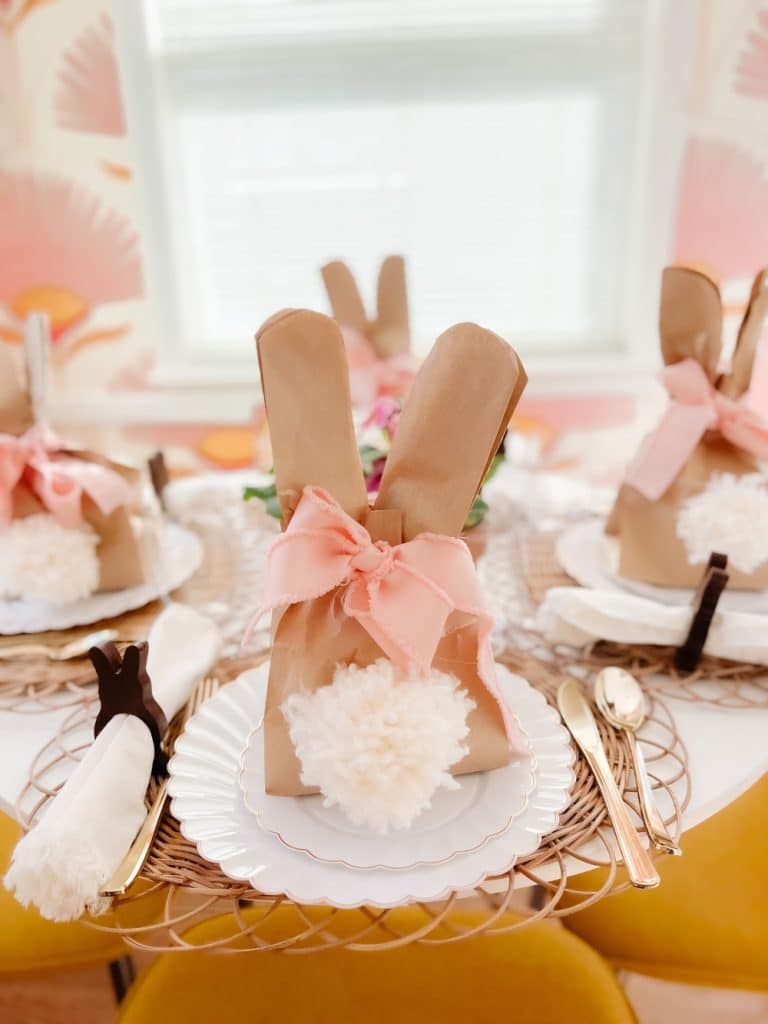 Simple Easter Bunny Treat Bags. Celebrate Spring and Easter with the simple bunny bags you can create in minutes!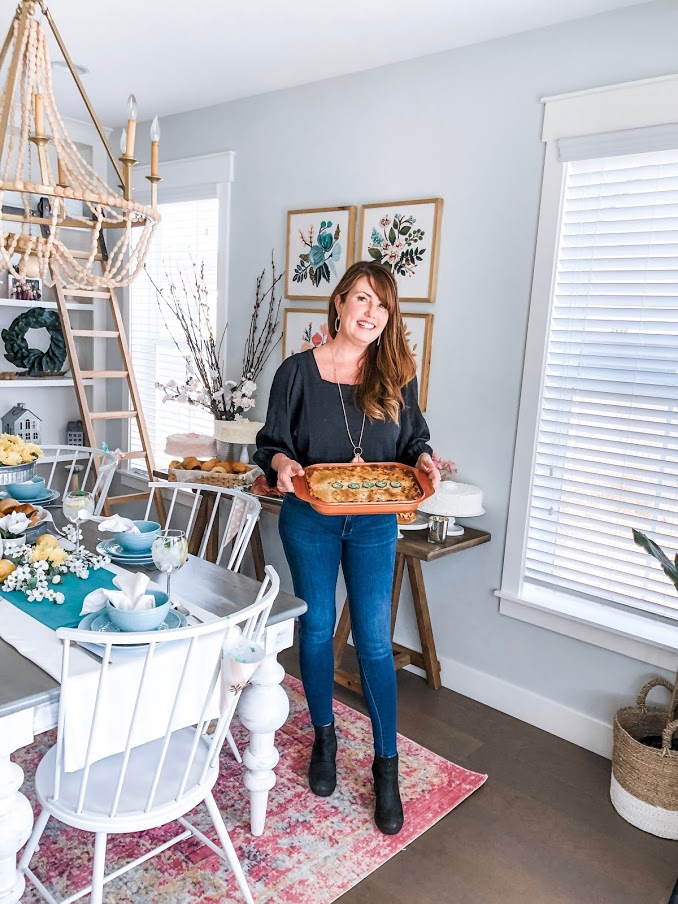 How to host the perfect Easter dinner without the stress. Throw a gorgeous and delicious dinner and save time in the kitchen so you can spend it with your loved ones!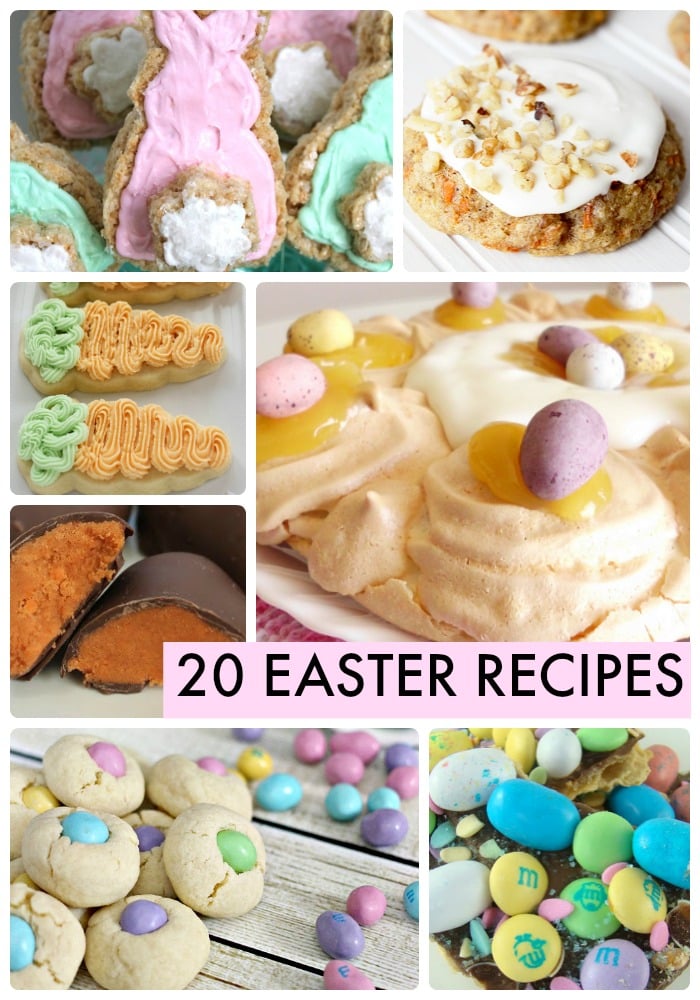 Spring is the perfect time to get baking! Here are 20 amazing Spring recipes that are so festive to make for Spring and Easter.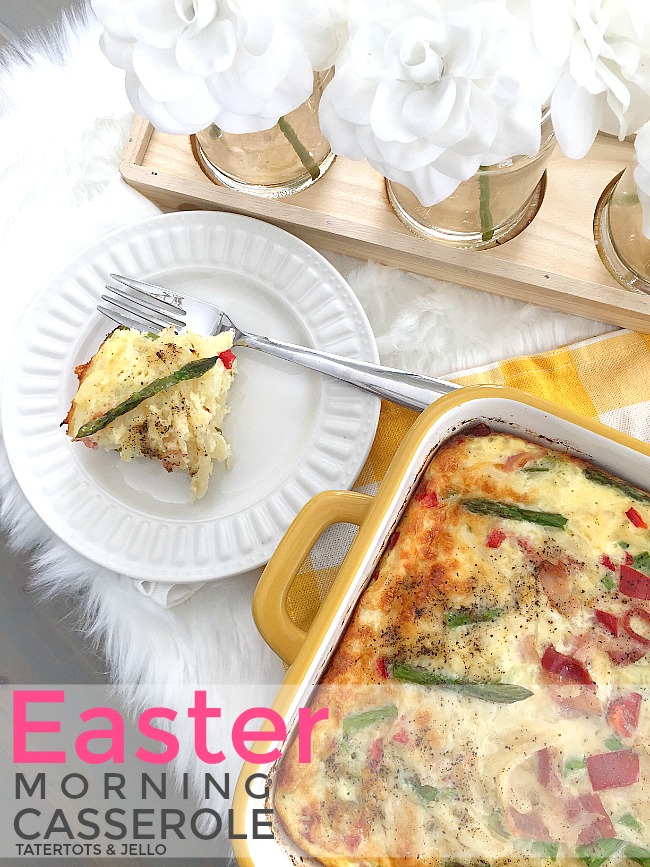 One of my favorite traditions at Easter is a yummy brunch with my family. Here's my favorite Easter brunch casserole. Fluffy eggs are surrounded by hash browns and spring vegetables. It's so good!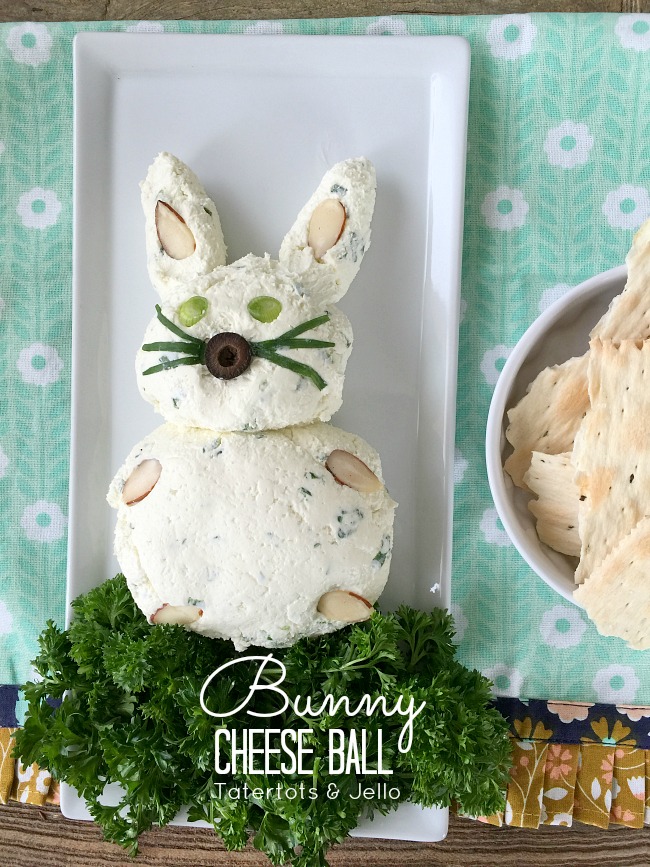 Everyone loves a cheese ball. Make a bunny shaped cheese ball to celebrate easter or spring.
What are YOU most excited about for Spring?
Share with me in the comments!
xoxo