Pink and Gold Kids Bathroom Remodel. Bring a hint to your kids bathroom with these affordable and classic ideas.
Pink and Gold Kids Bathroom Remodel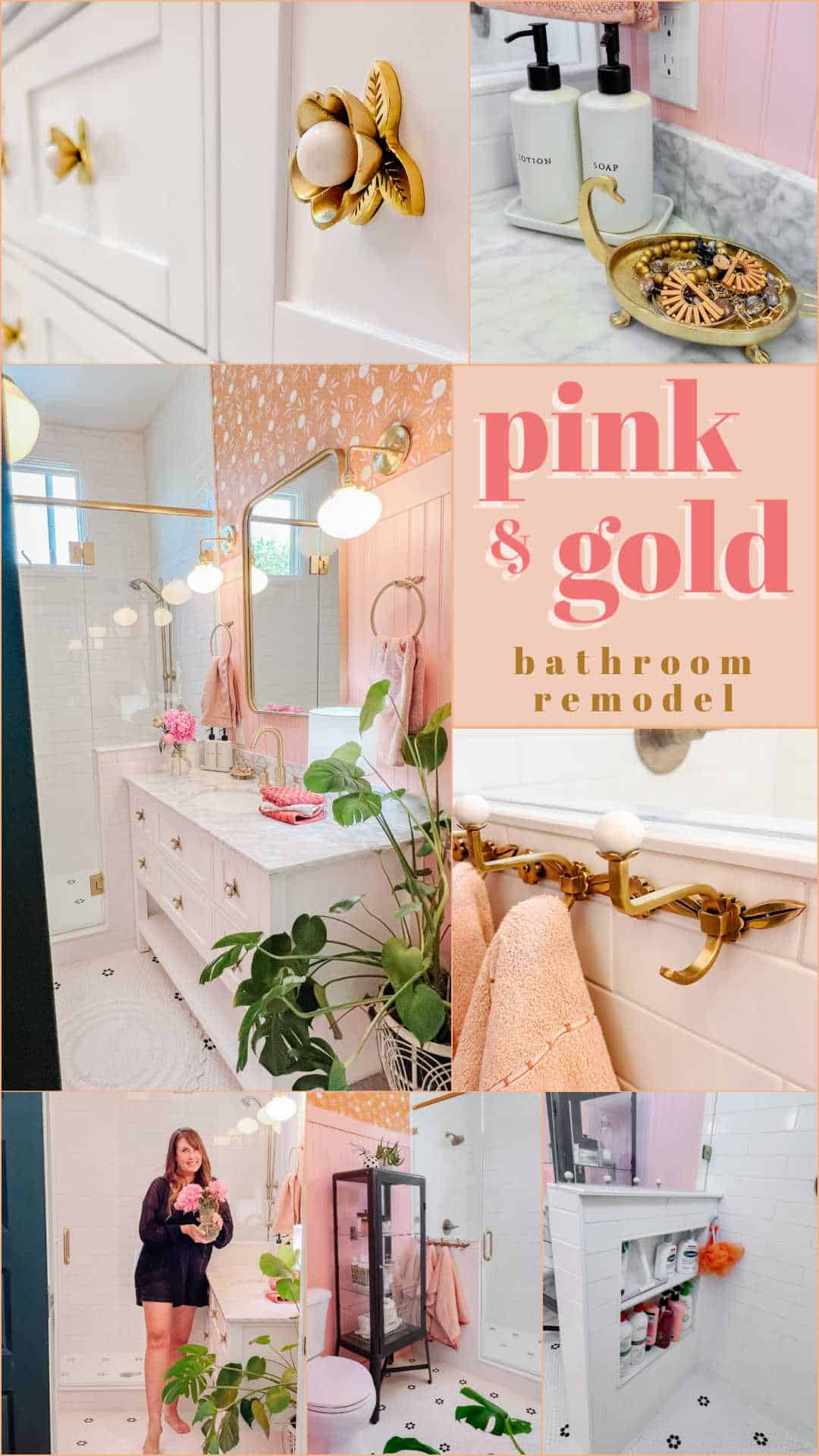 Hi, friends! It's been almost a year since we started our girls' bathroom remodel at the 1891 cottage. The bulk of the work has been done for a few months and I finally got the wallpaper installed and mirror hung up so I can share the reveal with you! Our girls had to wait about 3 years after we moved in for us to reach their bathroom. We started with the kitchen remodel, adding a back pantry and moving the laundry room from the basement into the room behind the kitchen. Then we transformed the basement into our successful airbnb. And we remodeled the primary bedroom and bathroom. I'm happy to report that the girls LOVE their new bathroom and it was well worth the wait!! Today I am sharing the reveal and some ways that we were able to finish this room on a budget!
Pink and Gold Bathroom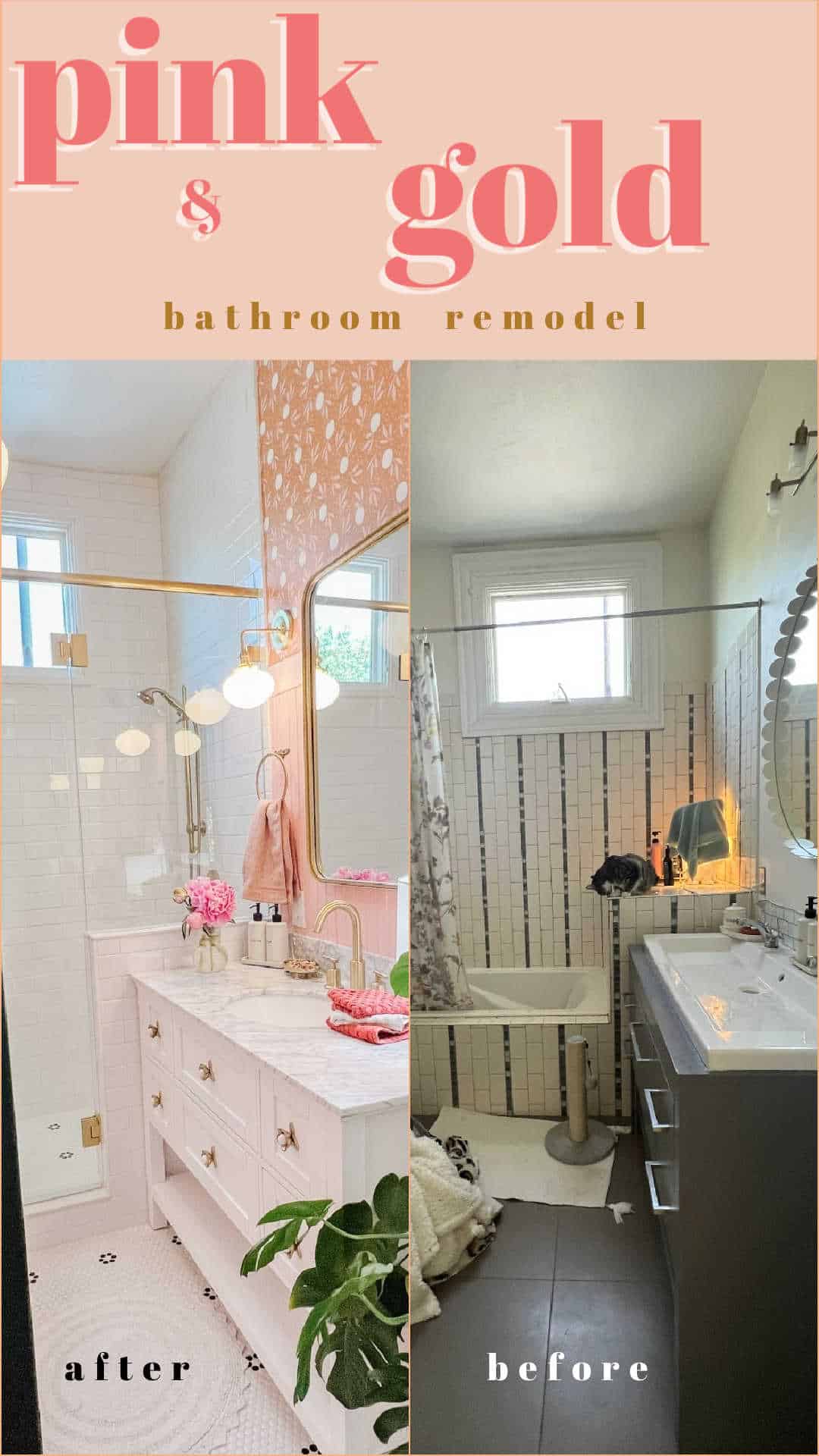 I am always thinking about resell value when I tackle a project. This bathroom is for our girls, but I didn't want to add permanent details that would make it hard to transform the bathroom to a more neutral color palette in case we sell the house and someone wants to use it for boys or just to make it into a more neutral room.
Removable Bathroom Wallpaper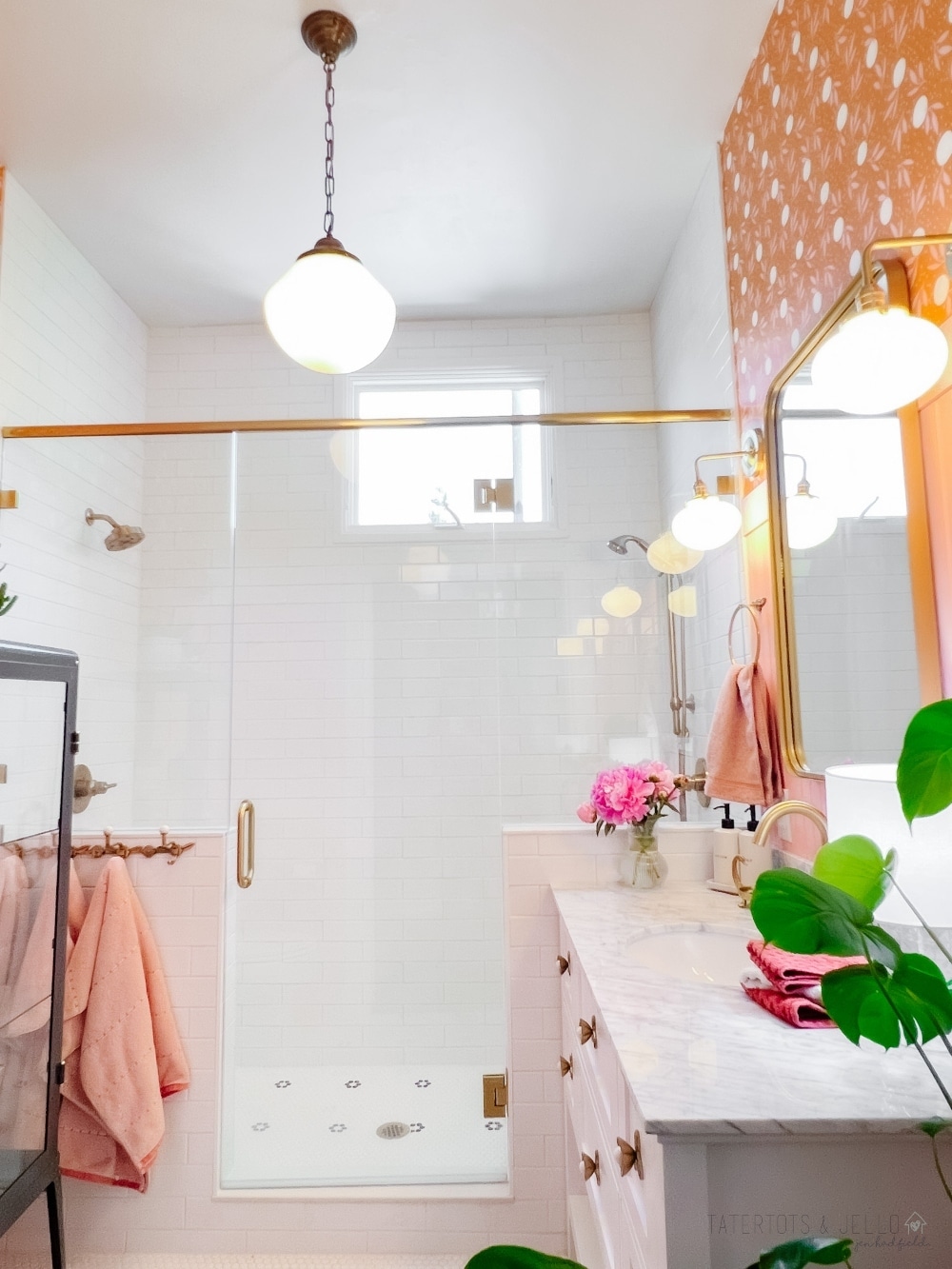 One way to bring color into a room is through removable wallpaper. It's easy to install and easy to remove when you want to change things up. This wallpaper is from Spoonflower from my favorite artist there, Scarlett Soleil. I only needed two rolls for this project which made it very affordable.
Add Character to a Bathroom With Beadboard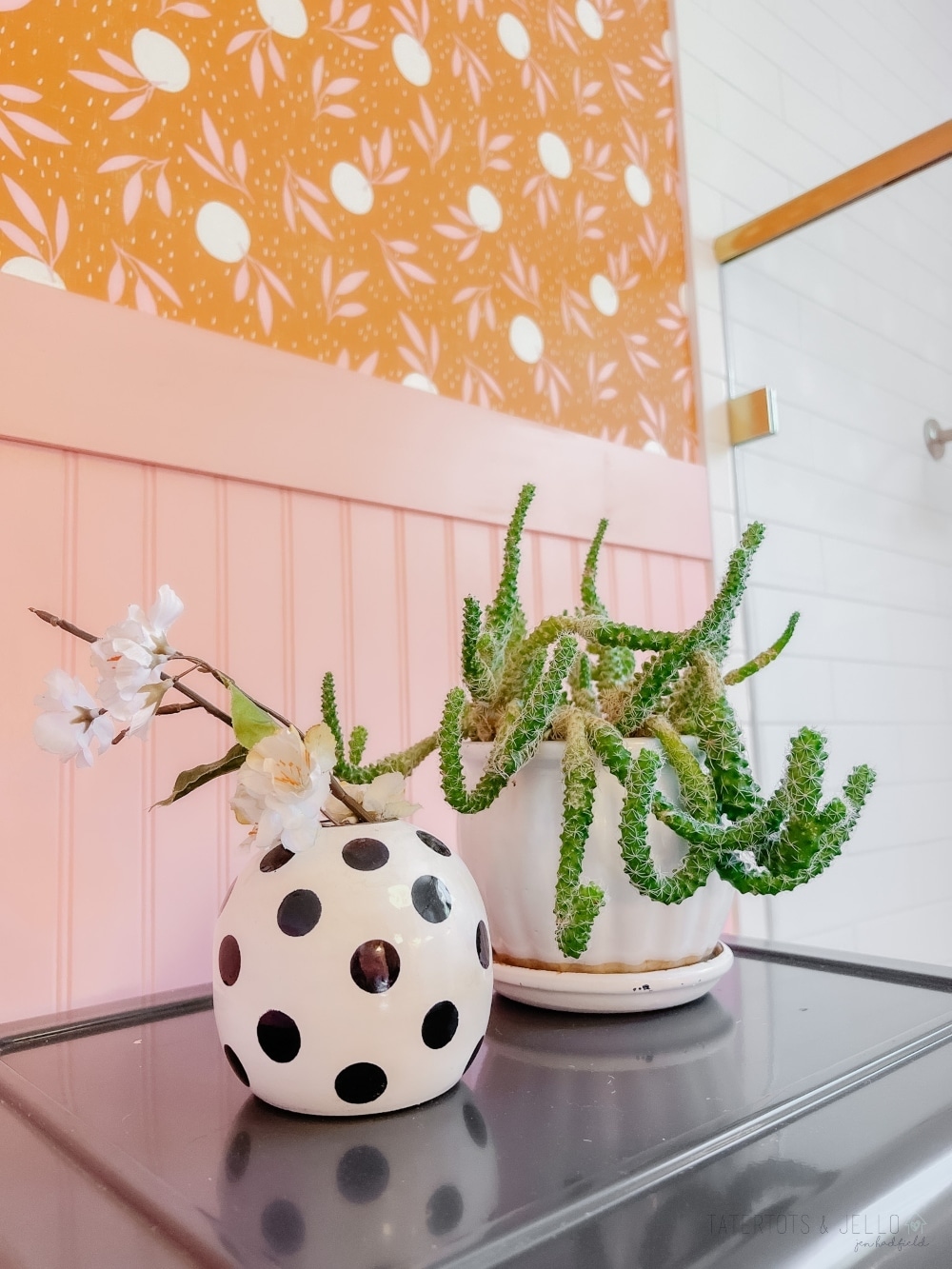 Beadboard is another way to add character and color to a room. Beadboard is perfect for our 1891 victorian home and adds that vintage vibe. I painted it this beautiful Sweet Angel color that matches our front door. It's the perfect shade of peach-pink and looks beautiful with the sun shining into the room in the morning light. It's also easy to repaint if someone moves in that wants a more neutral color palette.
Add a Bathroom Vanity with Storage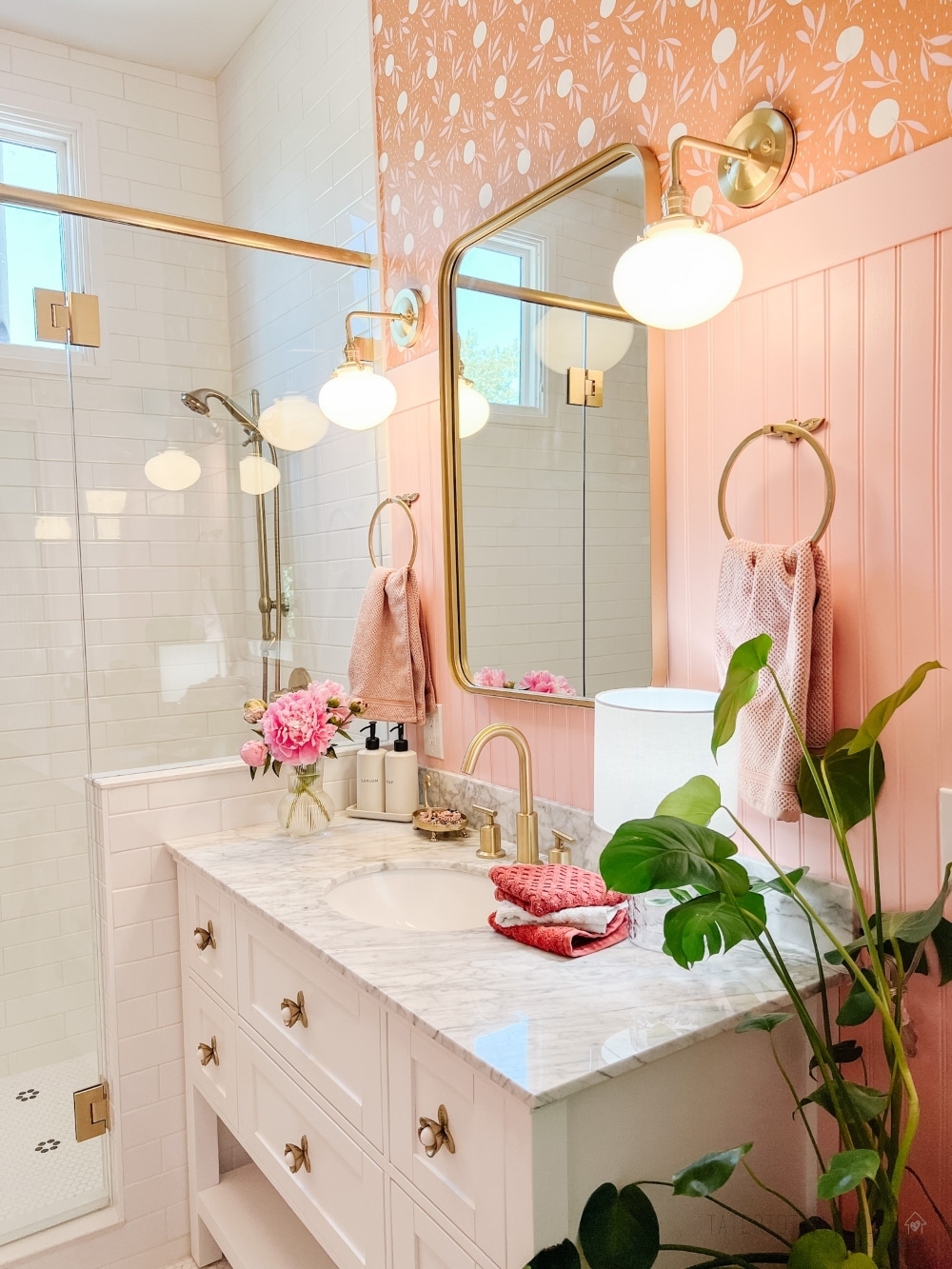 I spent a long time picking out the bathroom vanity for this room. The old bathroom had a trough-style sink with two faucets. And while two faucets is great, the trough style meant that there wasn't much counter space. And with teenage girls, counter space is very important. So we opted for a beautiful marble vanity with one sink, but maximum counter space.
Vanity with Drawers Maximizes Storage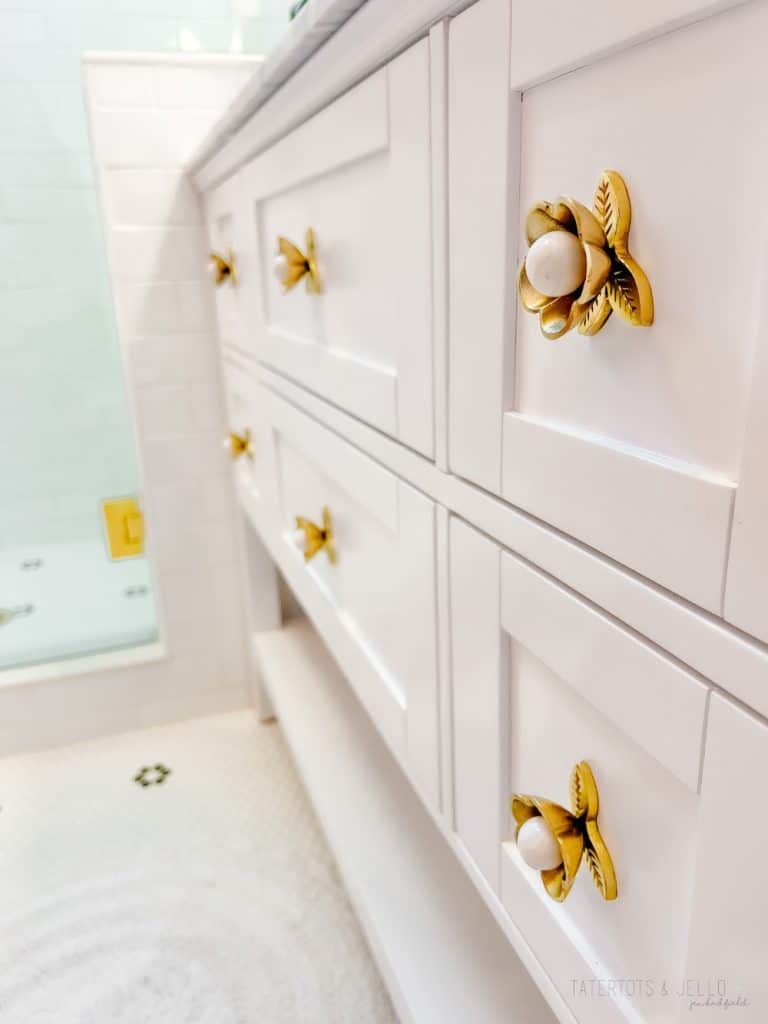 Another important factor in picking out a vanity was finding one with drawers. Drawers make organizing a kids vanity so much easier than a vanity with doors and shelves. Pulling open the drawers is so easy and you can see everything that is in the drawers.
Vanity Open Shelving is Perfect for Towels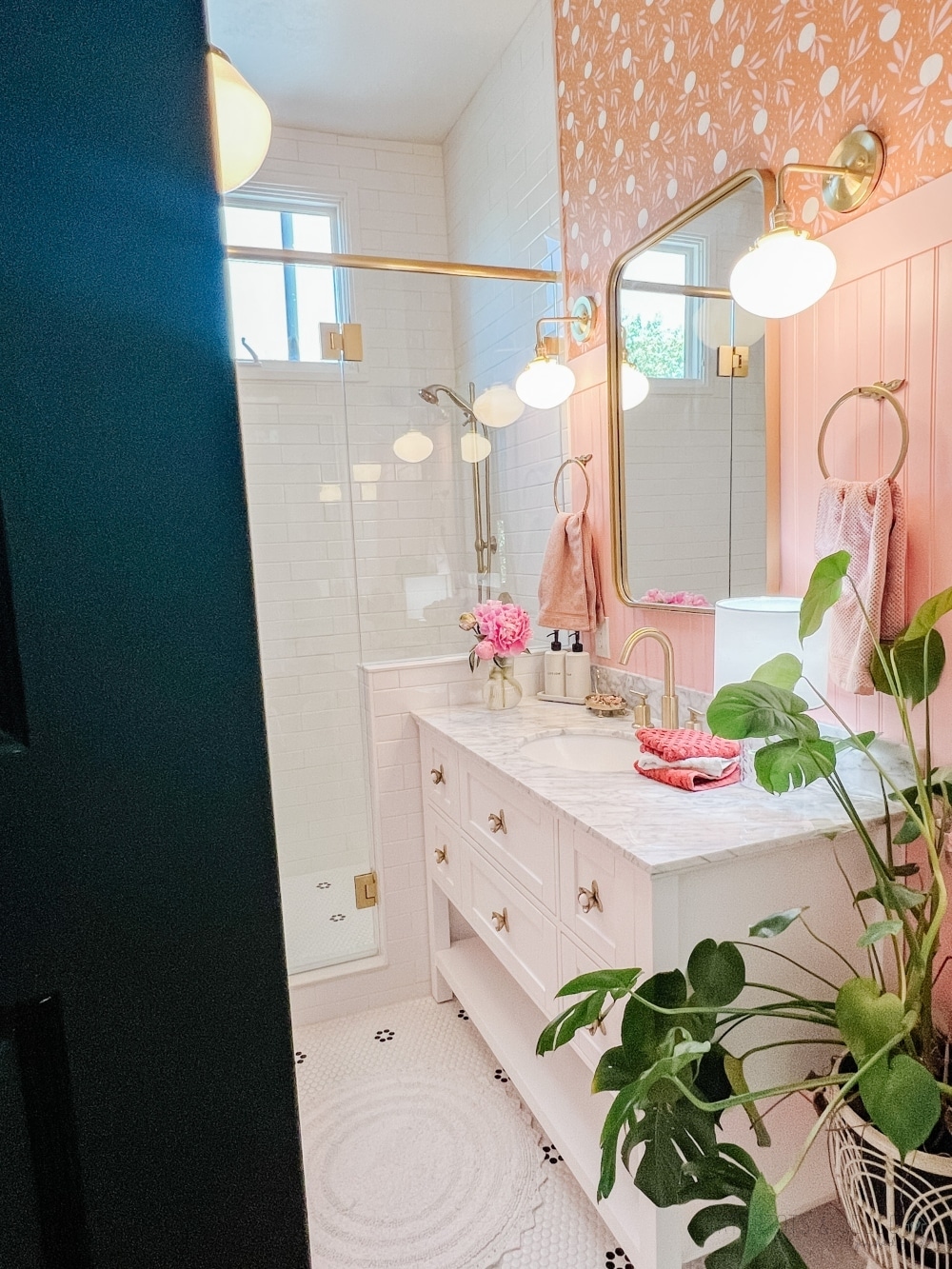 This vanity has a giant opening on the bottom which is perfect for towels or a big basket to hold appliances like hair dryers or curlers.
Upgrade the Vanity by Switching Out the Handles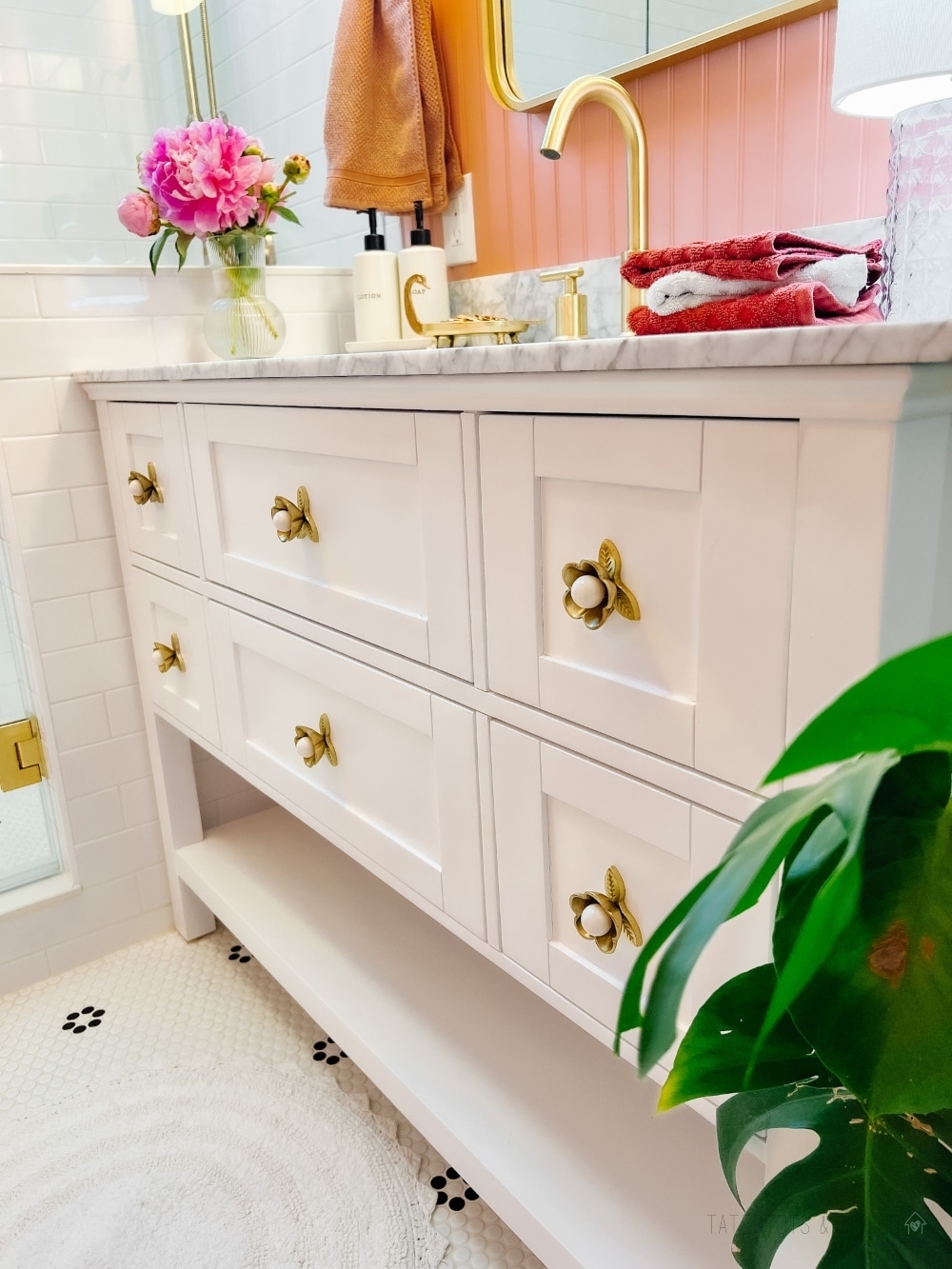 An easy way to upgrade a basic vanity is to switch out the handles. The one I ordered had chrome and white handles which didn't go with the luxe gold tones in the rest of the room. I switched them out with these adorable flower-theme gold knobs from Anthropology!
Upgrade Bathroom Hardware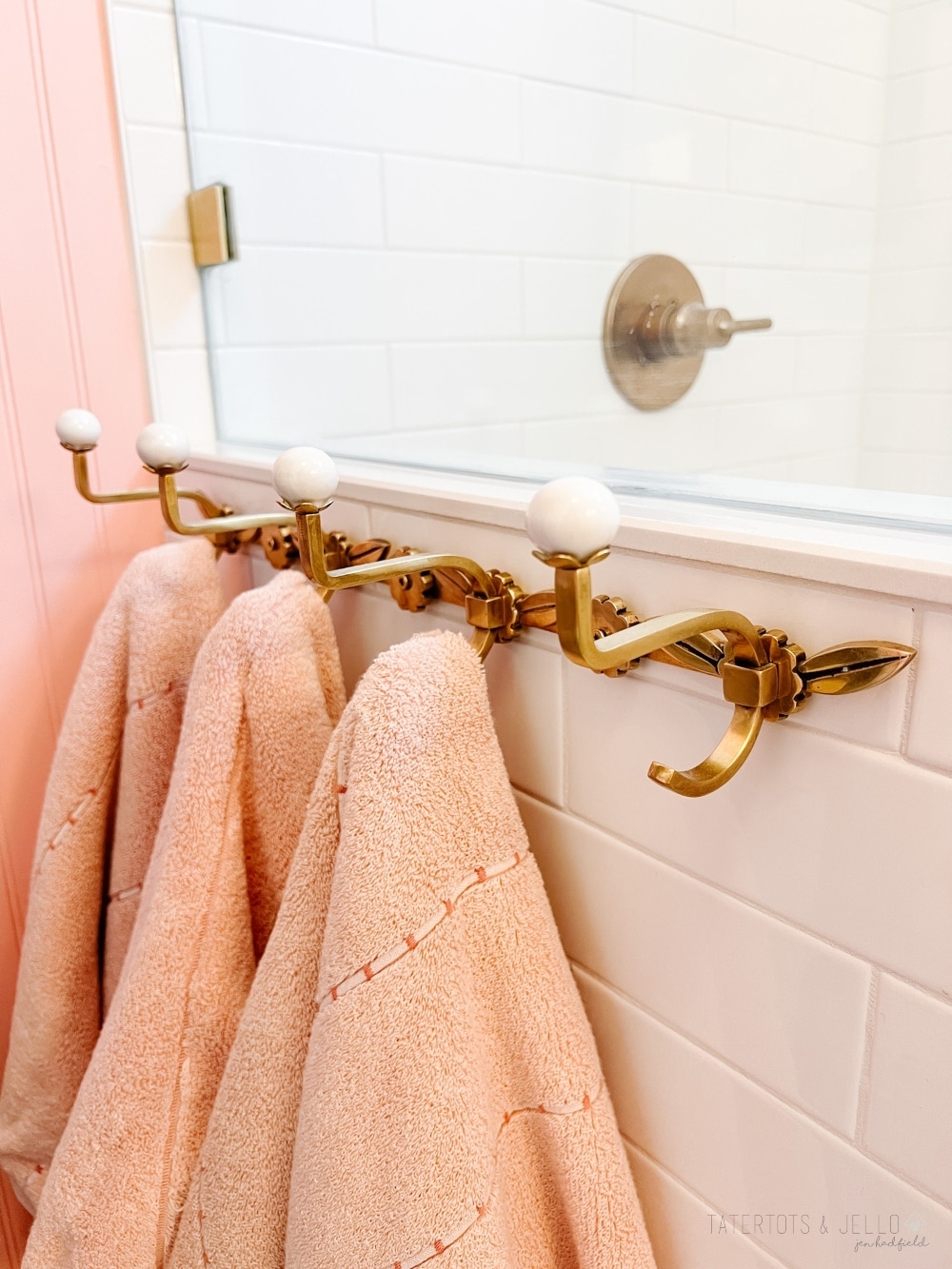 One way to upgrade the look of a bathroom is spending more on bathroom hardware. Upgrading the hardware isn't very expensive but can really make the feel of the room much more luxurious. I found matching hand towel rings, robe hook, toilet paper holder and towel hooks that match the cabinet pulls. I LOVE the way they look in the room!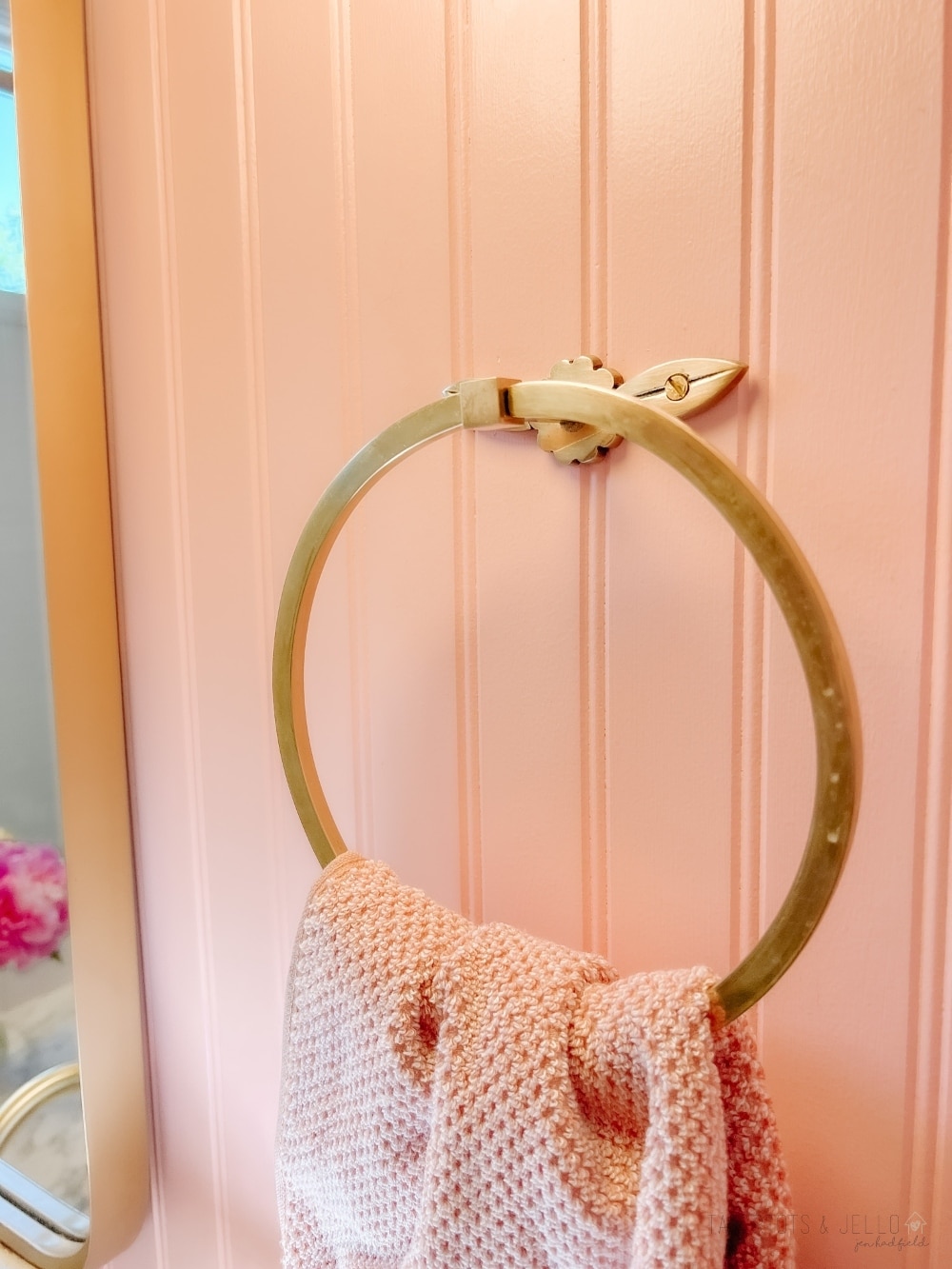 Add More Storage with an Apothecary Cabinet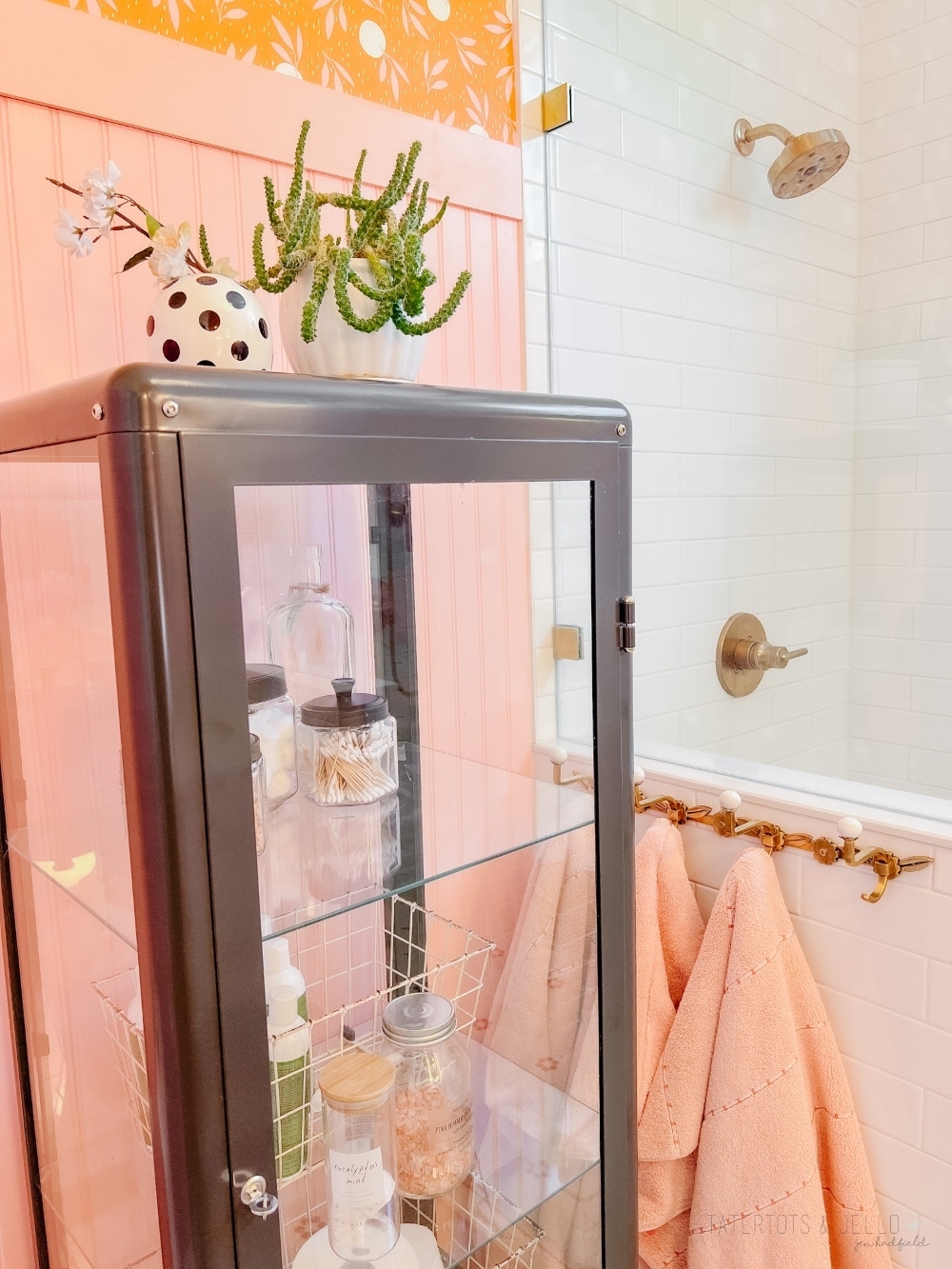 Another way to upgrade a bathroom is adding easy access storage. This apothecary cabinet is small so it doesn't take up much space, but it provides a place to keep essentials like toilet paper, extra towels, shower gel, extra shampoo and disposable items like flossers, q-tips and cotton balls. I put the small items in clear containers. Now the girls can see what is in the case and grab whatever they need.
Match Gold Tones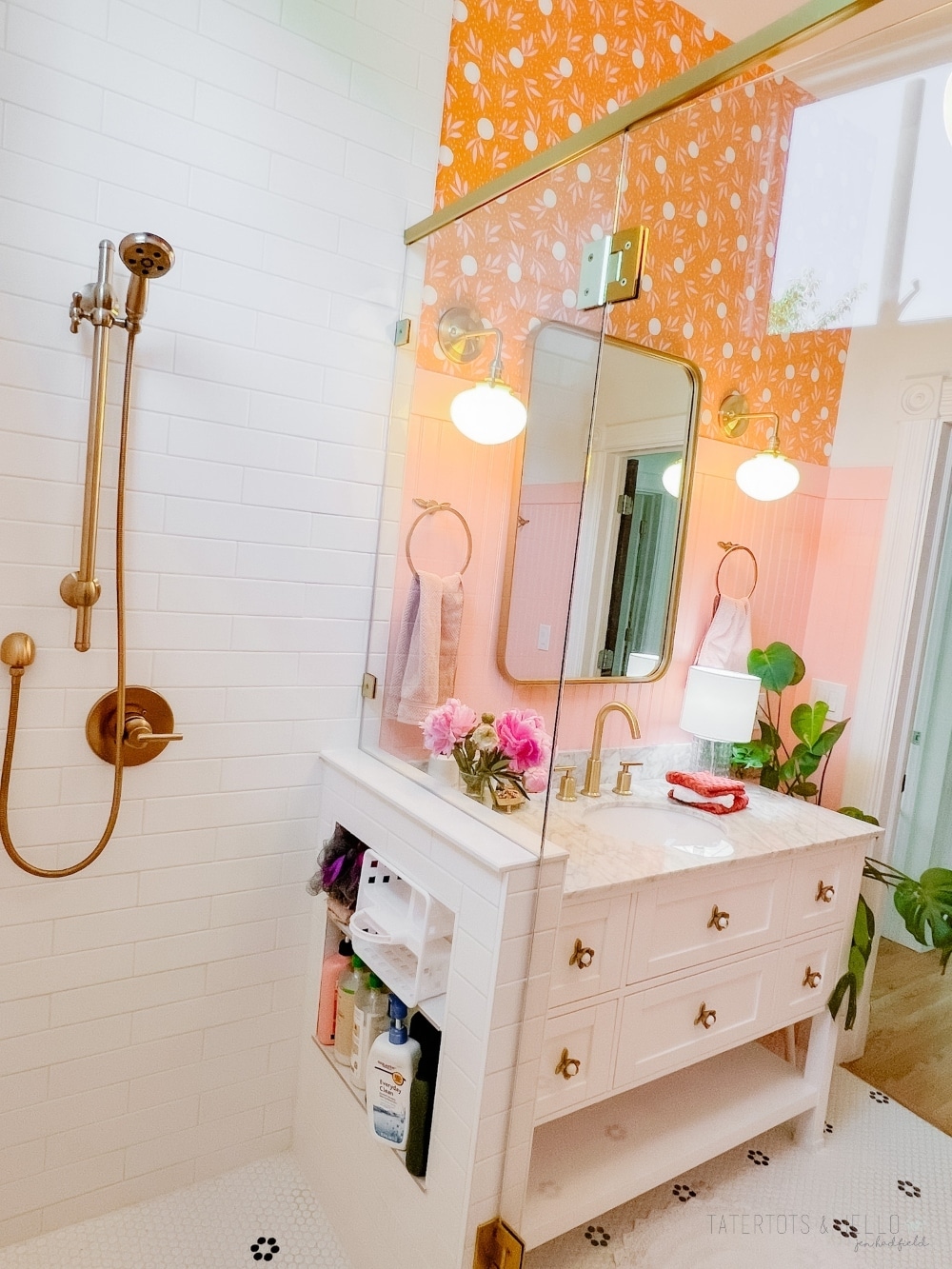 The tricky part about using gold in a remodel is that there are many different shades of gold. One tip that I have to help maintain a cohesive feel is using the same brand of shower hardware. I used Delta and their champagne gold color for the double shower hardware so that it all matched.
Save Money with a Less Expensive Faucet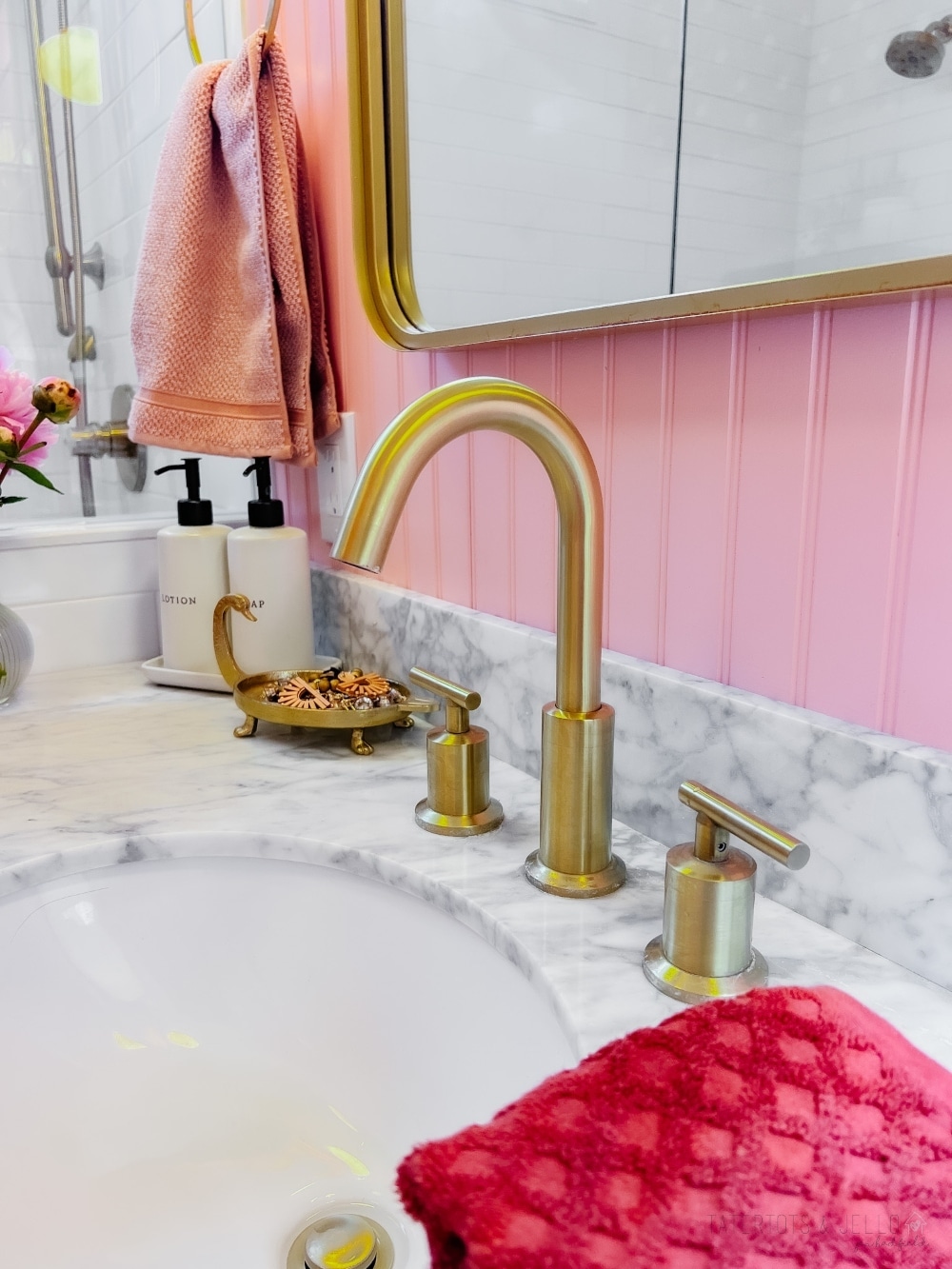 I love the kohler Cross Style bathroom faucet, but I didn't want to spend $800. I found a similar faucet on amazon for $100. Comment on this post if you want me to send you the link to this faucet. I also have it in our primary bathroom and have used it for over a year and it has held up great.
Remodel a Vintage Home with Modern Details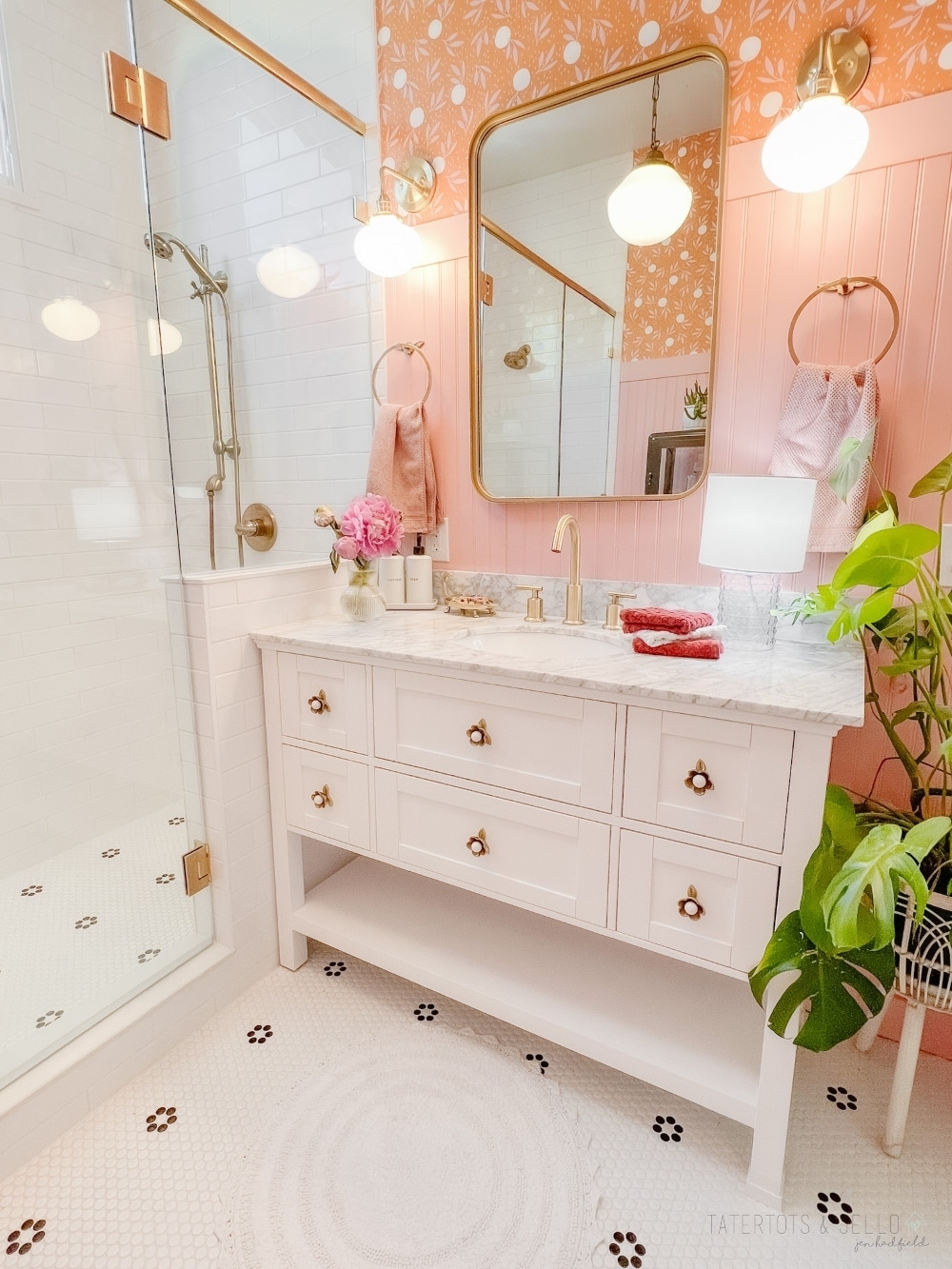 One of the things I love to do when remodeling an old home like this 1891 cottage and my 1905 cottage, was adding in modern conveniences and details like the double shower heads and sleek glass with materials that would have been available in the time period the home was built. For this 1891 bathroom remodel, I chose a classic penny tile floor, classic subway tile with beadboard that would have been right at home with the cottage was originally constructed. I love the classic black and white pattern for our home.
Add Luxe Lighting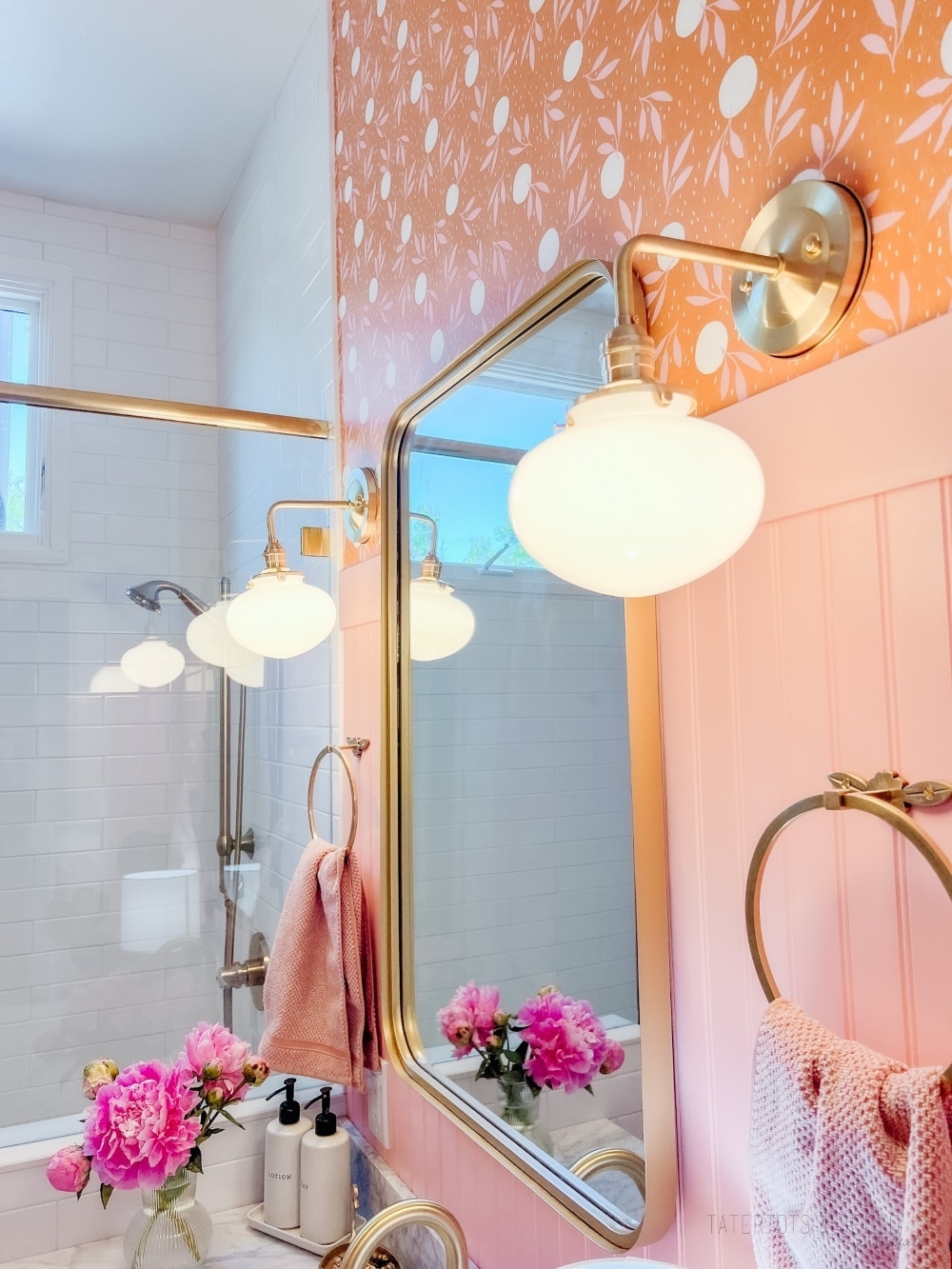 Lighting is the jewelry of a room. I spent many many hours looking for the perfect lighting. I really wanted to have. a hanging pendant in the middle of the room with two beautiful sconces surrounding the mirror. I found an amazing handmade lighting store, Olde Brick Lighting. The hanging sconce is Clara (Opal) | Chain Hung12″ / Antique Brass / Tan Cloth. and the two sconces are Mulberry (Opal) | Elbow Sconces
Matte Brass. Their light fixtures are handmade and GORGEOUS!! Be sure to check them out for remodeling in any room in your home!
Pick a Gorgeous Mirror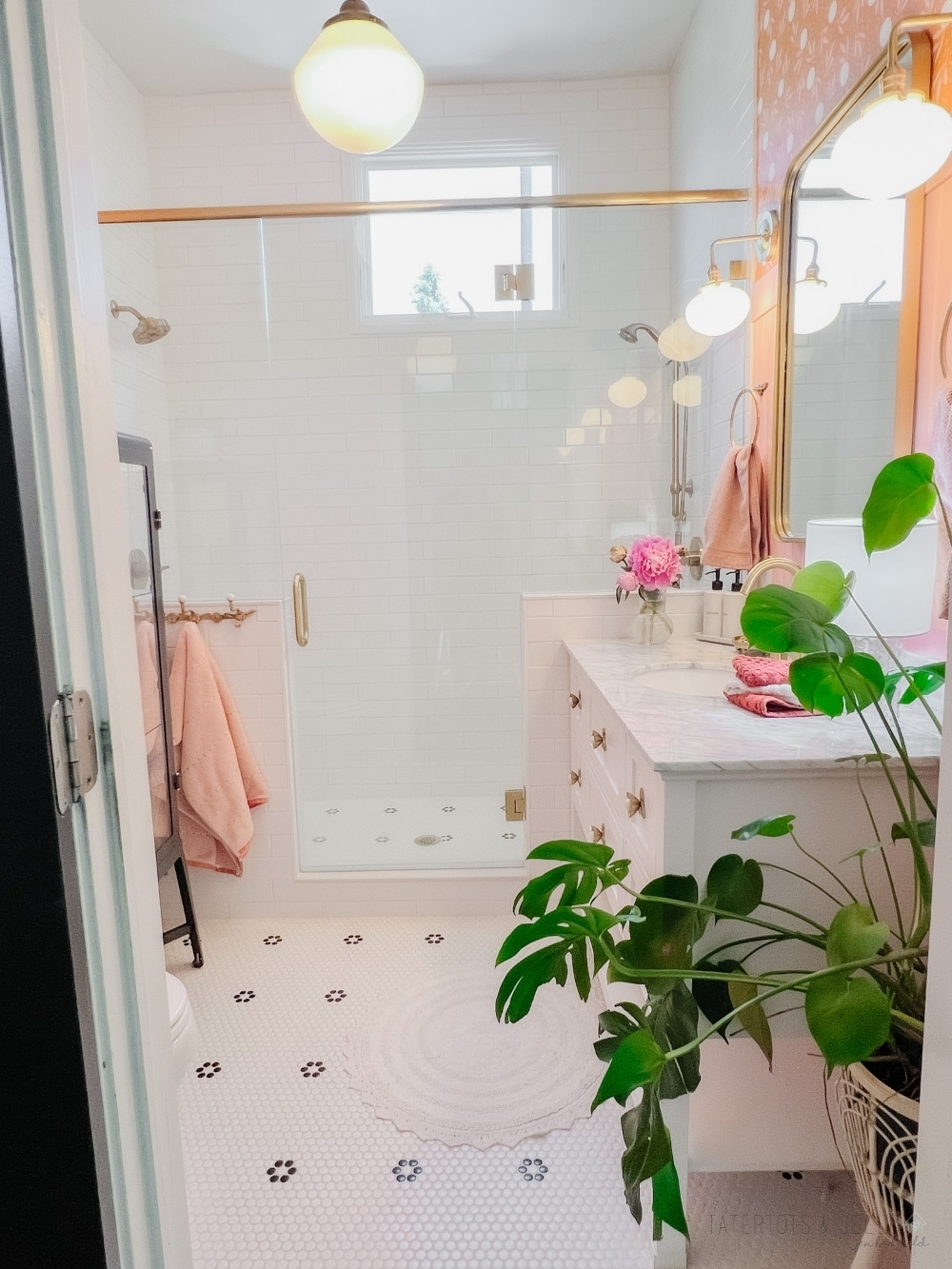 The last thing we did was add a beautiful, modern gold mirror. Since our ceilings are super high, I emphasized them by adding a tall mirror. The large mirror emphasized the high ceilings and reflects the light from the bathroom's mirror at the top of the shower.
Decide Your Bathroom Remodel Priorities
One of the decisions we had to make in this bathroom remodel was if we would leave a tub in the bathroom or just a shower. For awhile I was leaning toward adding a small clawfoot tub, but as we mapped out the project, I found that adding a big shower with dual shower heads made more sense than having a small tub and small shower. We used the entire width of the bathroom for a giant walk-in shower with dual shower heads.
Adding Shower Storage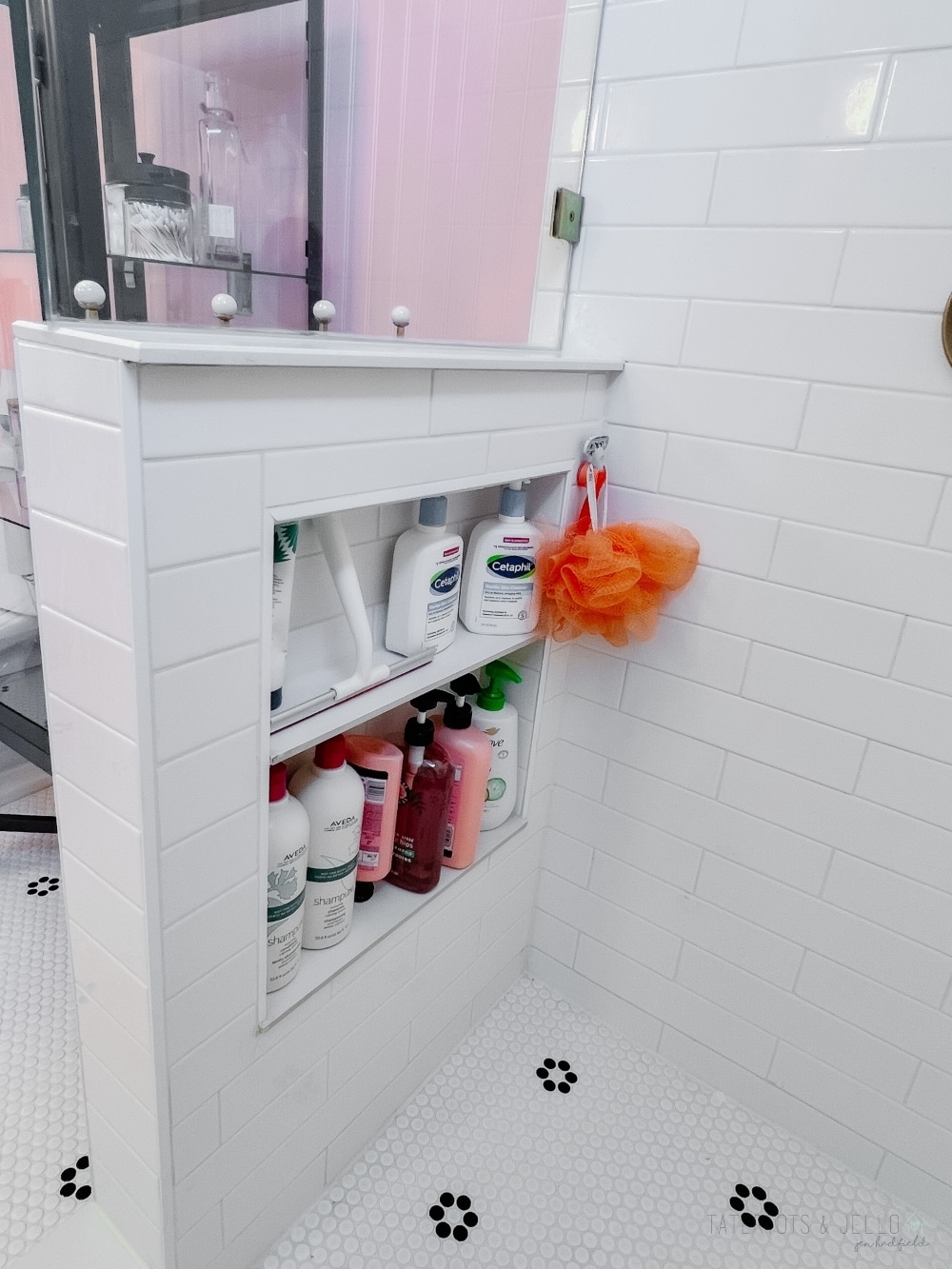 One of my favorite things we did in the walk-in shower was adding storage under the ledges on both sides, There are two big spaces to store shampoo, conditioner, toiletries and everything multiple people would need to share a bathroom. This bathroom accommodates two bedrooms so I wanted to make sure that there would be enough room in the shower for lots of essentials. And since the shelves are inside the shower, on the other side of the subway tile walls, the storage is hidden, making the shower look clean and tidy.
Splurge on a Seamless Glass Enclosure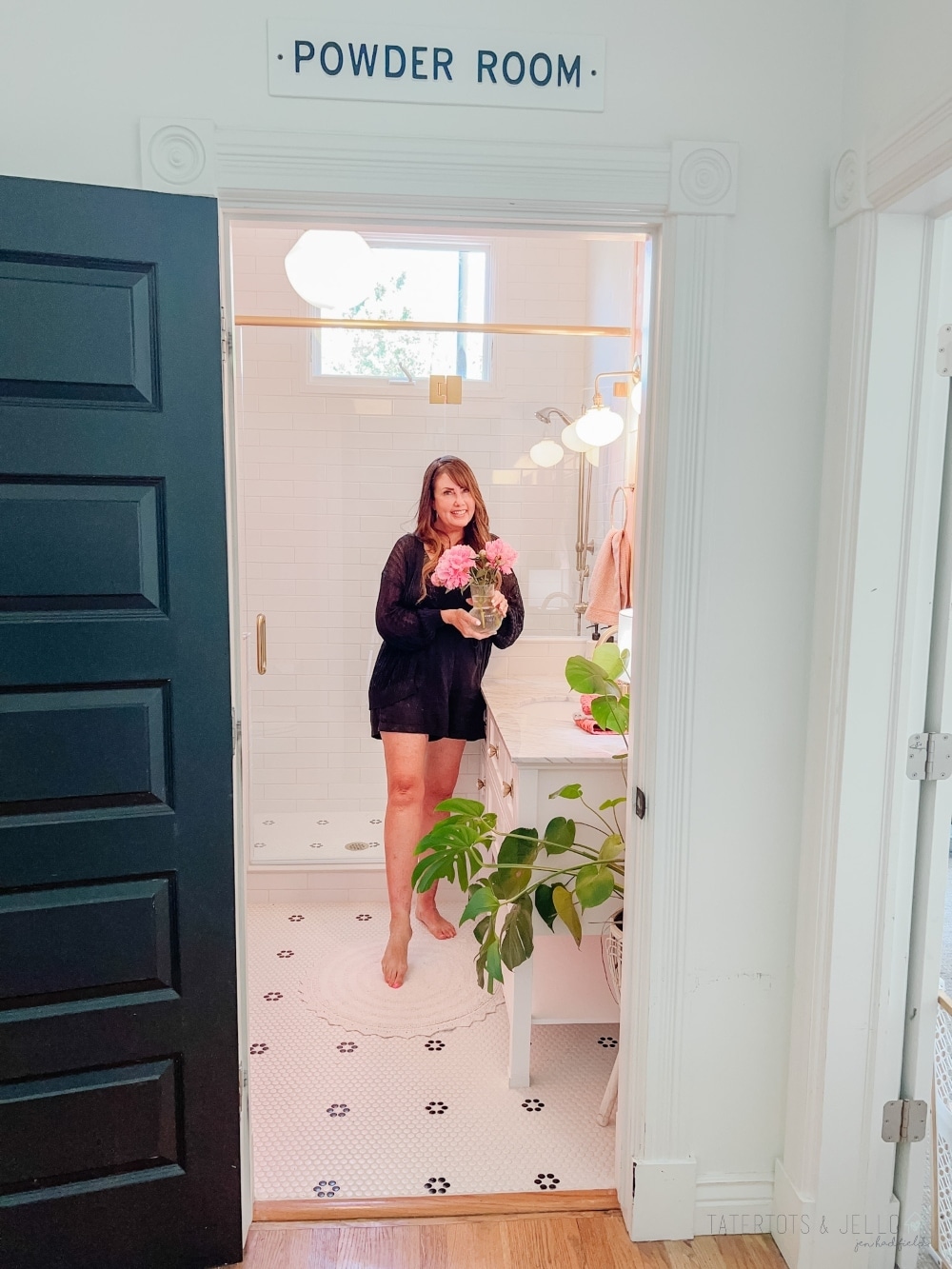 One of the more expensive parts of this bathroom remodel was the huge glass enclosure and swinging door. Since the shower spans the whole width of the room, I had to use a header. I matched the shower enclosure header, hinges and handle to the gold tones. I highly recommend using glass shower enclosures over a shower curtain. For one thing, glass shower enclosures are easier to clean than shower curtains. And I love the way the glass is pretty much invisible so using it makes the room seem bigger. Plus using a glass shower enclosure is warmer since the glass holds heat in more efficiently in the winter.
Good Things are Worth the Wait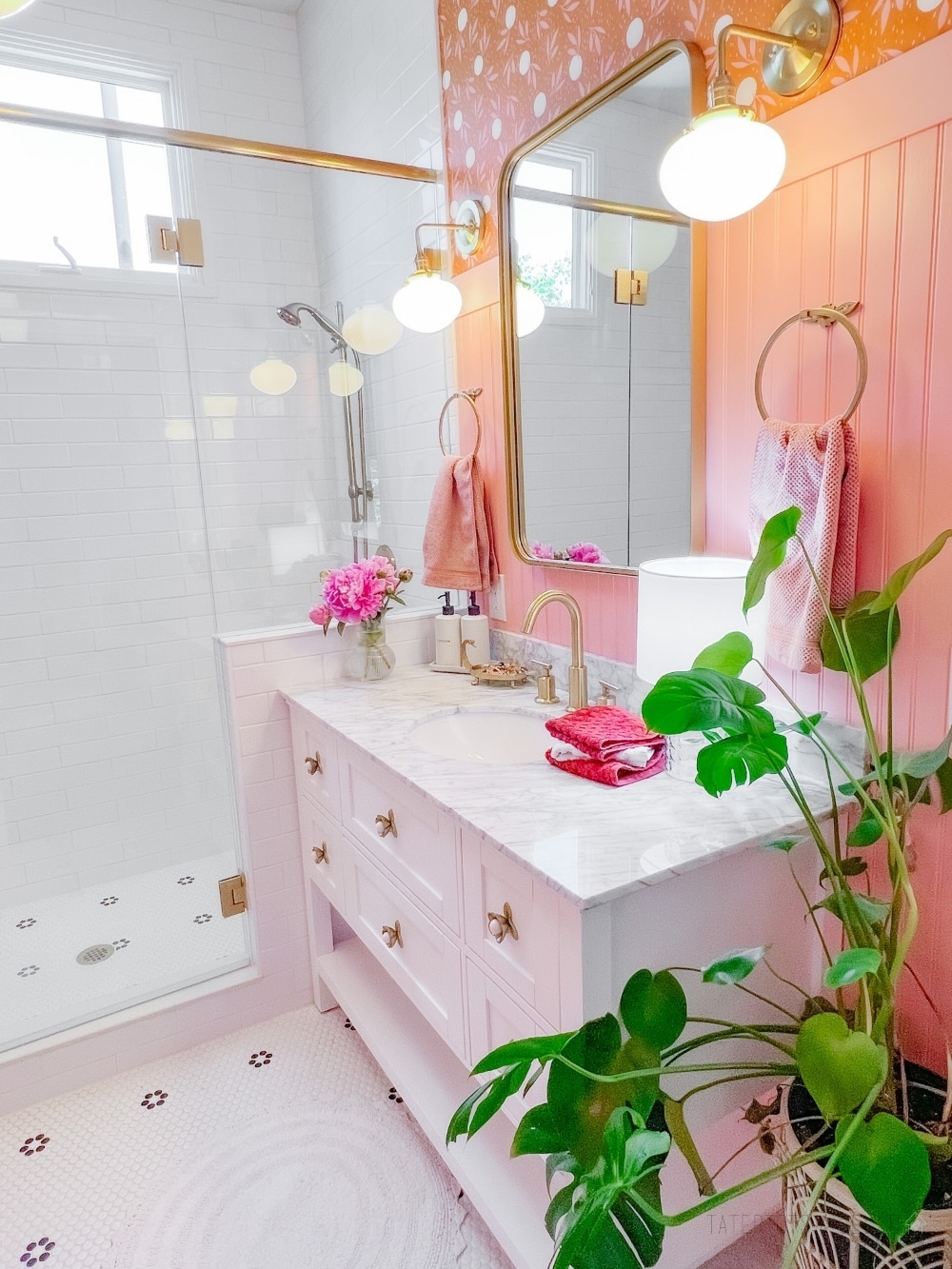 I'm so happy we were able to finish the bathroom while Ella still lives at home. She LOVES it!
More Bathroom Remodeling Ideas
Here are the other bathroom remodels that we have done in our 1891 home!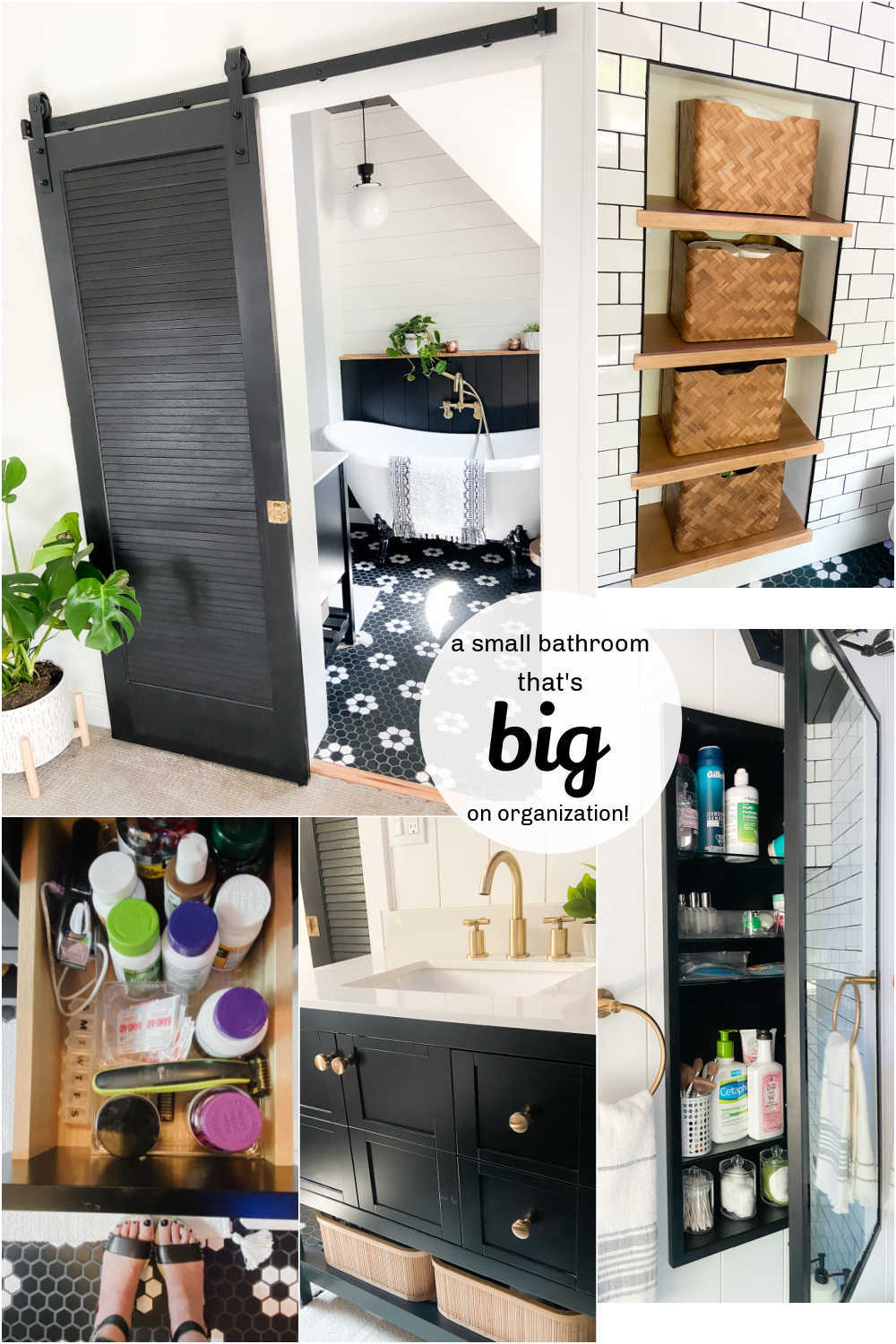 A Small Bathroom that is BIG on Organization! Ways to make a small bathroom maximize storage while maintaining a beautiful appearance!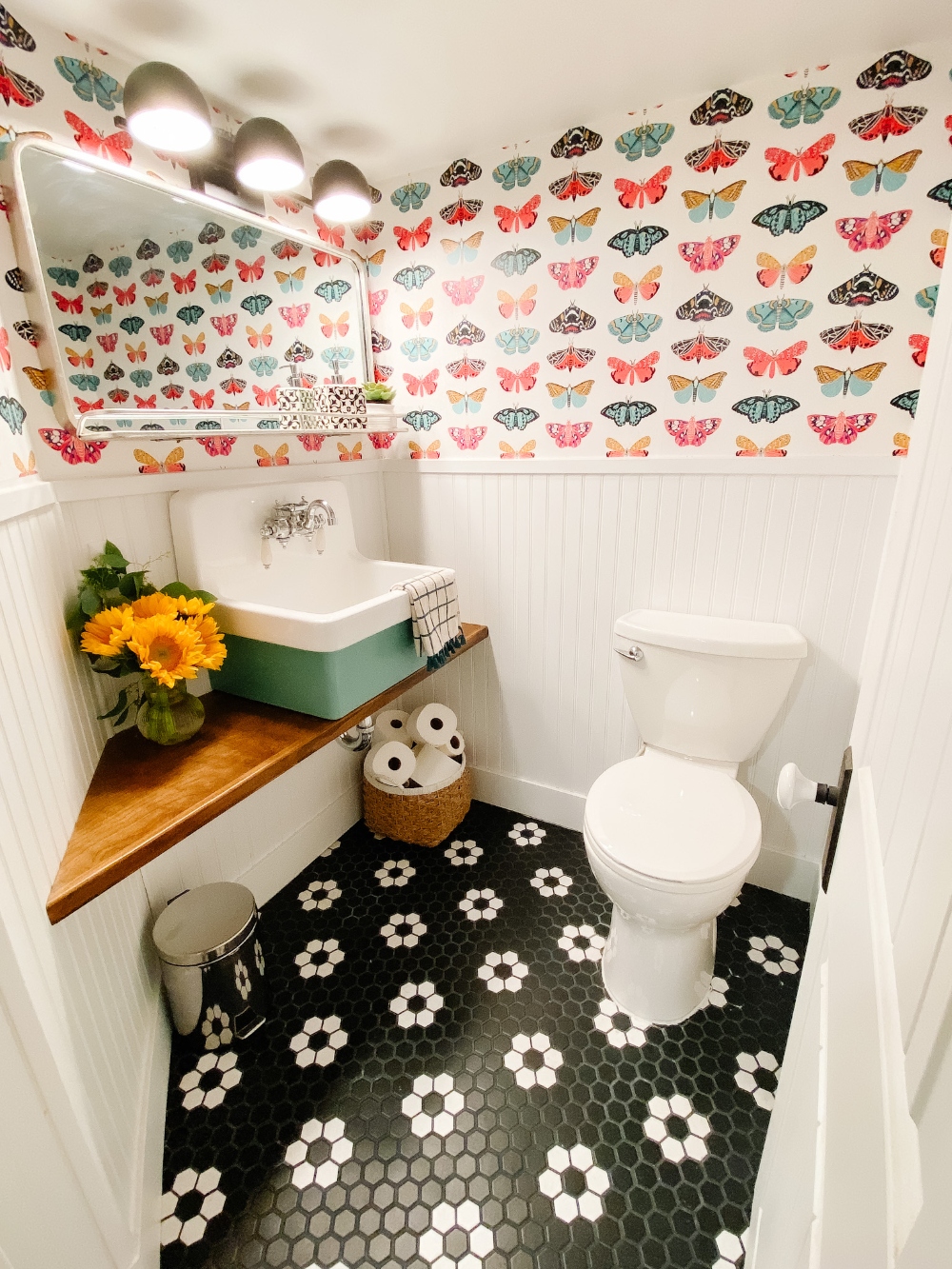 10 Ways to Make a Tiny Half Bath Seem Bigger. Tips and tricks to make a tiny bathroom seem spacious and memorable!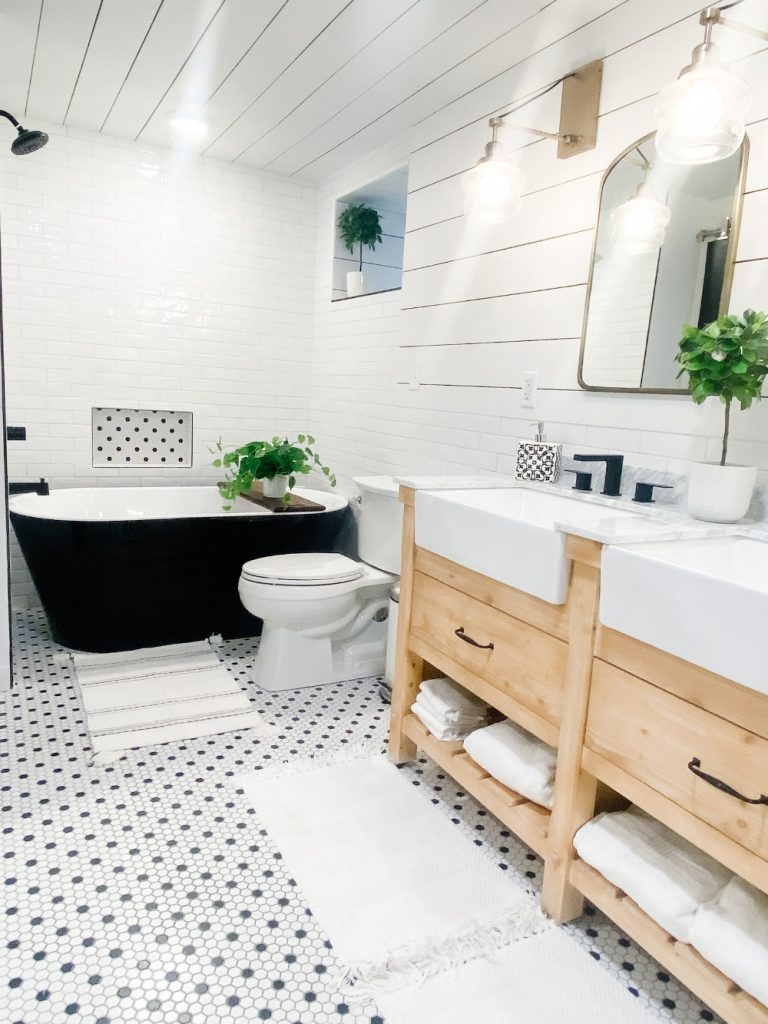 Choosing Modern Faucets in Our 1891 Home Remodel. How we updated our turn-of-the-century home with modern fixtures while still maintaining the original vintage charm.
What home projects are YOU working on?
Le me know in the comments!
XOXO