This post is sponsored by SimplyHomemade Cornbread Mix. All opinions are my own. New Holiday Appetizer — Southern-Style Cornbread Crostinis with Topping Bar! Your guests will love building their own cornbread crostinis with this easy recipe and buffet idea!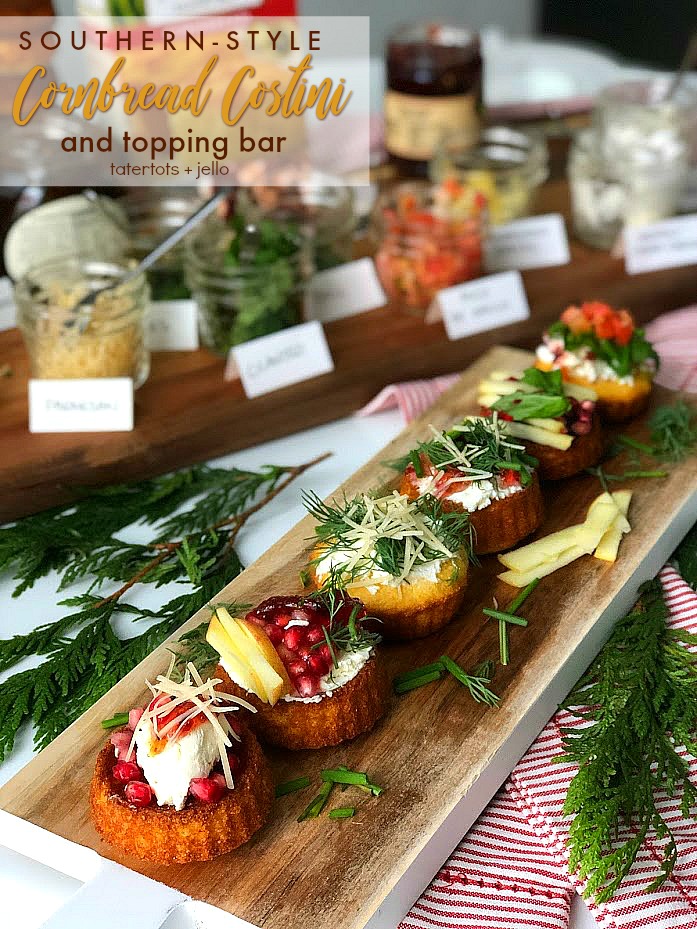 Holidays + Buffet = Perfect Party Food
We love the holidays and a good buffet. We combined the two with this easy holiday appetizer idea.
Southern-Style Cornbread Crostinis with Topping Bar
Golden cornbread bottoms can be topped with cheeses, veggies, fruits and herbs with so many possibilities! Plus kids love making their own appetizers too. And we made the base with Simply Homemade Cornbread mix which makes this recipe ready in just minutes!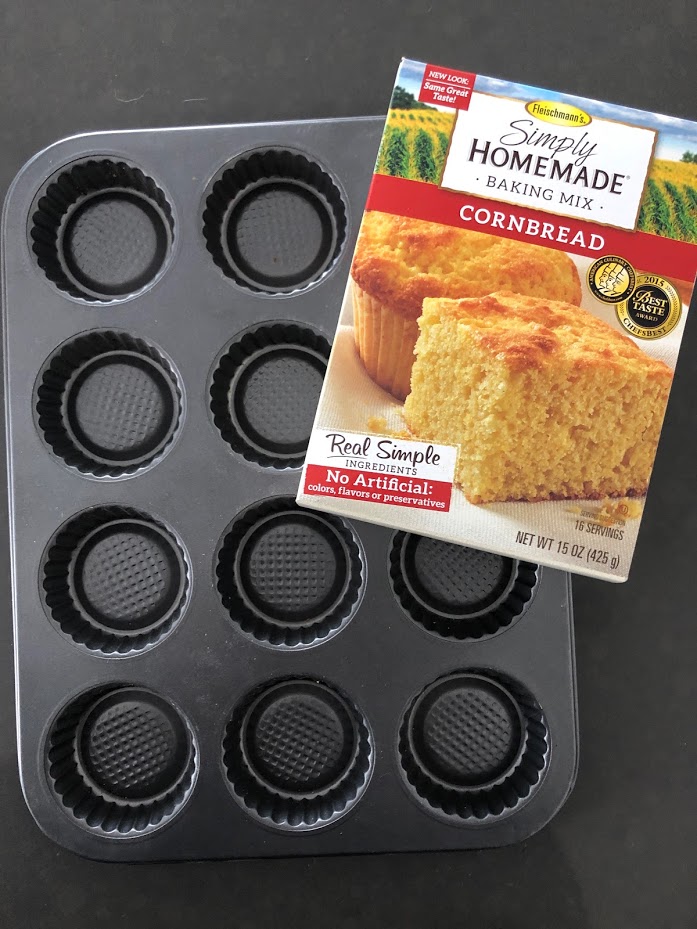 Use a Cornbread Mix to Save Time
We used Simply Homemade Cornbread Mix which is our favorite. It's so creamy and turns out perfectly golden every time.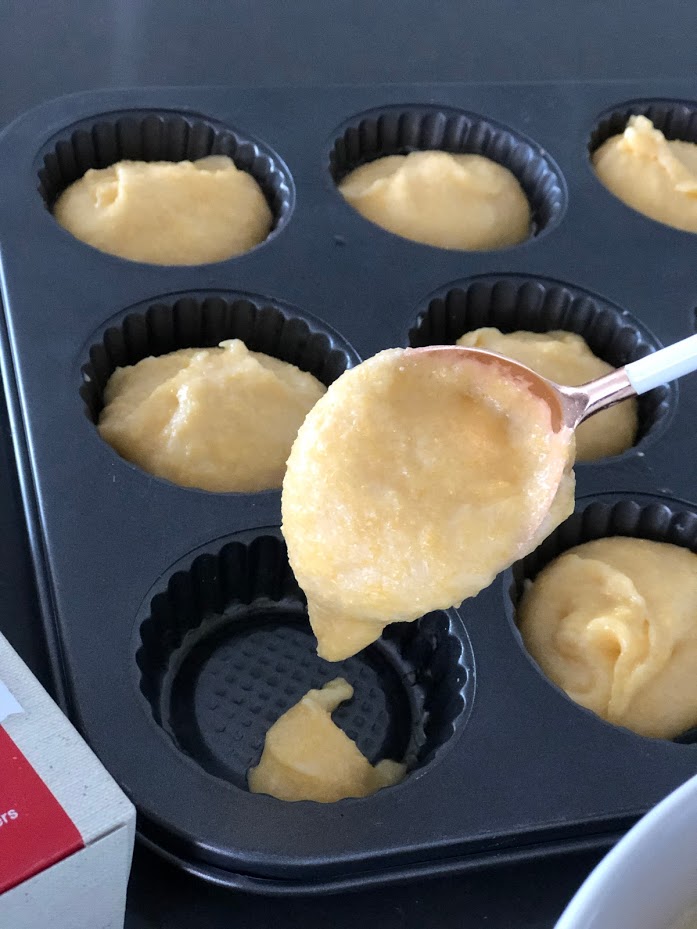 Spoon into Muffin Pan
You can use a muffin pan and only fill it half way OR you can use a mini tart muffin pan like I did. It has an indentation which makes it easy to add toppings inside.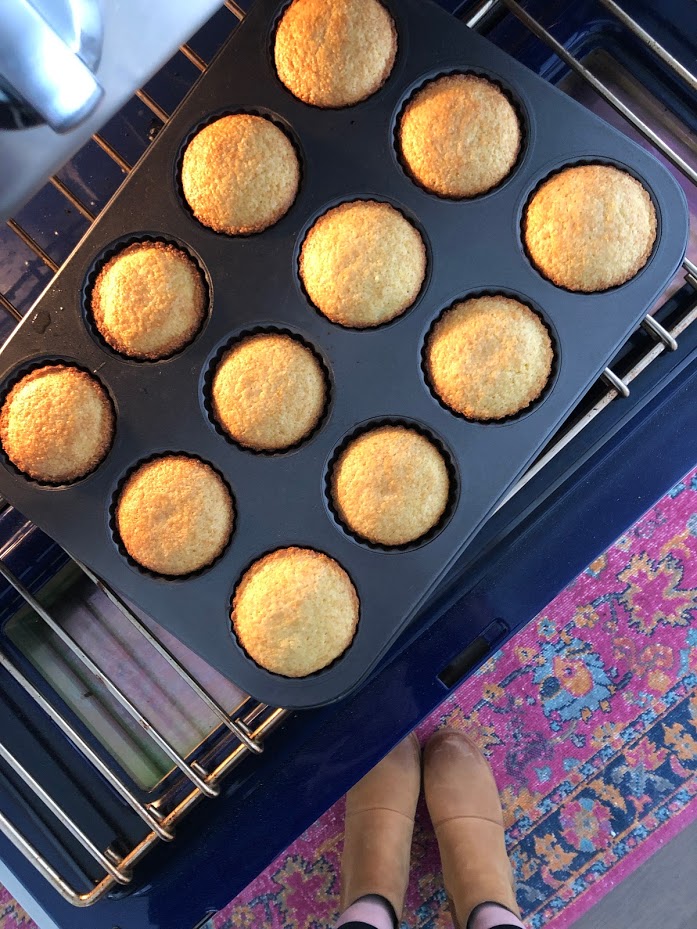 Cook the Batter
Cook for 14 minutes. When the cornbread corstinis were done, I put a pan underneath the muffin pan and flipped them upside down so the flat side was on top.
Let them Cool
Let the cornbread crostinis cool completely.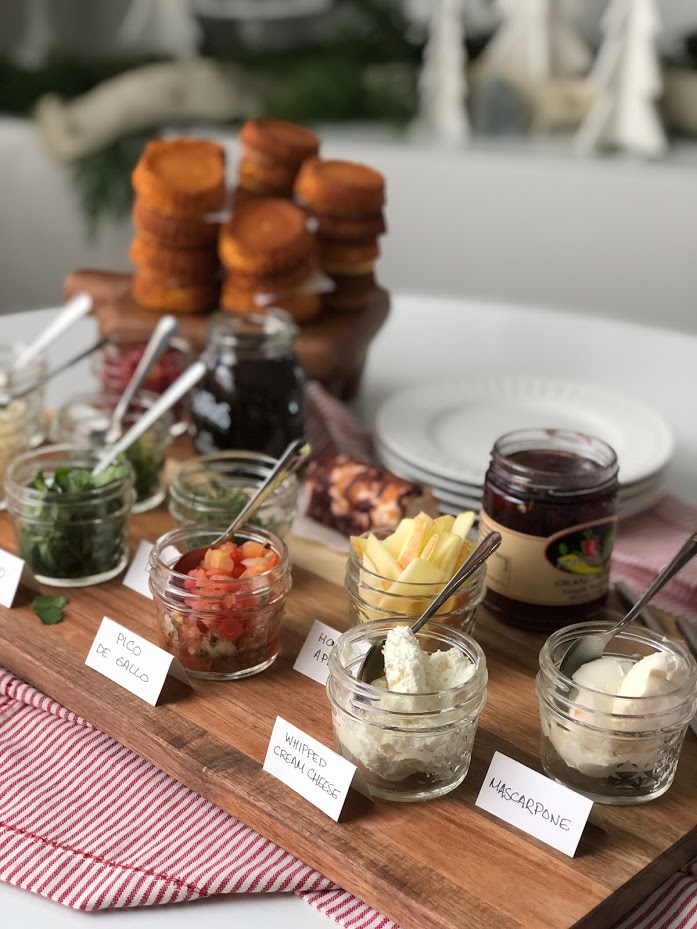 Create a Crostini Topping Bar
I used a large cutting board and put all of the toppings on the board.
What Kind of Toppings do you Include for a Cornbread Crostini Bar?
The toppings I used were — cream cheese, marscapone cheese, shredded Parmesan cheese, sliced apples, raspberries, cranberries, chives, cilantro, pico de gallo, goat cheese and jalapenos.
Make Topping Cards
I cut some cardstock into 2 inch wide foldable labels and wrote the name of each topping on each card. That makes it easier for your guests to navigate the topping bar.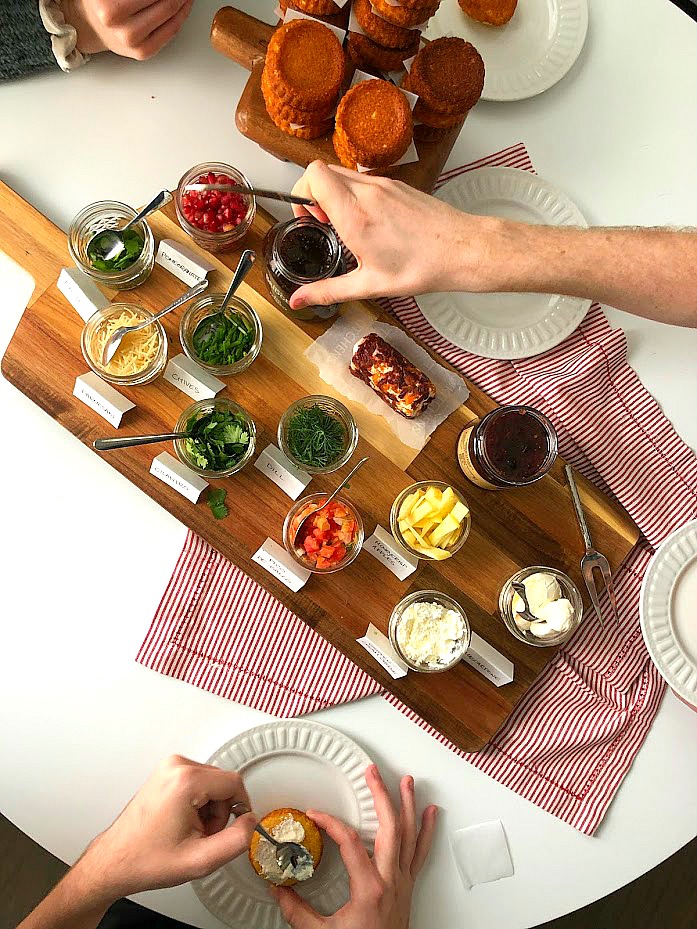 See What Kinds of Crostinis Your Guests Create!
I loved seeing the cornbread crostini creations everyone made! There were sweet creations, there were savory creations and some in between. And every single one was gorgeous and SO delicious!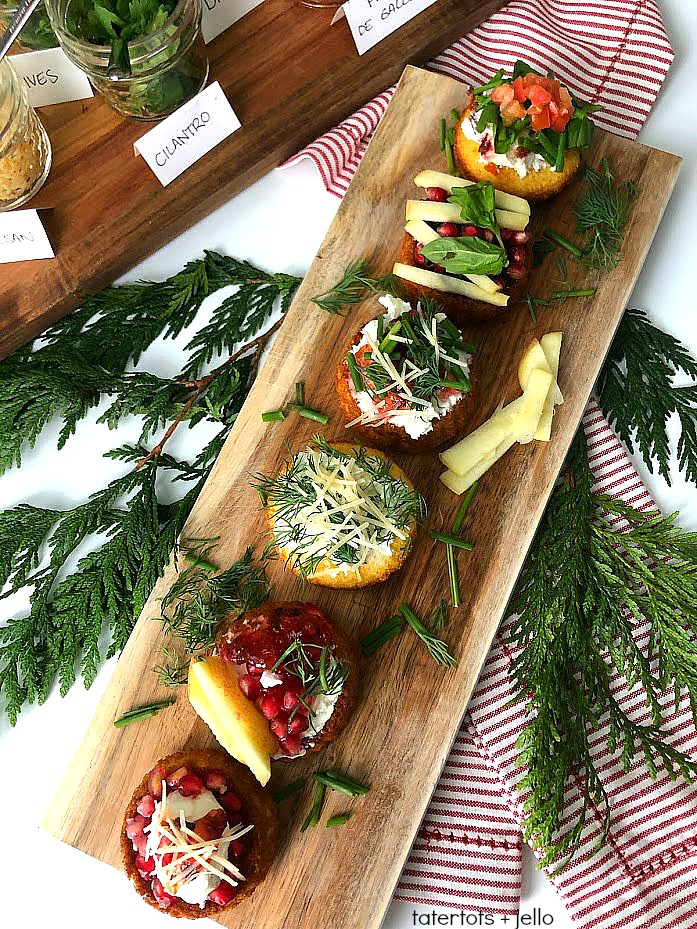 Southern-Style Crostinis — Our New Favorite Holiday Appetizer
This one ranks as one of our favorite appetizers. I think we will make it again for New Years Eve!!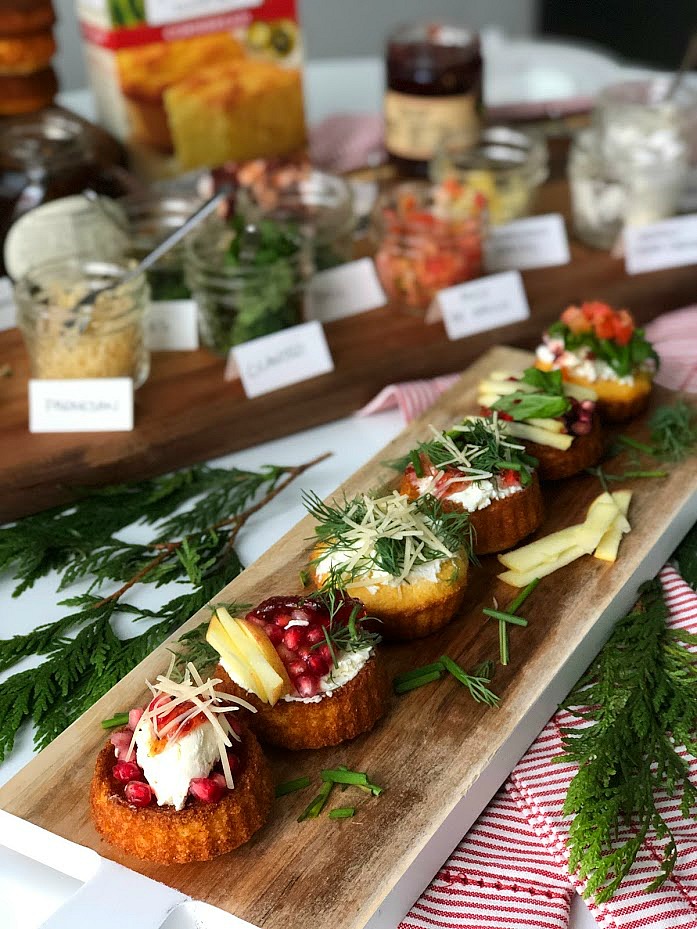 Here are a few other appetizers and desserts we love to make for the holidays:
Awesome Blossom Airfryer Recipe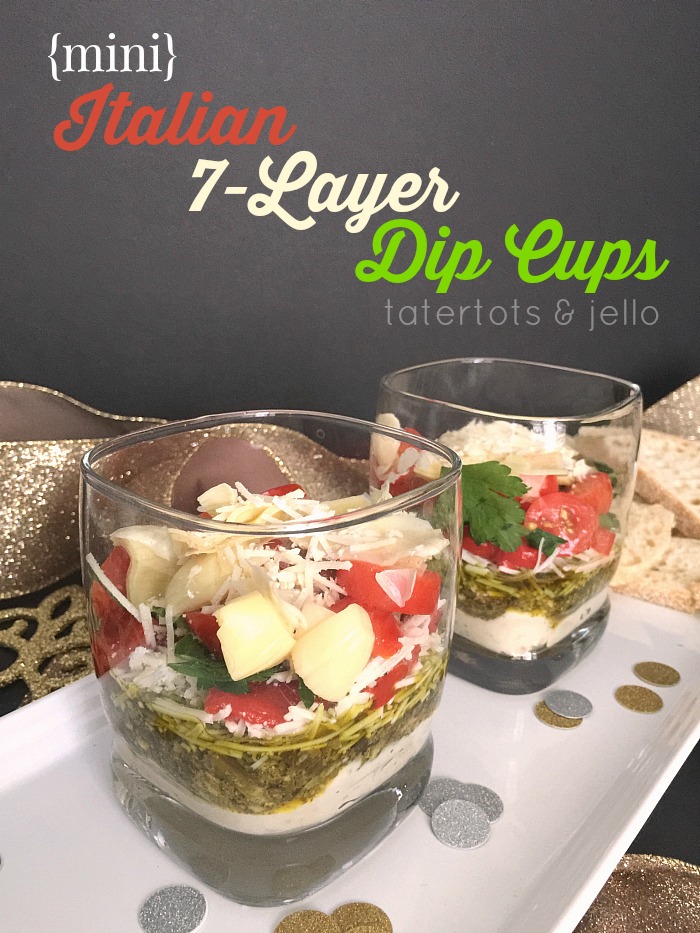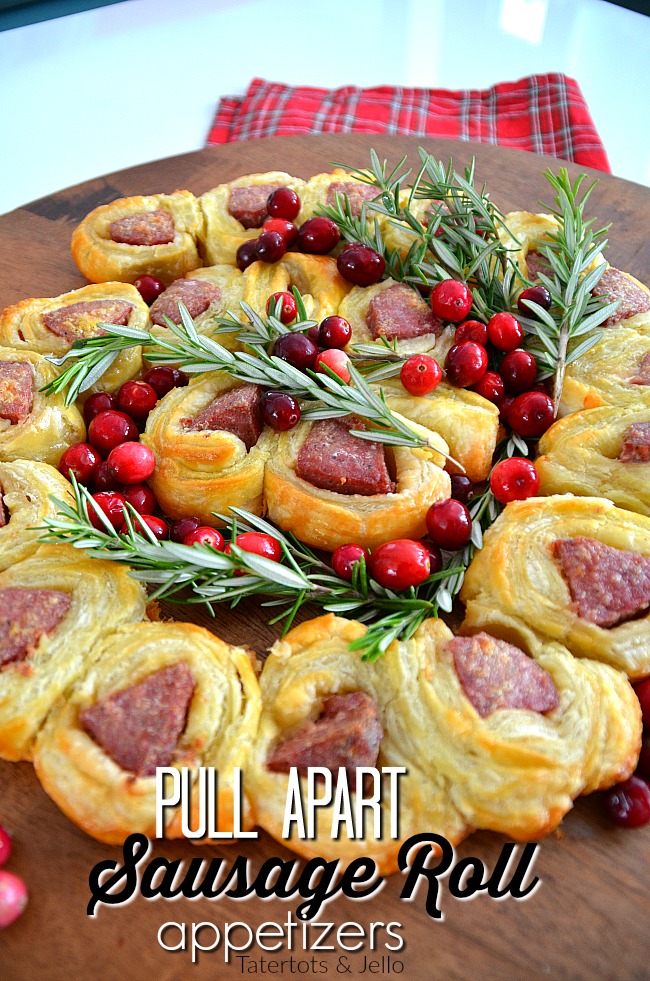 What's YOUR favorite appetizer to make for the holidays?
Share it with us!
xoxo