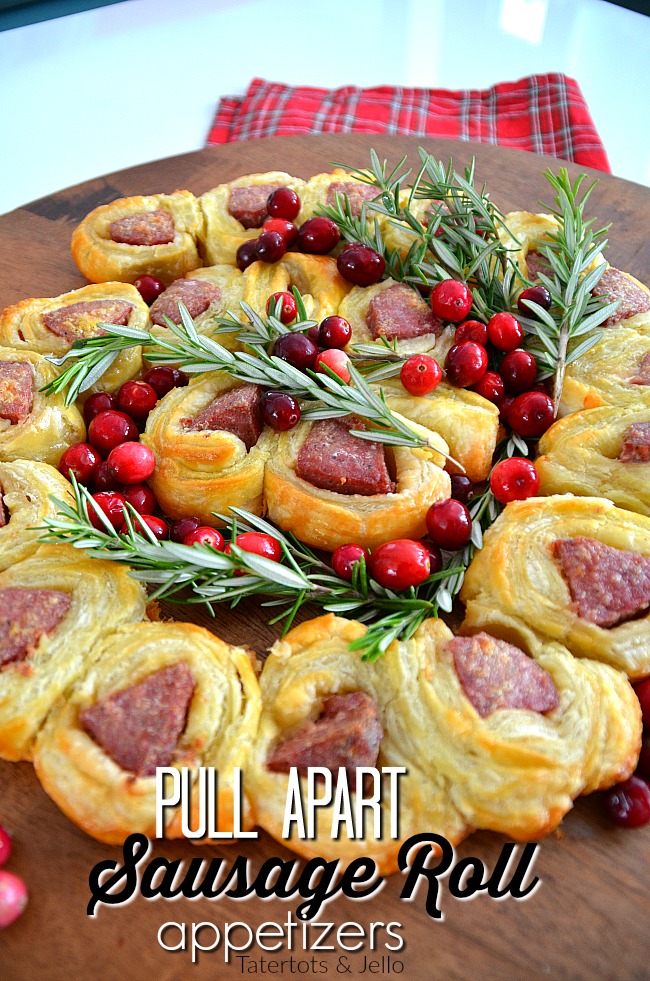 Pull Apart Sausage Roll Appetizers
I love entertaining in our new home! My favorite people to entertain are my kids and their friends. As my kids have gotten older I have found that my favorite thing is having them at our home with their friends. One of our VERY favorite things to do as a family is play games. And now that my older kids are done with their college finals, we have time to spend together over the holidays!! I am so excited to spend time with them. I am always looking for easy snacks to make for game night. So when Johnsonville contacted me to share a quick and easy appetizer with their summer sausage I thought Pull Apart Sausage Roll Appetizers would be fun to make, based on a recipe I found from Nicky's Kitchen Sanctuary, but instead of using ground sausage I used summer sausage. And I changed the way the rolls are spread out too to make it easier. I also used cranberries to garnish. I think the sweet elements of the cranberries work so well with the sausage. I made them this weekend when my kids came to visit and it was a hit!!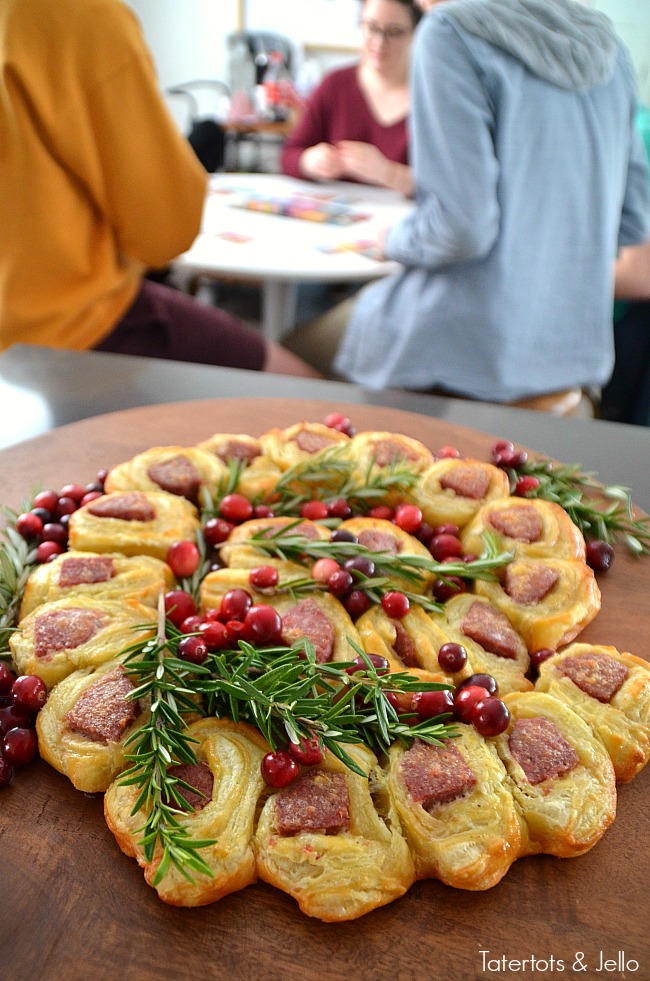 Pull Apart Sausage Roll Appetizers are SO easy to make and they require only THREE ingredients. Summer Sausage is the main ingredient; it's type of hard dried and smoked sausage that is similar to salami in preparation but can be kept without refrigeration. Johnsonville's Summer Sausage has been made with the same original recipe for over 70 years.
In 6 easy steps and just a few minutes you can make these rolls. Pop them in the oven and enjoy your party or family night.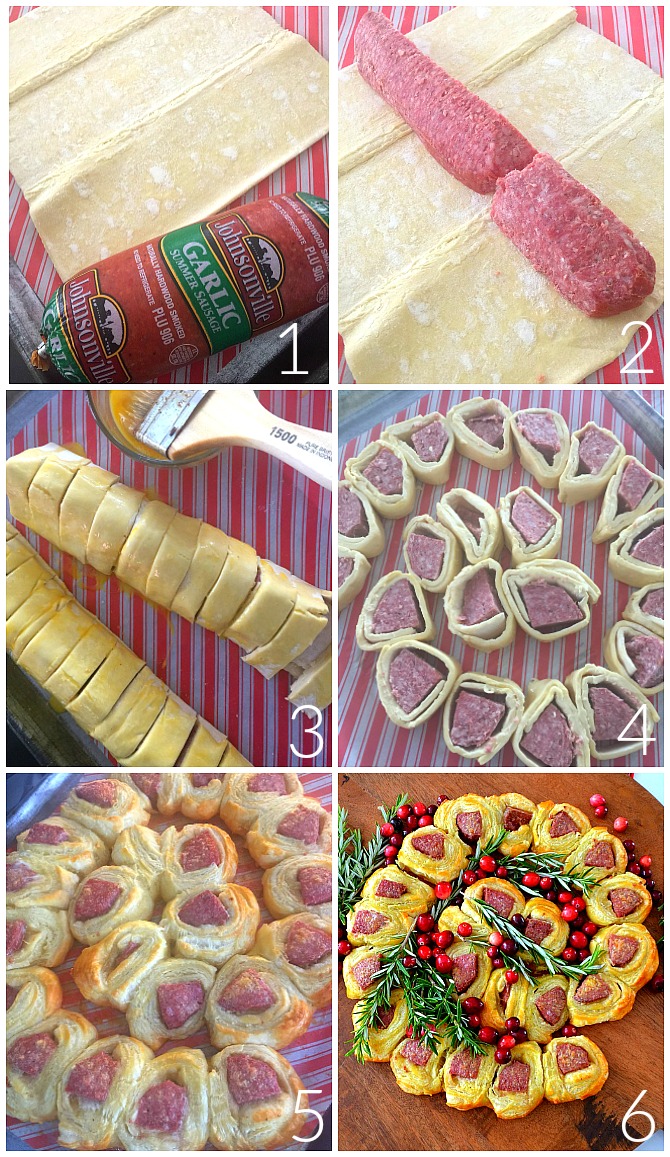 ---
Pull Apart Sausage Roll Appetizers
---
Here's the easy recipe for Pull Apart Sausage Roll Appetizers:
Pull Apart Sausage Roll Appetizers
Recipe Type: Appetizer
Cuisine: American
Author:
Prep time:
Cook time:
Total time:
Serves: 22
Pull Apart Sausage Roll Appetizers. This easy appetizer requires only THREE ingredients and it's so easy to make. It's perfect for holiday entertaining!
Ingredients
Johnsonville Summer Sausage
Puff Pastry
1 egg
Cranberries and herbs to garnish. You can also drizzle cranberry sauce over the top.
Instructions
Let the puff pastry thaw for about 45 minutes.
Once thawed, unfold each sheet.
Cut the sausage into 2 inch wide sections as long as the sausage roll.
Lay the sausage in the middle of the each puff pastry roll.
Mix an egg and moistened the edge of one of the ends of the puff pastry with some of the egg mixture then roll the pastry over the sausage and lay the end of the pastry on the botttom.
Do this with both sections of puff pastry.
Then cut the pastry into one inch sections, cutting all the way through the pastry and sausage.
Lay the sections on a baking tray lined with parchment paper.
I laid my pastry rolls in a circular pattern, leaving a little space so the pastry could expand while it cooked.
Brush the egg wash over each of the pastry sections.
Pop it into the oven at 375 for 15-20 minutes.
Take it out of the oven when the edges are brown and the sausage is sizzling.
Garnish with fresh herbs and berries (optional)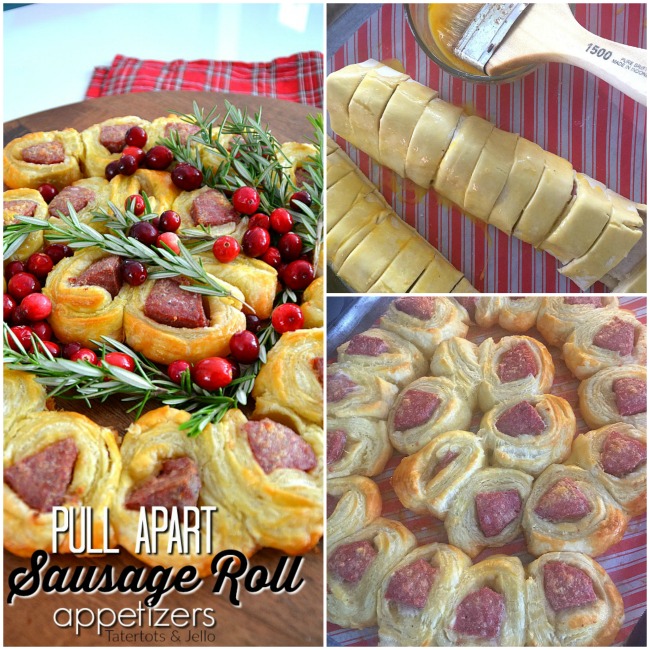 Also – I have a few tips for creating the perfect family game night! It's such a fun way to connect with your kids as they get older: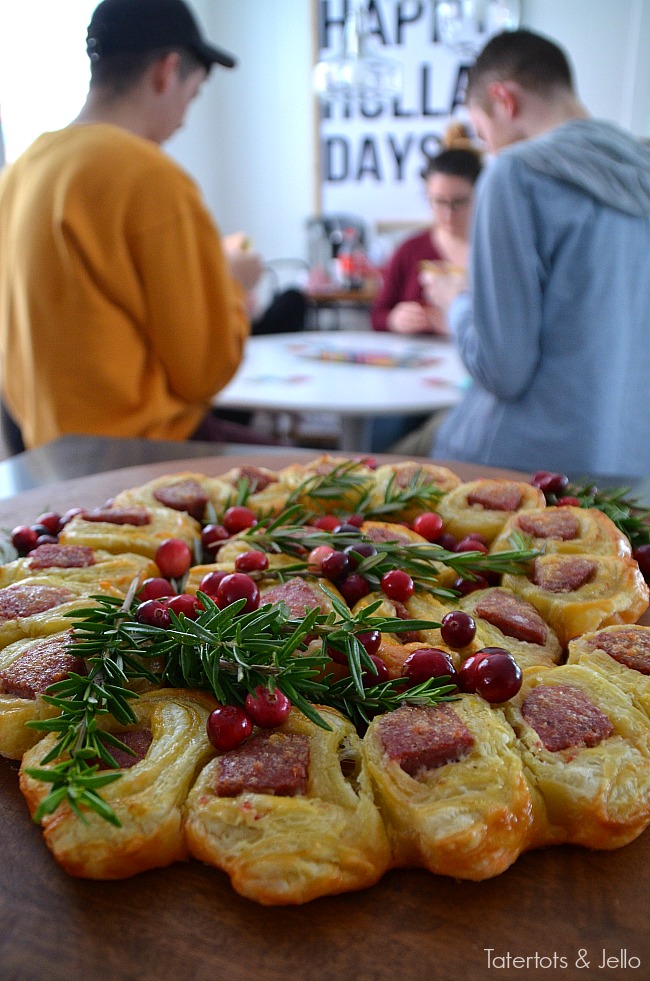 ---
4 Game Night Party Tips:
---
Get some fun games. We have some family favorites: Yahtzee, Ticket to Ride, Scrabble, Life, Shanghai, Emoji Uno. A few new ones: Pass The Pig, Sushi Go!, Tokaido,
Keep all of the games together for easy access. I created a Family Game Night Cart in our kitchen nook. I serve snacks on the cart and all of our favorite games are easily accessible. During the holidays I serve hot cocoa on the cart with all of the fixings.
If you have kids who live on their own have a standing family game night. We try to have ours once a month or more. Keep in on the calendar so the kids can work it into their busy schedules and they can invite their friends in advance!
Keep the ingredients for favorite foods on hand so they are easy to grab. The ingredients for these Pull Apart Sausage Rolls use three ingredients which I always have on hand – puff pastry dough which keeps for months in the freezer, Johnsonville Summer Sausage and an egg. So easy.
If people come by unexpectedly during the holidays it is so easy to grab these three ingredients and pop the rolls in the oven. Yay for easy entertaining!!
---
Pull Apart Sausage Roll Appetizers
---
Visit SummerSausageStory.com to view recipes and videos about Johnsonville's Summer Sausage, as well as an online store where you can get it delivered right to your door in time for the holidays.
You can find all kinds of yummy recipes ideas from Johnsonville:
Pinterest: https://www.pinterest.com/jvillesausage
Facebook: https://www.facebook.com/Johnsonville
Instagram: https://instagram.com/jvillesausage
Twitter: https://twitter.com/johnsonville
How do YOU like to entertain for the holidays?
Share YOUR ideas with us in the comments!!
xoxo

This is a sponsored conversation written by me on behalf of Johnsonville. The opinions and text are all mine.
This is a sponsored conversation written by me on behalf of Johnsonville. The opinions and text are all mine.