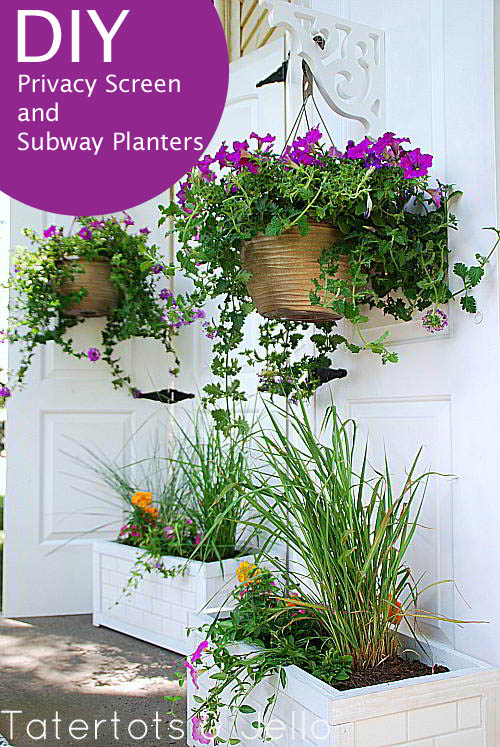 This month Lowe's challenged their Creative Network to make something beautiful and functional in our outdoor space.
This was a great challenge. I enjoy indoor projects more than outdoor ones for some reason. So this month's challenge really made me put my thinking cap on.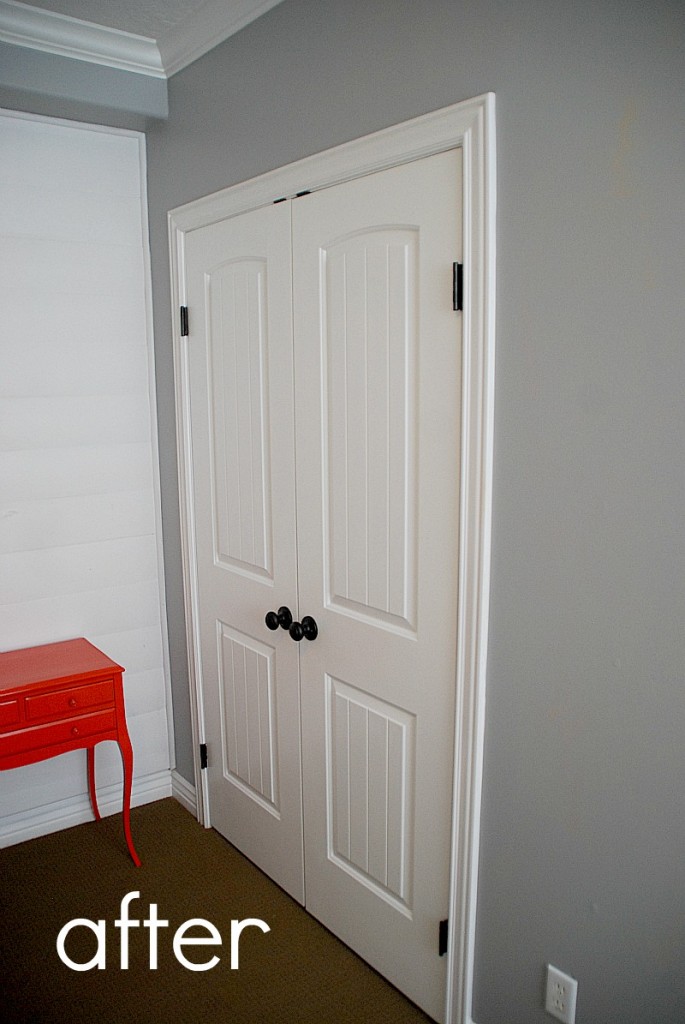 I was inspired by the FOUR old closet doors that were sitting in my garage. I recently switched out the closet doors in my daughter's room and in the new guest room. Instead of sliding doors, I installed two doors that can be opened wide. It's great for being able to utilize the most out of closets possible. But then I had four old closet doors sitting in my garage. I really didn't want to throw them away. So decided to make them into an Outdoor Privacy Screen. This screen can have many uses. You might need a little privacy from your neighbors. Or you might have something by your patio or porch that is a little unsightly — like a power box, water meter, etc. Or maybe your patio faces a street.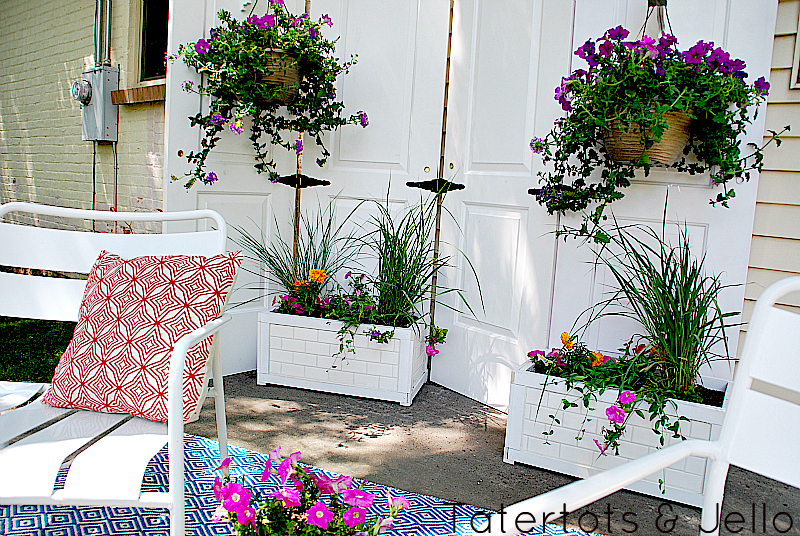 I also bought a Tile Saw!!! Yay!! I had a great time cutting tiles for this project. Here's a tip I discovered — if you are going to cut subway tiles, cut them with the wrong side facing up. Otherwise the smaller side of the tile you are cutting will get a little chip on the side. I have a BIG tiling project coming up in August, and I wanted to experiment and see if I could figure out how to cut the tiles. It turns out that it's much easier than I thought. And check out my new safety goggles — I am rocking the DIY. LOL!!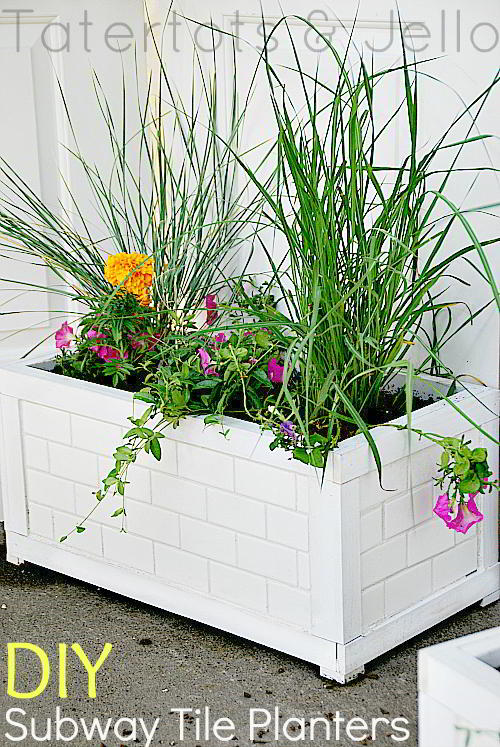 I think it's a great to start with a smaller job first and get experience before tackling a really complex project.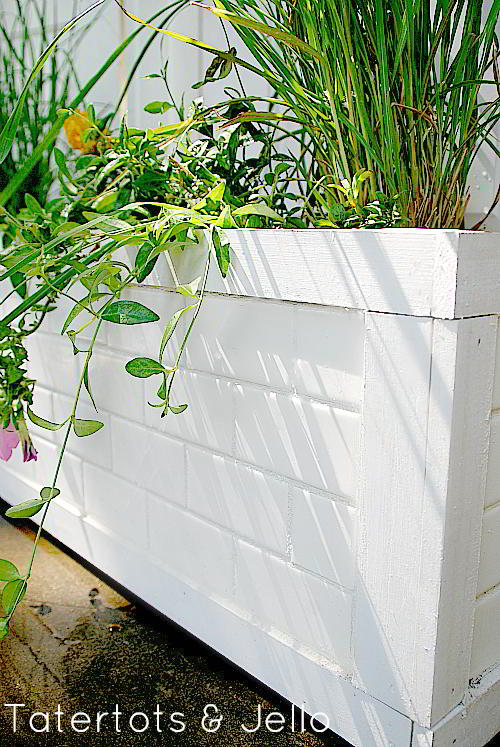 Here's what I did to make the Subway Tile Planter Boxes: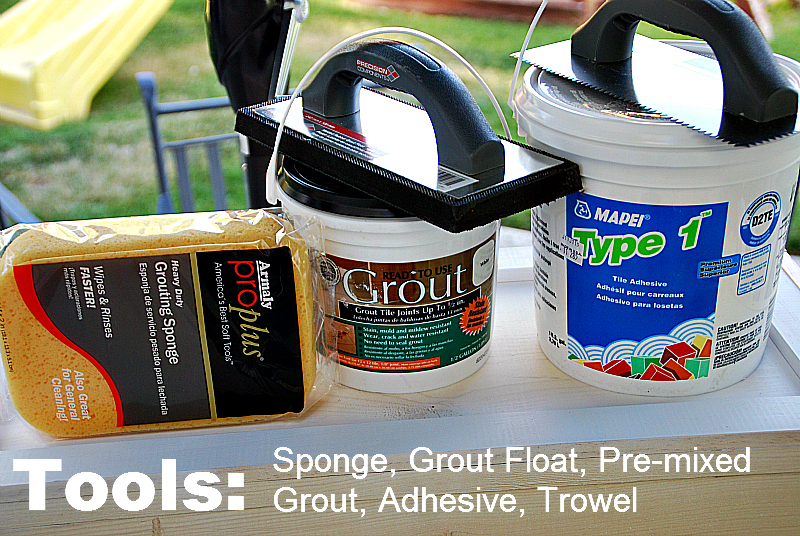 I handmade these planter boxes and a tutorial on how to make them yourself is coming up. It will save you all kinds of money!!
Lay the tiles in the space you are looking to tile. I centered my tile and then had to cut tiles for both sides. You will need to insert some spacers too.
Then cut the tiles to fit within the space. There are some wax pencils you can buy at Lowe's for your tiling projects.
The next thing I did was I took the tile from the planter opening and laid it out on my patio table.
Then I spread on the adhesive with the trowel and then laid the tile right on top of it.
Make sure to press down on the adhesive.
Once the adhesive is dry, then it's time to grout!!
I used a sandy grout and I discovered that I love the smooth finished grout better.
To apply the grout you use a grout float. This is a tool that kind of "smushes" the grout into the spaces around the tiles.
Let the grout set overnight and then clean it off with the big sponge.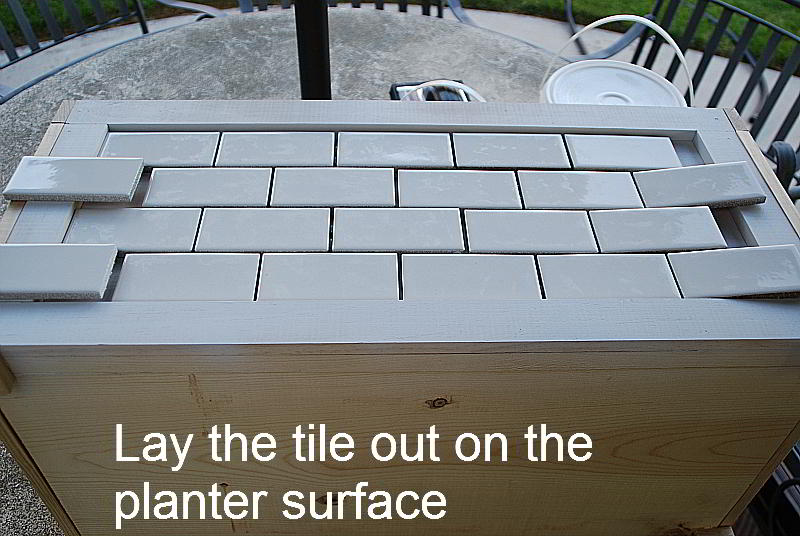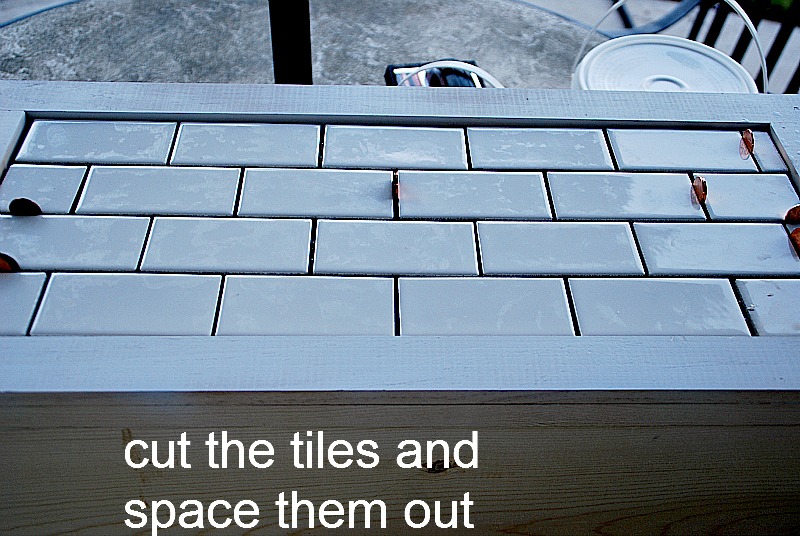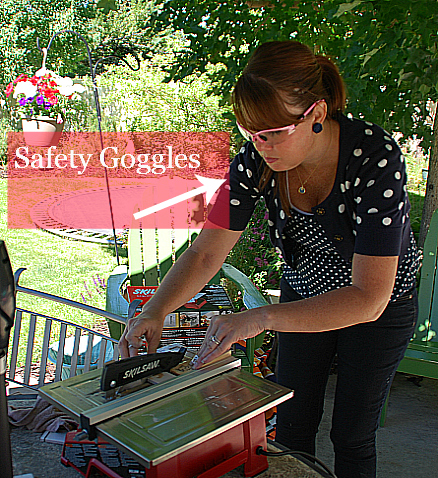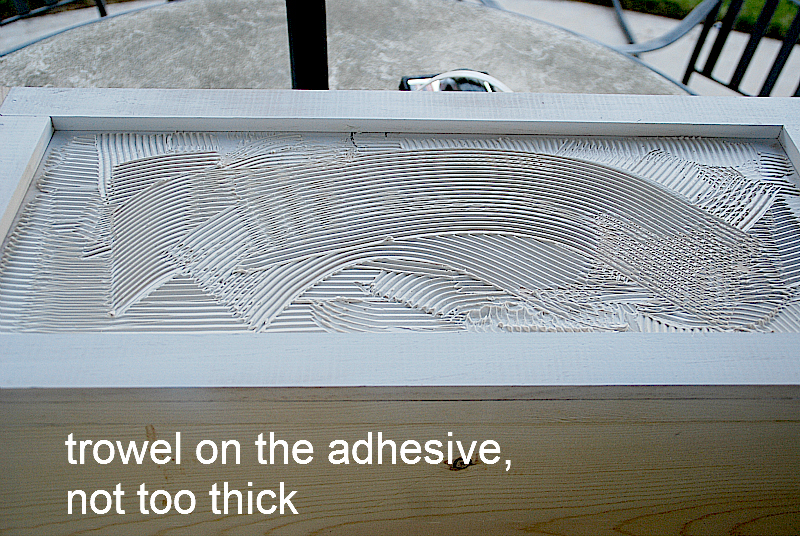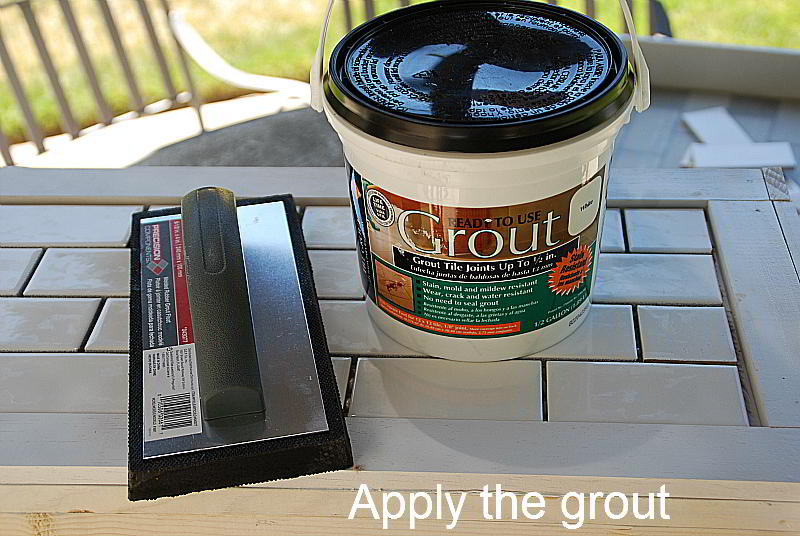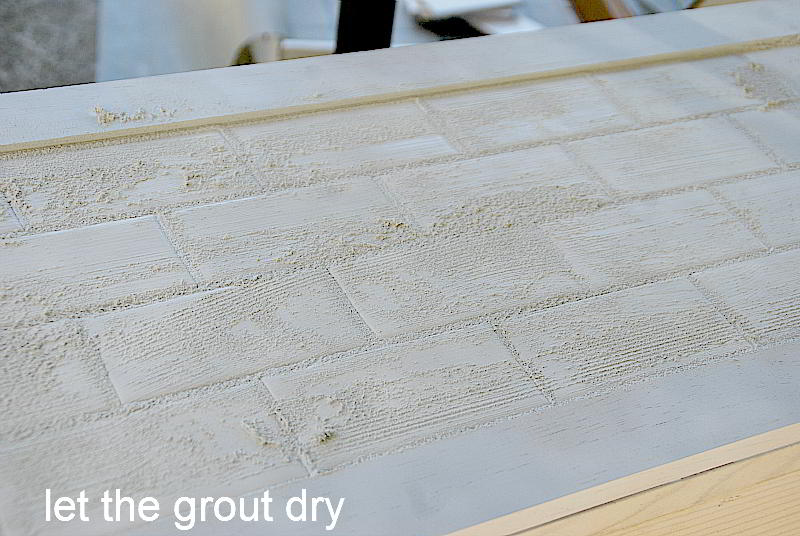 To make the Privacy Screen: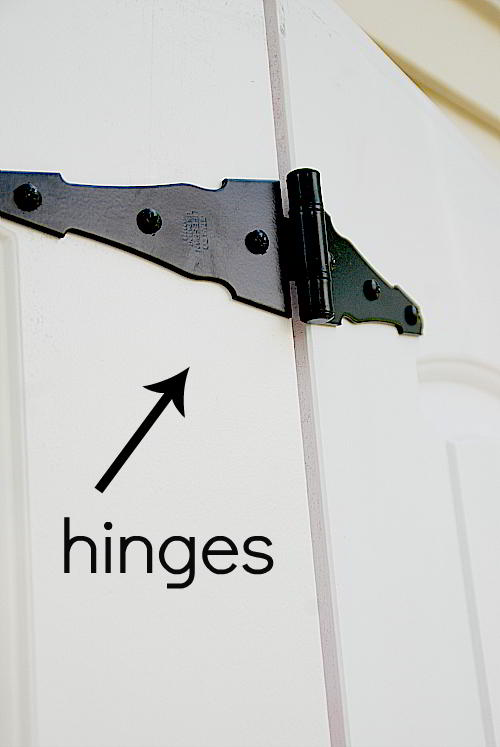 Take the doors and add hinges to connect the doors.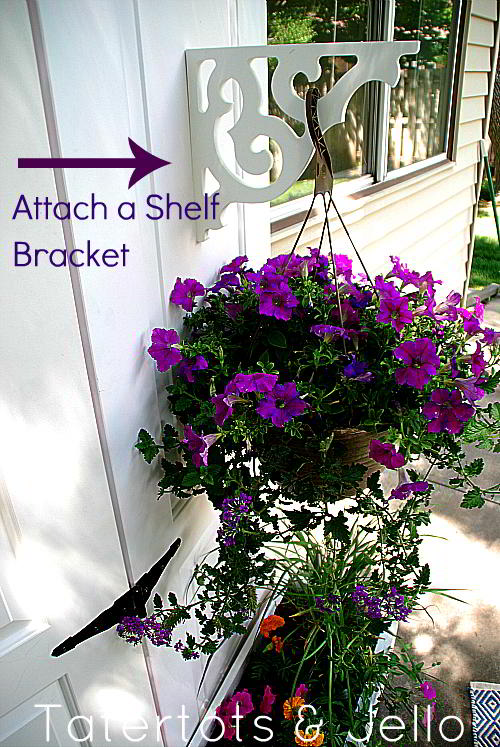 Then if you want to hang flowers on the doors, buy a couple of shelf brackets and screw them into the door. My doors are hollow, so I bought extra-long screws that go all the way through the door with washers on the other side. I wanted to be sure that the brackets would hold up the flower baskets.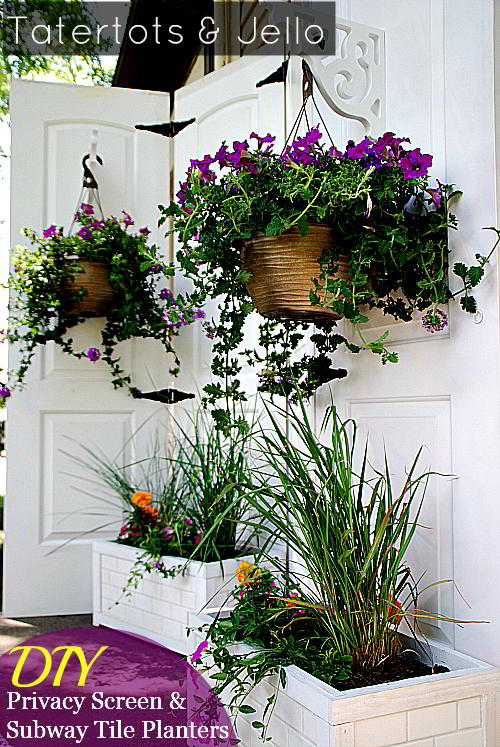 The last thing you might want to do is screw the planters onto the front of the screen. And of course, plant some pretty flowers in your planter boxes.
**Note — if you don't have old doors sitting around, you can put an ad on Freecycle for someone elses old doors. I have put ads on there and got all kinds of great things for FREE. Like my chandelier in my Board & Batten bathroom. It's a great resource!!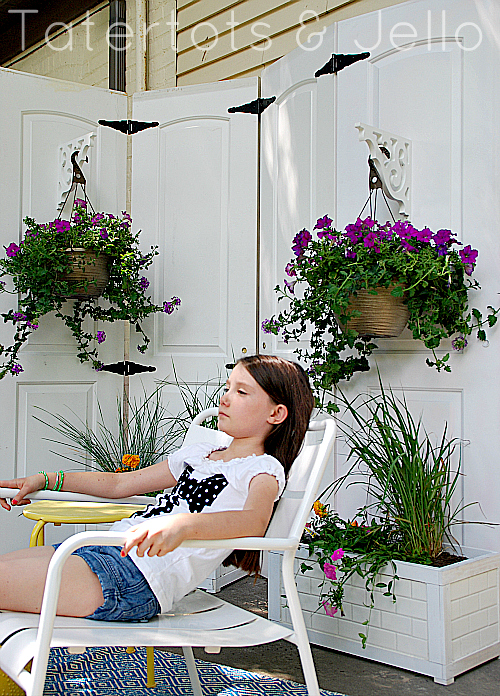 So there you have it. You can take something old and make it into something new with a new purpose.
I was thinking about painting each door a different color. What do you think?? I can't decide. And if you are looking for more planter box ideas, Kate @ Centsational Girl has made some beautiful ones on her blog. And another fun idea to do with old doors can be found from Stacy at Not Just a Housewife.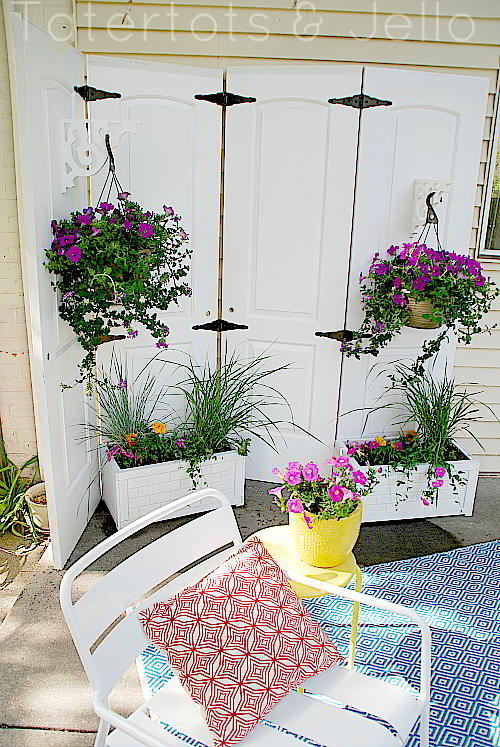 Also, I have a part 2 to this project that will be coming up in July AND a $100 Lowe's gift card giveaway. So stay tuned for that!! And be sure to check out the Lowe's Creative Ideas Magazine.

Have a Terrific Day!
xoxo
PS — I'm linking up to:
Amanda's Weekend Bloggy Reading Party – come check it out!!