How to Make a Small Yard Seem Large. Ways to make every outdoor space have a purpose and work to make your small yard seem larger!
How to Make a Small Yard Seem Large
Hi friends! We are currently renovating our 1891 historic Salt Lake City home. After working on the inside of our home, this summer we have been renovating our backyard to make it more usable. We have a small urban backyard with the design challenge of having a step up in the middle of our yard. I am sharing some ways we have made our small yard seem large!
Summer Outdoor Space Ideas
I am joining 10 friends who are also sharing outdoor space ideas and projects. Be sure to scroll down and see their lovely outdoor spaces!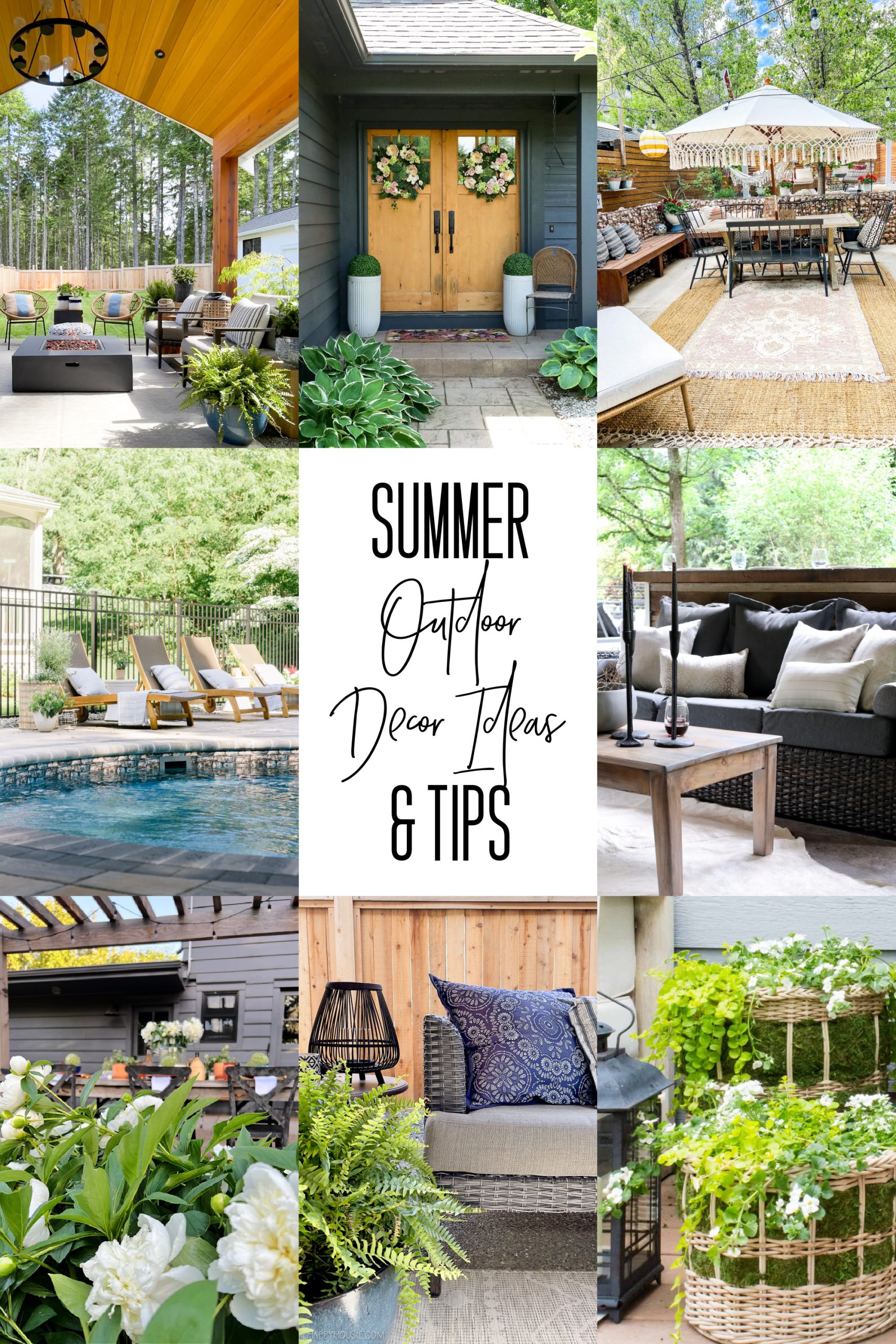 Ways to Make a Small Yard Seem Larger
Here are a few ways we have made each space in our small backyard have a purpose and having so many functional outdoor spaces makes our yard seem so much bigger!
Make Each Space Have a Different Purpose
When we first moved into our old home, the backyard was basically unusable. All that was there was a cracked, old patio and a couple of benches. Of course I loved the rock retaining wall that had been installed previously. Our yard is divided in half with a huge step up.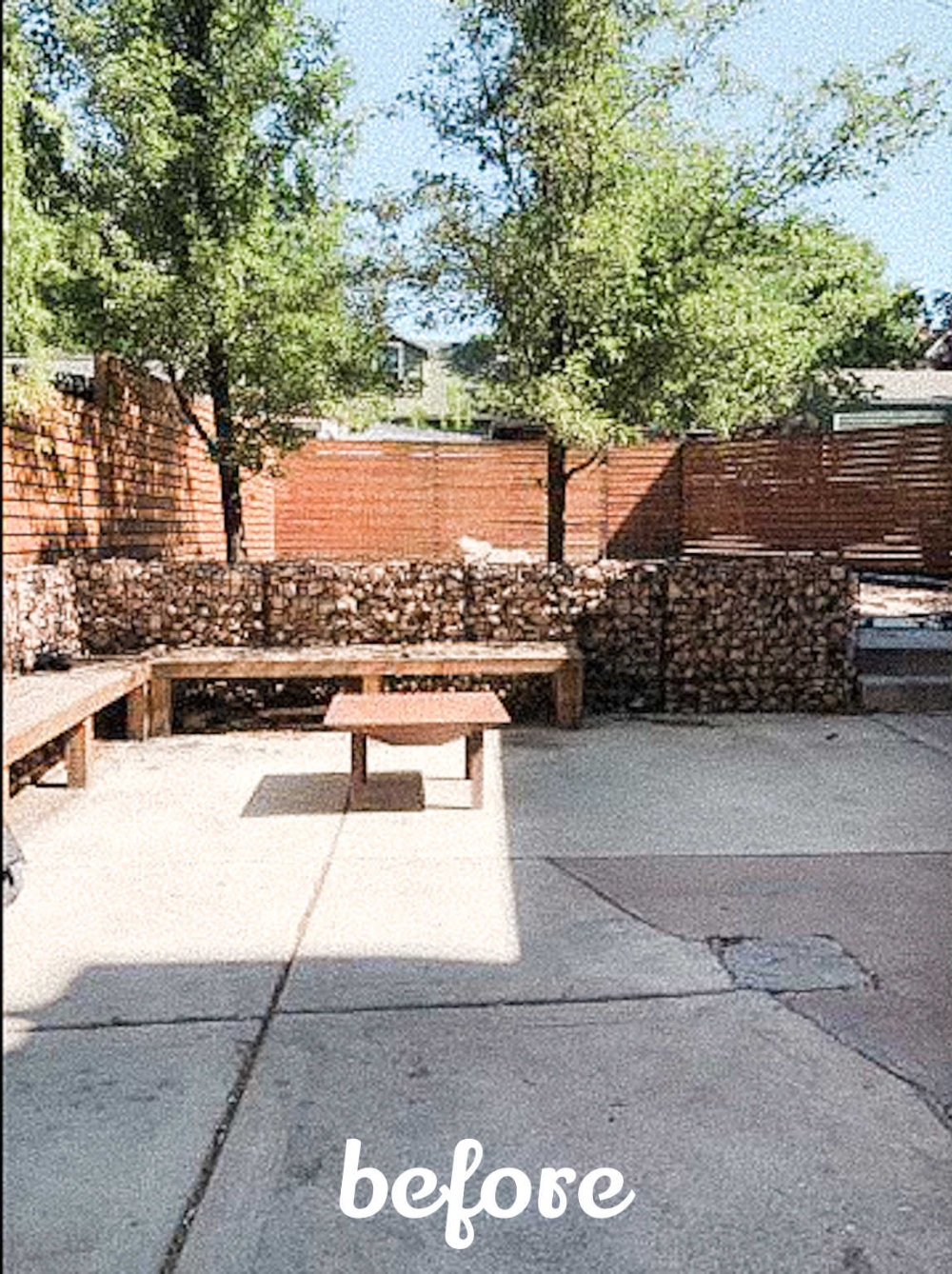 I contemplated having the entire backyard regraded so that it was flat, but that was financially unfeasible since we have our back alley behind the yard where we park so we would need access. So I decided to work with what I had. I divided the area into a big patio with a dining table and then we added a usable space on the back half.
Create a Relaxing Eating Area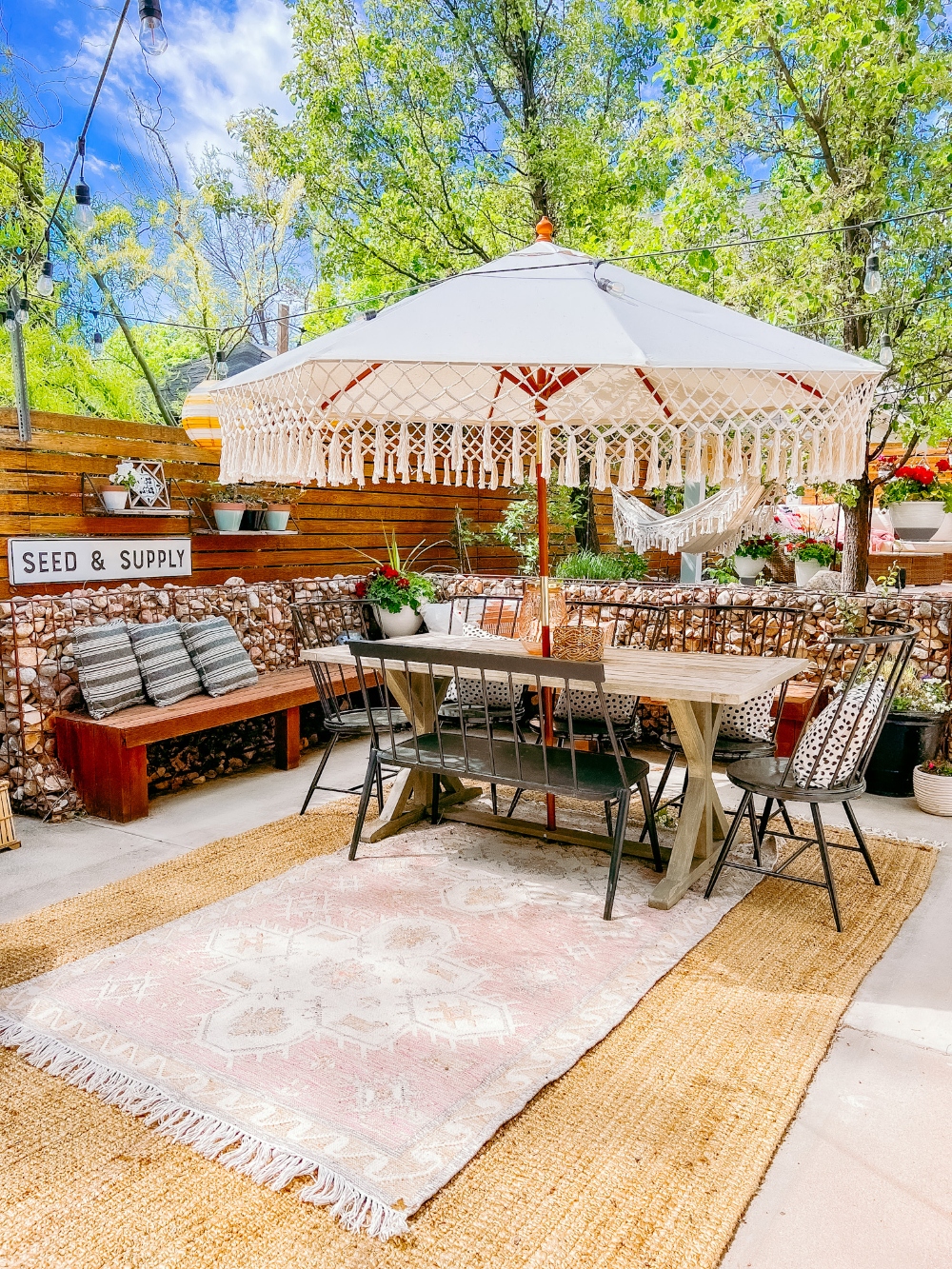 The front patio was already installed when we moved into our 1891 home. It's a nice big patio which let me install a big patio table. There were a lot of cracks and part of the footing for a big post I'm guessing from back in the days that this was apartments.
I would eventually like to get a new patio installed with a drainage system, but in the meantime I covered up the cracks and such with a could nice rugs. I added pillows to the backs of the chairs and pillows and plants along the edges of the eating area make the space seem super comfy and welcoming.
Add An Outdoor Lounging Space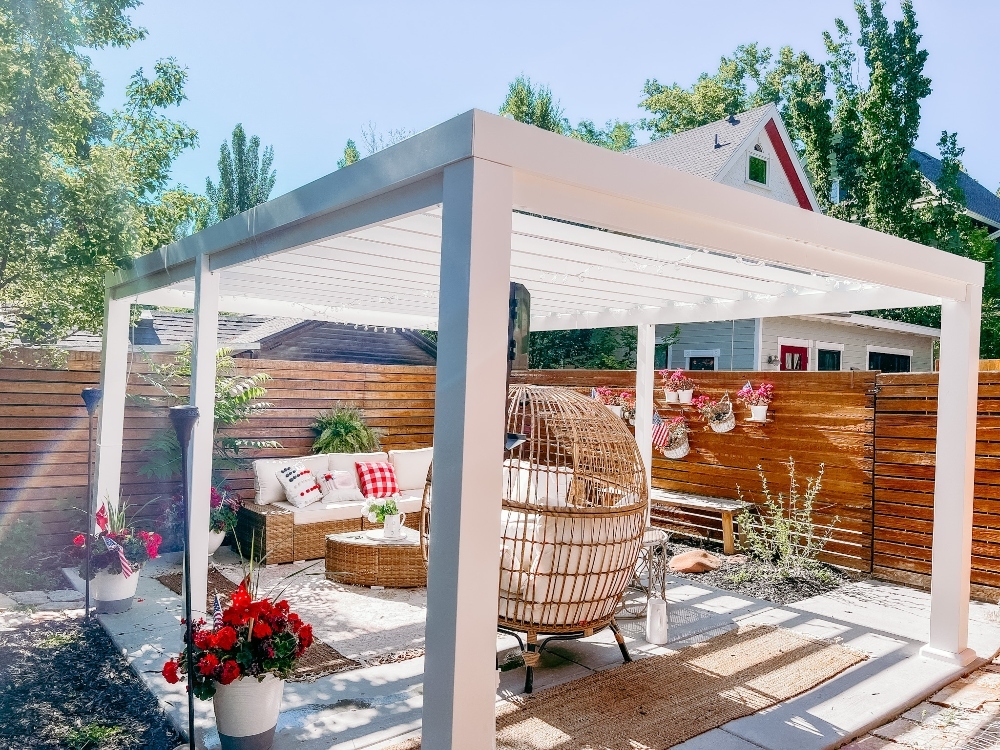 The back half of our backyard was just wood chips. And since we live in Utah the summer are hot, dry and sunny. So this back area was SO hot as the heat reflected off the black woodchips and there was no trees for cover.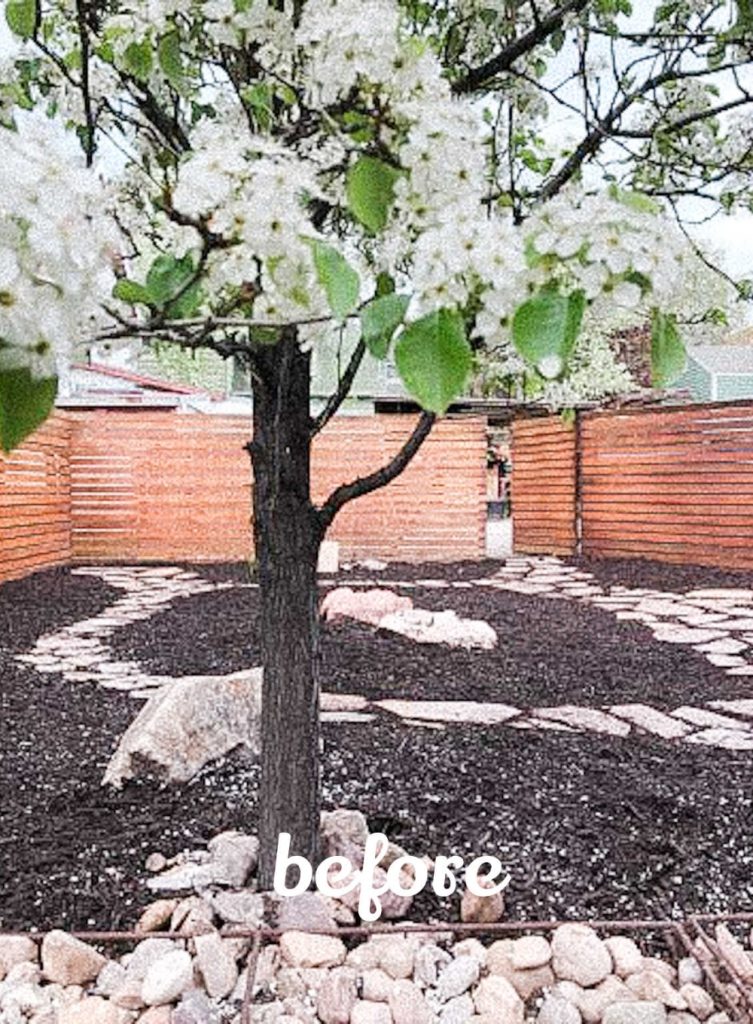 I decided to add a big patio which took up about half of the back area. And since we have no trees for shade in the back, I partnered with Backyard Discovery and installed their Windham Pergola over the patio. I am telling you, this has transformed our backyard!!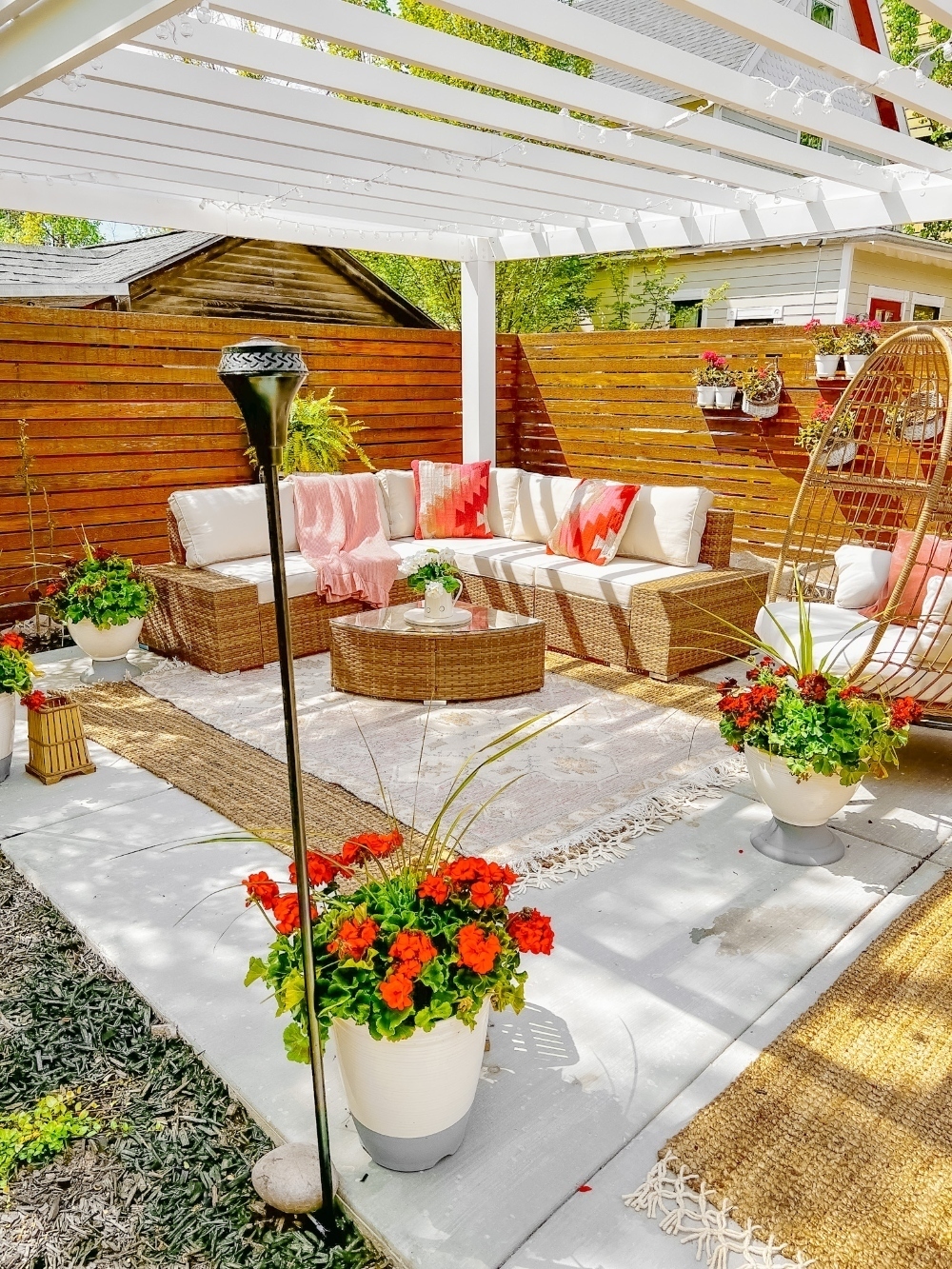 I added a comfy sectional and one of our egg chairs and it is our favorite spot. The Backyard Discovery pergola comes with a cover too so we can put the cover up when it's super hot out but take it off for sunshine in the spring and fall!
Create Usable Soft Areas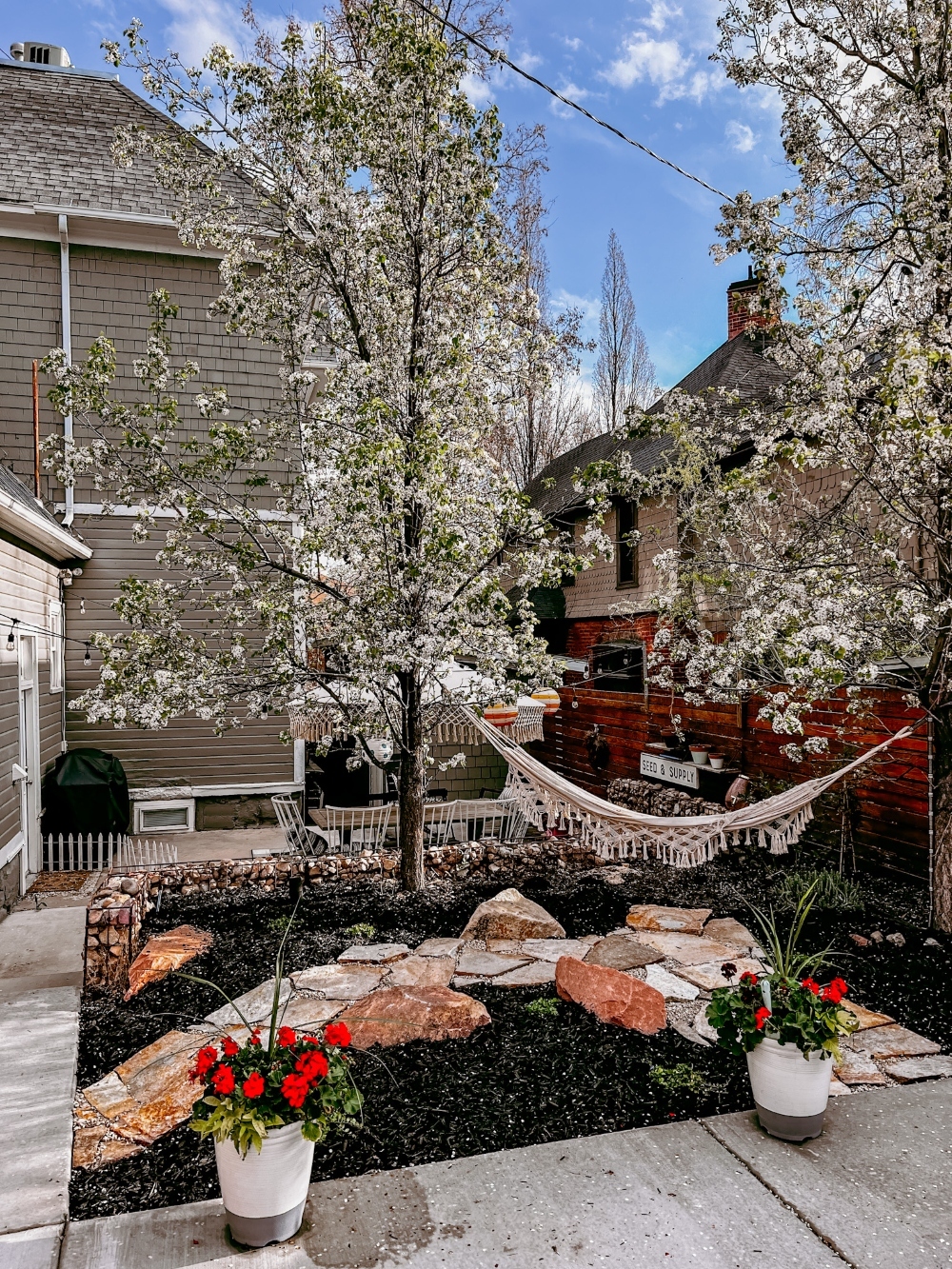 I didn't want the entire yard to be cement, but I also waned a maintenance-free backyard. We have a space under our two backyard trees that ties to the two spaces together. I added fresh woodchips to this space and then made a path that goes throughout the small space and leads to a relaxing hammock that the kids love to use! It's perfect for reading a book and taking a nap. I planted some pretty peony plants and ground cover that will spread and blossom in the spring! We installed a misting system along the top of the pergola which feels so spa-like on hot summer afternoons! It's my favorite place to work right now.
Make Each Outdoor Space Connect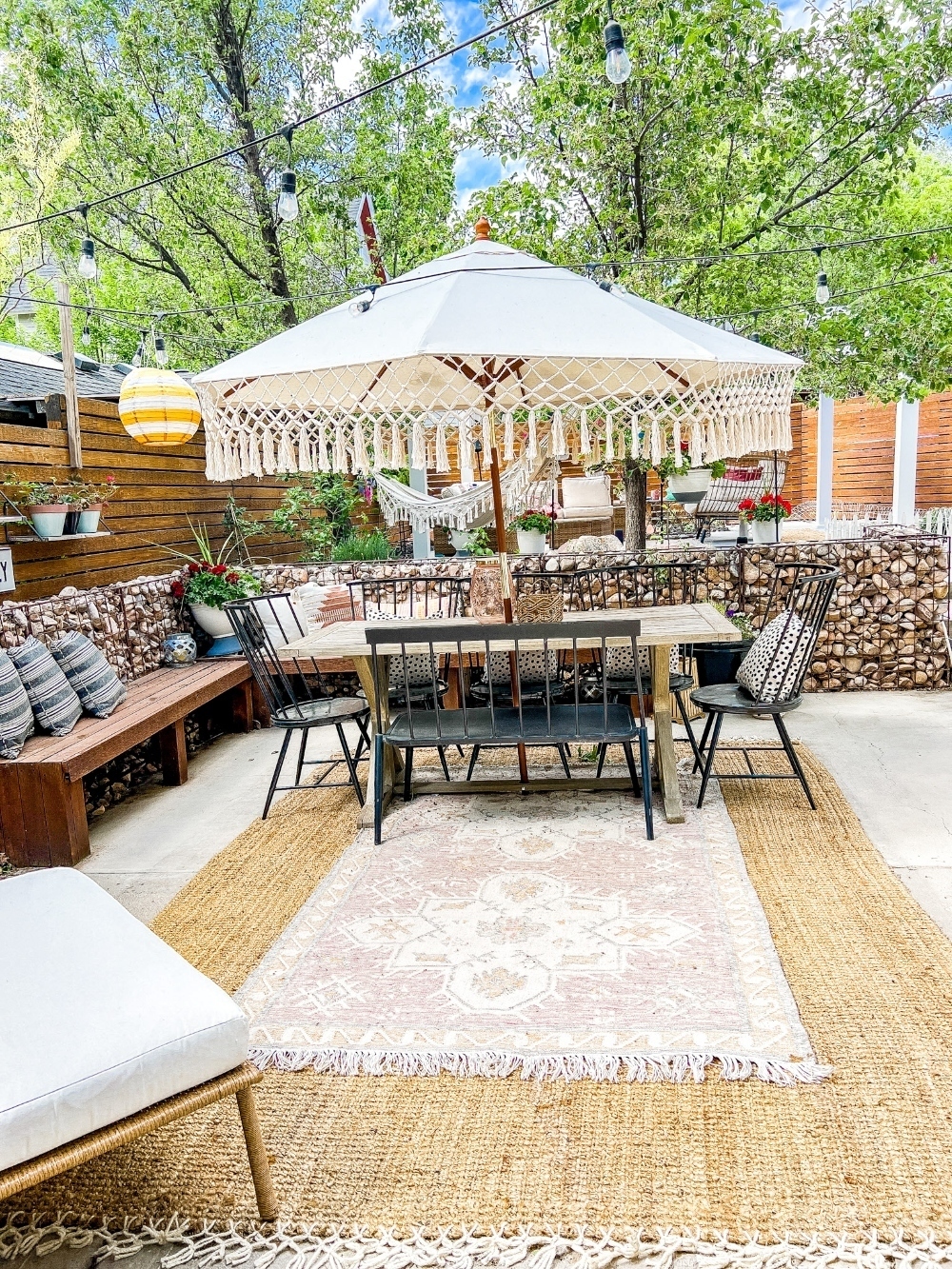 I wanted to connect the front and back parts of the yard together and I did this in a few different ways!
Use Lights Throughout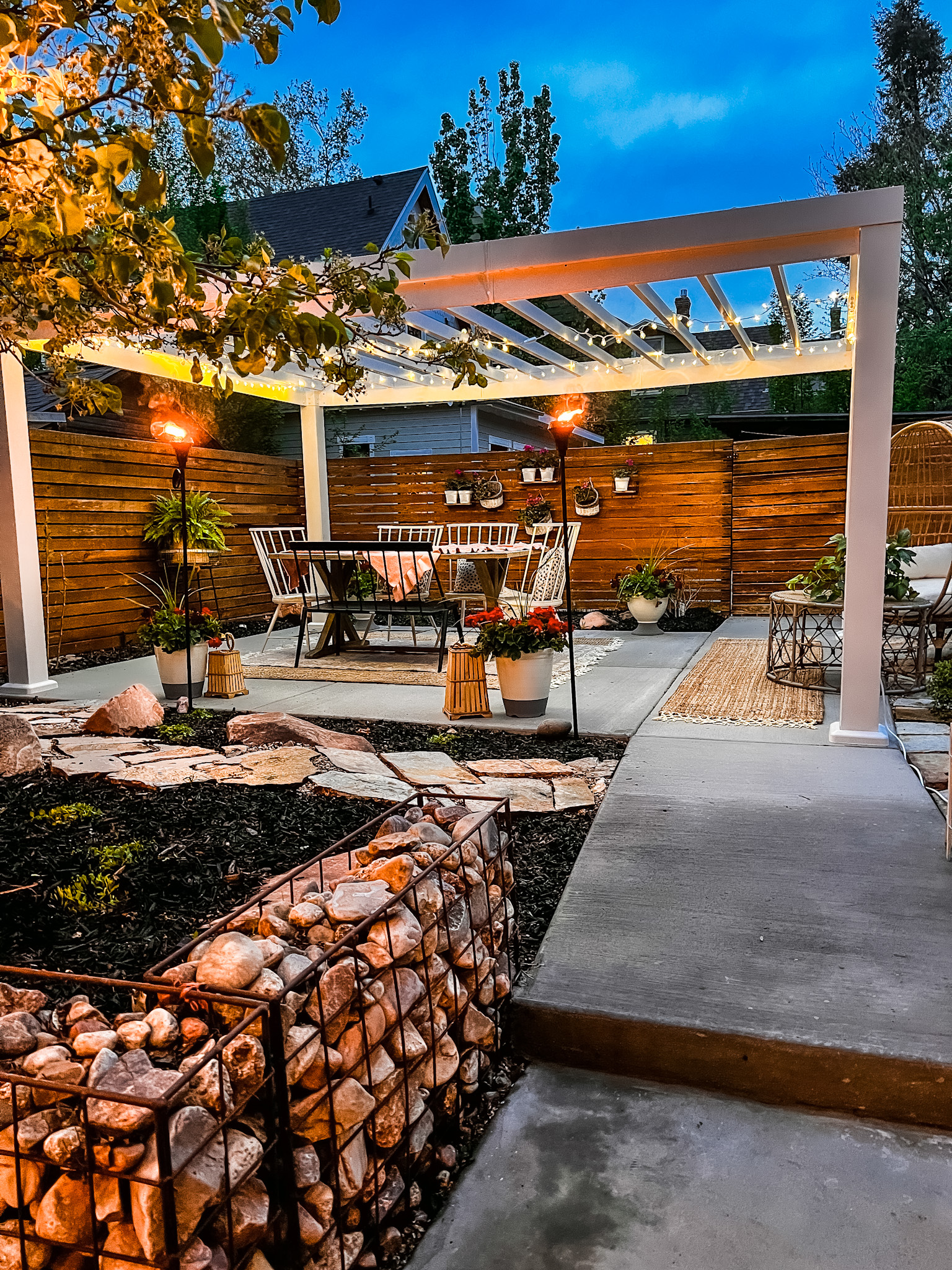 I strung cafe lights over the eating area and then extended lights on the pergola. So when the backyard is lit up, the lights lead you from the front patio, up the stairs, and onto the back patio.
Use Coordinating Decor Throughout the Yard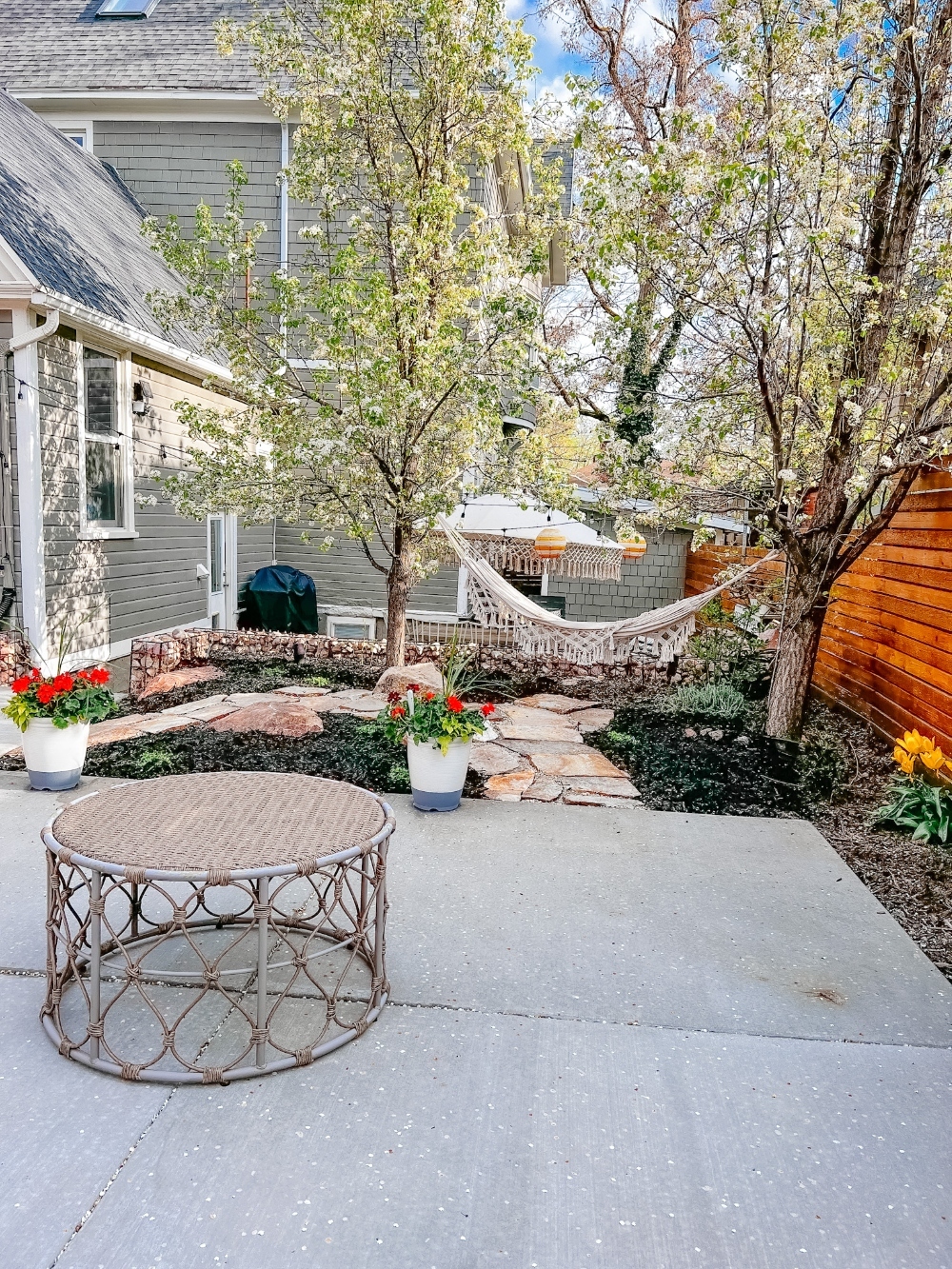 Another way I joined the two spaces into one big space was through the decor I used. I layered two rugs on both spaces — one jute rug and then a gorgeous indoor/outdoor rug in shades of pinks, yellows and greys. Having BOTH spaces have the same rugs really connects the two spaces visually. I also went with the same bohemian vibe by choosing a tasseled umbrella which matches the tasseled macrame hammock in the middle space.
Add Soothing Sounds to Your Backyard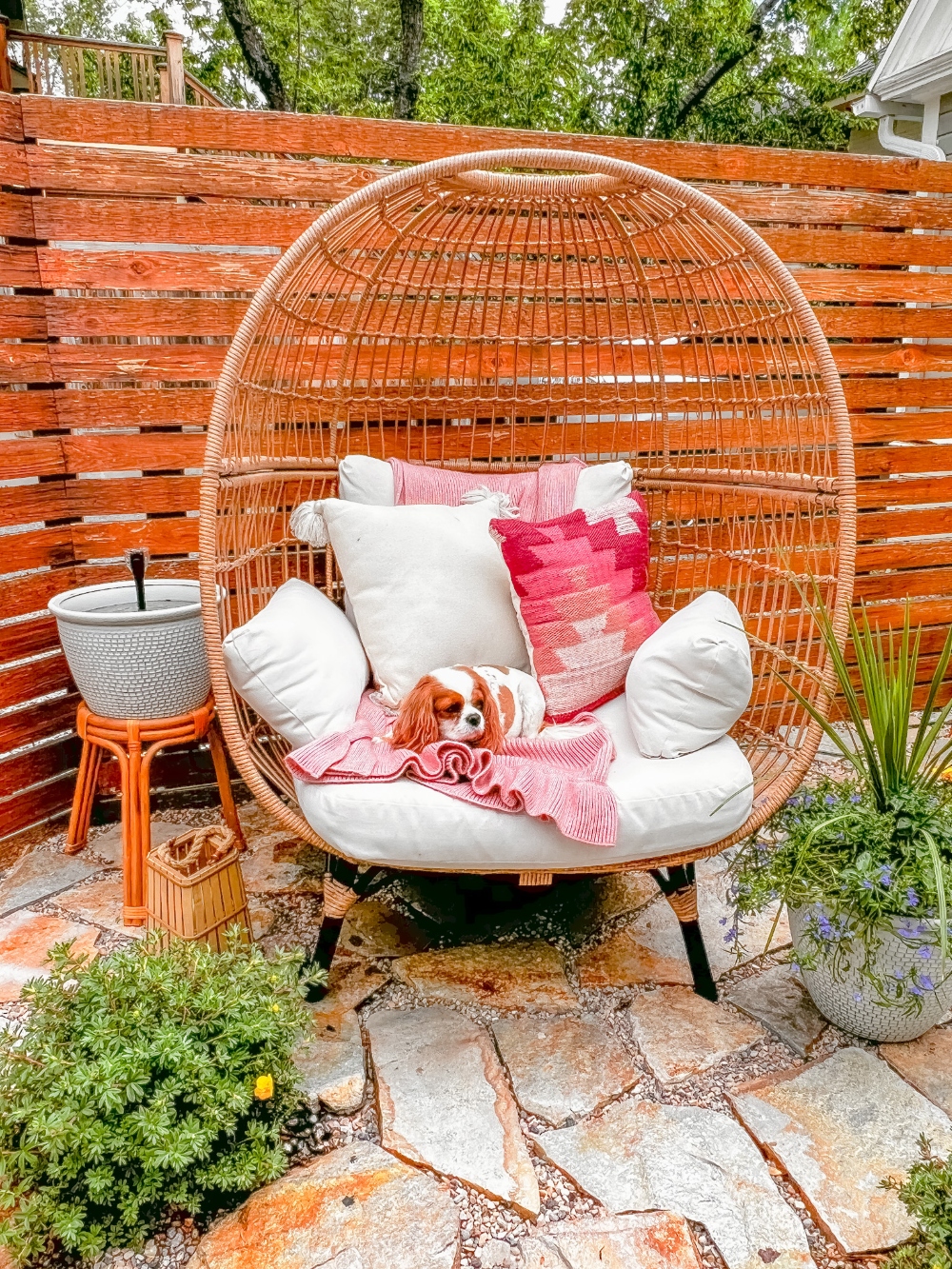 Another thing that I think makes our yard seem larger are the DIY Fountain I created and adding solar speakers to our space. I think making your outdoor space seem serene makes it seem larger and more luxe. I love the soothing sound of water from the fountain and when we are entertaining, having dual outdoor speakers brings the music around the entire backyard and makes it feel festive.
Bring in Lots of Plants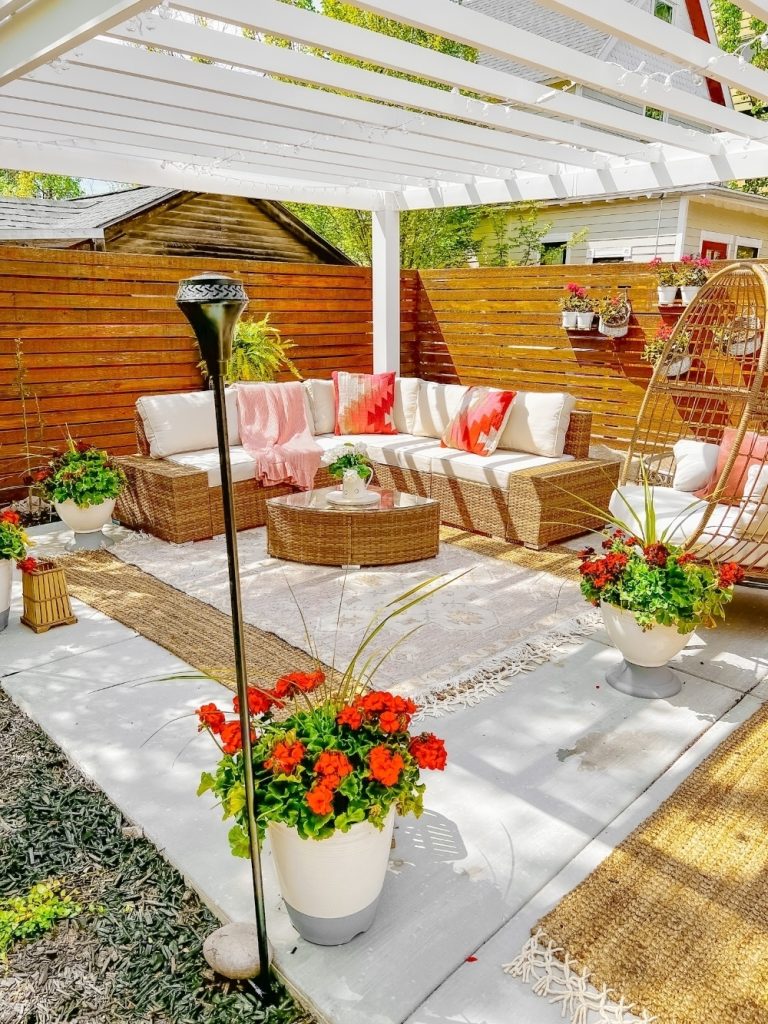 Another way that I brought a sense of coziness to our backyard was bringing in a lot of containers of flowers. I have one hanging on the tree in between the two space and matching ones on the back patio. On the front patio I spray painted some big pots I already had matching gloss black. I also utilized vertical space by creating matching hanging shelves where I planted pots.
Today some of my friends have joined me to share their summer outdoor spaces with you.
You can visit their full article by clicking on the links below the images.
More Backyard Ideas
Here are a few other backyard ideas in case you want to try them!
Turn a Pot Into a Fountain in 10-Minutes! You can create a DIY fountain in just minutes and create a soothing backyard focal point! I love the soothing sound of water.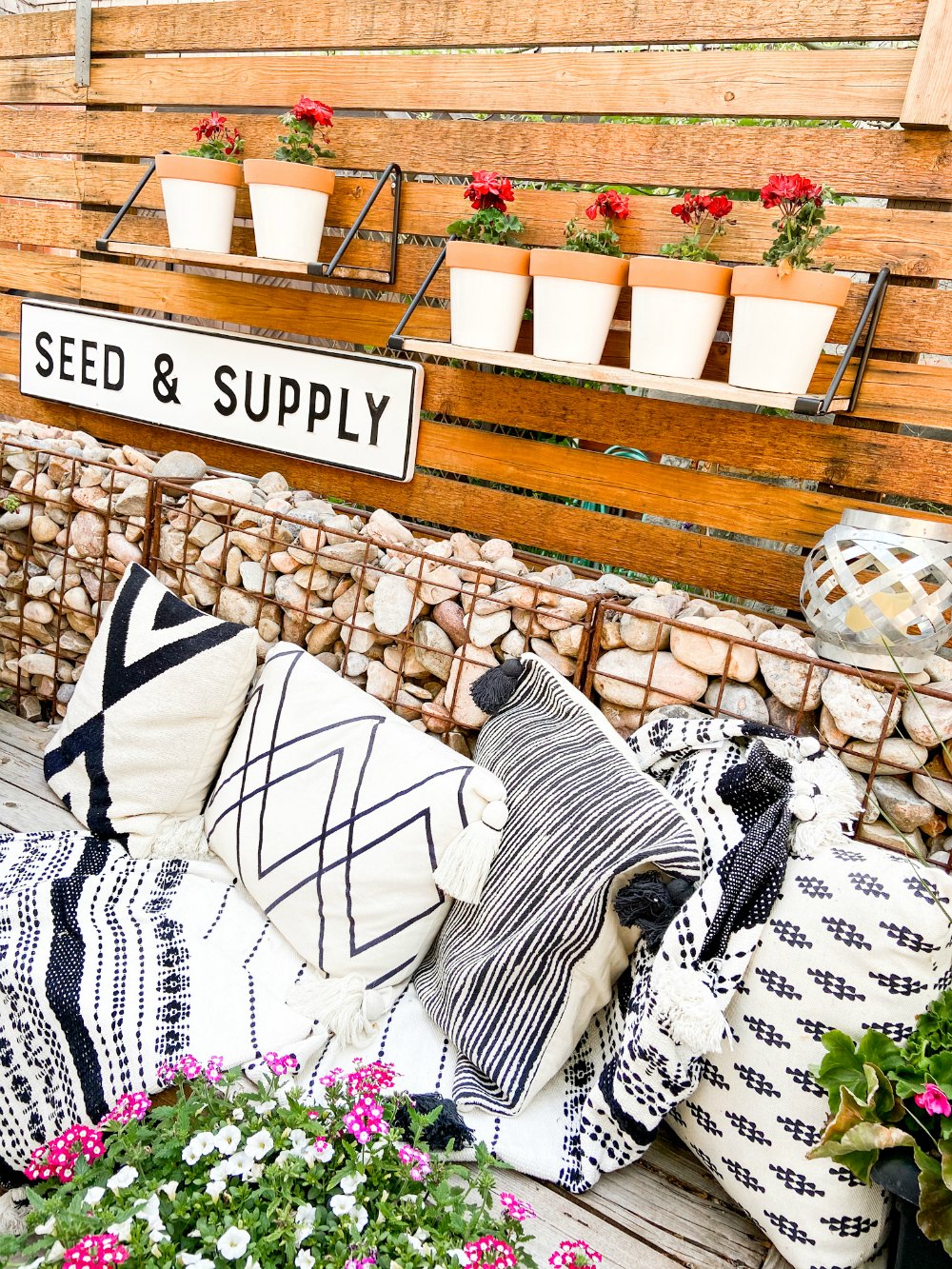 DIY Hanging Patio Garden. Make the most of your patio space by hanging shelves and planting flowers or herbs in painted pots!
What projects are YOU working on?
xoxo