How to make Beaded BOHO Beaded Pom Pom Tassels. Make a tassel for a shelf, a doorknob, embellish a present or a picnic basket. You can make pom poms with yarn and your hands. A beaded boho tassel also makes a wonderful gift idea!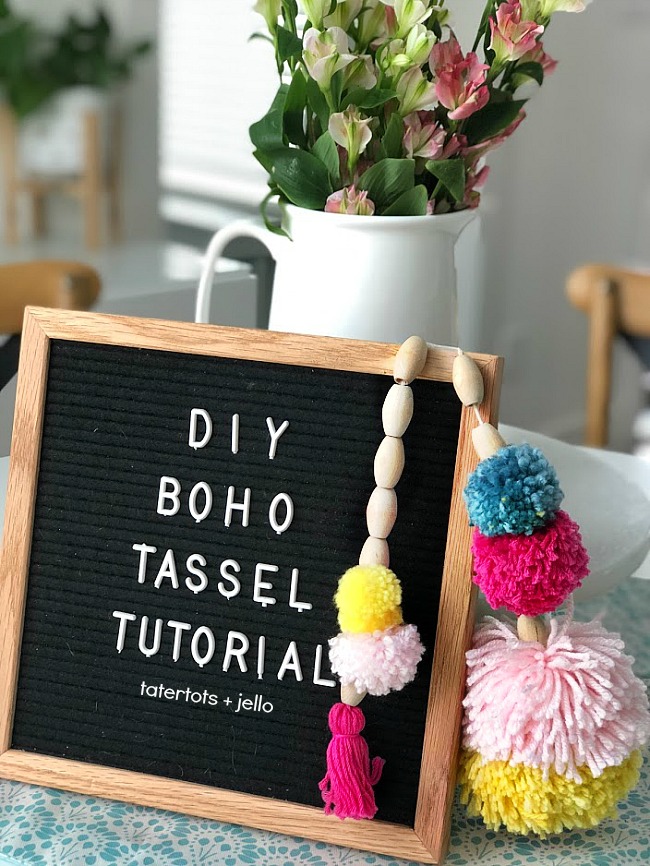 Make a DIY BOHO Tassel!
This Spring I made over a thrifted picnic basket with paint and embellished it with BOHO tassels. You can see the whole DIY Thrifted Picnic Basket Makeover.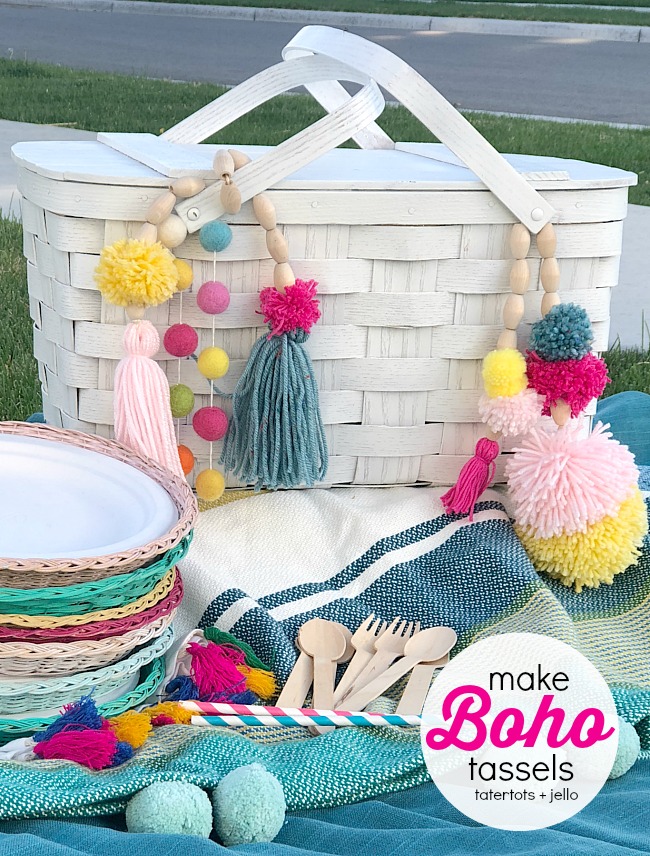 BOHO is a big trend that is taking off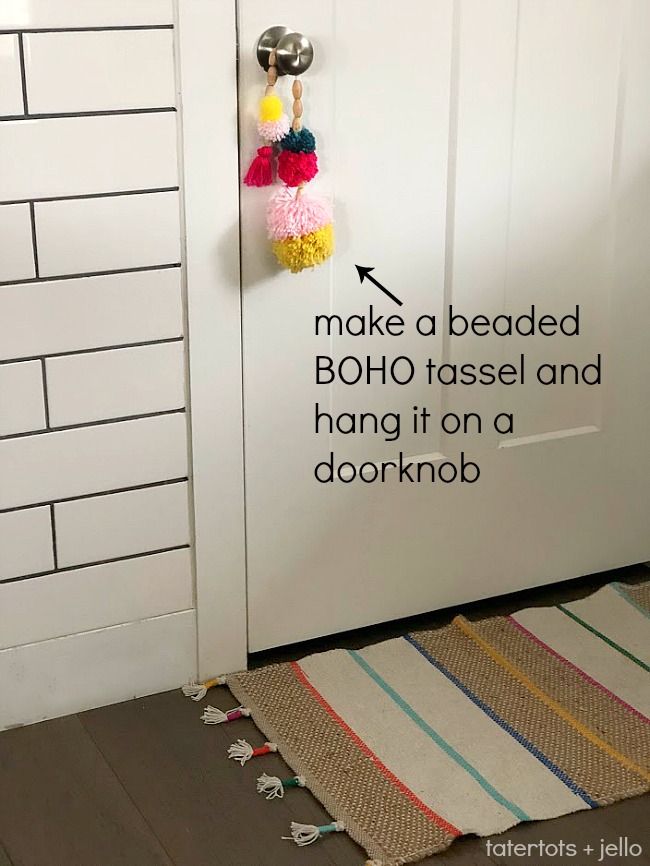 You can make a BOHO tassel and hang it in your home for a touch of whimsy and color.
You can hang a beaded tassel on a purse, on a shelf, a doorknob, on a present instead of ribbon, even on a picture. It's a really cute way to bring a little BOHO into your life!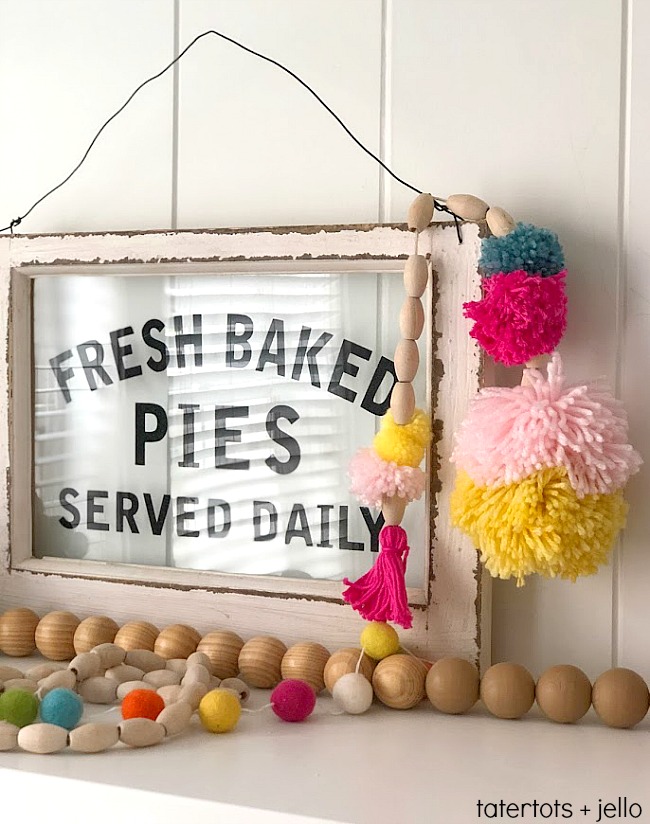 How to make DIY Pom Poms
I made yarn pom poms for the tassel. Did you know that you can use your fingers to make pom poms. You don't need a pom pom tool. Here is how to make pom poms in any size with just yarn and your fingers!!

Open you hand a little wider than you want the width of your pom pom to be.
Wrap yard around your hand.
Continue wrapping yard until it is quite thick. Approximately 50-75 times.
Cut wrapped yarn, slipping scissors under the yard, over your hand.
Take hand off yarn.
Pile yard in a bundle on your work surface.
Take yarn bundle and hold it in your fist.
Wrap a length of yard about 10 inches around the middle of the bundle of yarn pieces.
Tie it VERY tight.
Fluff up the yarn into a ball and trim it.
Keep trimming until you have a ball.
Now you have a pom pom!
How to make DIY Tassels
After I made the pom poms I made a tassel. To make a tassel all you do is wrap thread or yard around your fingers in the length you want the tassel. Then you cut one end and wrap a length of ribbon or thread around the top of the tassel to secure the top. Then just loop thread or yard through the top head of the tassel to attach it to your tassel.

Make the Beaded Tassels
I used wood beads for the main part of the tassels. I threaded the beads through string with a couple pom poms on one side and a smaller pom pom on the other end of the tassel.
Customize your Tassels
The thing I love most about this project is how you can CUSTOMIZE your tassels. You can make them any color – depending on what color yarn you use. You can also make them any length. Go crazy! Make some as gifts and give them to all of your friends.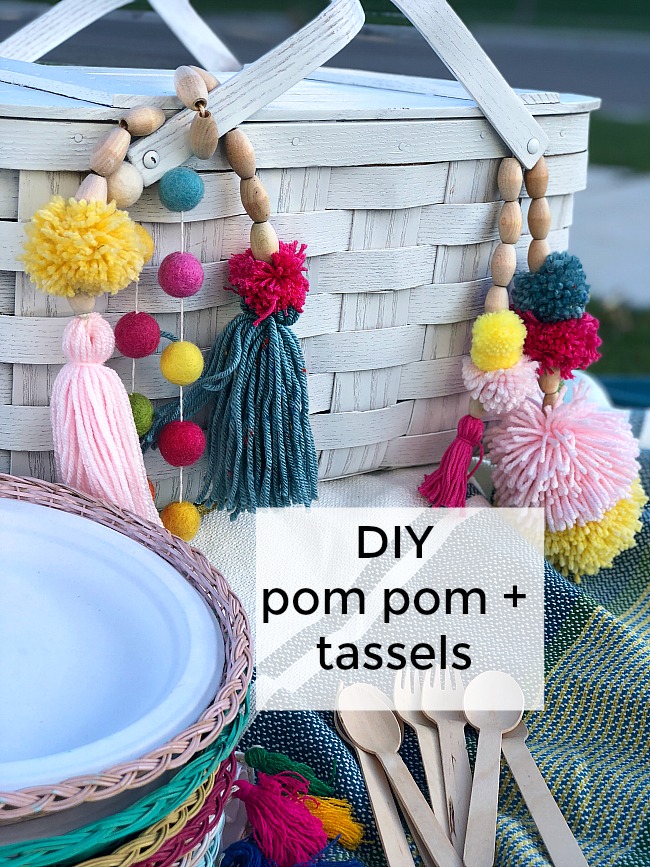 Have a Craft Night and make these!
Or have a craft night with your besties and make BOHO tassels! So fun!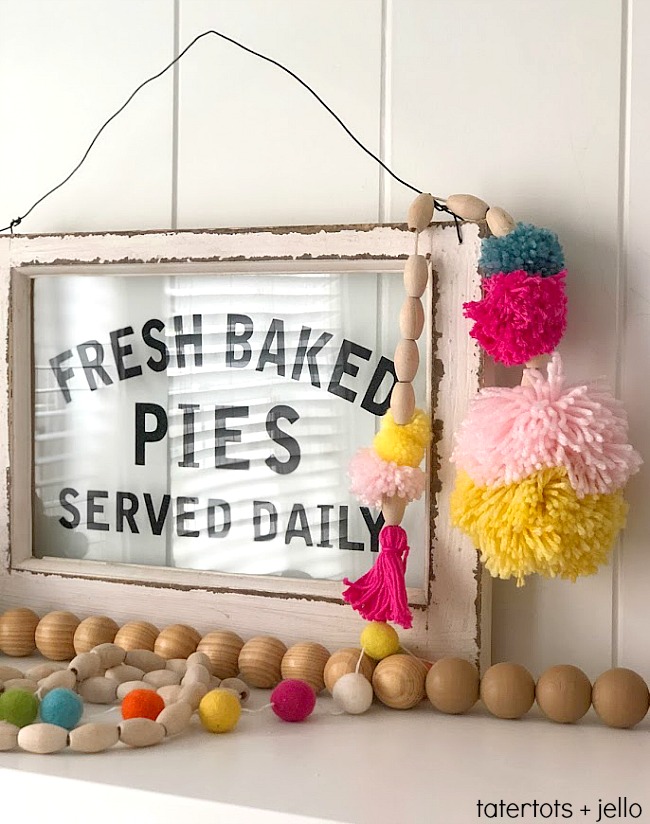 Here are a few other fun ideas for a craft night: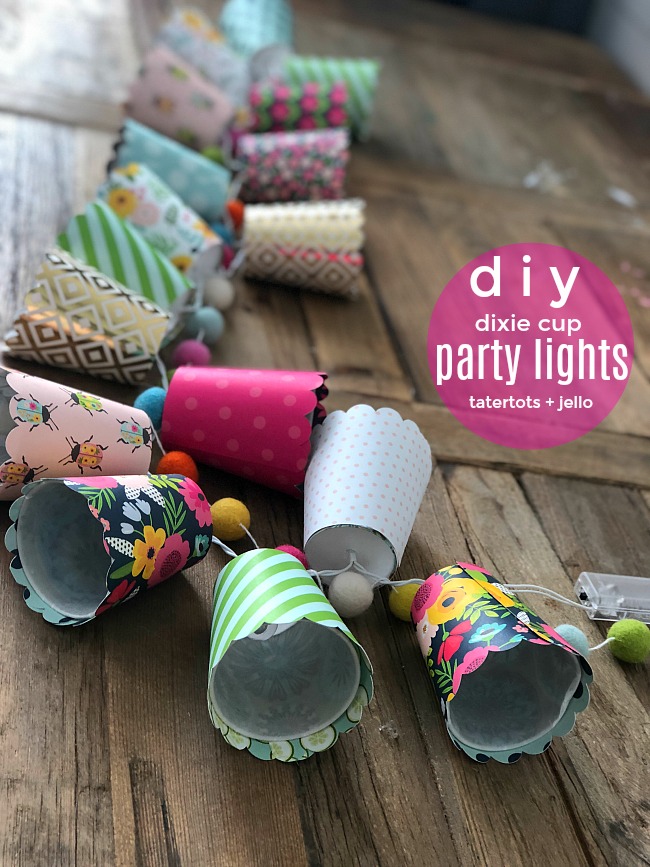 Have a Creative Day!
xoxo