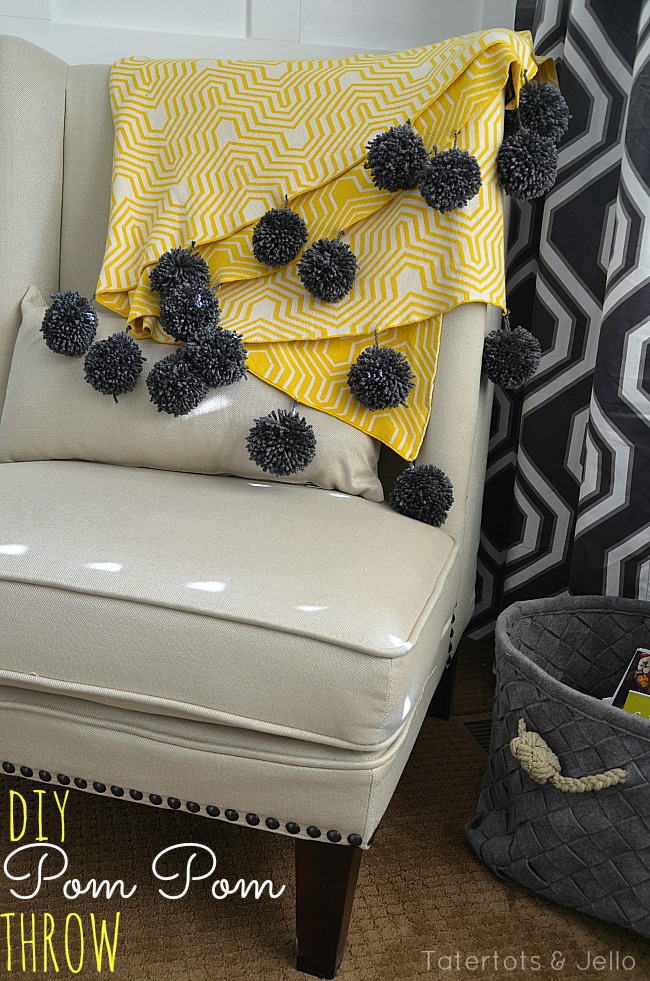 Pom Poms are so cute! I love them in any color or size. A year or two ago I bought a pom pom maker and have loved making my own pom poms ever since. This pom pom maker is great because it has tools for making four different sizes of pom poms — from 1/2 inch to 3 inches wide. There are so many things you can make with pom poms! Wreaths, garlands, embellish pillows and I thought it would be fun to add some pom poms to a throw.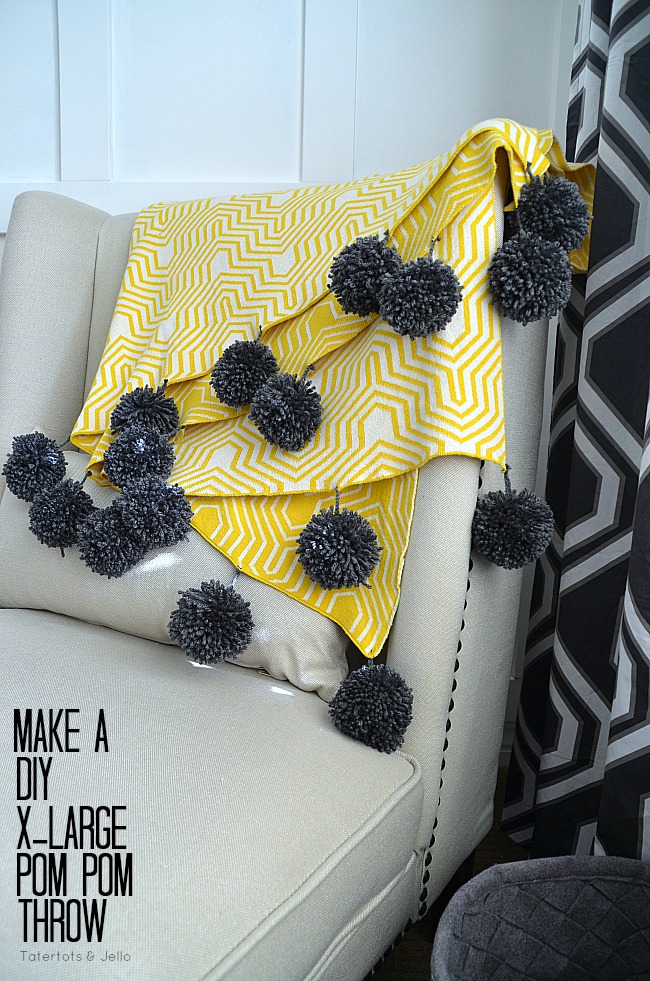 I bought a throw at Down to Earth a couple of weeks ago – I love the geometric designs on it! And I thought it would be so pretty embellished with some big pom poms. Here's how to make yarn pom poms:
Buy yarn that you love.
Then decide which size of pom poms you want to make.
Pick out the size of pom pom maker. Fit the two sides of the makers together, one on top of the other.
Then wrap yarn around one side of the pom pom makers. Be generous while wrapping the yarn.
Once the yarn is wrapped on one side, continue wrapping on the other side too.
The close the pom pom maker and cut the yarn. Close the latches on the sides of the pom pom maker.
Then cut the yarn with scissors along the edges of the pom pom maker.
Take a piece of yarn and wrap it around the open edges of the maker and tie the yarn in a knot.
Then unlatch the latches and take the pom pom makers off – leaving the pom pom.
Trim off the edges of the yarn to make a perfect circle of yarn.
Note — to make these pom poms, I wrapped two pieces of yarn in the open edges of the pom pom maker and tied them, leaving 4 long strings. I trimmed one off — leaving three strings loose. Then I braided those three pieces of yarn and tied it off. To add the pom poms to the throw – I laid the edge of the throw up and laid out the pom poms evenly. Then I sewed each one on. I attached the braid to the throw with thread. I made sure each braided strip was the same and trimmed off the excess. Then I took some clear nail polish and put a dab of it at the top of each braid to keep it from fraying.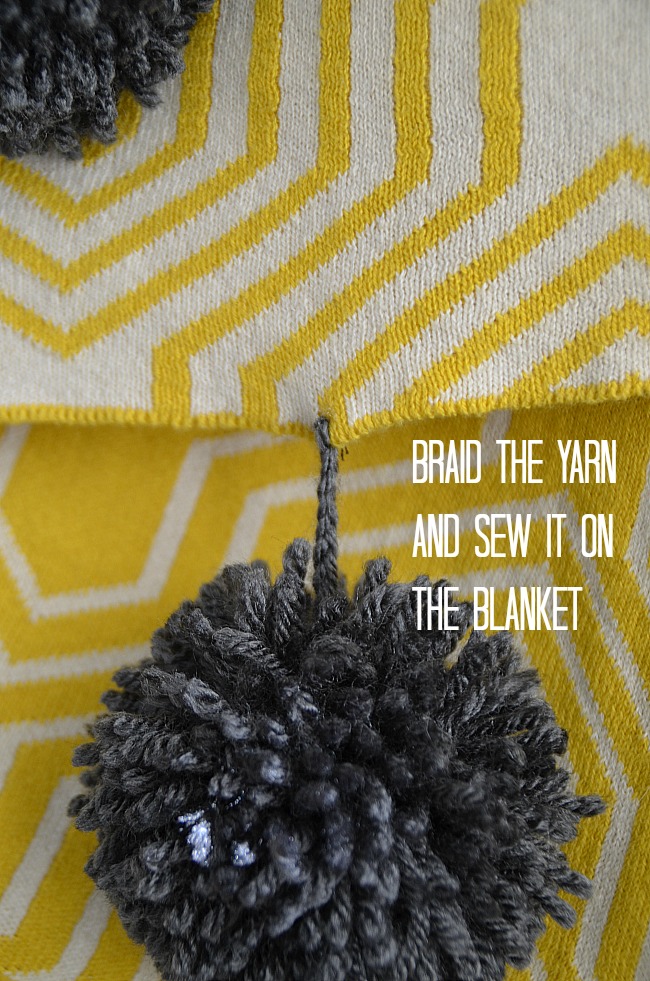 I love the POP of whimsy it adds to my chair. So cute!!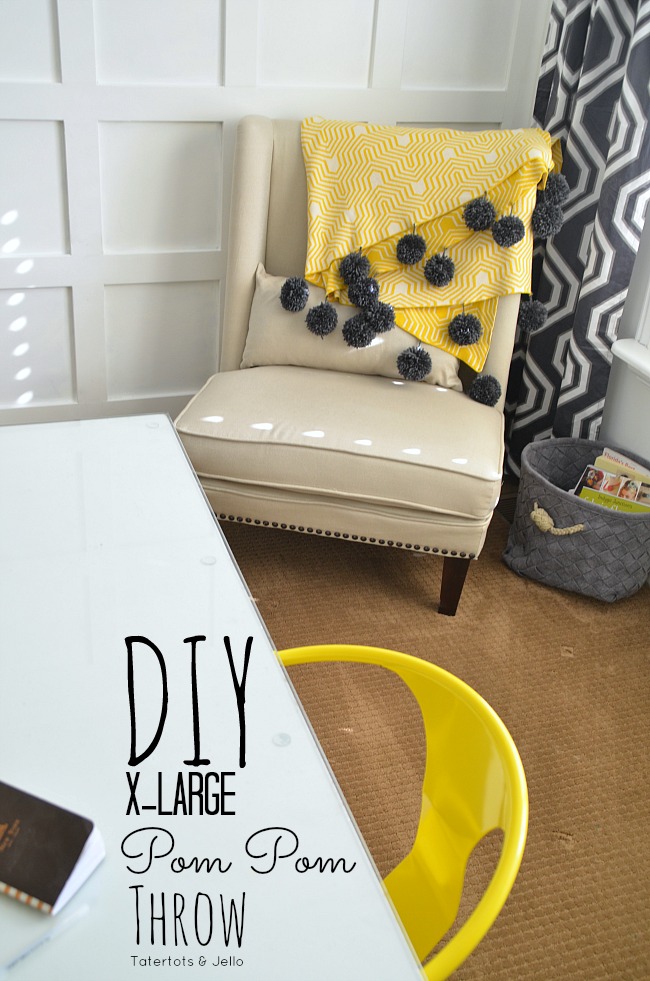 I am excited to make some metallic pom pom garlands to our Christmas tree this year. SO fun!!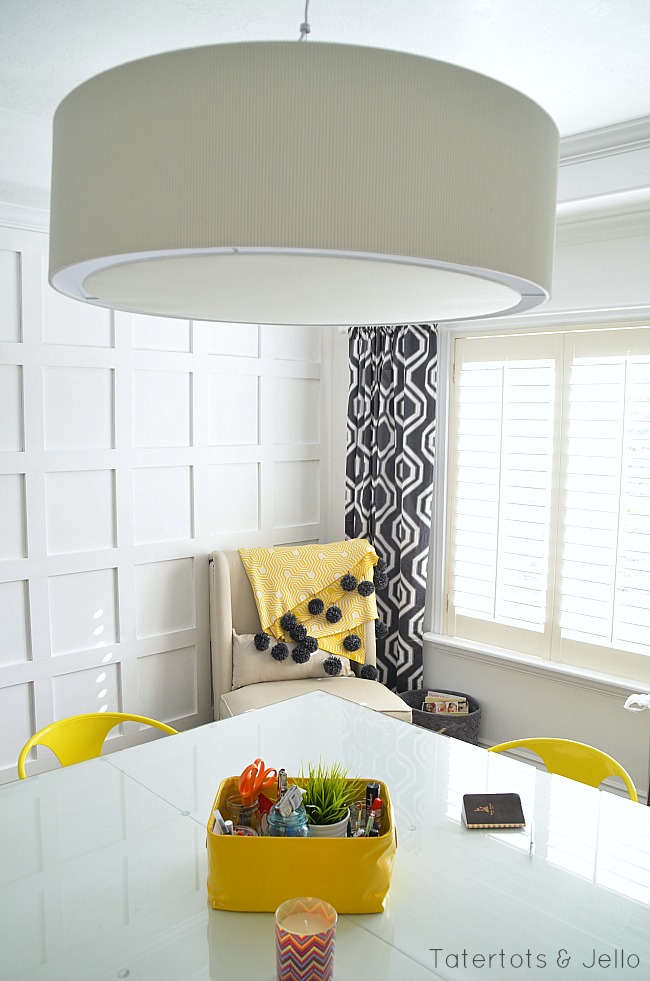 What kind of pom pom project do YOU want to make??
Let me know in the comments!
xoxo

PS — the Linky Palooza Party starts tonight at 5 pm MST.
I hope you can join in the fun!
I love to feature YOU!!