Holiday Housewalk Tour 2019 Tatertots and Jello. Holiday ideas with buffalo check and tips for a vintage home on a budget.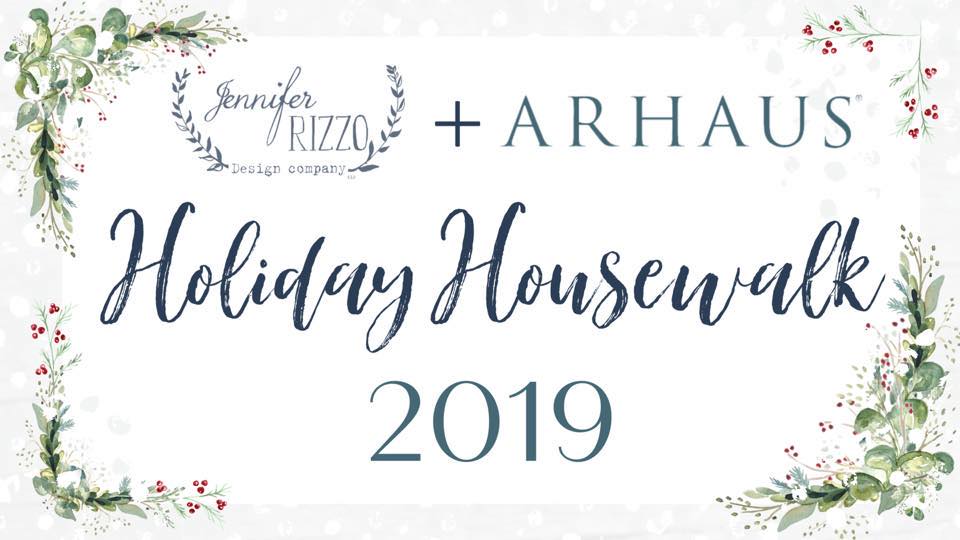 Holiday Housewalk 2019 Tatertots and Jello
You guys!! I am so excited to be participating with Jennifer Rizzo on her TENTH holiday housewalk tour! I have watched this tour for years and been so inspired. So it's a dream come true to be a part of this tour this year! Be sure to head over to Jennifer Rizzo's to start the holiday home tour from the beginning so you can see all of the festive homes on the tour!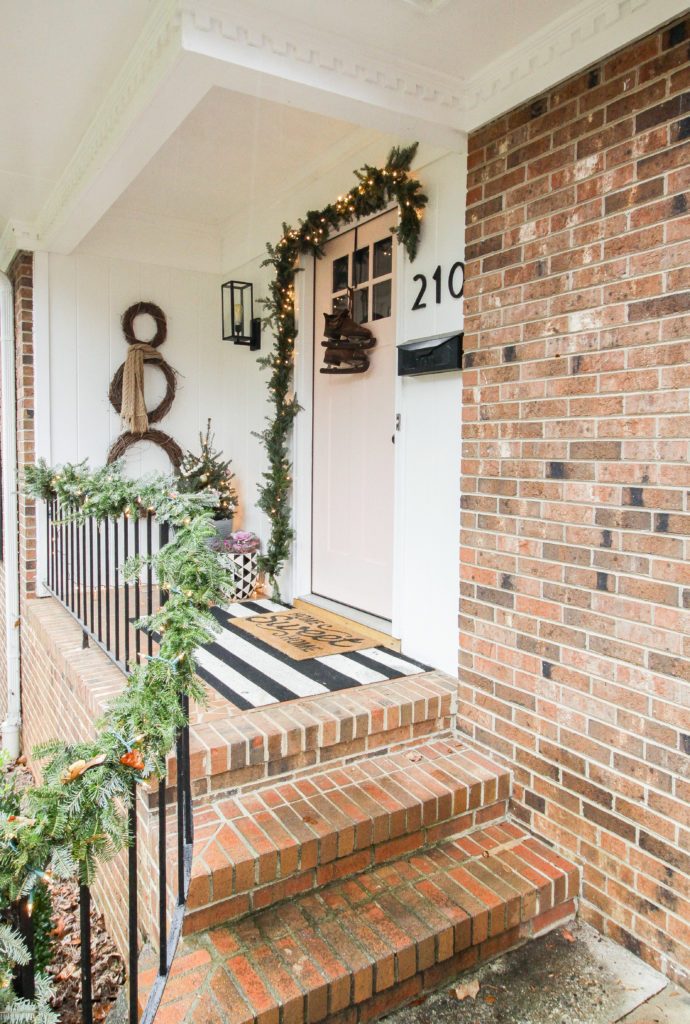 And if you are hopping over from CassieBustamante's page – welcome!!
Isn't Cassie's home wonderful?? I am in love with her pink and black porch decor. I think her door and mine are pretty similar in color. LOVE it!
I am also obsessed with her BRASS farmhouse sink. AMAZING!
Holiday Housewalk at the 1891 Avenues Cottage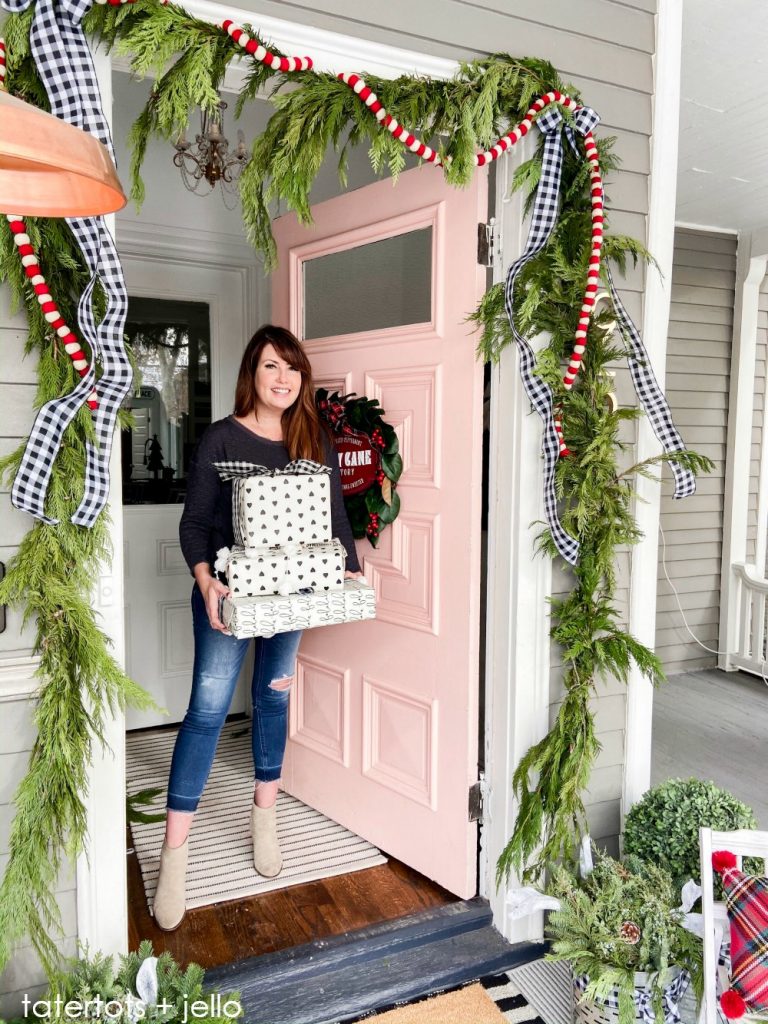 It's our first Christmas at the #1891AvenuesCottage. We've only been living here for about three months. And we are in the middle of some big remodeling but that didn't stop me from getting my holiday decor out and decorating everything in sight! I LOVE this time of the year!!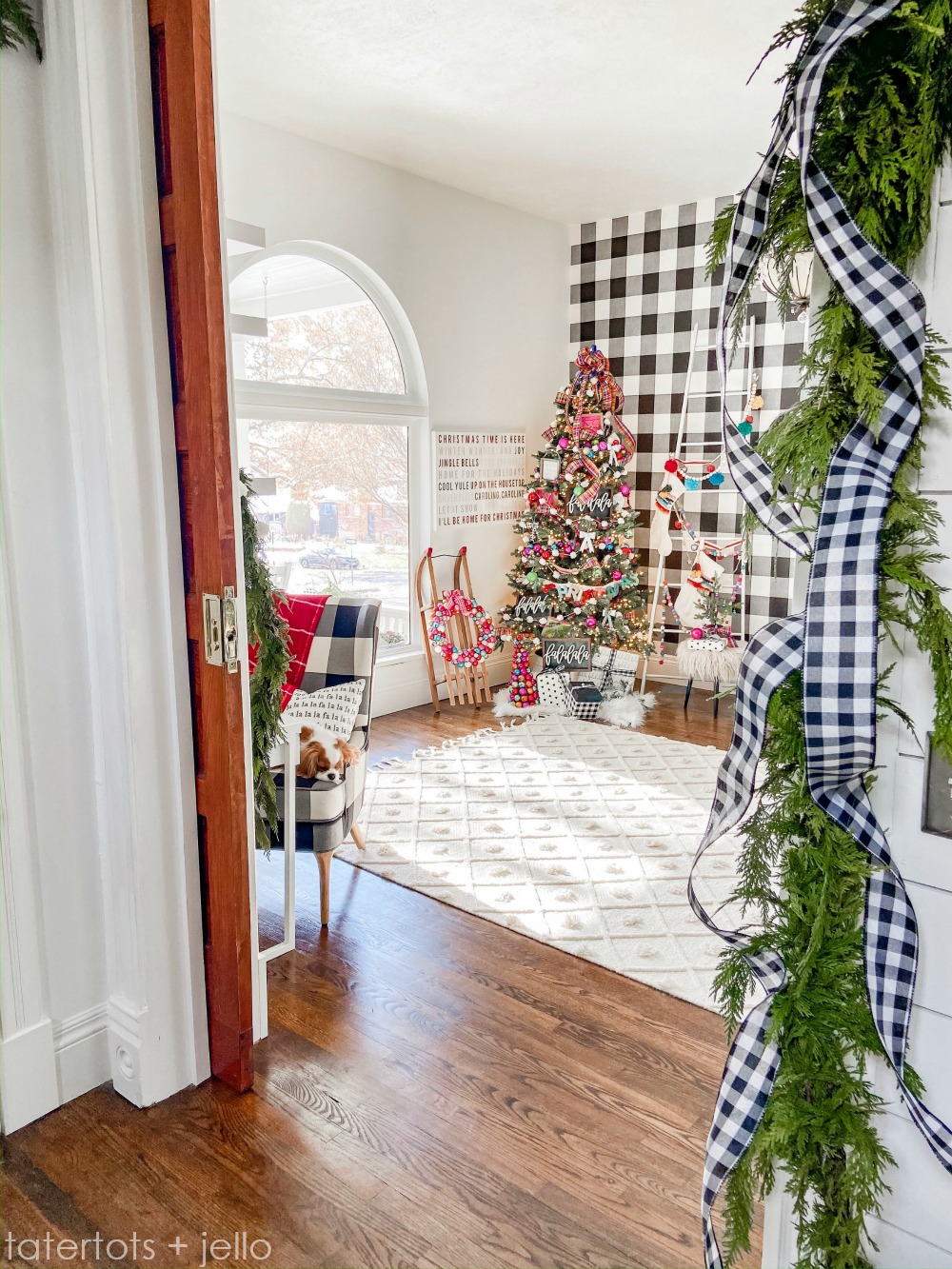 Holiday Buffalo Check Office
There are two spaces I would love to show you on this holiday tour! One is the front room of our home which I have turned into an office/craft room and the other is our dining area.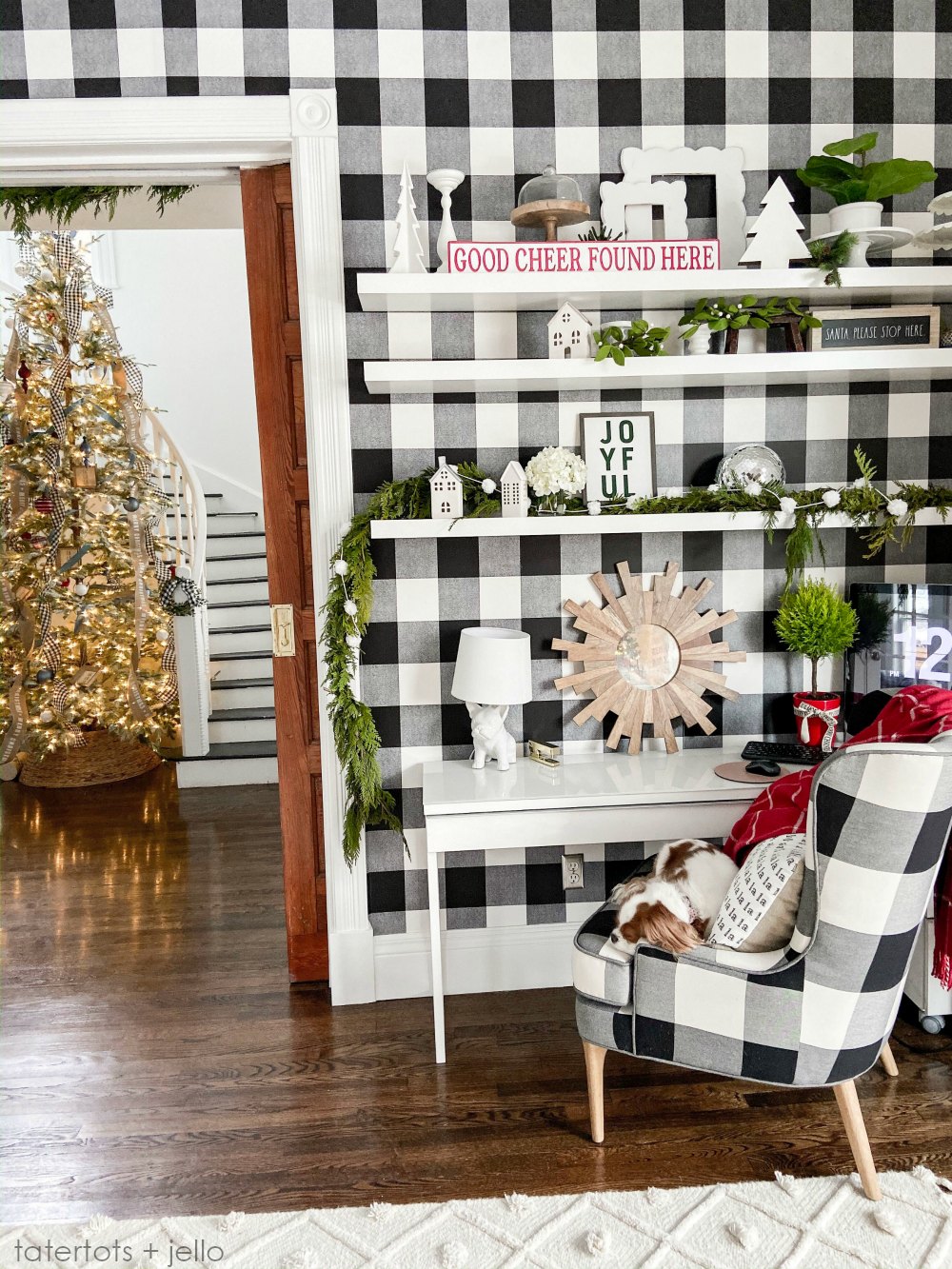 I love the tall ceilings and big windows in my new office. There is also a wonderful original pocket door which leads into our dining area. AND an original fireplace which I just barely finished updating!!
Historic Fireplace Holiday Makeover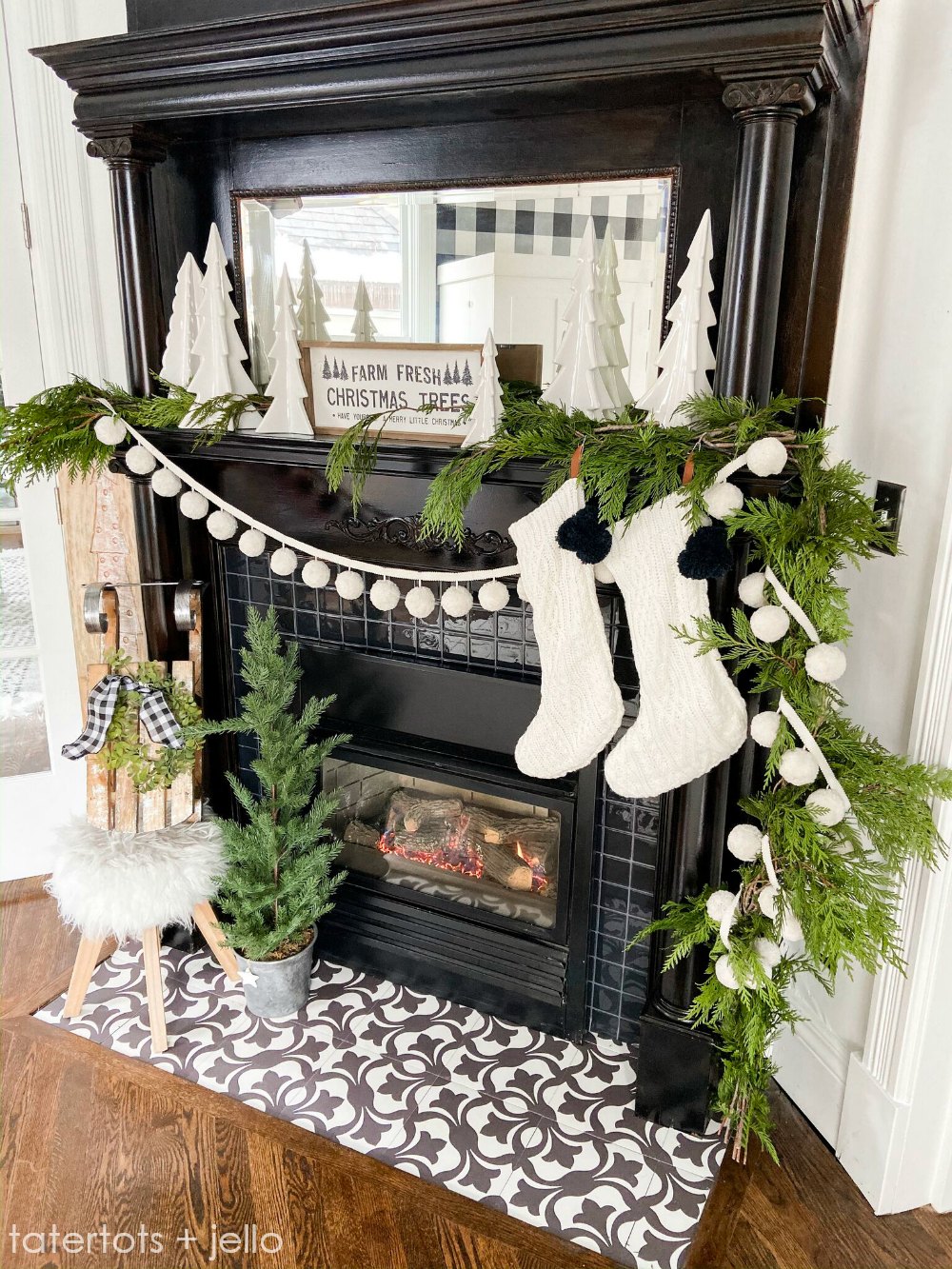 On two walls of the office I added removable black and white checked wallpaper and I LOVE it so much! It really makes the space seem cozier.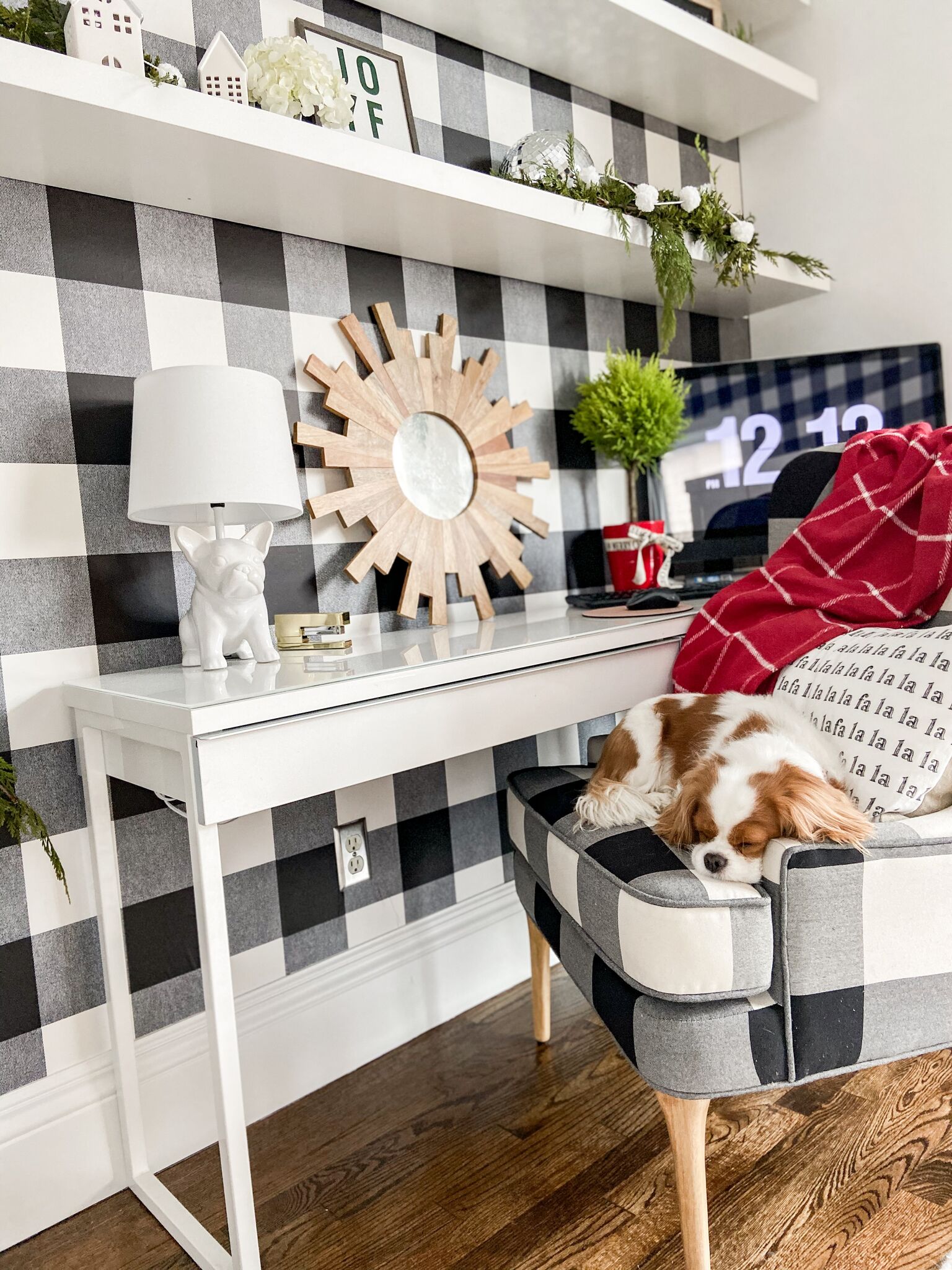 I added floating shelves and a desk to one wall and that is where I do my computer work.
FALALA Colorful Christmas Tree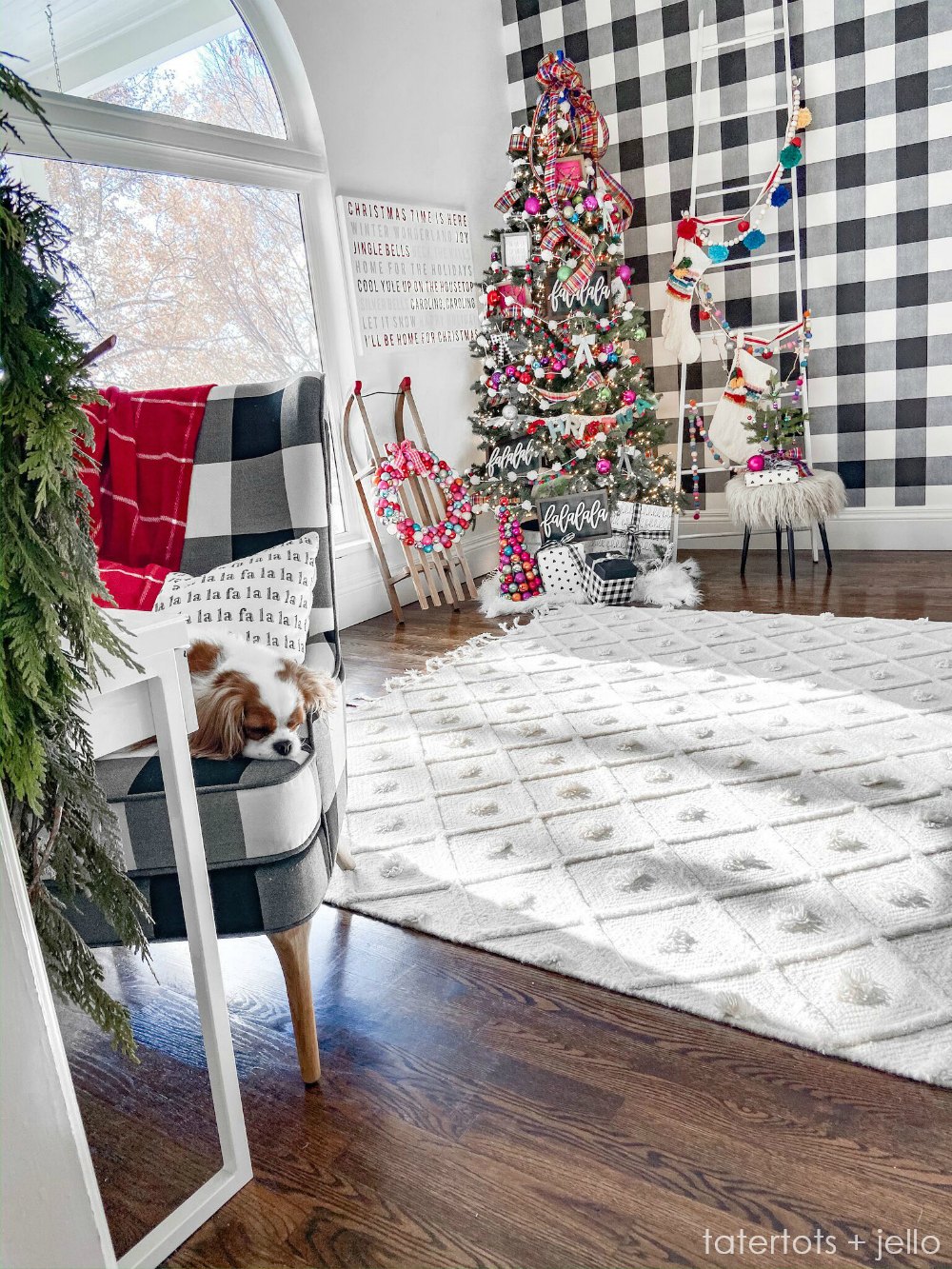 On the opposite wall I decorated our FALALA tree with all of the bright and colorful ornaments and garlands. I love the colors with the black and white check – it makes me so happy!!! I added a colorful wreath to the sleigh I put out each year and hung some tassel stockings on a ladder I built a few years ago. Next to my tree is my craft DreamBox where I store all of my creative and crafting supplies!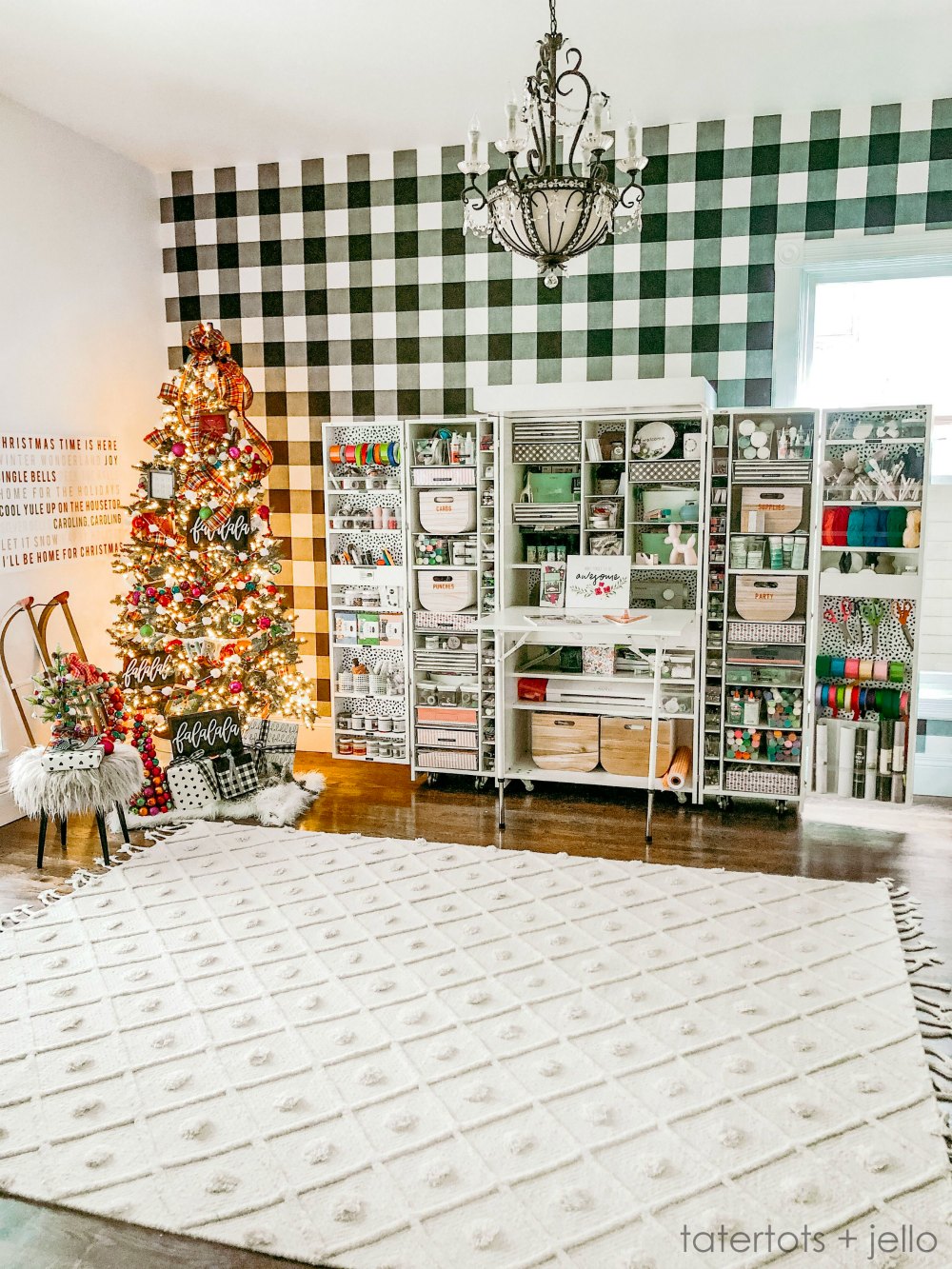 The original fireplace sits between the two plaid walls. I spent a long time trying to figure out how to restore the fireplace. My sister Ashley @ModernHomeGlam gave me some advice to stain the wood dark and camouflage the off-center fireplace insert with black tile and I love it! I added some trendy black and white peel-and-stick tiles to the bottom. I love the way the white trees, garlands and stockings POP against the dark wood.
On the wall in between are french doors that lead into our family room. The family room is waiting on our big remodel.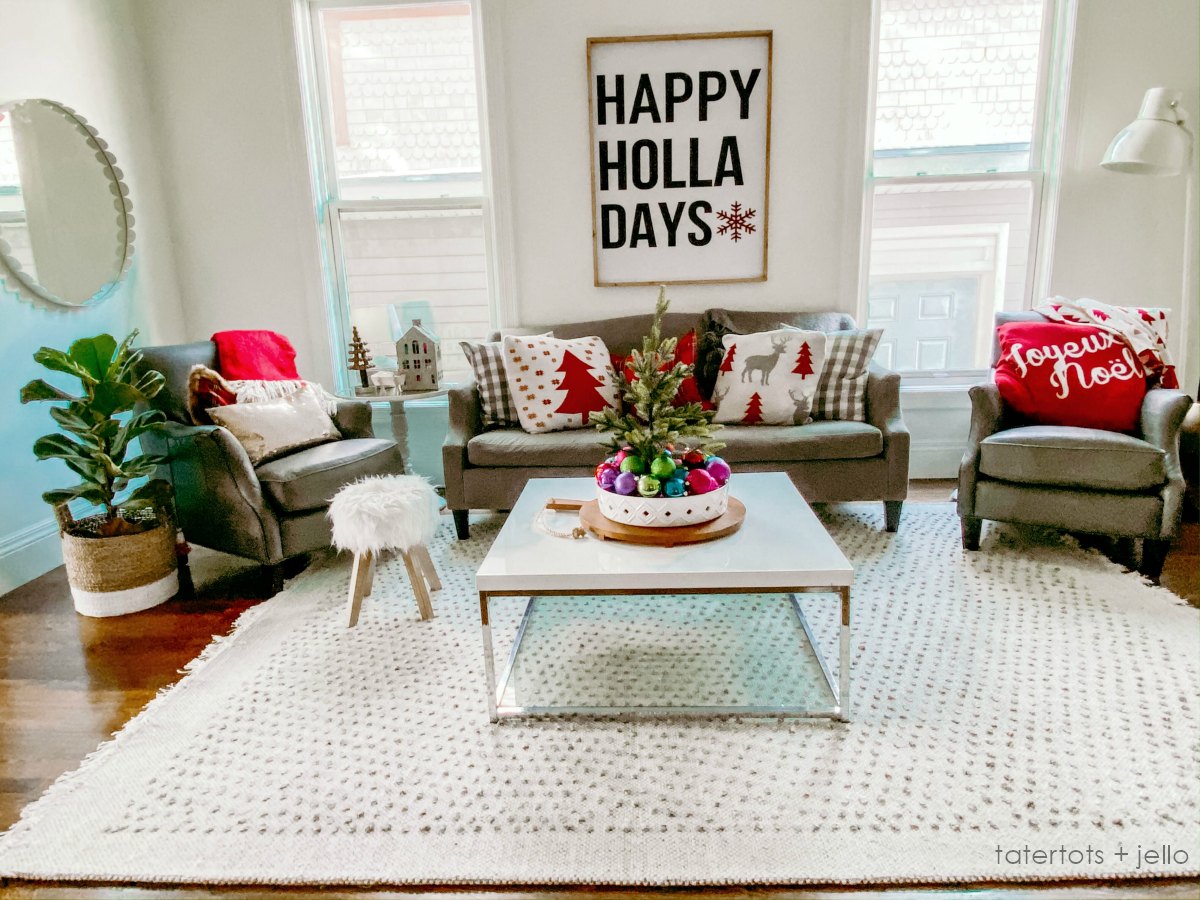 It will be planked on two walls and we are building a big beautiful fireplace on the wall at the end of the house. I sold most of our furniture when we moved so these are some leftovers that we are living with until I find the "perfect" couch, but I love the room.
Holiday Kitchen Nook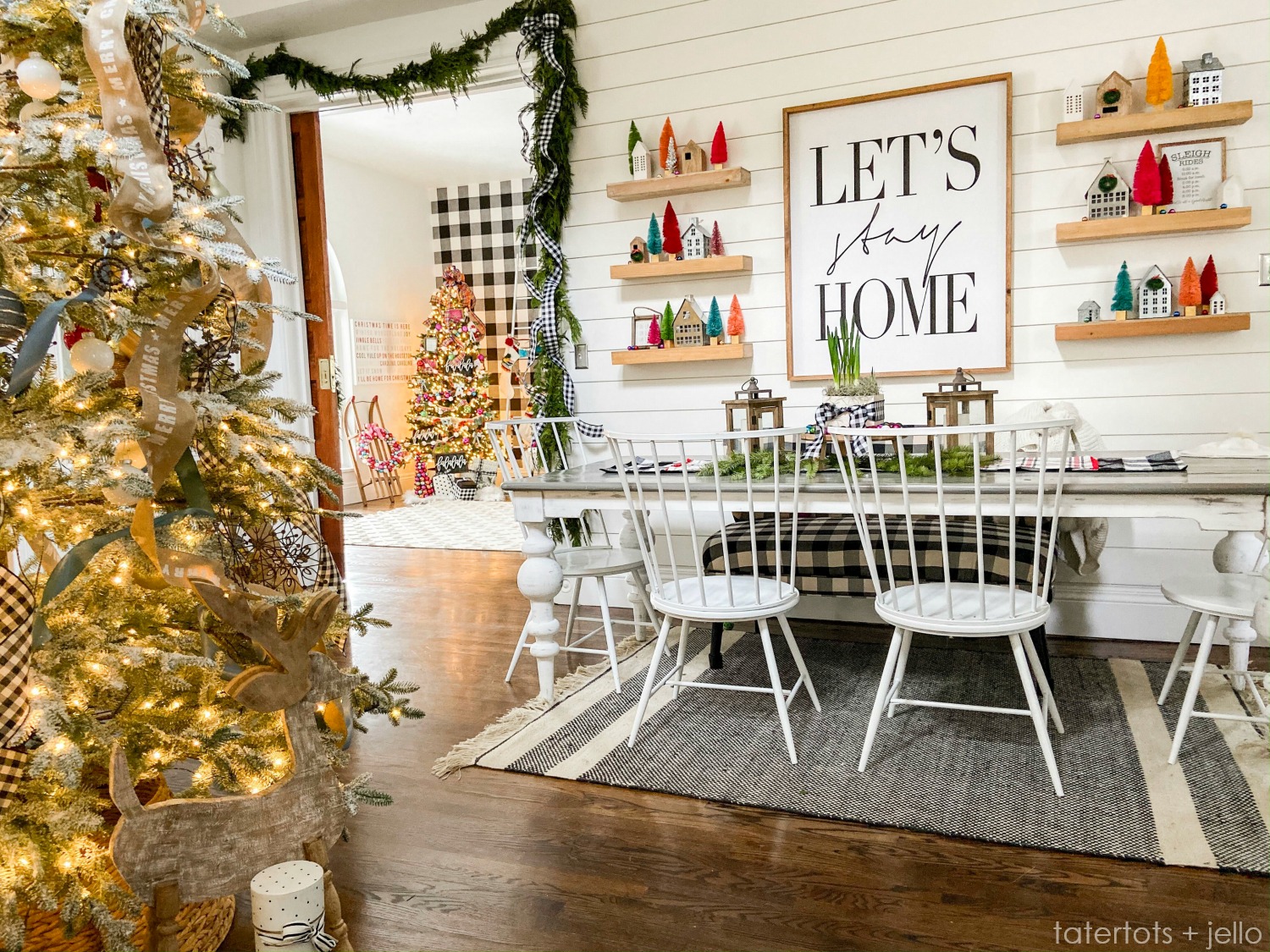 In the kitchen we planked a wall and created a little kitchen nook. Floating shelves hold all of my colorful trees.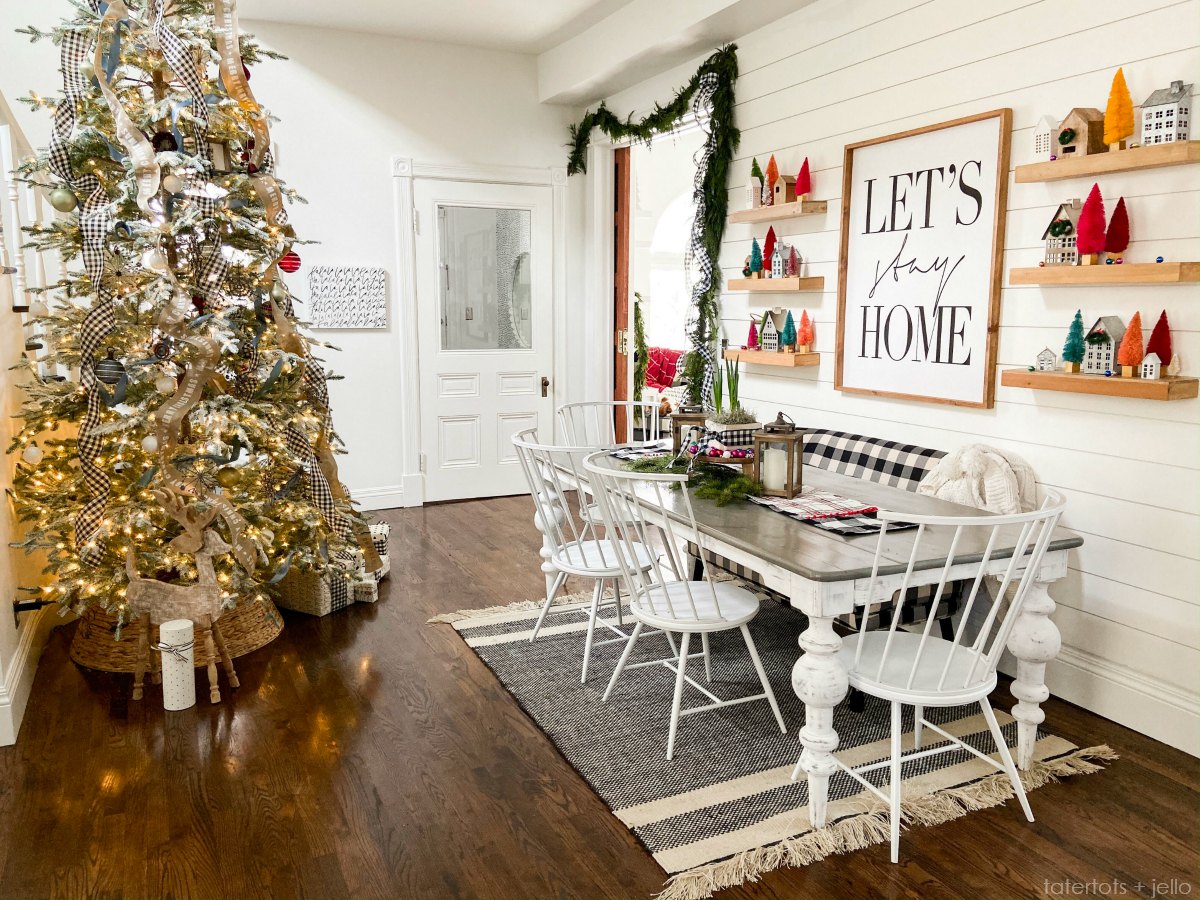 I added a sweet black and white checked settee against the wall. The sign is by my friends at @SincerelyUsShop.
Farmhouse Shelves and Colorful Holiday Trees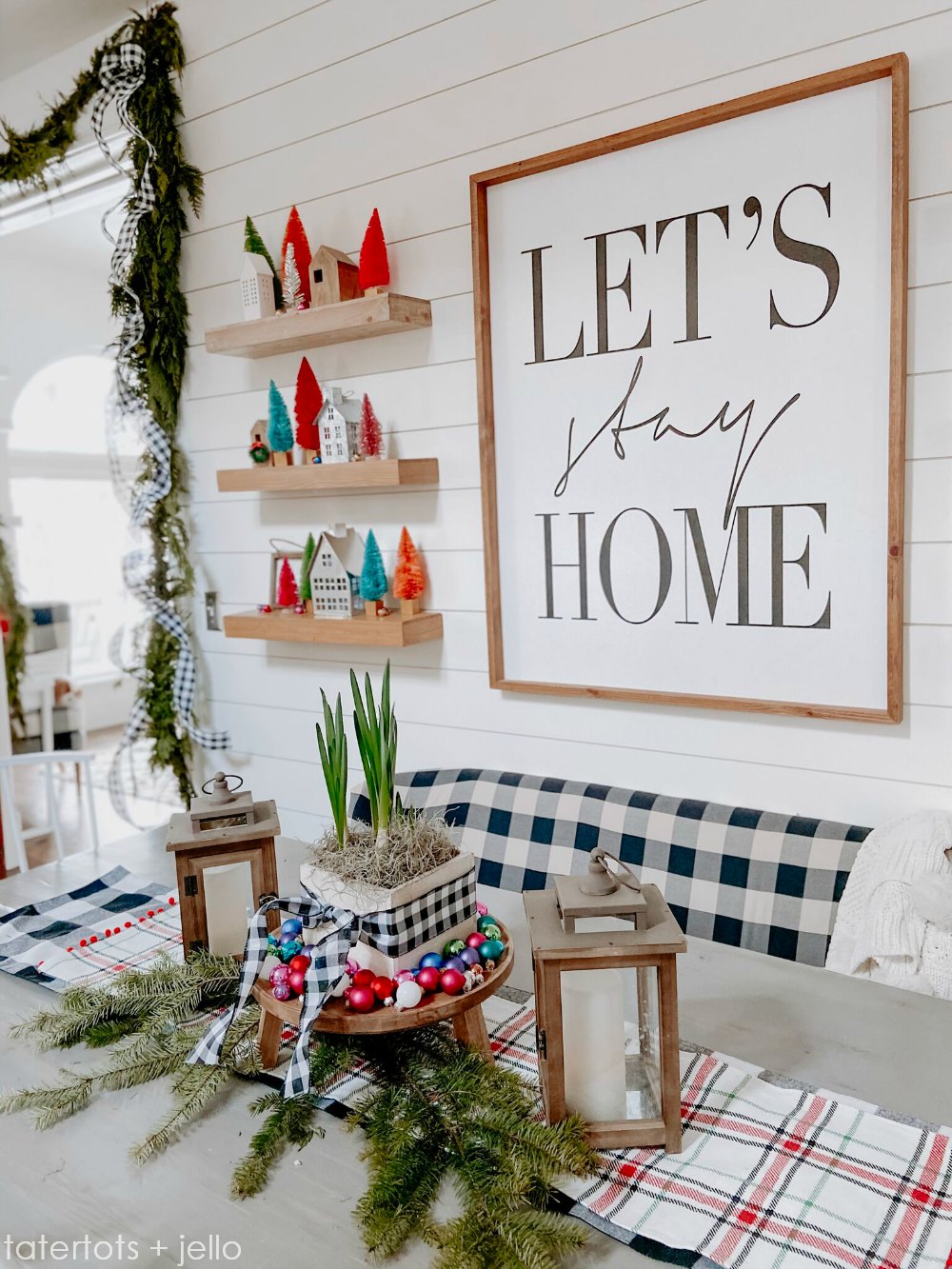 Holiday Housewalk Tatertots and Jello
I also love real pine garlands and I swagged garlands around the big pocket door opening. I adore the greens with the black and white.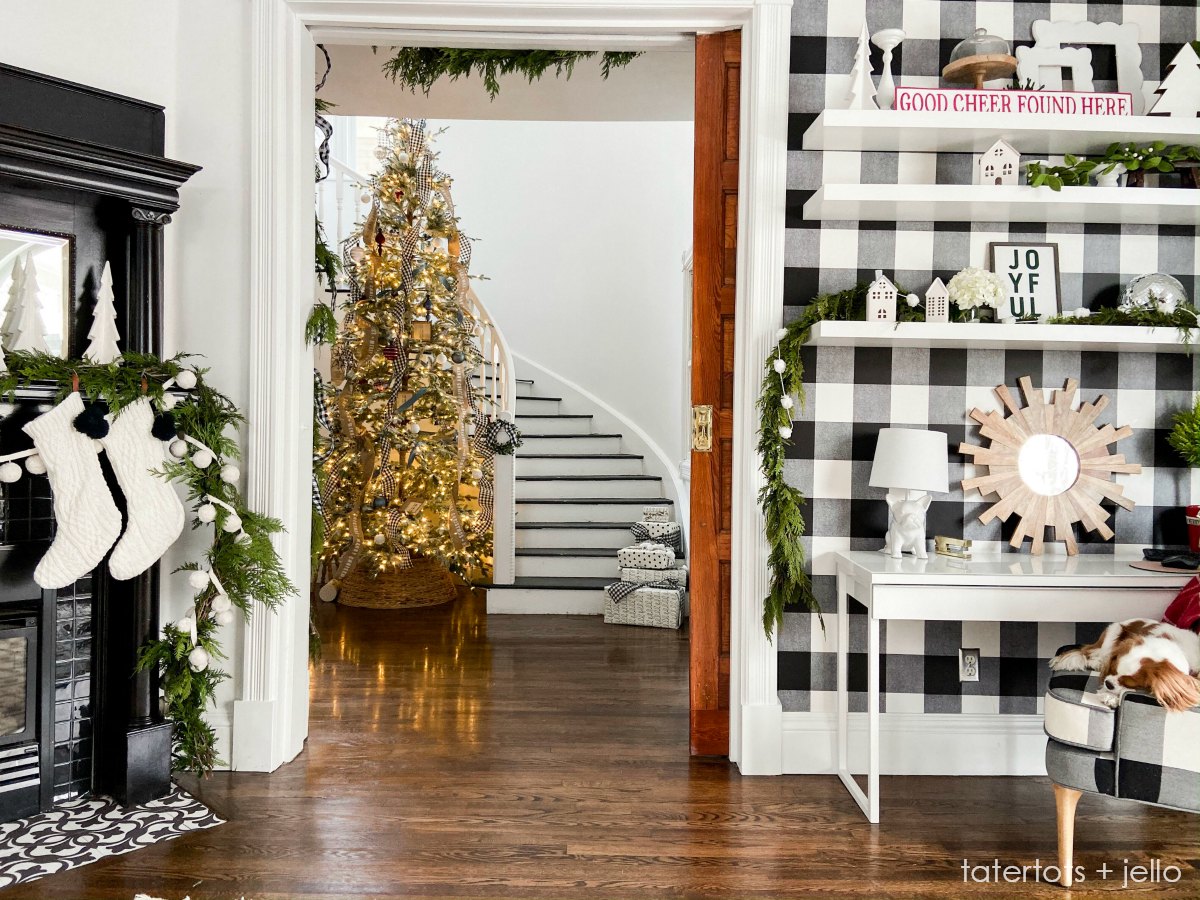 Holiday Wrapping Nook
We have a sweeping curved staircase that leads down to the dining area and it was perfect for a big tree. I love how it fits right into the curved shape of the stairs. And under the staircase is a little nook where I put a bench and our wrapping station. Sign by my friend@JoobileeDesigns. After the holidays I think I am going to hang a double wicker swing in that nook!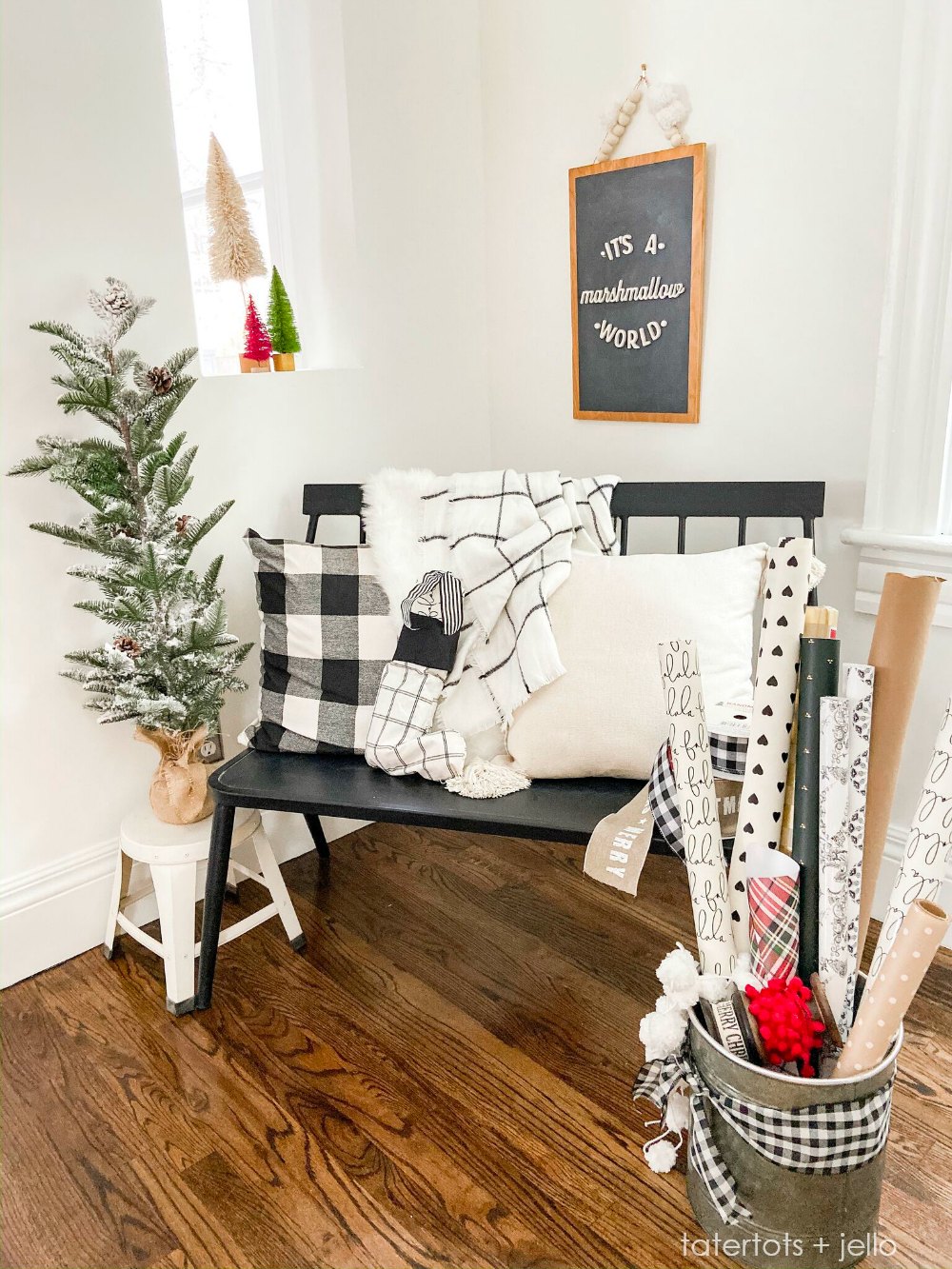 We plan to take out all of the upper cabinets and put subway tile all the way to the ceiling after the holidays. I added a little festivity to our stove for the holidays.
Holiday Baking Station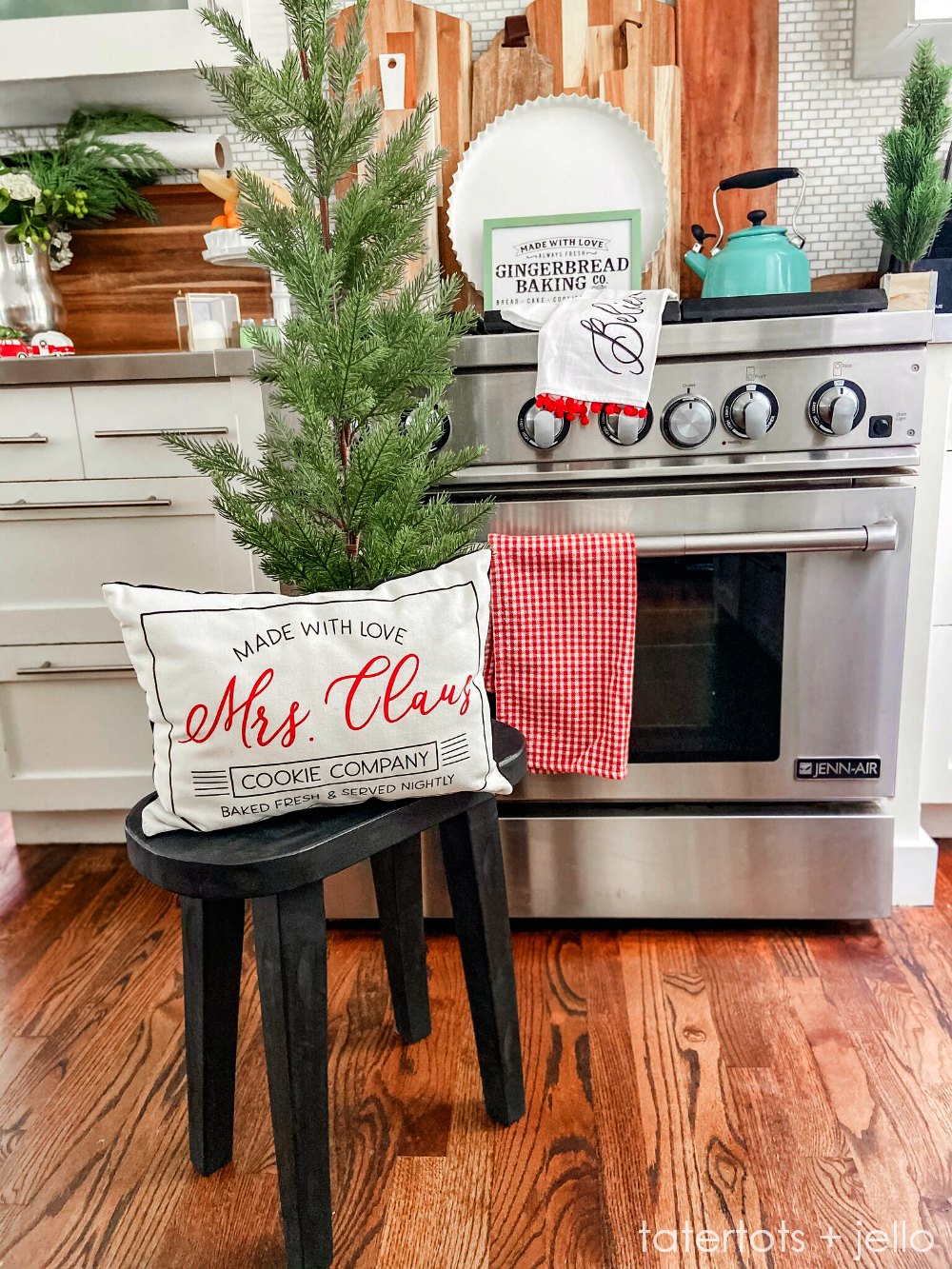 And past the kitchen is a hallway where we access our cars. We don't have a garage yet, but we will be building one in the spring. So for now we have a little back mudroom area where I hung a pharmacy mirror and put a bench with show storage. I added some fresh greens, a little sign, some festive Christmas pillows and a wreath to that spot.
Entryway Holiday Updates
I hope you enjoyed our holiday home and that you might want to follow along as we remodel the #1891AvenuesCottage and share all of our adventures! Be sure to hop over to Destiny's gorgeous home at Just Destiny. I've known Destiny for years and she is just amazing!!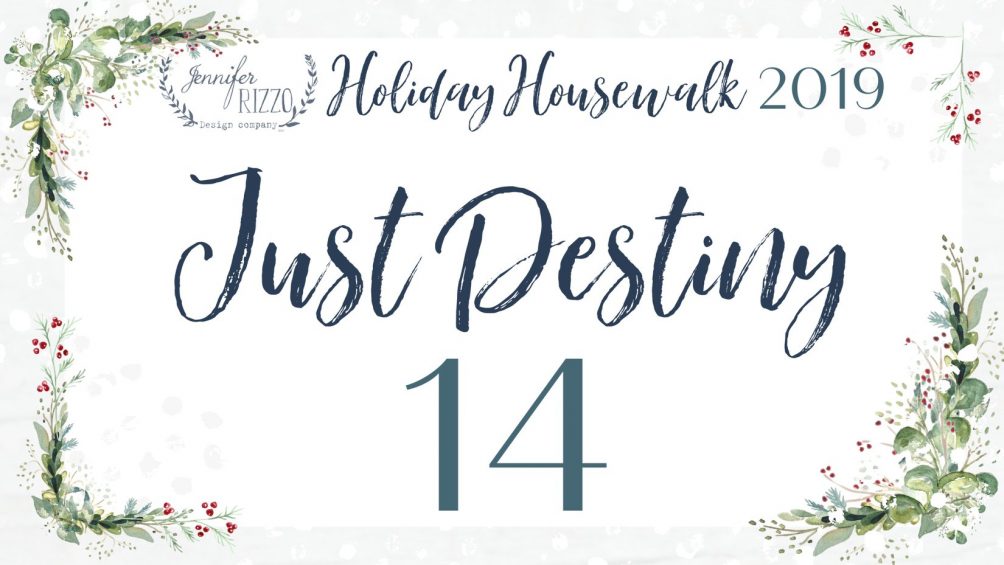 Be sure to hop over to my friend Destiny's site at Just Destiny to see her AMAZING holiday home!
Pin These Ideas for Later!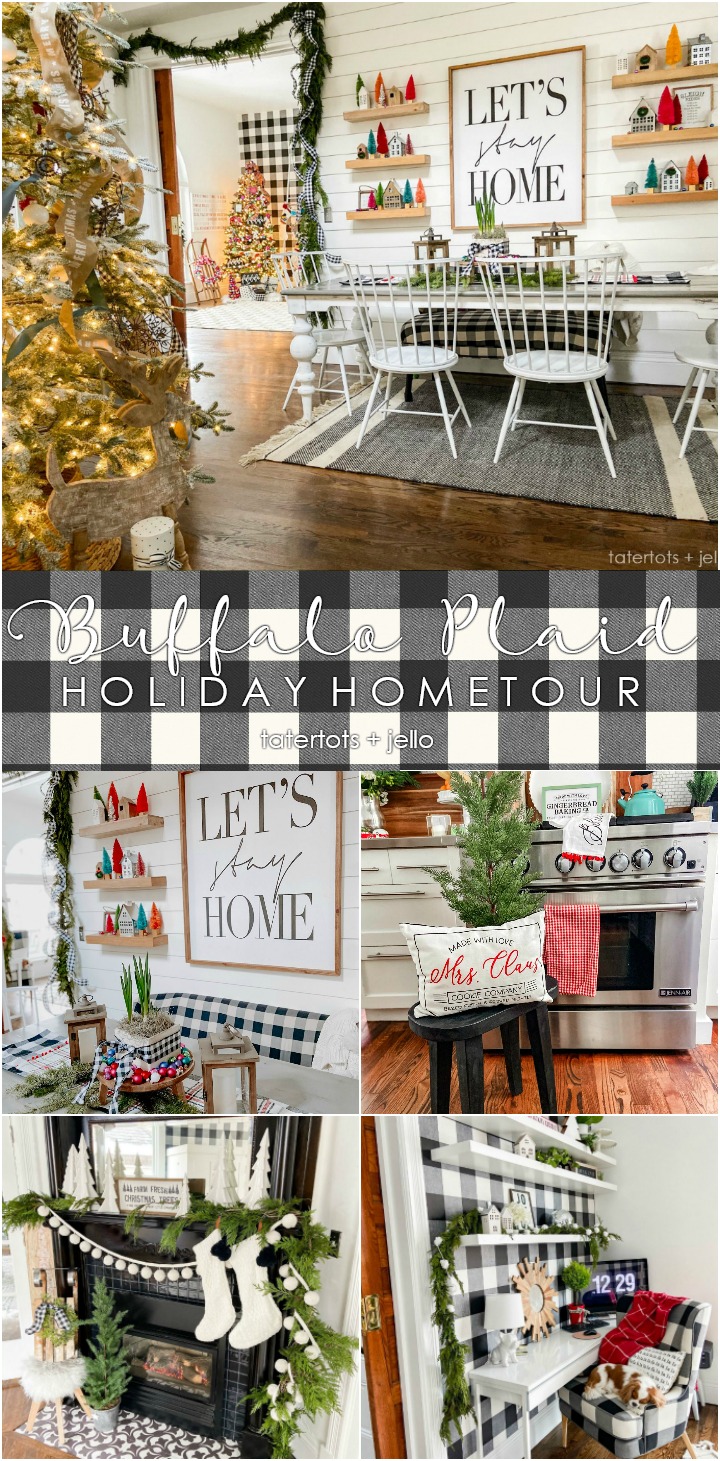 Have a Creative Day!
xoxo