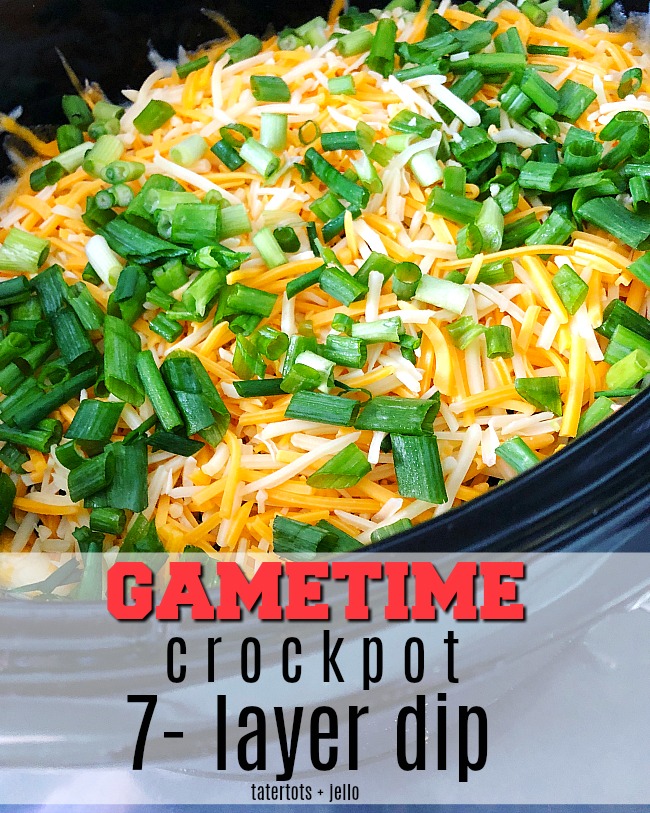 Game Day Recipe – Warm Crock-pot 7-Layer Dip!
What's YOUR favorite recipe? Mine might be 7-layer dip! It is just SO good! I've made it a lot over the years. But I love it even more when it's warm! The cheese is gooey, everything blends together into a heavenly taste sensation of gooey cheese, spicy salsa, beans and jalapenos! I've made it in the oven and it's delicious, but the problem is that if you are having a party, everyone has to eat the dip right when it comes out or it's not as good! Game Day Recipe – Warm Crock-pot 7-Layer Dip!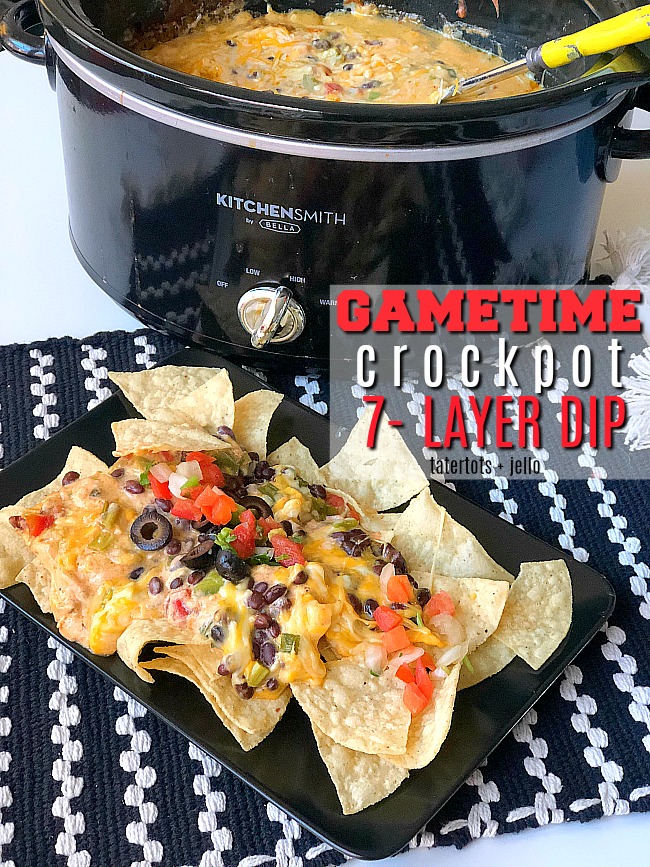 So for New Years Eve I experimented and came up with a fabulous solution – make the 7-layer dip in your crock pot. All of the tasty layers of tomatoes, peppers, enchilada sauce, spicy sour cream, black beans, cheese and green onions blend together to make the MOST wonderful dip! Top crisp tortilla chips with the dip and garnish with fresh pico, black olives and green onions!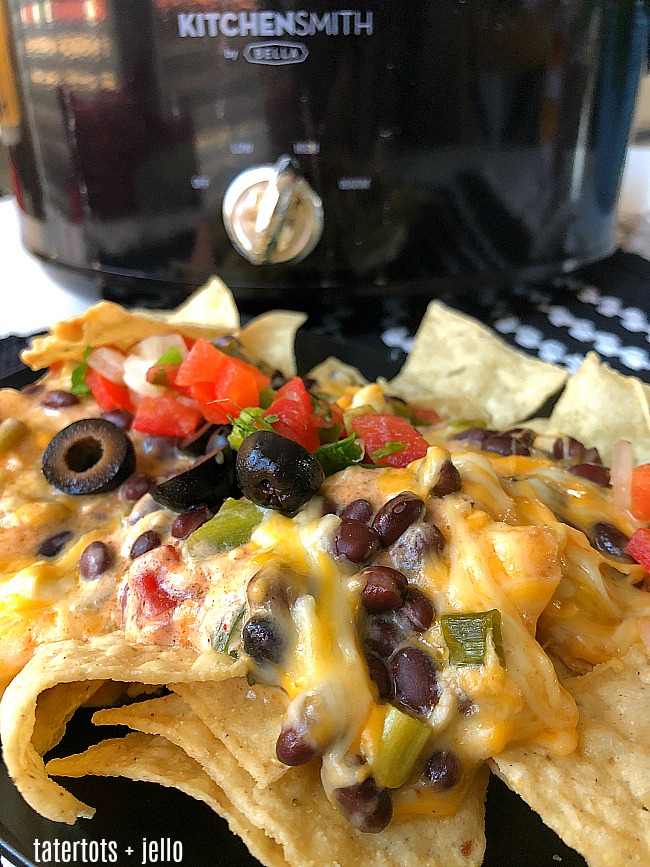 Once it's bubbling away and ready to eat, just turn your dial to "warm" and you can enjoy hot, delicious 7-layer dip all night. And with the big game approaching, I thought this recipe is PERFECT to make for your game day parties!!
Game Day Recipe – Warm Crock-pot 7-Layer Dip!

Here's OUR favorite gameday DIP!
Game Day Recipe – Warm Crockpot 7-Layer Dip!
Recipe Type: Appetizer
Cuisine: Game Day
Author:
Prep time:
Cook time:
Total time:
Serves: 12-15
Game Day Warm Crock-pot 7-layer dip – all of the delicious layers blend together in your Crock-pot to create the PERFECT hot dip to serve!
Ingredients
1 10-ounce can Rotel tomato and green chilies
10 ounces of enchilada sauce (red or green. I used green in this recipe)
8 ounces of sour cream
1 1.25 ounce packet of taco seasoning
4 large jalapeno peppers, diced, without seeds
1 10 ounce can black beans, drained
2 cups Monterrey jack cheese + 1/2 cup
2 cups mozzarella cheese
4 green onions, diced
toppings – 1/2 cup Monterrey Jack cheese, pico de gallo, 1 stalk green onions chopped, 1 6 ounce can black olives
Instructions
Layer everything in your crockpot.
Rotel tomatoes
Enchilada sauce
Mozzarella cheese
Sour cream and taco seasoning (mixed first)
Black beans
Monterrey jack cheese
Green Onions
Cook on high for 3 hours, or low for 4-5 hours, until bubbling.
Once bubbling, turn down to Warm Setting. Sprinkle with remaining cheese and serve.
Serve on chips. Top with pico, green onions and olives.
I hope you enjoy it!
Here are a few other appetizers we love to make for Game Day: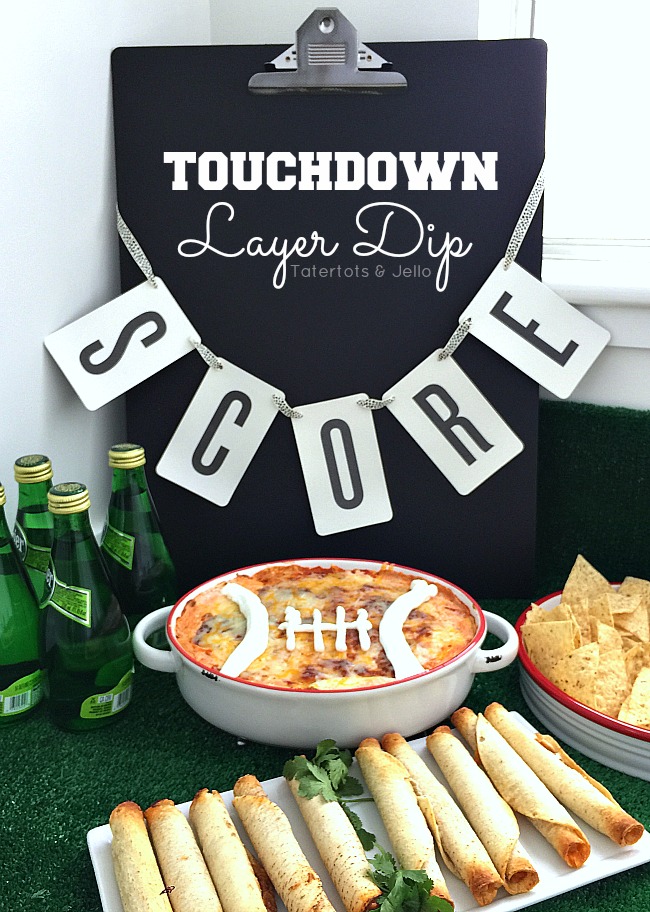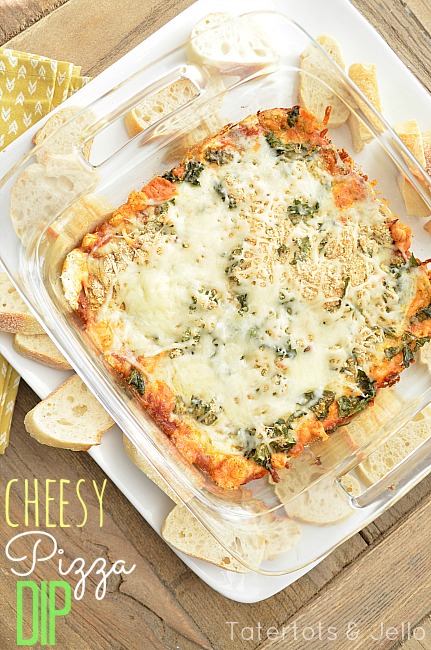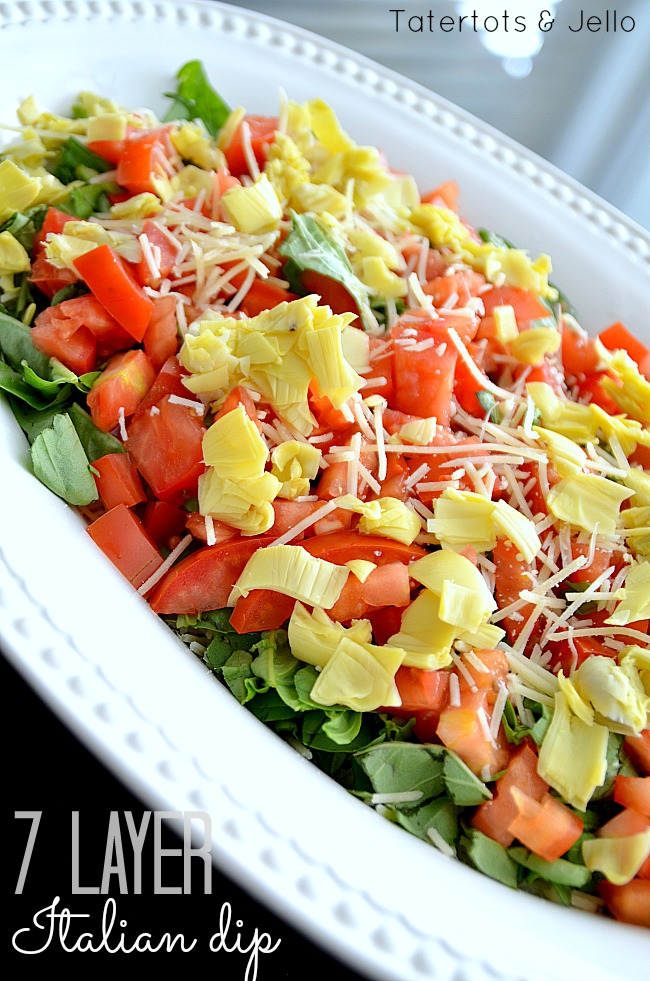 What's YOUR favorite recipe to make for game day?
Share it with us in the comments!
xoxo