Easy Black and White Fall Mantel! Create a striking black and white mantel with pumpkins, DIY paper medallions and paper banner!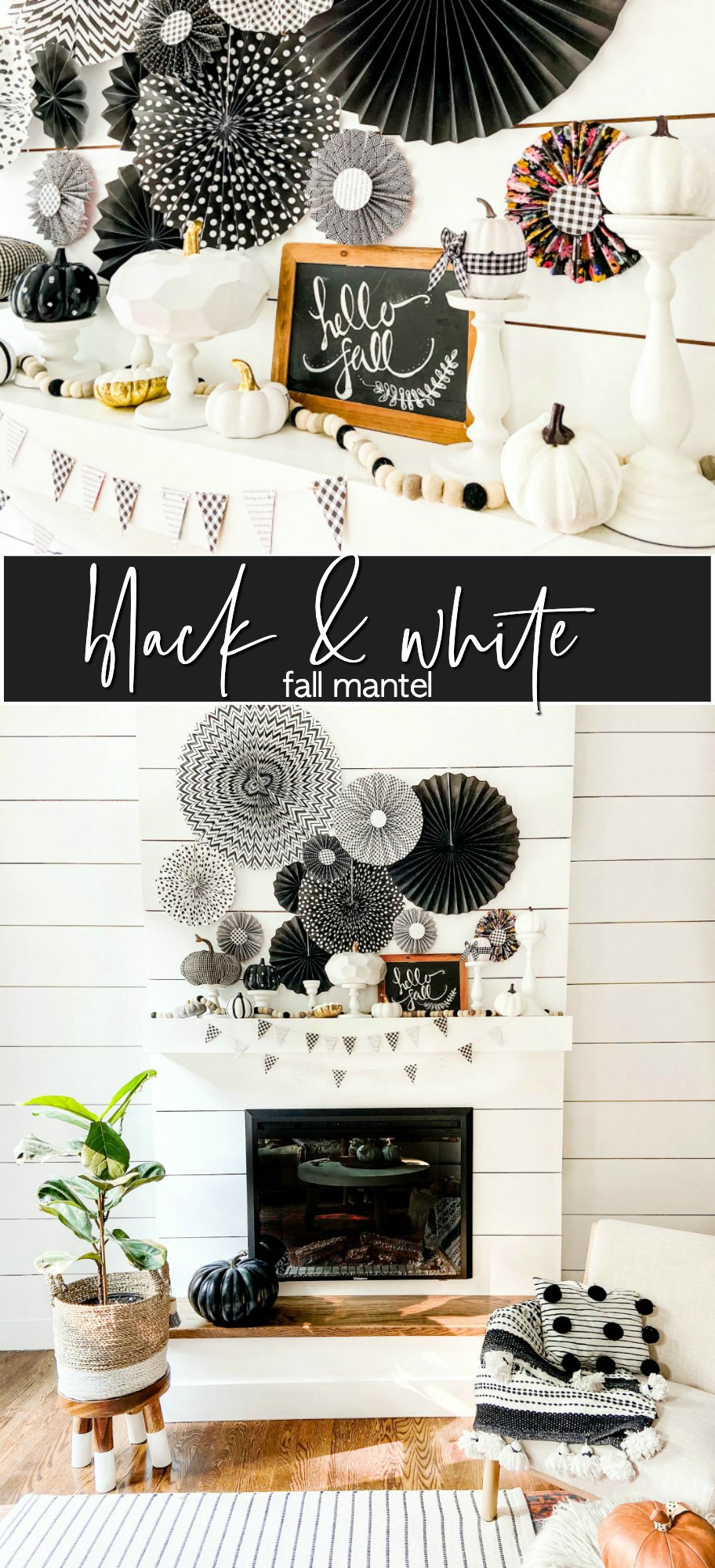 Easy Black and White Fall Mantel with Paper Medallions and Banner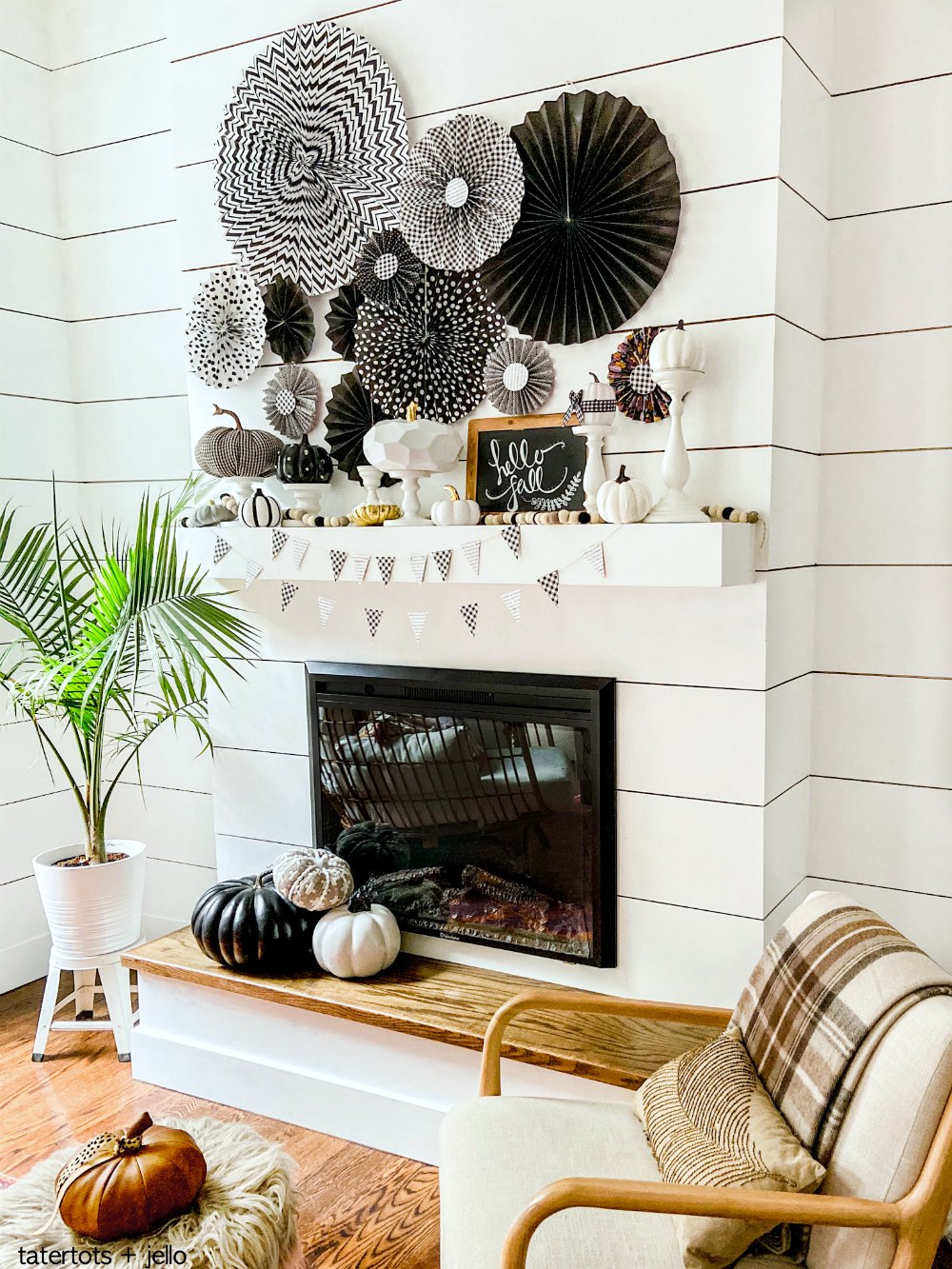 I love decorating our mantel – especially for Fall! There's something refreshing about fall decor after a warm summer. I look forward to cooler weather, boots and cardigans, pumpkin spice lattes and pumpkins!
Use What You Have to Create Easy Fall Decor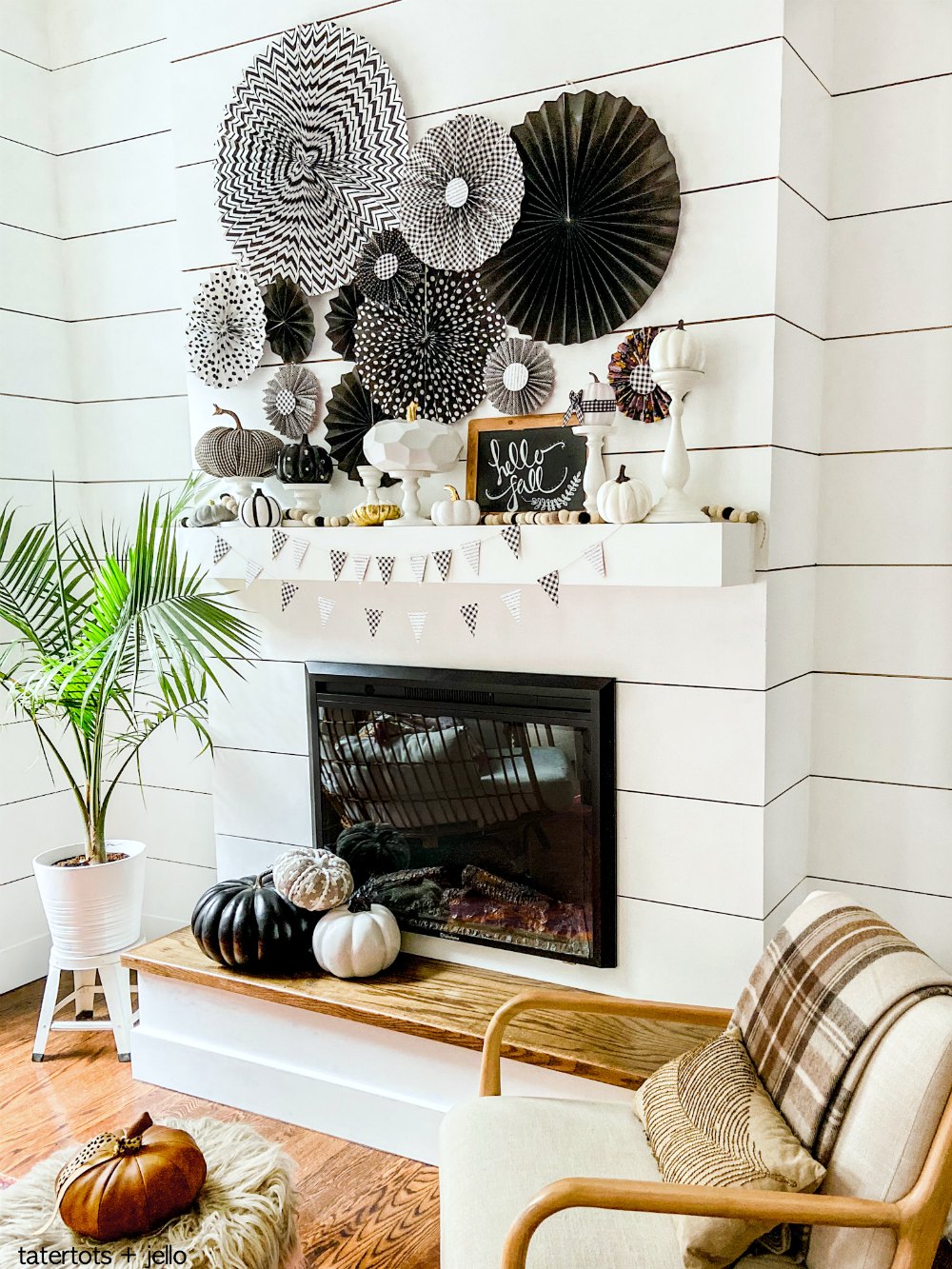 The beauty of this black and white mantel idea is you can use what you have! Get your pumpkins out and supplement your fall decor with some easy paper projects!
How to I Recreate This Look if I Don't Have a Mantel?
You definitely don't have to have a mantel to use these ideas in your home! You can decorate a shelf or even your porch with these ideas!
Use Paper to Create Fall Decor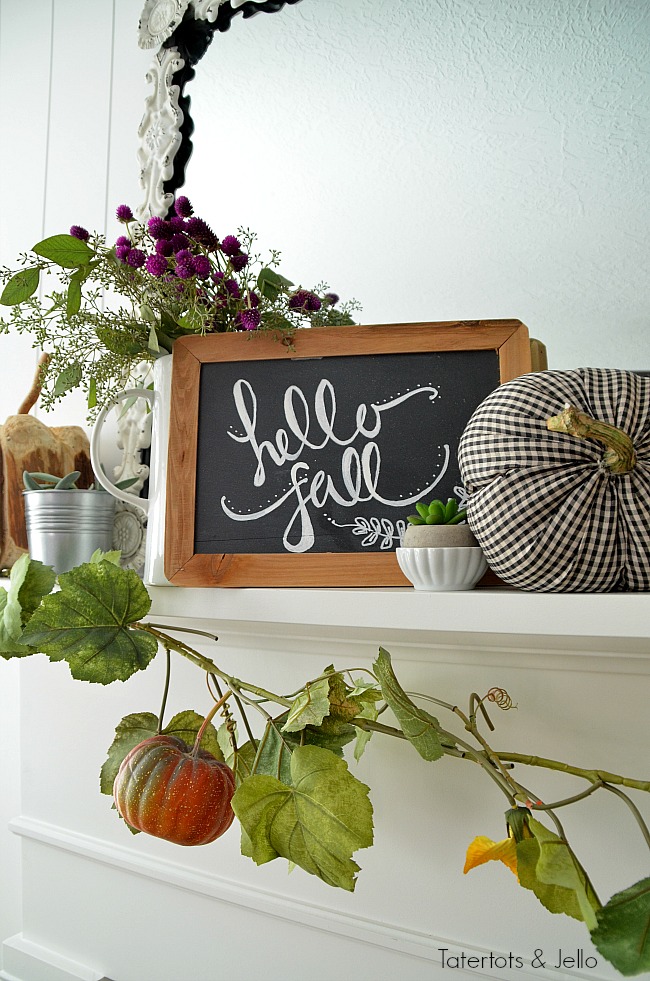 I made paper medallions using paper from my new Hey! Hello! line which is at JoAnn Stores right now! I have a complete tutorial on how to make Paper Medallions. I also made an easy paper banner too! I used my Banner Punch Board to make the pennant shapes and I love that it has a hole punch inside too which makes creating paper banners so easy!
How to Create an Easy Black and White Fall Mantel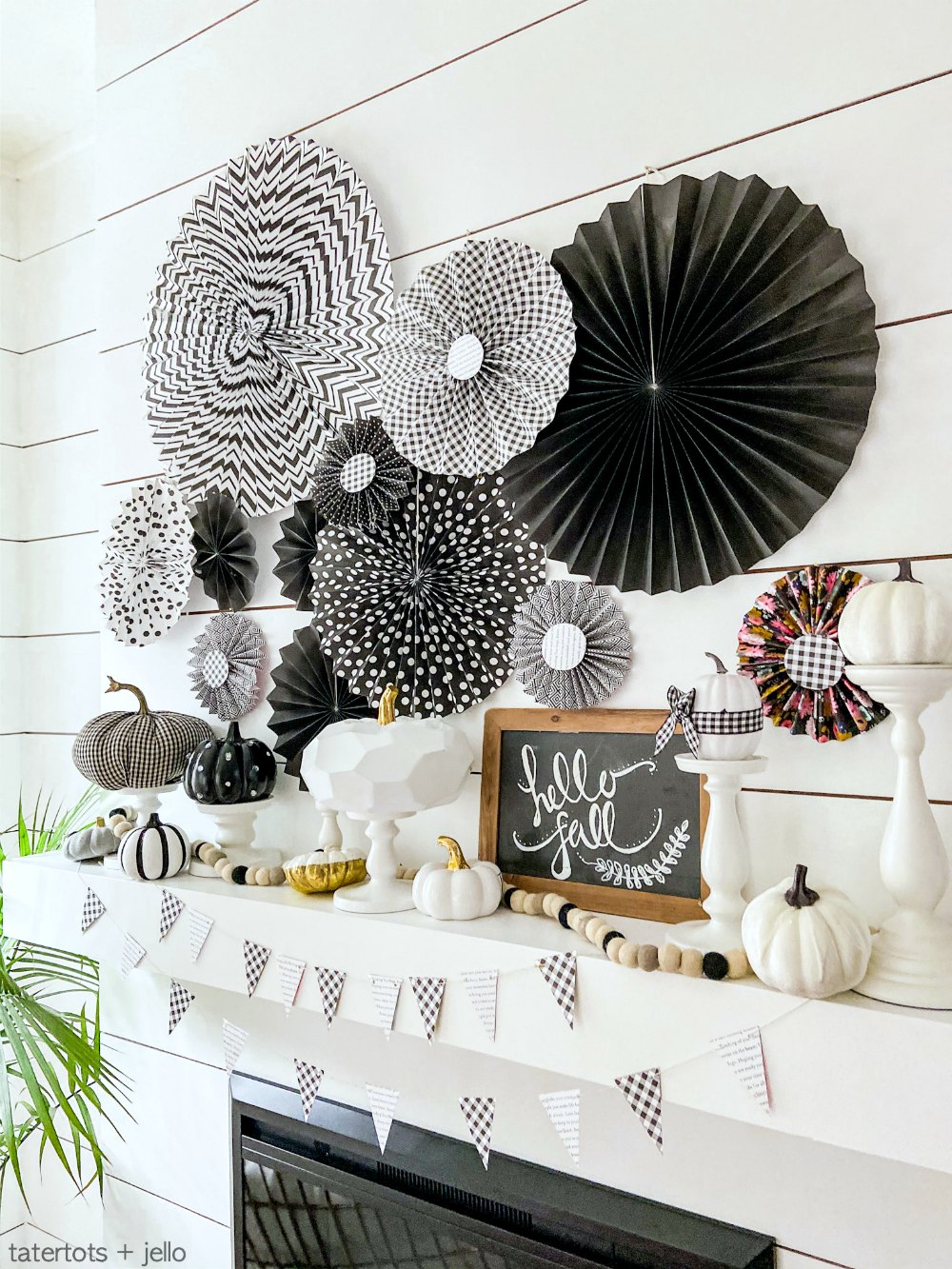 I created an Instagram reel with all of the steps to create this mantel. Be sure to check it out for a quick 15 second video!
Start at the Top and Work Your Way Down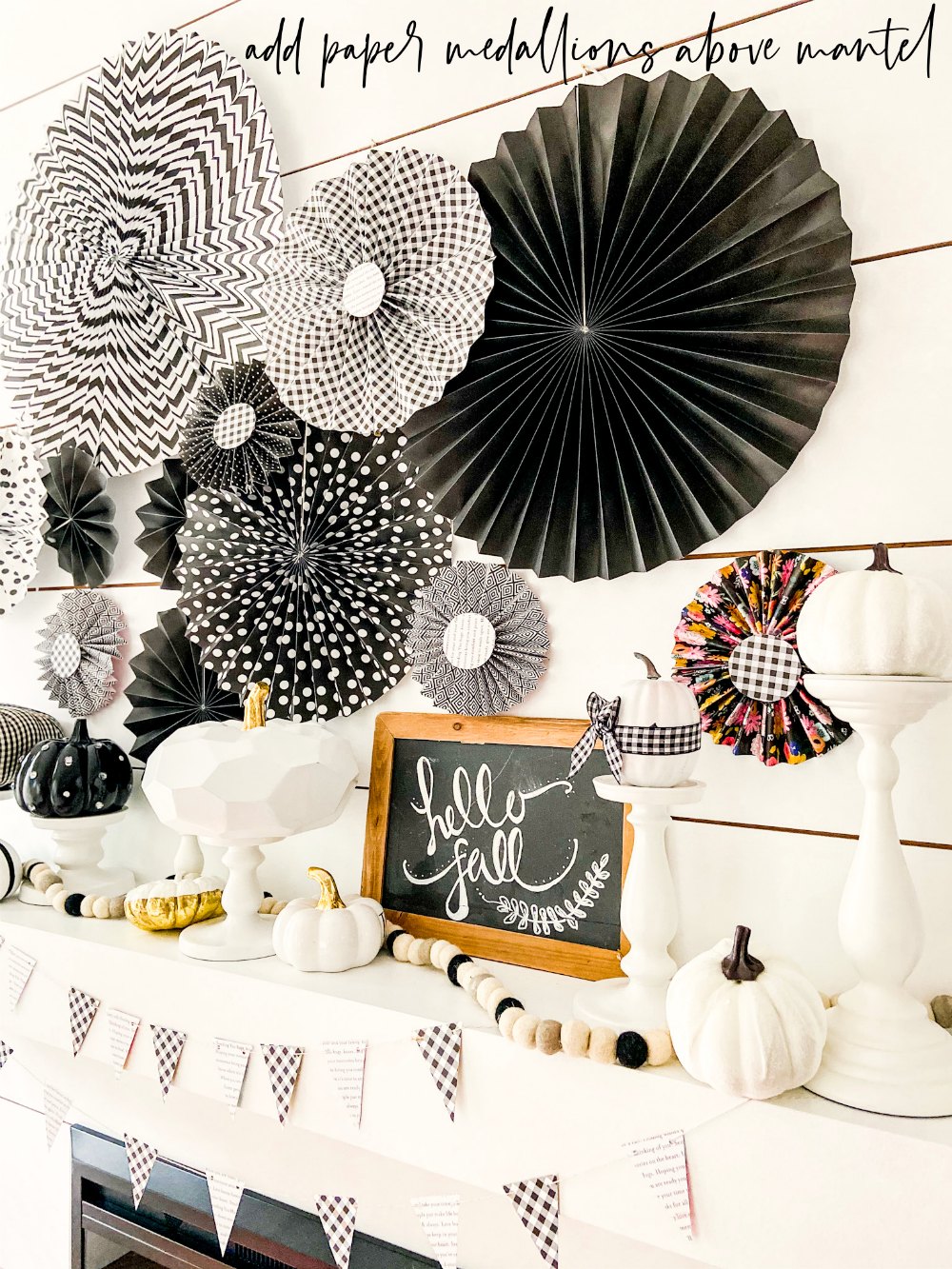 I started at the top by hanging my paper medallions over the mantel shelf. To hang the medallions I put nails in between the slats of our shiplap planks. If you don't want to use nails, you can use command strips.
Add a Focal Point to Your Fall Mantel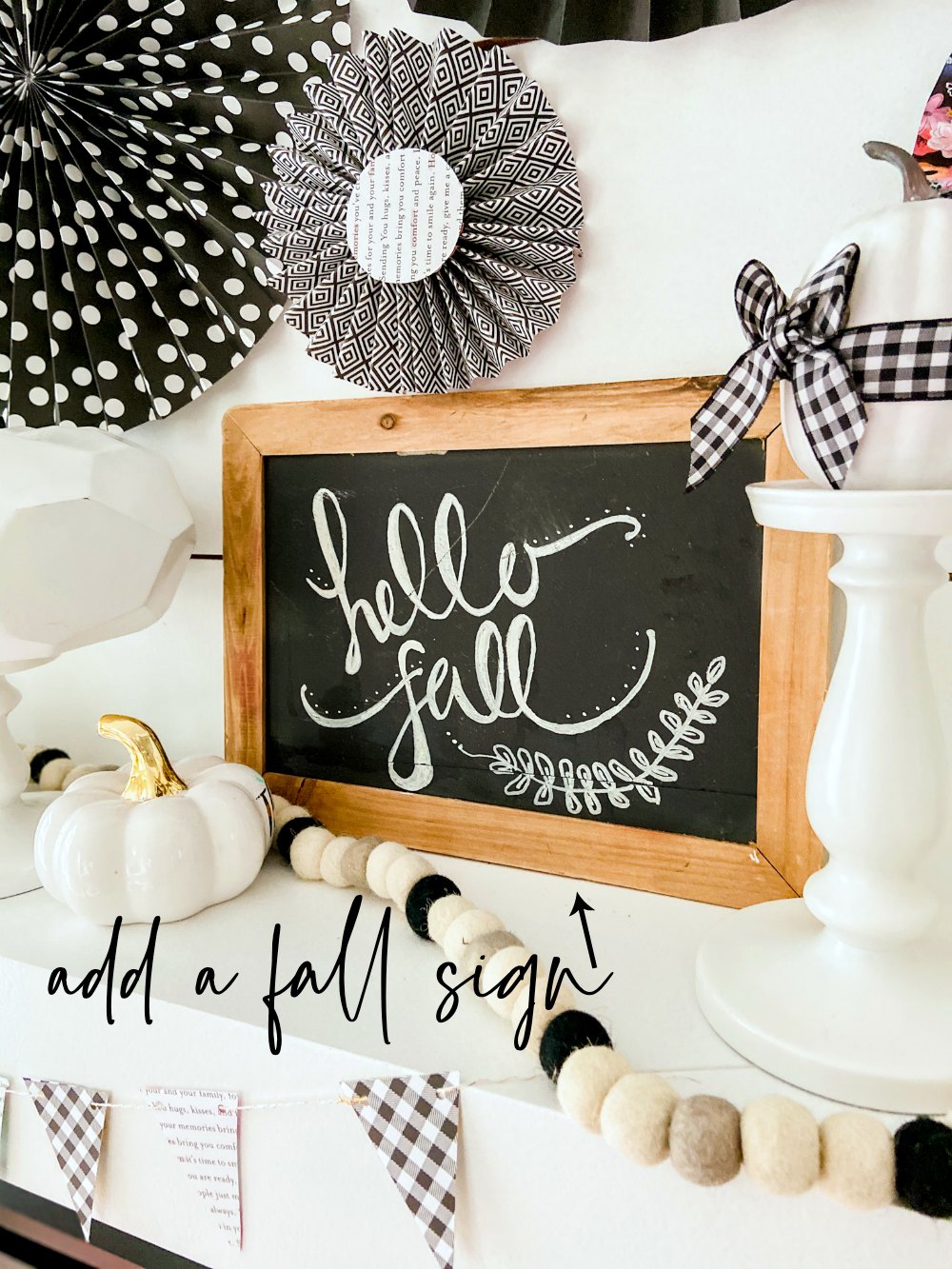 I think that having a main focal point is important. I usually use a sign or mirror for the main focal point. For this mantel I used a framed chalkboard that my daughter created that says "Welcome Fall".
Display Items at Different Heights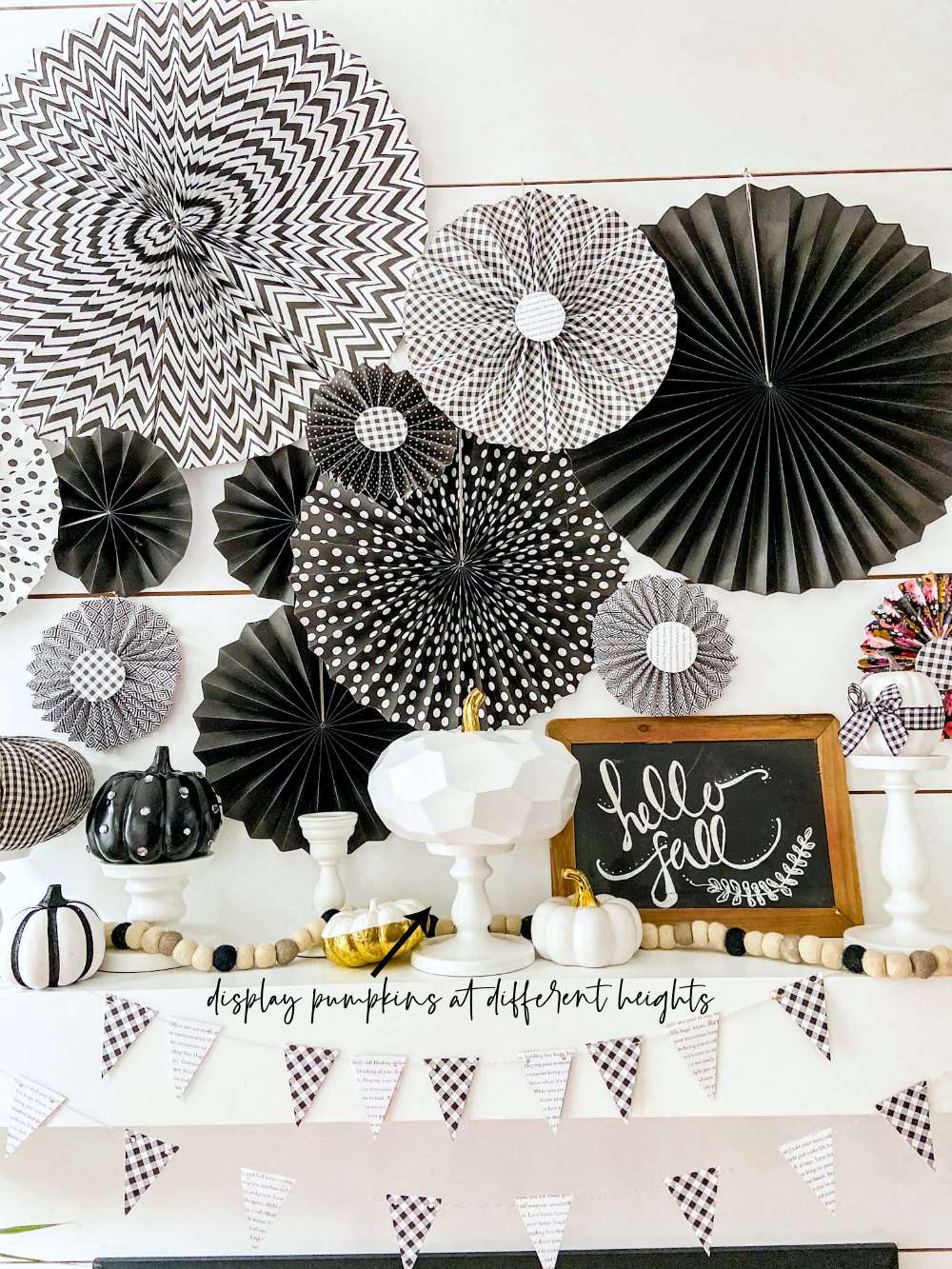 To add visual interest to your shelf or mantel, display things at different heights. I used white candlesticks across the mantel to display my different pumpkins. I use these white candlesticks all year round. They are one of my favorite things!
Fill Your Mantel In with Greenery or a Garland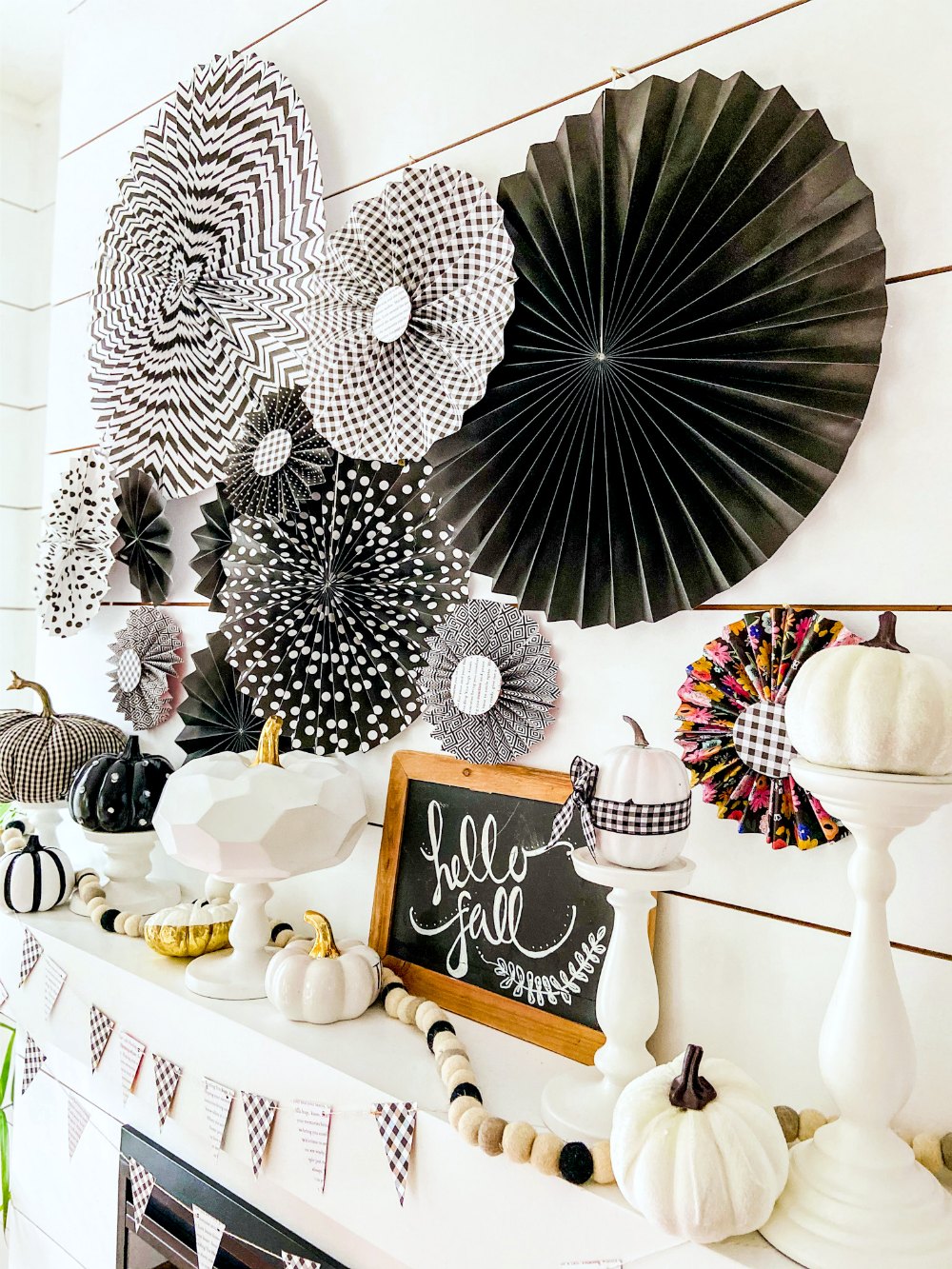 I added a black and white felted ball garland across the mantel to connect all of the candlesticks. You can also use a leaf garland or stems.
Hang a Paper Banner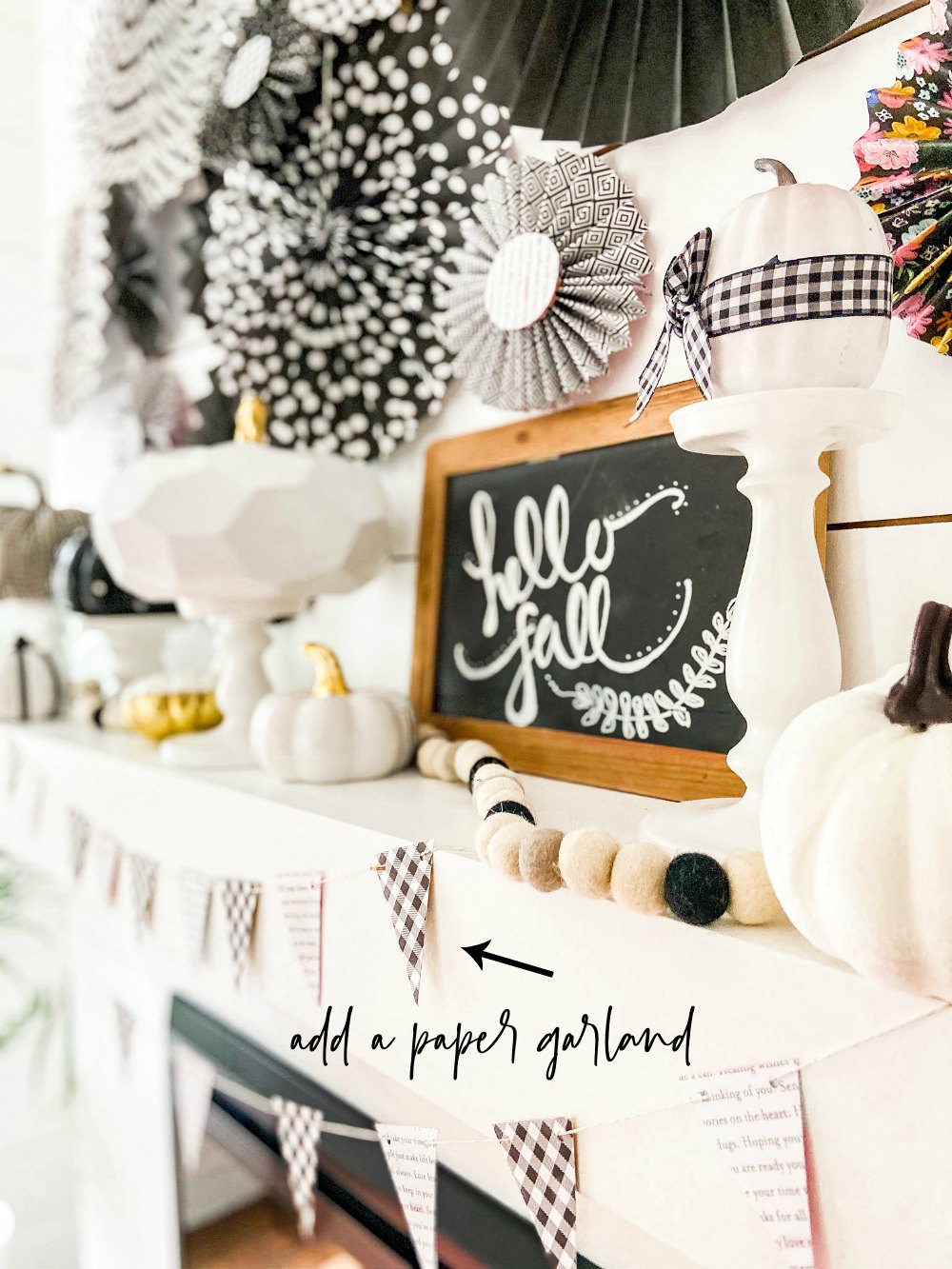 I created an easy banner with my paper and the Banner Punch Board. I made the garland long enough that I could cut it in half so there are two banners. To secure the banner I put one end of the twine under a candlestick on both ends of the mantel.
Add Festive Items to the Bottom of the Fireplace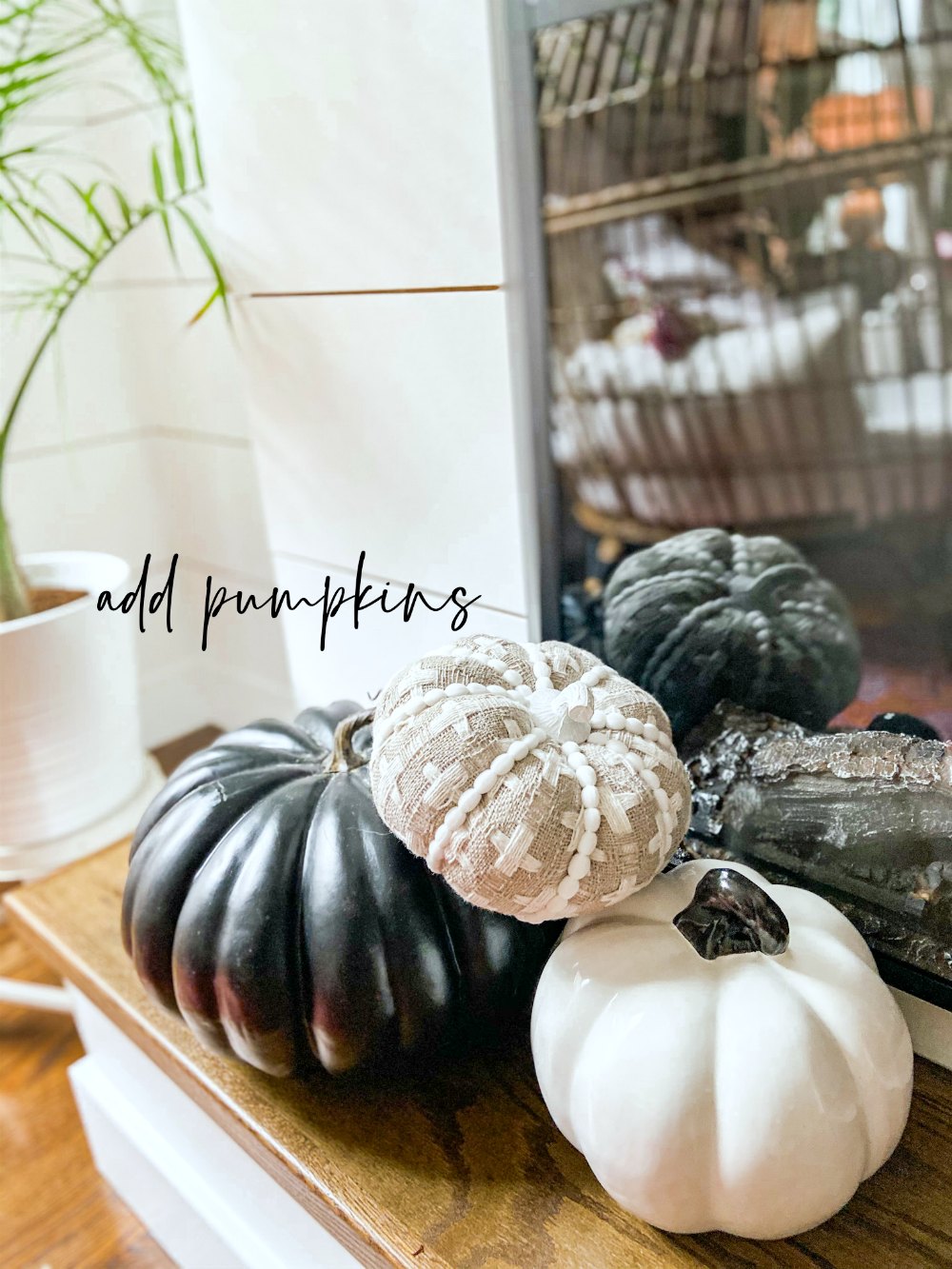 To tie everything together I added some pumpkins to the hearth at the bottom of the fireplace. I also added a black and white throw blanket and pumpkin to the chair next to the fireplace. I love the way it looks!
Why I Love Using Paper Medallions on My Mantel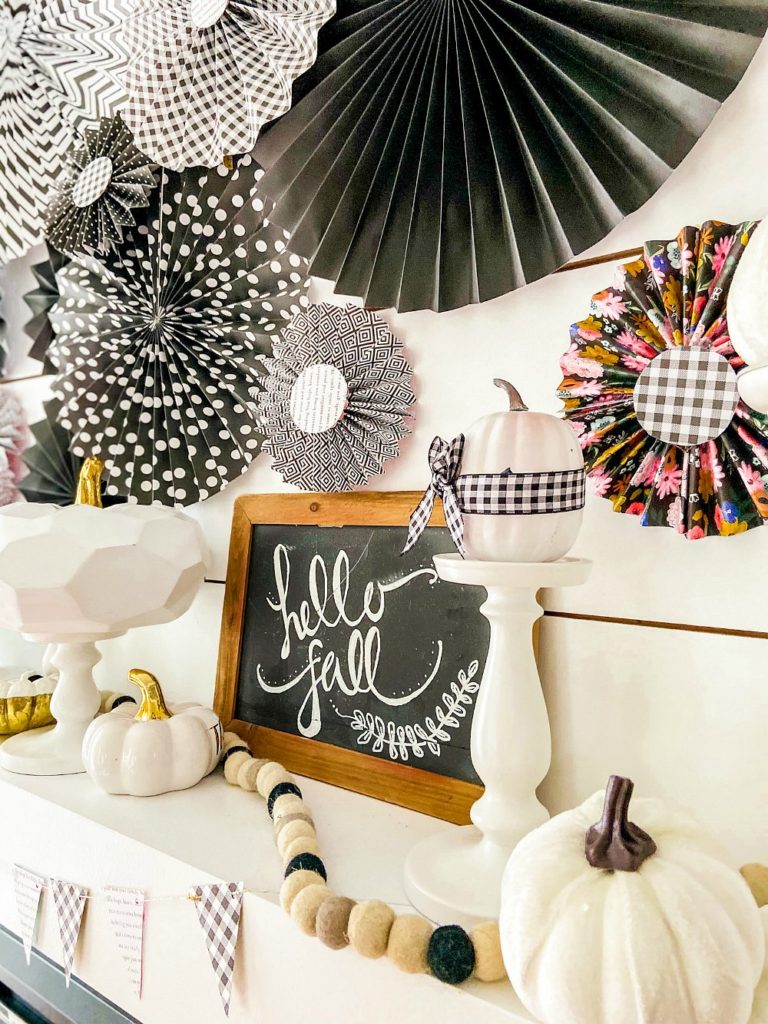 I use paper medallions all the time for different occasions and holidays. You can make the paper medallions any color to match your decor. Paper medallions are inexpensive to make. Plus paper medallions take up a lot of space so they really make a statement on a budget!
More Fall Mantel Ideas
Here are a few other fall mantels I have created in the past!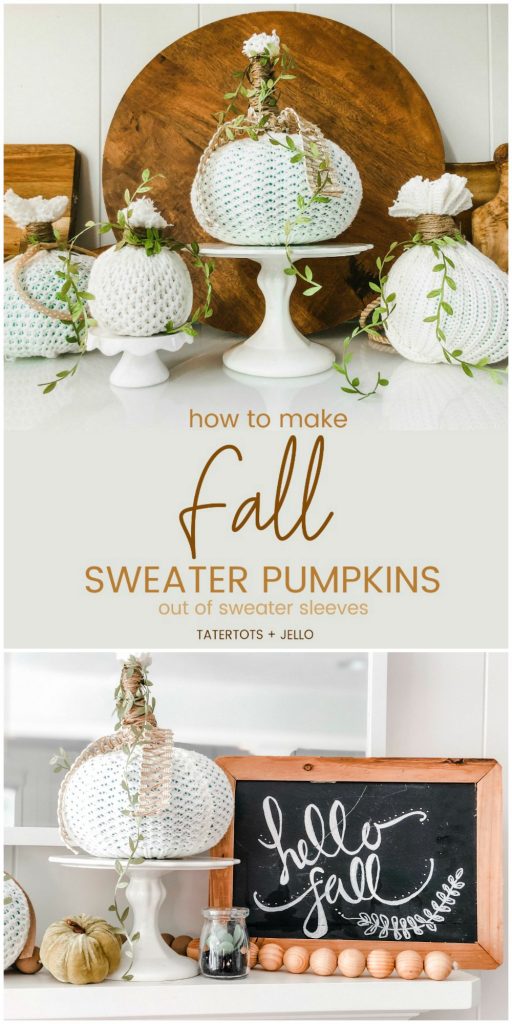 I turned old sweaters into adorable sweater pumpkins. So easy!
One of my favorite mantels! I painted dollar store pumpkins bright colors and it turned out so cute!
Pin Black and White Fall Mantel for Later!
Pin this idea so you can make it for your home!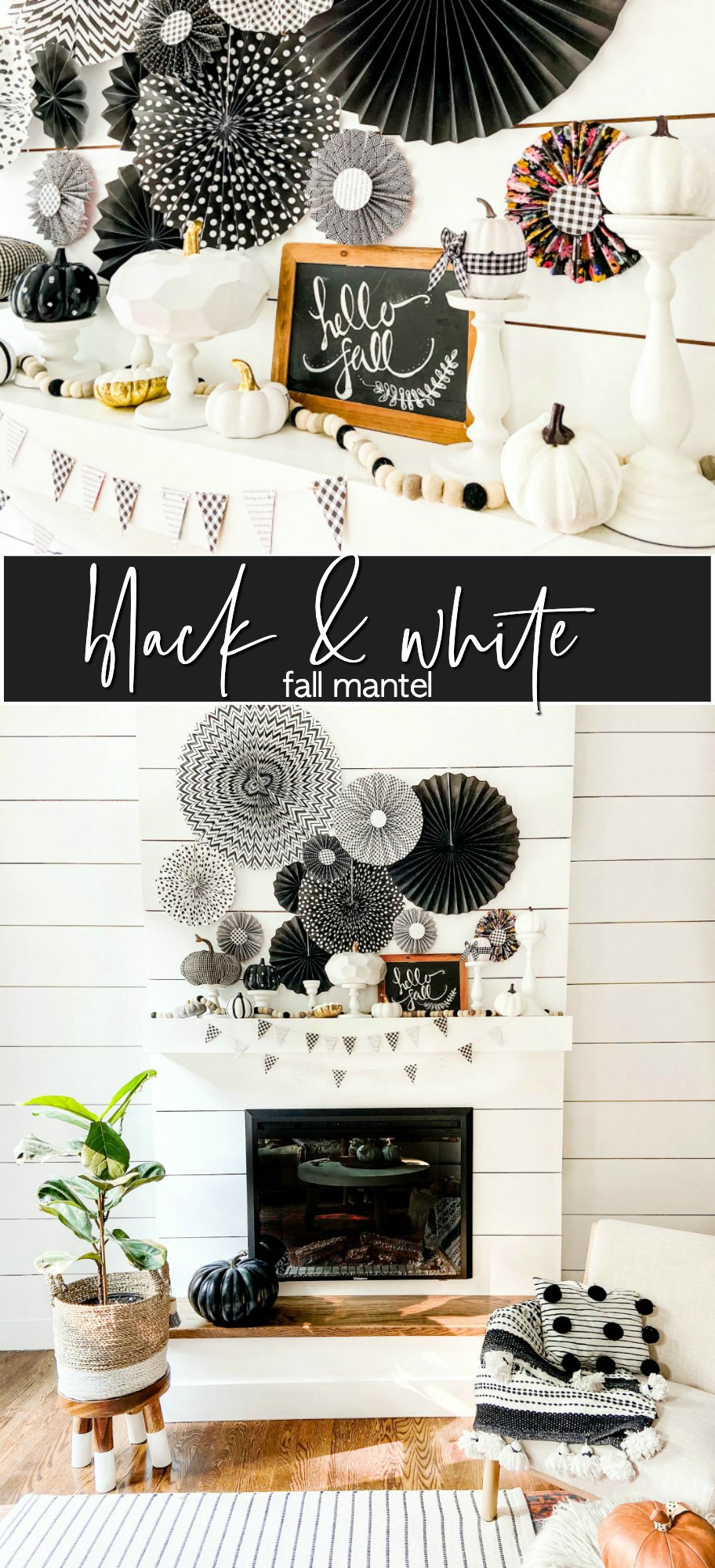 Connect on Instagram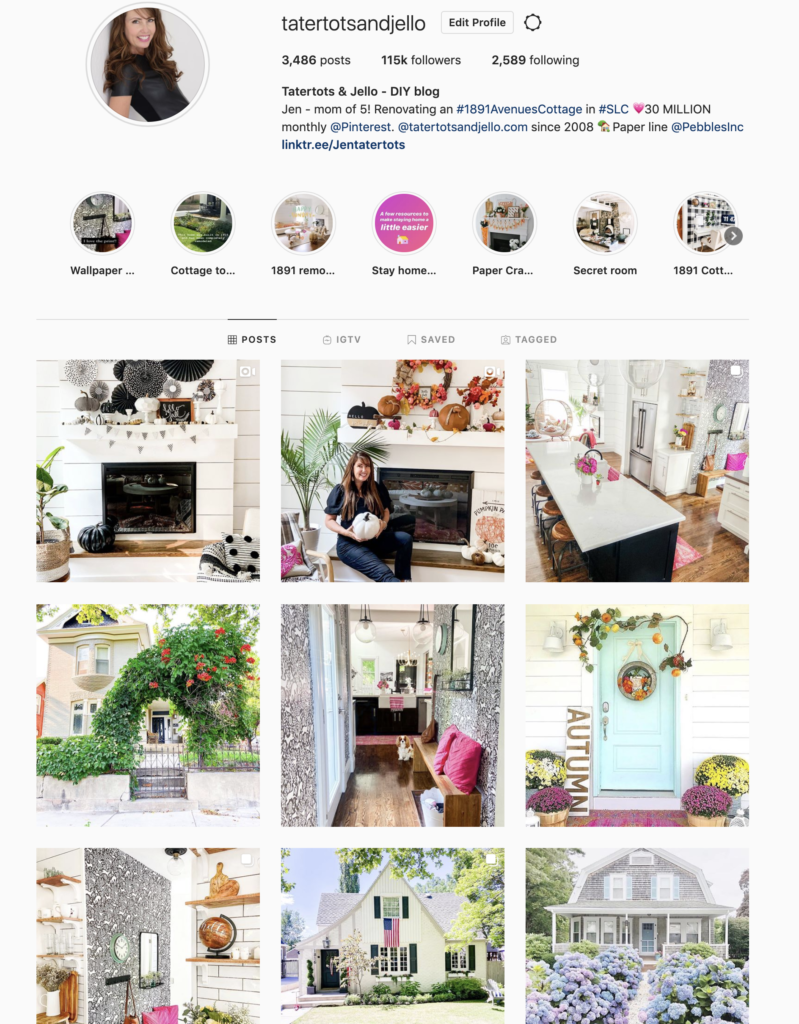 Are you on Instagram? I love sharing real life moments on Instagram! I am sharing all kinds of fall decorating and mantel ideas on my @tatertotsandjello Instagram page. Come say hi! And tag me with YOUR ideas – I would love to see them!!
Have a Creative Day!
xoxo