Post it Chore Chart for any age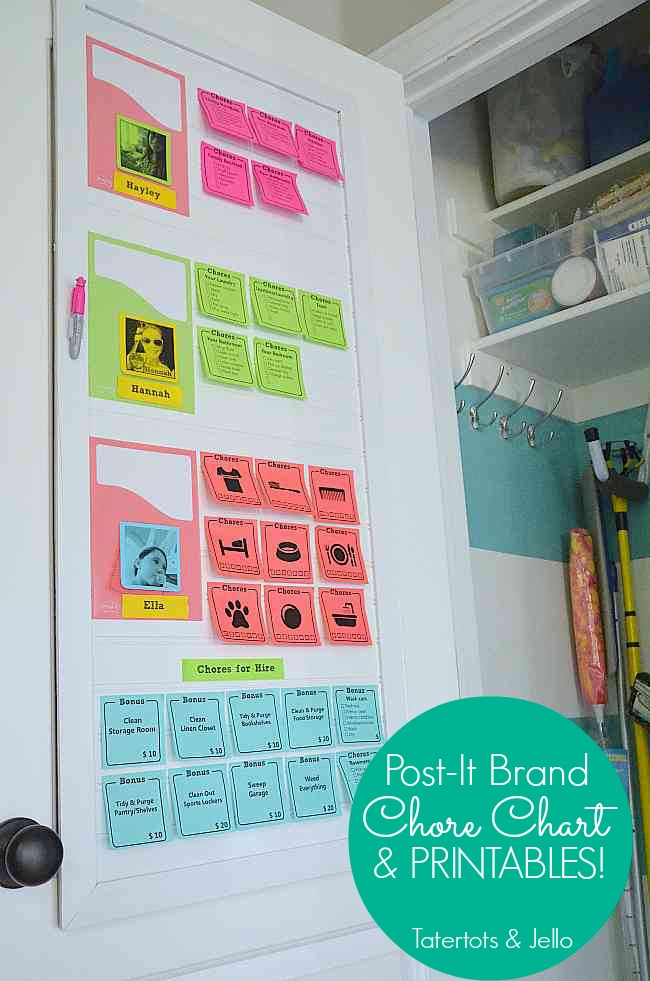 When the Post-it Brand contacted me to make a DIY project using their products, I immediately thought of a chore chart. It's a project that I've been meaning to make and something that we really need around here.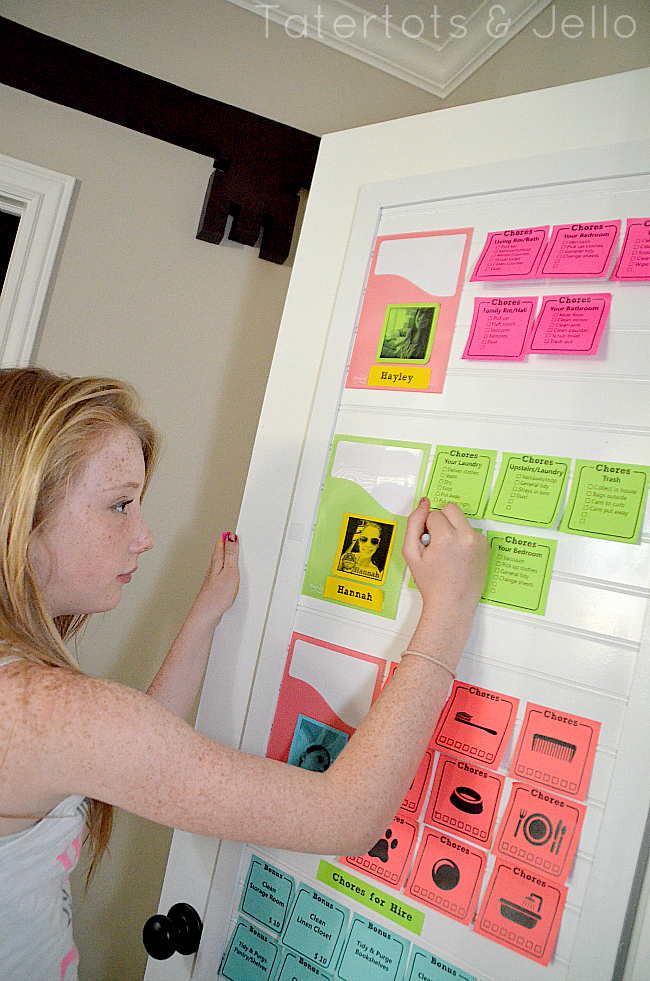 With kids ranging from elementary school through high school, I needed something that could accommodate all ages of kids and work for our family.
And I love the new array of Post-it Brand products. There are new colors, Post-it Super Sticky Notes and even Post-it Pockets and Post-it Full Adhesive Rolls. So fun!! For this project I used the Post-it Pockets, New Post-it Note Colors, Post-it Super-Sticky Full Adhesive Notes and Post-it Full Adhesive Rolls.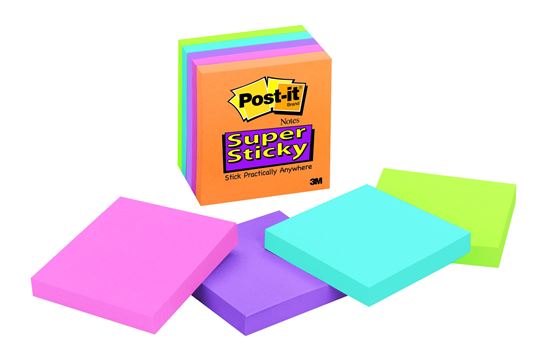 Here's how I made the chore chart: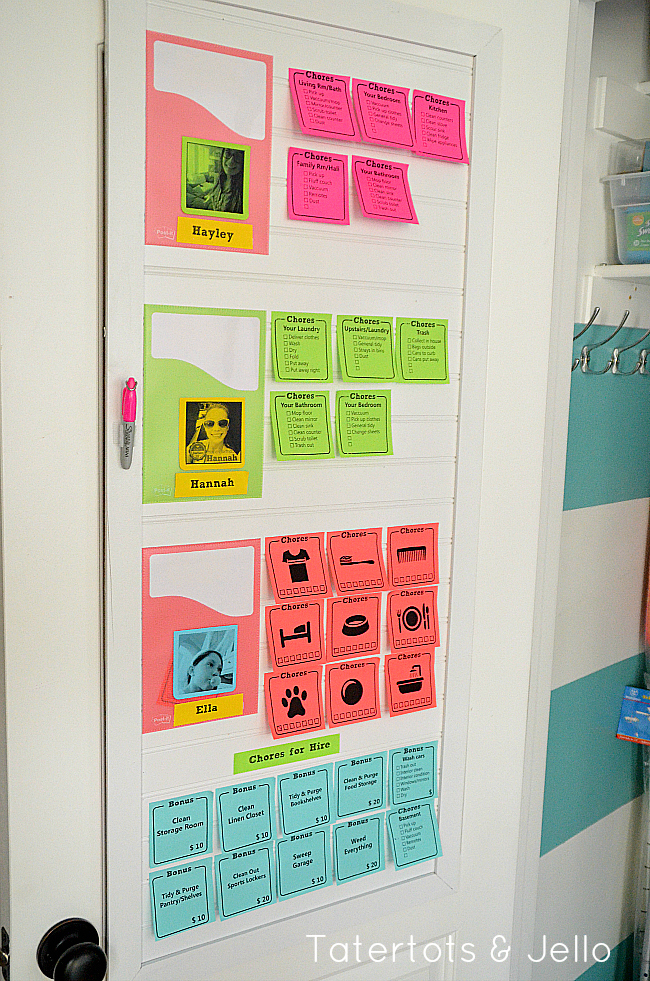 So here's the Post-it Note Chore Chart that I created with FREE printable templates and chore sheets!
I put it inside the door to our cleaning closet. It's a central location on our main floor and close to the cleaning supplies the kids will need to do their chores.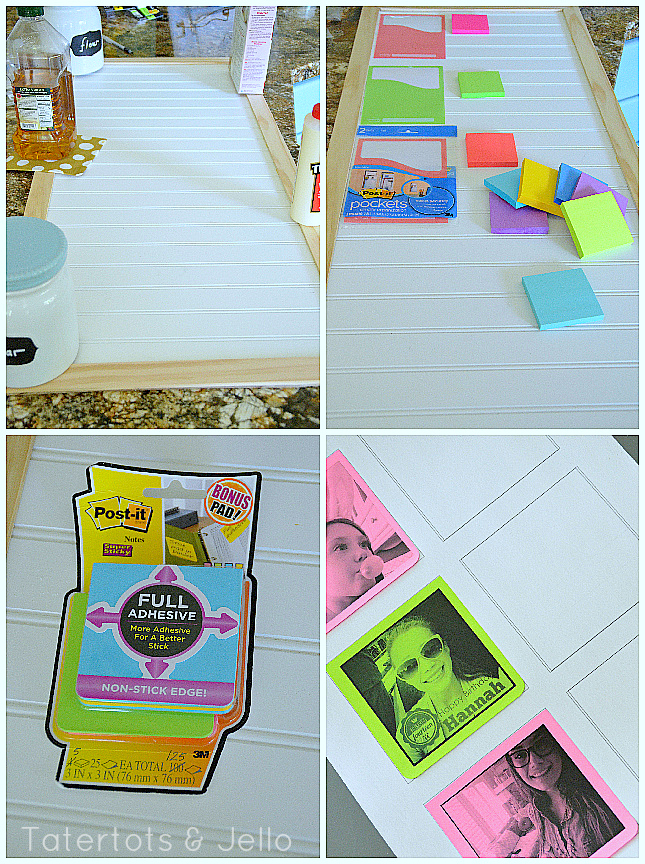 To make the board, I took a sheet of beadboard, miter cut four flat moldings to fit around the frame and glued the molding onto the beadboard. Then I spray painted the board and got to work.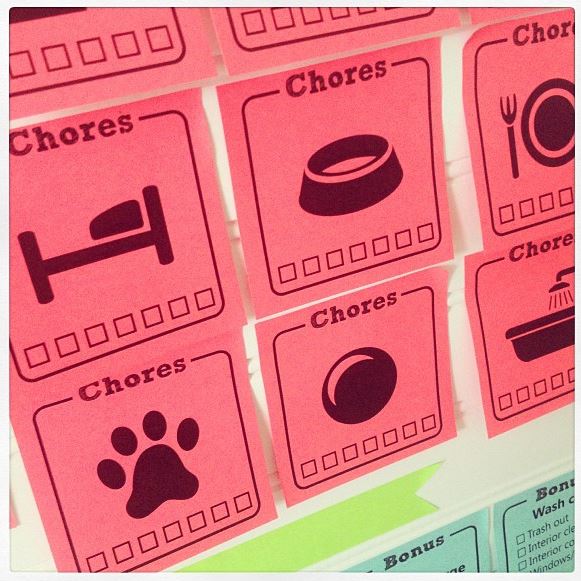 For kids that can't read, their chore Post-it Notes show chore icons. All the kids need to do is mark off each day that they do each chore. (There are seven boxes underneath each picture.)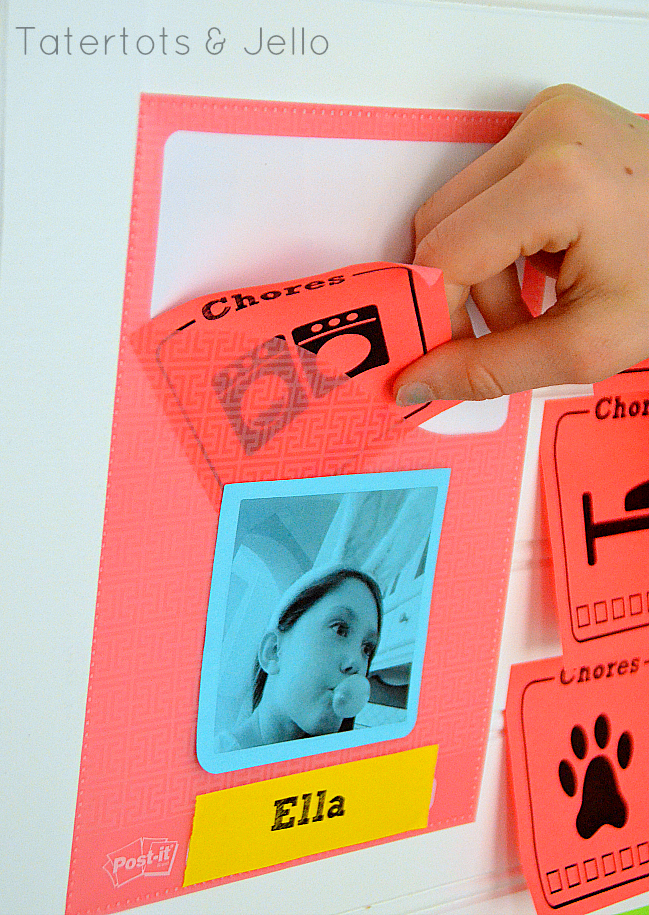 At the end of the week, they fold the sticky side down and insert them into their Post-It Pocket.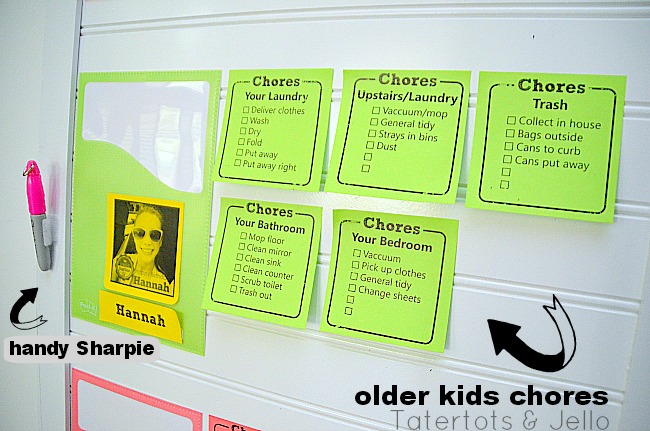 For older kids, I have included a Chore Template.
All you need to do is attach the Post-it Notes to the blank template, print off the Chore Template and then you can either hand-write in the chores on the Post-it Notes or you can print off the chores onto the same templates by running the paper through your printer again. In my system, my older kids can do their chores during the week. When they are done, they also fold the sticky edge down and put it in their Post-it Pocket. They can also browse the "Chores For Hire" jobs and do some of those during the week. At the end of the week, each child brings me the chores in their folder to show me what they have done during the week.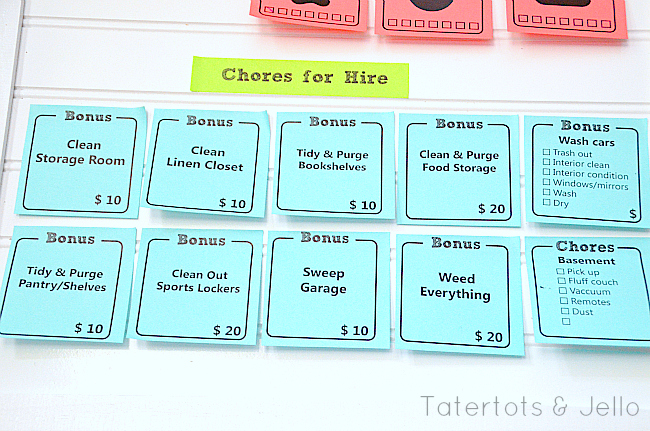 I have also included a template for "Chores For Hire" — these are chores are examples of things that are one-time BIG chores.
I put a dollar amount at the bottom of each task and my kids can decide which tasks they want to complete for a little extra cash. I made these as examples, but these are pretty major projects — otherwise I'd think I am paying them too much! The extra tasks I have are at least three or more hours — like Big Projects.

And now: here's how to make the project with the free printables!
(Remember, if the printables seem too complex or time-consuming, you can do the same thing simply by using a marker on Post-it Notes. The kids might even enjoy writing their own chores or drawing their own pictures!)
And you can also use points as a reward instead of dollars. That way your kids can accumulate points which can equal a special prize or priveledge. And you can alter these printables if you have a copy of Adobe Illustrator.
Here's a link to my post that walks you through How To Print on Post-it Notes.
First, you'll definitely want a copy of the blank template. This shows you where to put your Post-it Notes so the other templates will print in the right place. Just put your Post-it Notes on the template — with the adhesive ends towards the top of the page –and load your Post-it-Note-covered page in the manual feed slot of your printer to print the next printables. I did a whole post on how to print Post-it Notes in your printer, so be sure to read that for additional help!
To download the template, just right click this link or the picture below and choose "Save As." Then just print the PDF. You can print this as many times as you want to make your later printing easier.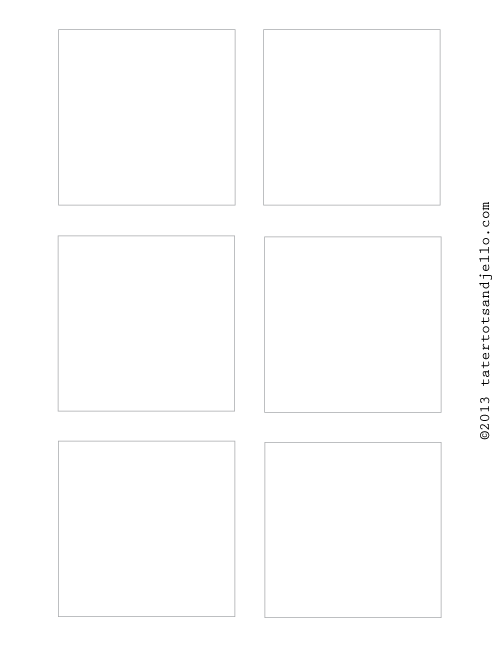 You'll place your Post-it Notes on top of the squares on the preceding template … and then load it back in the printer and use this printable to make your own chore chart!
Just click the image below or the link underneath to download the printable.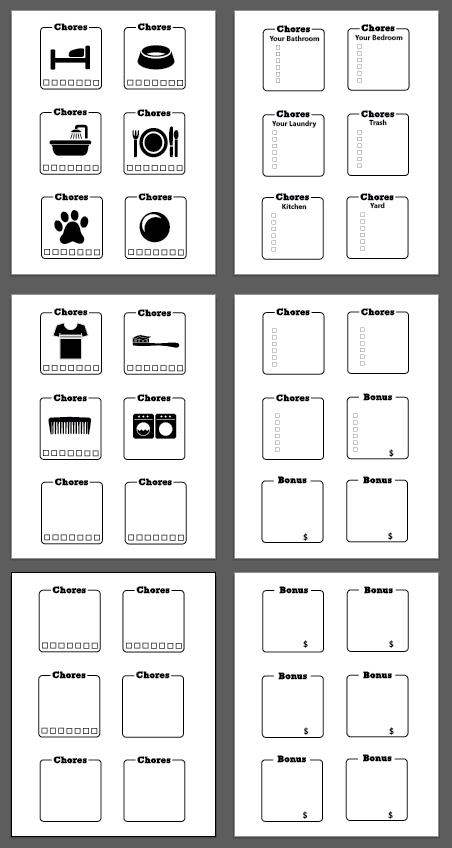 Right-click this link and choose "save as" to download the PDF for your personal use (only)!
Print whatever pages make sense for your family. It includes all six pages shown in the image above.
If it's helpful, I've also provided a copy of the printable I used for our family!
Right-click this link and choose "save as" to download the PDF for your personal use (only)!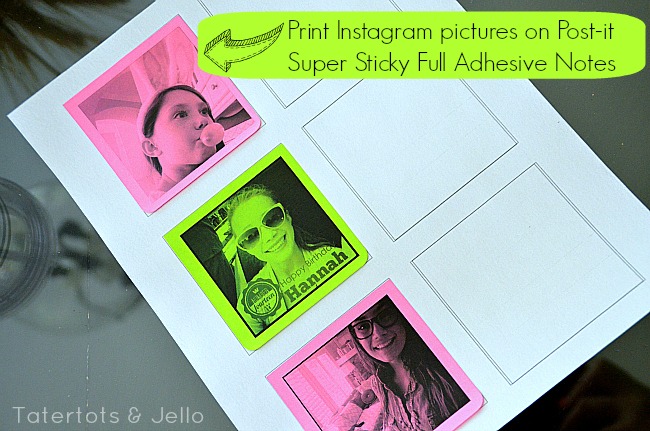 I will also soon be sharing a post on how to print off pictures from your Instagram account onto Post-it Notes!! I used the full-adhesive Post-it Notes for the Instagram Pictures. It's a fun idea!!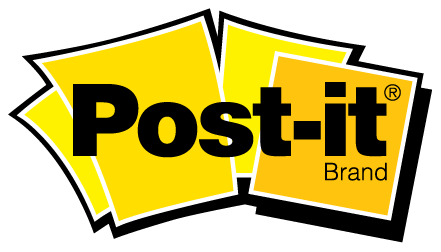 And you can keep up with Post-it Brand on Twitter (@postitproducts), Pinterest (@postitproducts) and Facebook (www.facebook.com/postit).
Have a great day!
xoxo

This post was sponsored by Post-it® Brand … but the opinions and project are all mine! For more information, see my disclosures.