Cottage Spring Kitchen Decor. Easy way to bring some pops of color into your cottage home for Spring!
Cottage Spring Kitchen Decor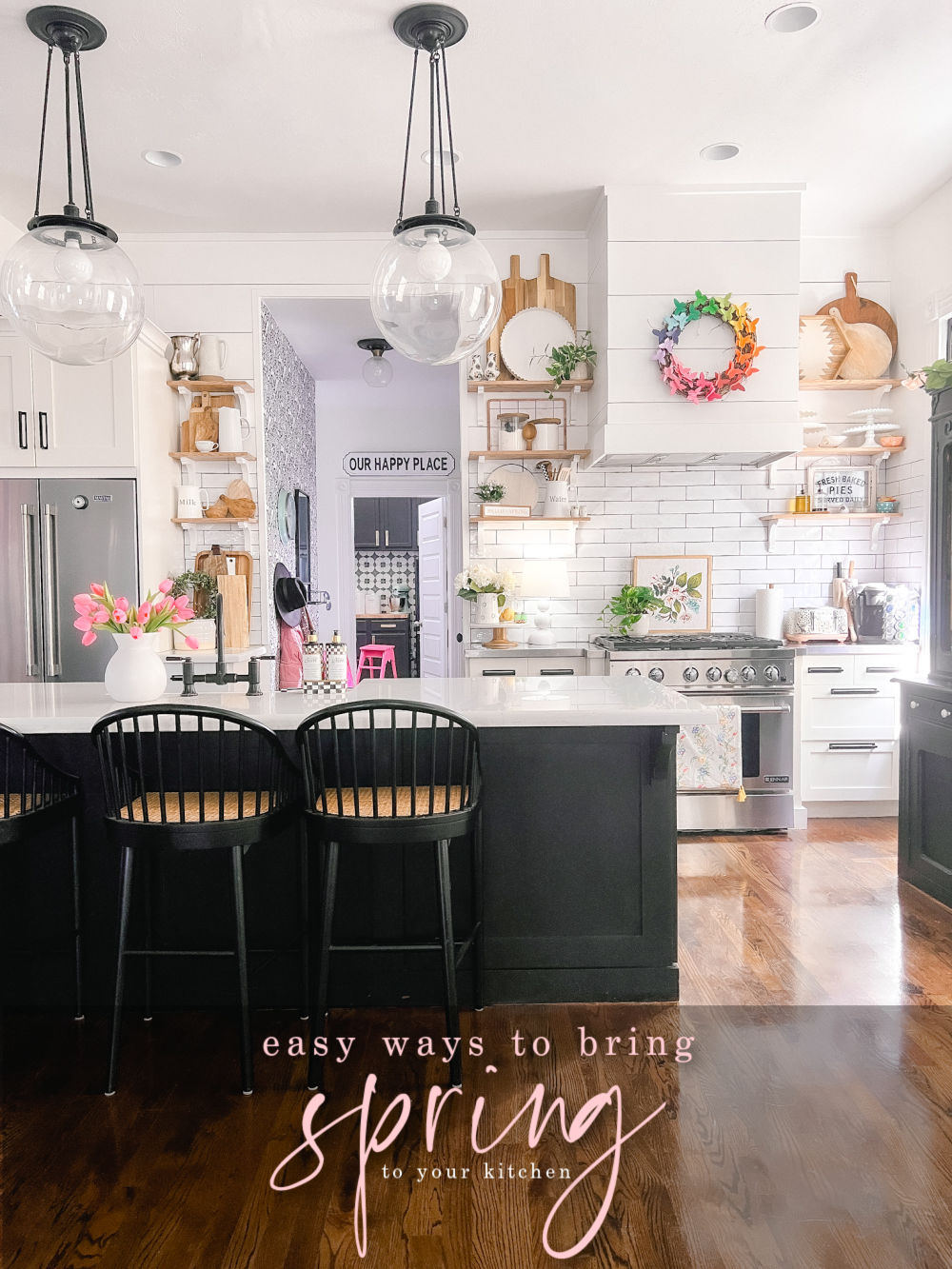 Raise your hand if you are ready for Spring!! It's slowly getting warmer here and I even saw one of my daffodils starting to bloom in our front yard! Yay! I added a few spring touches to our kitchen to celebrate. Here are some easy ways I am bringing some Spring sunshine to our kitchen this year!
Spring Kitchen Ideas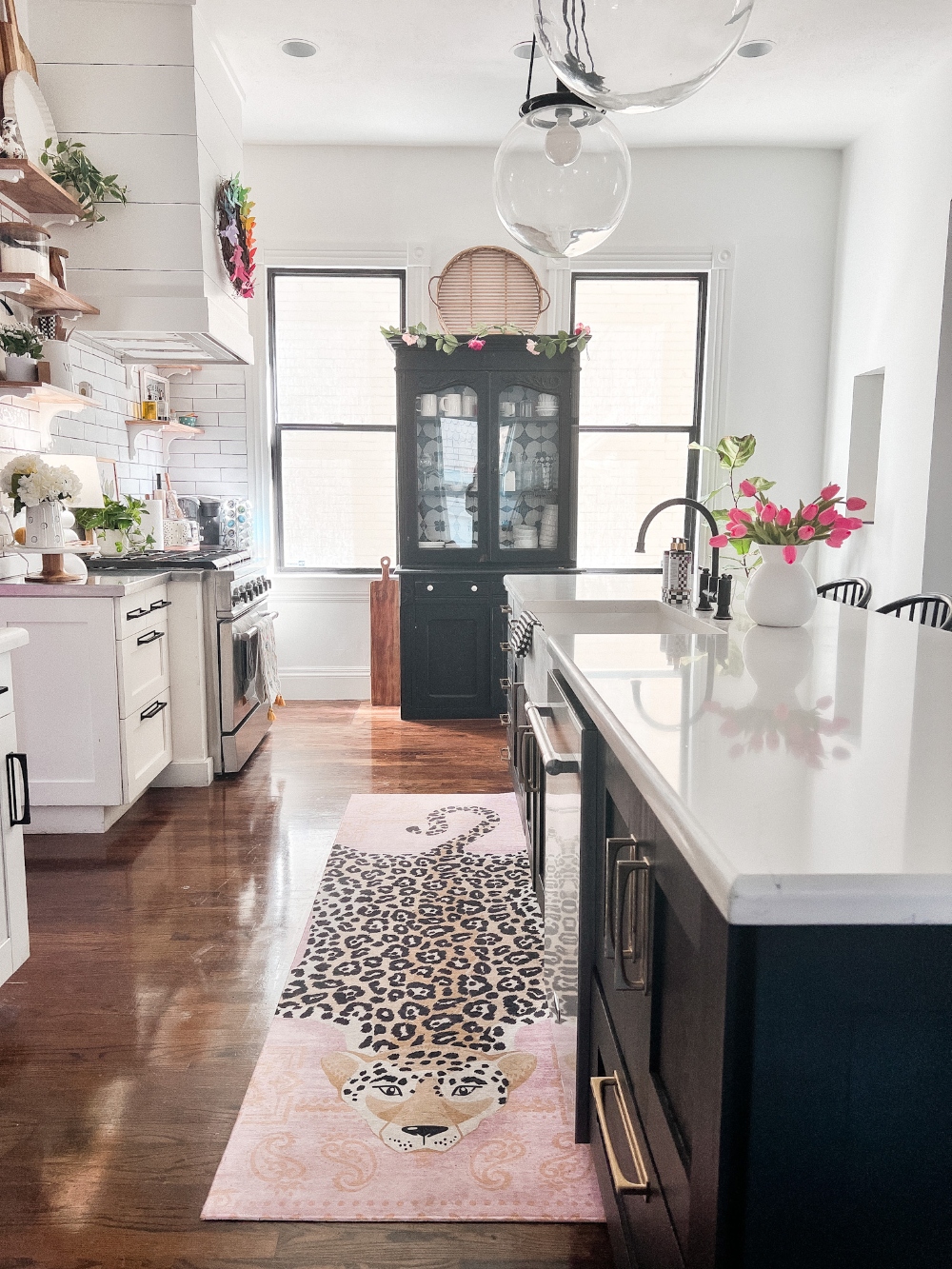 I am joining some of my favorite friends who are all sharing their beautiful and fresh spring kitchens. So much inspiration and easy ways to bring the feeling of Spring into your home this time of the year. Be sure to scroll down and HOP over to see their gorgeous kitchen ideas!
Spring Kitchen Ideas: Add Your Favorite Spring Flower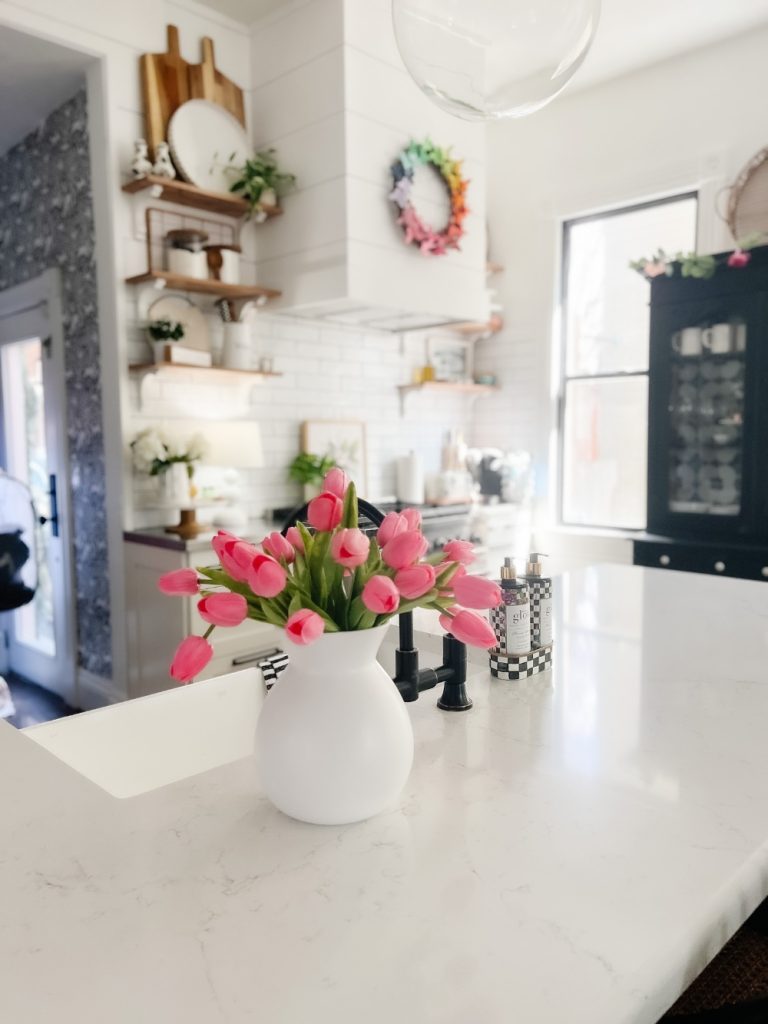 What's your favorite flower? I honestly love them all, but I have to say there's something so special about tulips in the spring! I usually buy fresh flowers each week at Trader Joes. But sometimes they don't have fresh tulips so I decided to research which faux tulips look most realistic. After a few hours of reading comments I ordered these pink tulips! When they got to our home and I opened them, I couldn't believe how real they look! They even feel so soft and realistic!
Make Your Faux Tulips Look Real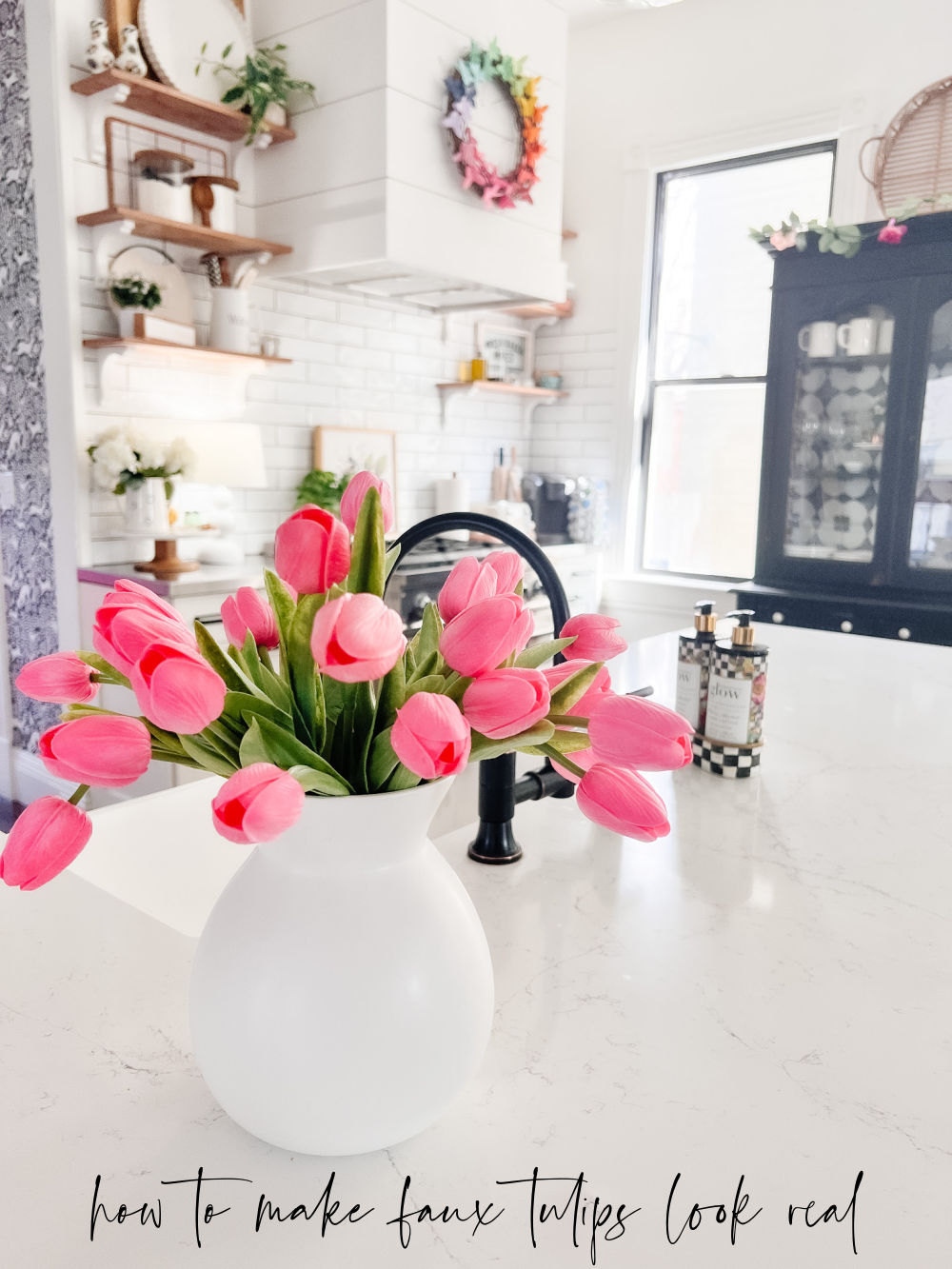 There is a trick to making faux tulips look real. The secret is bending the stems at different angles and heights. If you look at real tulips, the reason they look so beautiful is the imperfections. They are not exactly the same. They absorb water at different rates, so they aren't all exactly the same angles. I put some tulips in the middle that are straight up and then the ones around the sides I will bend so they are leaning over the edges at different angles. This imperfection makes them look more realistic! These tulips come in SIX different colors – so order them in your favorite or even white for a beautiful spring focal point!
Spring Kitchen Ideas: Add a Spring Wreath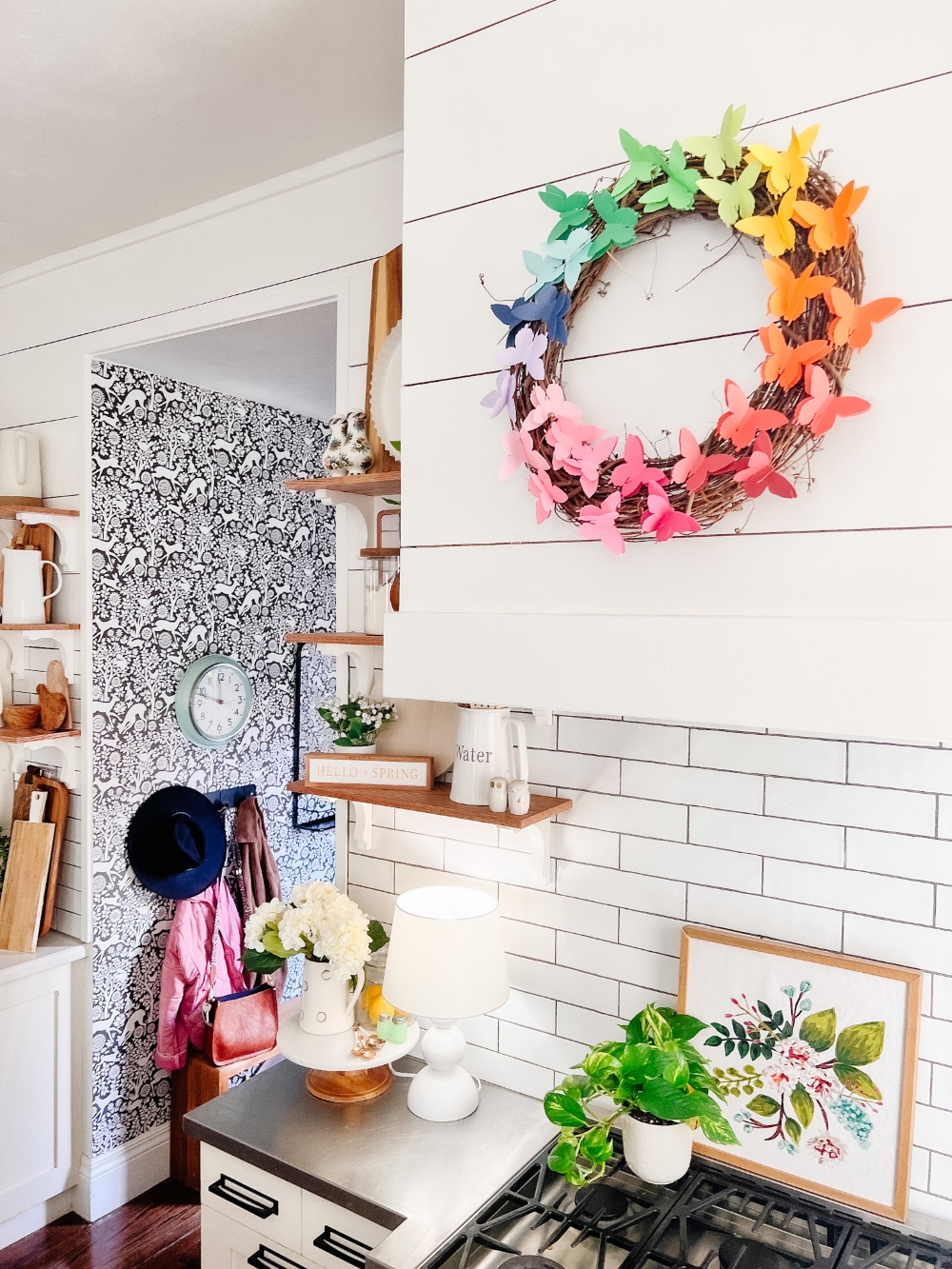 One of my favorite projects I have made this year is my rainbow egg wreath and mantel. I created a wreath that mirrored the butterfly banner and hung the wreath on our hood. They go together and it looks so nice since both rooms flow into each other. I will share more about the butterfly rainbow wreath on Thursday!
Spring Kitchen Ideas: Add a Spring Sign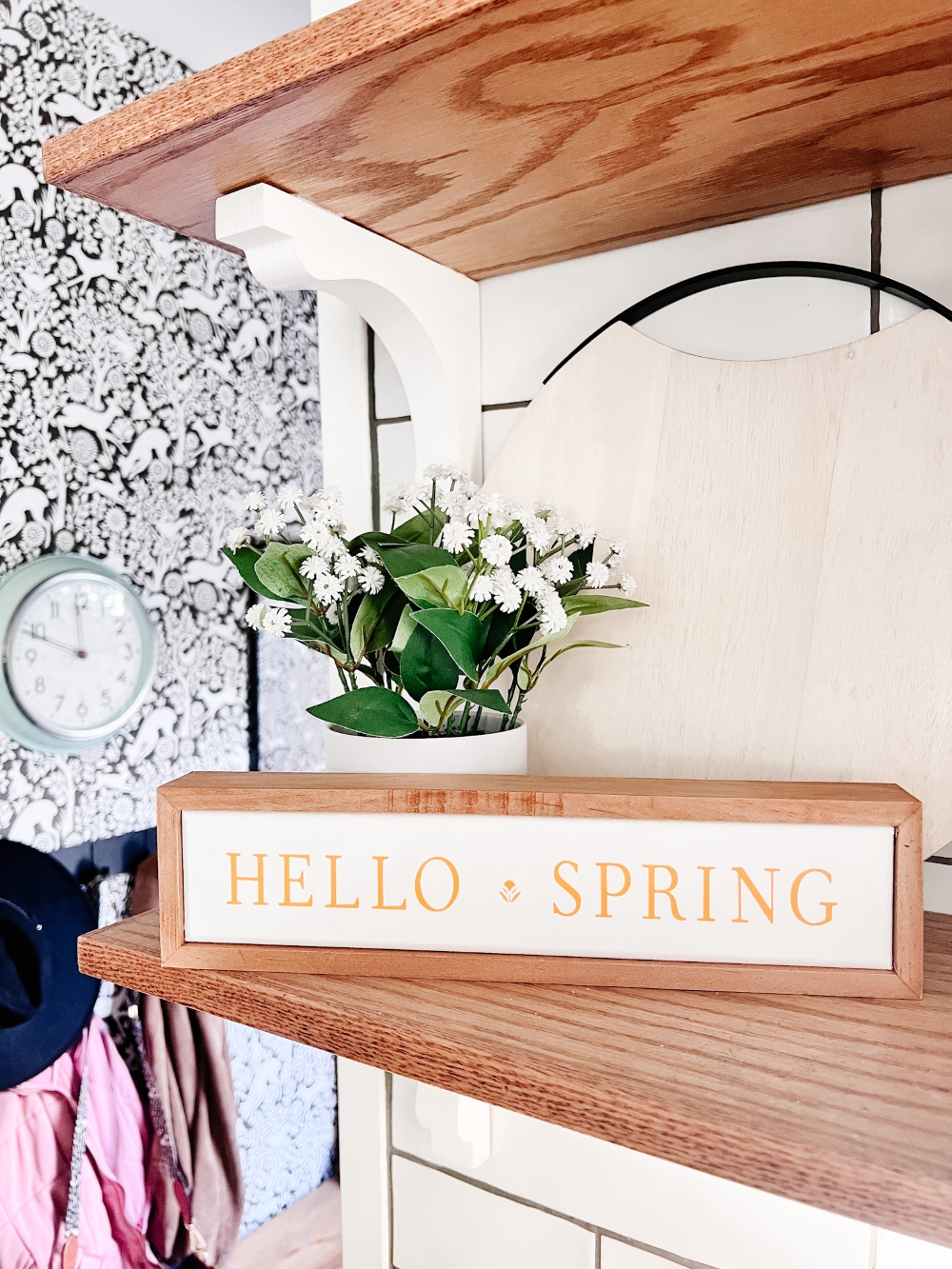 I love adding a little spring sign in the kitchen. I found this little yellow one at JoAnn the other day. The yellow color seems so happy and perfect for spring!
Spring Kitchen Ideas: Create a Spring Focal Point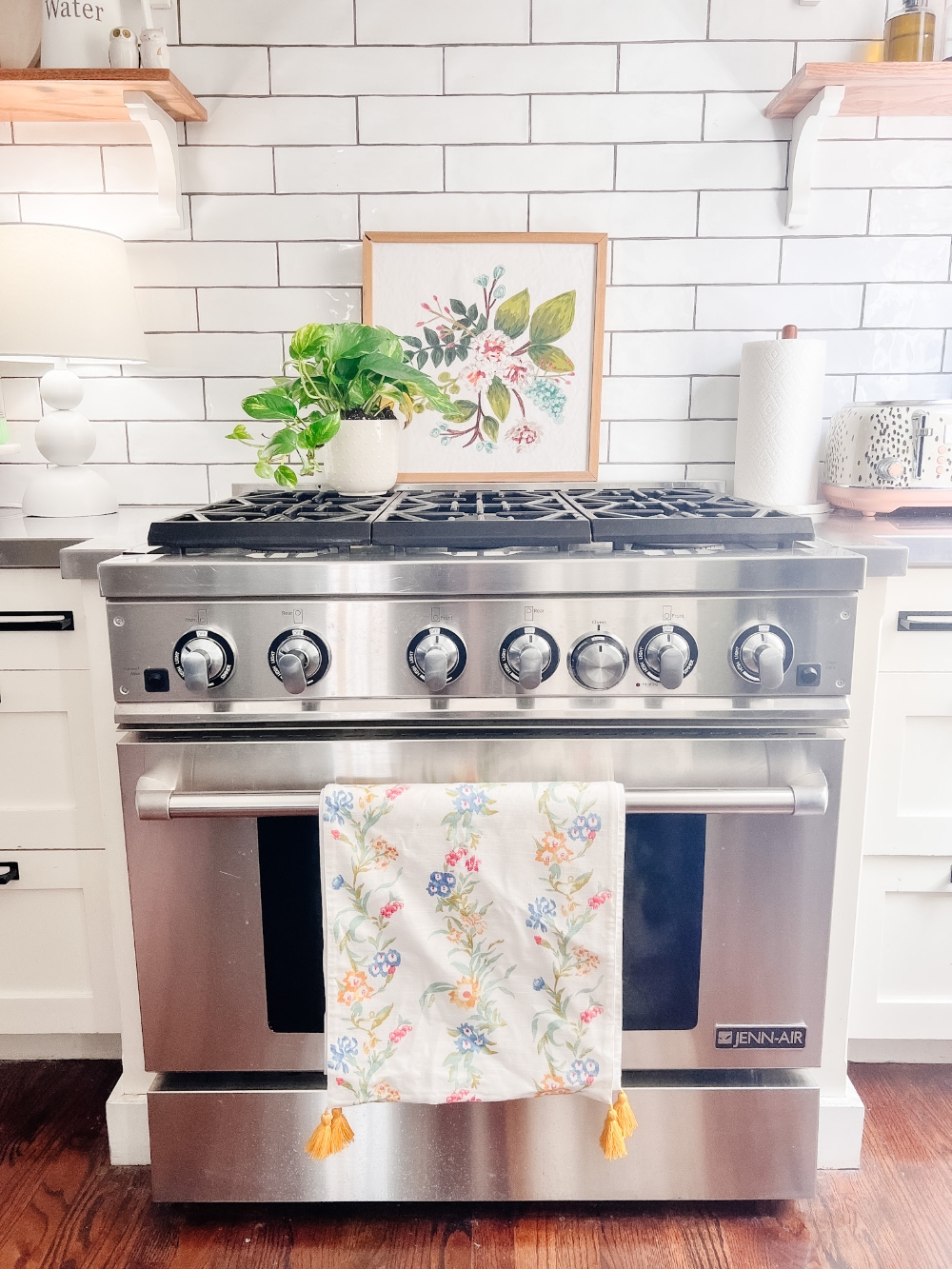 My kitchen hood and the area underneath are a natural focal point for the room. I hung the rainbow butterfly wreath on the hood and then underneath I put a spring painting and paired it with a fresh plant to bring some spring color to that area.
Spring Kitchen Ideas: Add a colorful kitchen towel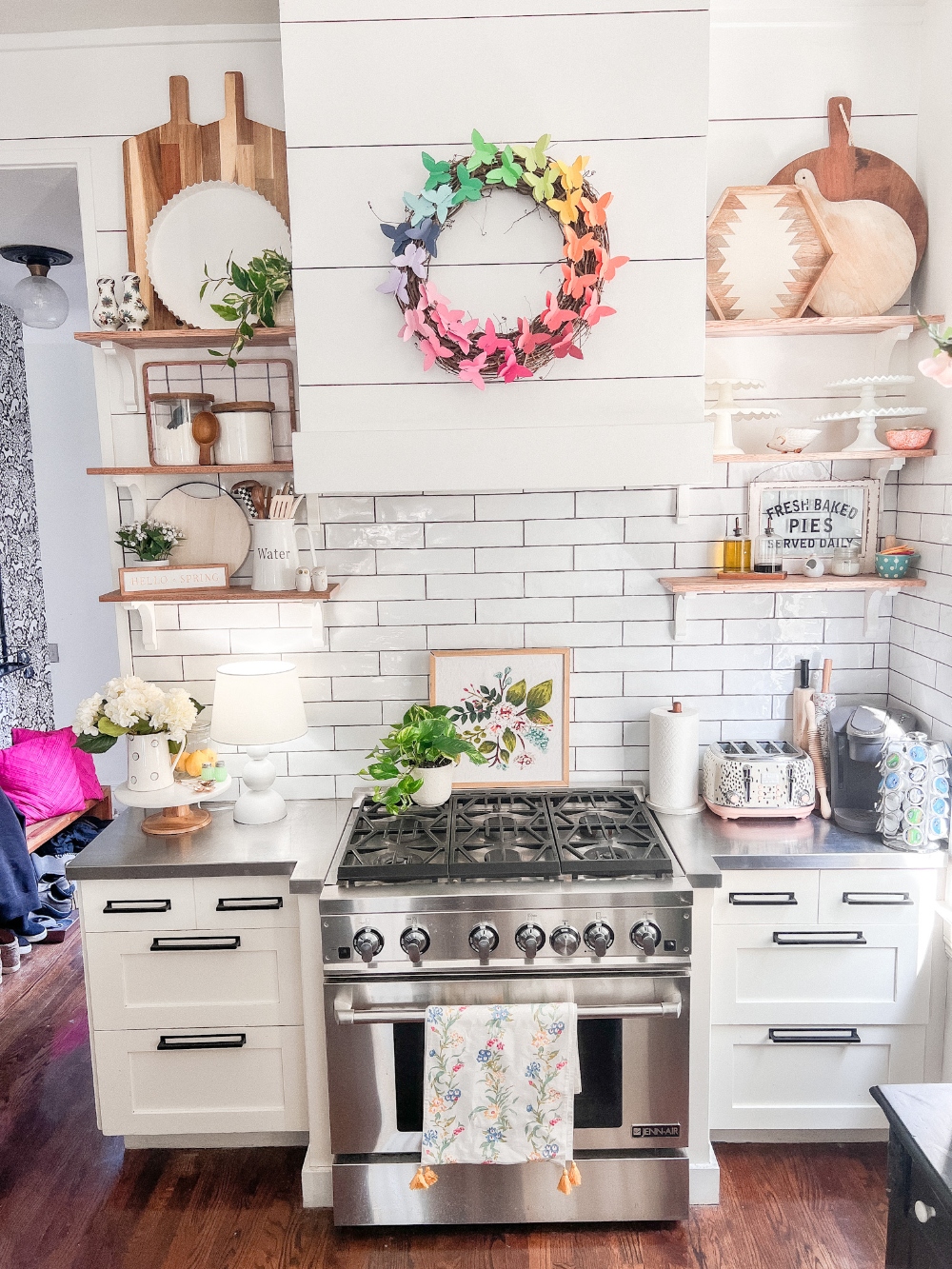 A bright kitchen towel in the kitchen is such an easy way to bring color to your kitchen. I hung mine on my oven handle. And shhhhhh – don't tell anyone but mine is actually a table runner that I folded up. But I loved the colors for spring.
Spring Kitchen Ideas: Bring fresh plants and flowers into Your Kitchen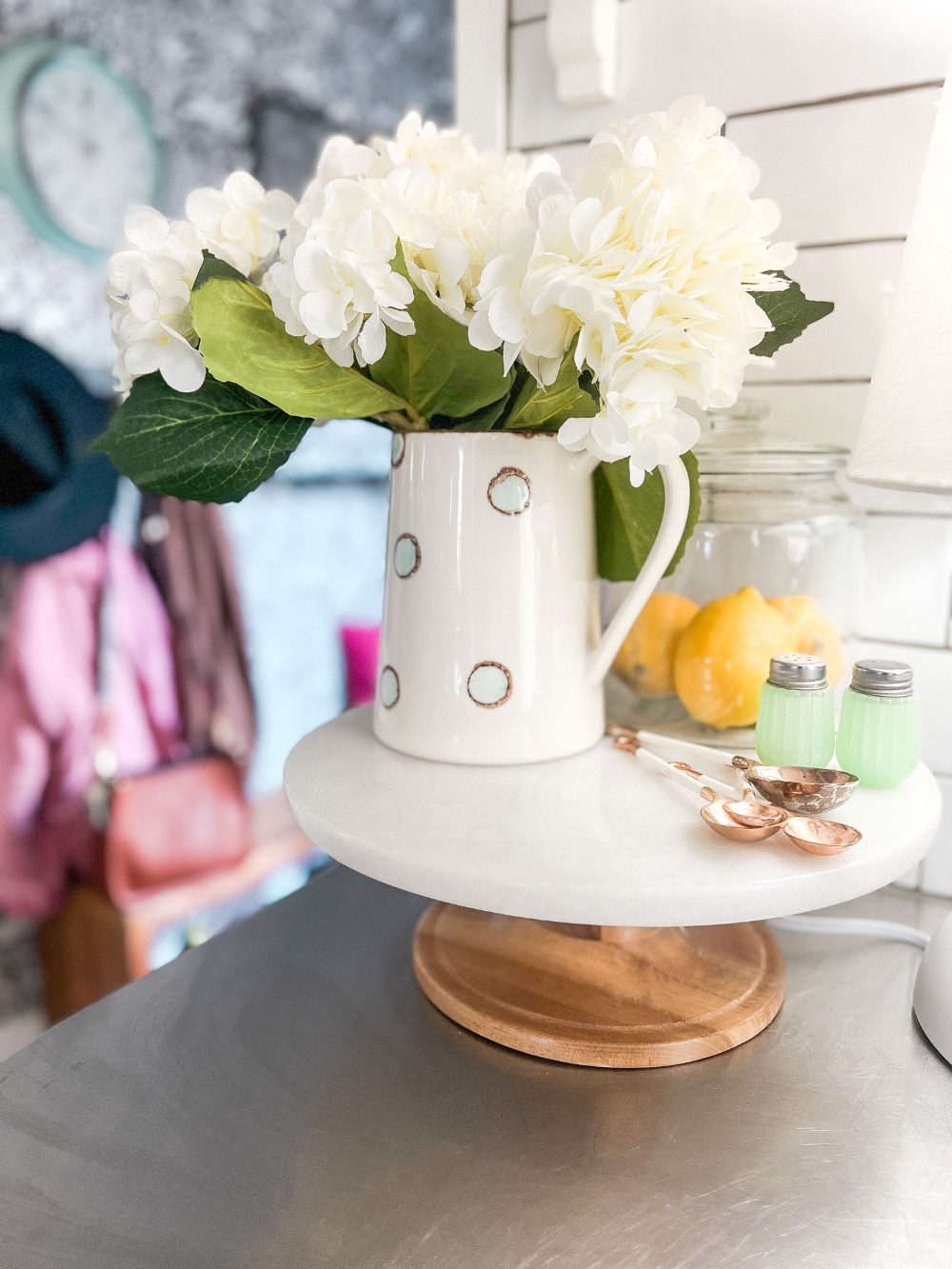 One other way I bring a spring feeling to our kitchen is I also added some flowers and plants to our open shelves. I also put some faux hydrangeas in a sweet little pitcher and put it on a pedestal by our stovetop, along with useful everyday items like my favorite green glass salt and pepper shaers and copper measuring spoons. It's the little things that make me smile.
Today some of my friends are sharing their Spring home decor ideas for their Kitchens. Be sure to visit their posts by using the links below the images.
More Spring Cottage Ideas
Here are a few other ways I have brought Spring into our homes over the years!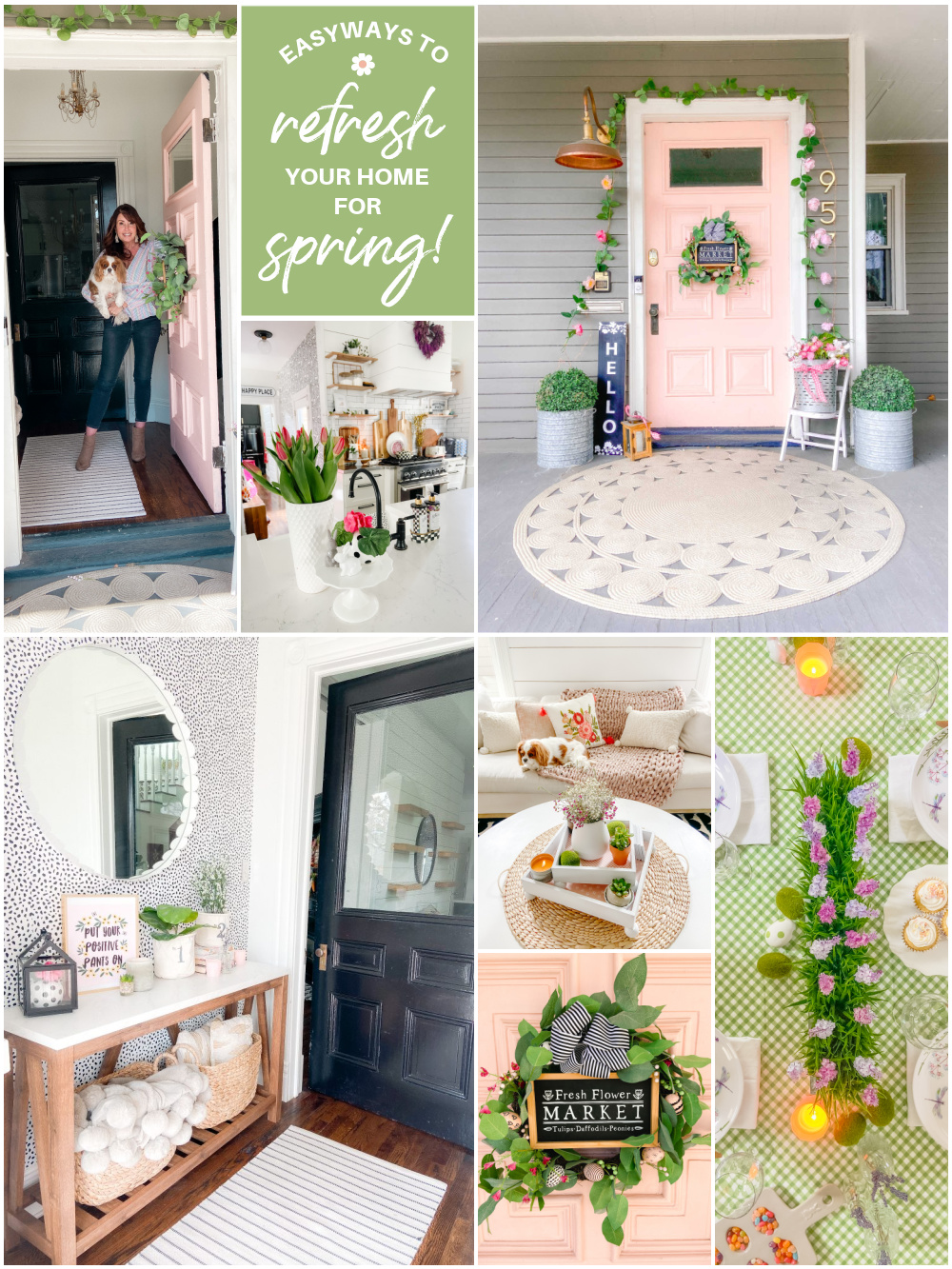 Here's our home tour from a couple years ago! I love the pink and green colors!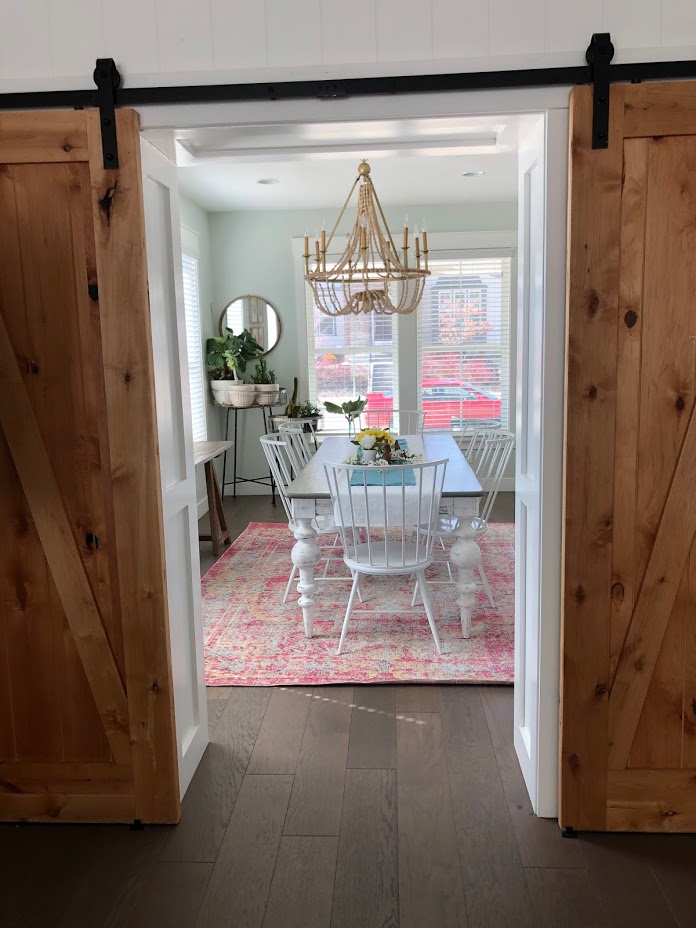 Some spring ideas that I shared when we lived in our Daybreak home!
What projects are YOU working on for Spring?
xoxo