Colorful Ombre Easter Egg Wreath. Celebrate spring by creating a bright and colorful ombre egg wreath to match YOUR decor!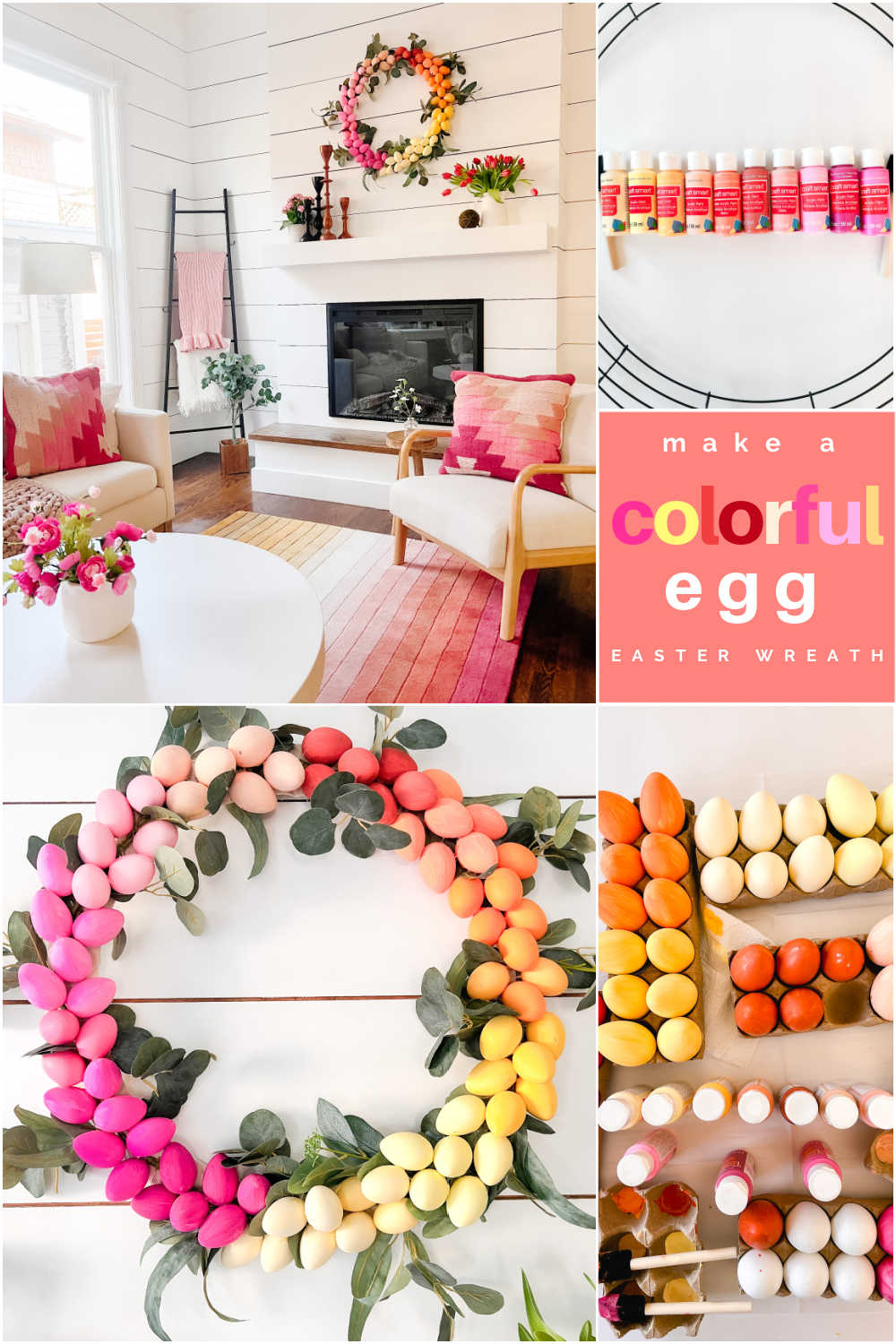 Ombre Easter Egg Wreath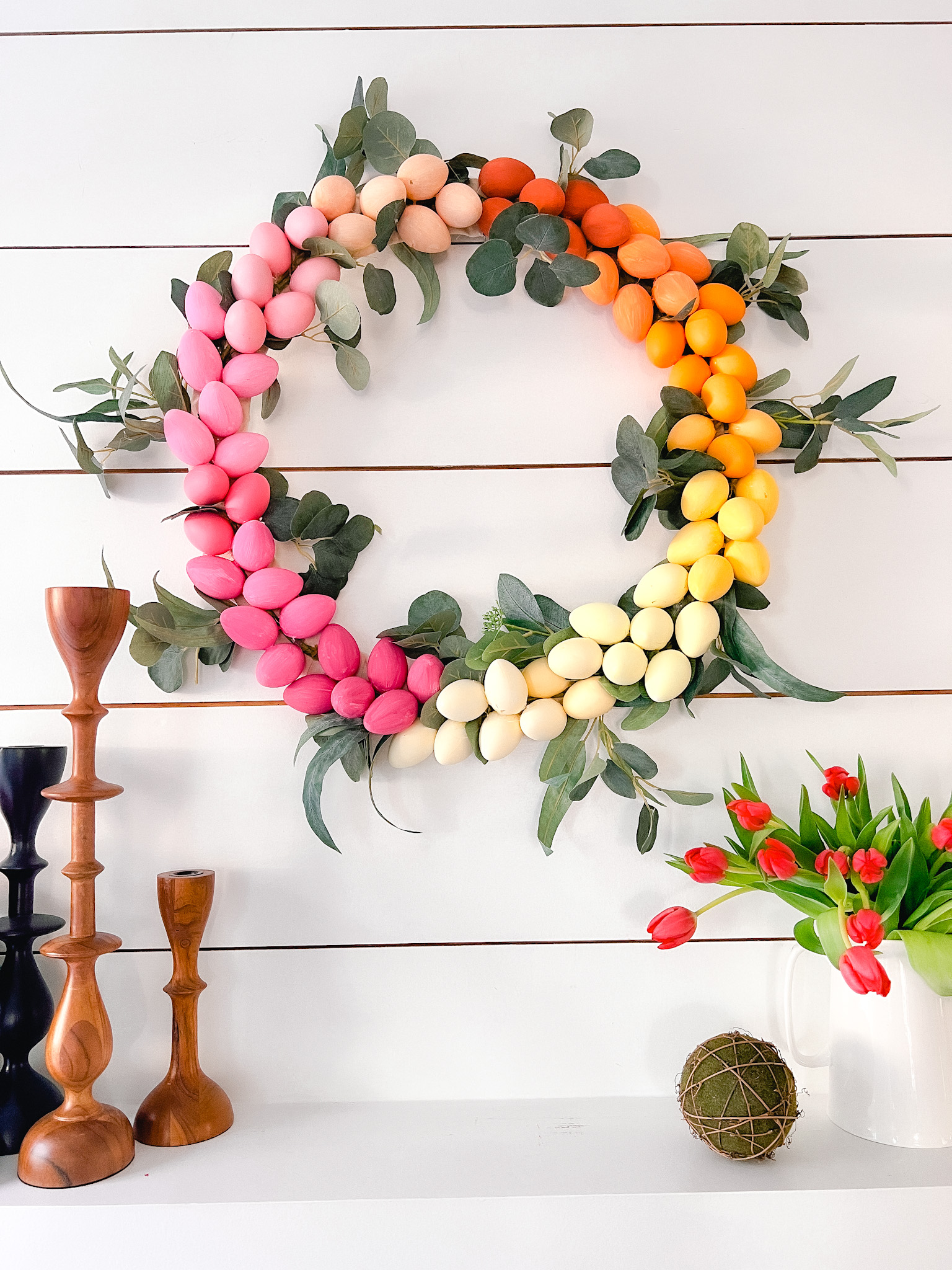 I can't wait for Spring! It's March and I celebrated by making a bright and happy egg wreath! I used colors in my striped rug but you can paint your eggs ANY color you want! Use ALL of the colors in the rainbow if you want!
8 Easter DIY's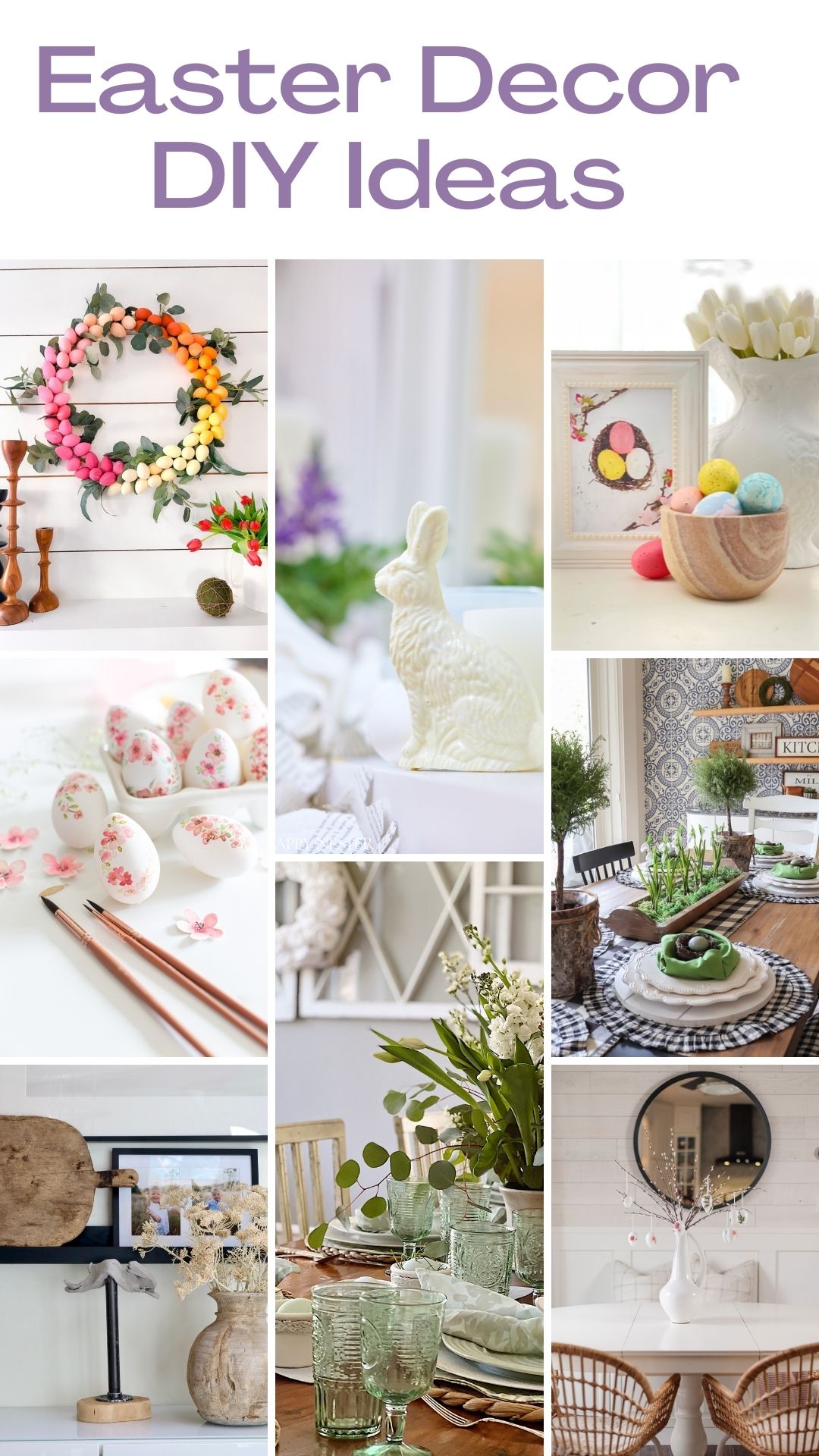 I am joining friends who are also sharing DIY Easter ideas! Scroll down to the bottom of the post and hop over to get the adorable Easter tutorials!
Colorful Ombre Easter Egg Wreath: Supplies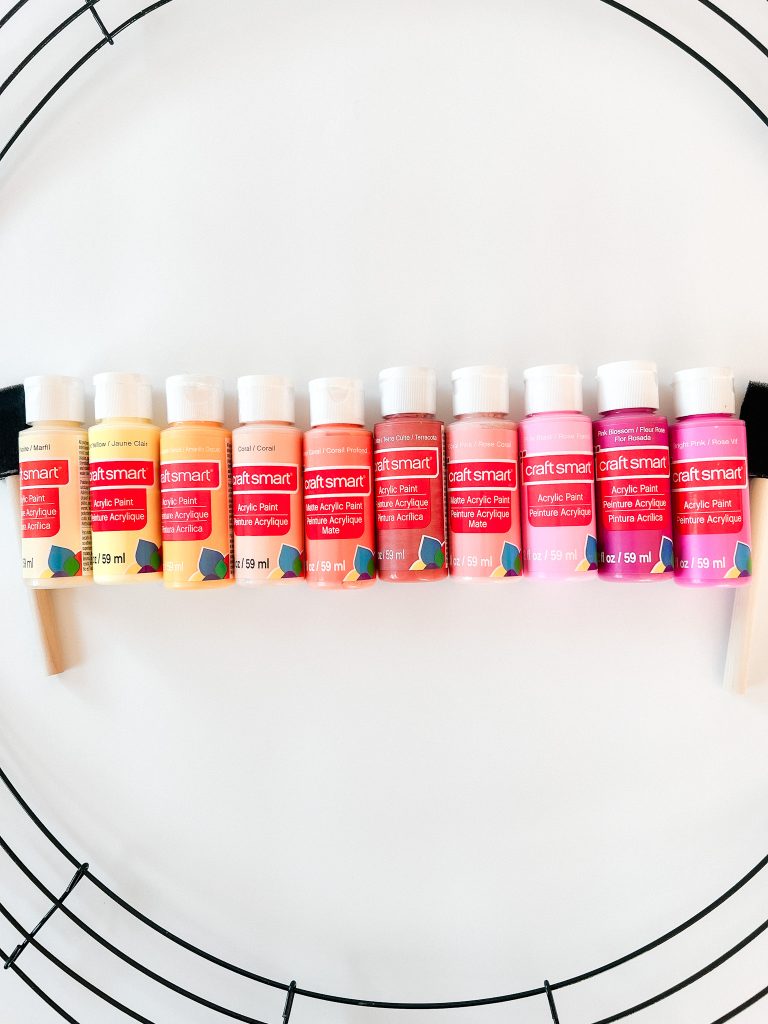 Here are the supplies to make this Colorful Ombre Easter Egg Wreath! Just a few notes, I wanted to make my wreath as large as possible to hang above our mantel. This wreath form is 24 inches wide. I used 100 white eggs which I painted different colors. If you have a smaller wreath form you won't need as many eggs. If you are making a 12-inch wreath, you can half the total number of eggs needed to 50. I purchased my supplies from Hobby Lobby, but I have provided amazon links to each product to make it easier for you.
Flat Wire Wreath Form
Paintable Easter Eggs. I used 10 colors and painted 10 eggs each color (I actually used about 90 total and had a few left over). These are the colors I used:
Canvas fabric or ribbon to wrap around the wreath form
What Kind of Eggs Do You Use to Make a Colorful Ombre Easter Egg Wreath?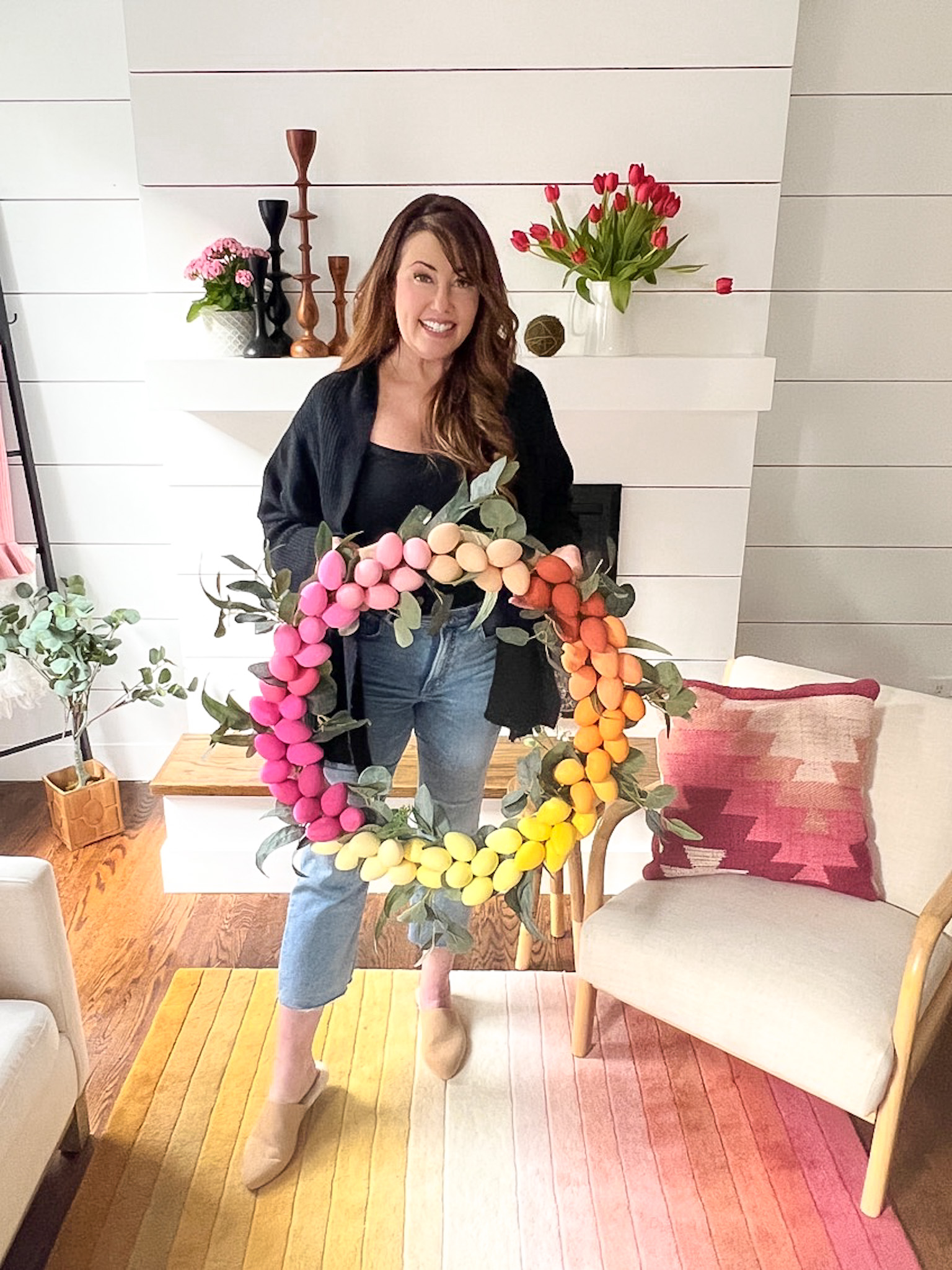 You want to get eggs that are made to be painted. Regular plastic eggs won't work for this project. I used white eggs from Hobby Lobby. But here are some eggs that will work as well — Paintable Easter Eggs.
The Easiest Way to Paint Easter Eggs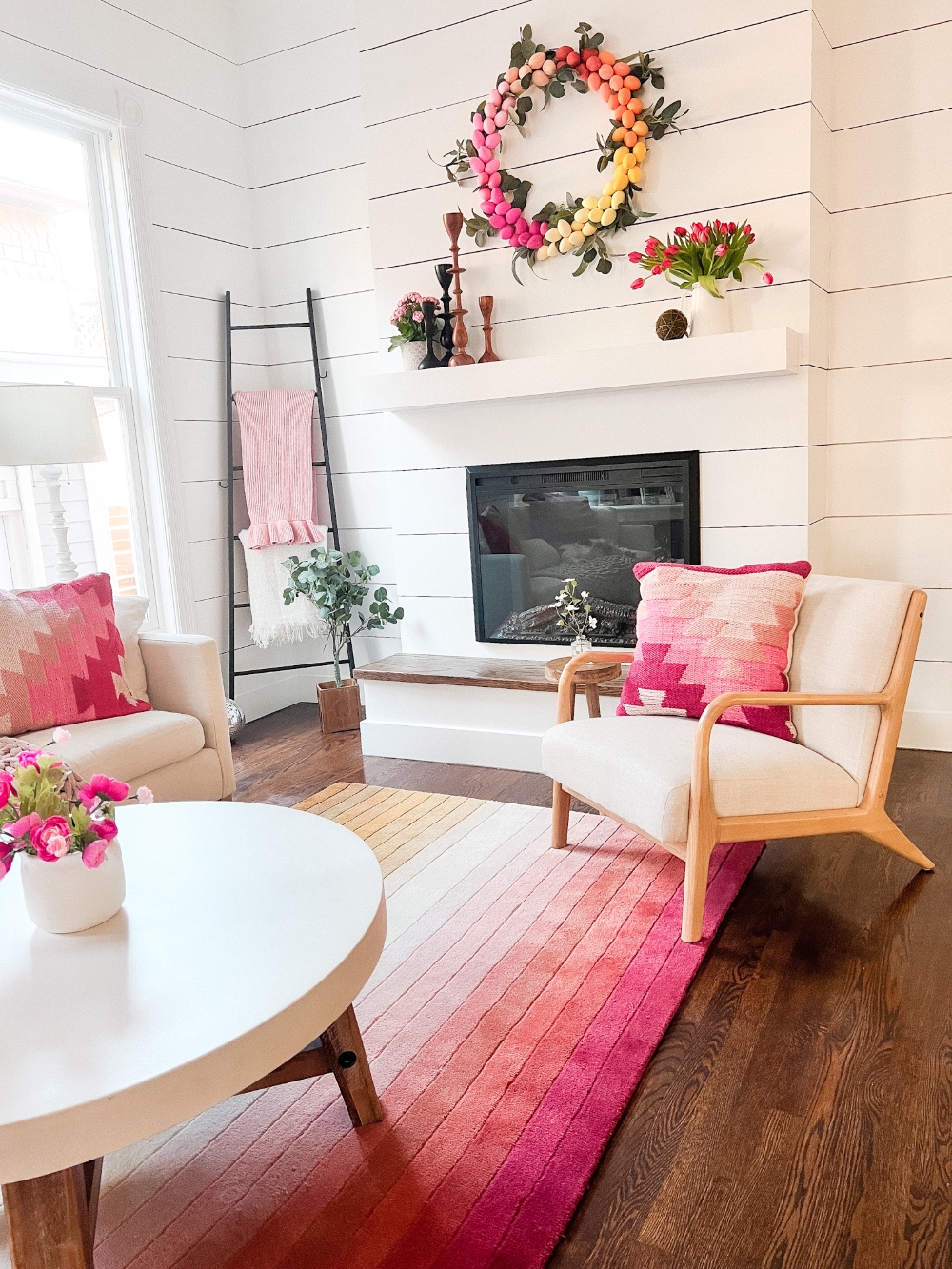 The easiest way to paint easter eggs is to push a dowel or long pin on the underside of the easter egg. Then paint the egg, take the dowel out and let the egg dry in the egg container. If you don't have a small dowel or long pin you can hold the egg between your index finger and thumb, paint the egg while spinning it so you get the whole egg painted, then place the egg in the egg container.
How Many Coats of Paint Does it Take to Paint Eggs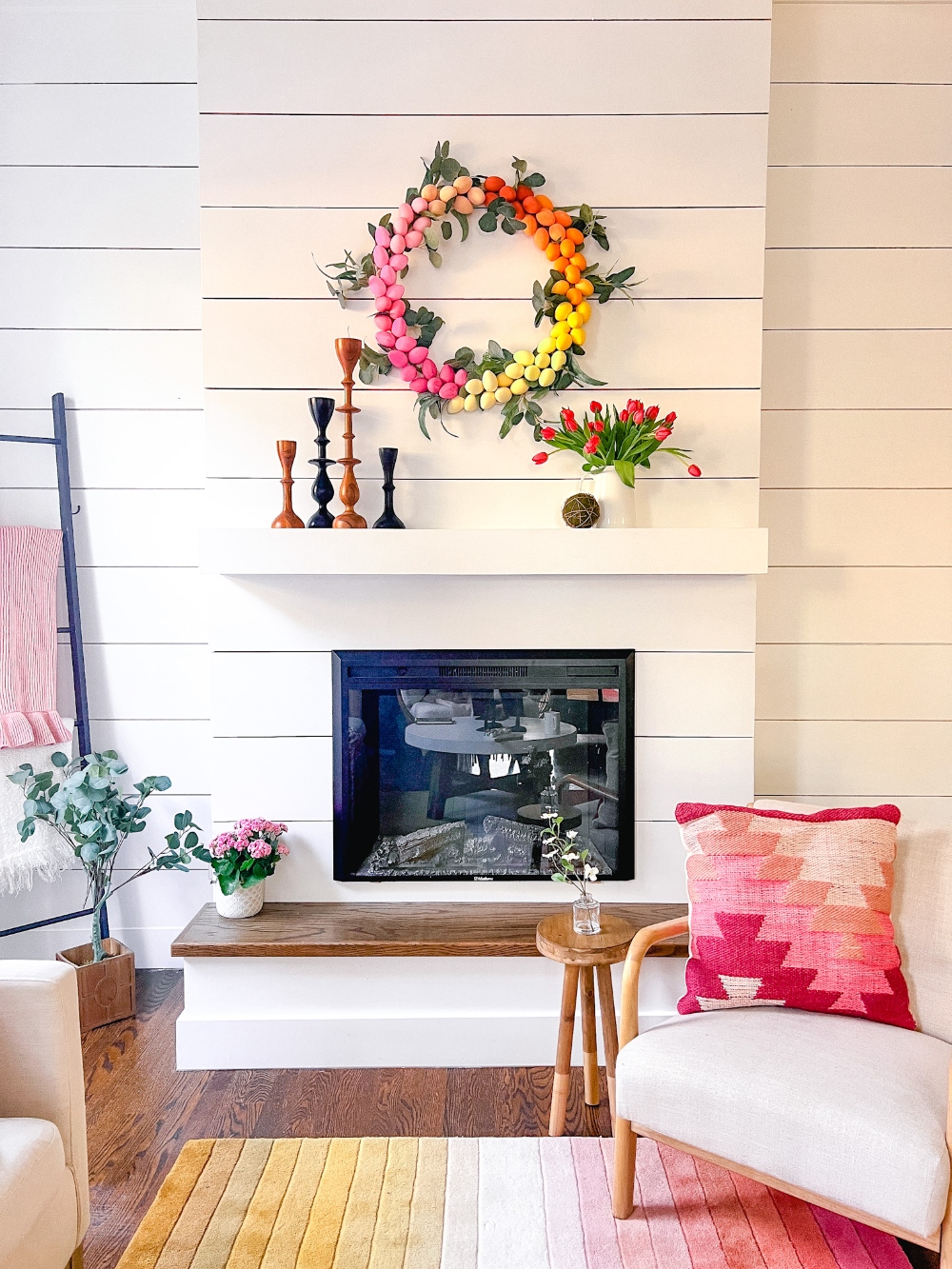 The lighter shades of paint only required one layer of paint. The darker eggs needed 2-3 coats of paint.
How to Make a Colorful Ombre Easter Egg Wreath
Paint All Eggs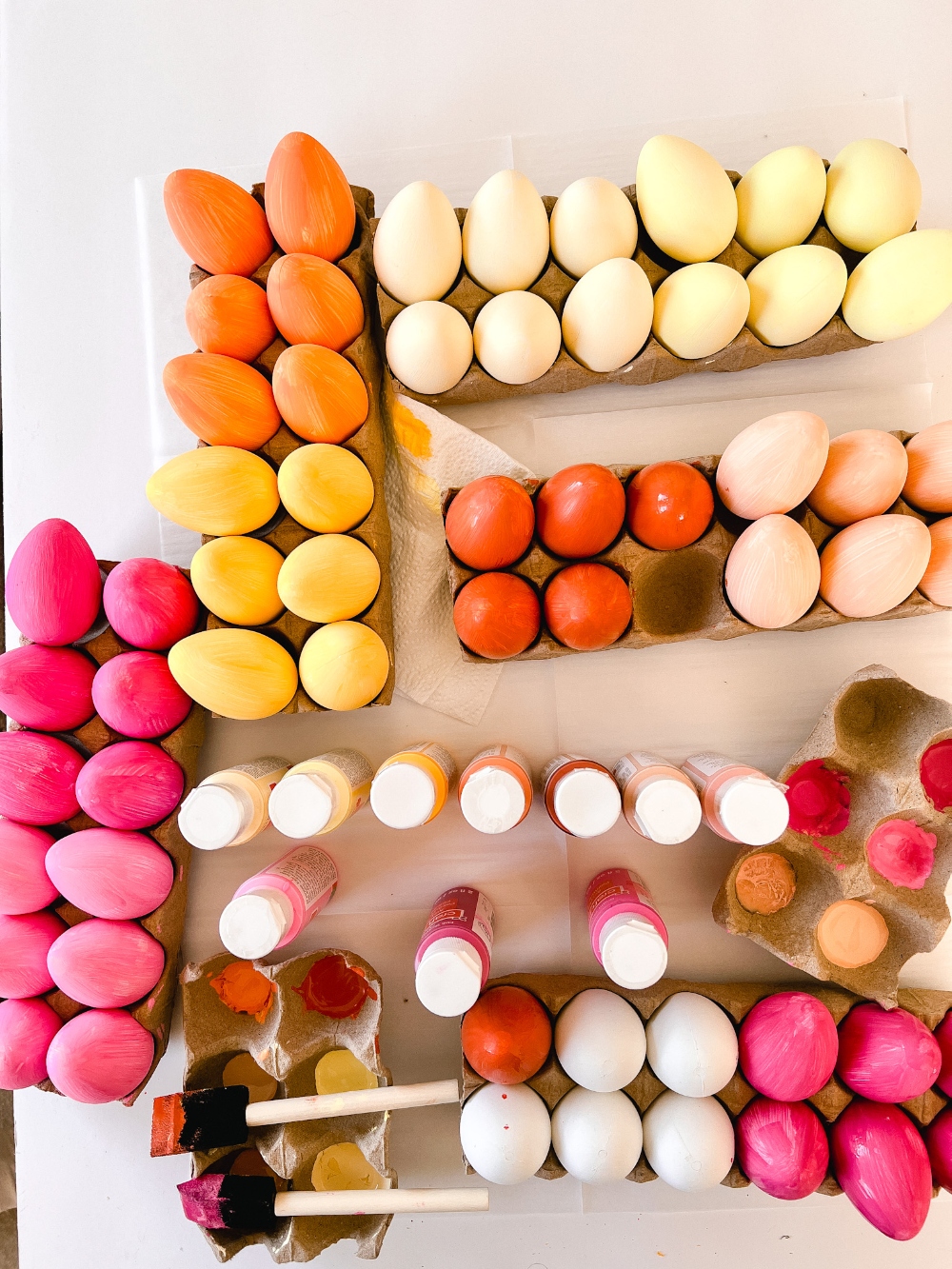 I painted 100 eggs 10 colors. So 10 eggs each of the 10 shades of paint. I let them dry thoroughly.
Wrap Wreath Form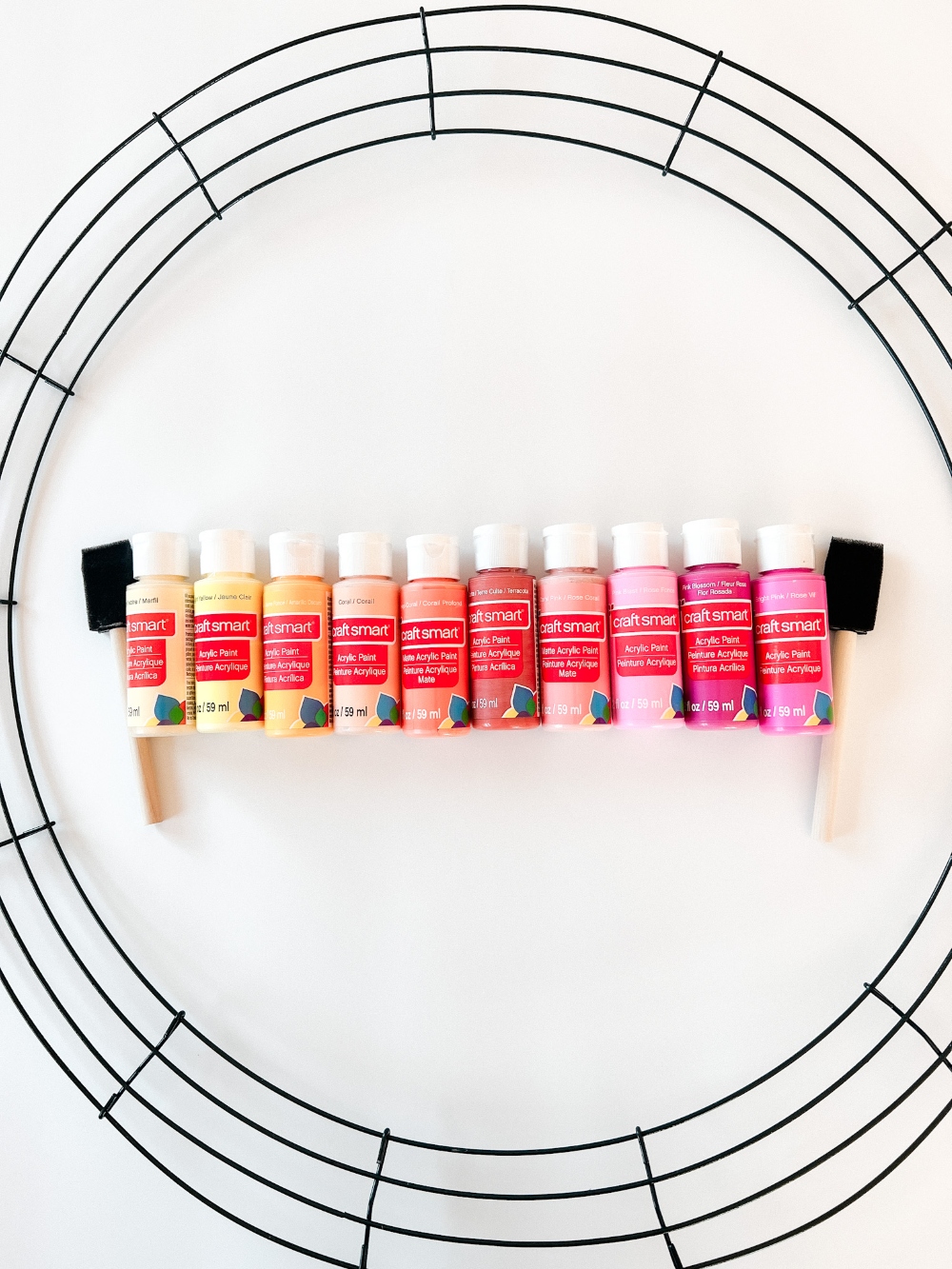 While the eggs were drying, I wrapped canvas around my wreath form.
Add Green Garland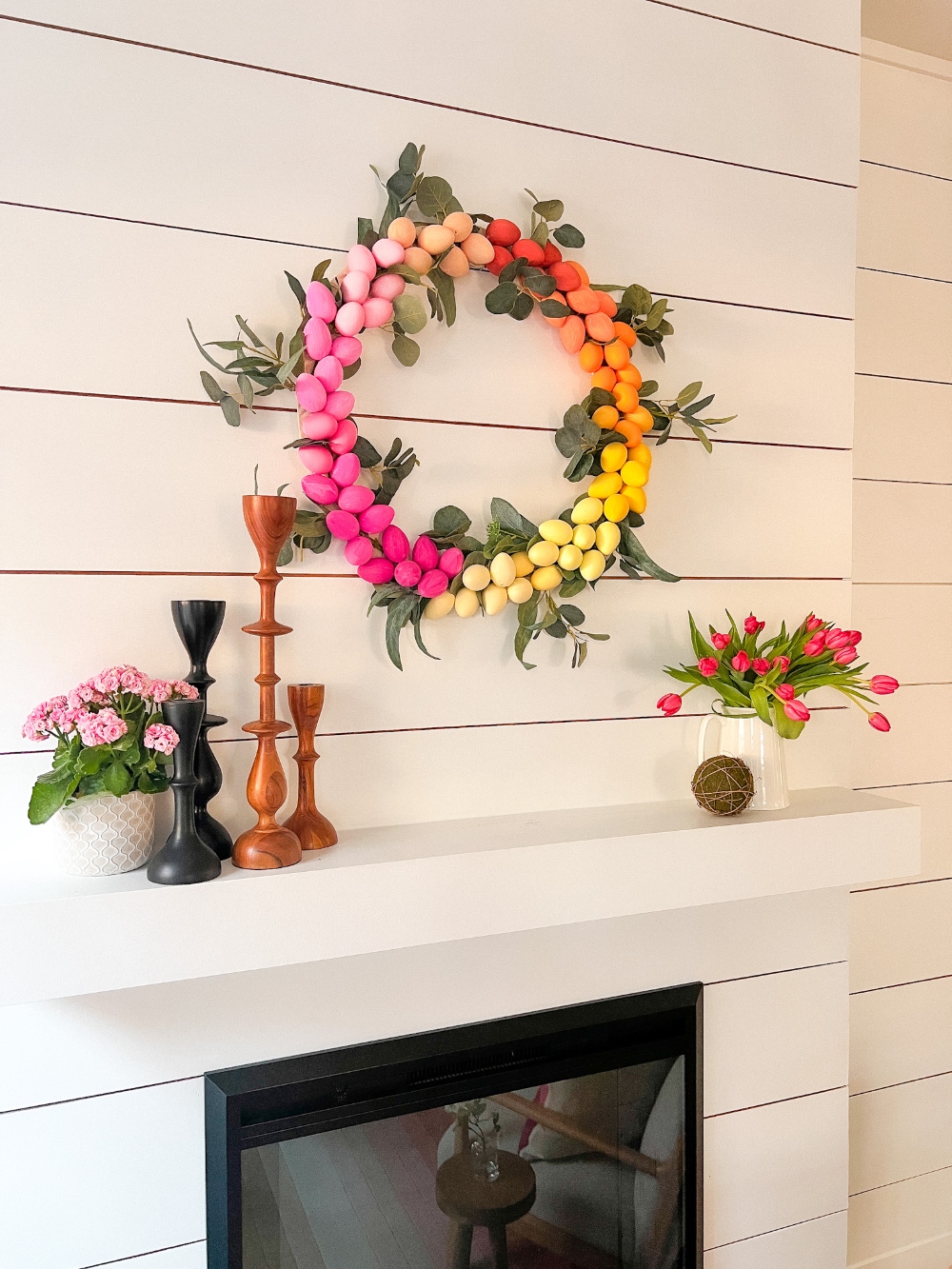 After the wreath was wrapped, I laid the green garland over the wreath form and hot glued it onto the form.
Place Colored Eggs on Top of Greenery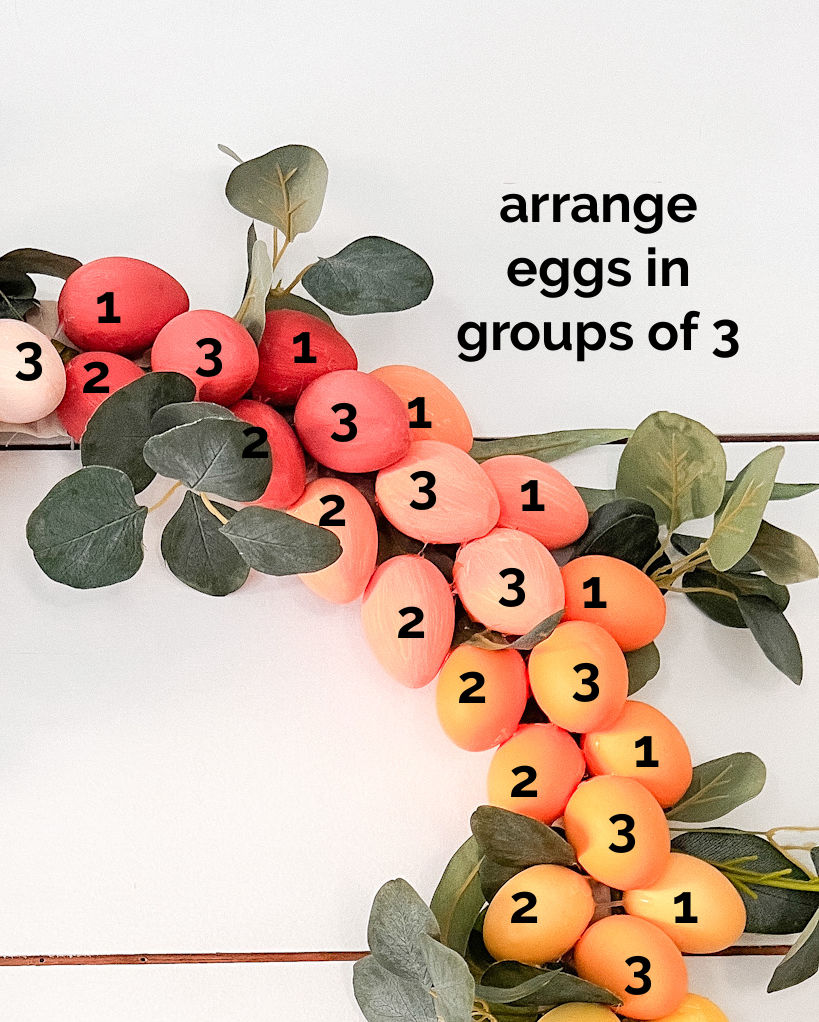 Once the green garland was glued on the wreath form, I added the eggs. I started with the darkest eggs which were the dark orange eggs. I placed all of the eggs facing the same direction to make the wreath look more uniform. Place two eggs pointing out with their ends meeting in the middle and the other ends facing forward, making a "v" shape with both eggs. Then I added one egg to the middle of the "V", facing slightly up and resting against the two eggs forming the "V" egg. I glued all edges of the eggs together and the bottom of all eggs to the greenery and canvas underneath.
Glue Eggs in Ombre Colors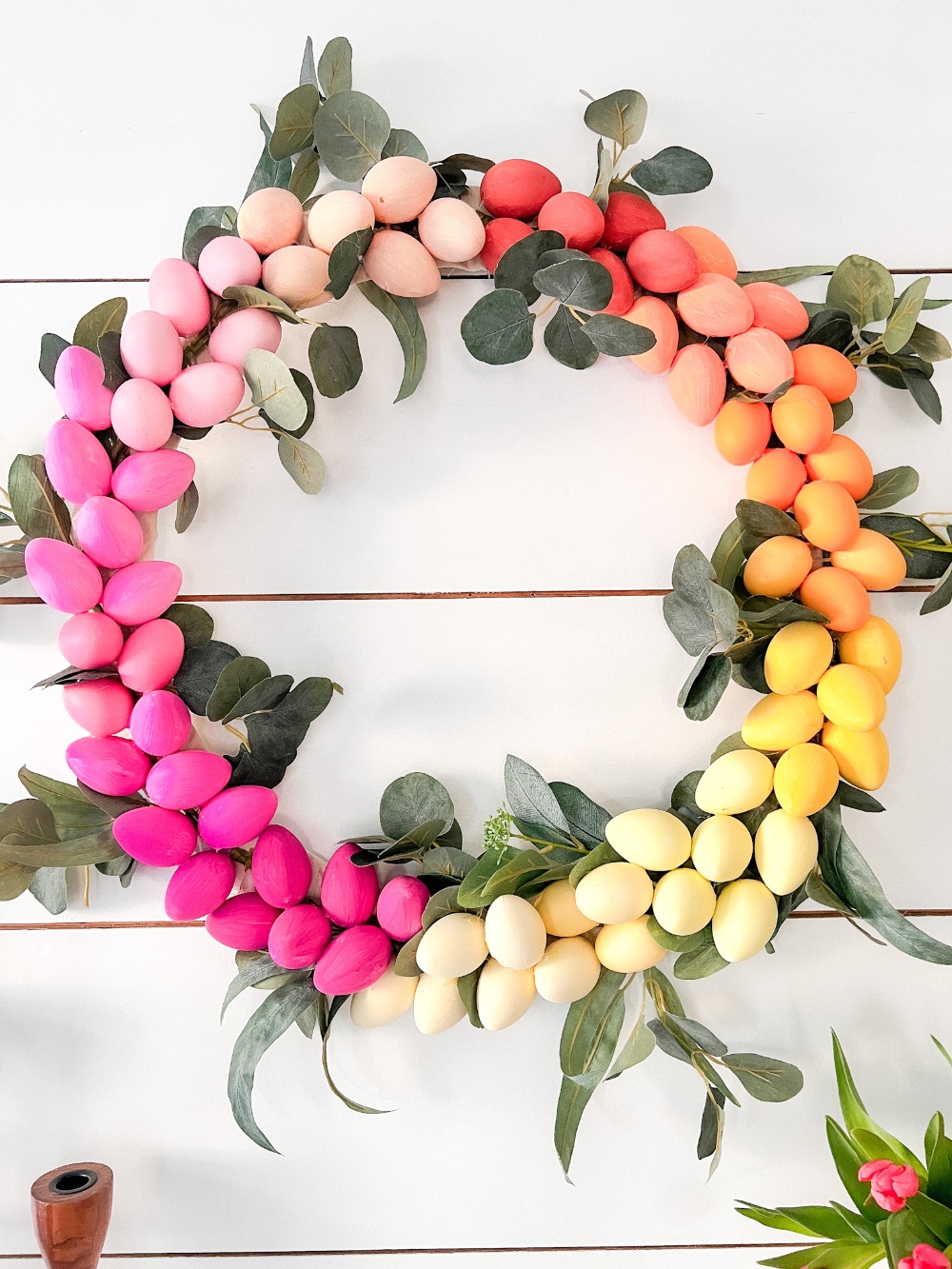 Keep glueing the eggs, using all of one color together. Then take the next lighter shade of the same color. I transitioned from dark red, to lighter orange, even lighter orange, then the yellow eggs and the the pink eggs. You can lay all the eggs out first if you want to make sure you have enough eggs to cover the whole wreath.
Enjoy Your Colorful Ombre Easter Egg Wreath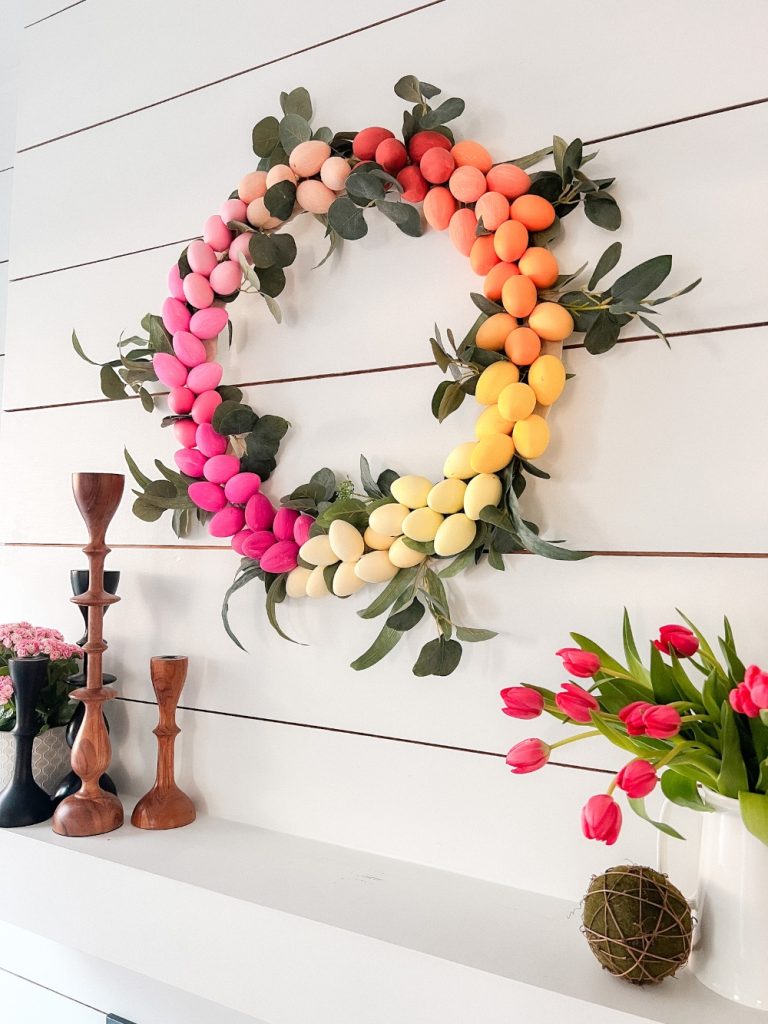 Where should I display this wreath?! I love it on the mantel but I think it would also be so pretty hung on my kitchen hood or on our front door! I am kind of obsessed with it!!
8 Easter Decor Ideas for Your Home!

A Pretty Table with Easter Decor | My 100 Year Old Home
Dried Floral Easter Egg Tree | The DIY Mommy
How to Make Fast & Easy Easter Decorations | The Design Twins
DIY Clay Rabbit | My Sweet Savannah

Handpainted Watercolor Easter Eggs | Craftberry Bush
Free Printable Easter Egg Art | The Happy Housie
How to Make a Homemade Chocolate Bunny | Happy Happy Nester
Ombre Easter Egg Wreath | Tatertots and Jello
More DIY Easter Ideas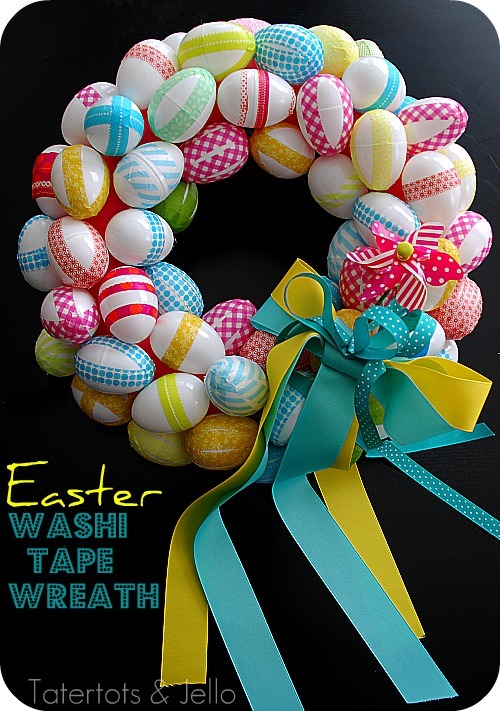 Washi Tape Easter Egg Wreath
It's hard to believe it's been 10 years since I made this washi tape easter egg wreath! I still love it. Maybe I need to make another one and share it??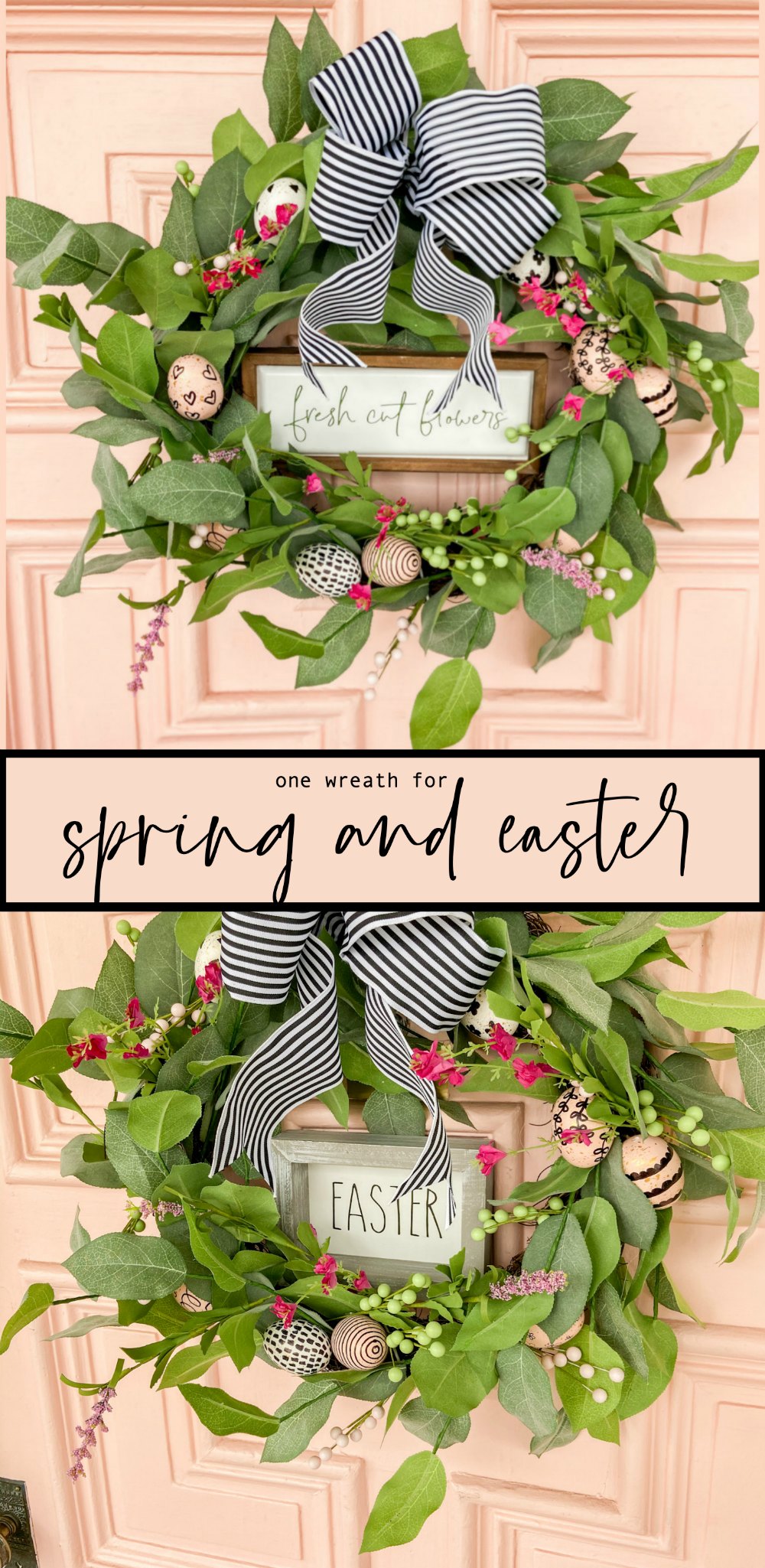 My kids decorated the eggs with sharpies and I added it to a green wreath and put a little sign in the middle. So easy!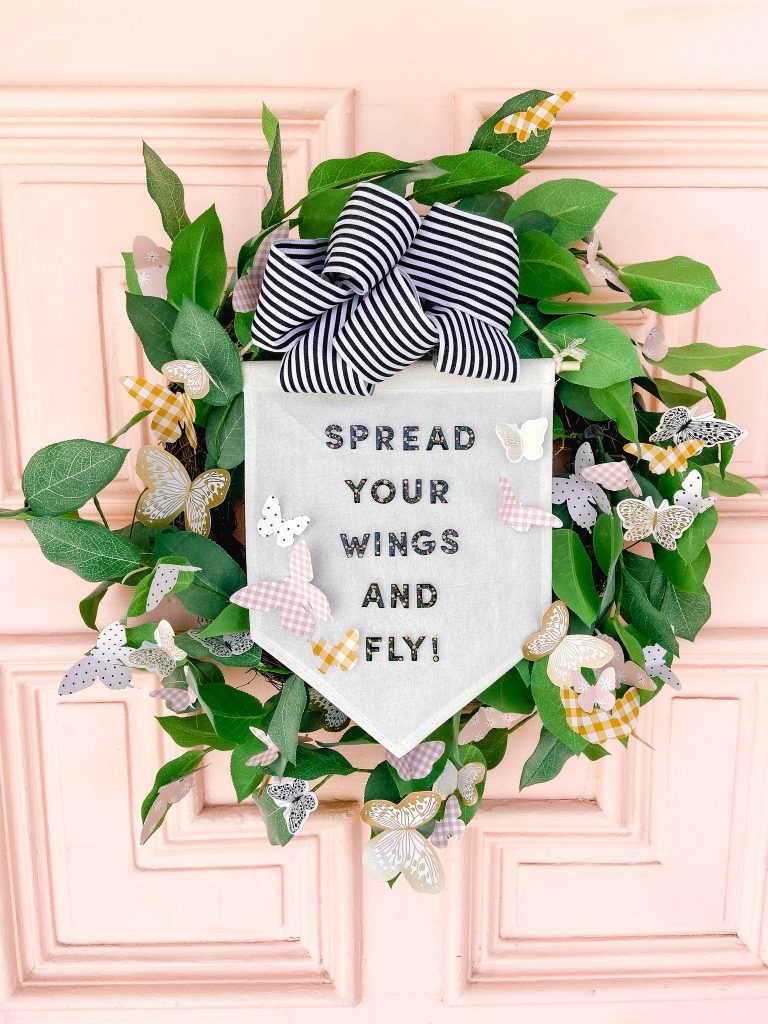 Another super easy wreath idea! I upcycled the egg wreath and added a pennant and some paper butterflies the next year!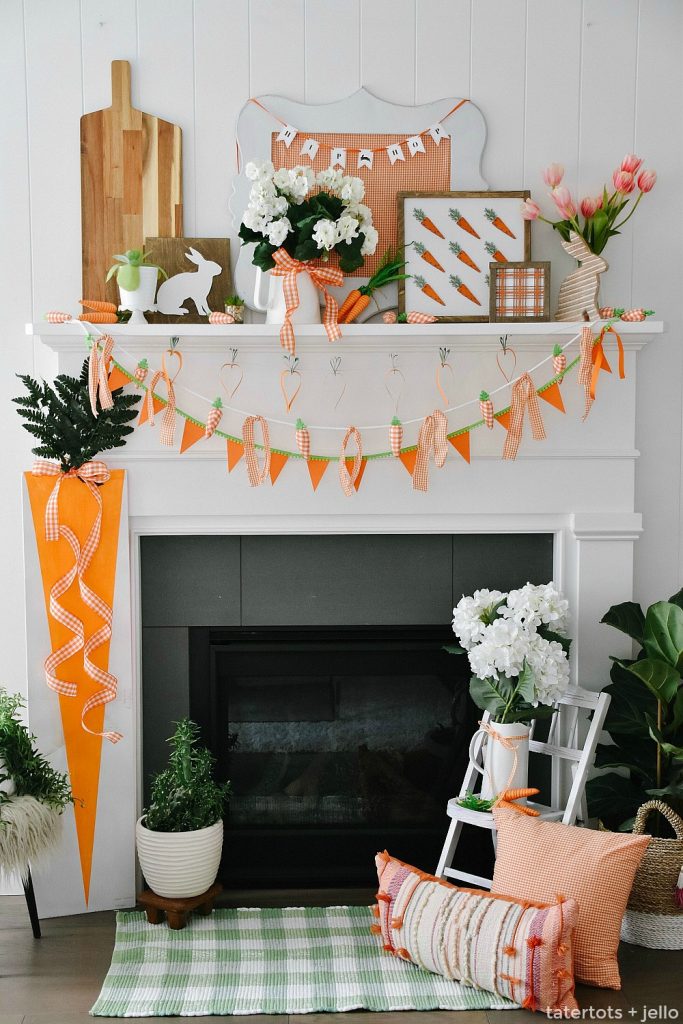 I love a theme! This year I went with a carrot theme and it was so fun to create a whimsical carrot mantel.
What projects are YOU working on this Spring??
Share them with us in the comments!
xoxo