Black and White Plaid Office Craft Room Remodel. Removable wallpaper, new lighting, adding an office nook and storage make a beautiful, multi-use work space on a budget!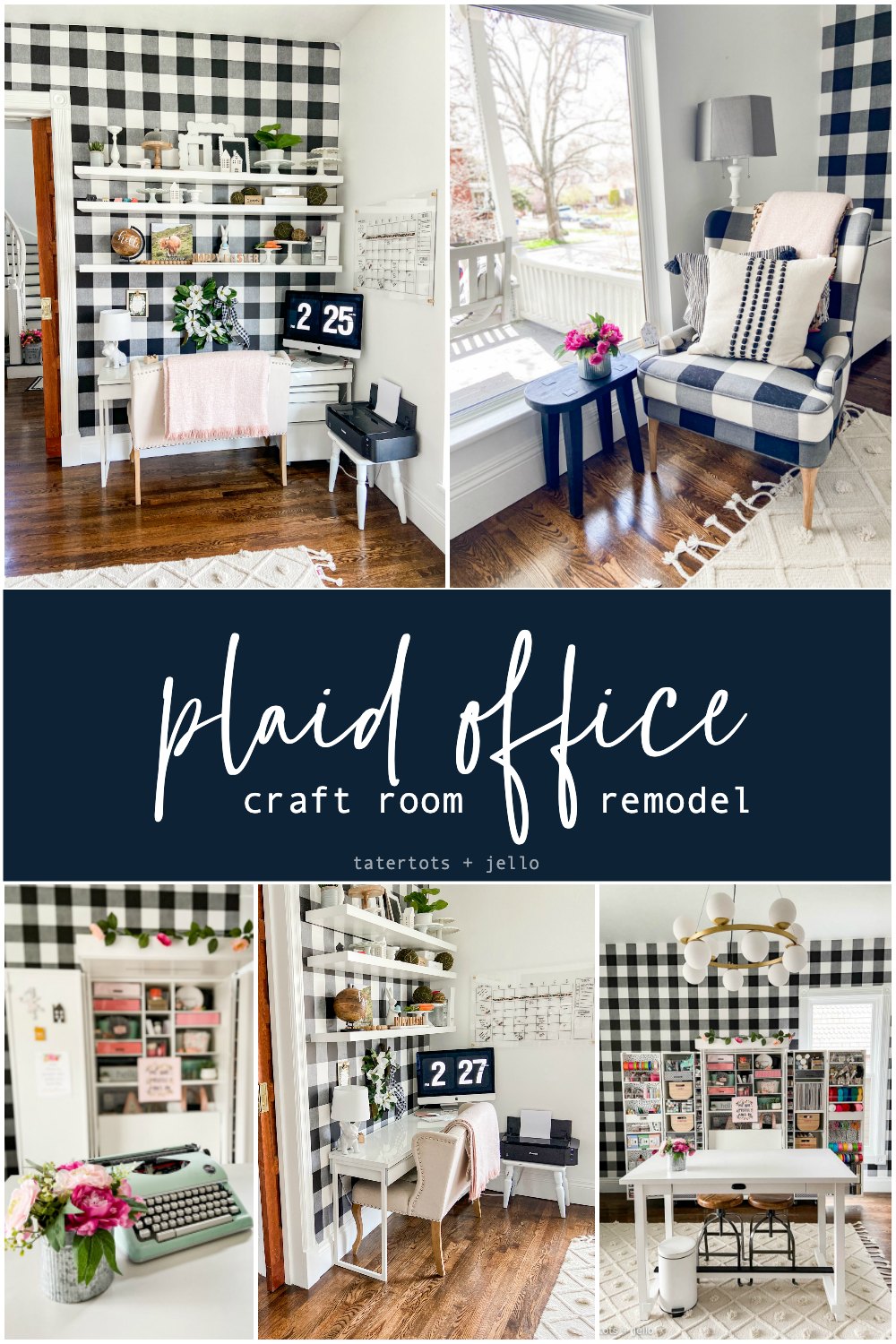 Black and White Plaid Office Craft Room Remodel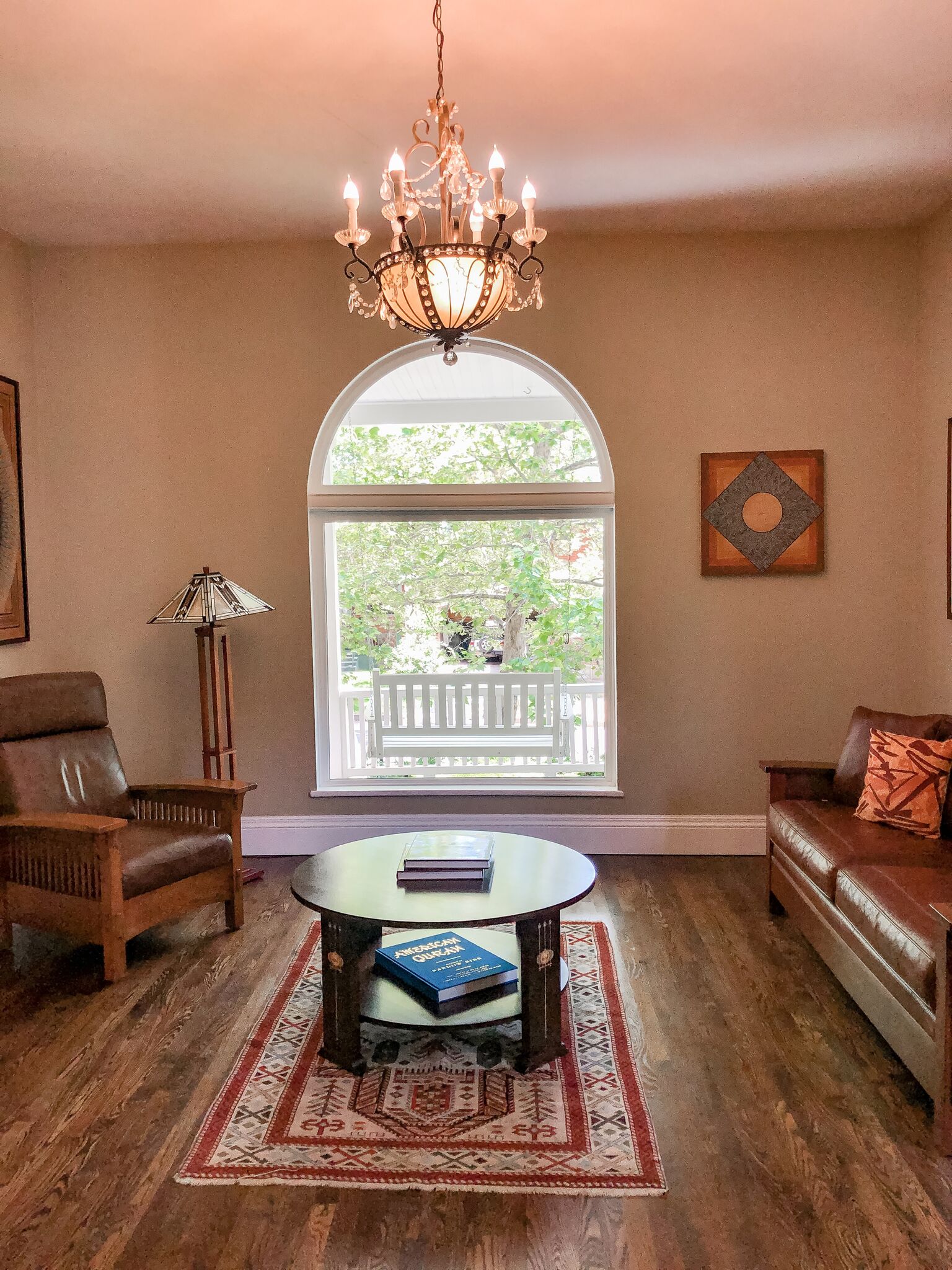 One of the first spaces we tackled when we moved into the #1891AvenuesCottage was the front room. It had been used as a formal living room. The high ceiling, coupled with a big window made it a no-brainer as an office and creative space!
New Paint in Office Remodel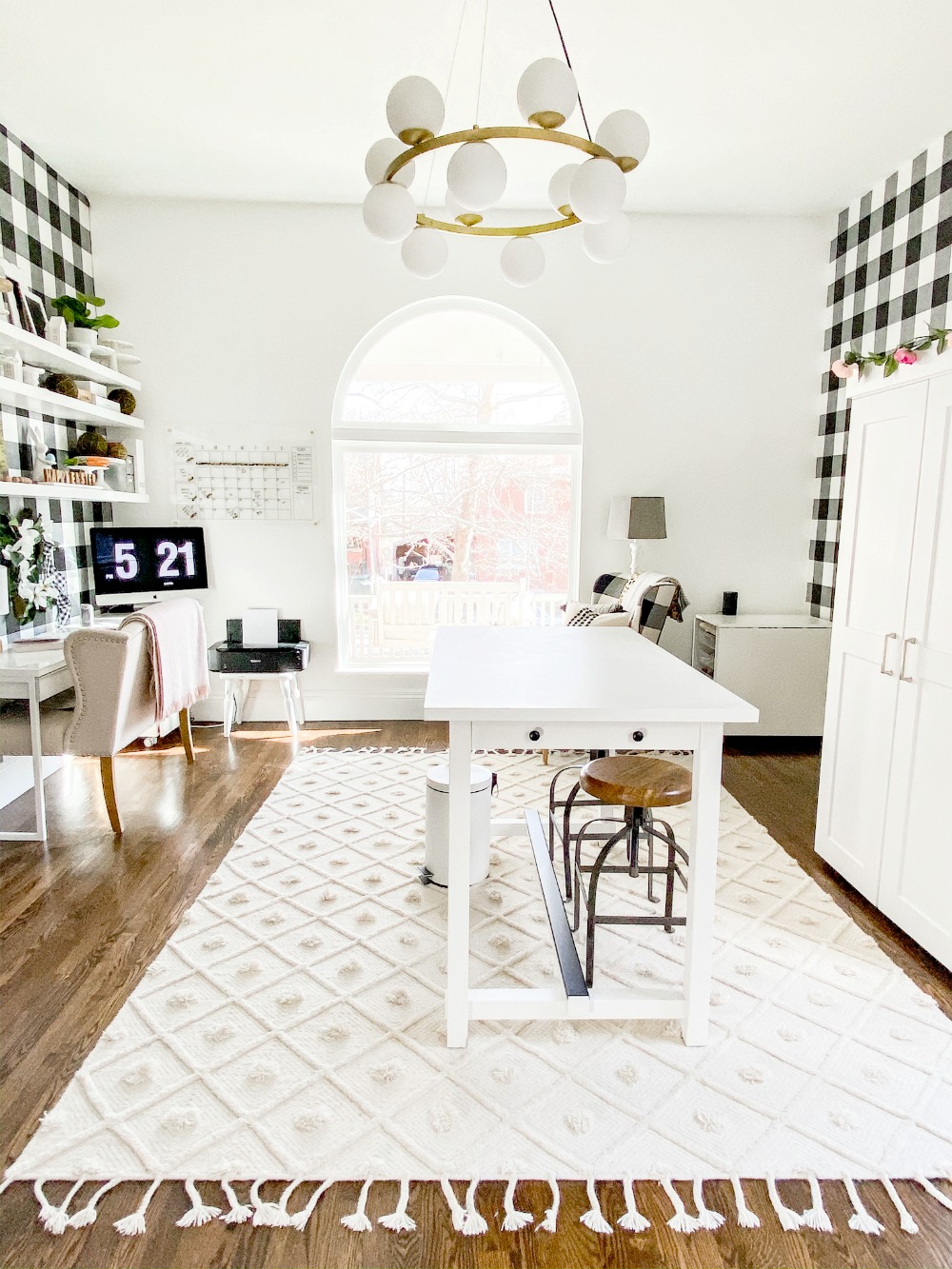 The first thing we did was paint the whole room Glidden's "Delicate White". The room before was an army green and it made the whole room seem pretty dark.
Removable Wallpaper
Once the walls were white, we added black and white checked wallpaper. It's removable and easy to change out! Here are a few tips about hanging removable wallpaper:
I hung the wallpaper all by myself and that is doable. But having someone hang it with me would have made it easier. The ceilings in the room are 12 feet tall so I used a ladder.
I cut each panel about 6 inches longer than the 12 feet length to give me a little wiggle room. The nice thing about removable wallpaper is that you can reposition it over and over! That makes it easier to get it perfectly lined up with each of the other panels.
I started on one side of the room, lined up the wallpaper with the wall and matched the additional rolls to the original panel.
Modern Lighting Gives an Older Home an Unexpected Modern Element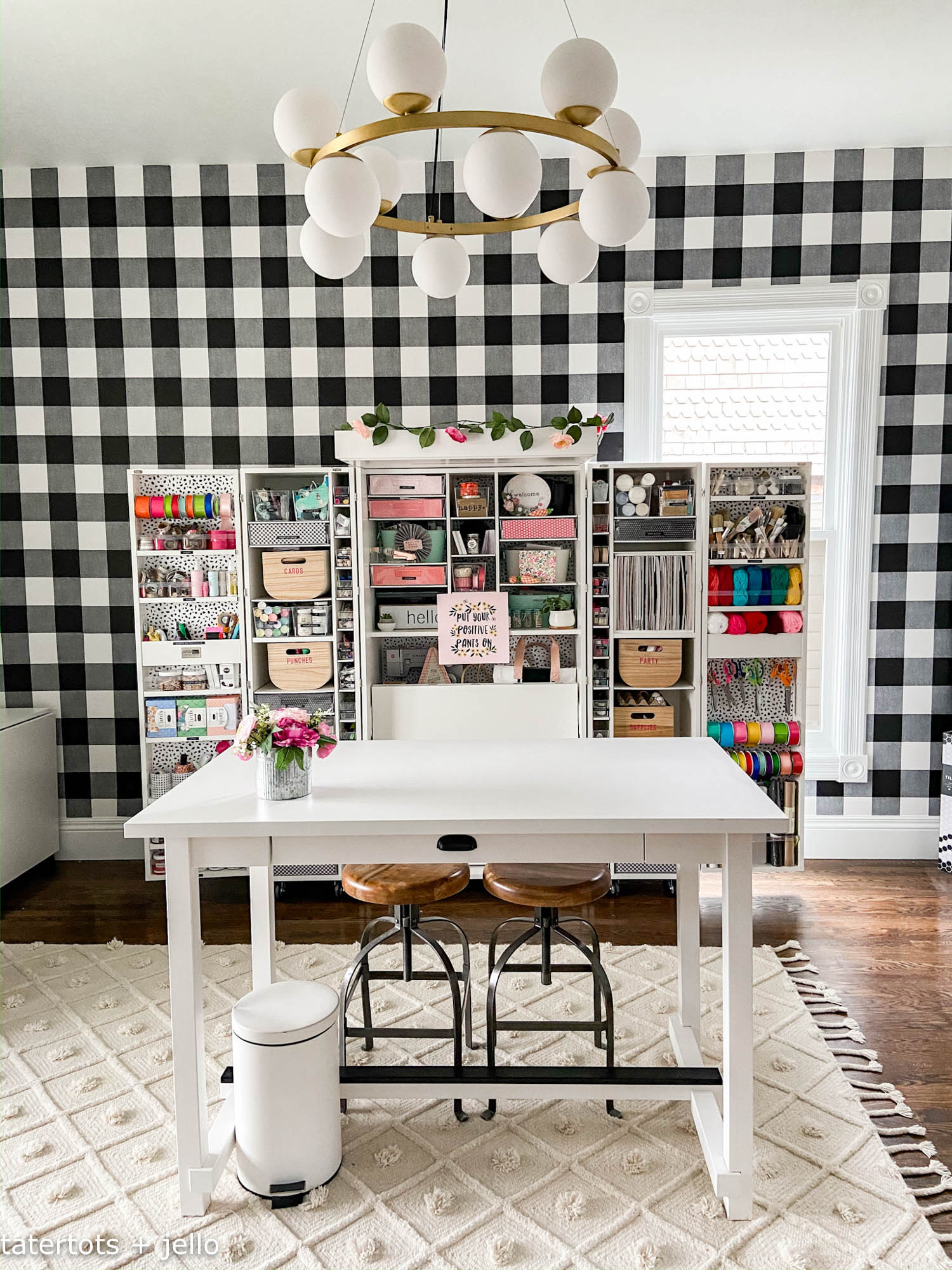 In our overall home remodel I am choosing more traditional elements like subway tile and clawfoot tubs; but I want to give the home an updated look with some modern elements like fun light fixtures and fixtures. For this room and the room that opens next to it, I chose matching modern bubble chandeliers! When we open the french doors to our family room, I wanted the two rooms to feel like one big room. I feel that they do feel that way because of the matching fixtures.
Fireplace Remodel on a Budget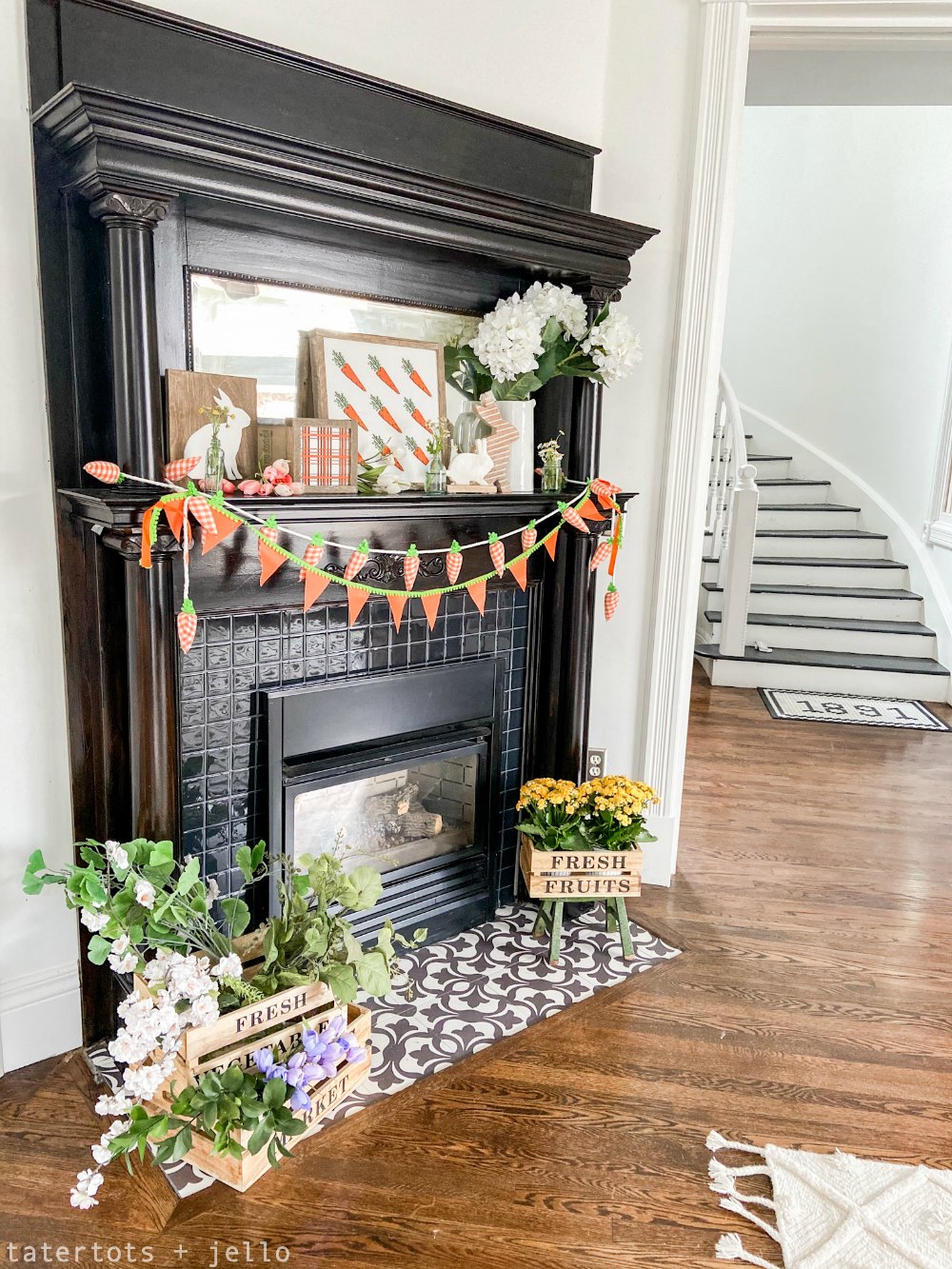 The fireplace in our new office space has the original 1891 mantel. It was a bit worn and at some point an insert was put in that was off center. I talked to a few contractors about redoing the tile, re-centering the fireplace and giving the whole mantel an overall update. The budget they gave me was $5,000. Not having that project built into our remodel budget, I did a simple update with espresso stain and removable tile. I added black subway vinyl tile to the area around the insert. This camouflaged the fact that the insert was off-center and added trendy black and white tile to the hearth. For less than $100 gave this little fireplace a new life and I love the way it turned out!
Three Office Zones for Different Purposes
When we moved in we still had our old house to sell, so the budget was tight to transform this space quickly and inexpensively. We turned the space into three different zones for work. It's been great because multiple people can use the room for different purposes at once!
Office Craft Room Computer Nook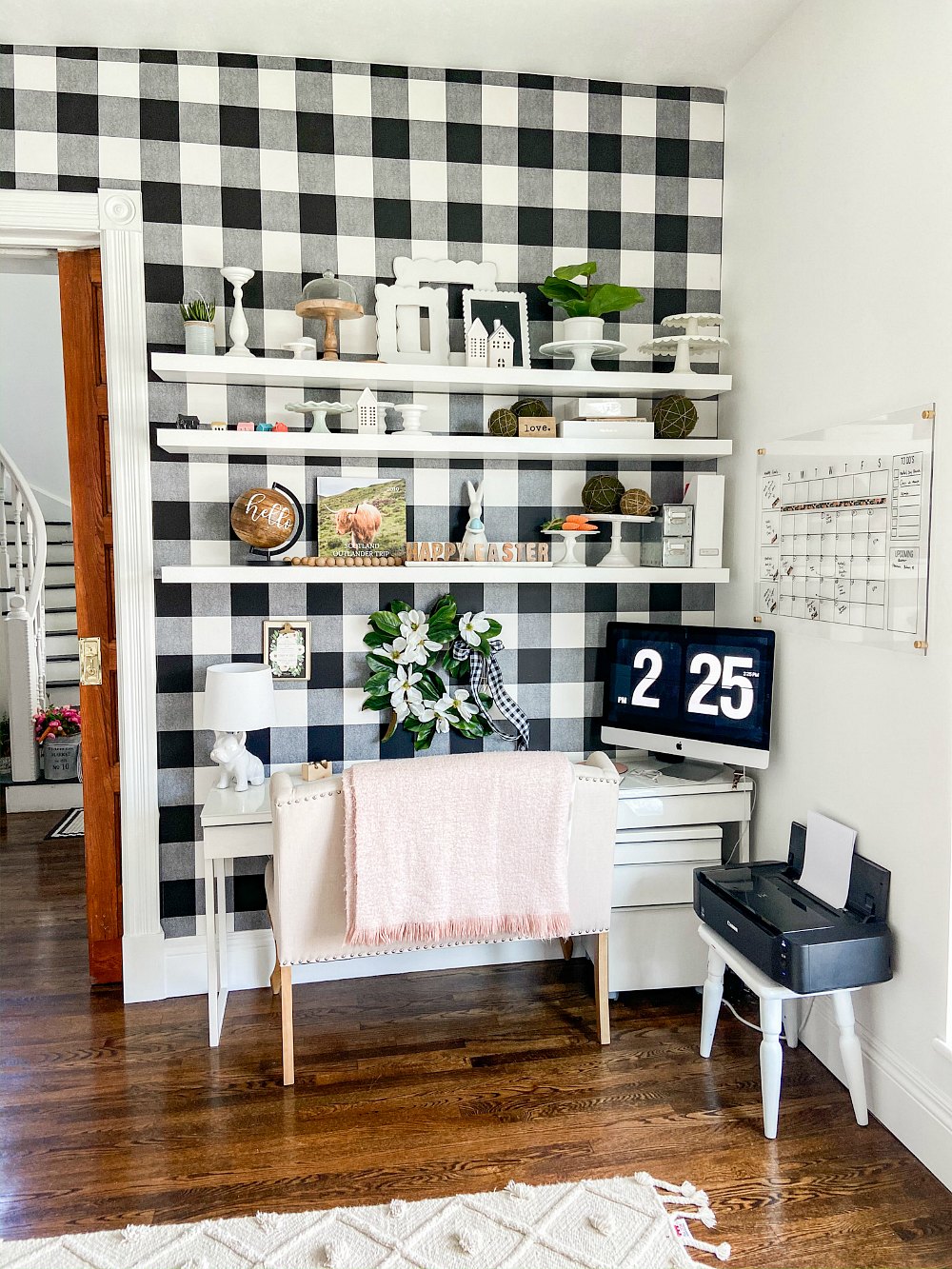 TO one side of the big window there was a space that we made into a computer nook.
We added a narrow Ikea desk
Three floating Ikea shelves over the top of the desk. The shelves are great for displaying seasonal things and they also hold our files.
There's also a rolling file cabinet under the desk.
The family printer is off to the side.
Above the printer is beautiful giant calendar by Pretty Clear Decor . We use it to keep track of family and business deadlines and commitments.
The office computer nook is where I blog. It's also a place for the family to use the computer for school work too!
Creative Central Workspace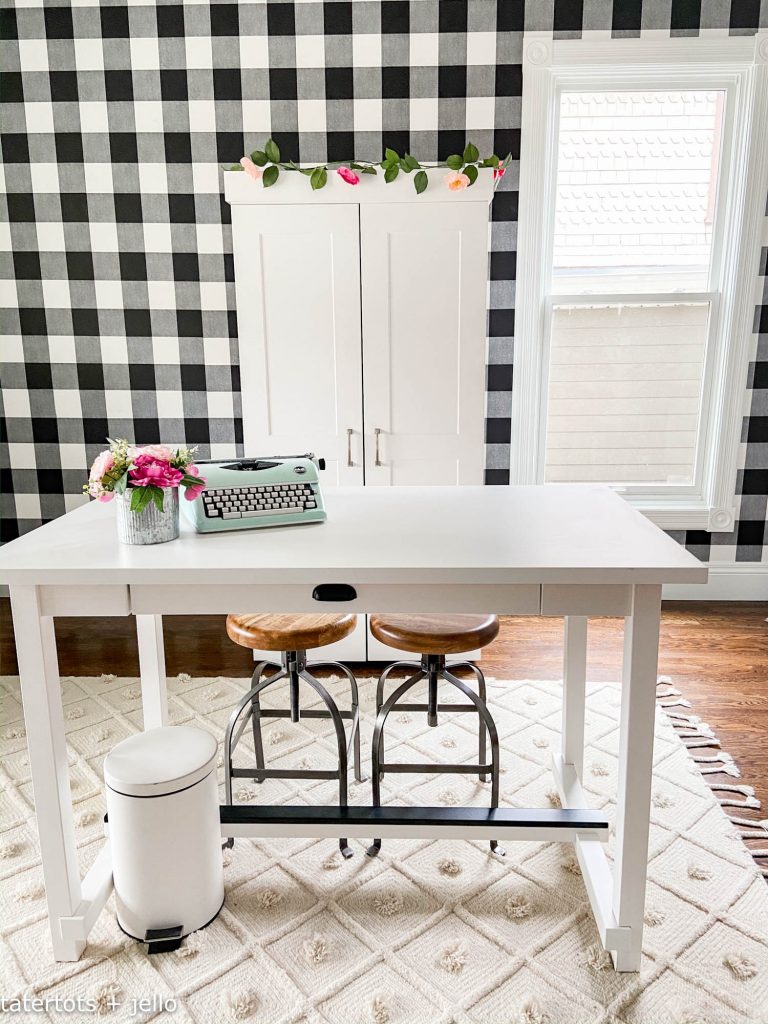 In the center of the room is our creative space. It's perfect for projects, big and small.
Dreambox Organizes Our Supplies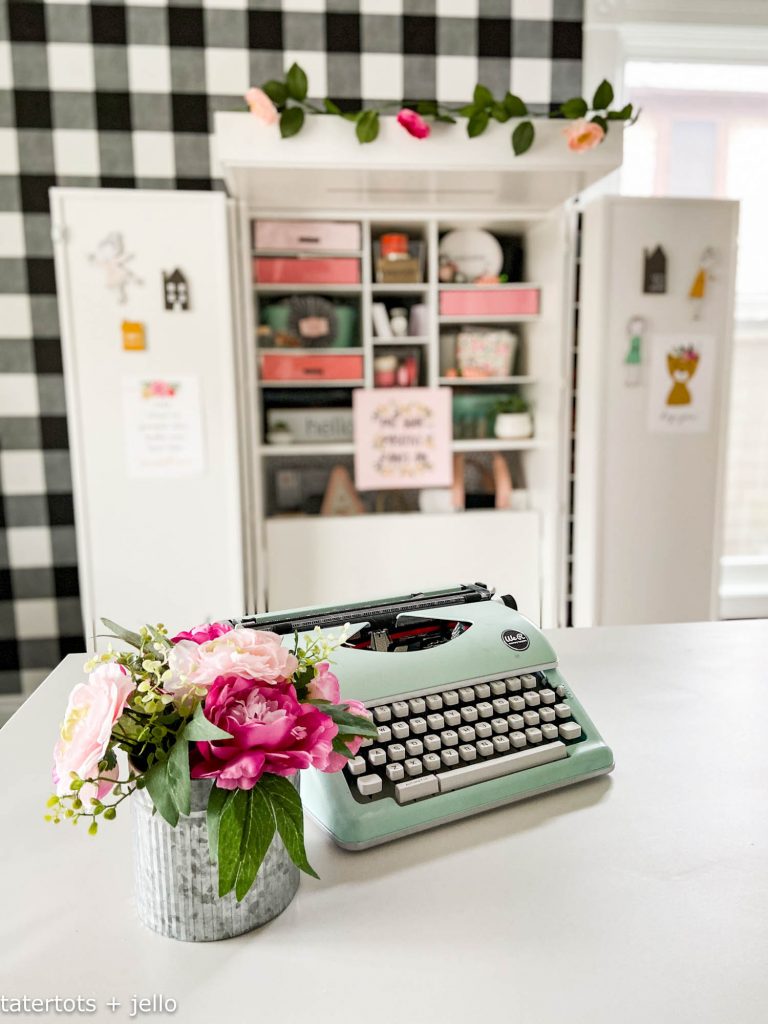 This is where I have my Dreambox which holds all of our supplies. My sewing machine, craft cutting machines, paper, paints, brushes, pens and other craft supplies. It's easy to open for supplies but it's easy to shut and looks like a beautiful cabinet.
Creative Table
I added a white table that complements the dream box in front and two stools. It's the perfect space for making DIY projects, doing big school projects and getting creative with the girls! The light above the space makes it easy to create there at night too.
Relaxing Reading Nook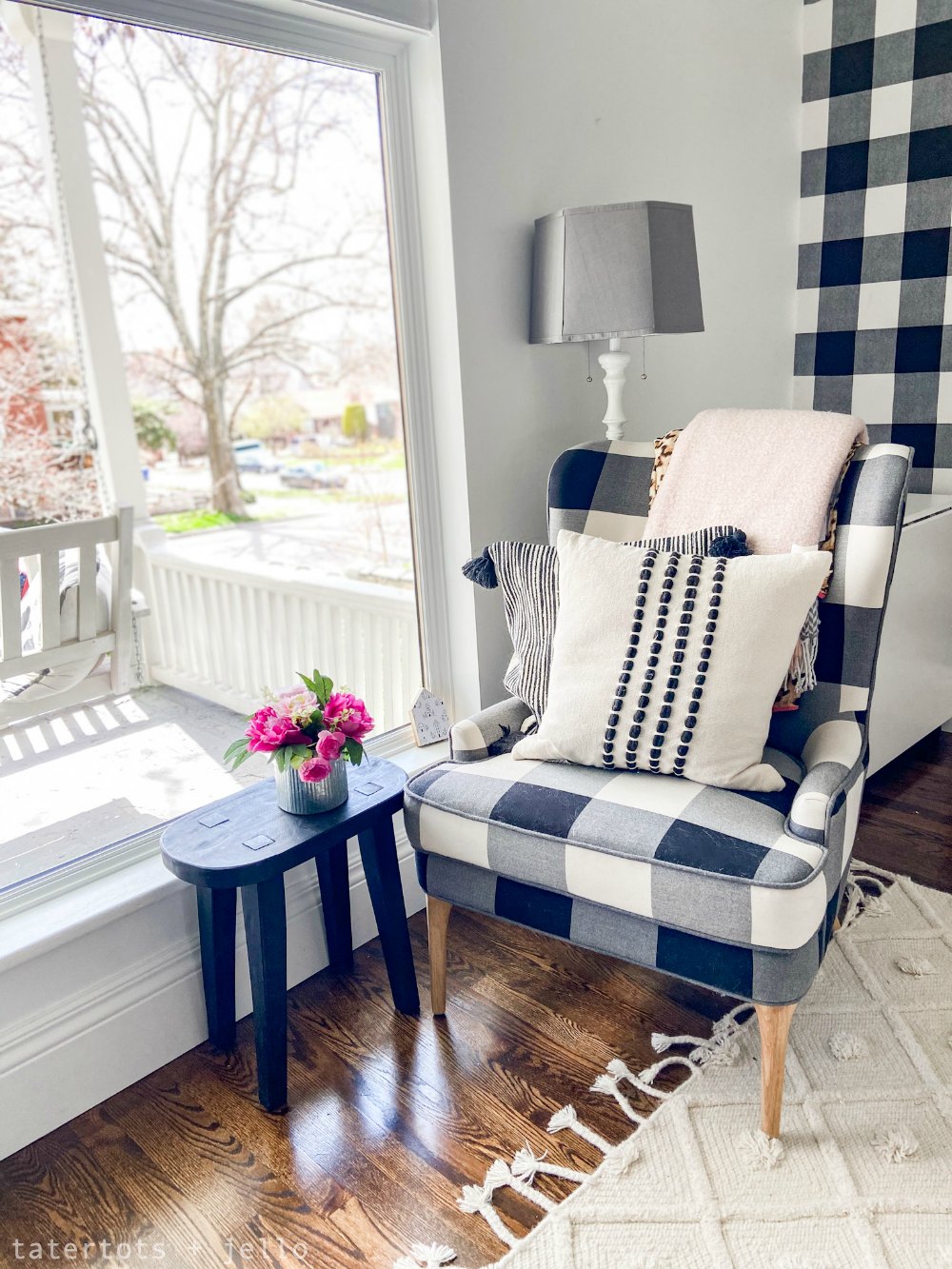 We also have space in our new office for reading too. I found a plaid chair that echoes the plaid wallpaper and it's the perfect spot to read. My husband loves coming home at night; sitting in the chair and talking to me as I wrap up a post or project. We can also move the chair in front of the fireplace for a cup of tea when the weather is cold.
Stay Home and Work on Some DIY Projects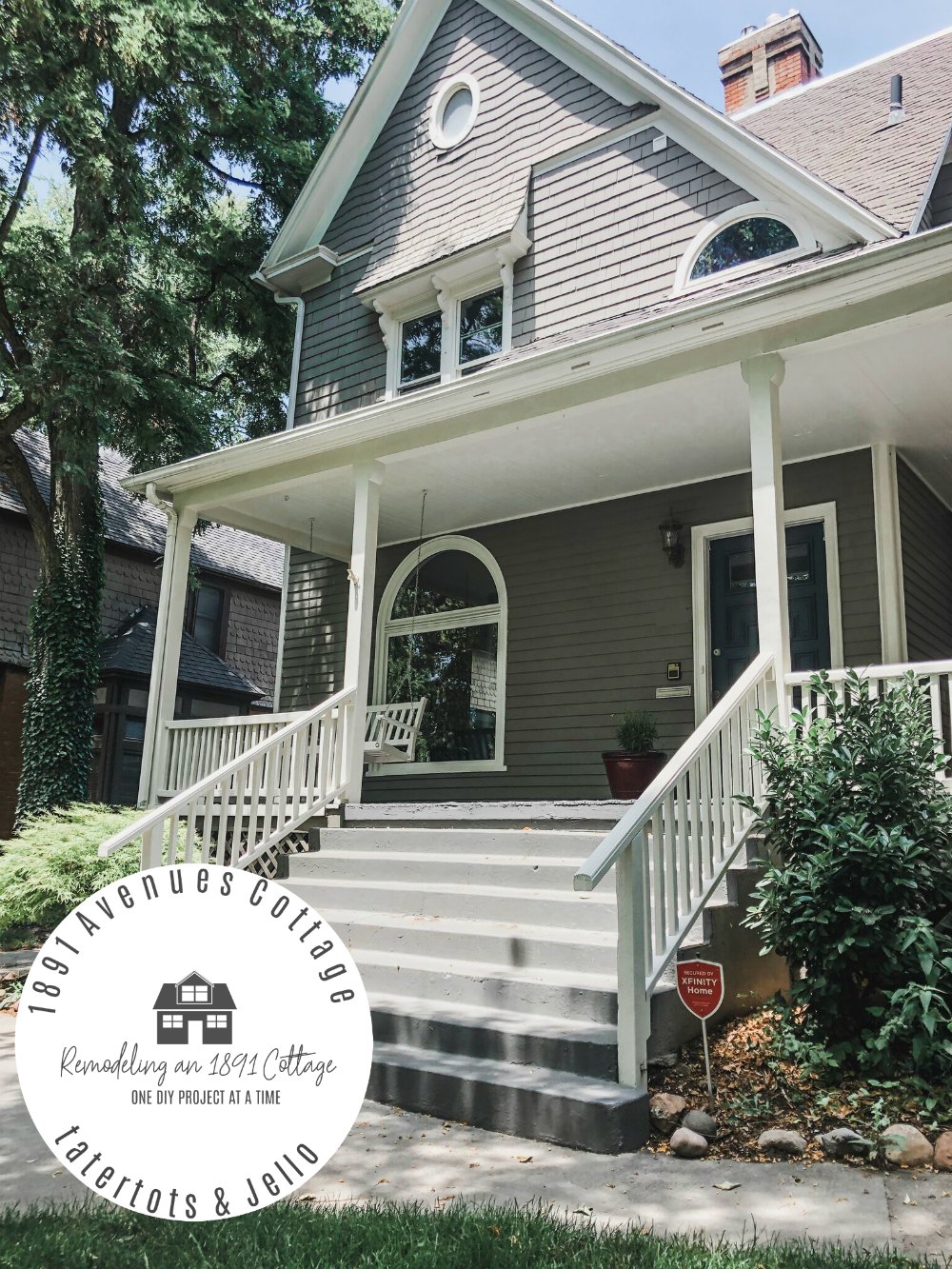 Now is the perfect time to get started on some DIY projects! I hope these idea inspire you! Let me know if you have any questions on this project or our #1891AvenuesCottage remodel! Tag me on Instagram at @tatertotsandjello and share YOUR ideas with us! You can see more of our home in my Spring Boho Cottage Tour!

Have a Creative Day!
xoxo