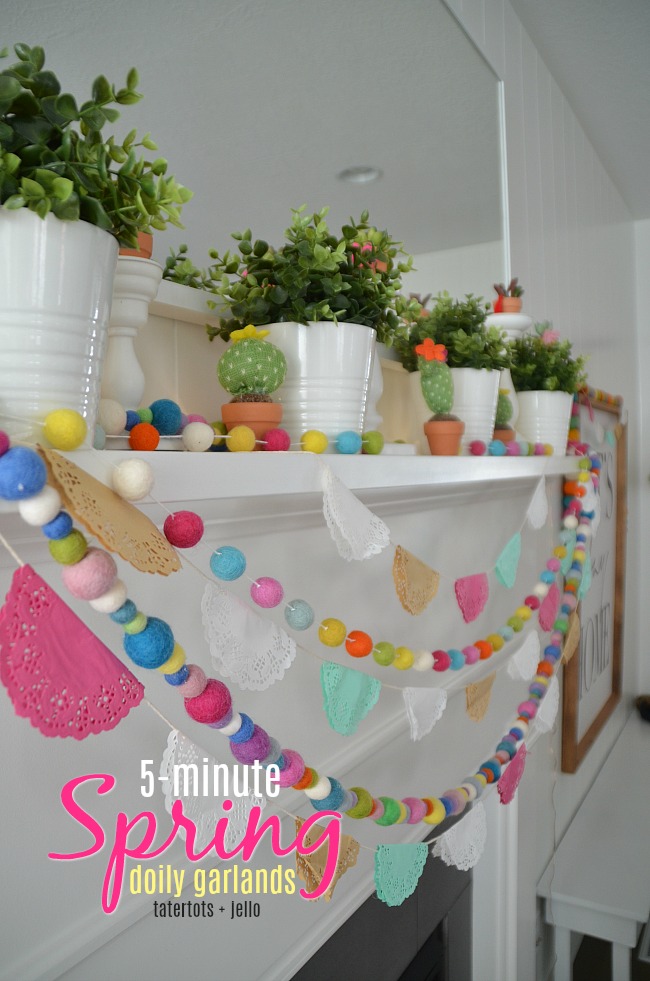 This post contains some affiliate links. Affiliate links cost you nothing but allow tatertots + jello to continue bringing you free projects and recipe ideas. We hope you enjoy this 5-minute Spring doily banner idea!
I love an easy and fast project. This one is awesome for spring. And I will let you in on a little secret – I made these for Christmas too – you can see them in my Merry Christmas Tour! You can make these garlands up for almost any occasion – they are bright cheerful and happy! Birthdays, cinco de mayo, summer, parties and more!!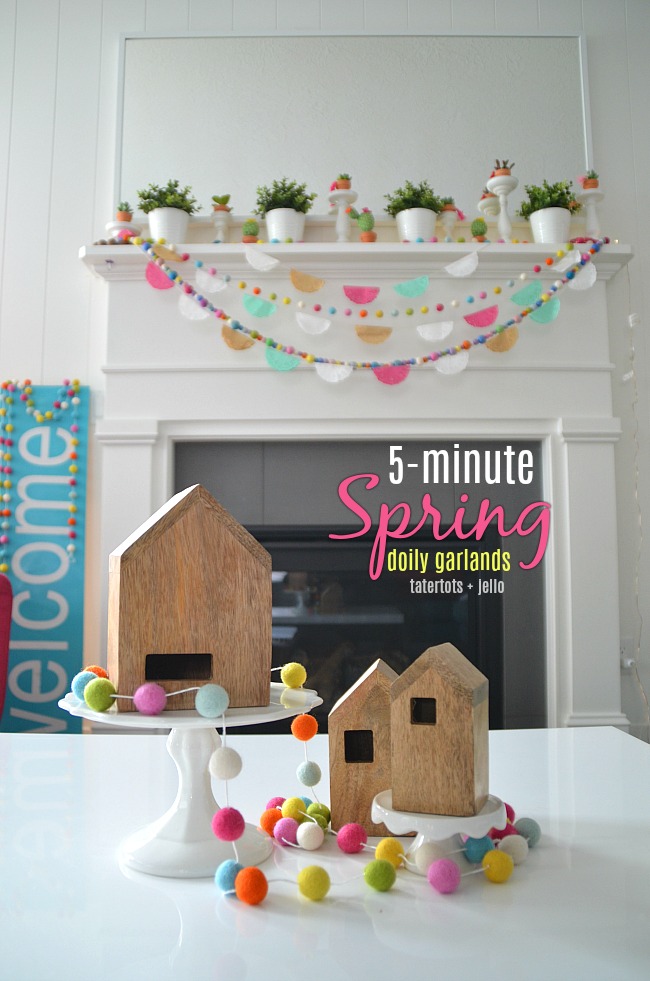 I bought packages of bright doilies which were very inexpensive.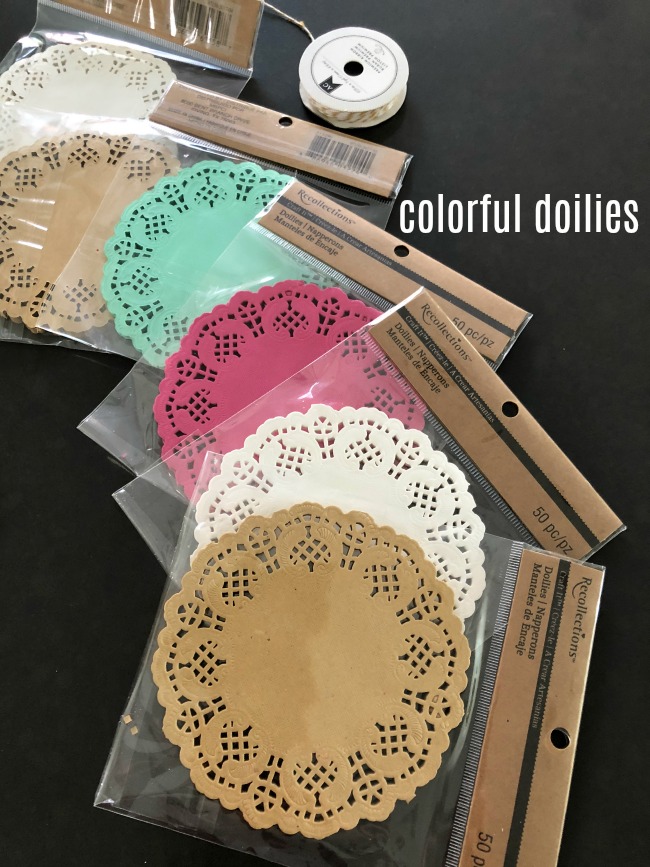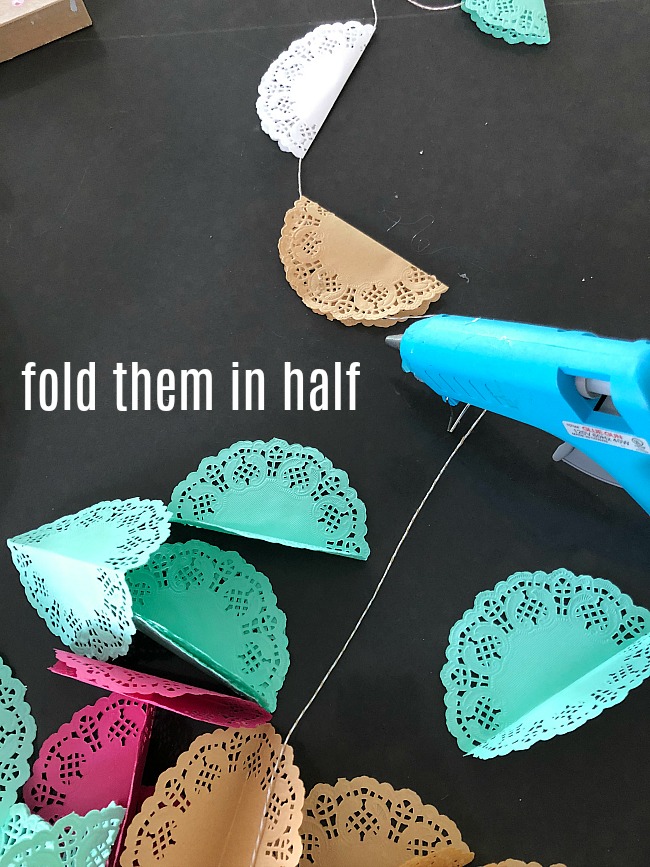 And then I just cut string the length I wanted.
Then I folded then doilies in half.
Then I spaced them out on the string and hot glued them onto the string.
I added some bright and colorful felt ball garlands to the mantel too! I use these garlands ALL the time for decorating. I just love them! You can put them on a shelf for a little color, on your mantel, around your front door. There are so many ways to use them. I have a link for them below.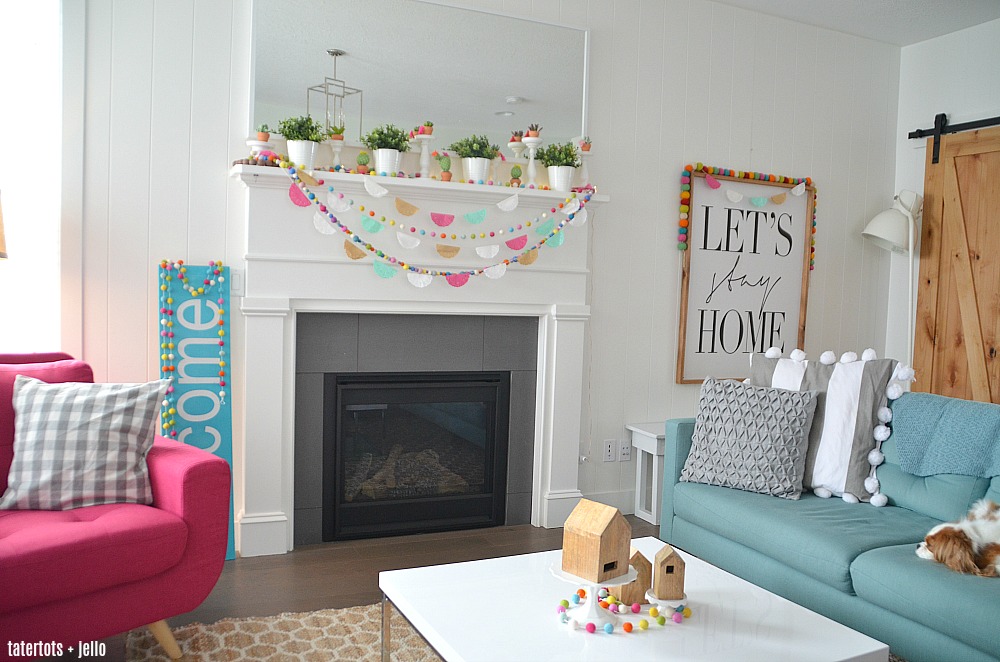 5 Minute Spring Doily Garlands – easy and inexpensive, they will brighten your home for Spring, Summer, Cinco de Mayo and parties!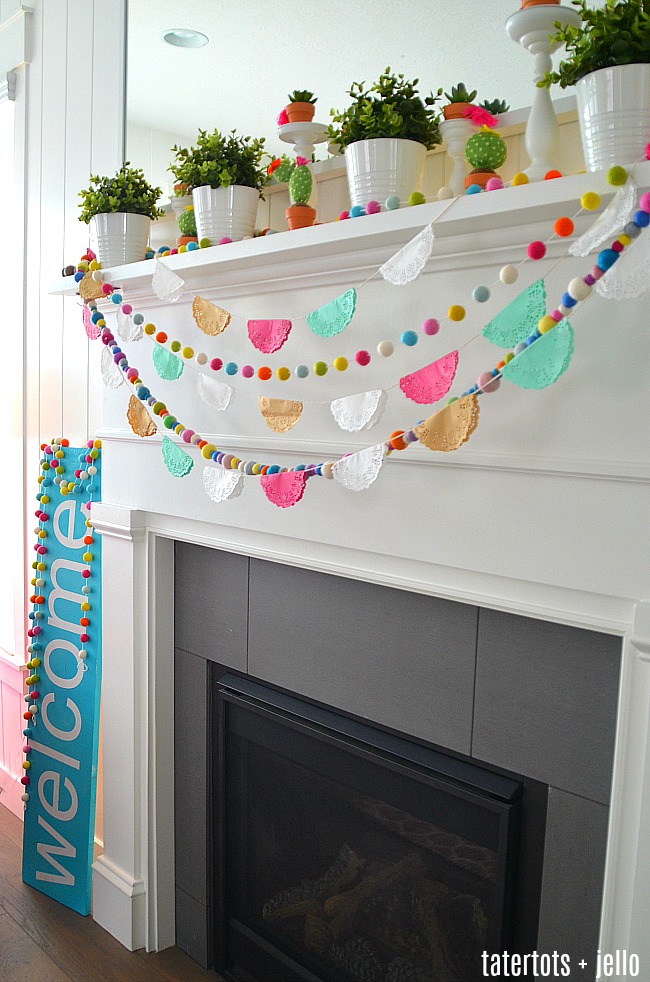 I put a few links in here in case you want to give the project a try.
Make this project —-
And here are a few other ways to BRIGHTEN your home up for Spring!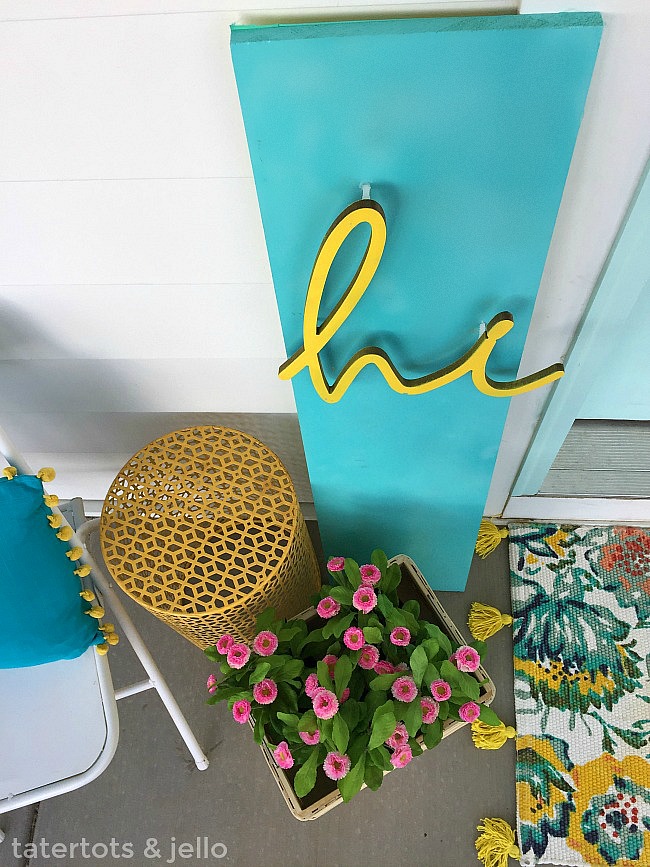 I LOVE making giants signs. But I also like to switch things up. Inside of stenciling a word on the sign, this time I took a wood sign and put screws through the back side of the sign into the word sign on top, creating a 3-d effect. I love the simplicity and colors of this sign. This was one of my very favorite porches I put together!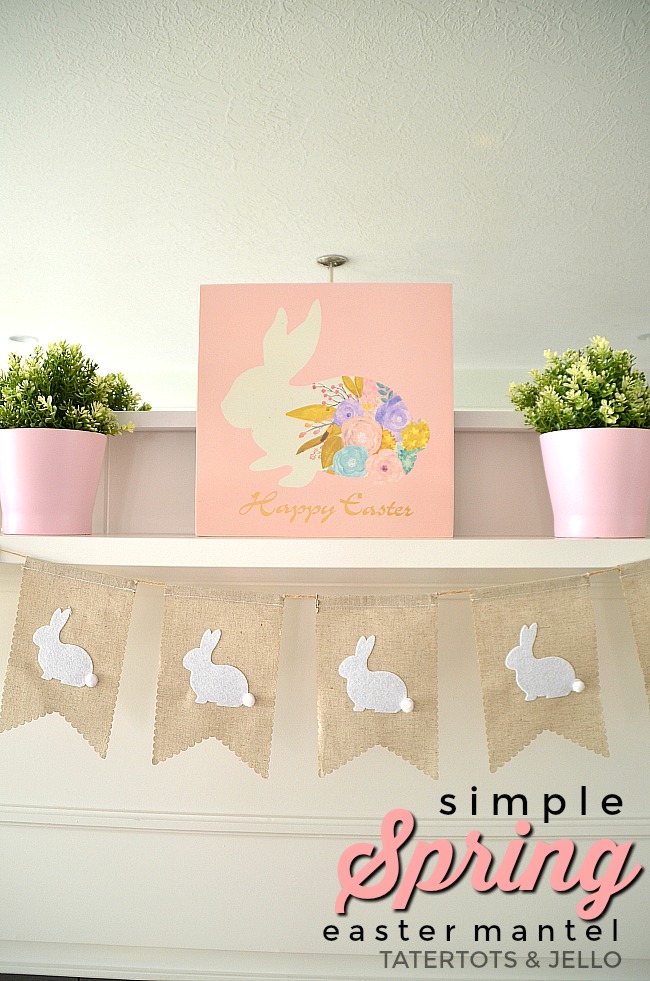 As I have gotten older I appreciate simple things more and more. I still love to decorate for all of the holidays but I do it in an inexpensive, easy way. This mantel was very simple using Ikea pots with little plants inside. Then one focal point with a bunny banner underneath.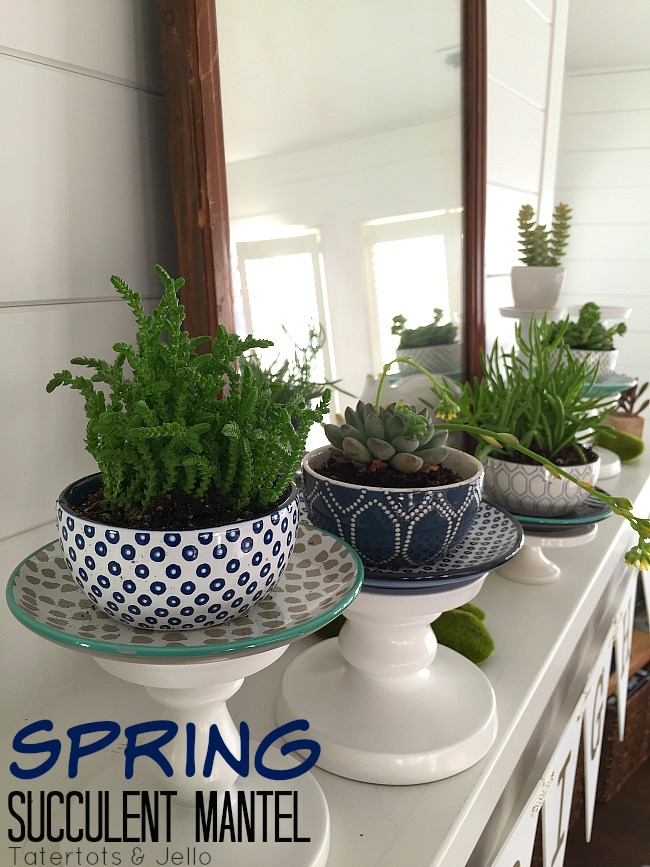 I have a thing for succulents. Probably because they are one of the few things I can keep alive. I found quirky little pots and plates and planted the succulents inside. Then I put them all on these white candle holders. I have used these Ikea candle holders for YEARS all over my home. They are different heights and sizes and they are great to use all by themselves but also to put things on to display.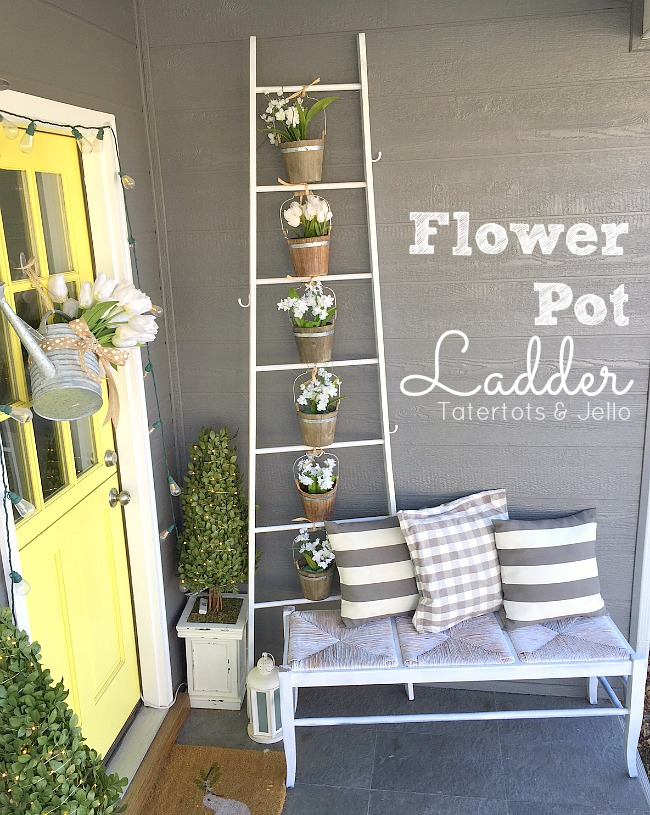 One of my very favorite projects. I made the ladder originally for Christmas to hang little advent pouches on. But it worked great as a ladder to hang little pots from. The flowers inside are fake because I can't keep anything alive very long LOL!
Are YOU excited for Spring?
What projects do YOU have planned??
Let us know in the comments!!
xoxo