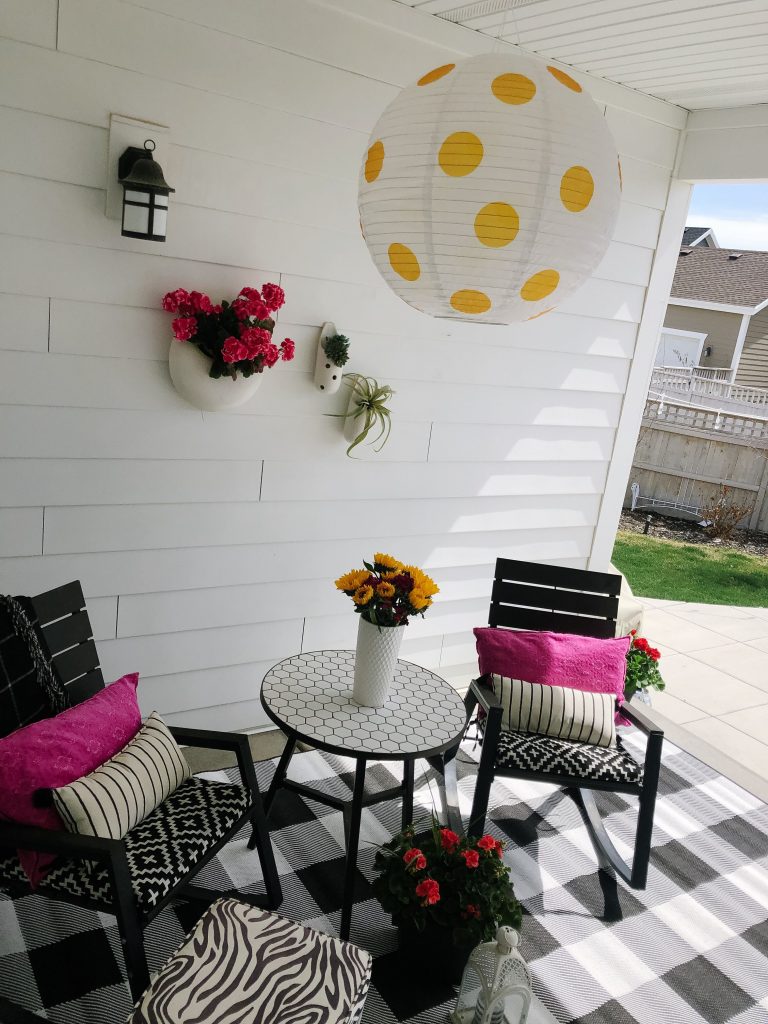 5 easy ways to get your backyard ready for Spring! Easy and inexpensive ways to make your backyard pop.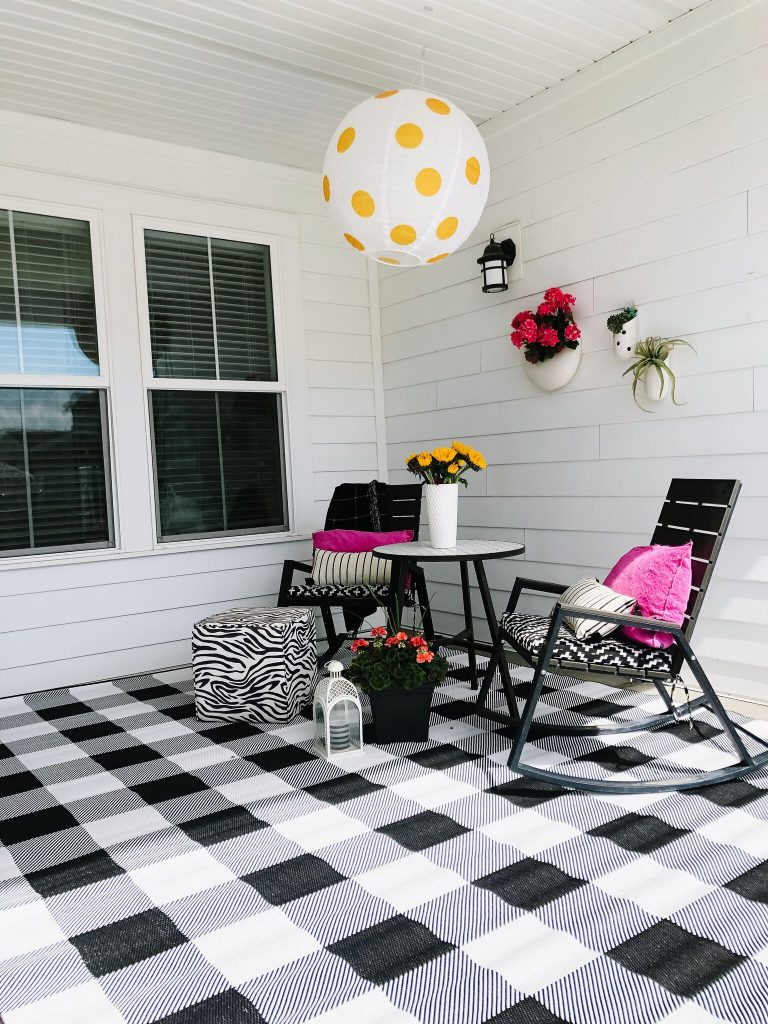 After a long winter, the arrival of Spring is so exiting! Warmer weather, buds on the trees, and sunshine feel so wonderful! The first thing I want to do is get my backyard ready for all of the fun summer events – BBQs, parties, etc.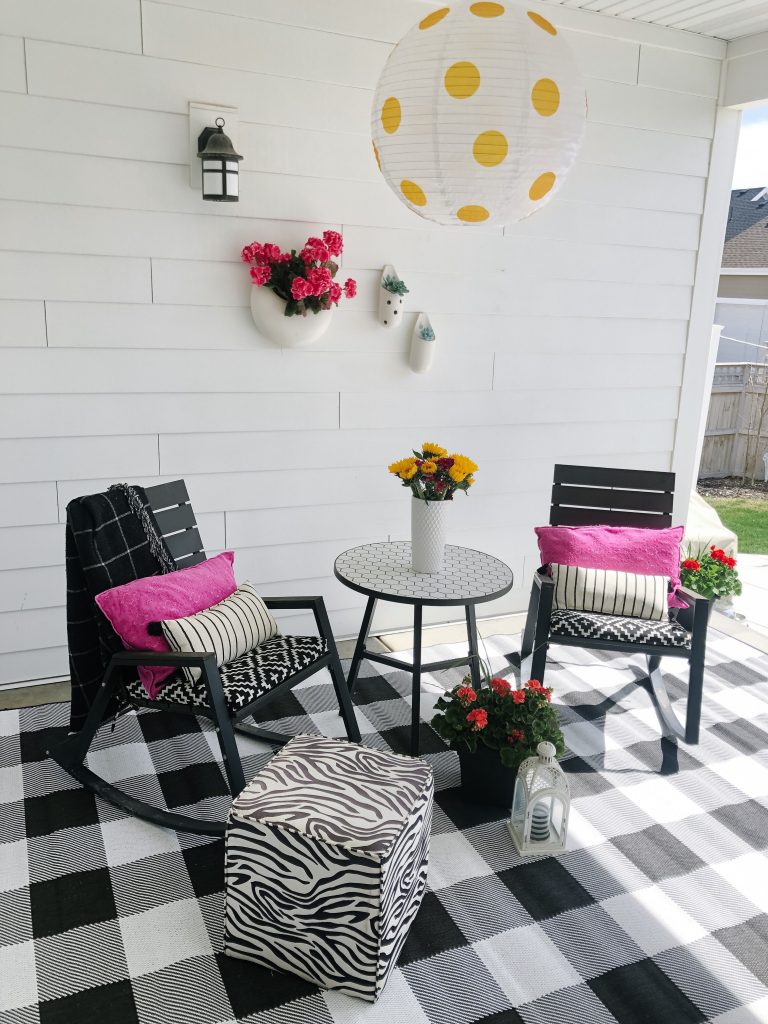 5 Easy Ways to Get Your Backyard Ready for Spring!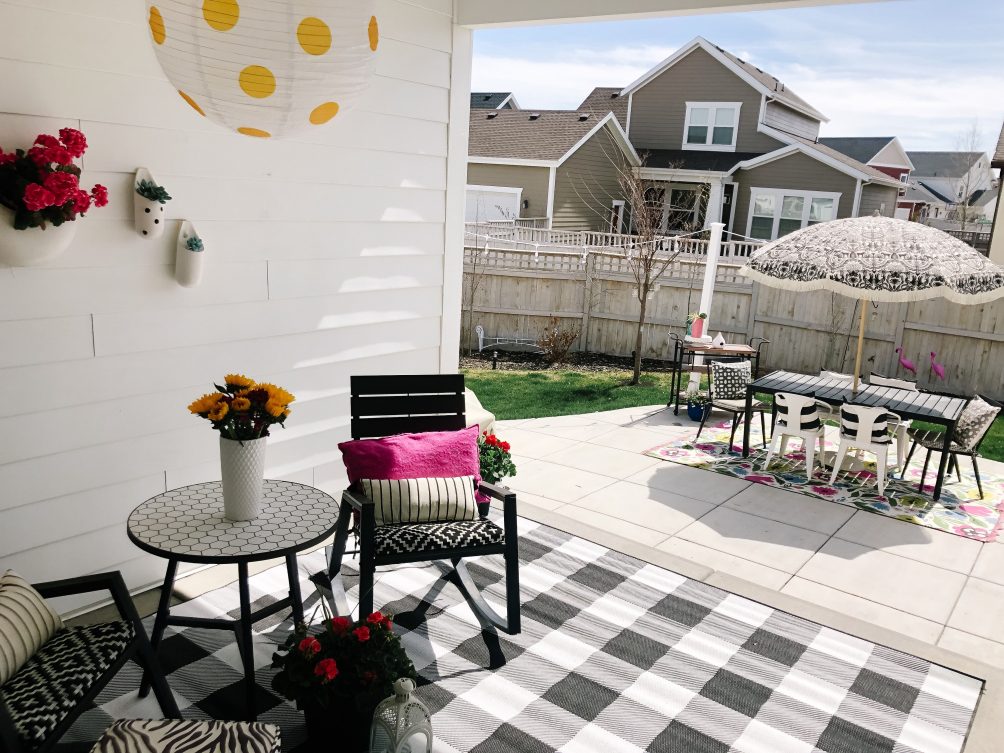 Add an Outdoor Rug to Your Backyard
If you have a patio or deck, an easy-to-clean outdoor rug is a great way to ground your outdoor area and add color or pattern to your backyard! We have a covered porch and a patio, I added two outdoor rugs to the spaces. The black and white buffalo checked rug for our covered porch and a floral outdoor rug to go under our patio table!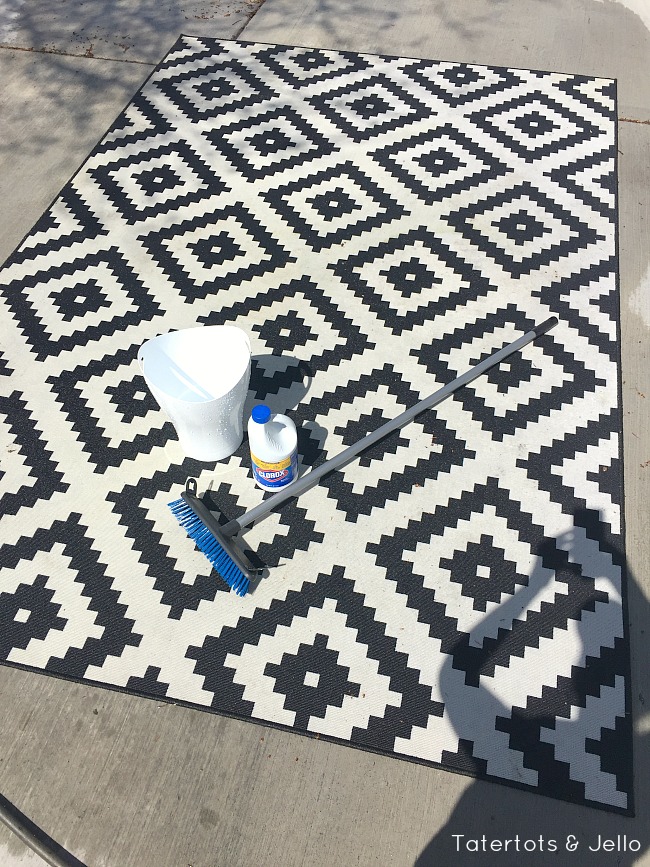 If you have an old outdoor rug that needs a little TLC – I have a tutorial on how to Clean an Outdoor Rug.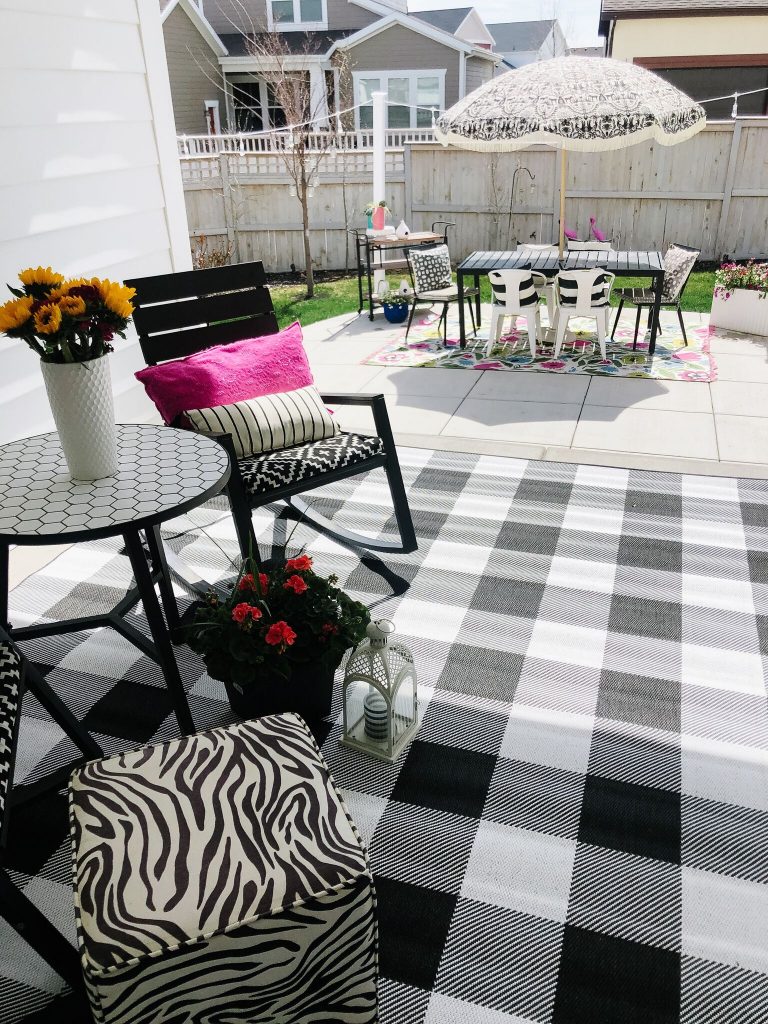 Add an Umbrella
If you get summer sun, an umbrella can be a great addition to your backyard. I added this printed black and white umbrella. We put it up in the summer and it shades us while we eat. You can also use an umbrella stand and create a shaded place anywhere in your yard!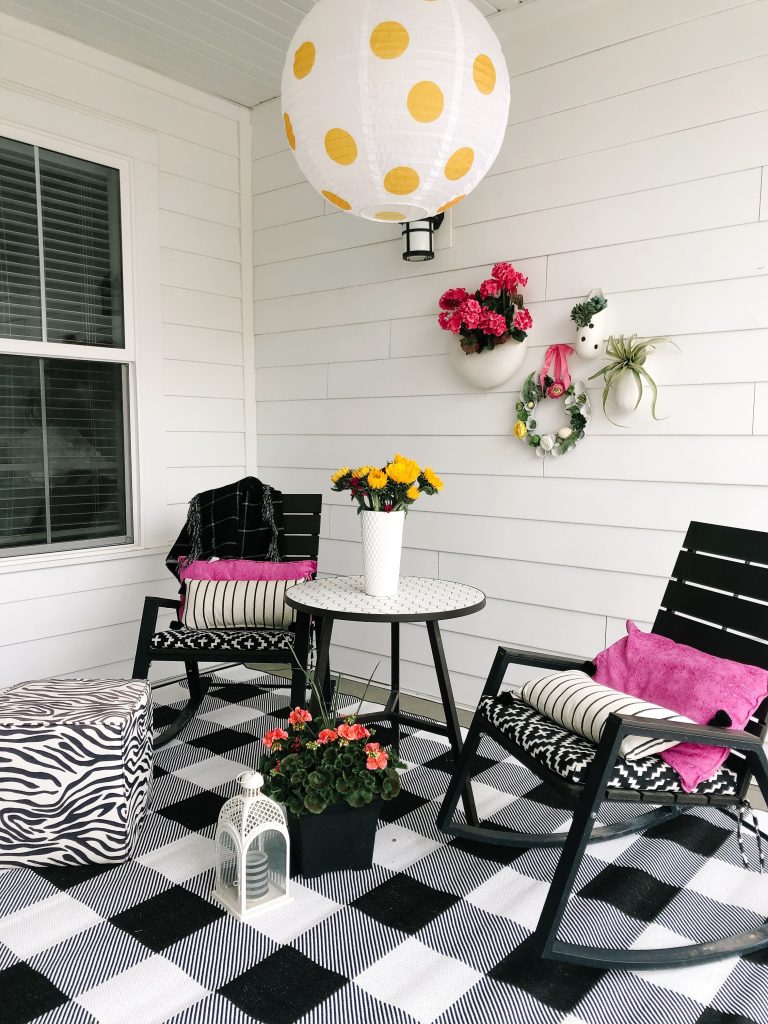 Add Color with Pillows!
I love pillows! Pillows create a comfy feel and also provide color in your backyard. We had a bed on our porch a couple of years ago and it was a great place to relax and read a book on a h0t summer afternoon.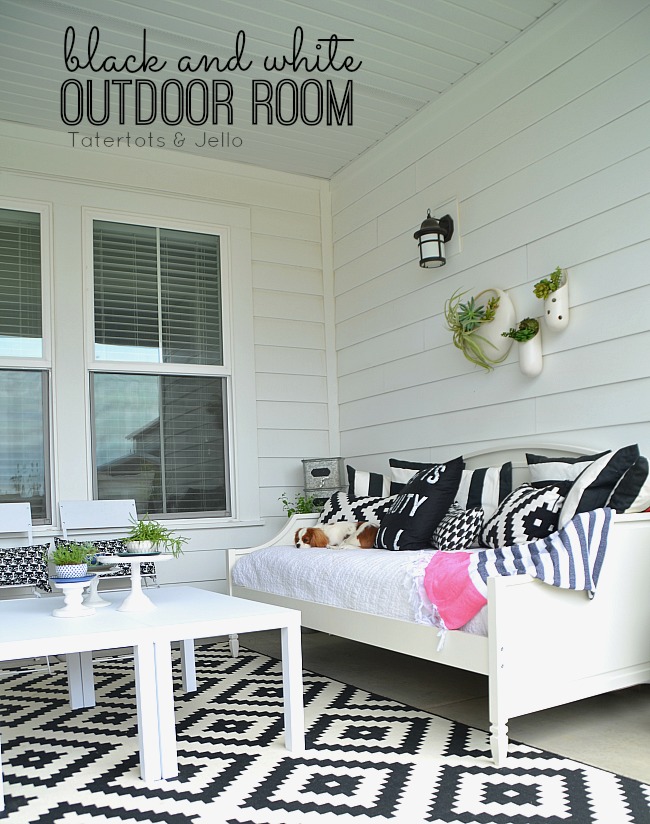 I piled it high with pillows and they made the bed so cozy.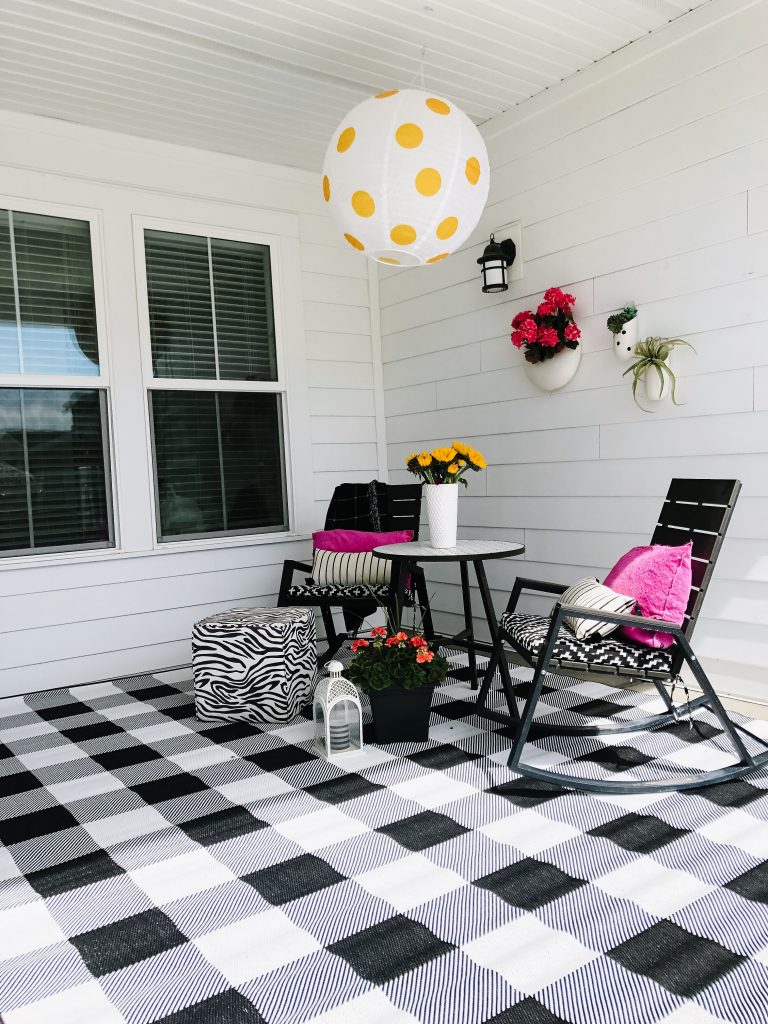 You can also make pillow covers SO inexpensively and in just minutes. I have a 10-minute Spring pillow cover tutorial that will show you how to make these!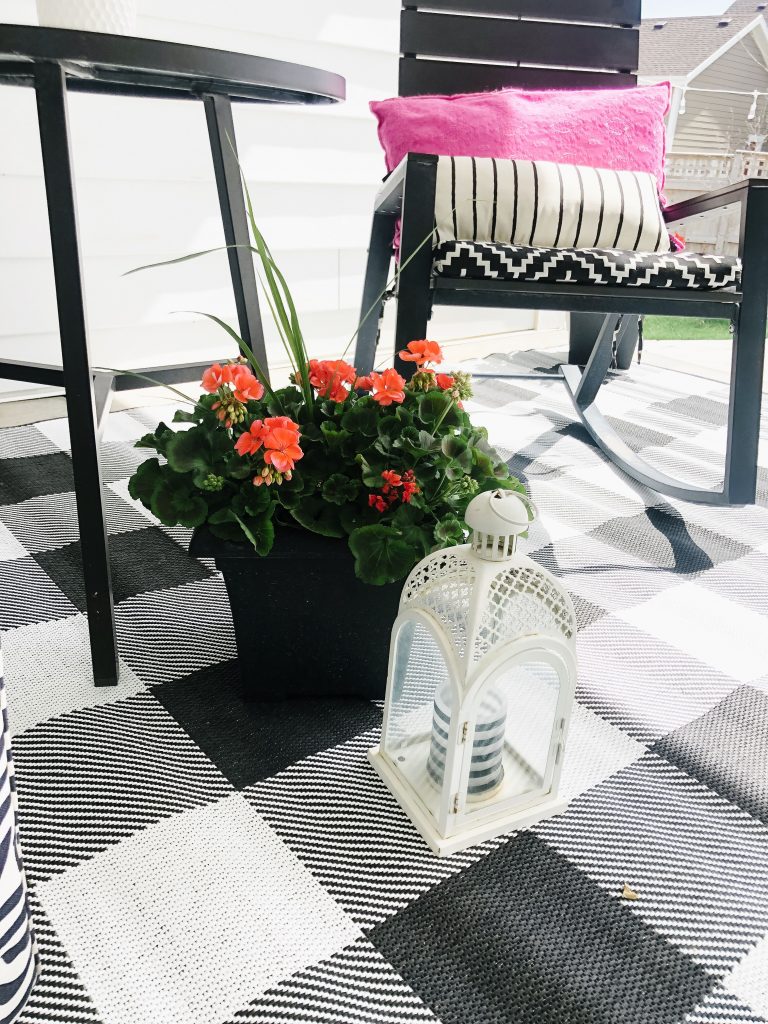 Add Plants to Your Outdoor Space
Plants bring color and a warmth to your backyard. You can plant them in your yard, or in pots. It doesn't matter how large your backyard space is, plants will really bring Spring to your home. I added some plants in containers. But I also have some hanging planters on our wall and I added faux blooms to those. If it's still too cold for real flowers, you can add some silk ones to create a pretty focal point!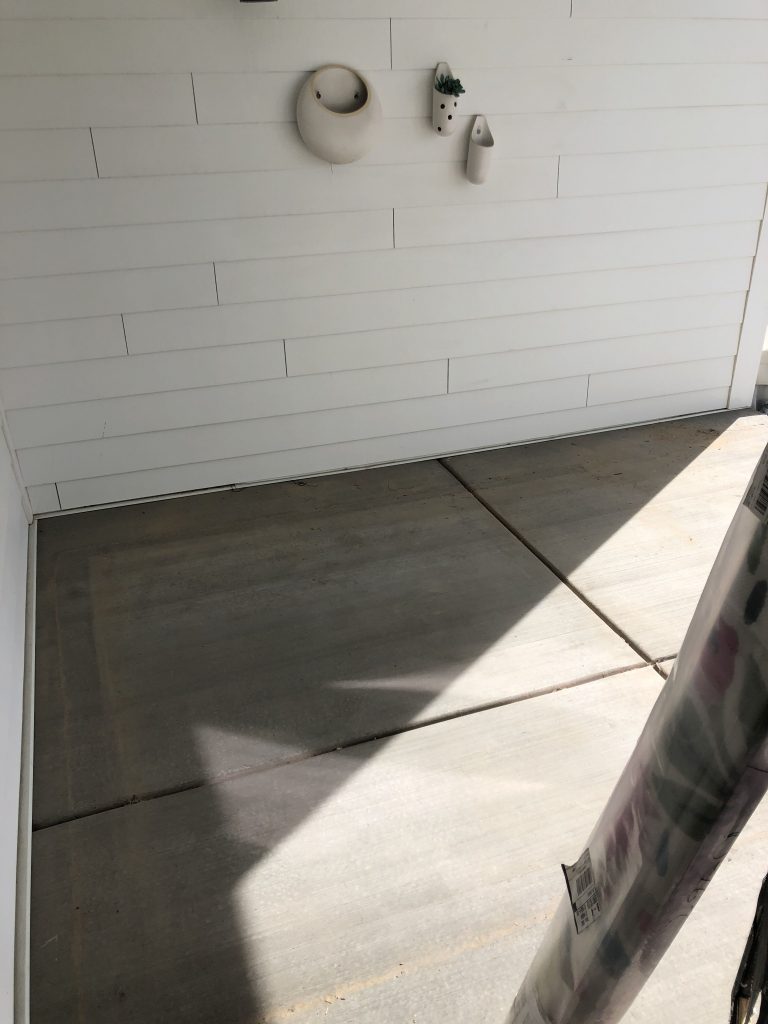 Add Lights to Your Backyard Space
Adding lights is so easy and really makes your backyard space more usable and festive. There are so many different ways to add lights. You can string lights across your patio. We added posts and hung lights from them. You can see the tutorial here — Backyard Light Posts.


We recently upgraded the lights to color-changing LED lights. I will share the update on those soon!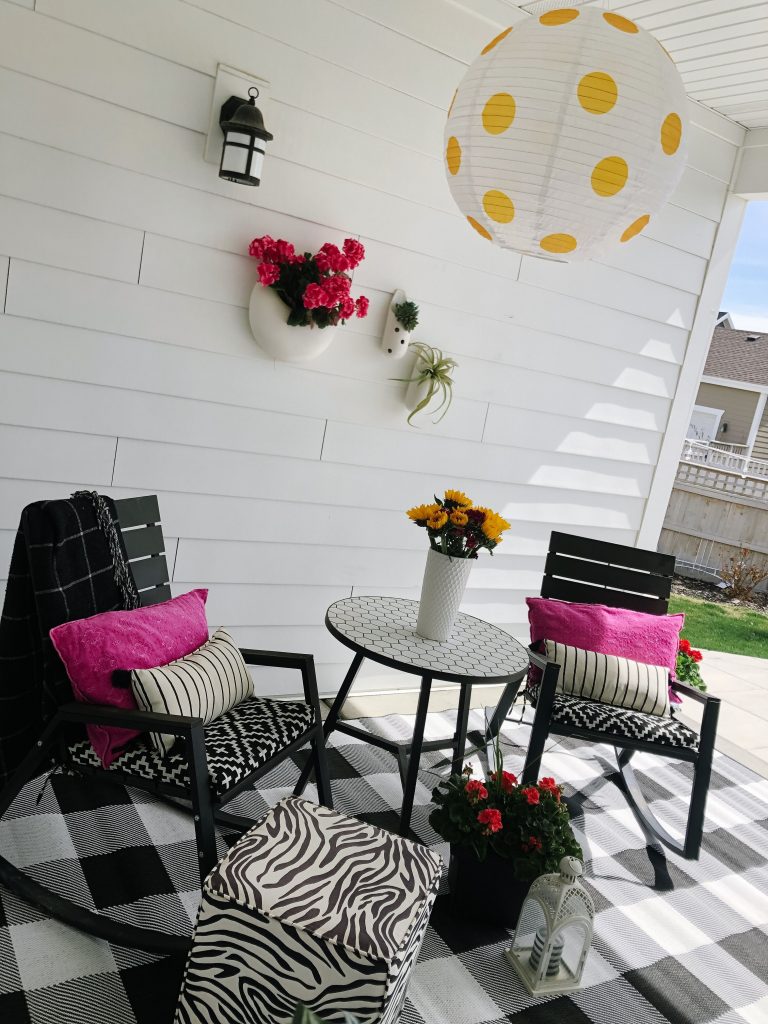 But another way to add lights to your outdoor space is also solar lights! I hung a HUGE solar lantern above our bistro set on our porch. I love the polka dots and it's so fun when it lights up at night. I have a few other lanterns that are striped and polka dotted and smaller and I plan to hang them from the string lights that are hanging on our patio.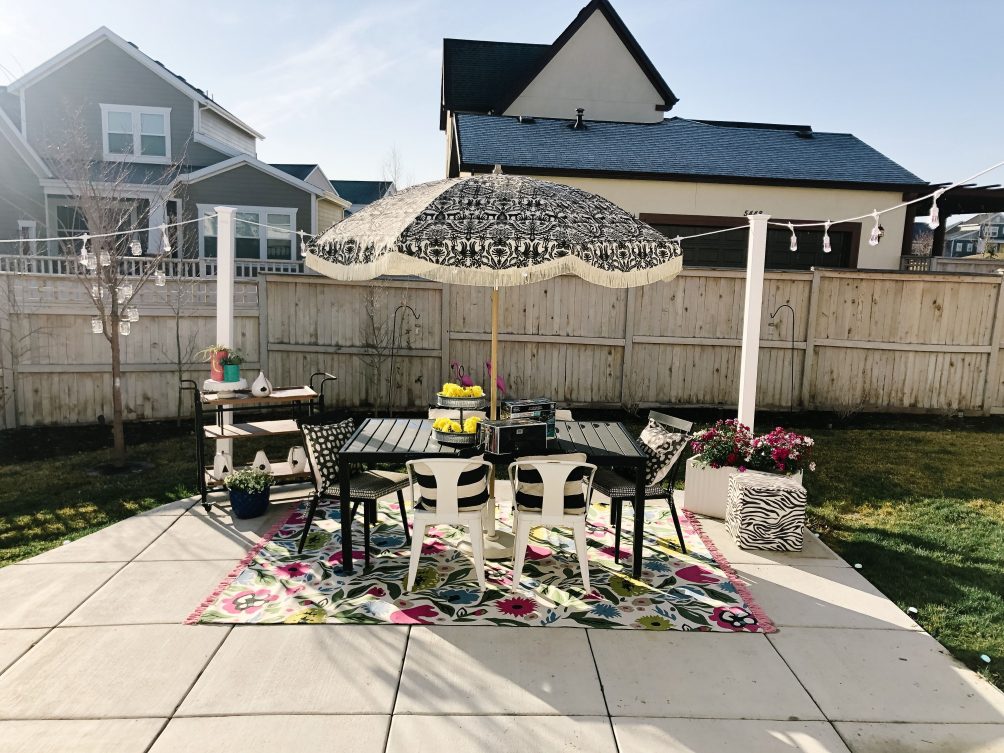 It doesn't matter whether you live in a apartment, a condo, a small home, a mansion — you want to create a beautiful home for your family. You can use these easy ideas to make YOUR home more cozy and bright for Spring!
What projects are YOU working on for Spring?
Share them in the comments – I would love to see YOUR ideas!
Have a BRIGHT day!
xoxo