3-Ingredient strawberry Creamsicle Popsicles. The easiest and BEST low-carb strawberry popsicles taste like summer with just 3.5 net carbs per serving!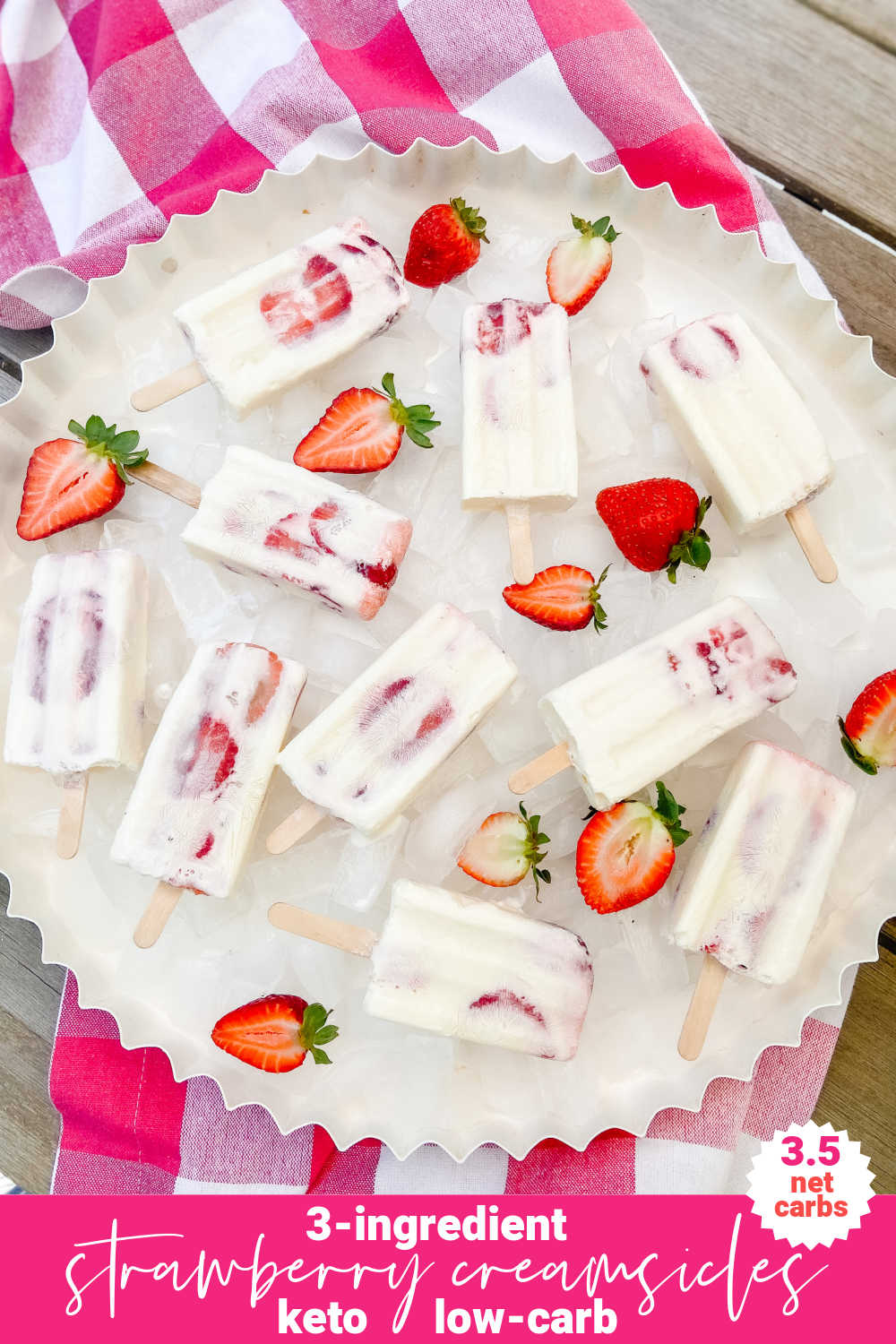 3-Ingredient Strawberry Creamsicle Popsicles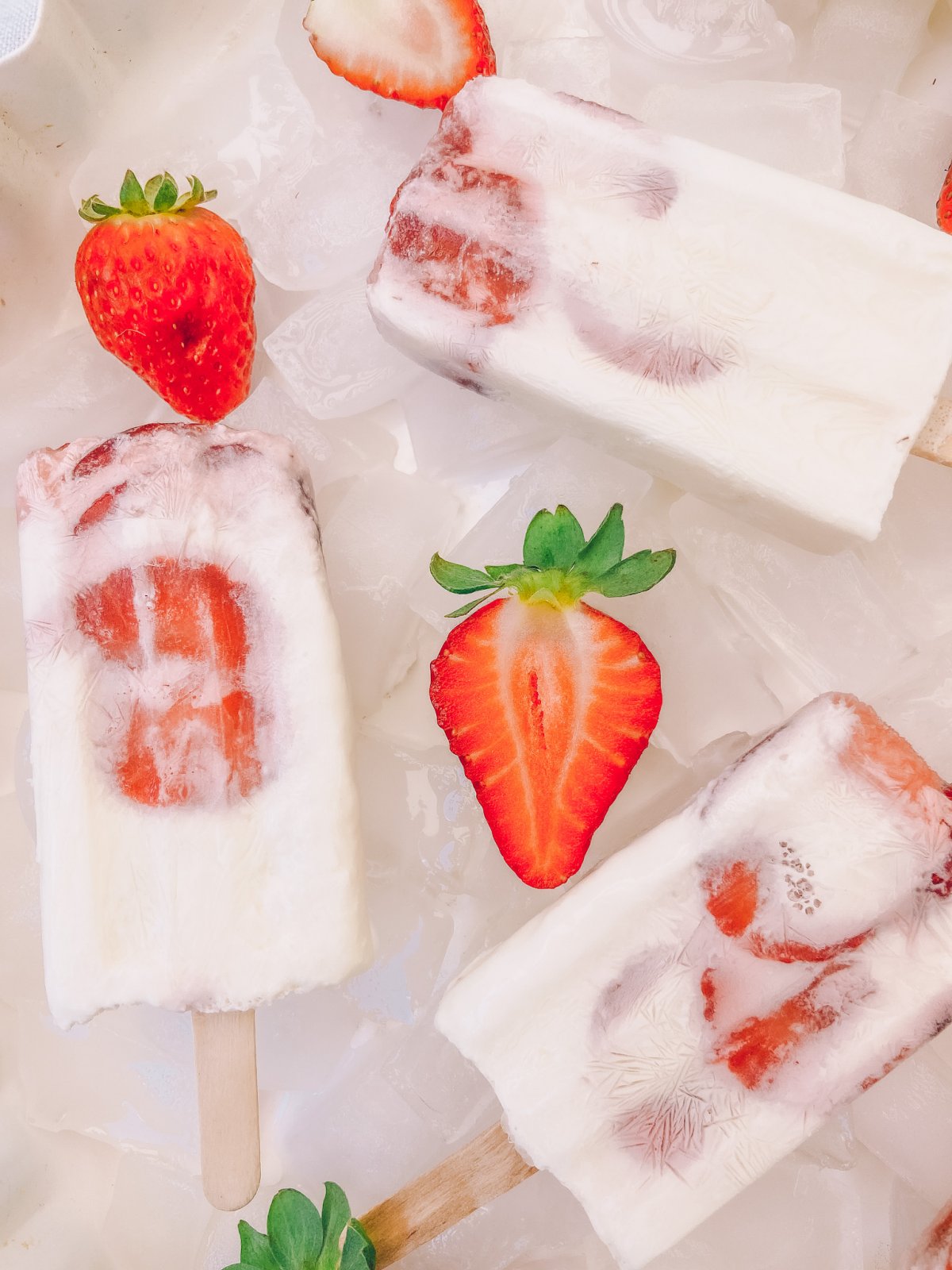 Is there anything better than summertime strawberries? How about strawberries and cream? Combine the two for a refreshing treat and the best part is they only have 3.5 grams of carbs and are sugar free!!
Yummy Frozen Desserts to Make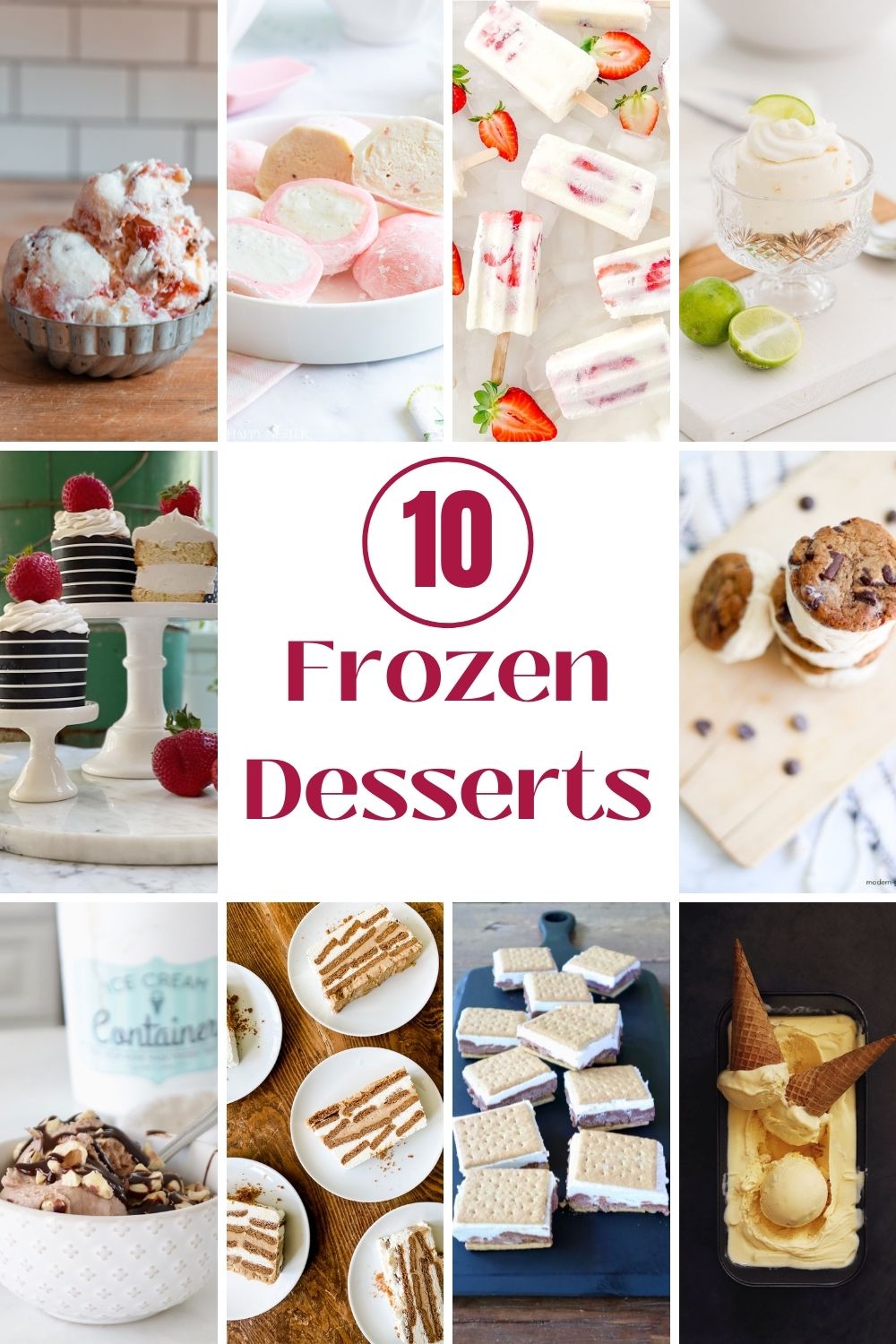 I'm sharing these amazing creamiscle popsicles and my friends are also sharing the best frozen desserts today! Just scroll down to get the recipes!
Low Carb Strawberry Creamsicles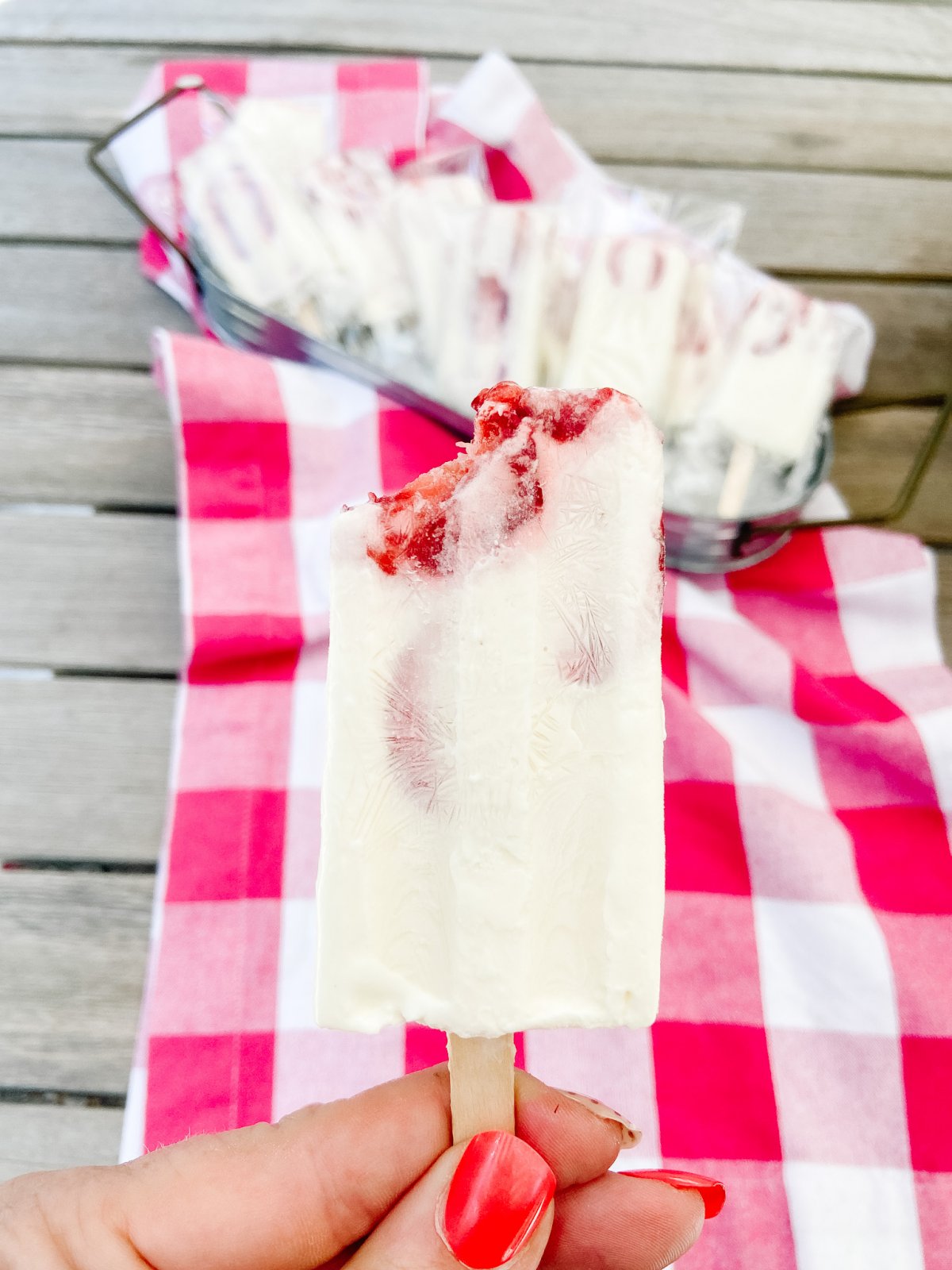 I've been eating keto for about a year and I love the way it makes me feel. Less sugar and gluten has really helped me with my energy levels. But I also don't deprive myself so I have found ways to eat things I love while maintaining my keto lifestyle.
Popsicles with Only 3.5 grams of Net Carbs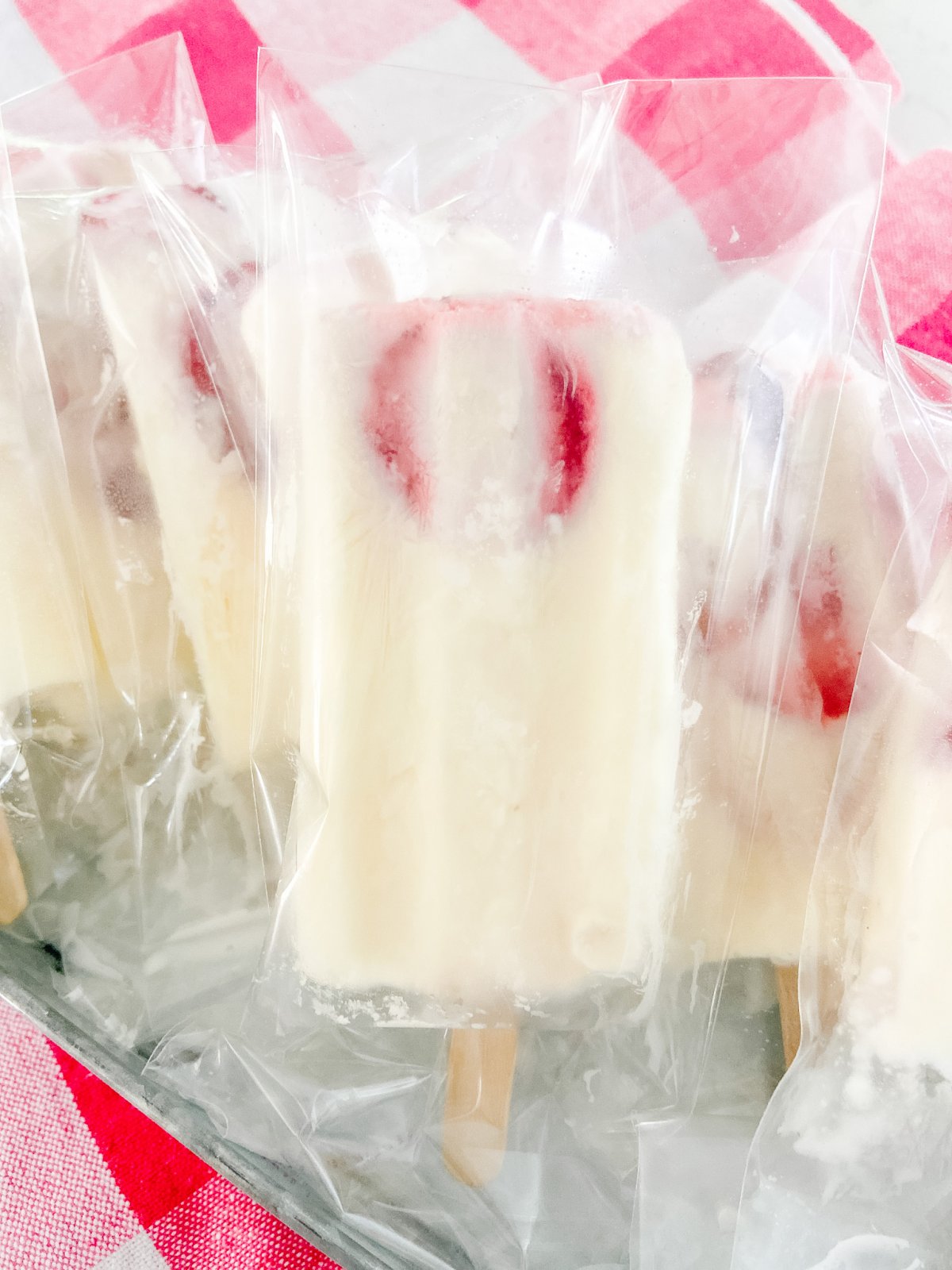 Using alternatives for sugar and carbs reduces this strawberry creamsicle recipe from over 26 grams of carb per serving to only 3.5 grams of NET carbs per popsicle without losing any of the taste.
What Sweetener Can You Use for Keto Popsicles?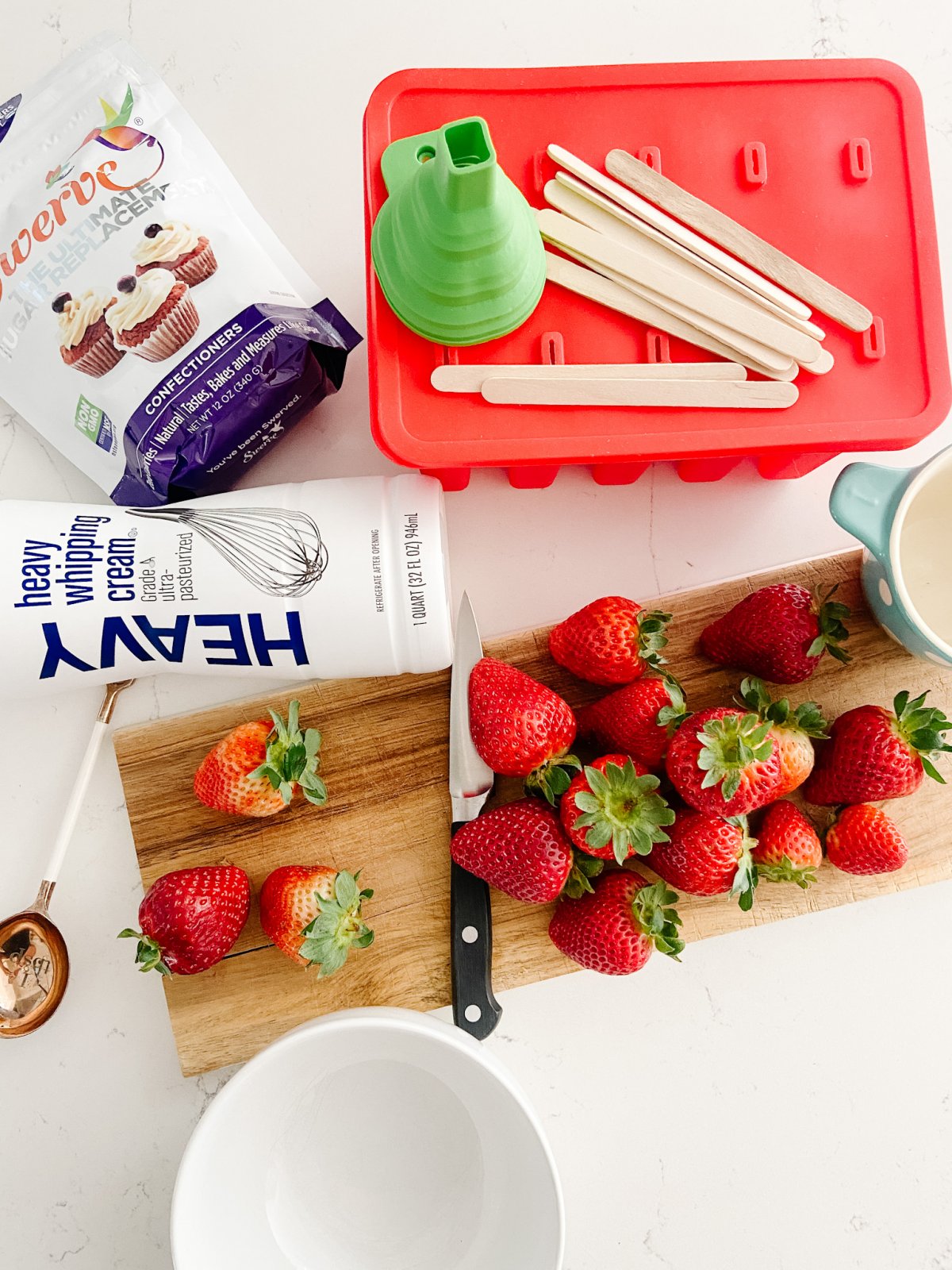 There are a few different sugar alternatives you can use to switch recipes over for a low carb alternative. I love monkfruit in general because it has a very realistic sugar taste without any aftertaste. I experimented with a few different sugar alternatives and found that if you use a POWDERED sugar alternative, the popsicles have a smoother texture. My grocery store didn't sell a powdered monkfruit but you can buy some. I will provide a link to it below. But I ended up using Swerve powdered sugar substitute and it was great!
Three Ingredient Strawberry Creamsicles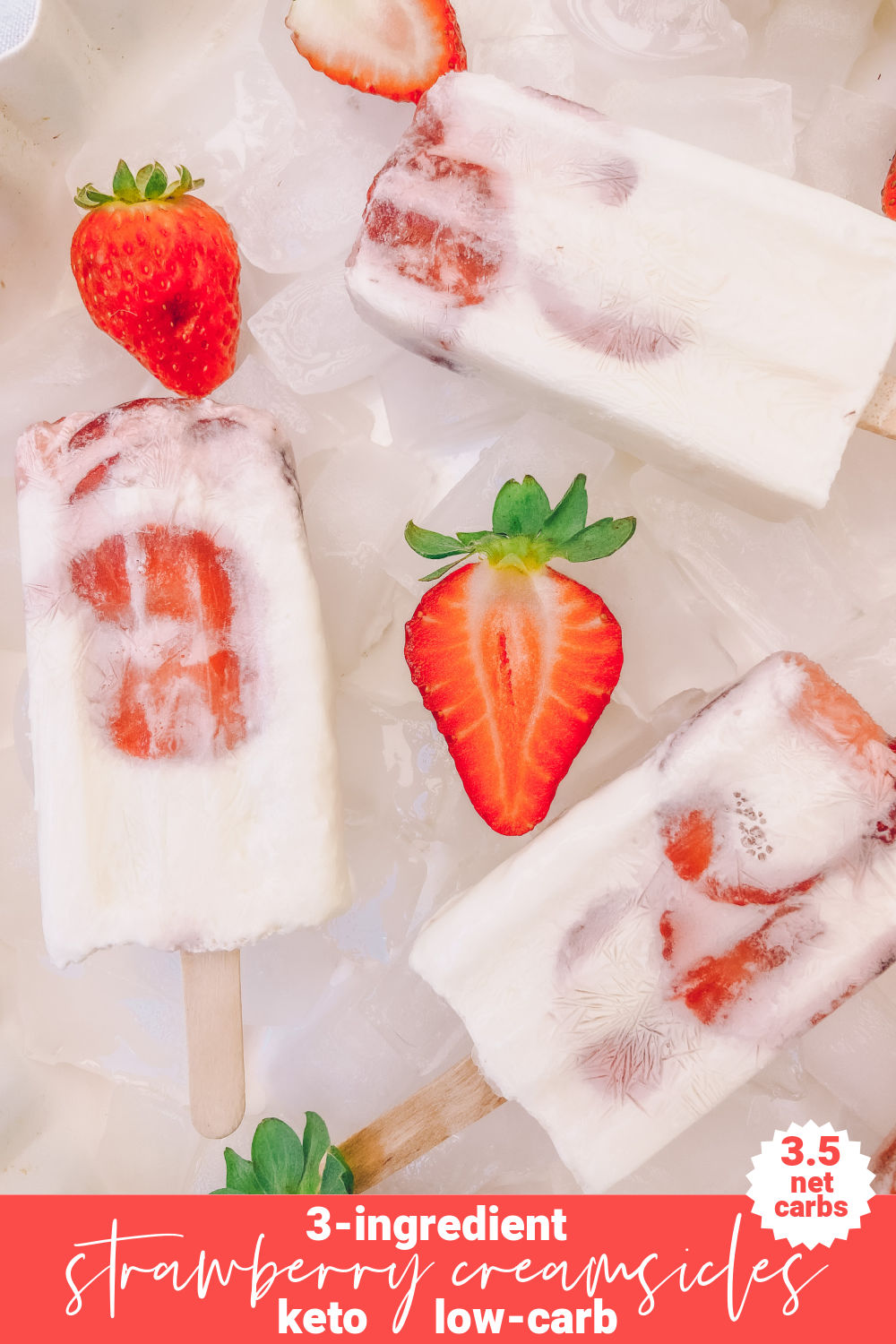 Only 3 ingredients are needed for this tasty summer dessert! Grab heavy cream, powdered monkfruit or swerve and srawberries. That's it!! So easy and fast!
The Best Popsicle Mold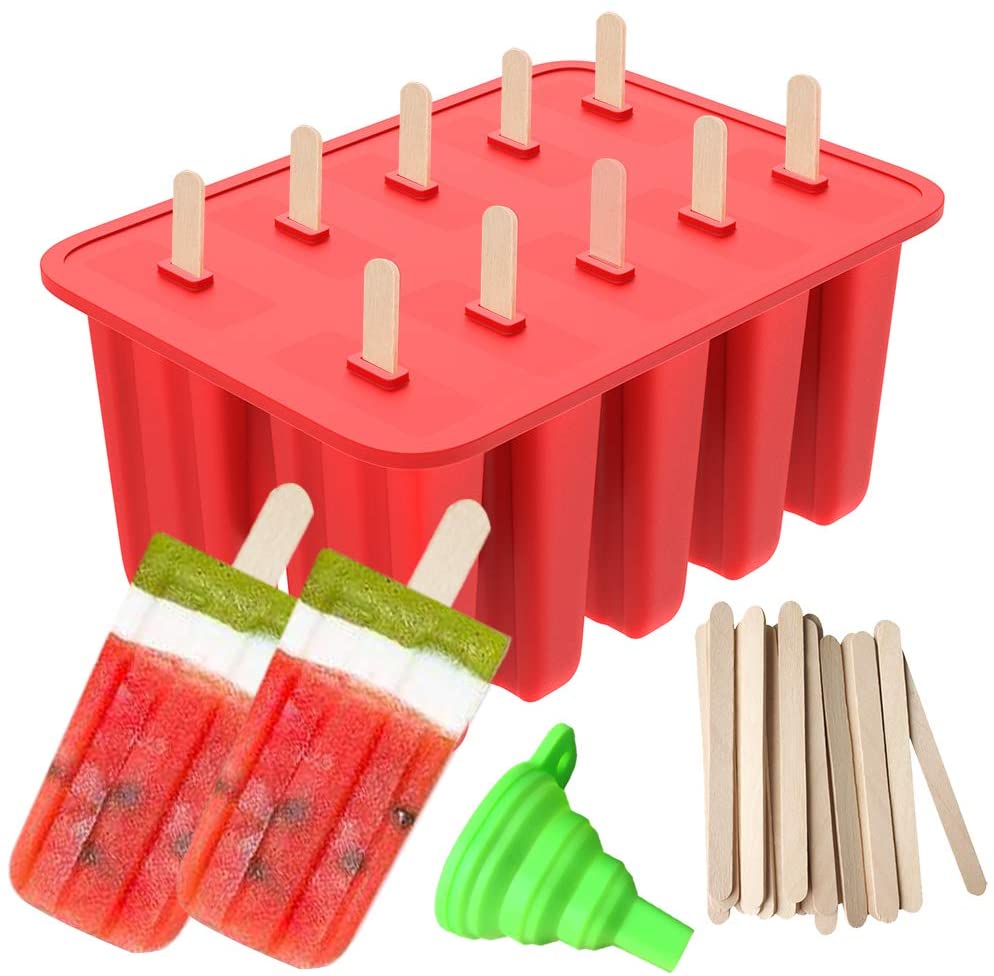 I ordered the BEST popsicle mold. Seriously. I have been making popsicles for years and this one is excellent. The reason I love this popsicle mold is that it's made out of silicone container which makes it easier to get the popsicles out of the mold, compared to a plastic popsicle container. Another reason I love it is the lid. It snaps on and keeps the contents fresh while it freezes. Plus there's openings to put the popsicle sticks so they stay centered. And you can use wood sticks so instead of having to wait for people to eat the popsicles so you can make another batch, you can immediately make more! And you can find popsicle sticks at your grocery store. Although this popsicle kit comes with 50 sticks too and a silicone funnel which makes pouring into the slots easy too!
Popsicle Making Tips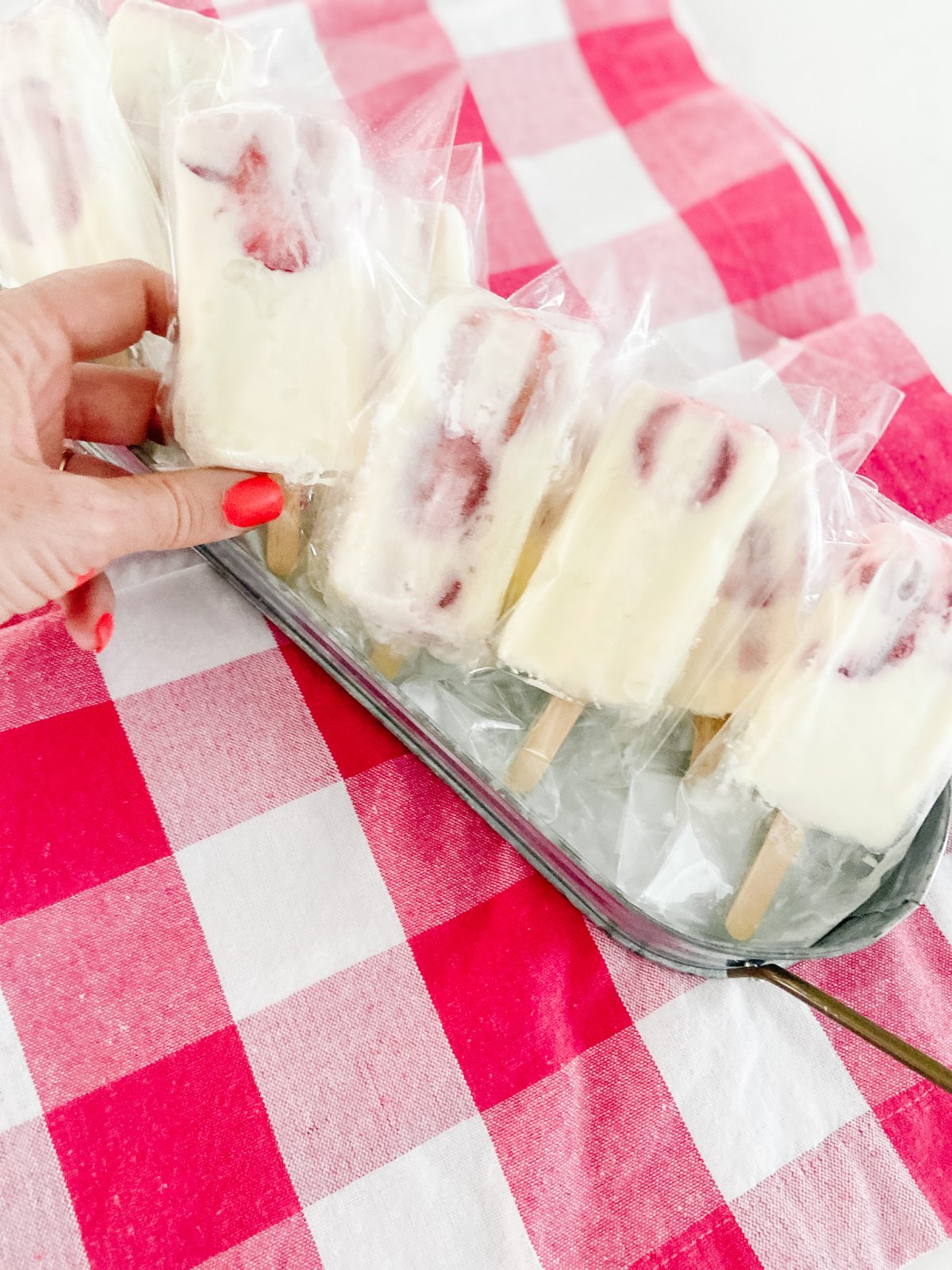 Here are a few tips you can do to make creating these popsicles easier!
Make popsicles the night before you want to eat them. This gives them time to set up all the way.
Use a small pitcher to pour the cream mixture into the molds. This popsicle kit comes with a funnel but I found that pouring the mixture with a small pitcher is the easiest.
When ready to eat the popsicles, take them out of the freezer and put the mold in a bowl of warm water to defrost the edges and slide the popsicles right out.
Use popsicle bags to keep the popsicles fresh in your freezer.
Keep Popsicles In Your Freezer
I ordered the best bags that are made to keep popsicles in the freezer. These are the type of bags that handmade popsicle companies use when they sell popsicles. They are made for this popsicle mold and they have a tab you pull on the end that has adhesive underneath. So all you need to do is pull the tape off and fold the bag end over the end of the popsicle to keep them airtight in your freezer!
3-Ingredient Strawberry Creamsicle Popsicles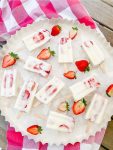 3-ingredient strawberry creamiscle Popsicles with only 3.5 net carbs!
3-ingredient strawberry creamiscle Popsicles with only 3.5 net carbs!
Prep Time 10 minutes
Total Time 3 hours 10 minutes
Servings 10
Calories 196 kcal
Ingredients
2 cups heavy cream
2 cups sliced strawberries
4 T. powdered swerve, stevia or monkfruit.
Instructions
Blend cream and 1 T. powdered sugar substitute. Set aside.

Blend strawberries slices with remaining 3 T. powdered sugar substitute. Use the bottom of a glass to crush the slices. You can add a tablespoon of water if you want.

Layer half of the strawberries on the bottom of each popsicle opening.

Pour cream over the strawberries until 3/4 way full.

Layer the remaining strawberries on top of the cream.

Add lid to popsicle mold, then add popsicle sticks.

Put popsicle mold in freezer for at least 3 hours. I prefer overnight.

Take popsicle mold out of freezer. Run the bottom under warm water or put the mold in a shallow bowl of warm water for a couple minutes and then pull the popsicles out.

Pop the popsicles in popsicle bags and close to keep them fresh in the freezer for up to 4 weeks.
Recipe Notes
Carbohydrates: 7.08 g Protein: .69g Fat: 8.9g Saturated Fat: 5.52g Sodium: 10 mg Fiber: .6g Sugar: 5.82g Net Carbs: 3.5
10 Summery Frozen Dessert Recipes

3-Ingredient Keto Strawberry Creamsicle Popsicles // Tatertots & Jello
Easy Strawberry Cheesecake Ice Cream Recipe // Twelve On Main
Mochi Ice Cream Recipe // Happy Happy Nester
Easy Ice Cream Cupcakes // My 100 Year Old Home

Homemade Ice Cream Cookie Sandwiches // Modern Glam
Homemade Mango Ice Cream Recipe // Paint Me Pink
Biscoff Ice Box Cake // Most Lovely Things

Frozen Mini Key Lime Pies // Life Is Better At Home
Frozen S'mores Bars // My Sweet Savannah
Best Ever Chocolate Hazelnut Gelato // Maison De Cinq
More Popsicles to Make
Here are a few other popsicle recipes you can make with your new popsicle maker!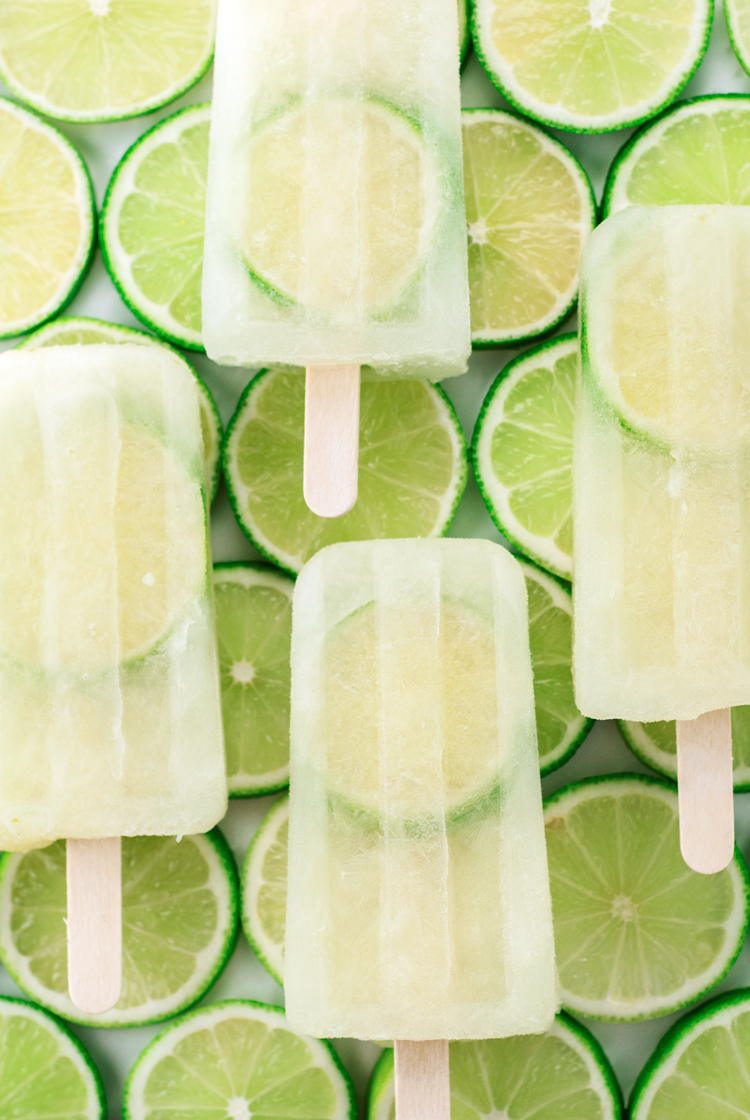 15 Refreshing Summer Popsicles to Make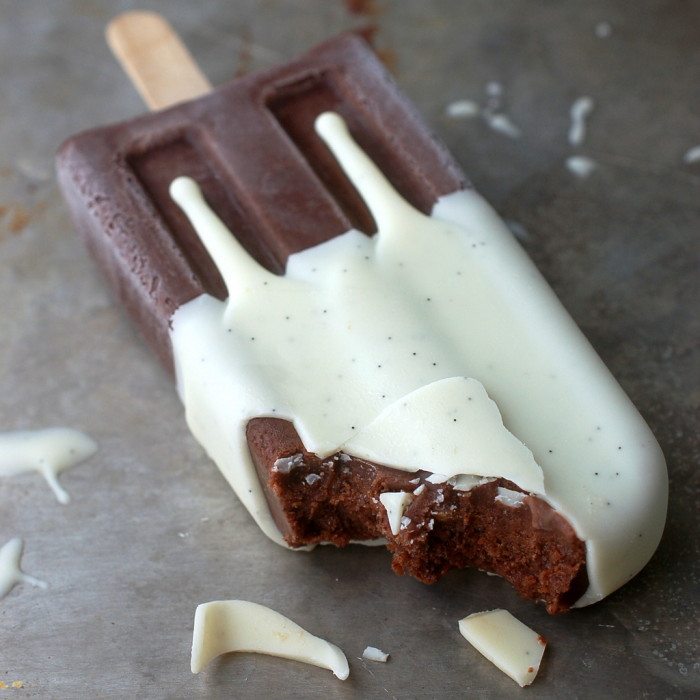 15 Popsicles to Make in Minutes