With four kids running around, I always find it a challenge to keep the kitchen clean.
So when I was given the opportunity to review Lysol's new No Touch Kitchen System, I was excited to see if it could help keep my household a little cleaner.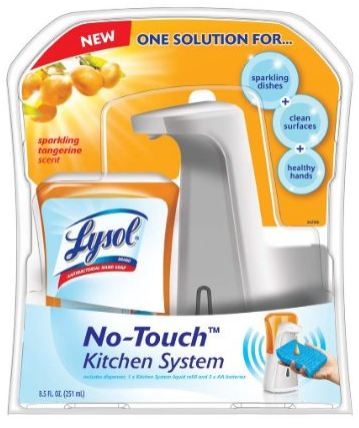 Three things that I loved most about this product:
I love that it's no touch.The dispenser detects a sponge, cloth, or your hand and automatically dispenses the soap! So cool.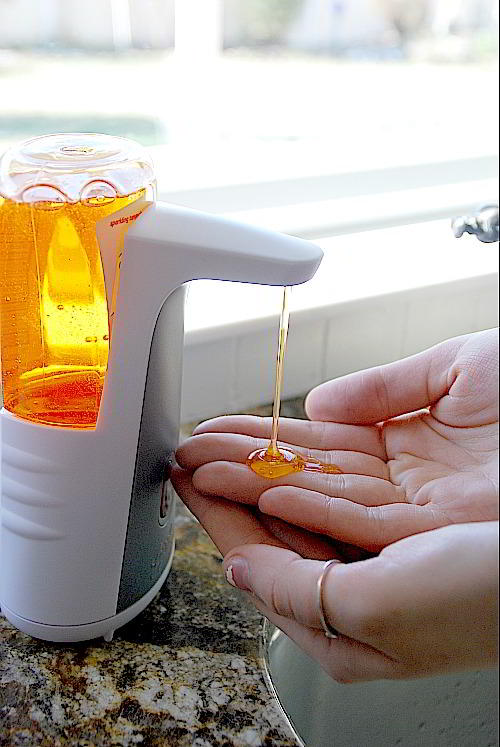 I enjoy the fresh, tangerine scent.
And probably the thing I enjoy most is that you can use it for multiple purposes. So instead of having a bunch of different products cluttering up your sink space, all you need is one and you can use it to clean the counters, your hands and it even tackles dishes. I also love that it will kill all bacteria. So if you are handling raw meat, you don't have to worry about contaminating other areas of the kitchen by mistake.
And when you run out of soap, you can buy refill packs. Plus, it's super easy to change out the packs.
The only thing I found that could be improved is that it dispenses a little more soap than I normally use to clean my hands each time. But overall, it's a great gadget.
My kids loved trying it out! So now I am hoping it will get them excited about keeping the kitchen clean (fingers crossed)!! Does anyone else have a problem keeping their kitchen clean with kids? If you have any suggestions, I'd love to hear them!!
And be sure to take the Lysol Undercover Kitchen System Challenge! I got a 7 out of 8 – yay!! Take the challenge and let me know what you got.
And guess what?? Lysol is giving away a Lysol No Touch System PLUS a year supply of soap!!
Here's how to enter:

Tell us that you did AND tell us your kitchen cleaning challenge below
Have a Wonderful Monday!!
xox
This is a sponsored conversation written by me on behalf of Lysol. The opinions and text are all mine. Official Sweepstakes Rules