I love my old phone. But frankly while my old phone had some apps I love, it was awkward to use for other things, like getting around. While my husband got the "internal compass" gene, my internal compass seems to be always spinning around (like Captain Jack Sparrow's compass). So I need all the help I can get!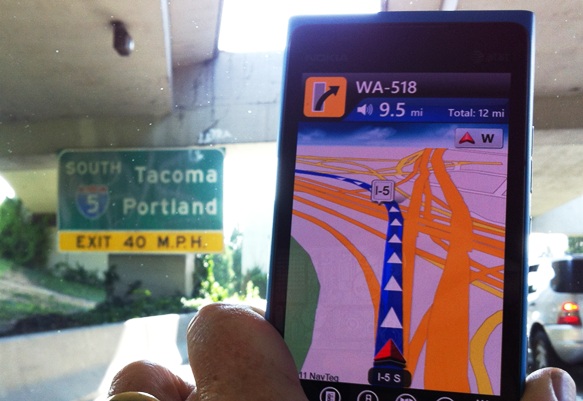 The folks at Microsoft were kind enough to let me try a Nokia Lumia 900 — a Windows Phone! I love the big screen and the bright blue color, but turns out there are a lot of other things I like about it (and I'll talk about those in other posts). And it has great apps to help me with my directional challenges!
The AT&T Navigator app on this phone is really awesome.
My husband liked it so well that he borrowed my phone on a business trip this week (thus the picture in Seattle). In fact,
It worked really well — like a car GPS, and included voice control and walking directions (if you aren't driving). The AT&T 4G speed was noticeably fast, too. It is great for the directionally challenged, like me!
The other night we wanted to go out to dinner near our house and we headed out to find something to eat … and discovered a great app called "Local Scout." (I think it came out with Windows Phone 7.5, which is what this phone runs).
Run the app and it gives you a list of highlights near you — activities, food, and so forth: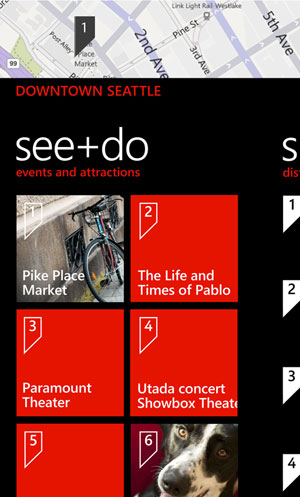 (Image from Microsoft)
So we wanted to find a place where we hadn't eaten for a while, and stopped here: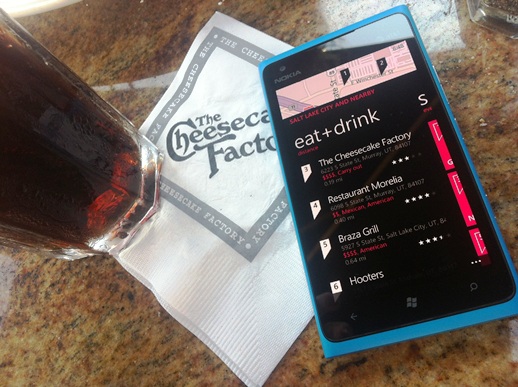 (You will note that we took the first choice, not the fourth.)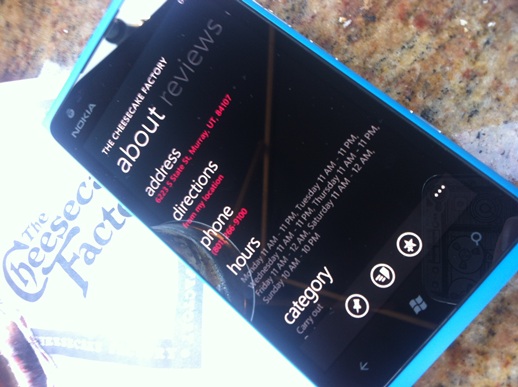 And of course every listing has more information, including phone, hours, etc.
Sure, I could have found all of that by searching on the Web, but this was convenient and in one place!
***
I LOVE the smooth and fast way the phone responds when I scroll around, and it's easy to find apps and people (more about that in a later post).
And I like the camera and have gotten some great shots with it!
And I'll show some more pictures soon, but here are a few from when my family hijacked the phone and took some impromptu portraits: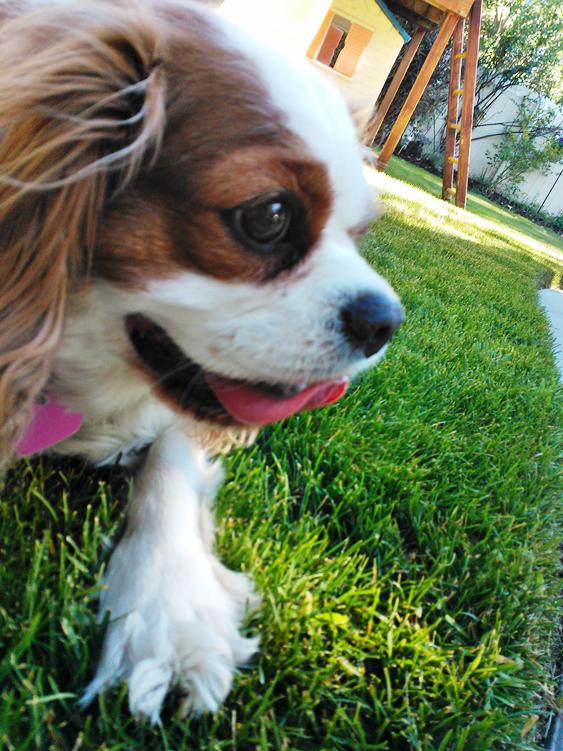 (Trixie in the backyard thinking about needing to be groomed)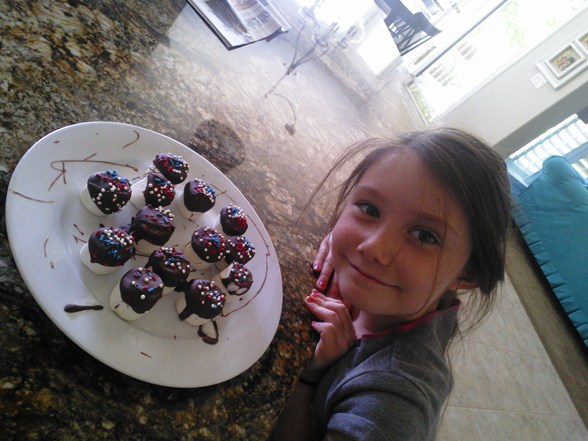 Ella showing off her Fourth of July treat creation, complete with fashionable swirls on the plate.
***
I can get lost in the mall!
But what's YOUR best story about getting lost?
Let me know in the comments — and we will all laugh or cry along with you!
xoxo

PS: Tomorrow's my favorite day of the week: Join me for the Weekend Wrapup Party!
I'm so excited to feature you!
The Nokia Lumia 900 Windows Phone was provided to me for review. See here for complete disclosures.