Trader Joe's Halloween Snack Board. Wow your friends and family with this delicious snack board, perfect for every Halloween occasion!
Trader Joe's Halloween Snack Board
Halloween is just around the corner, and if you're planning a spooky soirée or simply want to indulge in some Halloween-themed snacks, I've got the perfect treat for you – a Trader Joe's Halloween Snack Board. This snack board is not only convenient but also incredibly easy to assemble, thanks to the wide variety of Halloween-themed goodies available at Trader Joe's. In this blog post, I'll walk you through the creation of a spooktacular snack board that will impress your friends and family!
NINE of the Best Halloween Party Recipes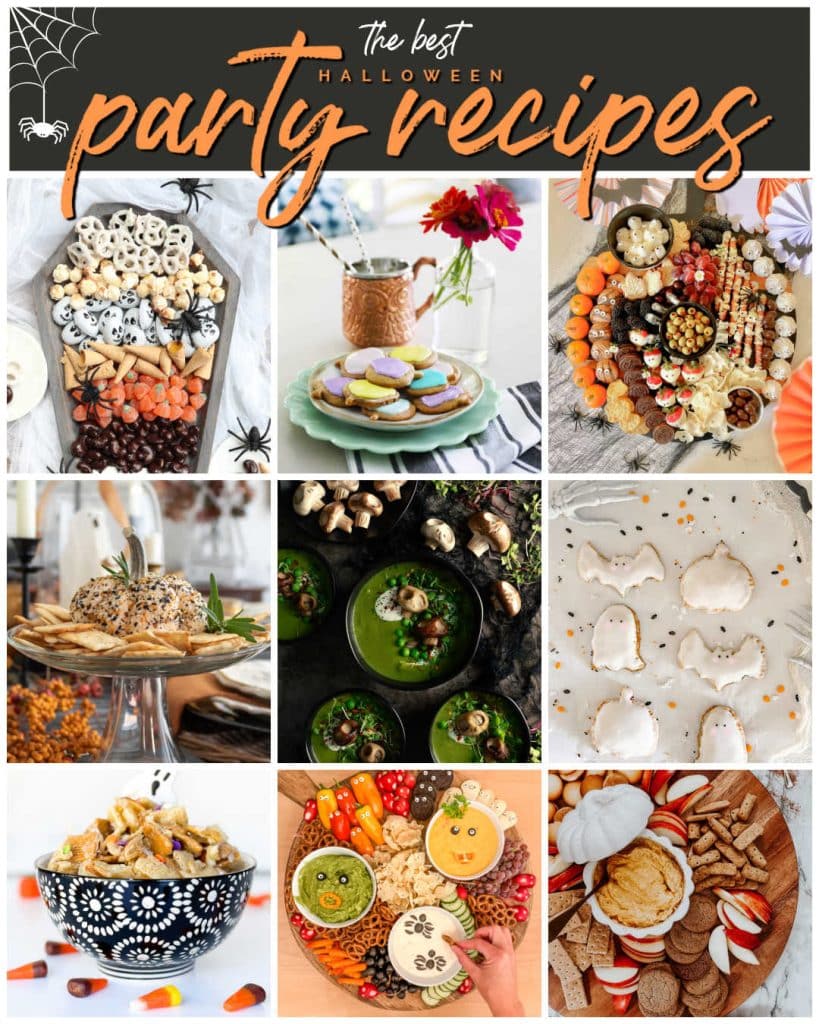 But first, I want to share that I am starting a NEW holiday hop! Today is the first one and we are sharing the BEST Halloween Party Recipes! Be sure to scroll down and HOP over to grab these amazing Halloween recipes for your family, Halloween parties and get-togethers!
Trader Joe's Shopping List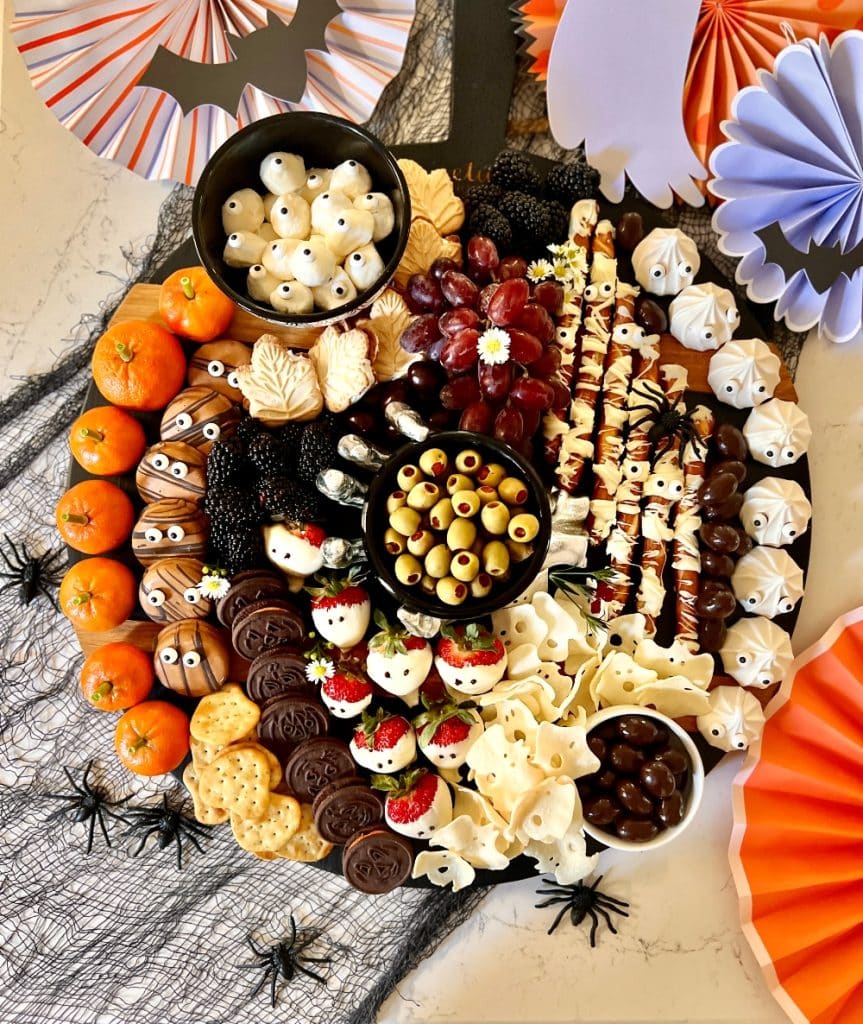 Before we dive into the assembly, let's take a look at the items you'll need for this Halloween snack board. But of course, the best thing about these snack boards is you can swap out anything you want!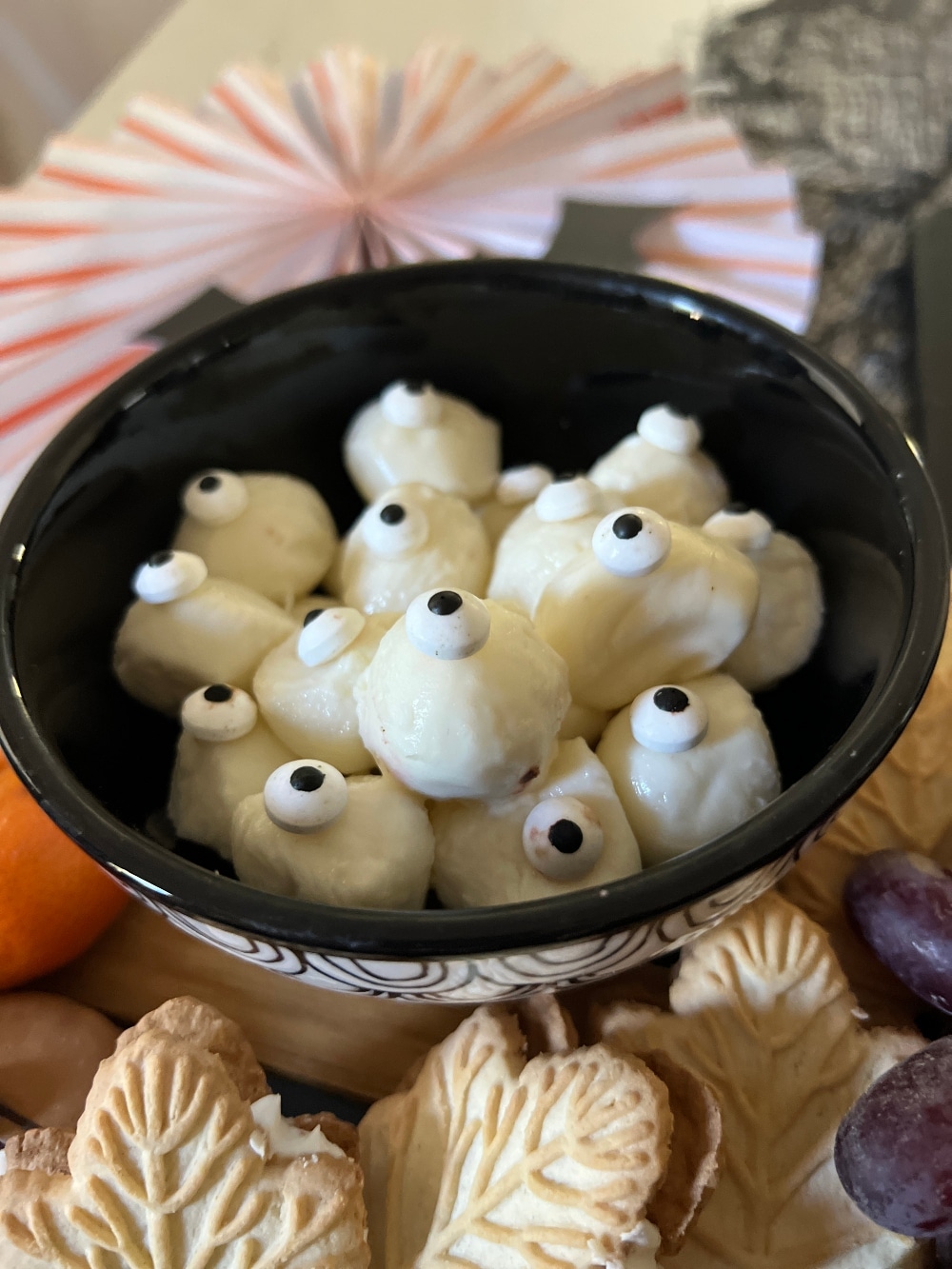 Pretzel Breadsticks: These will add a savory crunch to your board.
Vanilla Meringues: Light and airy, these meringues will be perfect for some ghostly fun.
Halloween Joe Joe Cookies: Spooky-shaped cookies that are a must-have for any Halloween-themed board.
Chocolate and Peanut Butter Joe Joes: A delightful twist on a classic cookie.
Trader Joe's Ghosts and Bats Crispy Potato Snacks: These spooky shapes will add a ghoulish touch.
Petite Pumpkin Spice Cookies: Embrace the flavors of fall with these petite cookies.
Trader Joe's Maple Leaf Cookies: Maple-flavored cookies shaped like leaves – a seasonal delight.
Chocolate-Covered Almonds: A sweet and nutty addition to balance out the board.
Mozzarella Balls: Delicious, bite-sized cheese morsels.
Spanish Manzanilla Olives with Pimento Paste: Perfect for creating eyeballs.
Red Grapes: Sweet and juicy, grapes add a refreshing touch.
Strawberries: You'll transform these into edible ghosts.
Blackberries: A dark and mysterious addition to the board.
Original Garlic Naan Crackers: A savory option for your guests.
Cutie Oranges: These will be turned into mini pumpkins.
Getting Creative with Your Snacks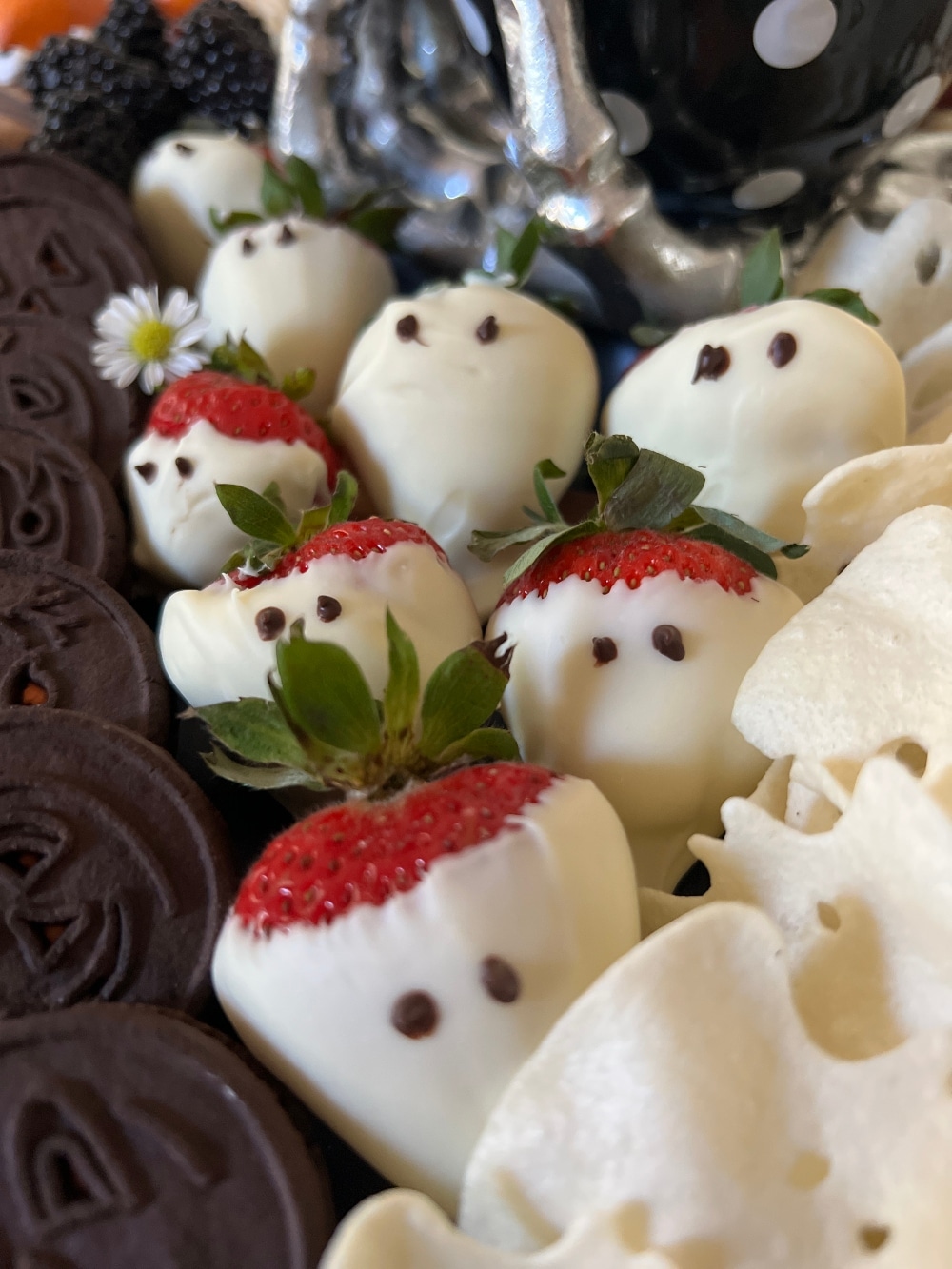 Now that you've gathered all your spooky ingredients, let's get creative with them:
Strawberry Ghosts: Dip your strawberries in white chocolate and let them dry. Once set, melt some dark chocolate and paint eyes on the strawberries to create adorable and edible ghosts.
Mini Pumpkin Oranges: Give your cutie oranges a Halloween makeover by adding cut flower stems to the tops to make them look like mini pumpkins. A simple yet effective touch!
Zombie Pretzel Rods: Drizzle white chocolate over pretzel rods and add googly eyes to make them look like delicious zombies. It's a fun and spooky twist on a classic snack.
Meringue Cookie Ghosts: Add googly eyes to the vanilla meringue cookies to transform them into ghostly treats. Edible googly eyes can be added to almost anything to make them look spooky and fun.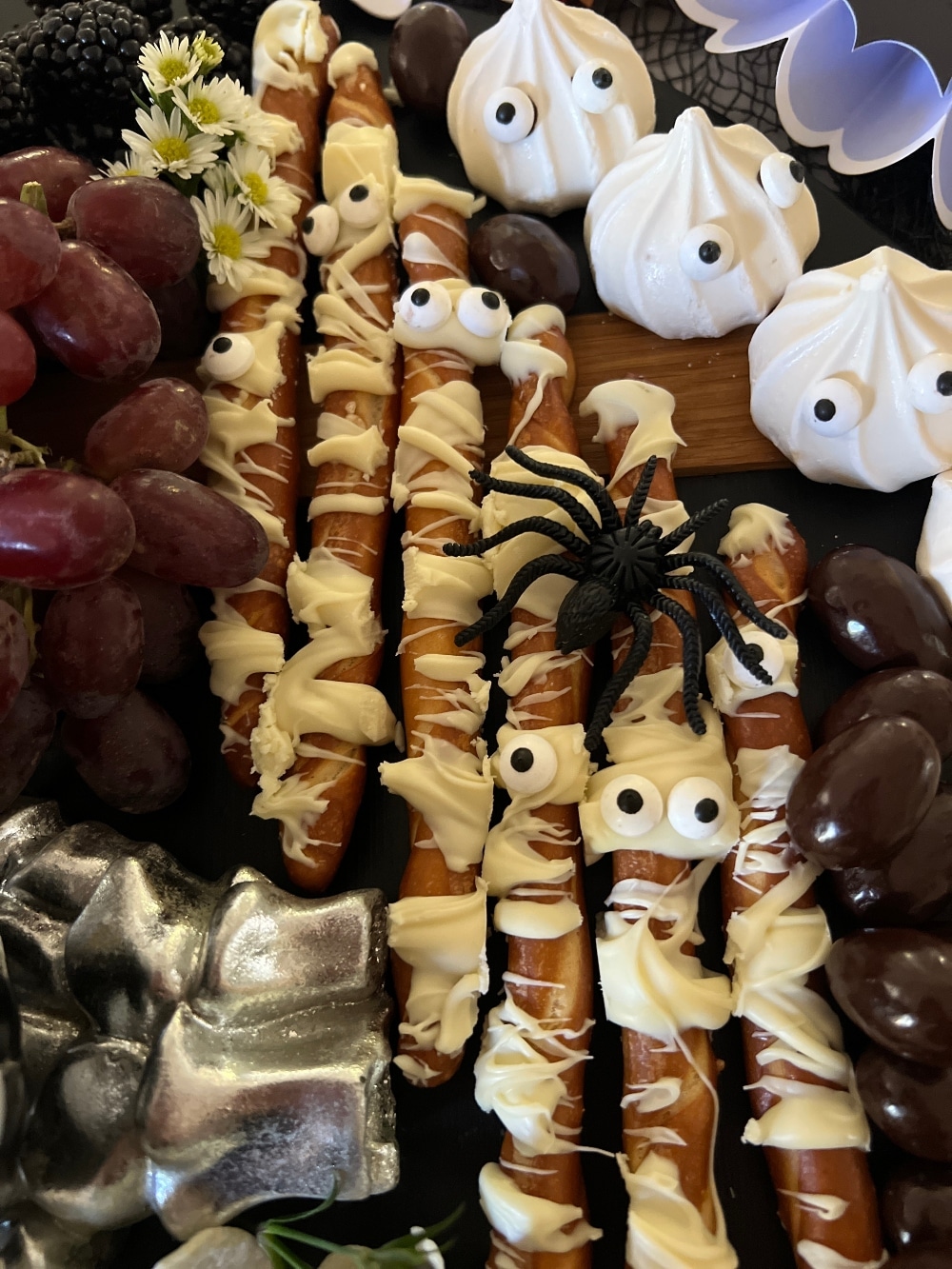 Assembling Your Spooktacular Snack Board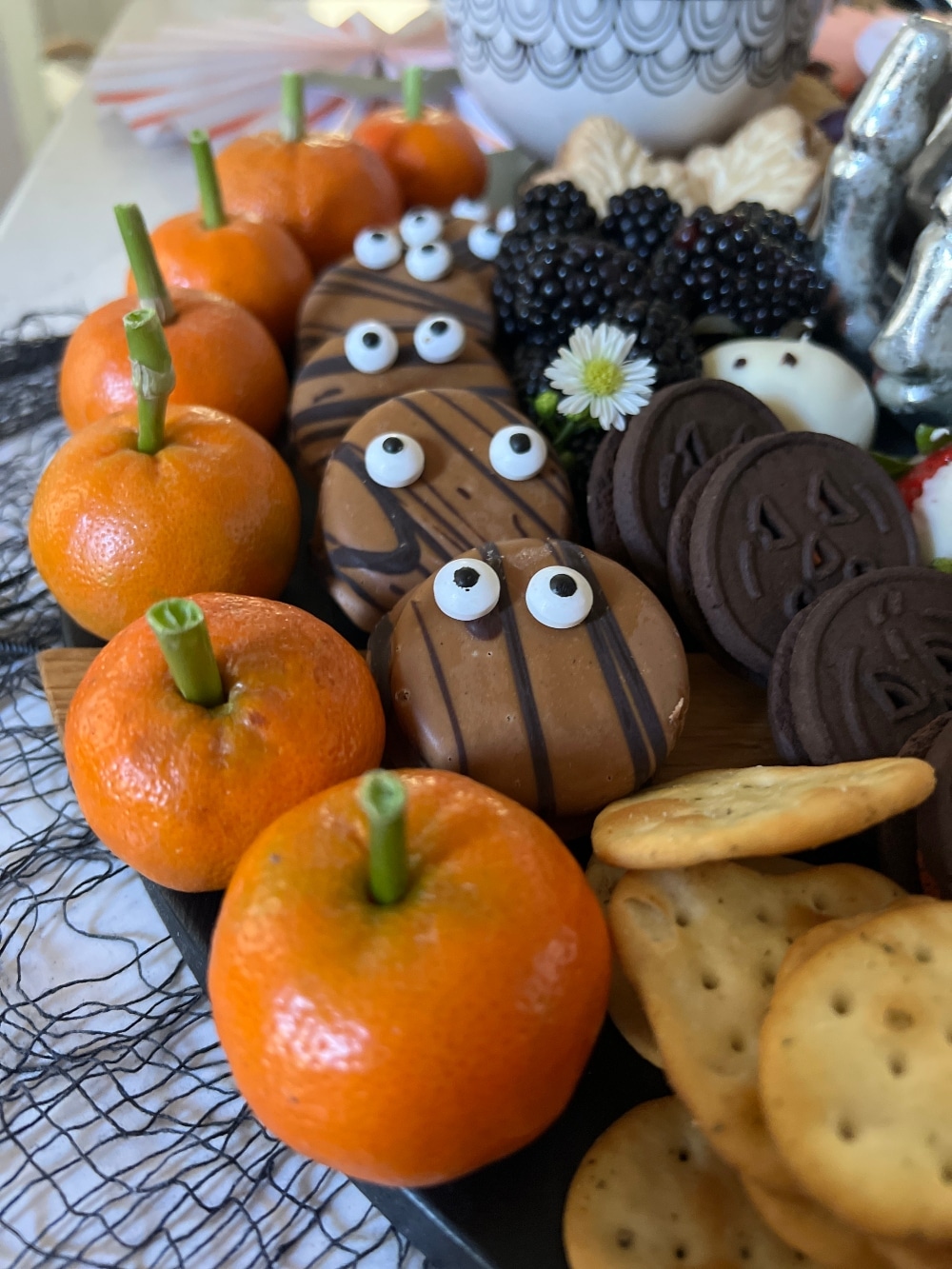 Now comes the fun part – assembling your Trader Joe's Halloween Snack Board. Here's how to do it:
Start with a large serving platter or board as your canvas.
Place three small bowls strategically on the board. You can get creative here; for instance, you can use a metal skeleton hand to hold one of the bowls. Fill one of these bowls with Spanish Manzanilla olives with Pimento Paste – they'll look like eerie eyeballs!
In the other two bowls, arrange chocolate-covered almonds and mozzarella balls. Don't forget to add googly eyes to the mozzarella balls for that extra spooky touch.
Begin lining one edge of the board with the various snacks and treats, such as the Halloween Joe Joe Cookies, Chocolate and Peanut Butter Joe Joes, and Trader Joe's Ghosts and Bats Crispy Potato Snacks.
Once the edge is lined with goodies, move on to the center of the board. Place the Petite Pumpkin Spice Cookies and Trader Joe's Maple Leaf Cookies in a prominent position.
Now, fill any remaining gaps on the board with fresh fruit, such as red grapes and blackberries. You can also scatter some extra chocolate-covered almonds for balance.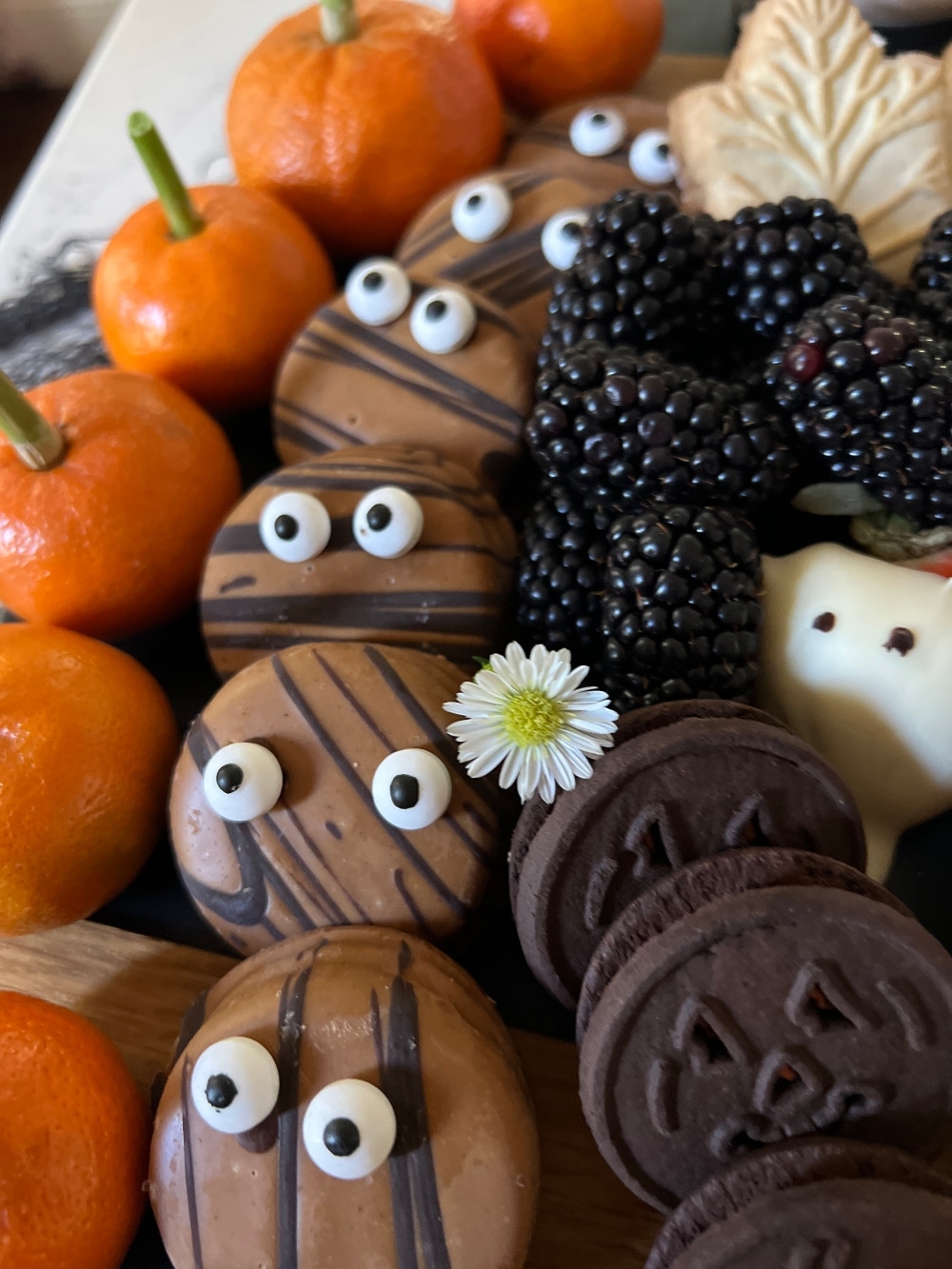 And there you have it – a spooktacular Trader Joe's Halloween Snack Board that's as delicious as it is fun to put together. The best part about creating snack boards like these is that you can customize them to suit your guests' preferences. The possibilities are endless, so feel free to get creative and add your favorite Trader Joe's treats to the mix.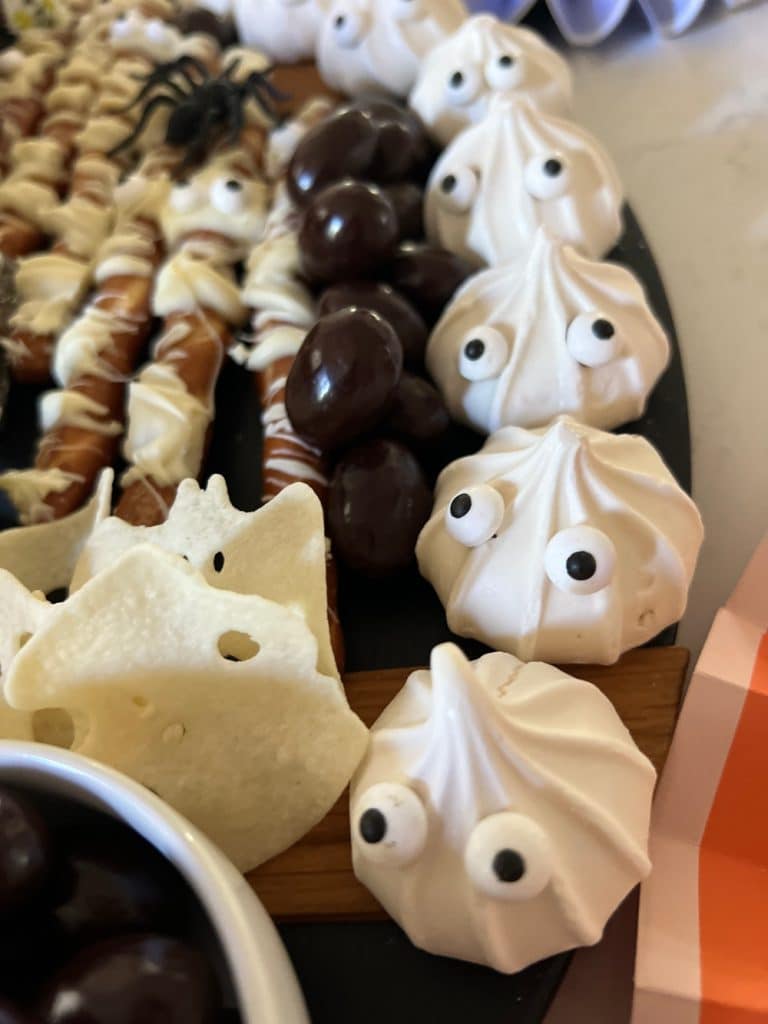 So, this Halloween, impress your friends and family with a snack board that's both convenient and a feast for the eyes. With a little creativity and the fantastic selection of Halloween-themed goodies at Trader Joe's, you can create a memorable and spooky spread that everyone will enjoy.
NINE of the Best Halloween Party Ideas!
And if you're looking for even more Halloween party recipe ideas, be sure to check out the EIGHT other spooky creations that my friends are sharing. Halloween is all about fun, so let your imagination run wild and embrace the spirit of the season with delicious treats and snacks!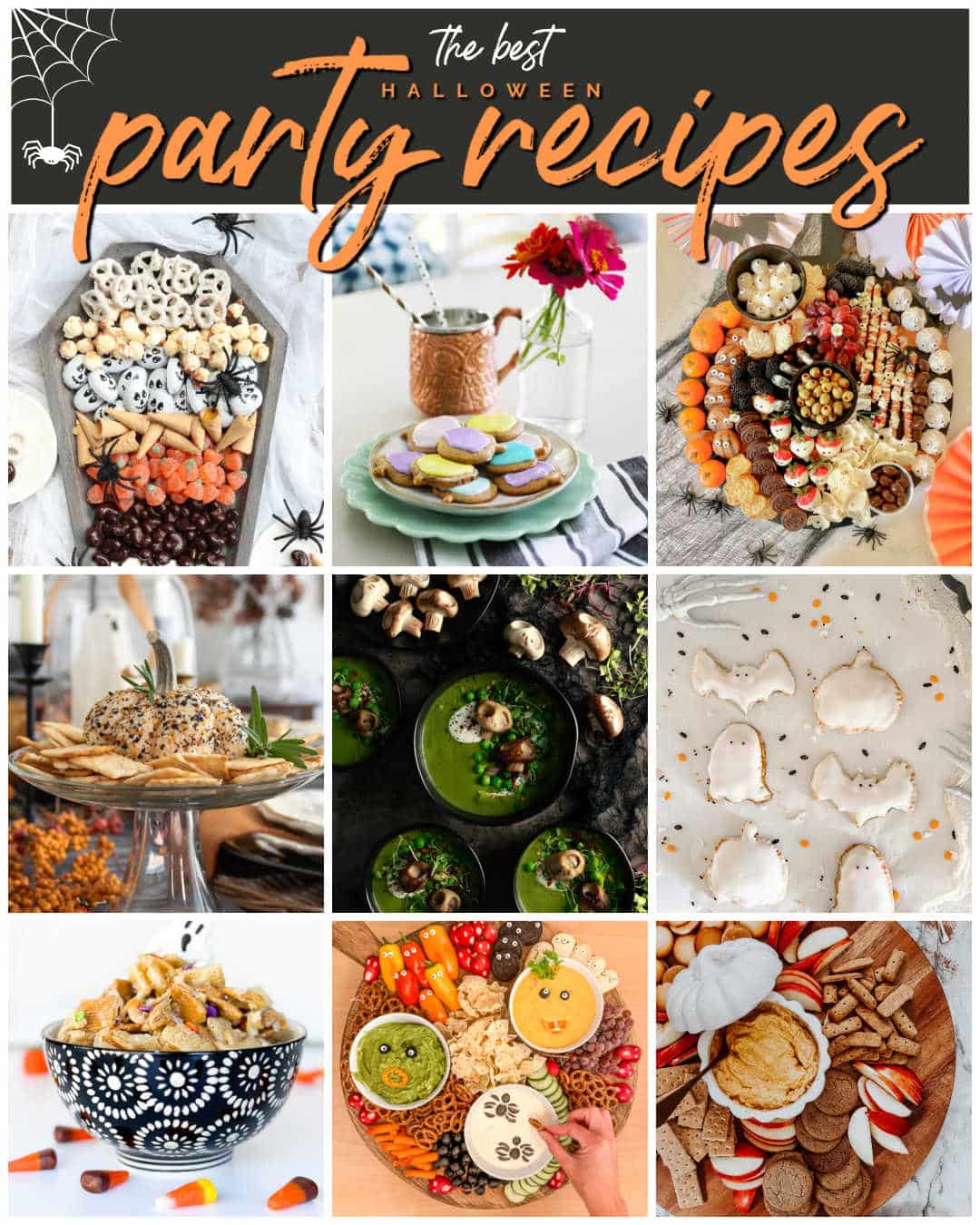 My Sweet Savannah | charBOOterie board
The Handmade Home | Frosted Gingersnap Cookies
Tatertots and Jello | Trader Joe's Halloween Snack Board
Midwest Life and Style | Everything Bagel Pumpkin Shaped Cheese Ball
Paint Me Pink | Witch's Brew (Green Pea Soup)
Lolly Jane | Halloween Hand Pies
Pink Peppermint Design | Sweet & Spooky Coconut Almond Chex Mix
Hallstrom Home | Halloween Spooky Snack Board
This is Our Bliss | Simple 4 Ingredient Pumpkin Fluff Dip
Here are a few more Halloween Party Ideas!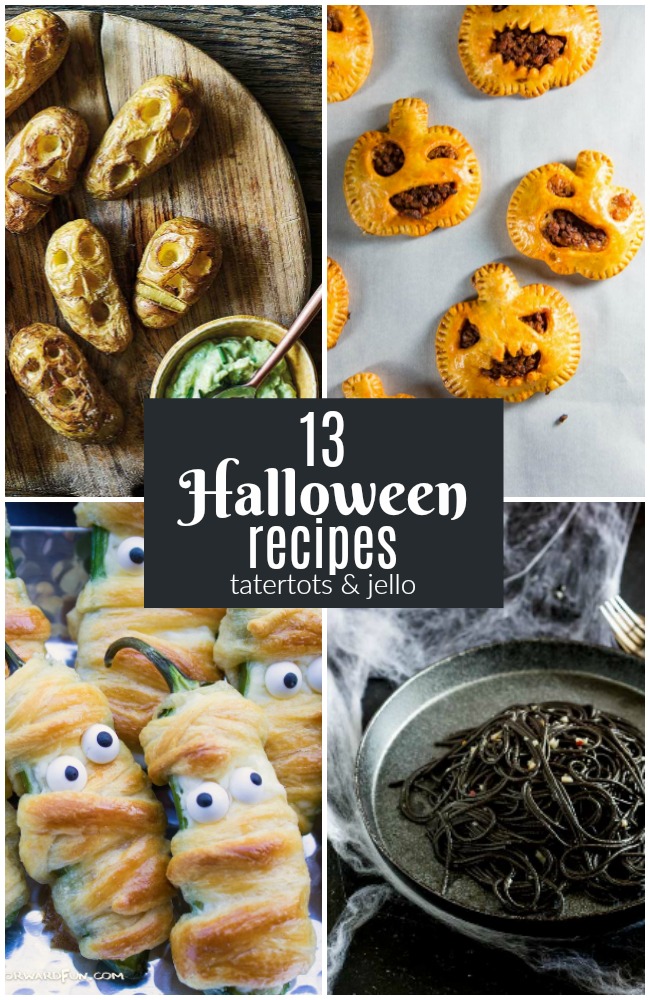 13 Savory Halloween Recipes! Delight your family with these spooky savory foods that are perfect for Halloween week!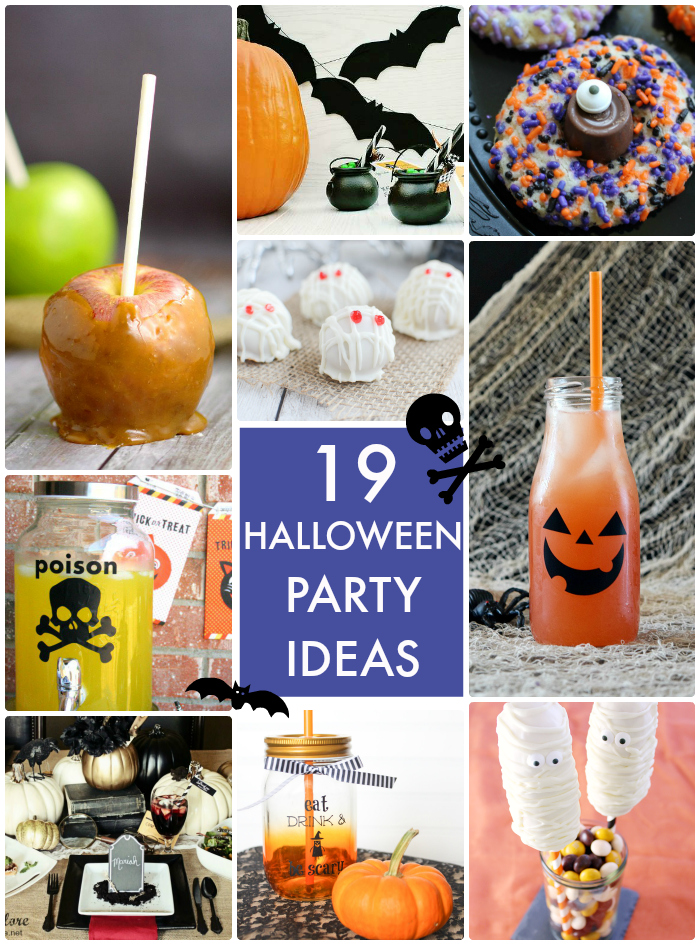 so many spooky cute Halloween ideas to try!
Which Idea do YOU like best?
xoxo