I partnered with Walmart and SheKnows Media to share the HOTTEST Black Friday gifts! All opinions are my own.
The HOTTEST Walmart Black Friday Deals – Gift Guide for Teens and Millennials! This gift guide is full of fun games, helpful electronics, and cookware teens and millennials can use as they move away to college or get their first apartment, plus equipment that will help them explore the world.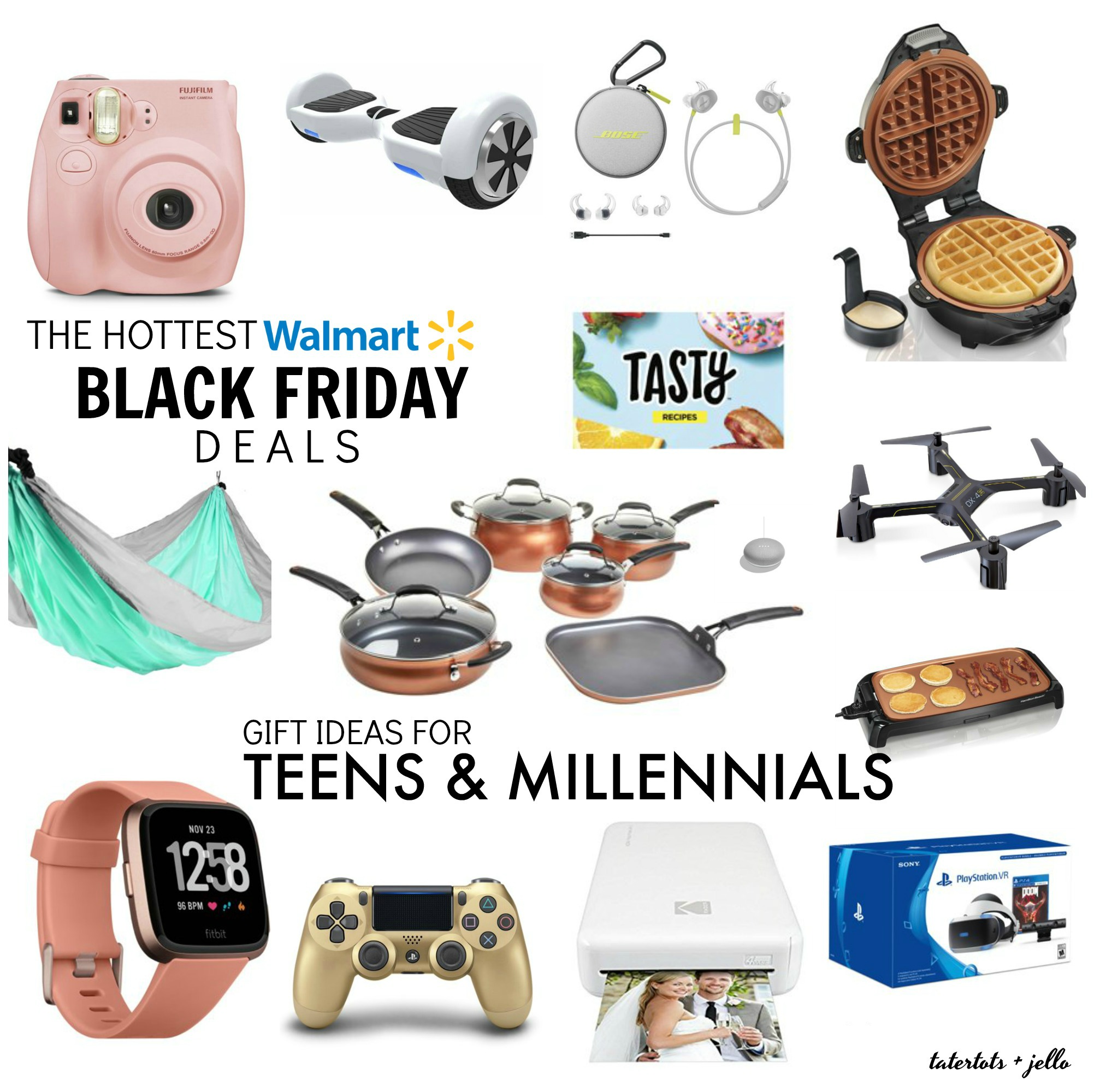 Black Friday Deals that Teens and Millennials will LOVE
I love this time of the year! Black Friday is the time to get THE ultimate deals. Walmart brought me to their headquarters for a super secret sneak peek of their Black Friday deals! I was blown away by the quality, brand-name items and the amazing prices. There were so many items that my kids as teens and millennials would love. I knew I had to share a gift guide with you! These are items that kids this age will LOVE like games and electronics, but also things that they will really use in the next few years as they go away to college, get their first jobs and apartments and get out into the world. Check out these items – there are things in all price ranges from the ultimate high-end gaming system to wireless headphones, which would make fantastic stocking stuffers!

Amazing Walmart Black Friday Deals – Gift Guide for Teens and Millennials!
Sharper Image Drone – drones are fun to fly and this drone has the technology to record photos and video too.
Equip Hammocks – my kids love hiking and hammocking. These hammocks are an amazing deal and come in 6 different colors too!
Ozark Trails Outdoor Grill – camping and tailgating is so fun in high school and college. This outdoor camp stove is compact and easy to transport as well as easy to use.
Ozark Trails Outdoor Grill – salt lamps are very popular. They diffuse the air and also create soothing lighting. This one comes with a dimmer as well as massage stones which heat up and are great for stress relief.
Better Homes and Gardens Essential Oils Set and Diffuser – essential oils have helped our family. This kit comes with a pretty diffuser as well as 100% pure essential oils in different scents. Many dorms and home won't allow candles, so a diffuser is a great alternative to a scented candle.
Instax Camera Bundle – Instax cameras are cute and fun to use. This kit comes with a camera, stickers, a carrying case and a photo album.
Tasty 30 Piece Cooking Set AND Google Home – My teens love watching all of the Tasty cooking videos. They would love this set of pans and utensils. All the sizes of pans are included and it would be a great gift for a graduating senior or a young adult who is getting their first apartment. It even comes with a google mini which will play music and even give cooking directions.
Shark Ion Vacuum – a millennial who just got their first place to live would love this light-weight battery-operated vacuum.
Stanley Black and Decker Project Kit – 85 piece set – Milennials moving into their first place will need tools to fix things in their home. This kit comes with everything they need and a carrying case.
Hover 1 Hoverboard – Hoverboards are a fun way to get around. They have come a long way in the past few years. This one has stabilization and an efficient battery.
Pyrex Glass Storage Set – My daughter is a millennial and she loves to cook and meal prep each week. She cooks one big batch of a recipe and keeps all of the left overs in glass containers which are portioned to take to work each day for lunch.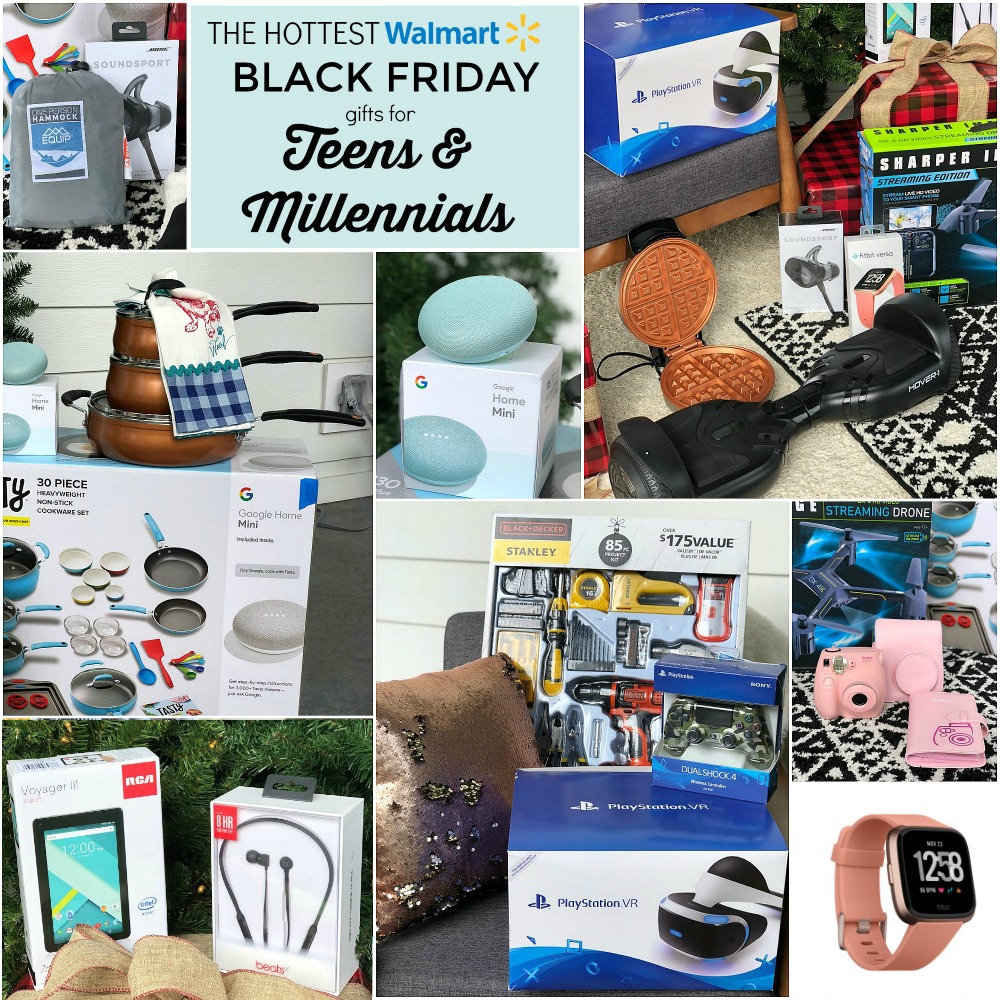 Mermaid Pillow – this mermaid pillow is fun to touch, each side has a different color. It's a perfect statement pillow for a teen's bed or on a couch in a millennials apartment.
Farberware Waffle Maker – Who doesn't love a fluffy waffle? This waffle maker is fast and the gold plates make it pretty too.
Farberware Griddle – A griddle is a great gift for a college student of young adult. There are so many things you can cook on a griddle.
7-piece Metal Gallery Wall Frame Set – (comes in matte black or gold) – This all-metal modern gallery set is perfect for a bedroom or apartment.
Hotel Style 4-Piece Set – a soft fluffy towel will be very appreciated by a college student.
Wireless Security System – College students or young adults with their first apartment can keep an eye on their room while they are gone.
Bose SoundSport Headphones – have a handy carrying case and amazing sound. Perfect to put in a backpack to take to school or work.
Black Web Wireless Headphones – wireless headphones are great to study with and listen to podcasts or music with. This is a great stocking stuffer idea.
Fitbit Versa – smartwatch, download 300 songs and works with BlueTooth wireless headphones, goes along with the Fitbit app, water resistant.
Athletic Works Hooded Jacket – Perfect for working out, but also for hanging around the house or running errands. The hood is a nice feature too.
Athletic Works Leggings – high-quality leggings are a staple in any teens wardrobe.
Athletic Works Snow Tip Sherpa Pull-Overs – soft and fluffy with great detailing. A teen or millennial would love wearing this around the house, on the weekends and to school.
LG 2.1 Wireless Sound Bar – every teen and young adult appreciates good sound. This soundbar is sleek, puts out crisp volume and is a great deal.
Razer Chrome Holiday Bundle — The ultimate bundle also comes with a keyboard, mouse pad and mouse.
PlayStation VR Astrobot Bundle – One of the hottest systems of the season. Play games in virtual reality.
Kodak PIXPRO Camera – high-quality features at a great price and a compact size.
Kodak Mobile Photo Printer – wireless on-the-go printer. Teens and young adults can print their pictures on demand with this nifty printer.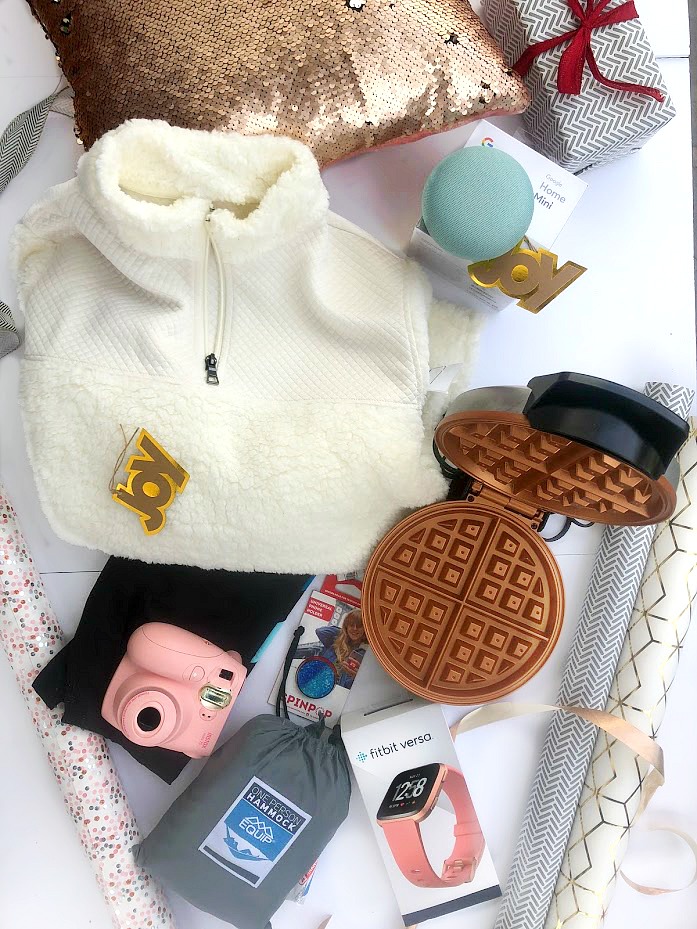 Shop the BEST Walmart Gifts for Teens and Millennial Collage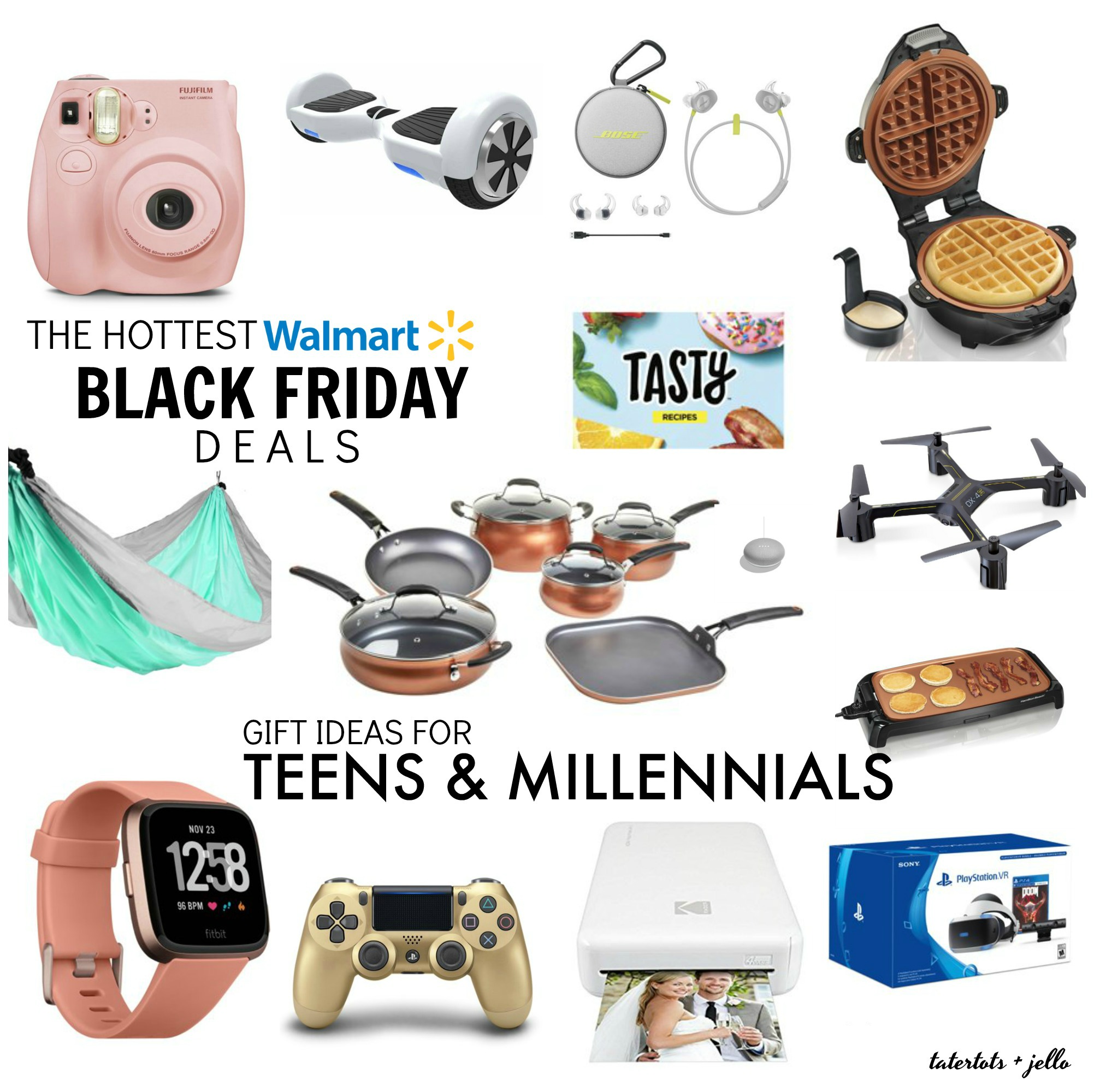 Instax Camera Gift Pack || Hover 1 Hoverboard || Bose Headphones || Instax Camera Gift Pack || Hover 1 Hoverboard || Bose Headphones ||
Equip Hammock || Tasty Pot + Utensil Set with Google Mini || Sunbeam Griddle
Instax Camera Gift Pack || Hover 1 Hoverboard || Bose Headphones ||
Black Friday Walmart Tips
Here are some ways that Walmart is working to make your Black Friday shopping experience even better and more efficient!
Walmart App
The Walmart App makes shopping at Walmart a breeze. Be sure to use it on Black Friday to save you time.
Download and open the Walmart App
Click on May Your Deals
Find the location of your items
The Black Friday Walmart event begins with Coffee and Cookies at 4 pm and the sales go live at 6pm (except where prohibited by law). When the sales begin the Walmart app will drop a pin in the aisle of each product with the exact location.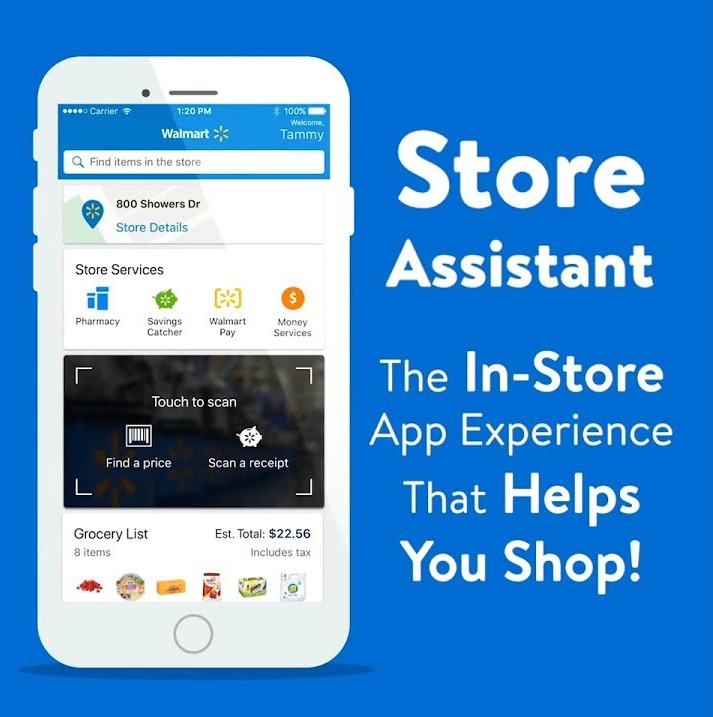 2. Color Coding
Another great idea that has been happening at Walmart is color coding. Each department has a different color. When you go into the store you can see the different departments by color with their signage. It makes finding things so easy. This is also true in the Walmart app. There will also be balloons on Black Friday by color in each department to help you easily navigate your Black Friday Shopping.
3. Special checkers to get you checked out faster!
This year Walmart will associates in EACH department that can quickly check you out on-the-spot, instead of having to wait in line at the front of the store.
Happy Thanksgiving!
There will be lots of content, styling ideas, recipes and more this holiday season!!
I am here if you have any questions! Tag me on Instagram @tatertotsandjello or tweet me @jenjentrixie with questions or observations!
I would love to see what you are doing this holiday season!!
xoxo