The Easiest Low-Carb Keto Charcuterie Board. Enjoy low-carb snacks for Valentine's Day with these delicious nibbles that are also keto-friendly!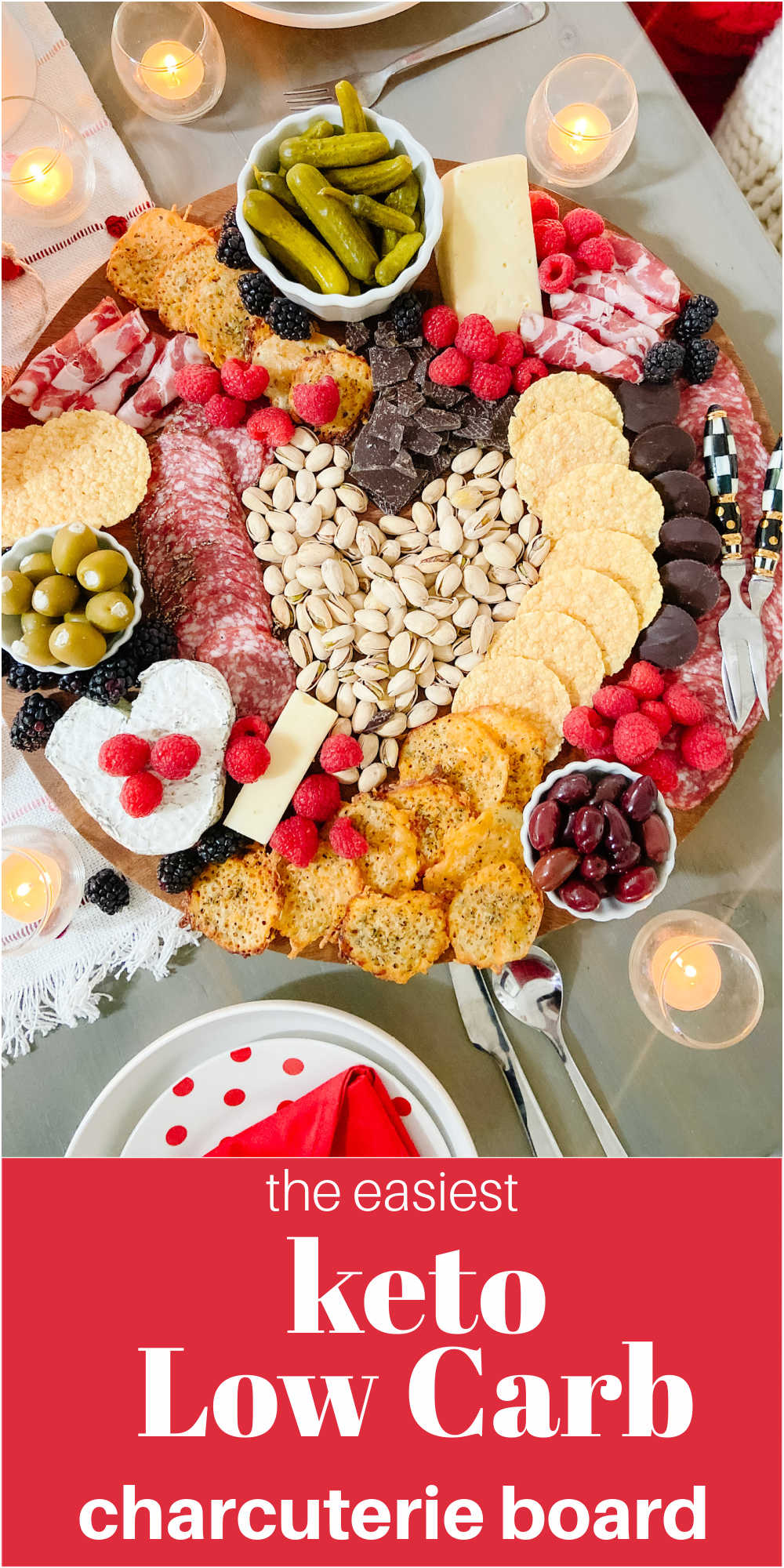 The Easiest Low-Carb Keto Charcuterie Board
I'm a big fan of charcuterie boards. Last year I made a 10-minute Valentine's Charcuterie Dessert Board and it was SO good. I started a keto-friendly lifestyle last June and when I started it I thought that was the end of enjoying yummy desserts. Luckily I've learned a lot over the past 8 months and I know now that I can still satisfy my sweet tooth. Today I am sharing how to make an easy and YUMMY low-carb charcuterie board!
Last-Minute Valentine Ideas
Thistlewood Farms | Valentines DIY Artwork Projects
Make three simple DIY artwork projects for Valentine's Day! All you need is a blank canvas and paint.
My 100 Year Old Home | DIY Valentine Conversation Hearts
This DIY Valentine's Day Craft is fun and easy to make. The conversation hearts are made from air dry clay and stamped with alphabet stamps.
The DIY Mommy | Sweet DIY Pampas Grass Arrangement
Looking for a unique gift idea to show someone you care? This sweet DIY pampas grass arrangement makes a lovely and unique gift. Use a variety of pink and natural coloured grasses to make this soft, textured bouquet and add a custom stamped tag for the perfect finishing touch.

Happy Happy Nester|DIY Flower Wall Hanging For The Bedroom
This easy DIY Flower Wall Hanging is easy to create with faux flowers. Decorate your bedroom wall with it for Valentine's Day or Spring. |
A Low Carb Charcuterie Board Your Whole Family Will Love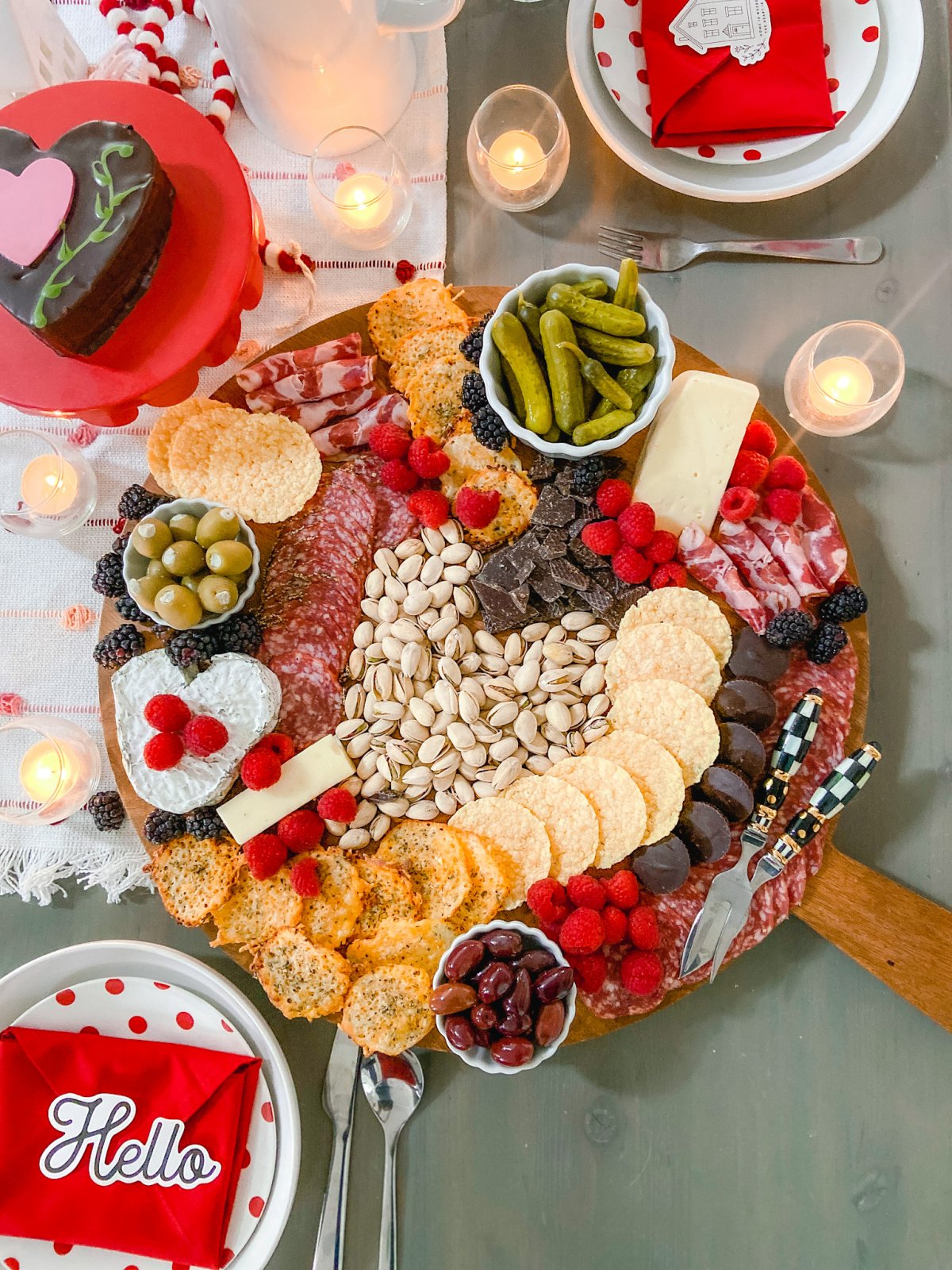 You might think if you are following a keto lifestyle that you can't make things that your family will love. You are wrong. Most of the recipes I make are dinners for everyone and most of the time my kids and husband rave about them. This year I am having my kids over (I have adult kids as well as teens) and I am serving this charcuterie board. I am super excited because I think they will love it PLUS I can eat it too!
This post may contain affiliate links. Affiliate links cost nothing to you can allow us to bring you free content.
What Foods Can You Serve on a Keto Charcuterie Board?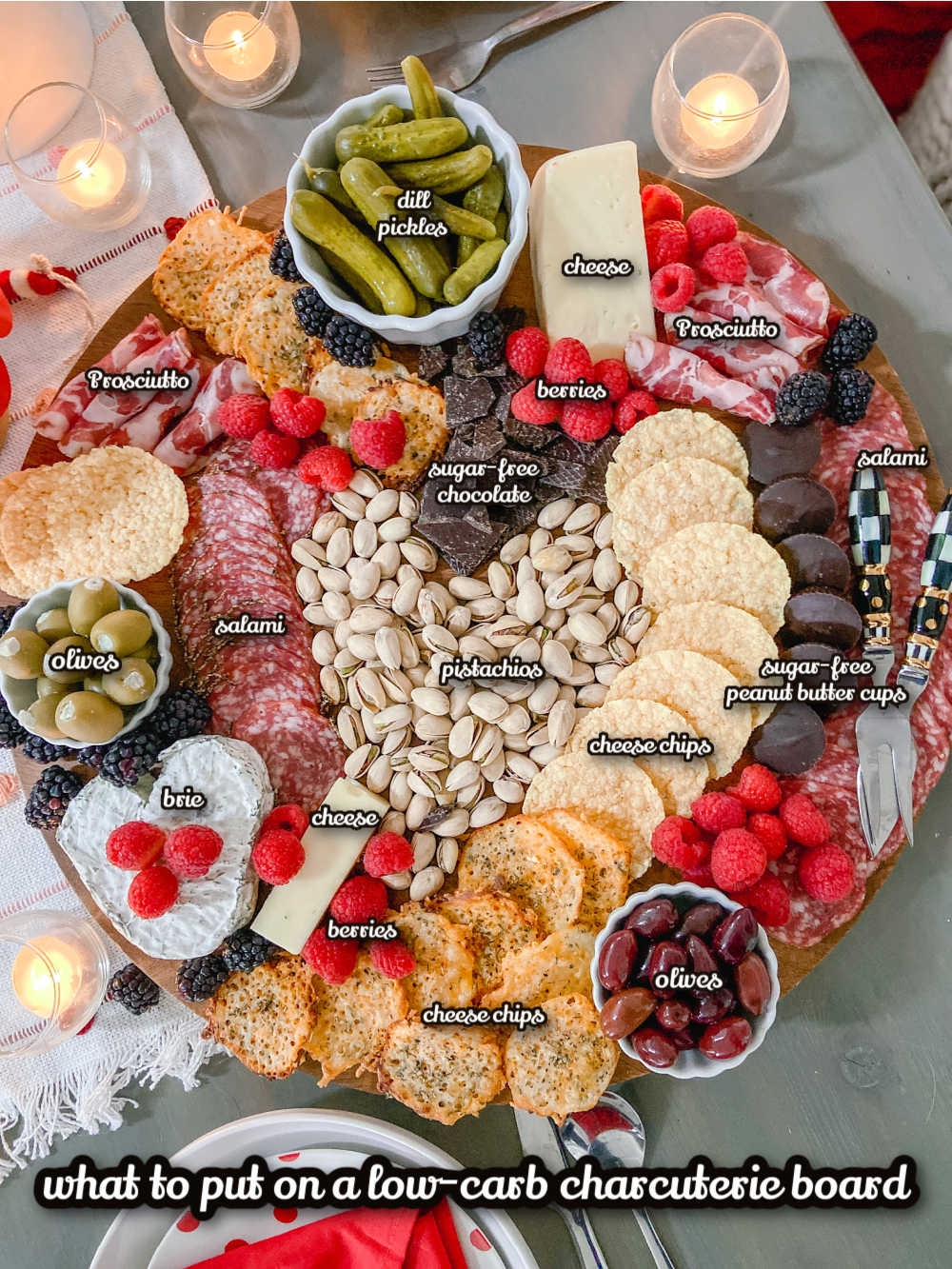 There are so many foods that go along with a keto and low-carb lifestyle. Here are a few:
Meats – Salami, Chicken, Prosciutto, Salmon, Pepperoni, Bacon, etc.
Cheeses — Mozzarella, Swiss, Havarti, Cream Cheese, Brie, etc.
Nuts – Almonds, Pistachio, Peanuts, Walnuts, Cashews, Etc.
Olives – I used kalamata olives and garlic stuffed green olives, but as far as I know, any olives are fair game for keto snacks.
Cheese Crisps (I made my own) But you can also buy Cheese Crisps.
Berries – Strawberries, Raspberries, Blueberries, Blackberries.
Pickles or Cucumbers.
Eggs – Deviled Eggs, Hard-boiled Eggs.
Sugar-Free Chocolate – I used ChocZero Chocolate Bark and Peanut Butter Cups here.
Pork Rinds
Veggies – celery, cherry tomatoes, Peppers.
How to Arrange Foods on a Charcuterie Board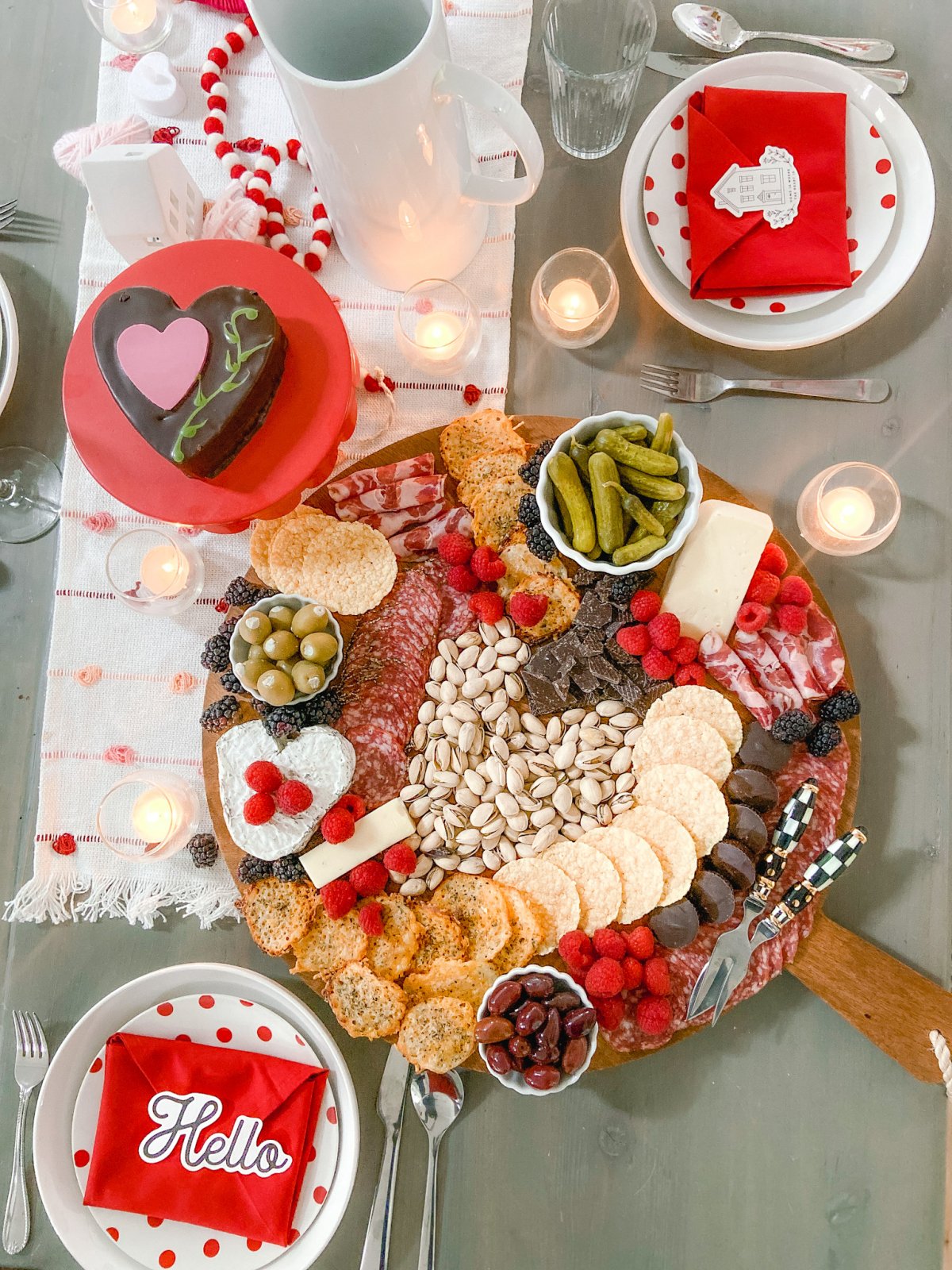 I know it might seem daunting to create a charcuterie board. If you follow this arrangement, it is actually really easy to put together!
Start with the Center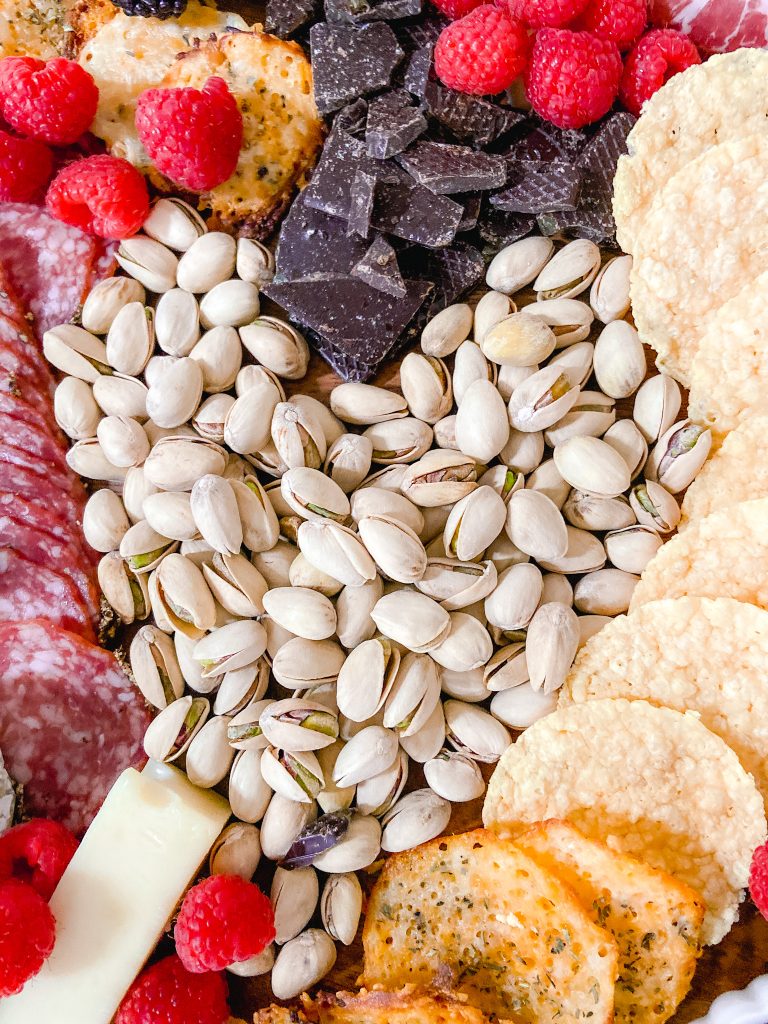 Start with an item for the center of the board. I created a heart out of pistachio nuts.
Mimic the Edge of the Board with Uniform Items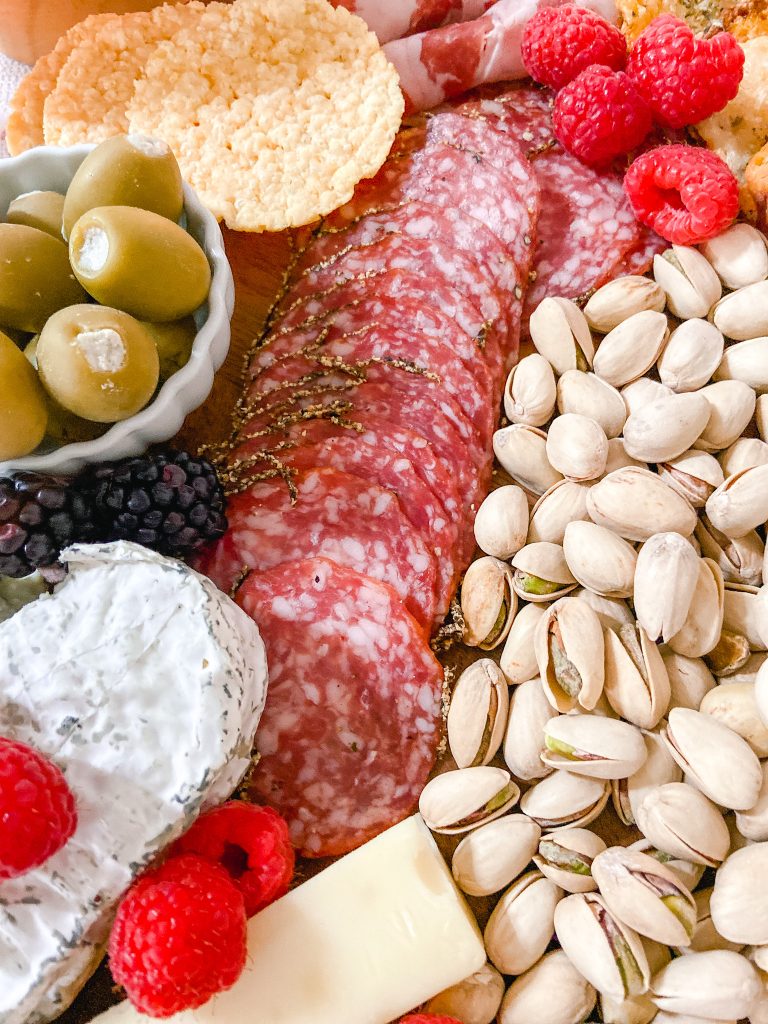 The next thing I did was I used the salami meats to outline the one side of the board. Then I used the other type of salami to run around the edge of the heart on the opposite side. I also added rolled up prosciutto to the top of the board.
Place Small Bowls of Items on the Board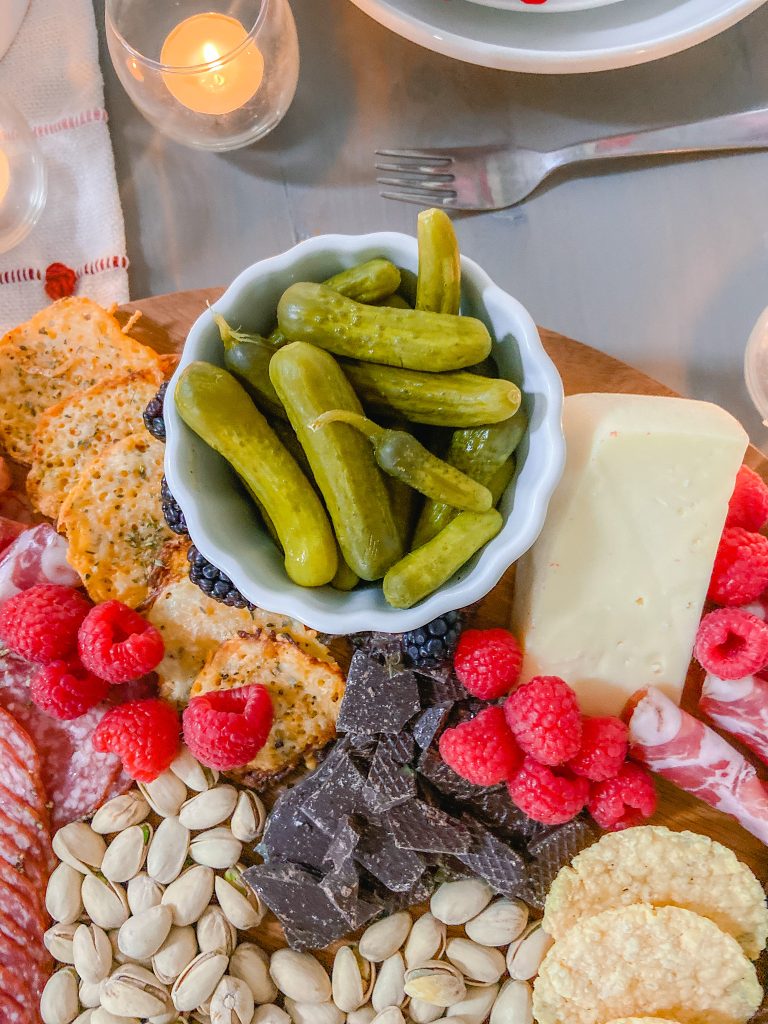 I used three bowls – one large and two small to corral wet and/or small items like pickles and olives. I spaced them out equally on the board.
Line up Uniform Items Next to Each Other
After the salamis, I lined the peanut butter cups up in a row as well as the cheese crisps. I made the cheese crisps on the bottom. They're so easy to make – a recipe is coming up on those next week!!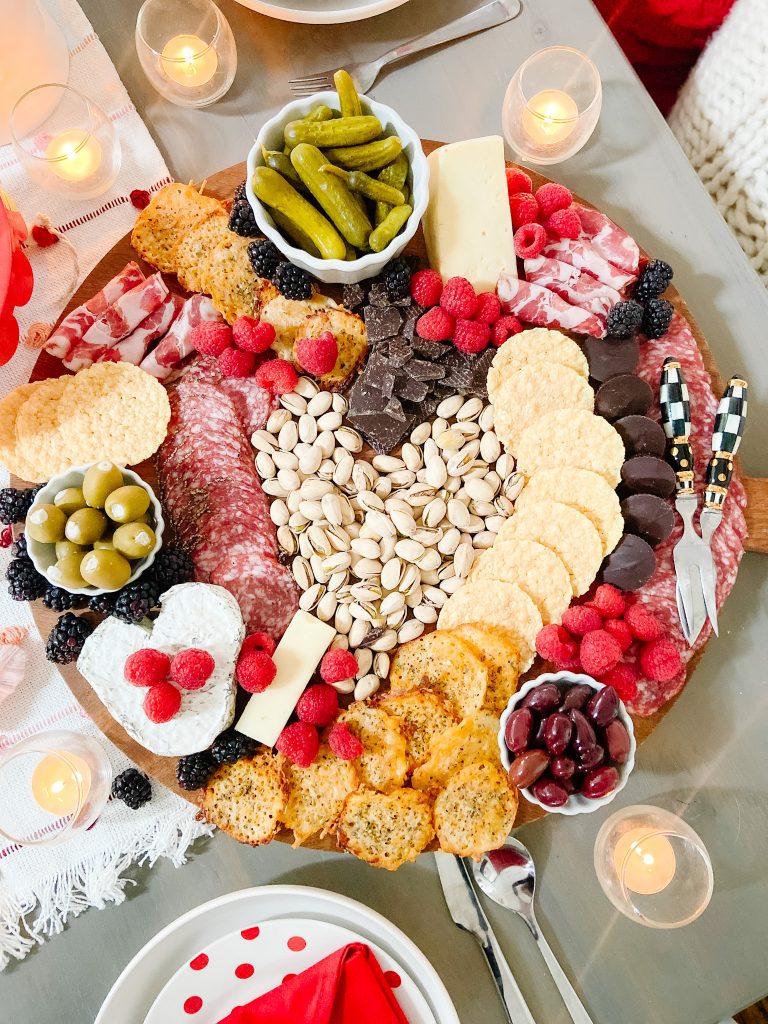 Add Any Other Large Items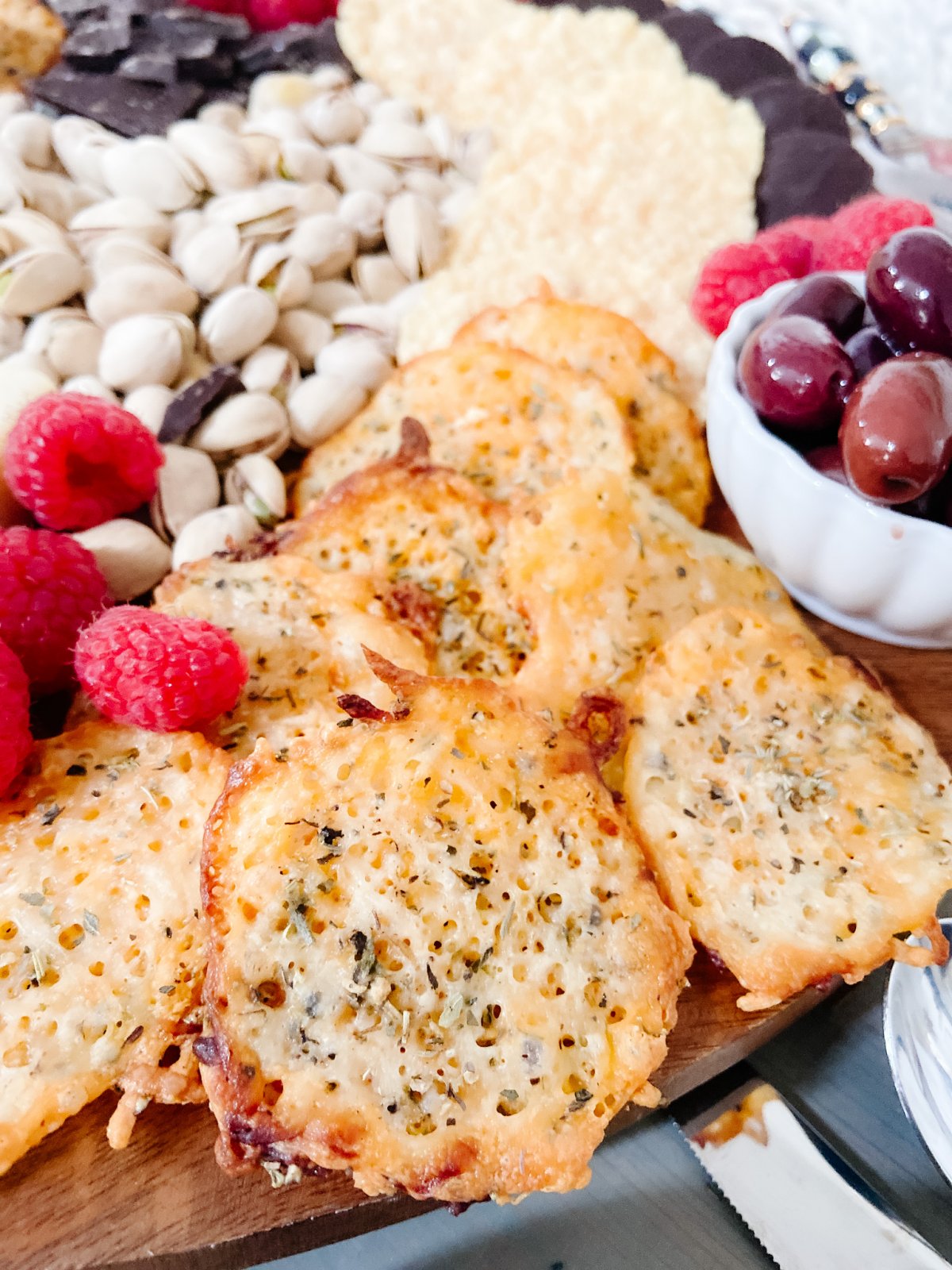 I added the different kinds of cheeses to the board evenly on the board.
Fill in Gaps with Small Items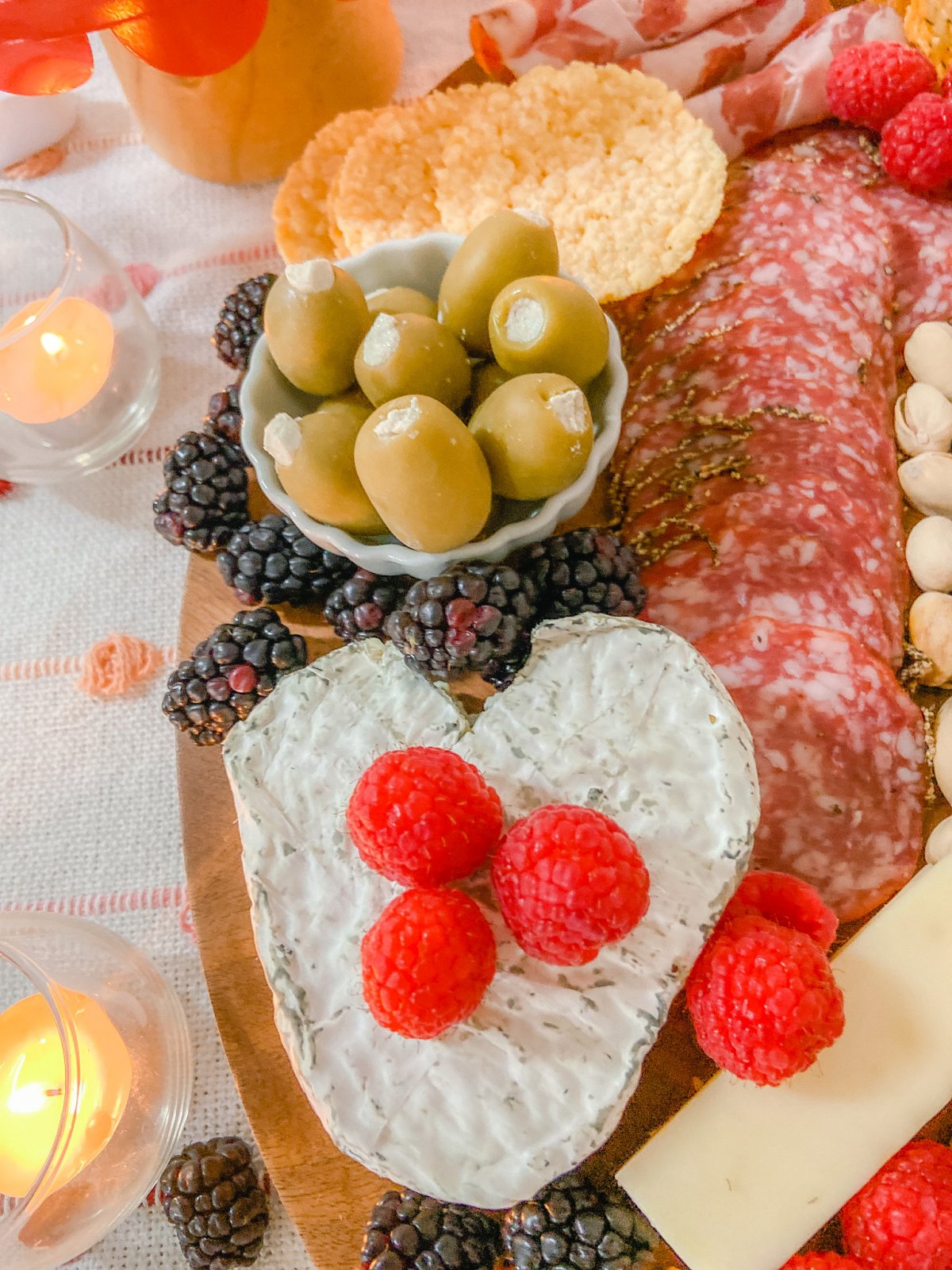 Once all of the larger items are on the board you can fill in the open spaces with small items like candies, chocolates or berries.
Enjoy Your Yummy Charcuterie Board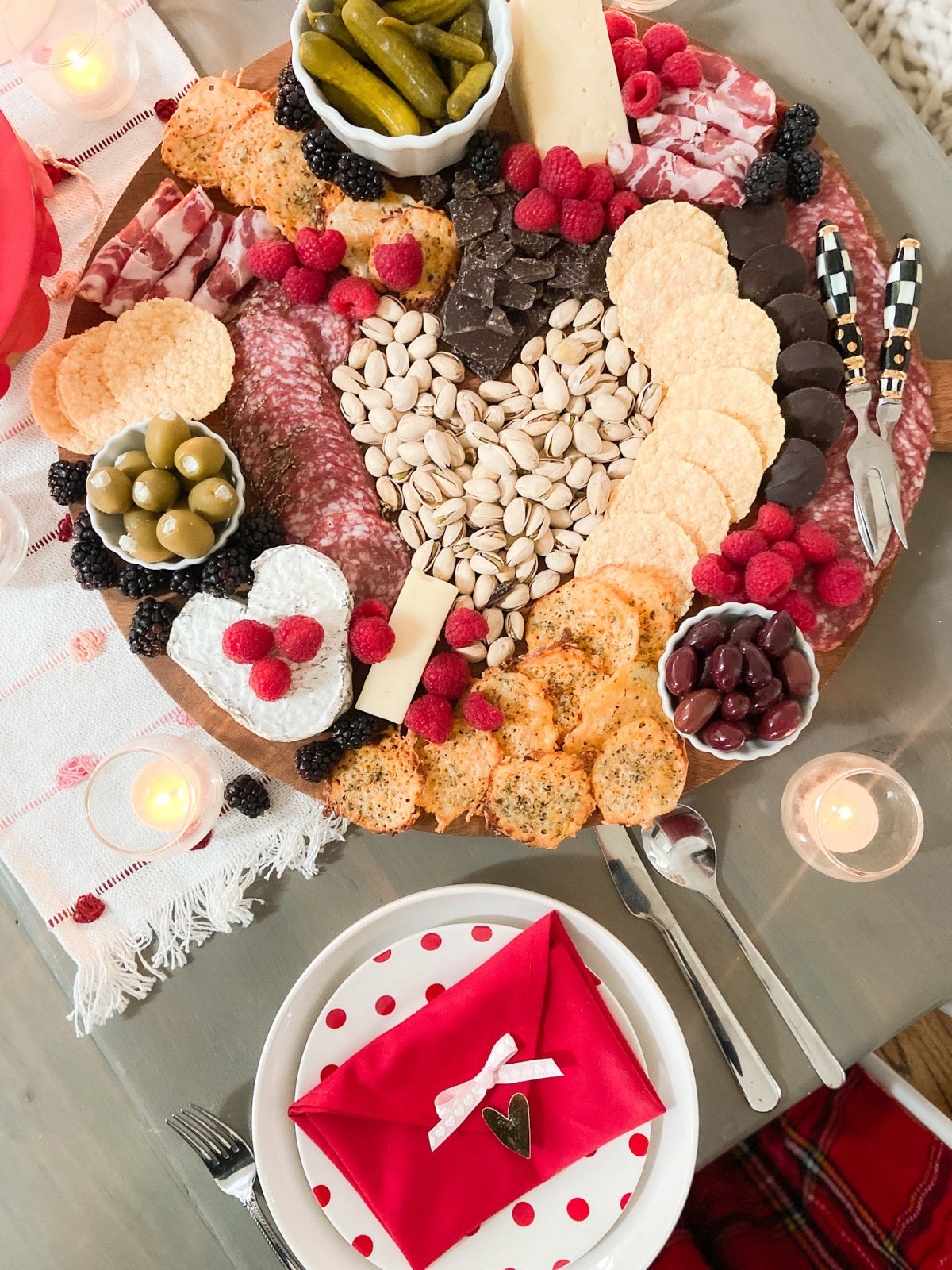 This idea is perfect as a really great appetizer, or it can also be the whole meal. I made it as an appetizer and for our game night! We will also make heart pizzas with the kids. I won't be eating those but instead will be snacking on this yummy charcuterie board throughout the night!
More Keto Desserts
Here are a few other keto desserts that would be perfect to make this weekend!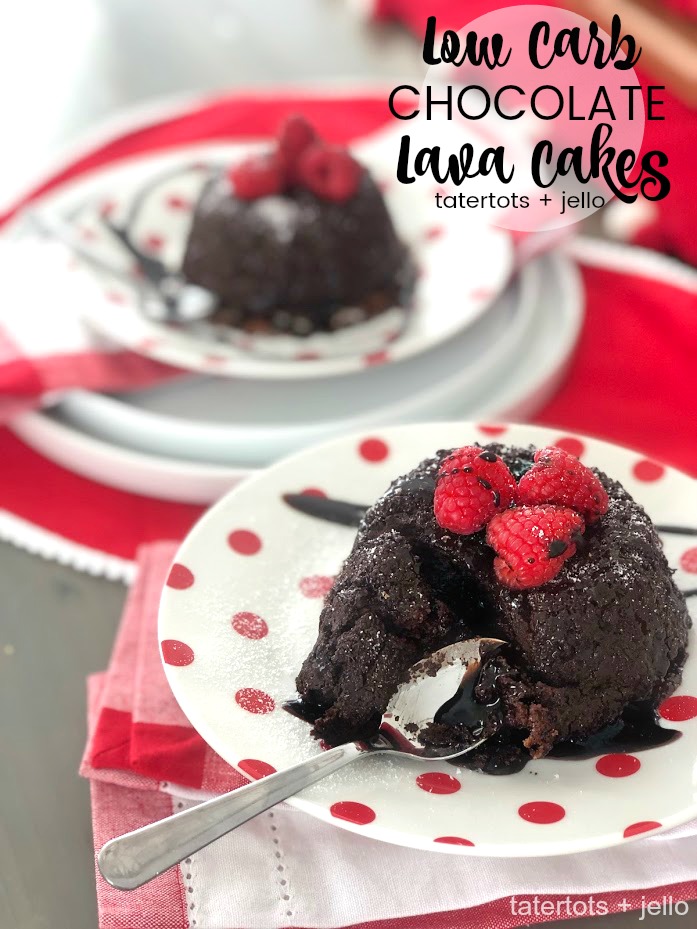 These keto sugar-free lava cakes are SO decadent and good! Soft chocolate cake on the outside, with a gooey chocolate center!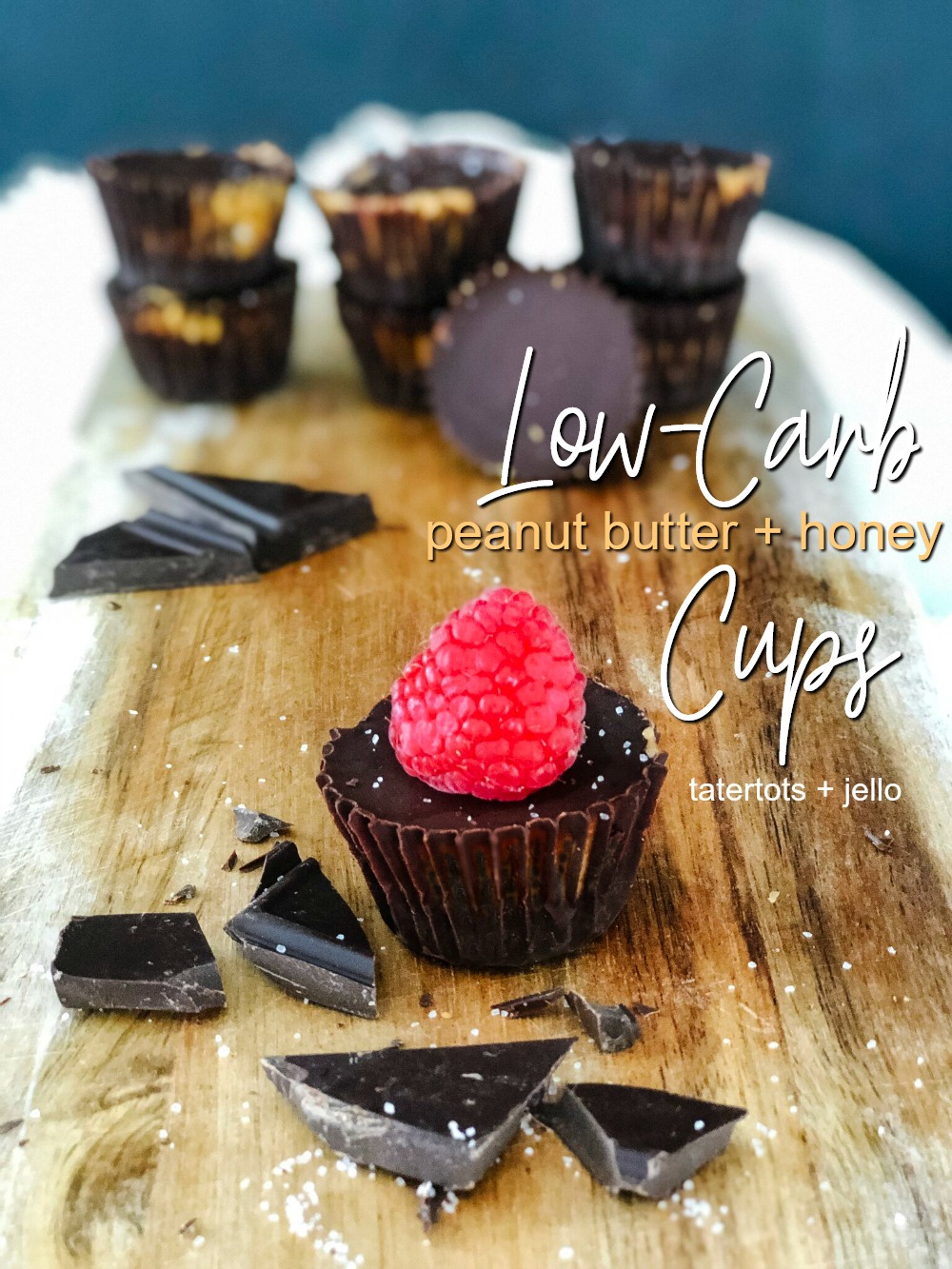 These are my favorite snack when I have a craving after dinner. I make a big batch and keep them in my freezer. So yummy as a dessert!
xoxo