Hello Tatertots and Jello readers! It's been a while since I've been here! It's Carli from DimplePrints here to share some Valentine's Day Breakfast Prints with you today!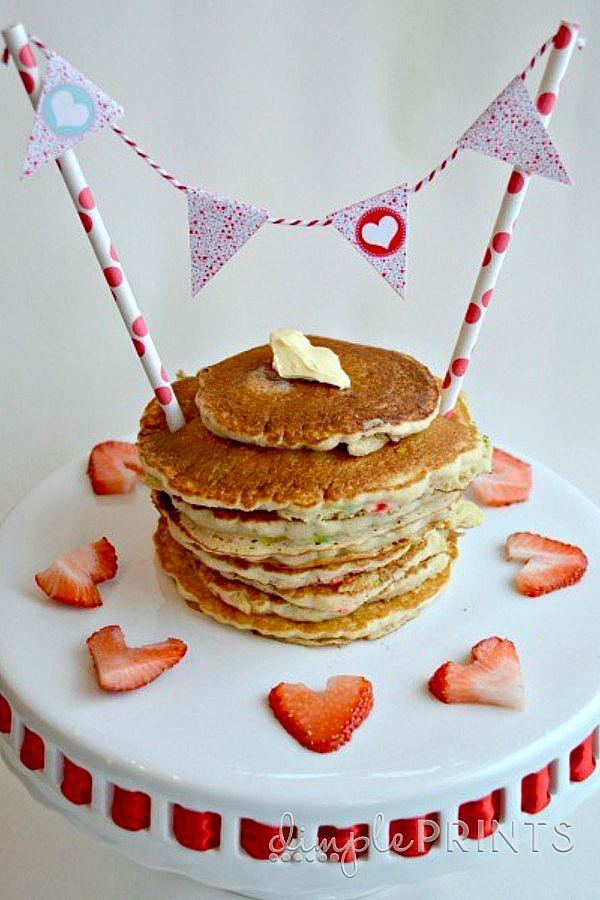 Valentine's Day dinners are always a big hit, do you stay in or do you go out? Do you go fancy or do you enjoy pizza and a movie with your sweetie?? But what about breakfast?!
Today we thought we'd give you all some great free "Sprinkled with Love" breakfast printables for Valentine's Day morning with your kids or family.
These prints are so fun and easy to make. My whole set up took about an hour to put together and used items I already had! Plus, breakfast items are so easy to make and inexpensive! I used some Funfetti Pancake Mix for the pancake tower, strawberries cut into hearts, got some donut holes and strawberry muffins and if you're really hungry, add some heart shaped sausage to the meal!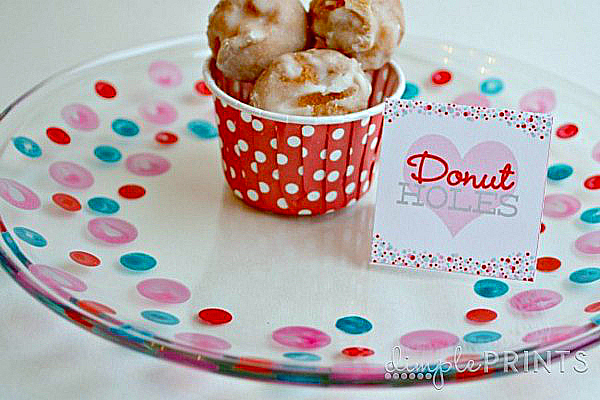 I made matching plates for my breakfast using clear plates from Ikea (for 99 cents each) and glass paint I already had on hand. They took about 20 minutes to make total and the paint is on the under side of the plate, so it's safe to eat off of.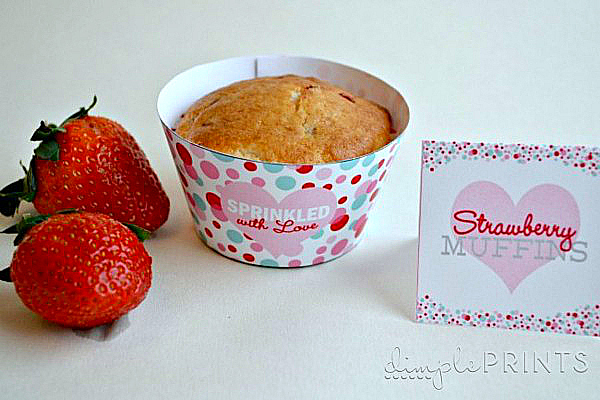 I bought a quick easy Strawberry Muffin mix from Kroger for $1.00 that was simple, but tasty. Valentine's Breakfast doesn't have to break your back OR your bank!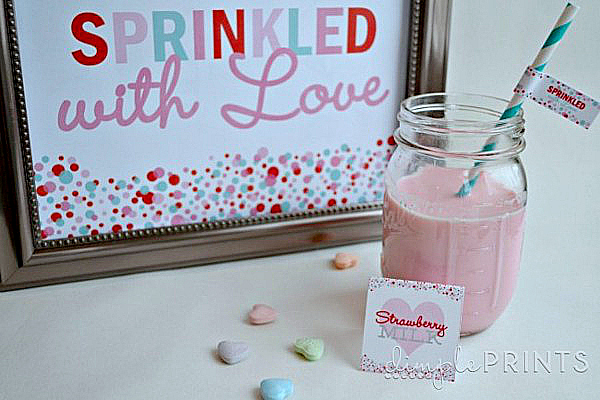 I used strawberry milk mix for a fun pink milk on the table and adorned my striped paper straws with "Sprinkled with Love" flags (included in package).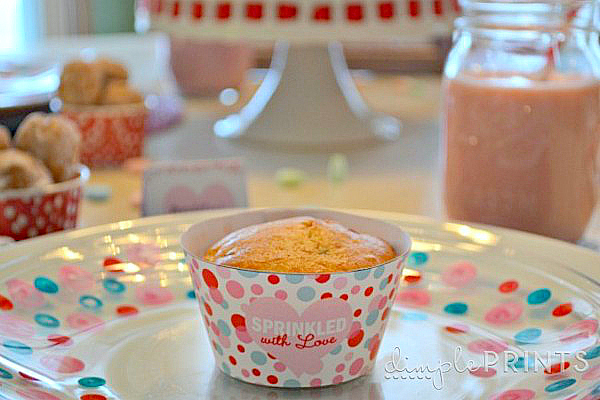 My tablescape was simple, but so fun to set up!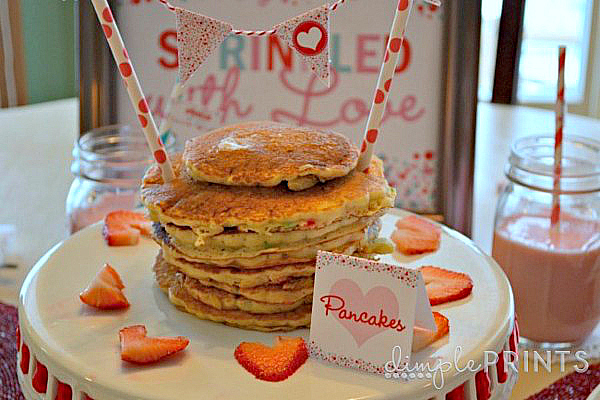 My pancake stack served as centerpiece and breakfast food…another easy way to achieve a finished table look without having to buy flowers or extra decor items!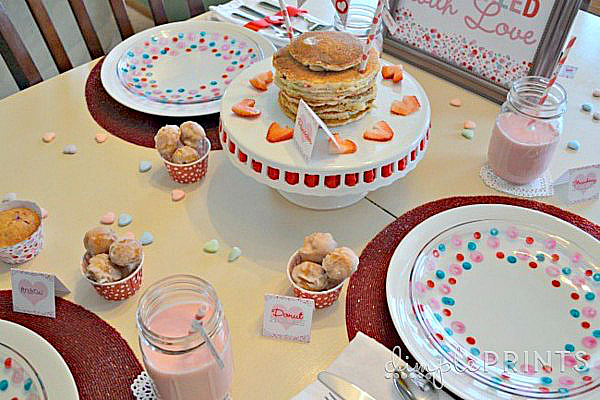 I used items I already had to dress up my table…the chargers are actually Christmas chargers, but they fit my decor so well that I added them into the mix!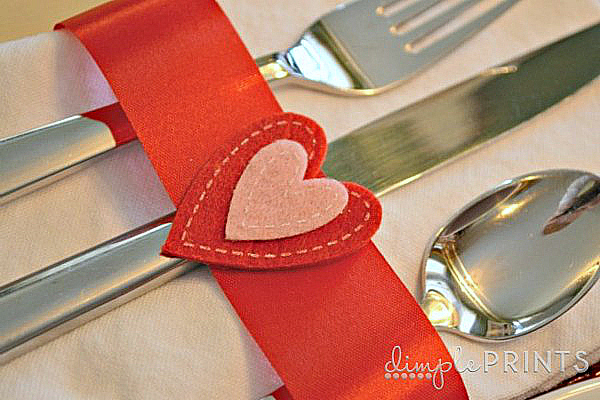 I used ribbon to wrap around my utensils and adorned them with little sticky hearts I already had from the Target dollar bin last year!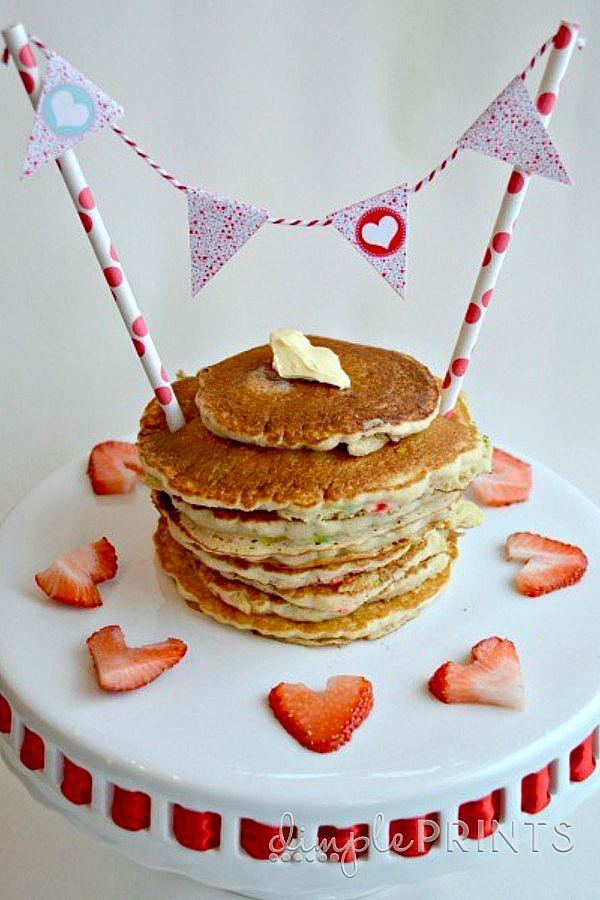 Overall, it's SO easy to achieve an easy breakfast without killing yourself or spending tons of money! Shop your house, you'd be amazed what you can find and use to surprise your kids!! You can find the free prints to our breakfast below! We hope you enjoy!
Sprinkled with Love Breakfast Food Tags by dimpleprints
Sprinkled with Love Mini Pennants by dimpleprints
Sprinkled with Love BE MINE Sign by dimpleprints
Sprinkled with Love Straw Flags by dimpleprints
Thanks Carli!!
Those printables are so FUN for a Valentine's Day breakfast.
I can't wait to try them out!!
Here are some other great ideas from Dimple Prints: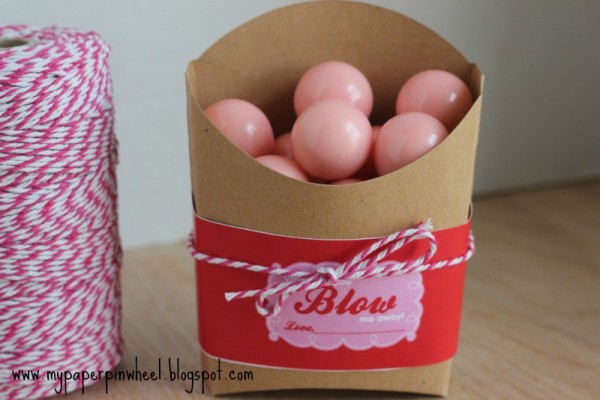 Valentine Blow Me Away Free Printable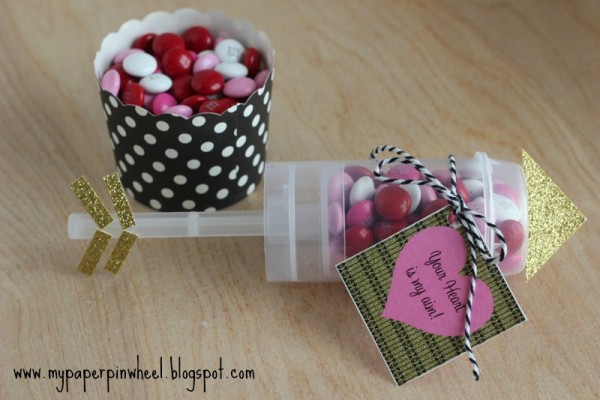 Arrow Push Up Pop Idea and Printable
Hugged and Kissed Free Valentine Printable
Dimple Prints also has a whole section of Free Valentine Printables – be sure to check them out!

Head over to Dimple Prints and see all of the great ideas.
And you can also follow Dimple Prints here:
Dimple Prints Facebook Page
Dimple Prints on Pinterest
Have a Beautiful Day!!
xoxo

PS — I have some fun projects coming up!
If you follow TT&J on Instagram, you know that I spent yesterday painting a dresser that we're converting into a bathroom vanity.
I am so excited to show you more.