Make crunchy, spicy dill pickles in your home. It just takes a few ingredients and you can switch the recipe up to make all kinds of different flavored pickles. Never buy store-bought pickles again!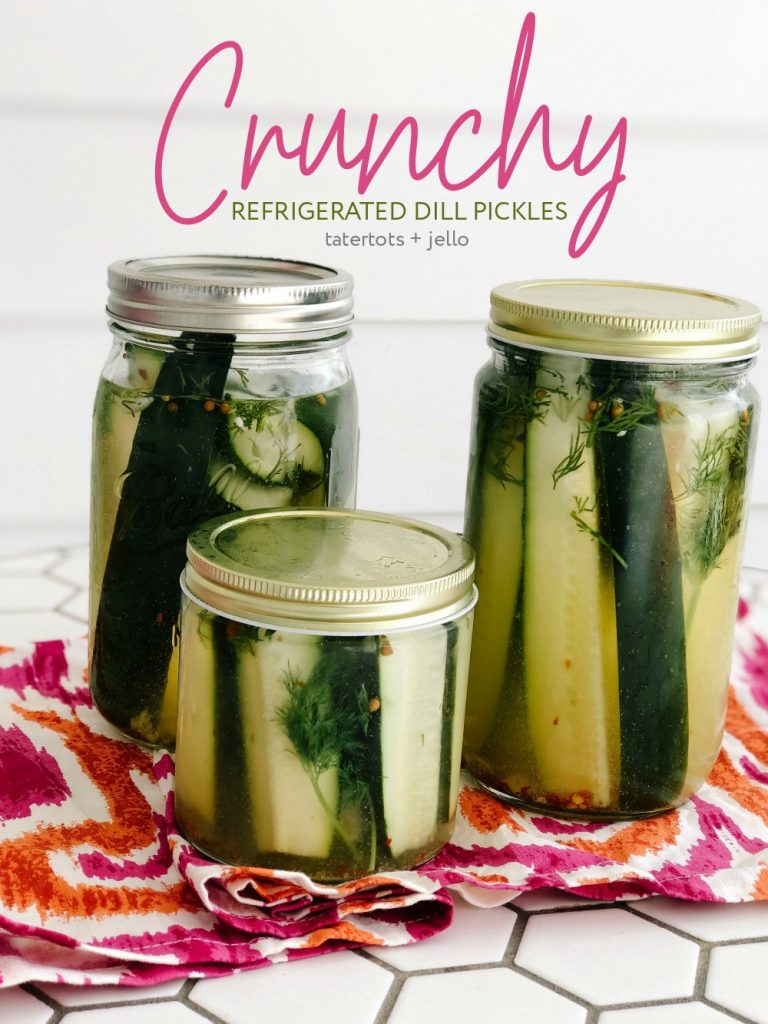 The BEST Refrigerated Spicy Crunch Dill Pickle Recipe
We LOVE dill pickles at our house. I swear my kids can eat a whole bottle in one day! LOL!! When I was growing up we grew cucumbers and one of my favorite summer meals was sliced cucumbers in vinegar with a little salt and pepper sprinkled on top!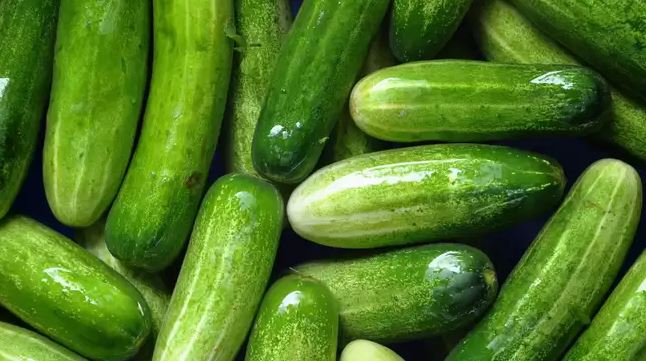 I did some research and experimenting and have come up with a CRUNCHY, spicy dill pickle recipe that our family loves!! These homemade pickles are perfect sliced on a sandwich, on top of a hot dog, diced up for relish or just on their own! Here's how to make your own perfectly delicious dill pickles!
Make Pickles as Sweet or as Spicy as You Want!
The thing that is awesome about this recipe is you can alter it to be as spicy or sweet as you want! I added red pepper flakes to mine but you can get heat to your pickles by adding canned or fresh jalapenos or peppers!
Make Sweet Pickles Instead of Dill Pickles
If you add 1/2 cup of sugar instead of the 2 Tablespoons that I added, you will make sweet, crunchy pickles! You can even divide your brine into two parts — one sweet and one dill and make a couple jars of each!
Add Other Veggies to Your Pickles
You can also add other veggies and pickle them too! Carrots and onions are excellent veggies to add to your pickles and eat too! You can even make pickled carrots with this recipe instead of pickling your cucumbers! Pickled carrots taste SO good in a salad!!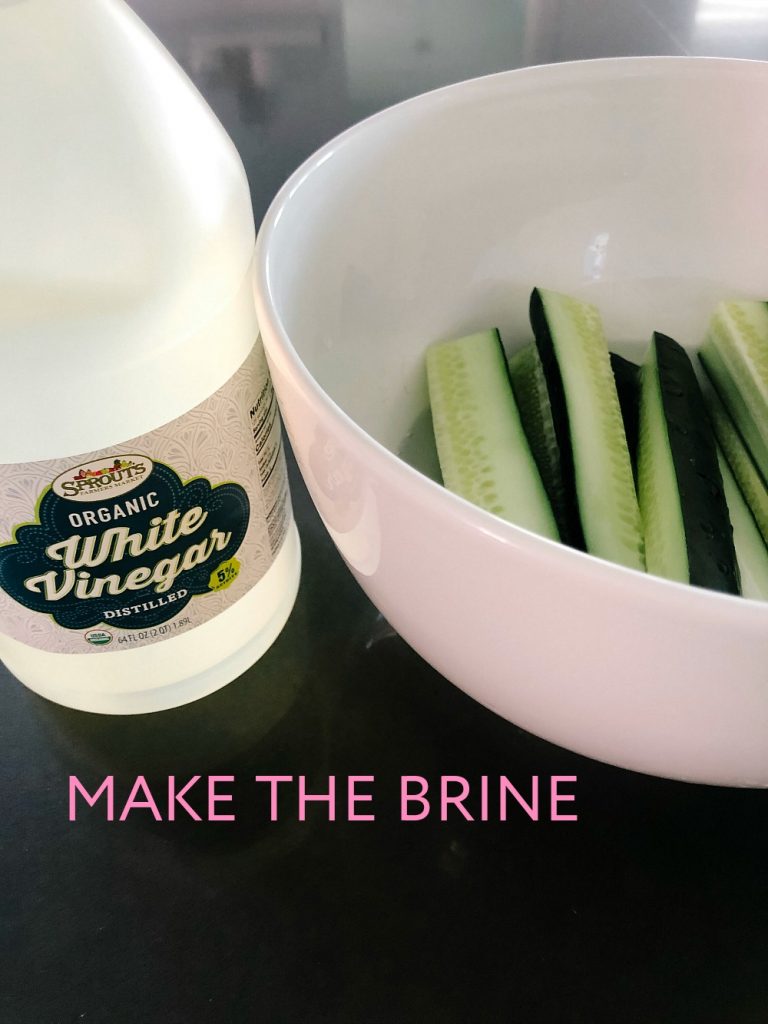 Make Dill Pickle Brine
The trick to making the perfect sweet or dill pickle is the brine! The brine is mostly made up white vinegar and water, along with sugar and spices. You can add Picking Spice, but I made my own.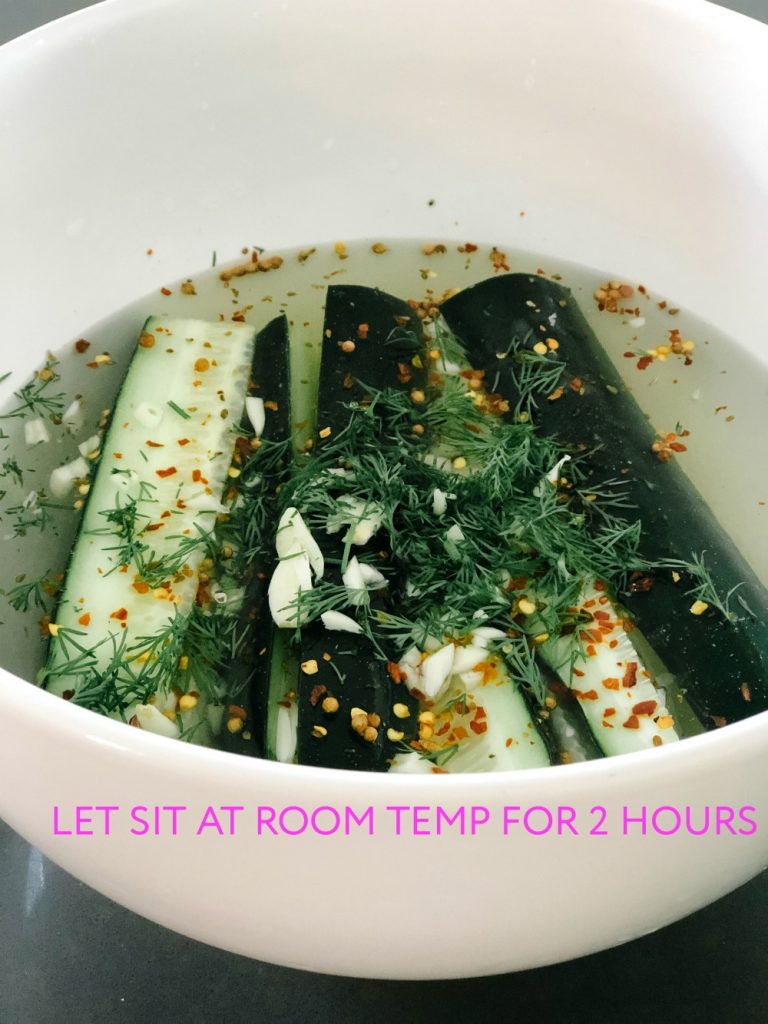 What is Pickling Spice
Pickling Spice is pre-made in the spice aisle of your grocery store. It makes pickling easy. I made my own with the main ingredients in pre-made pickling spice. I added dry coriander seeds, black pepper, mustard powder, cinnamon and turmeric. But you can omit those ingredients in the recipe by substituting them for 1 Tablespoon of pickling spice.
Make As Many Dill Pickles as You Want
This recipe is great because you can make as many batches of pickled cucumbers as you want. Just double or triple the brine recipe and make as many batches of sweet or dill pickles as you want!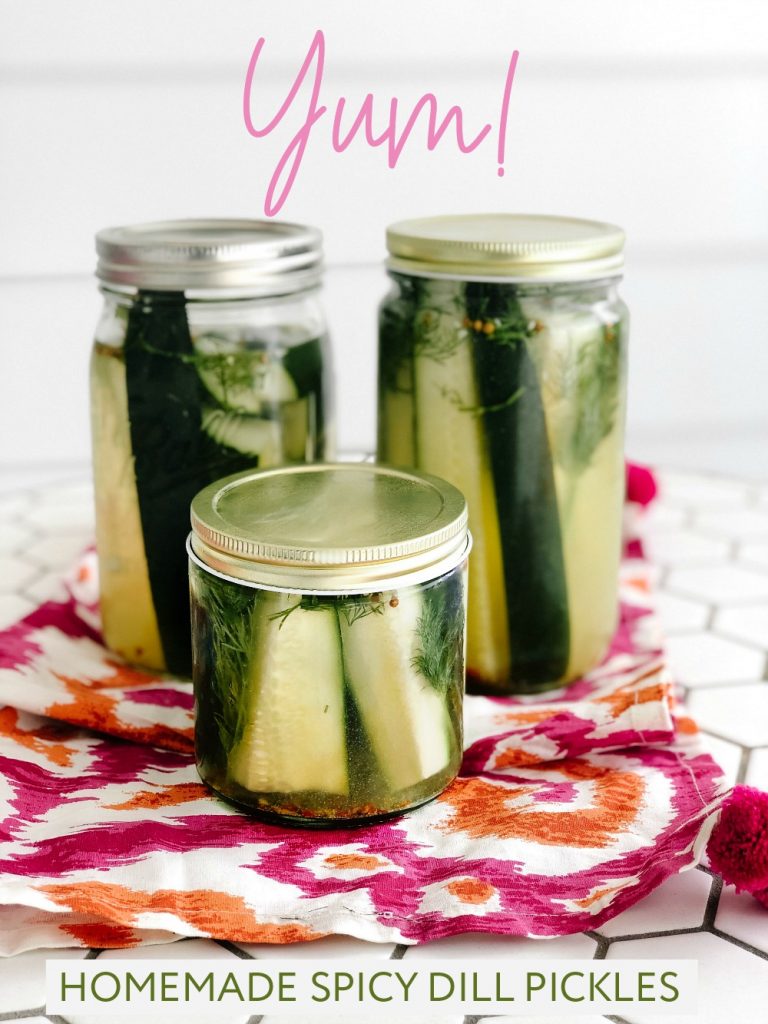 How to Make Crunchy Homemade Dill Pickles
The secret to making homemade dill pickles super crunchy are TWO steps. The first is that you fill a big bowl with ice and ice water. Then BEFORE you cut your cucumbers, put the WHOLE cucumbers in the ice water bowl for 2 hours before you cut the cucumbers. The second step is after you make the brine and cut the cucumbers, put them in a large bowl, covered in brine and let them sit for 2 hours at room temperature.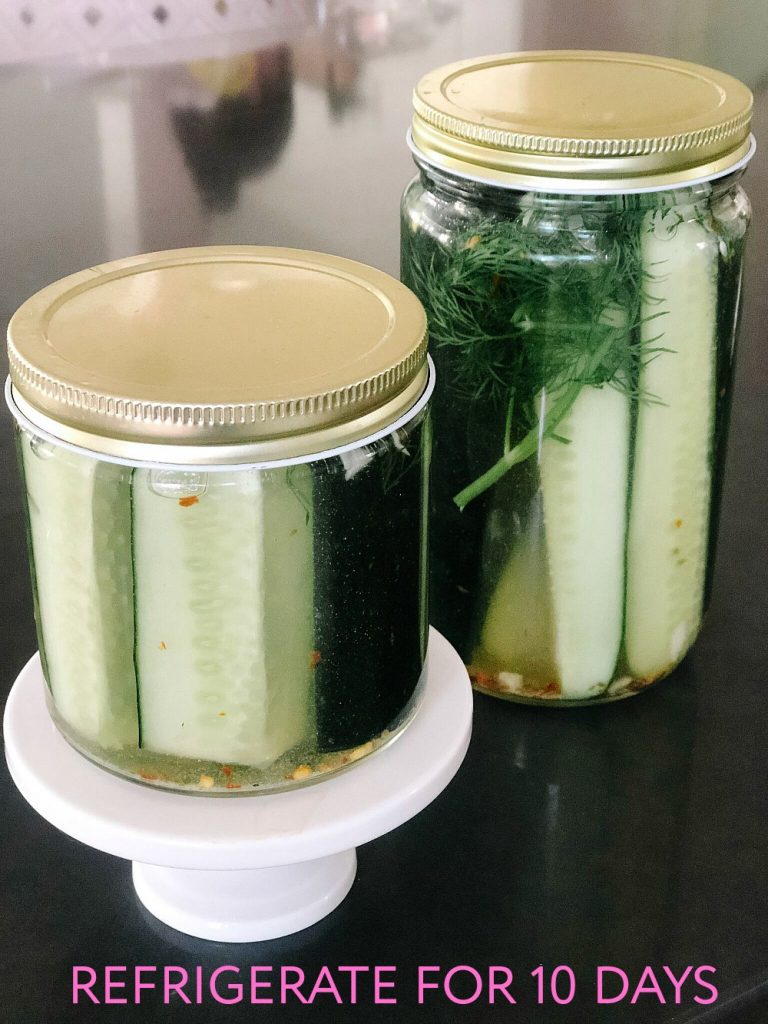 Refrigerate Pickles for 10 Days
After you have put your pickles in jars and added your brine, put the lid on your pickle containers and let them sit in the fridge for 10 days before you eat them. This lets the pickles absorb the flavor. Then eat the pickles within a month and keep them refrigerated.
Crunchy Spicy Refrigerated Pickle Recipe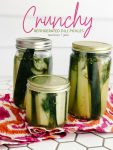 Crunchy Spicy Refrigerated Dill Pickles
Make crunchy, spicy dill pickles in your home. It just takes a few ingredients and you can switch the recipe up to make all kinds of different flavored pickles. Never buy store-bought pickles again!
Prep Time 10 minutes
resting time 2 hours
Ingredients
Brine
2 cups water
2 cups white vinegar
2 cups fresh dill, chopped
1/2-1 t. red pepper flakes, depending on how spicy you want your pickles to be
2 T. sugar for dill pickles. If you want to make sweet pickles, add 1/4-1/2 cup sugar, depending on how sweet you want your pickles to be
8 cloves garlic, minced
2 T. coarse salt
dash tumeric
2 t. dill seed
4 sprigs fresh dill weed
3 T. Pickling Spice
Homemade Pickling Spice
2 T. coriander seeds
2 T. ground pepper
1/2 t. mustard powder
dash cinnamon
Instructions
In a large bowl, add ice cubes and ice water. Put WHOLE cucumbers in bowl and let sit for 2 hours.

After two hours, cut cucumbers into spears or slice them up.

In a large bowl, combine the cucumbers, water, vinegar, chopped dill, sugar, garlic, salt, pickling spice (or homemade pickling spices above) dill seed and red pepper flakes.

Let the cucumbers and water mixture sit for 2 hours at room temperature until the salt and sugar dissolve.

Take the cucumbers out and put them in glass or plastic containers with lids. Ladel in the brine from the bowl to cover the cucumbers. Place a sprig of fresh dill into each jar and put the lids on.

Refrigerate the containers for at least 10 days before eating. Keep refrigerated and eat within a month.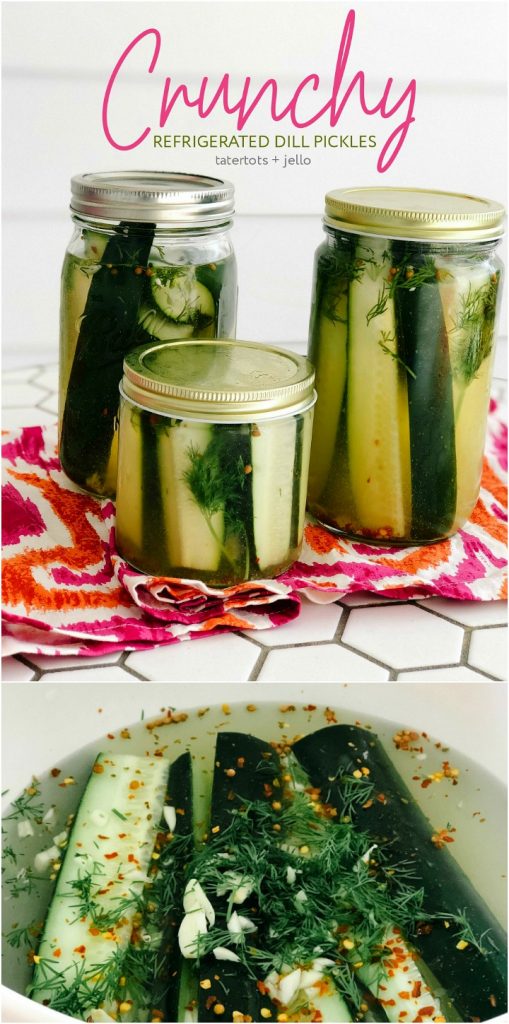 If you are looking for another DELICIOUS way to use cucumbers, try making this HOMEMADE Relish. It's SO good on anything barbecued this summer!


And you can grow your own cucumbers in your backyard. It doesn't take a lot of space. I cleared out a little section and added this garden area in one morning!


What projects are YOU working on for Spring and Summer?
Let us know in the comments!
Have a YUMMY Day!
xoxo