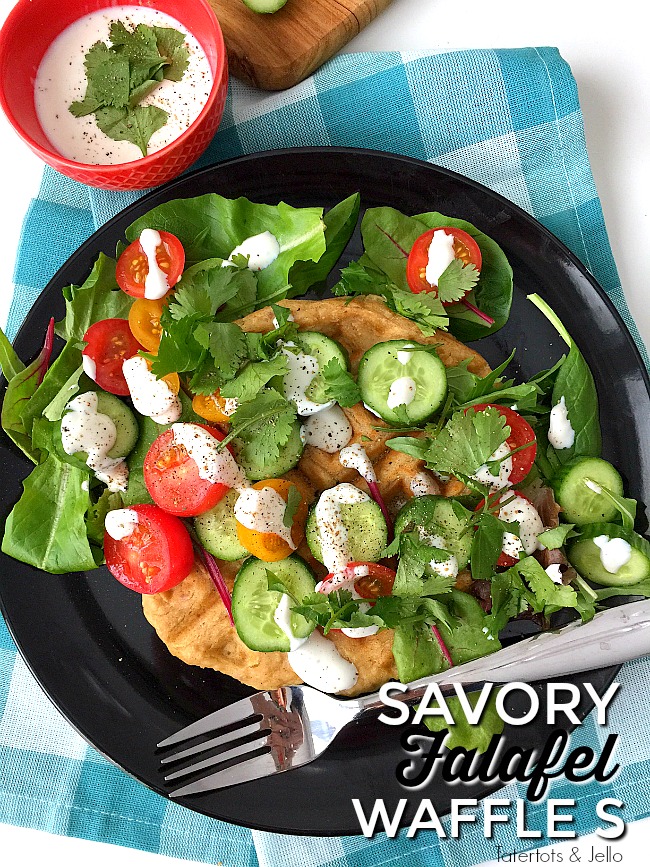 Savory Falafel Waffles
We love experimenting with different kinds of waffles. This weekend I made Blueberry Lemon waffles for the girls. And then we got the giggles thinking of different waffle names. We loved saying Falafel Waffles. So I thought why not try to make some? I love chickpeas and Falafels are tasty! Hannah who doesn't even like falafels gave it a big thumbs up. It's really good!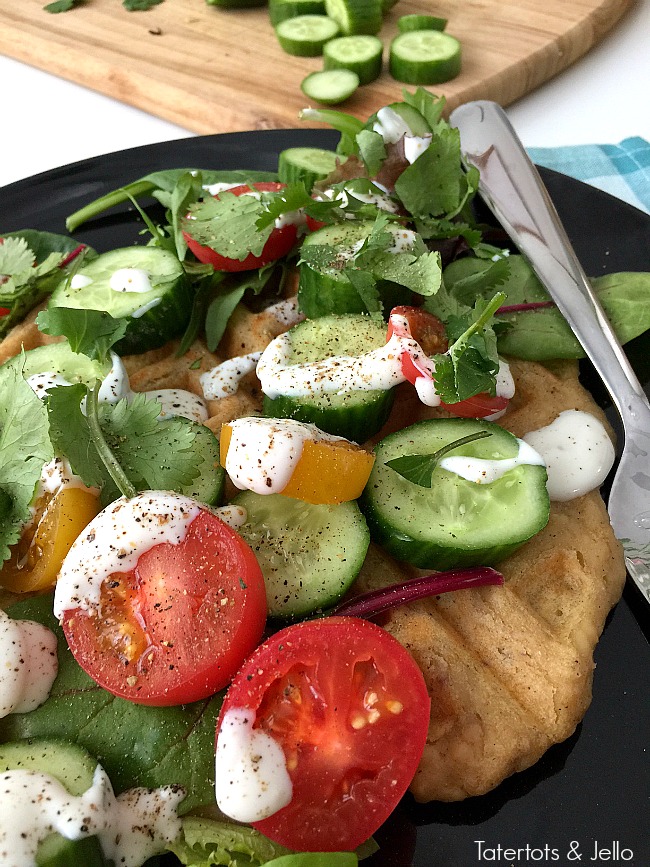 Savory Falafel Waffles
The main ingredient in falafel waffles is chickpeas, along with flour and spices like cumin, coriander and cardamom. You serve it salad style over greens, with cucumbers and tomatoes on top. And a tangy yogurt dressing. The warm waffle with the cool greens and vegetables is such a good combination.
Savory Falafel Waffles
A couple of tips we discovered:
Don't make the waffle too thick. It cooks best if you spray the waffle plates with non-stick spray and then spread the falafel batter thinly to cover the plate.
Also, keep the heat of the waffle iron about half way on the settings.
And the last tip is it takes about 7 minutes for the waffle to be cooked all the way through. The "ready" light will probably go off before 7 minutes is up, but let it continue to cook until all the time has elapsed so the waffle is completely cooked through.
Here is the Savory Falafel Waffle Recipe:
Savory Falafel Waffles
Recipe Type: waffle
Cuisine: american
Author:
Prep time:
Cook time:
Total time:
Serves: 6
Savory Falafel Waffles are a savory dinner idea. Warm, aromatic and full-flavored waffles that taste like falafels are surrounded by a cool salad and tangy yogurt dressing.
Ingredients
2 cans chickpeas, drained and rinsed.
1/2 red onion, chopped.
1 cup of flour
3 teaspoons cumin
2 teaspoons coriander
1/4 teaspoon cardamom
1/4 cup lemon juice
salt and pepper to taste
3 large egg whites
1/2 cup olive oil
1/2 cup plain greek yogurt
1/4 cup lemon juice
1 cup cherry tomatoes
3 mini cucumbers
1/2 cup chopped cilantro
Instructions
In a food processor or blender, combine the chickpeas, onion, lemon juice, oil and mix until a batter forms. Then add flour and seasonings until completely combined. Add more flour if need so batter is the consistency of pancake batter.
Set waffle iron to medium heat setting and heat up. Then add 1 cup of falafel batter to the waffle plate, use a spoon to spread it evenly and thinly over the plate. Shut the waffle lid and set your kitchen timer for 7 minutes.
While the waffle cooks, make the yogurt dressing. Take 1/2 cup plain greek yogurt and add lemon juice, plus salt and pepper to taste. mix it up and add some chopped cilantro.
Once the timer goes off, check the waffle. If it is a golden brown and it feels cooked through, remove it to a plate. Add salad greens under the waffle, then add cucumbers, tomatoes and cilantro to the top of the waffle. Use a spoon to drizzle the yogurt dressing over the top.
Enjoy!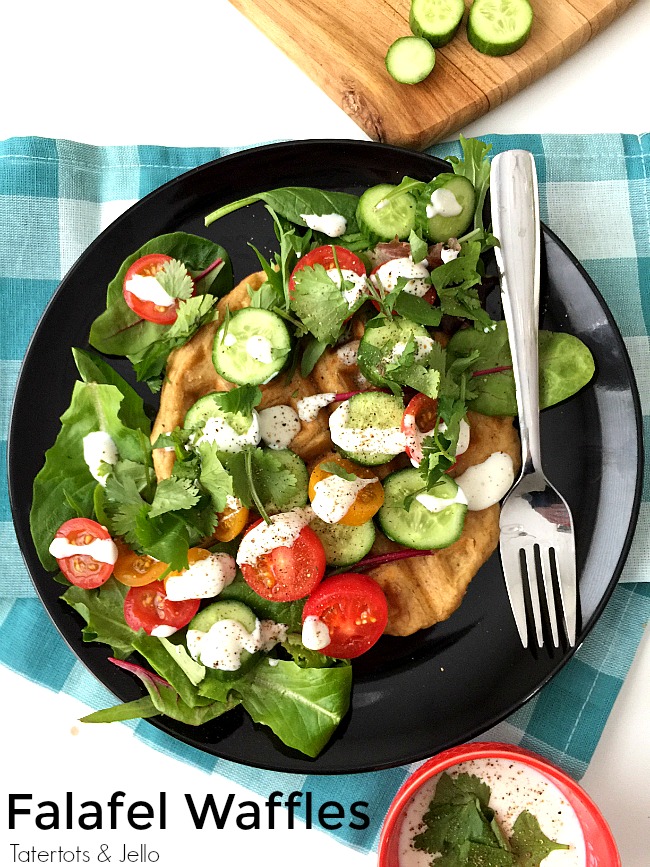 Savory Falafel Waffles
Have you ever made savory waffles?
Here are a few other savory waffles we love making: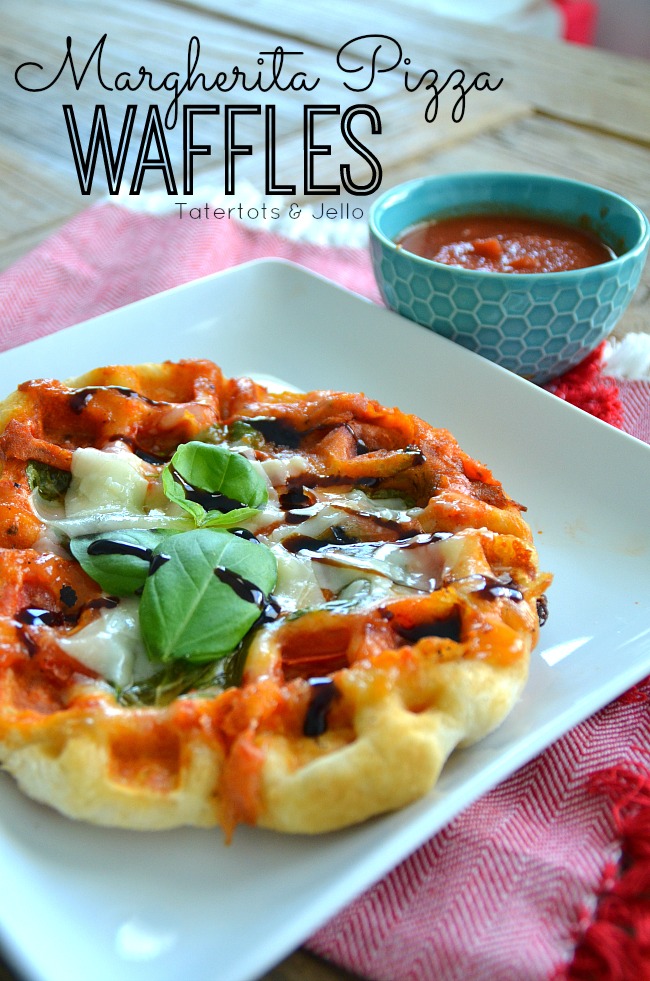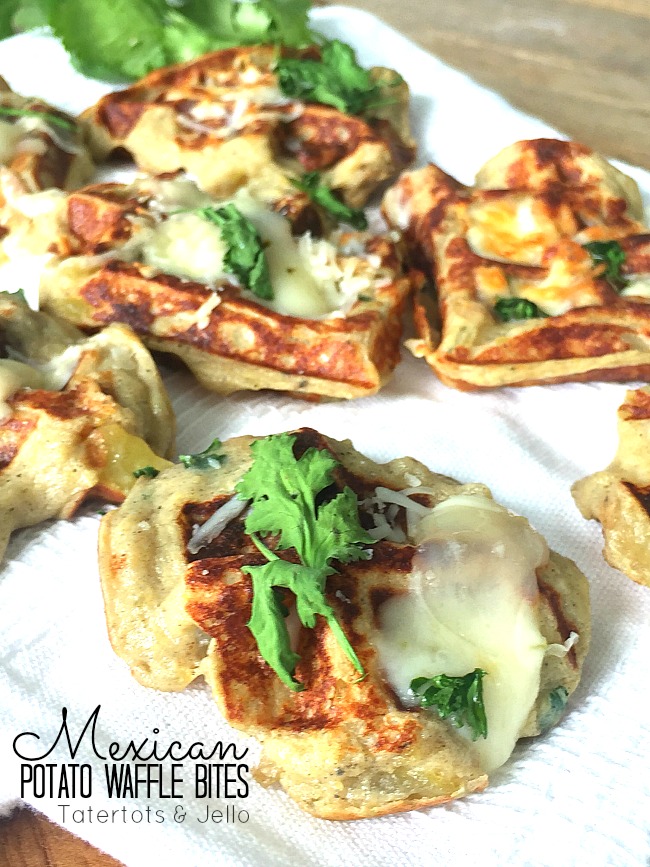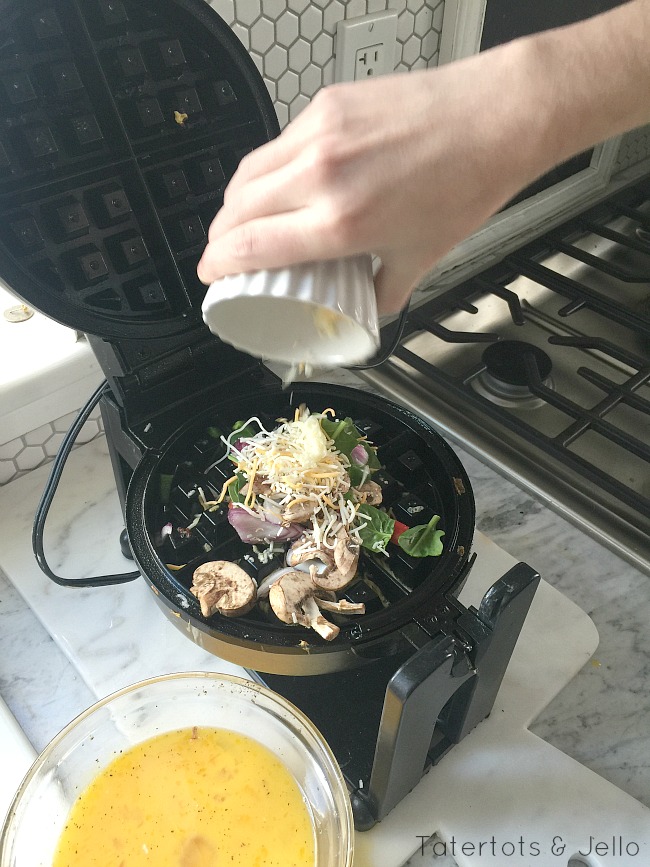 What's YOUR favorite kind of waffles?
Have a Yummy Day!
xoxo