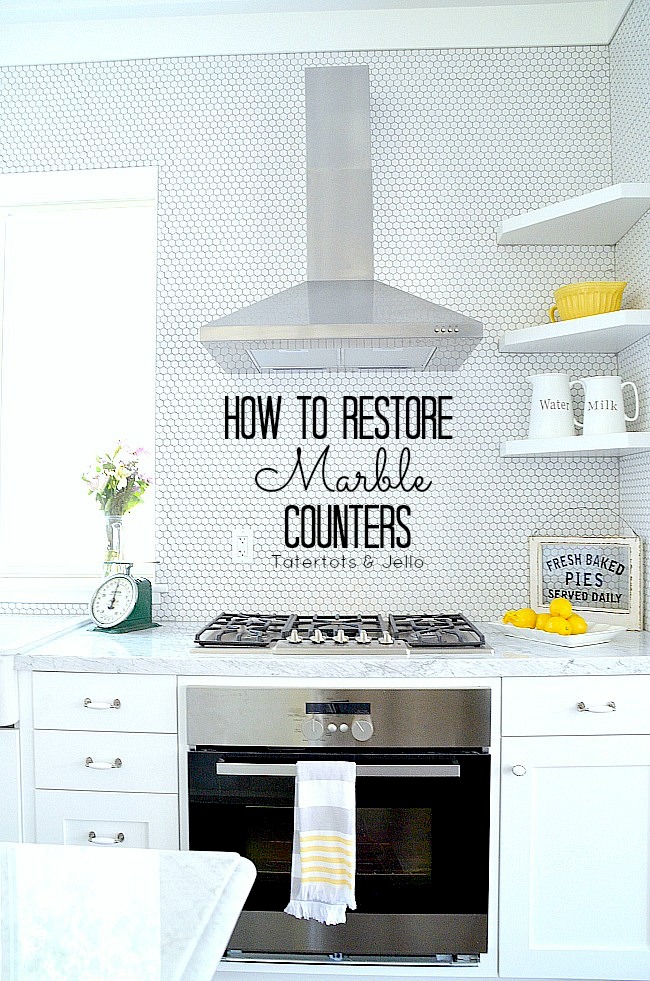 How to Restore Marble Countertops. When I restored the 1905 Cottage's kitchen I knew I wanted marble countertops. It was at the top of my bucket list. I loved the color of natural marble. I loved the veining. I loved the look. So when I found a kitchen island at a clearance center that was discounted almost 90% I couldn't pass it up. Once I got it home I discovered that it had quite a few big scratches on the surface of the marble as well as some stains. So I put a little cake stand in the center of the island and figured I got a great deal, what did I expect?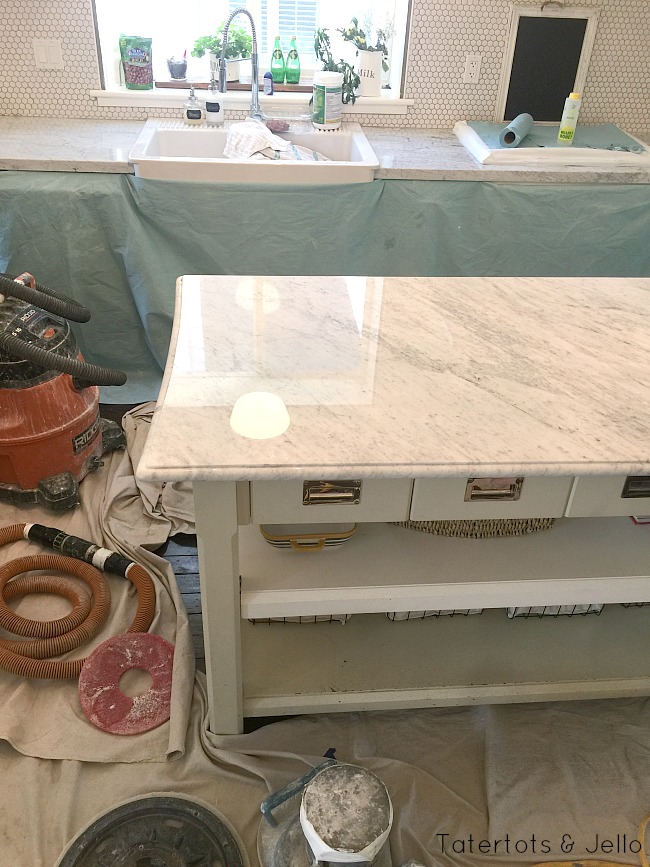 I also put a small countertop of marble on the opposite side of the island. I put some cutting boards on top of the marble in an attempt to cut down on the stains. But with four kids of course they are going to spill on the marble. So fast forward four years and life is happening. I have bought many marble cleaners trying to buff out the scratches and the spots but nothing has works. Then my friend one day asked me if I wanted to have someone come and make my counters look new again. I was flabbergasted?? Was that possible? Yes!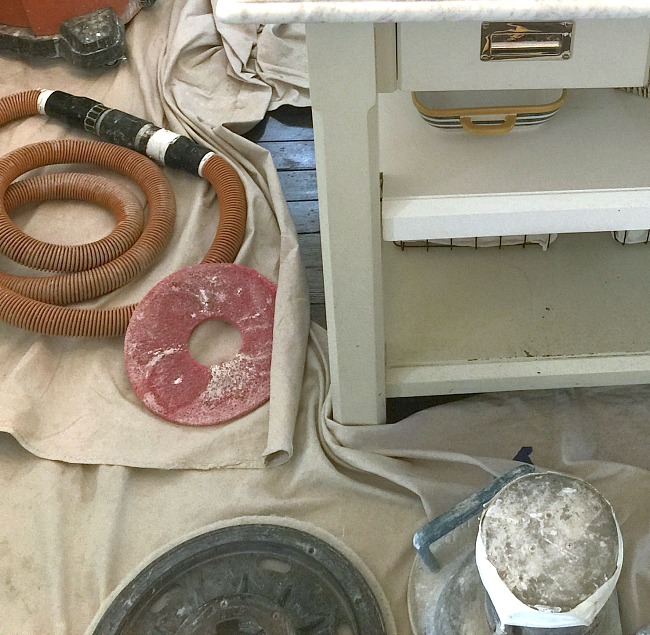 There are marble restoration companies. She recommended one to me – Marble Life in Utah. But if you don't live in Utah I am sure you can find one in your area. Marble Life – as you can probably tell from the name – specializes in restoring marble. So I made an appointment.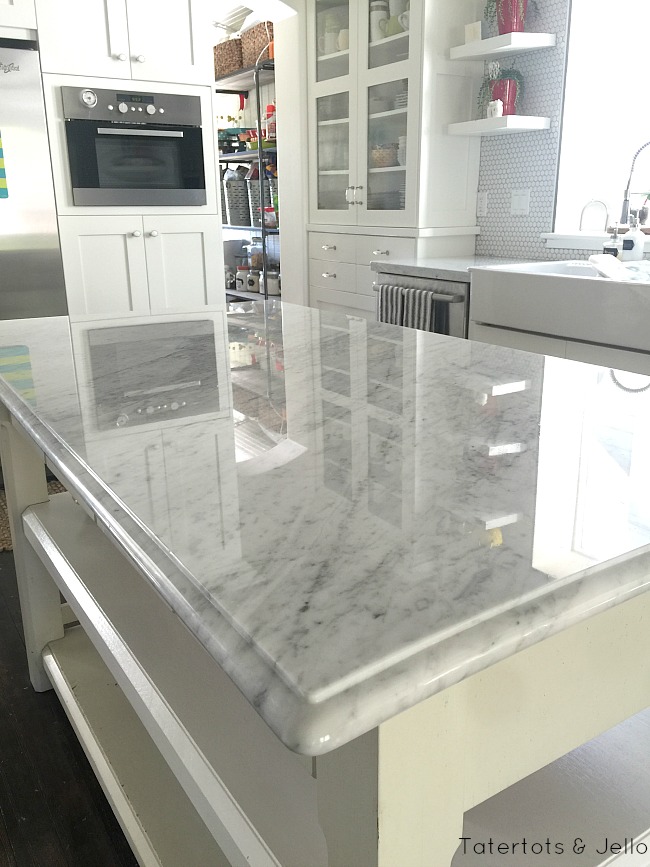 Last week Marble Life came and made my countertops look new again. It's quite a process. So if you think you want to do it yourself I would probably advise against it. Here's what they did:
They masked off my kitchen with dropcloths.
Then they took an industrial sander and sanded down the counters. This took quite awhile and created quite a bit of dust.
After the countertops were sanded down, they buffed them to a shine again with the same machine, just with a different head. So instead of a very fine sandpaper they used a buffer to shine them up.
Then they cleaned up.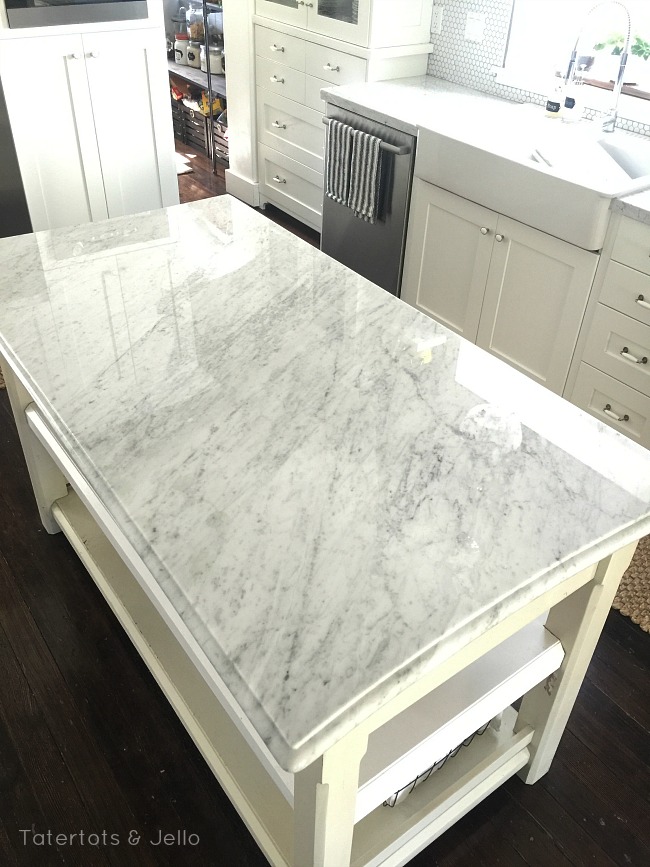 I don't have much square footage in countertops. The island is about 6 feet wide by 3 feet deep and then I have a very small countertop under my kitchen window but most of it is taken up with the sink and stovetop. It took about 6 hours to sand them down and shine them up again.
I was AMAZED at how they looked at the end. Better than new.
I asked the Marble Life guy how often you can do this? I was thinking maybe once every couple of years. He said at least that often. They have a contract with a hotel downtown to sand down their floors every six weeks. Wow!
I also asked how I can maintain my marble without the need to have this done as often. This is what they said to maintain natural marble counters:
Don't put anything hot on the counters – use a trivet.
Don't pour any citrus drinks over the marble – like lemonade or orange juice.
Use cutting boards. Don't cut on your counters.
Wipe down any spills immediately.
There are some marble cleaners on the market that protect the marble a little from spills and you can spray those on your marble to add a little layer of protection.
And the cost? My bill was $400 for the counters. So now I am invested in keeping them looking new!!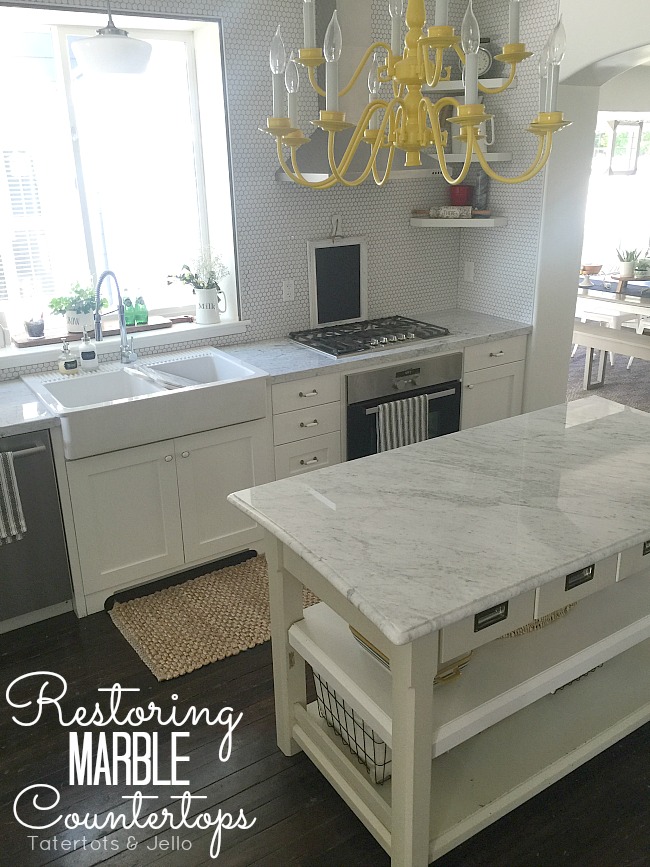 This post was not sponsored. I just thought it might be helpful to anyone who has marble counters or floors, or someone who is considering installing marble in their home.
Have a beautiful day!
xoxo