Pink and Red Valentine's Porch. Make a DIY garland, sign, banner, pillow and wreath to create a bright and colorful porch for Valentine's Day!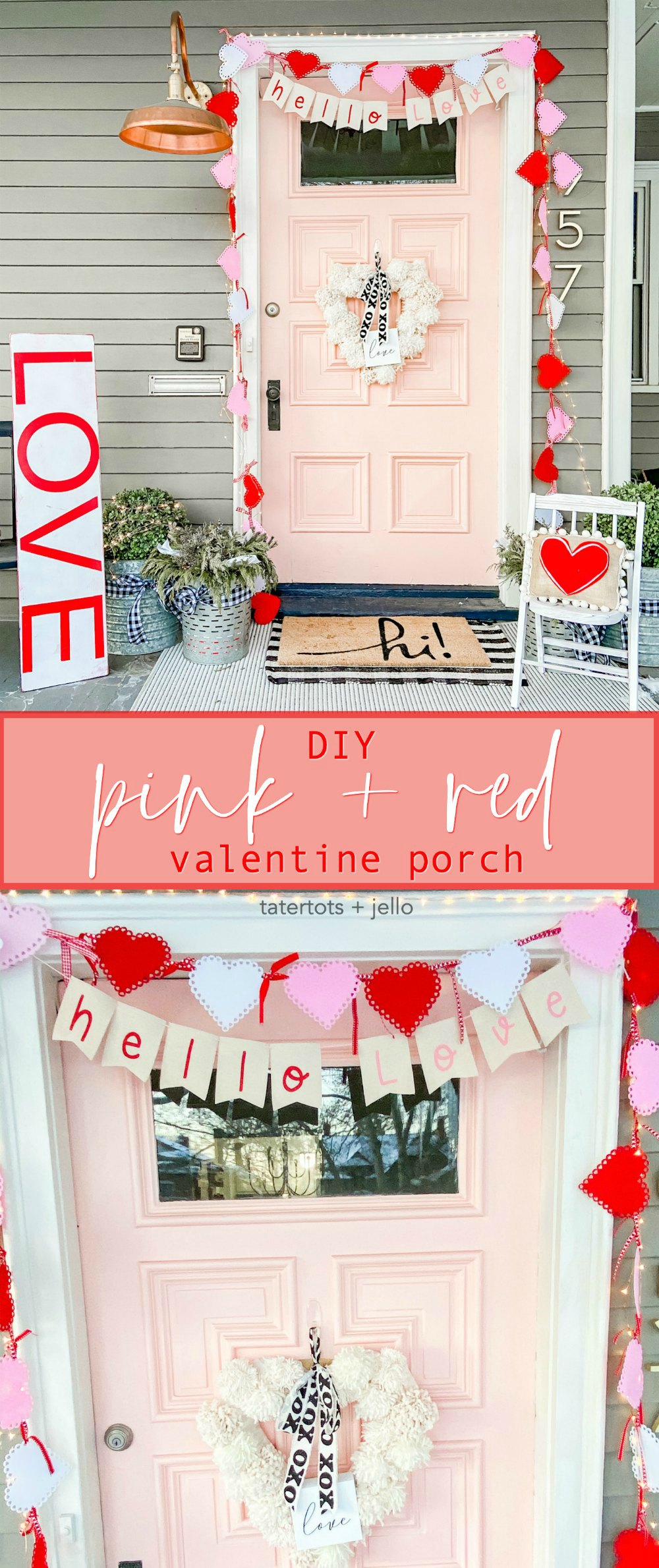 Valentine's Day Porch Ideas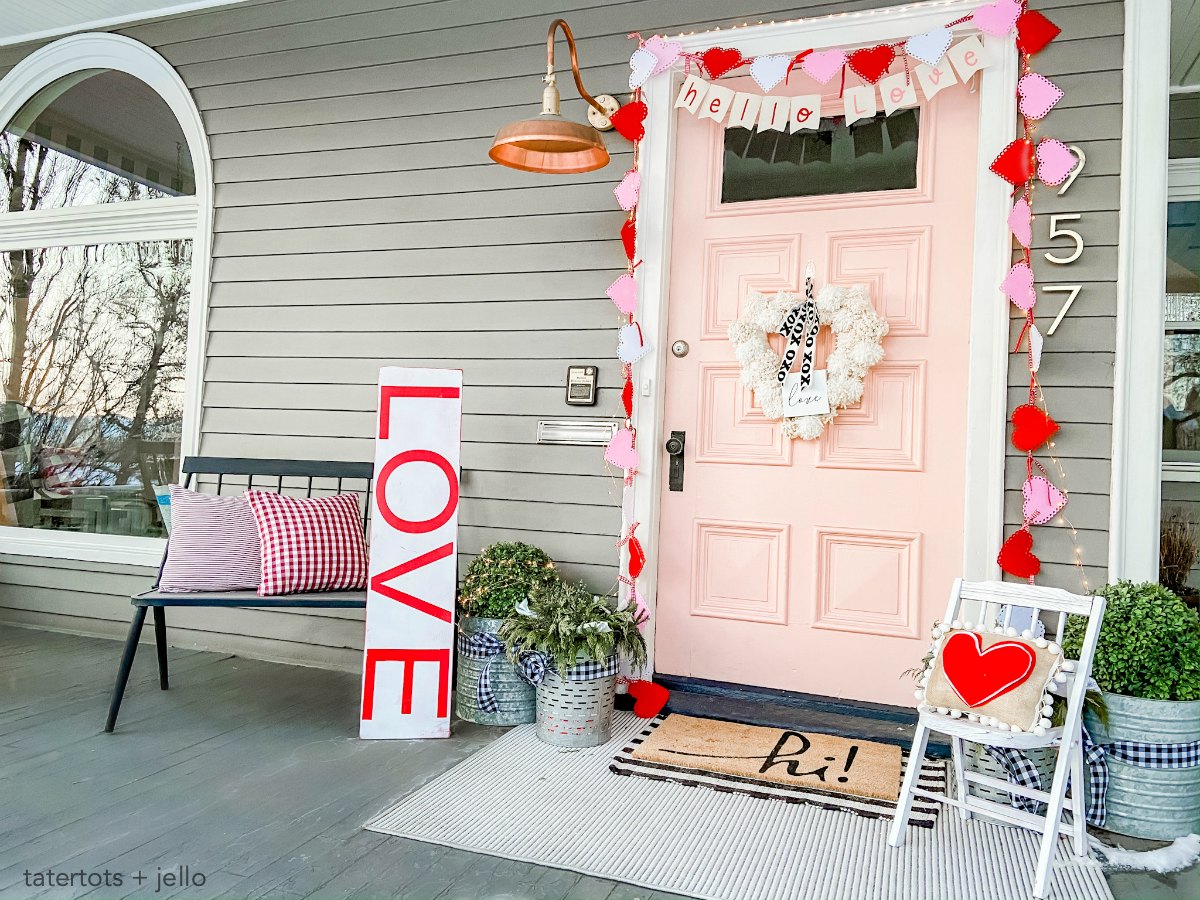 I love decorating our porch and door for different seasons and holidays. I love Valentine's Day decor because it seems to break up the color, bleak winter with some bright and cheerful pink and red hues.
Pink and red Valentine's Day Colors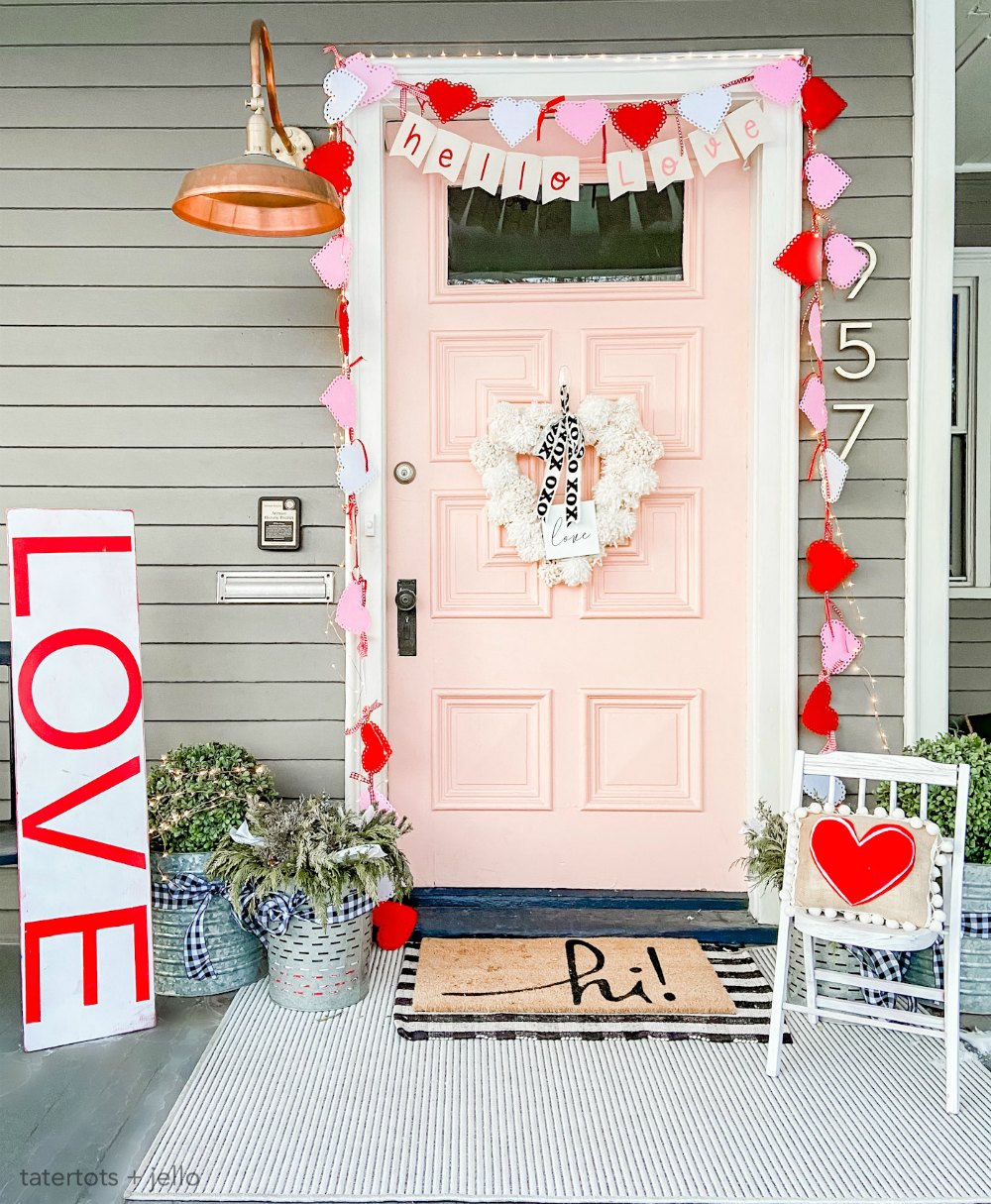 Decorate YOUR porch or front door with some easy red and pink projects. "Hello love" banner above the door, a DIY felt heart garland, a warm and cozy yarn pom pom heart wreath, a burlap and felt heart pillow and a giant Love sign!
Five Ways to Create an Easy Valentine's Day Porch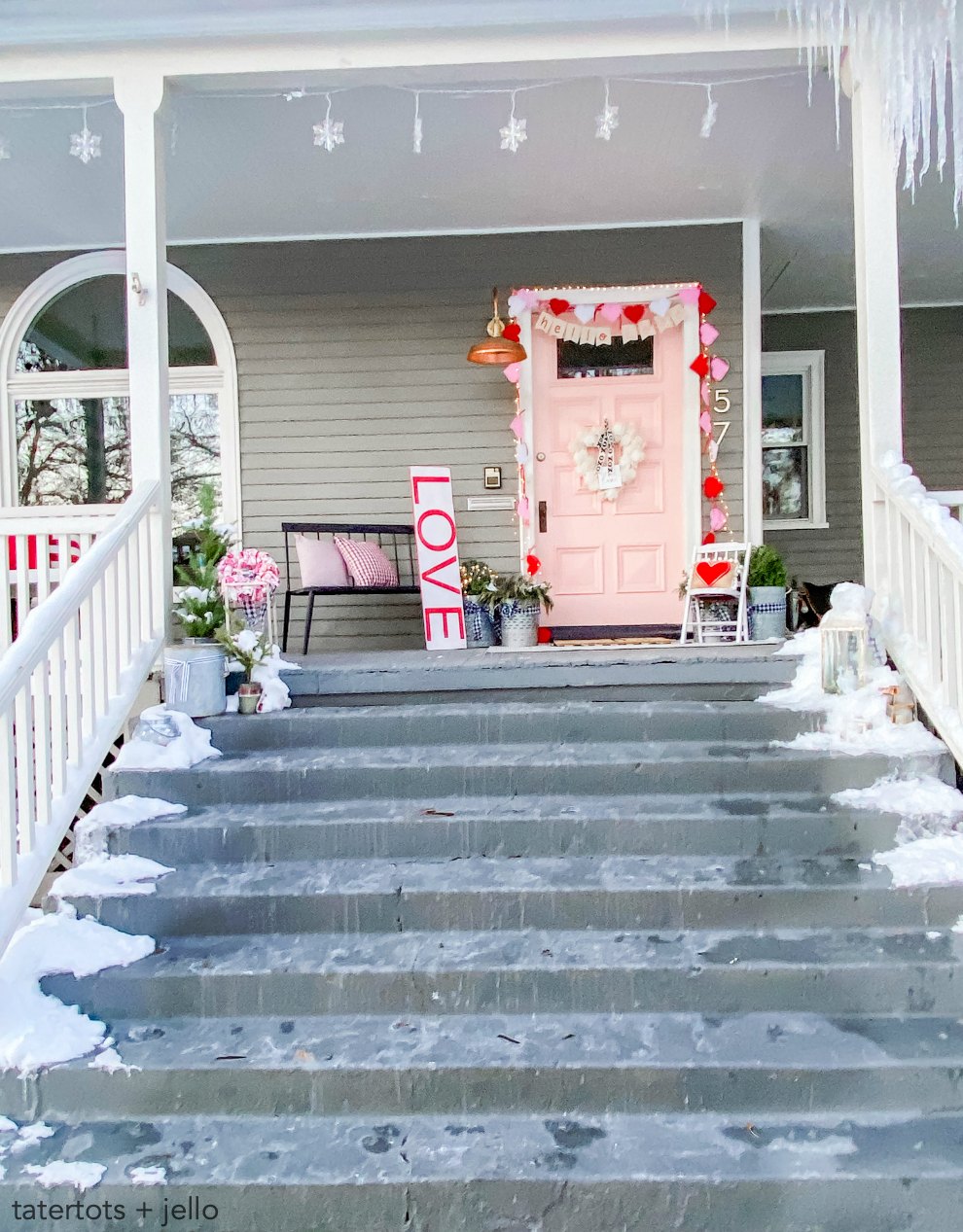 Here are 5 easy ways to create a bright and happy pink and red Valentine's Day porch. Many of these projects I have made in years' past and I bring them out each year and use them in different ways!
Hang a Valentine's Day Wreath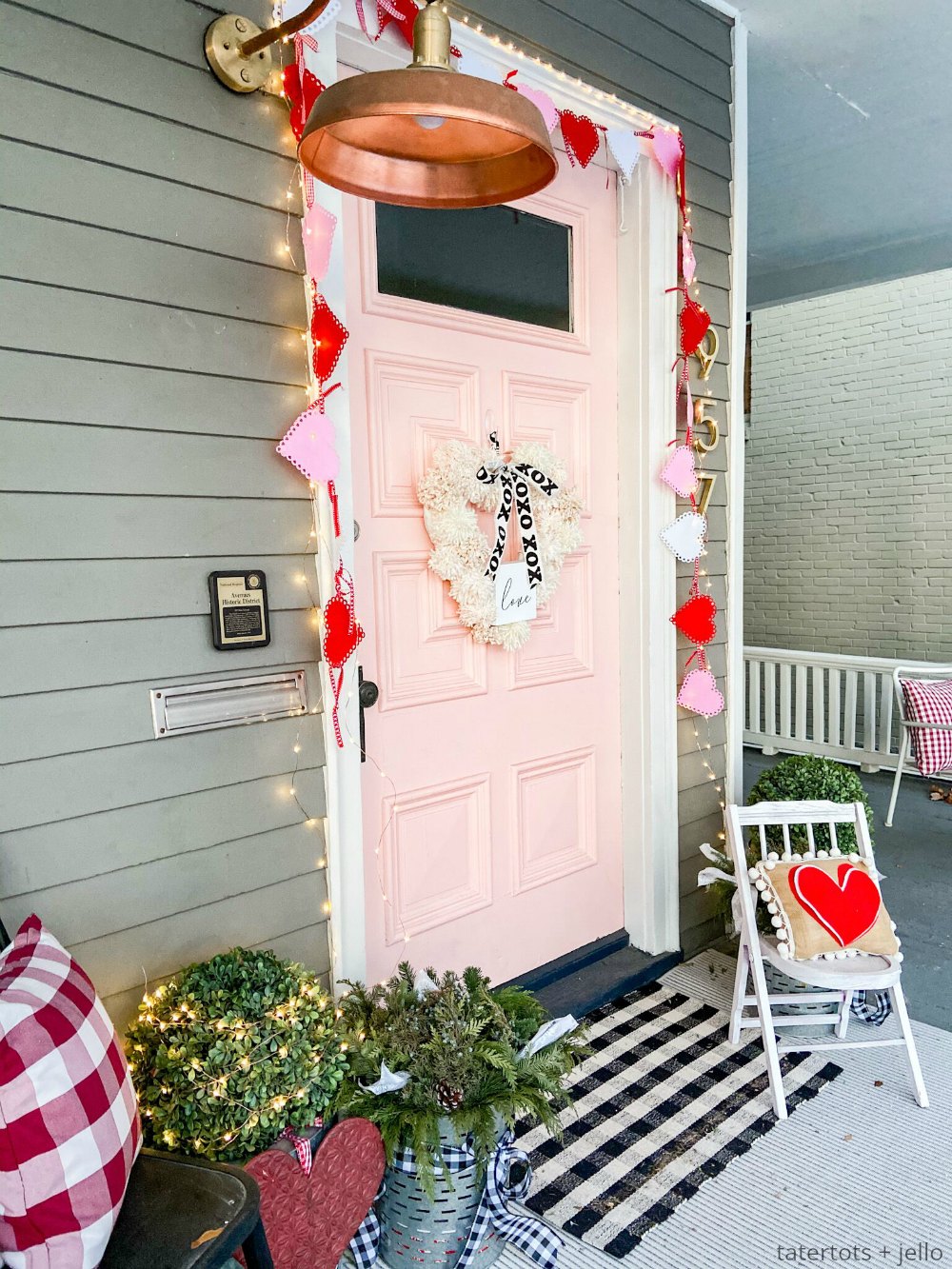 Create a DIY heart-shared yarn pom pom wreath. This wreath was so fun to create! I love the texture of all of the different yarns. I used off-white yarn for my wreath, but you can use ANY color yard you want. It would be so cute in red or pink shades too!
Hang a Valentine's Day Banner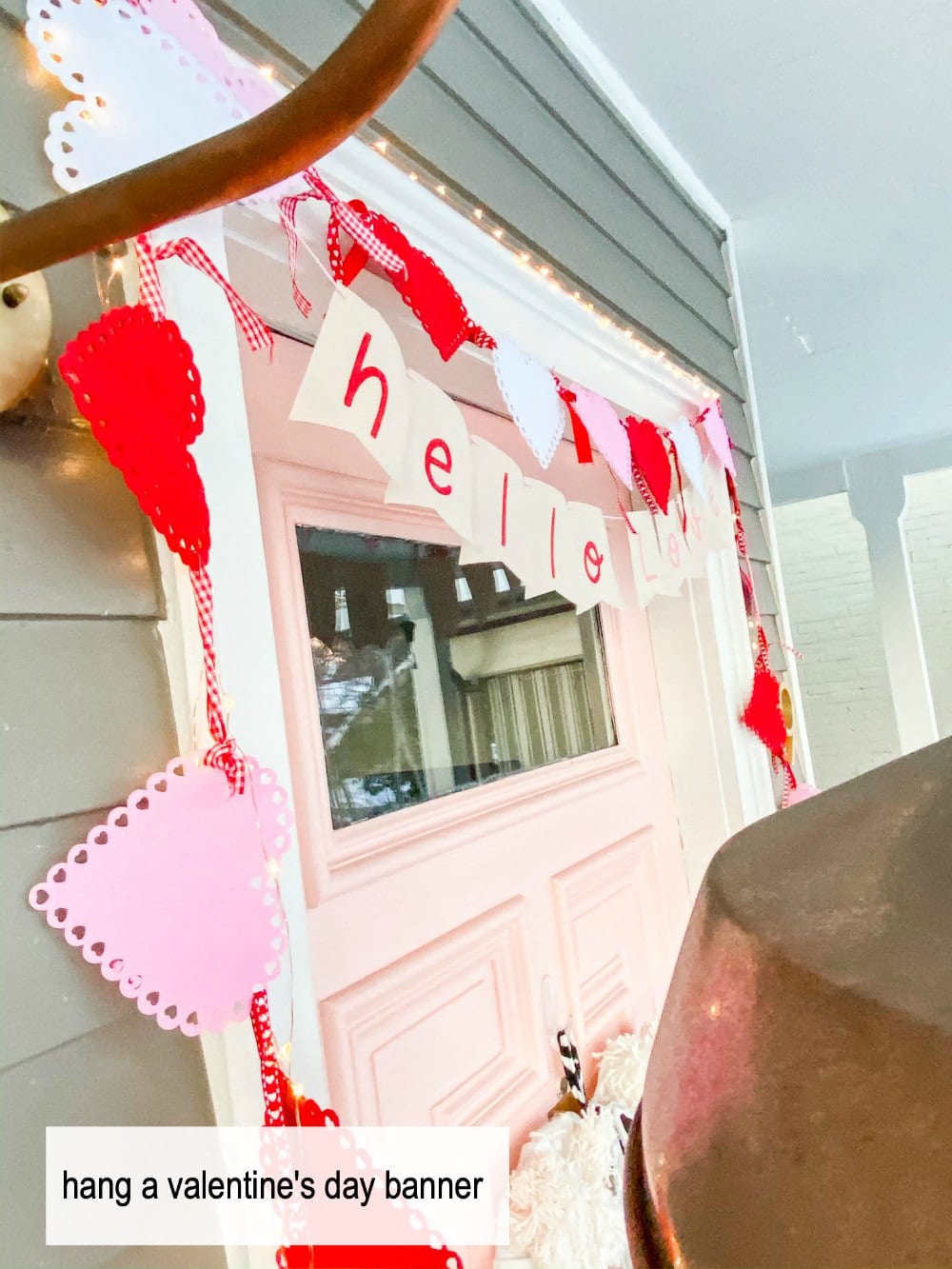 A banner is a great way to bring the Valentine's Day theme to the front door. This banner is canvas with pink and red lettering. I bought this banner from Target's dollar section, but you can make your own too! Here are a few examples of banners I have made that are easy to make —
Make a $2 Felt Heart garland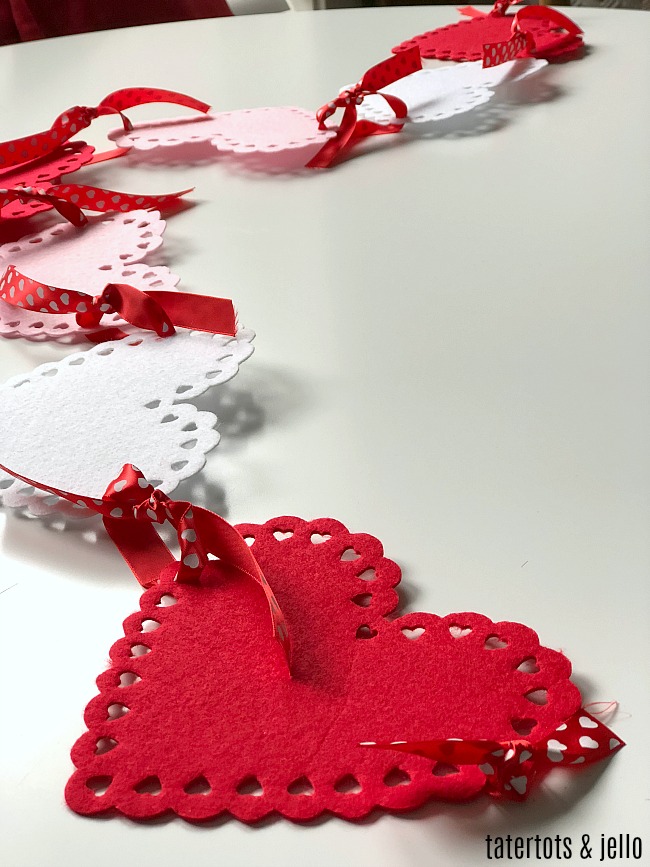 This is one of my favorite Valentine's Day projects! 2 packages of felt hearts can be found at Dollar Tree stores. If you can't find them at your local Dollar Tree, Hobby Lobby also sells the same felt hearts. It's so easy to create and it really makes a HUGE Valentine's Day statement. You can hang it around your door like I did, but it's also so cute on a mantel or shelf inside your home. $2 Scallop Heart Garland tutorial.
Sew an Easy Valentine's Day Pillow Cover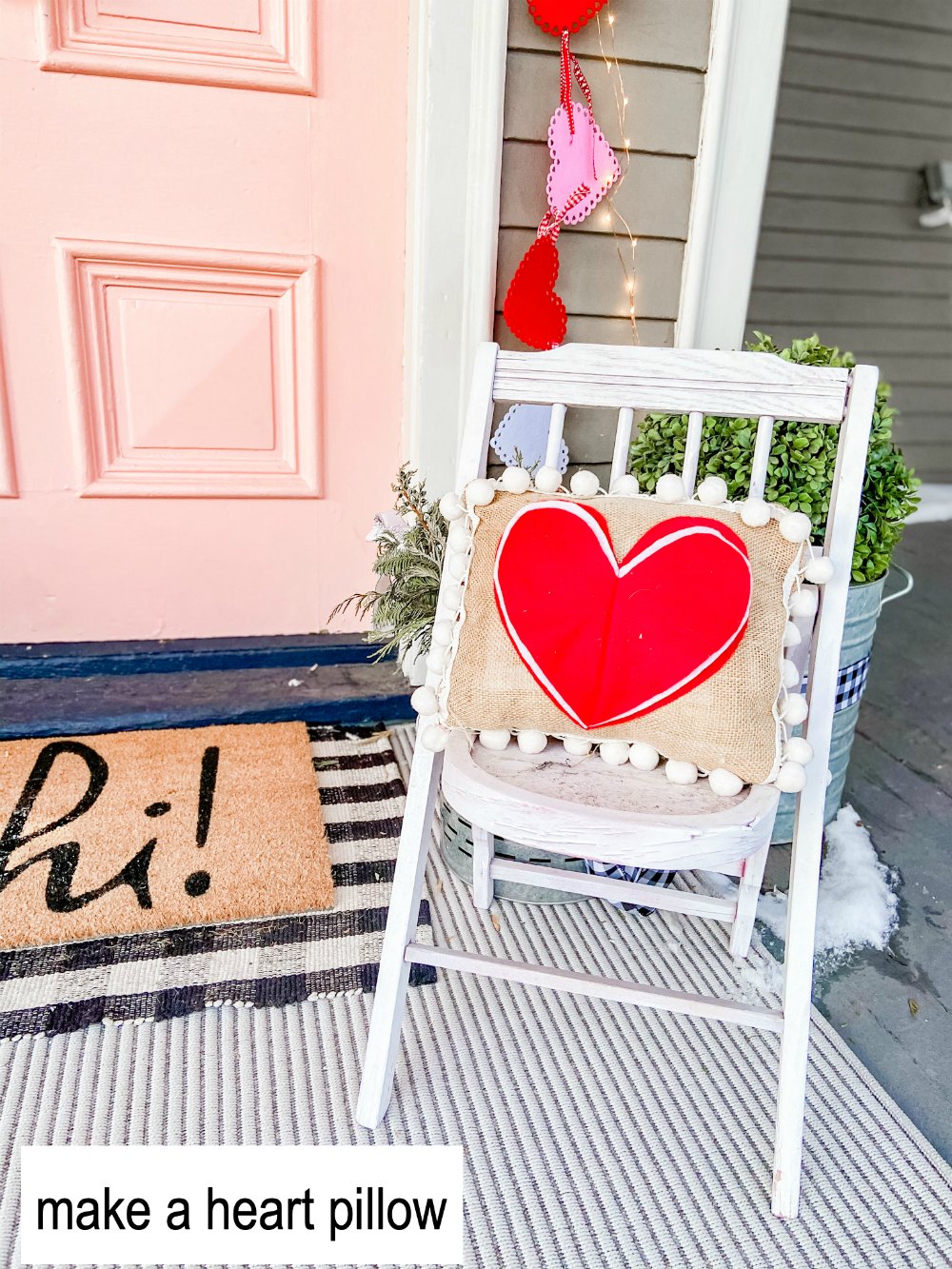 Pillow covers are another DIY project that I love! I make pillow covers for every holiday. These are burlap and felt pillow covers I created a few years ago. I get them out every year and they always make me smile. I love the pom poms!!
Make a GIANT Sign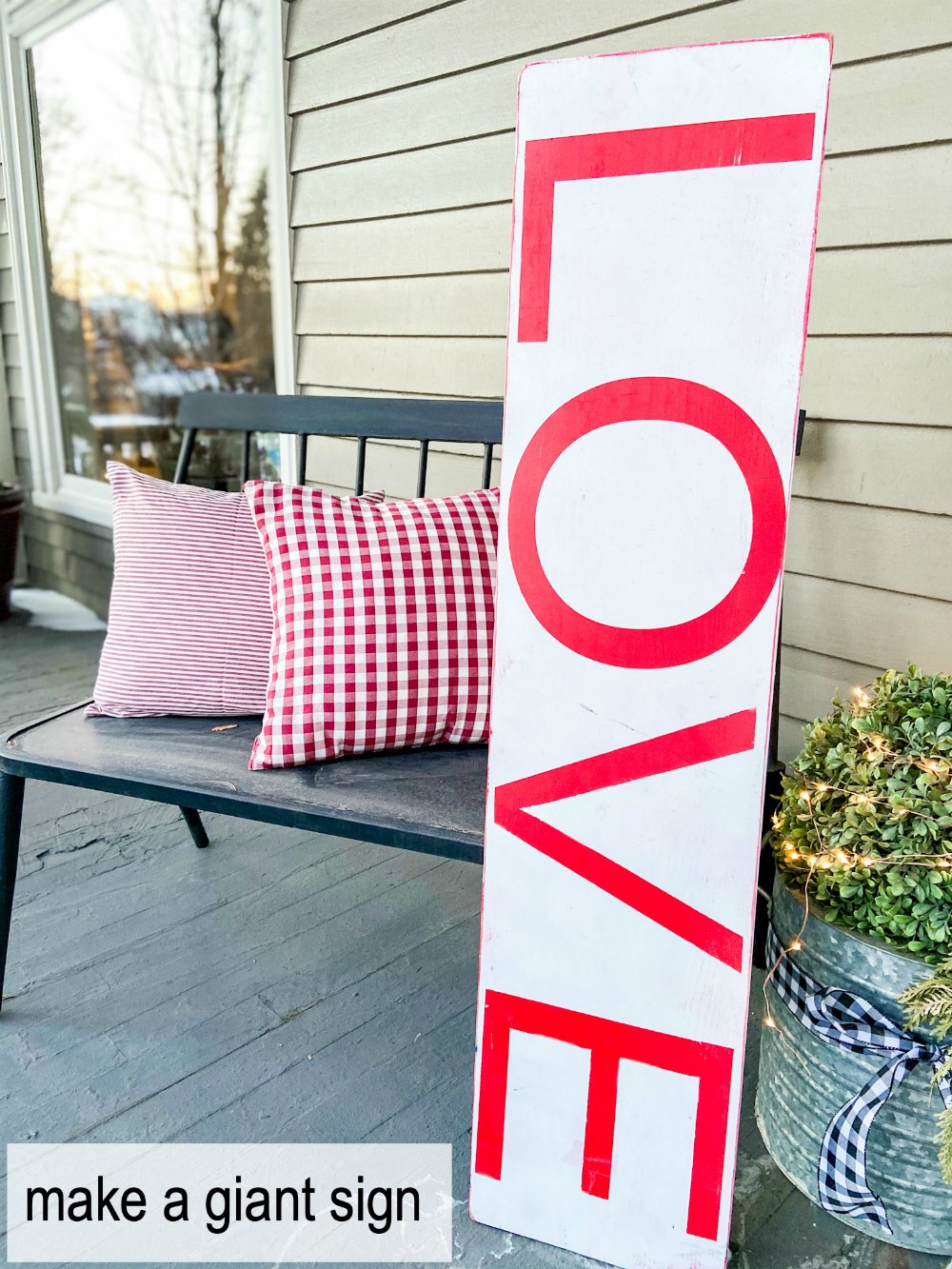 Giant signs are another project I love making! Inexpensive pine shelves can be cut to whatever size you want. Then use a vinyl cutting machine to create whatever word you want. Giant signs are about $10 to make and create a huge statement. Check out all of the Giant Signs I've made for an entire year or holidays!
Decorating Your Door for Valentine's Day is Easy
I hope you enjoyed these DIY Valentine's Day decorating ideas. Tag me at @tatertotsandjello and show me YOUR ideas!!
More Valentine's Day Porches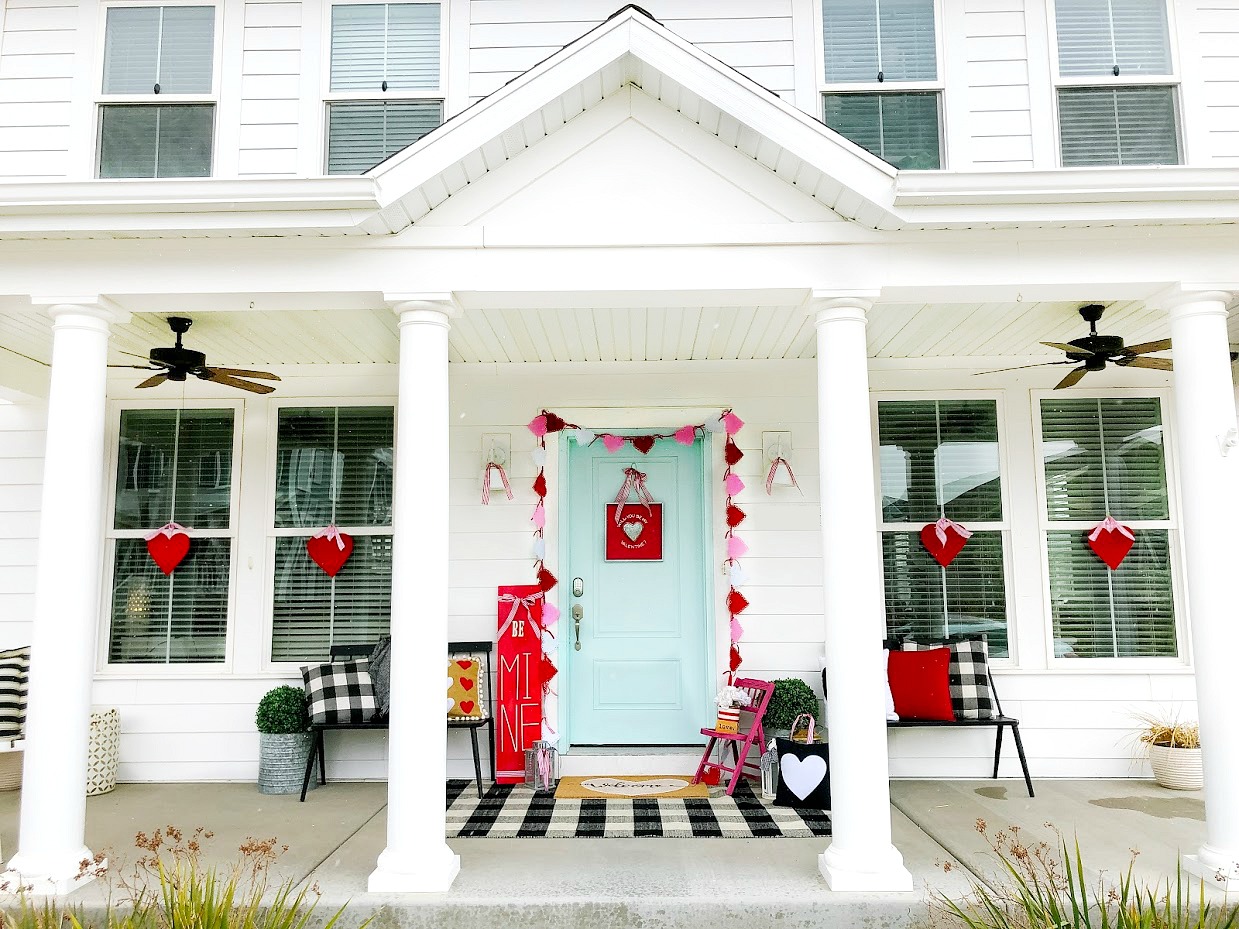 This was one of my favorite Valentine's Day porches. I used the same @2 felt scallop heart garland, plus I found big felt hearts that I hung in the windows and I created a giant BE MINE sign.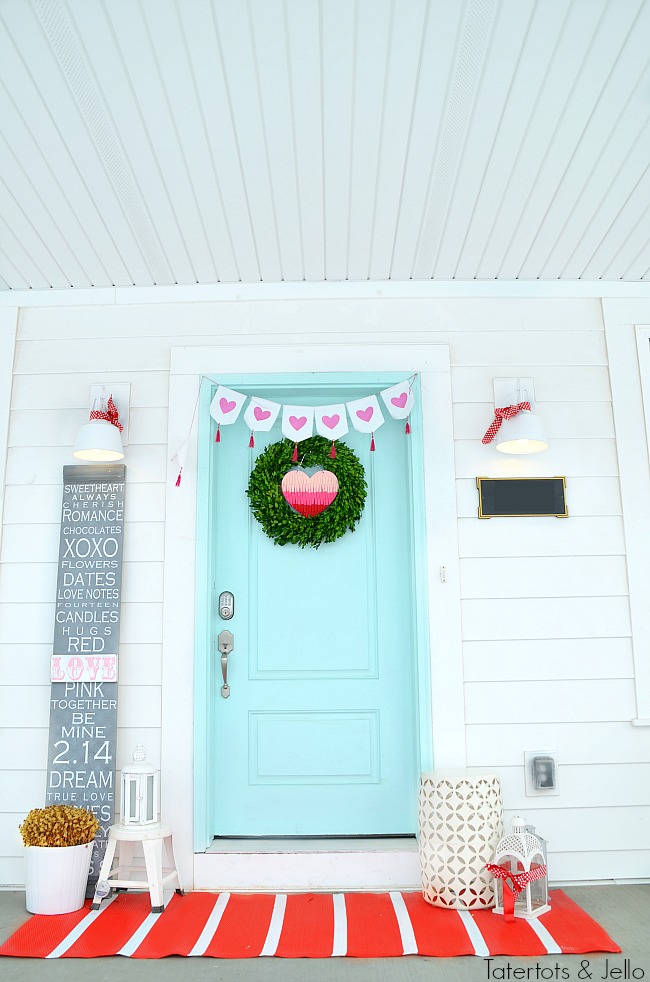 I love the simplicity of this porch. The Giant Subway sign is still one of my favorites. The simple boxwood wreath with a rainbow heart was so pretty against the teal door.
Have a Beautiful Day!
xoxo