The BEST Cottage and Farmhouse Removable Wallpaper Ideas. Add COLOR and pattern to your cottage or farmhouse home with these easy to install and removable wallpaper ideas!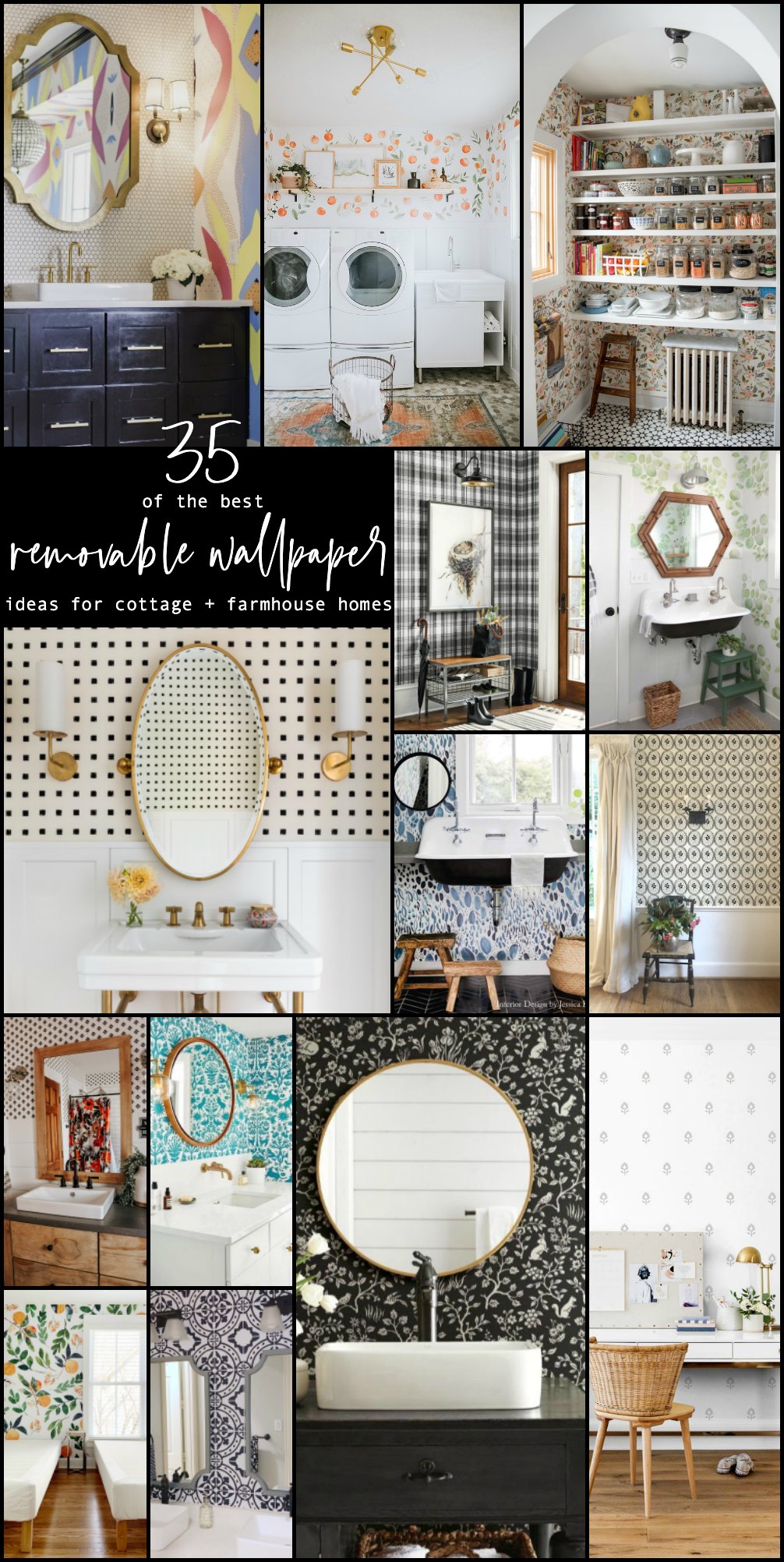 Removable Wallpaper is an Easy Way to Update ANY Room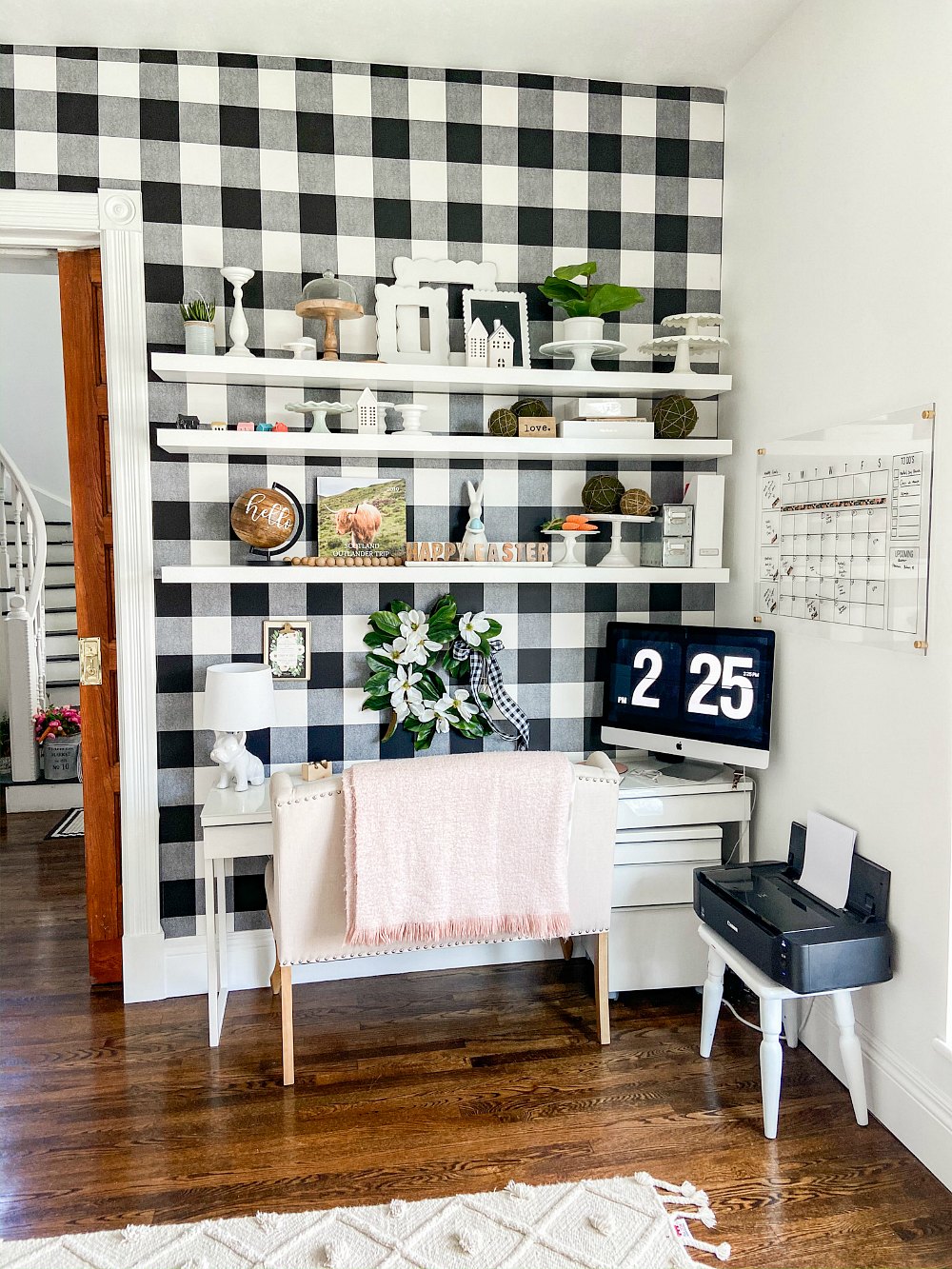 I love removable wallpaper!! It's such an easy way to add color, pattern or texture to a room in MINUTES!
Removable Wallpaper is Easy to Install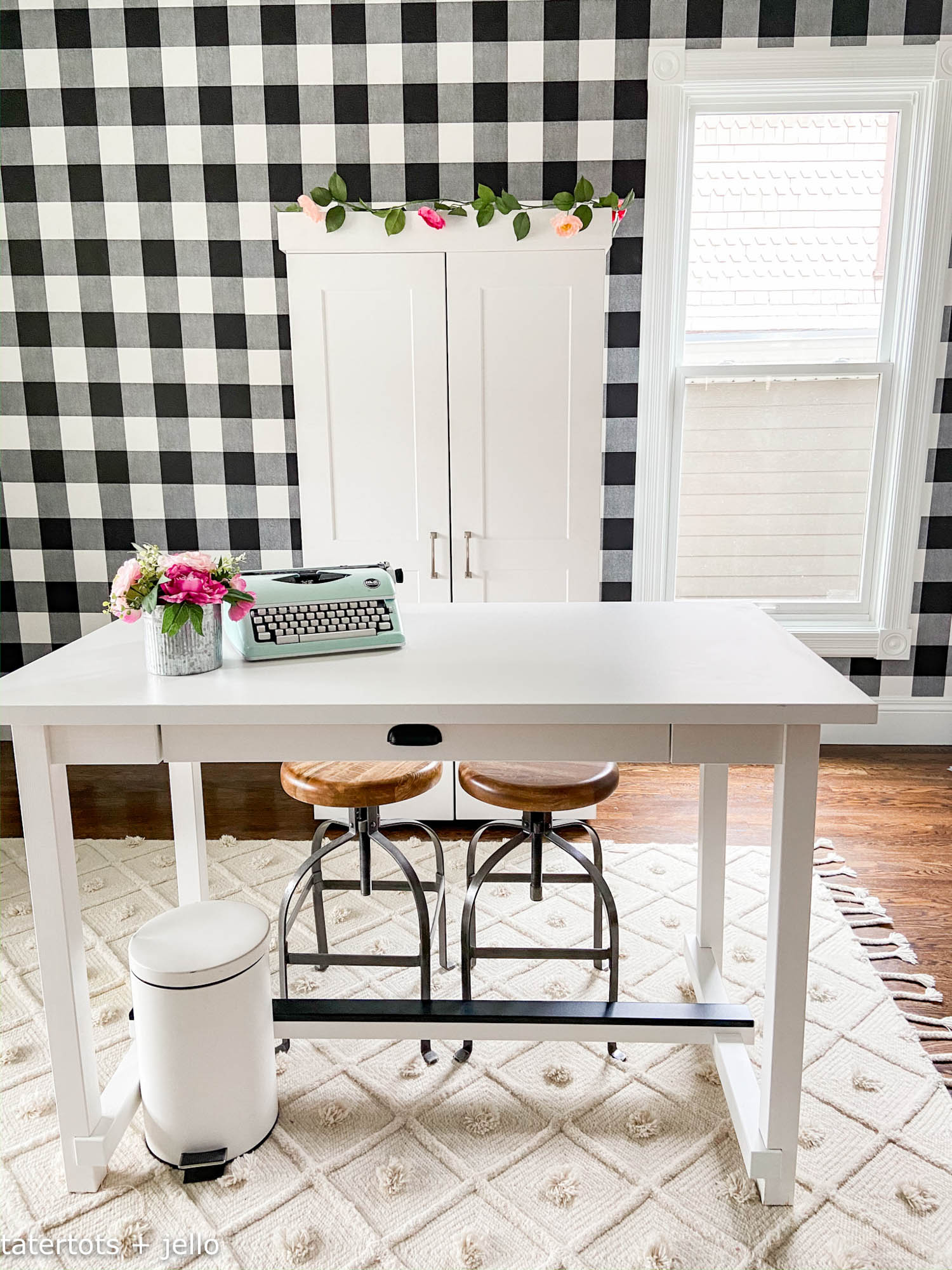 The trick to installing removable wallpaper is having TWO people install the panels. You need to line up the top of the pattern at the top of the wall and hang ONE long panel all the way to the baseboard. Because each panel is so long, having TWO people doing it together makes it easier to line the panel up straight on the wall.
Removable Wallpaper is an Great Way to Add Color or Pattern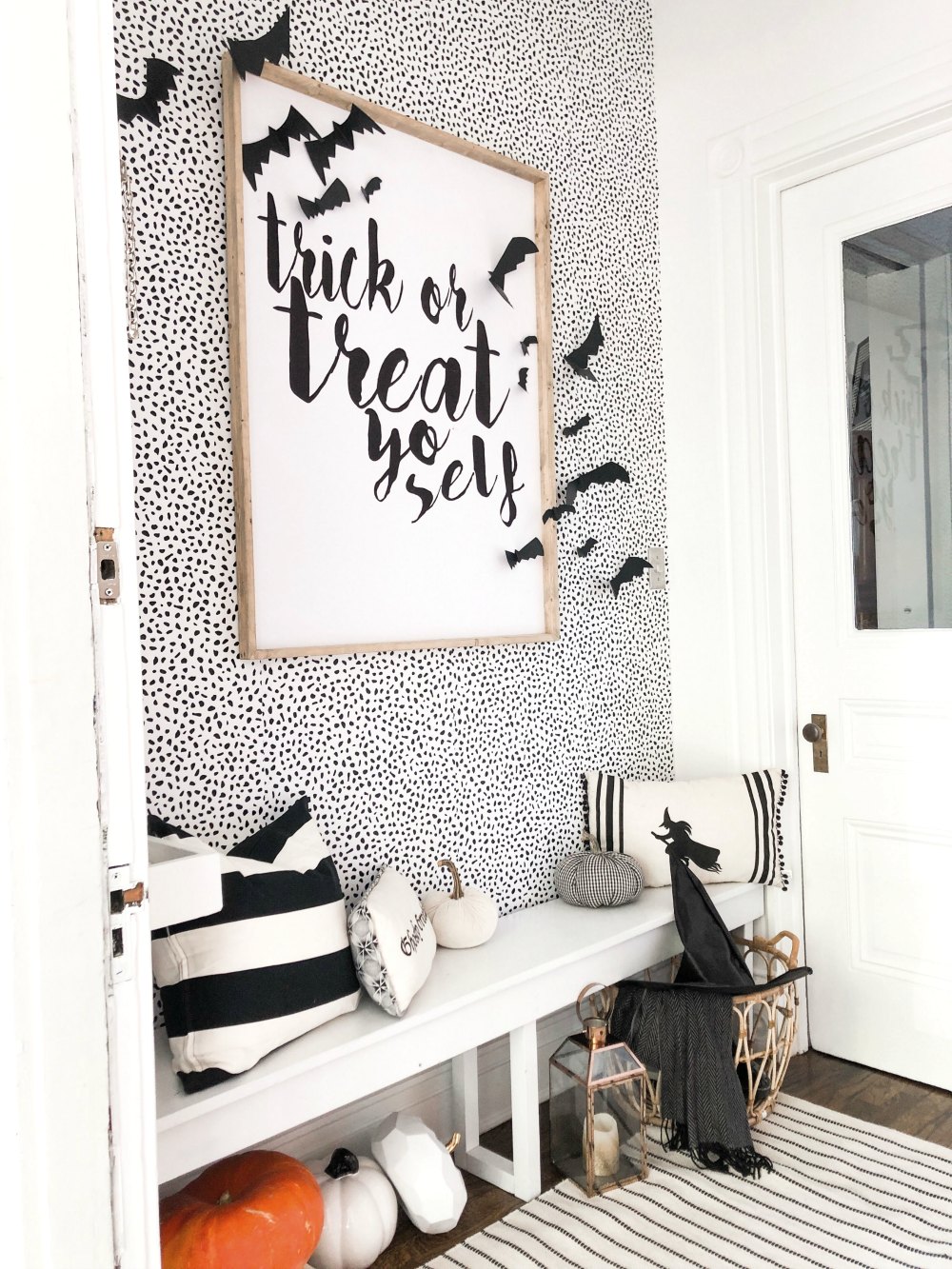 You can bring color, pattern or texture into your room in minutes by adding removable wallpaper. Look at our entryway room. In about 1 hour I had a brand-new looking room. I also wallpapered our bedroom in our last house with removable wallpaper from Walls Need Love – removable wallpaper in master bedroom.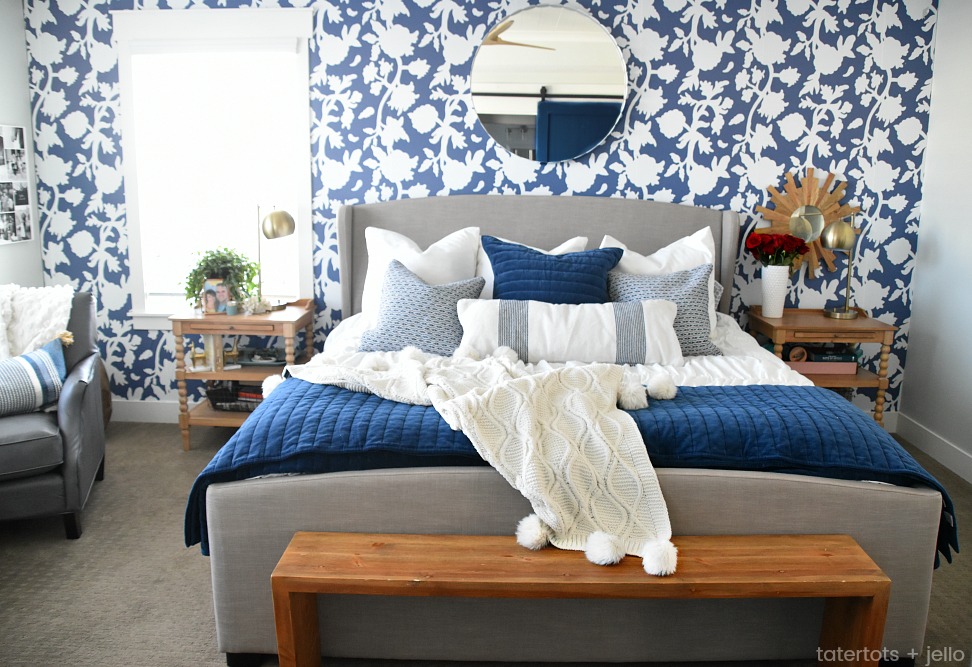 Why Install Removable Wallpaper Instead of Traditional Wallpaper?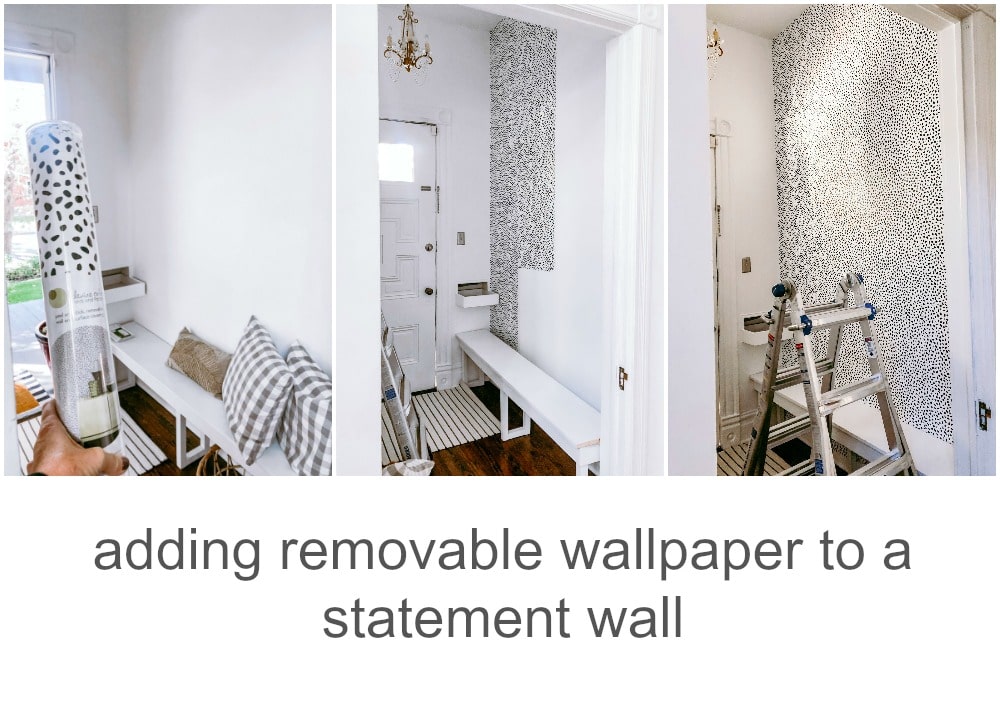 The thing I love most about removable wallpaper is how easy it is to take off too. I love to change my rooms up so being able to take the wallpaper off with no damage to underlying walls is a HUGE bonus! I added this plaid removable wallpaper to my office and I love the way it looks, but I also love that I can take it off anytime I want!
35 of the BEST Cottage and Farmhouse Removable Wallpaper Ideas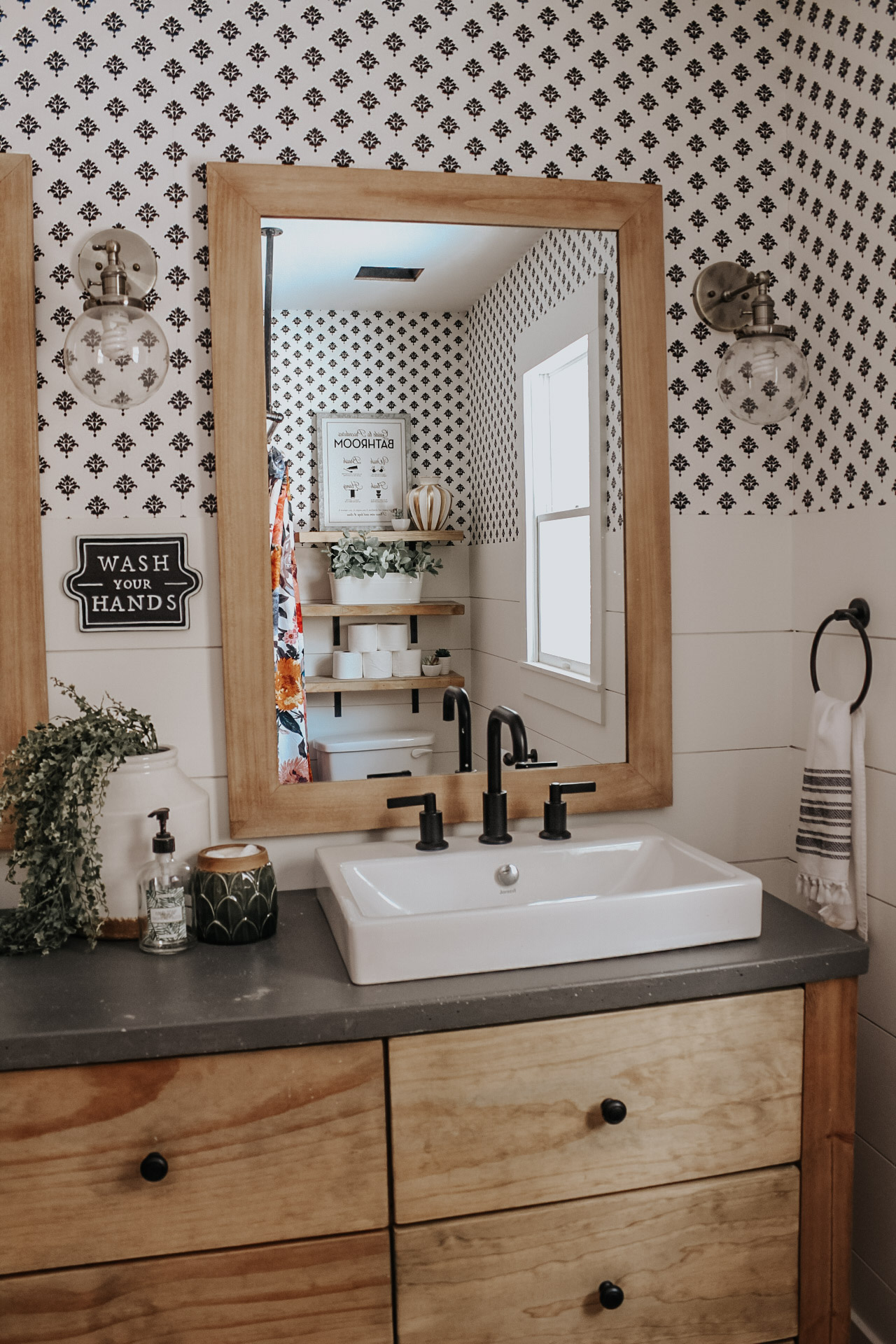 Rhiannon Lawson Design Master Bathroom Makeover with Removable Wallpaper
I love simple designs and this black and white pattern that Rhiannon Lawson used in her master bathroom is so sweet!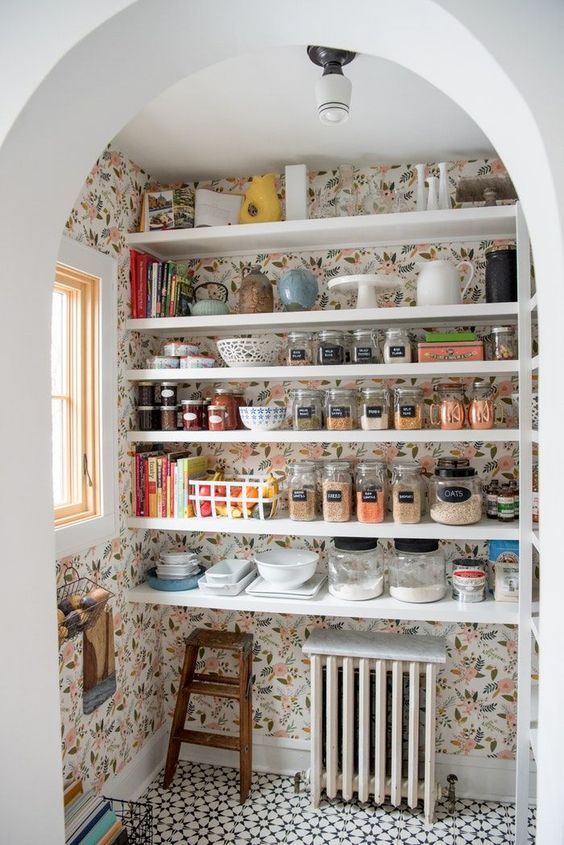 If you are nervous to wallpaper a big room, try a smaller room like this pantry. It transforms this room for a functional space to a showpiece!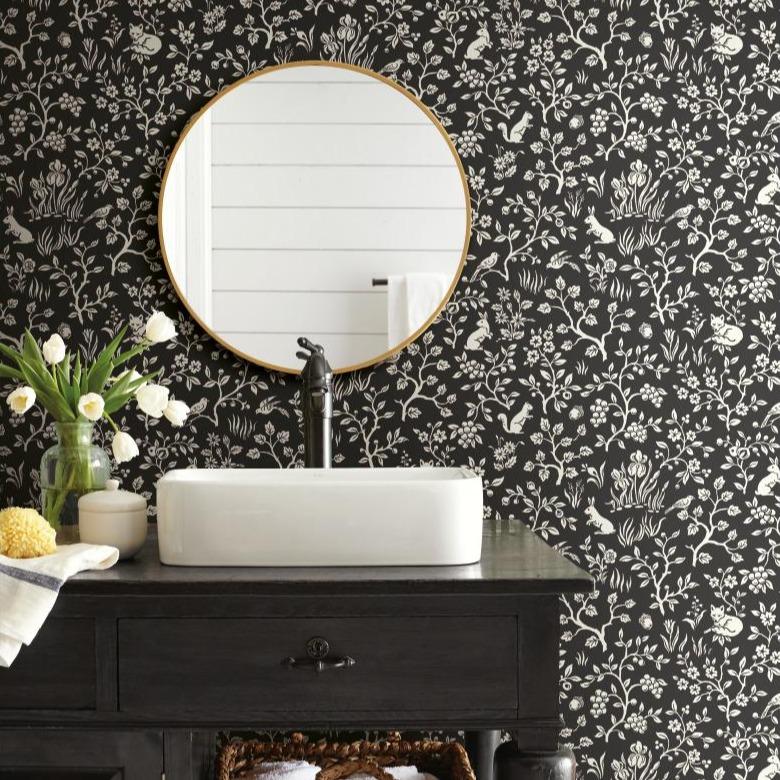 I love black and white patterns and this magnolia wallpaper is one of my favorites and perfect for a cottage or farmhouse home!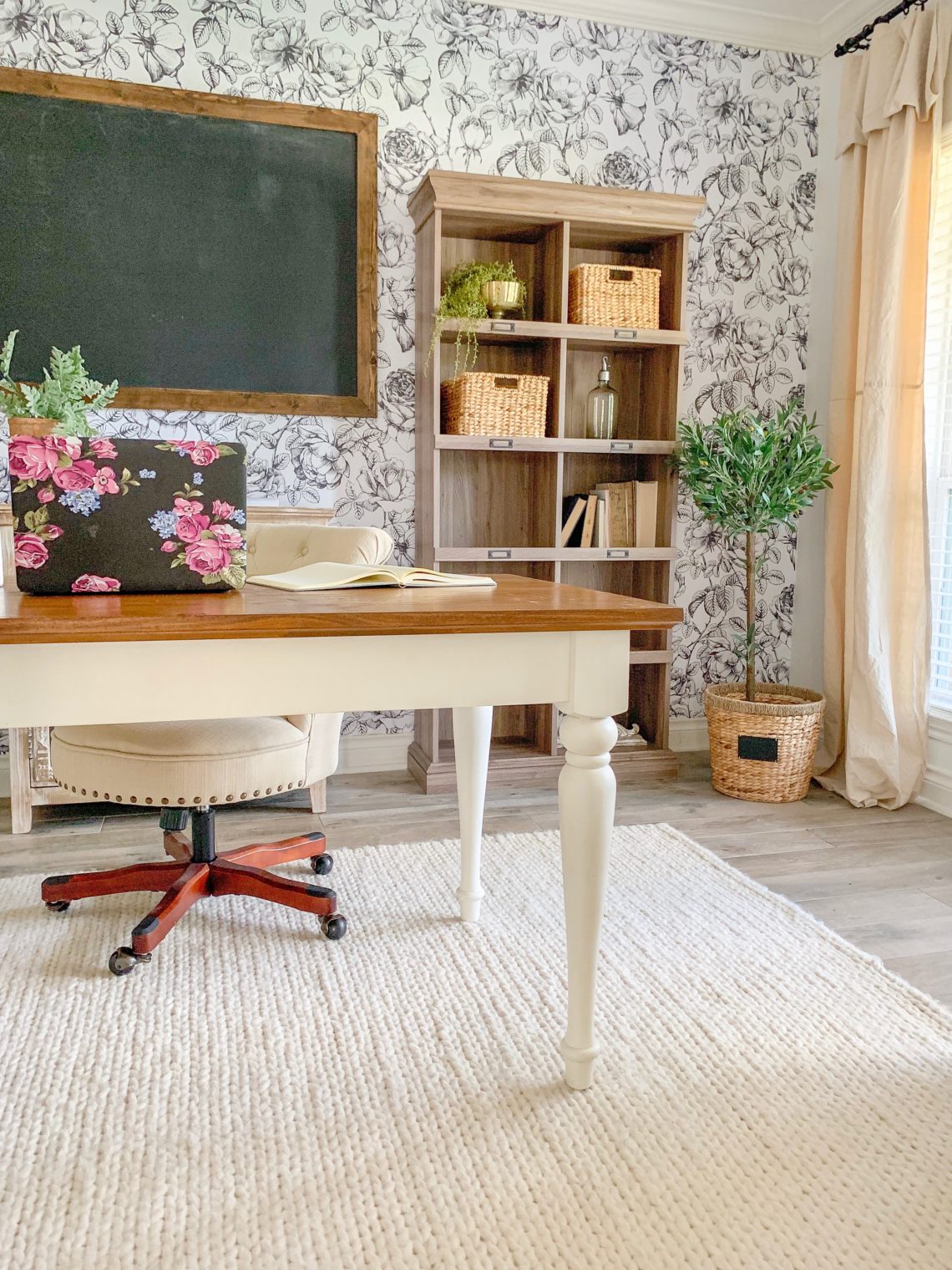 Black and white wallpaper is neutral but the floral pattern makes a gorgeous background in this office makeover.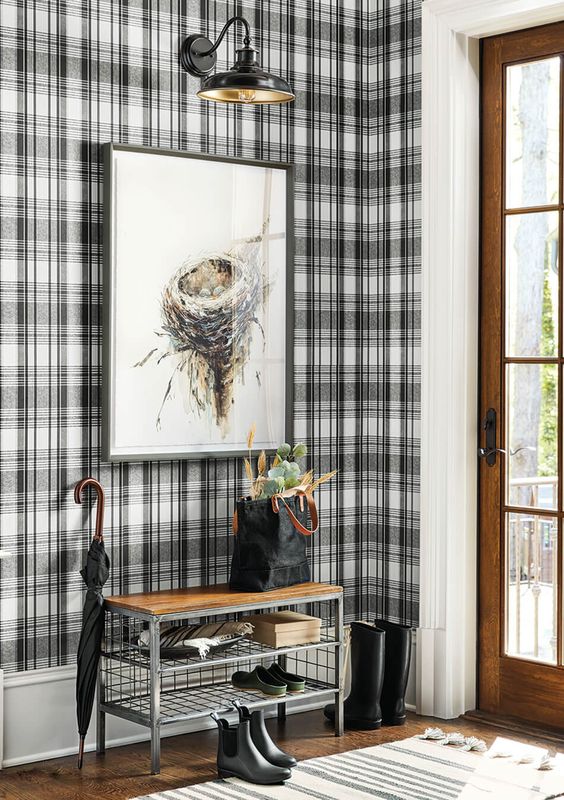 Plaid patterns are perfect for a cottage or farmhouse home. I think you can use this plaid pattern in any room in the home.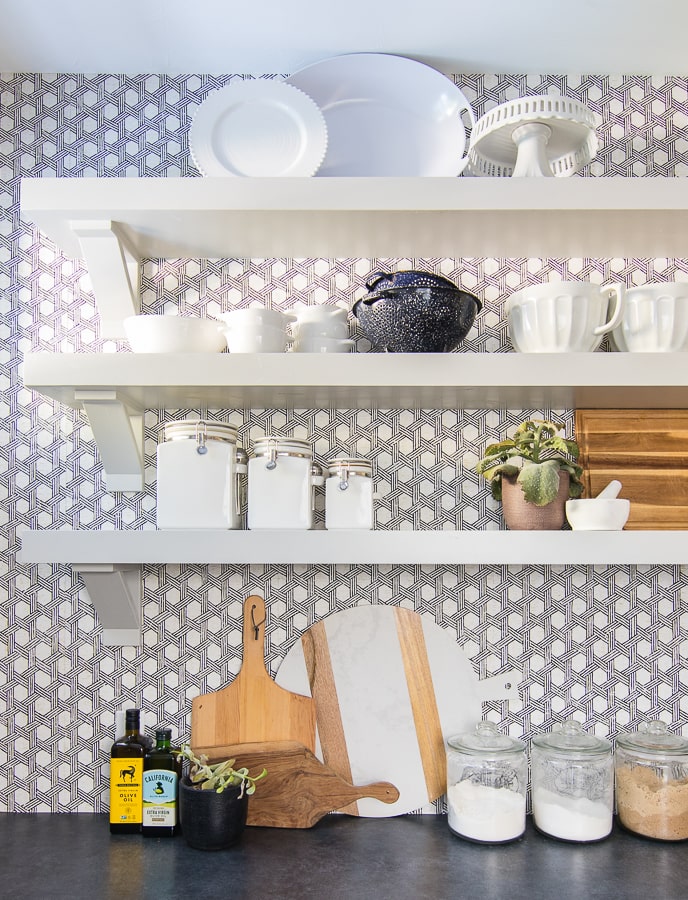 Navy and white is so beautiful and classic. The rattan cane pattern is very eye-catching and pairs beautifully with a cottage or farmhouse home. This one is a traditional wallpaper but you can find similar patterns in removable wallpapers like this one — Wayfair Thurston Removable Wallpaper.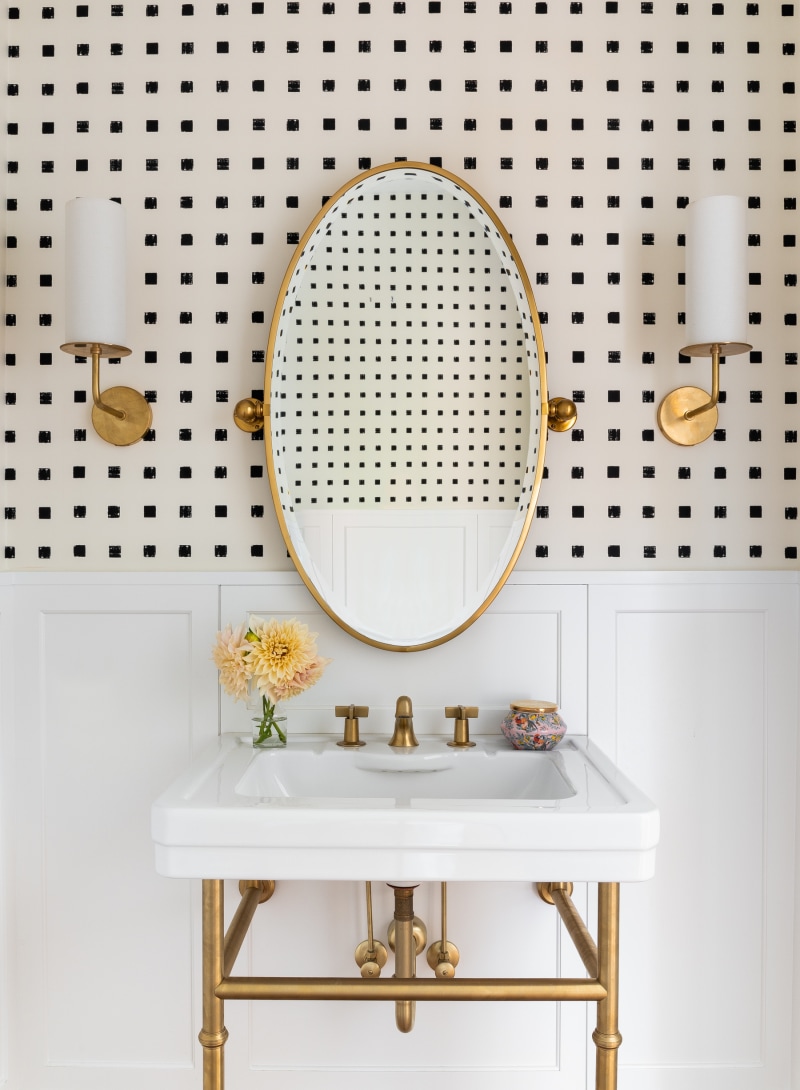 There's something so gorgeous about this black and white paper. I am not sure if it is removable but I am sure there is a removable version that can be used.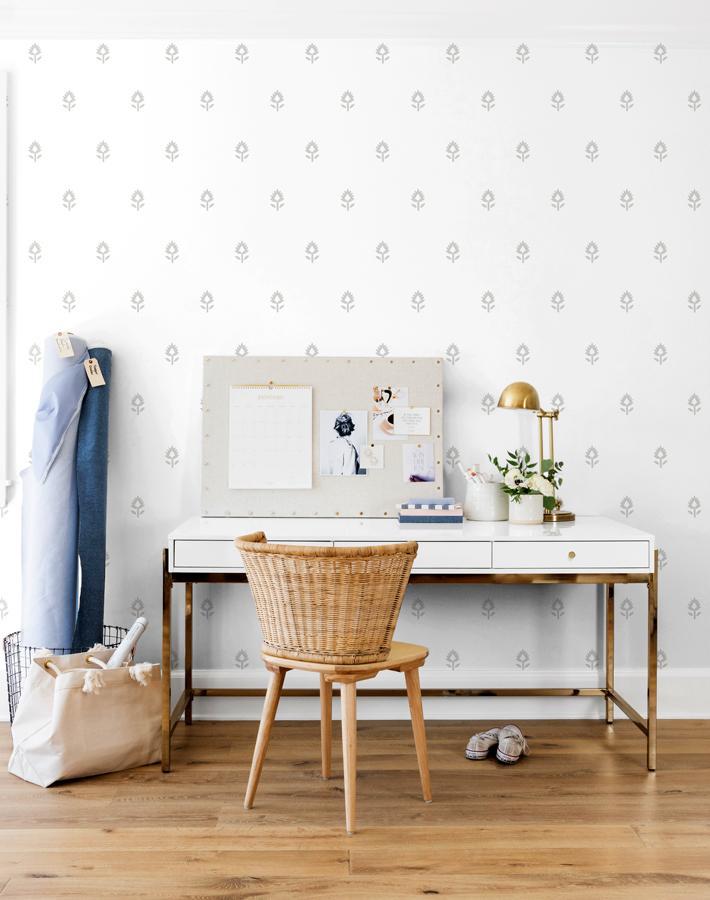 This block print is perfect for a cottage or farmhouse look. It also comes in several different colors.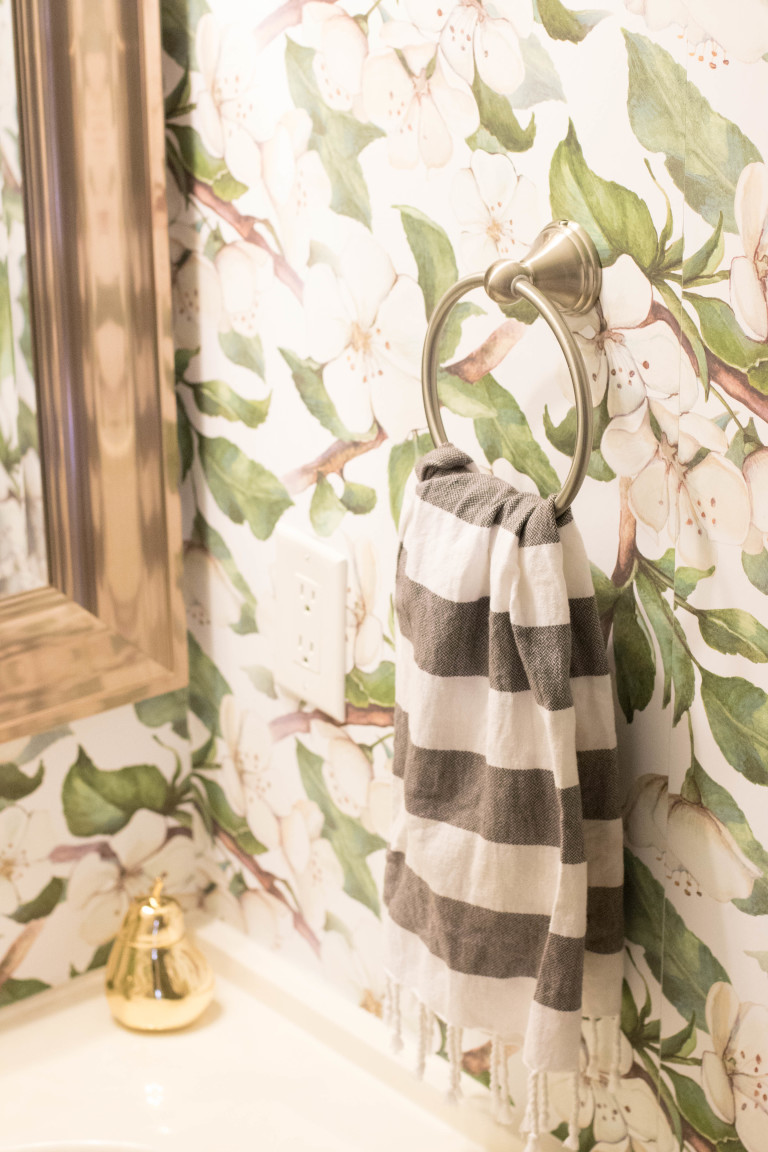 A trick that designers use to make a small space look bigger is to use a large print in a small space. I love this floral print in a small bathroom.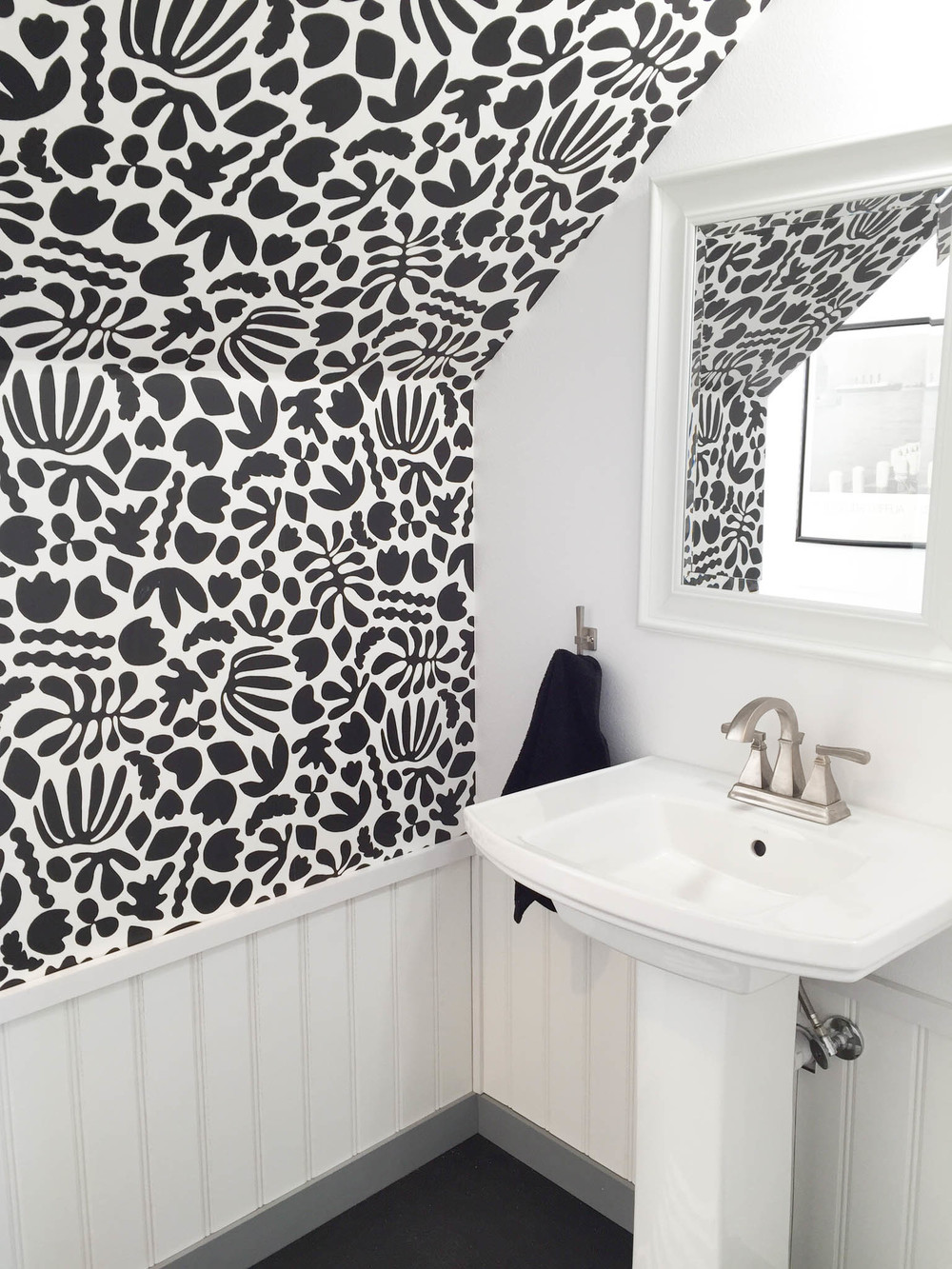 Don't be afraid to use bold patterns in your farmhouse or cottage home. Bringing a modern vibe into a traditional space gives a sense of whimsy and refreshes the look.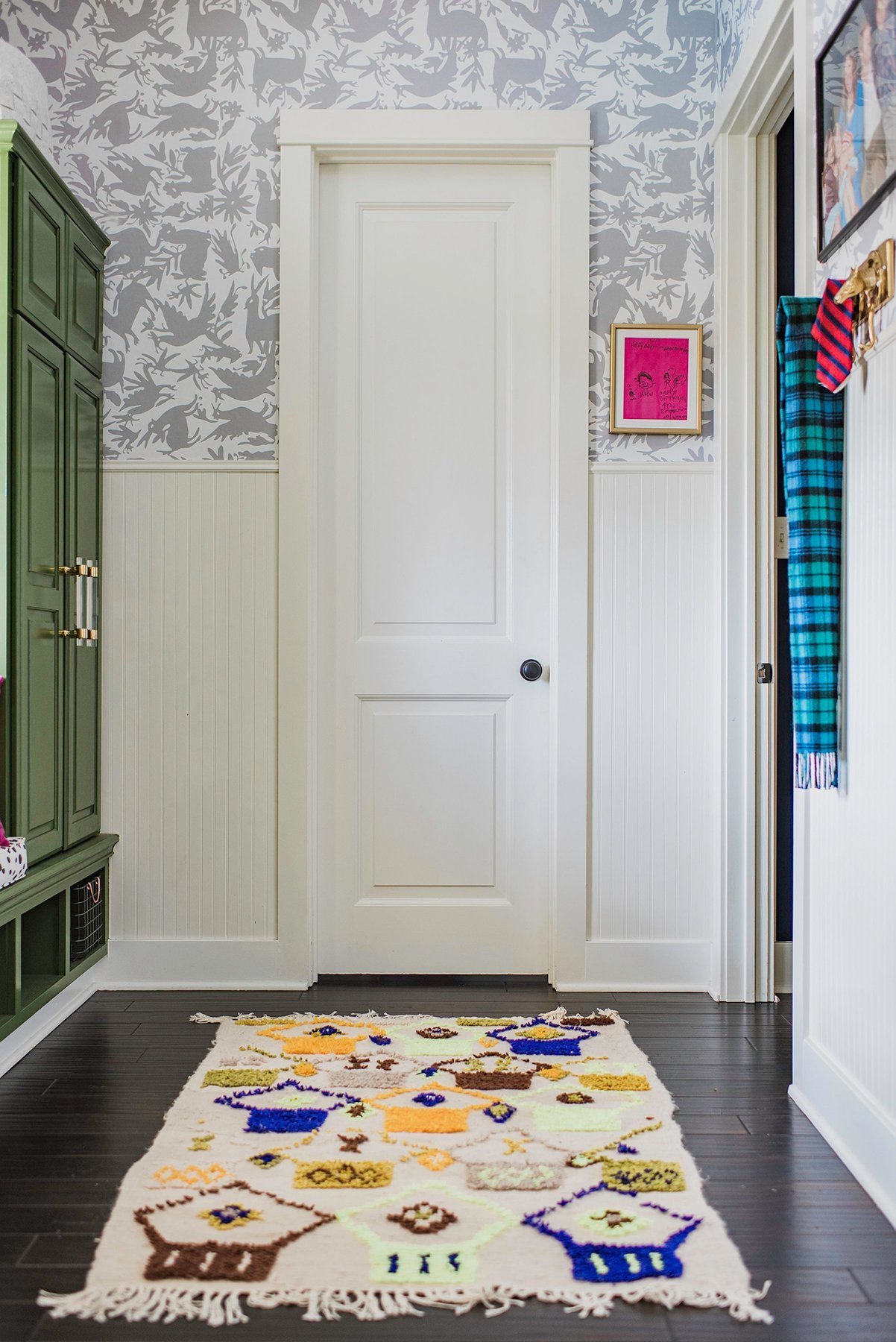 I love the way this block print wallpaper is used on the top half of the wall. If you are worried about overwhelming a space with a busy print, consider using beadboard or planking on the bottom of the wall and wallpapering the top of the wall.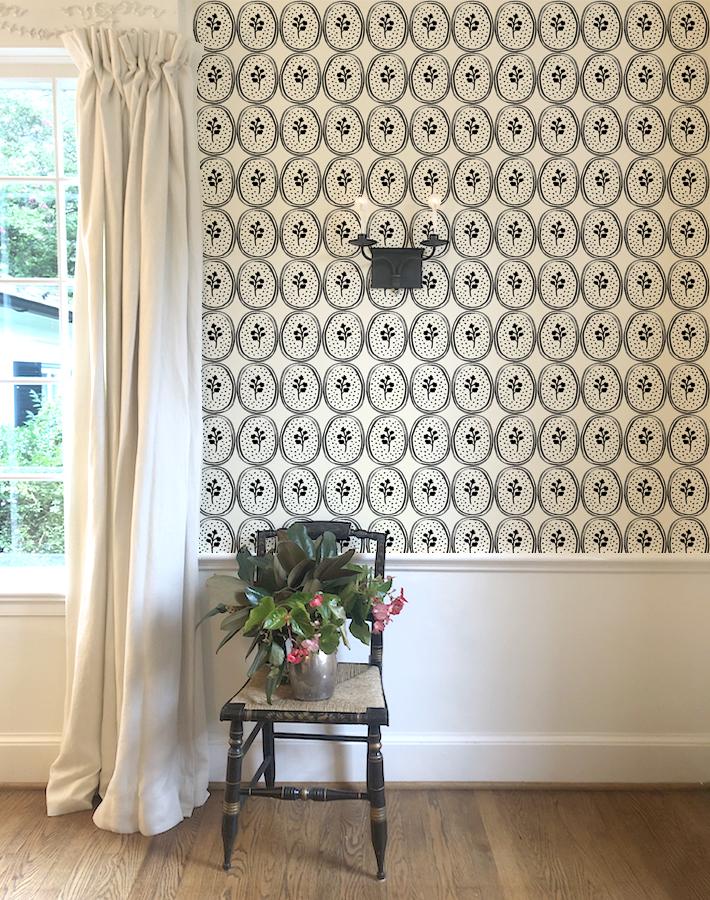 This sweet print is perfect for a cottage or farmhouse home. I also love the way they used a piece of chair rail molding to separate the wallpaper from the blank wall below.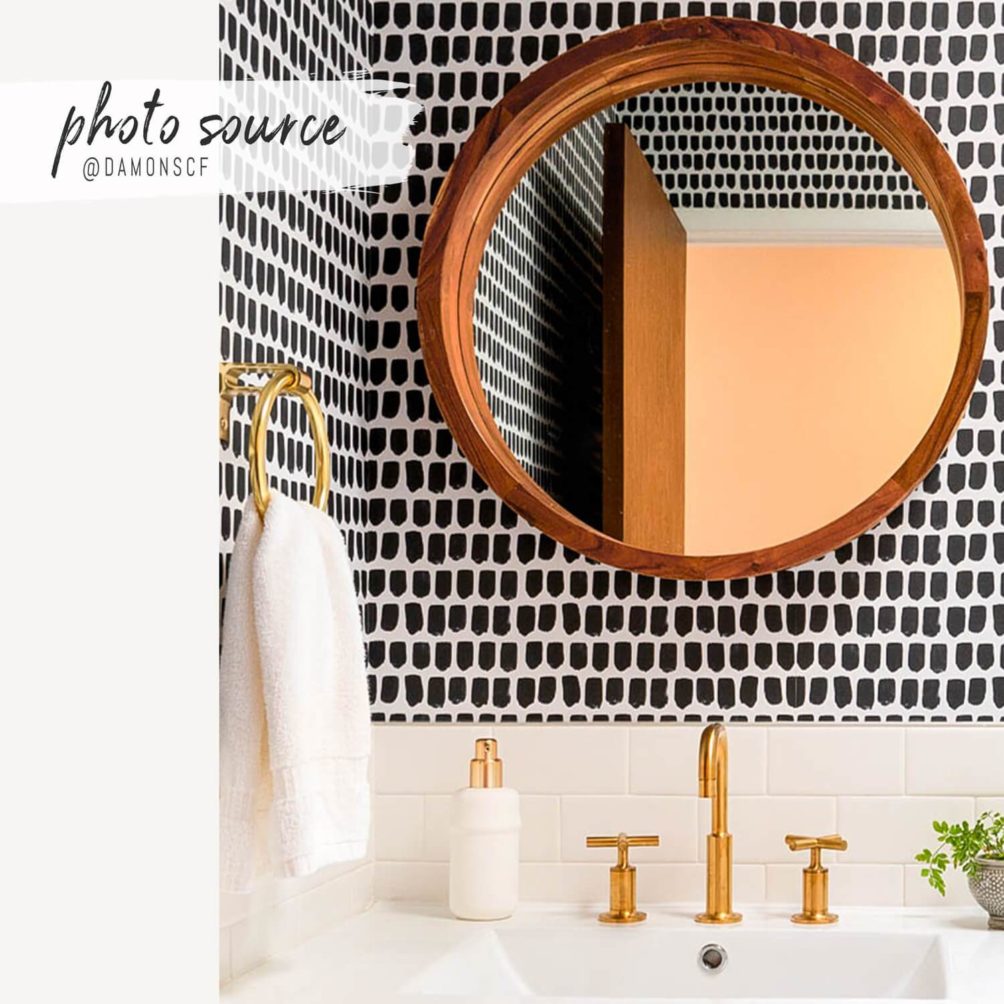 Another example of using a more modern print brings a modern vibe into a traditional space.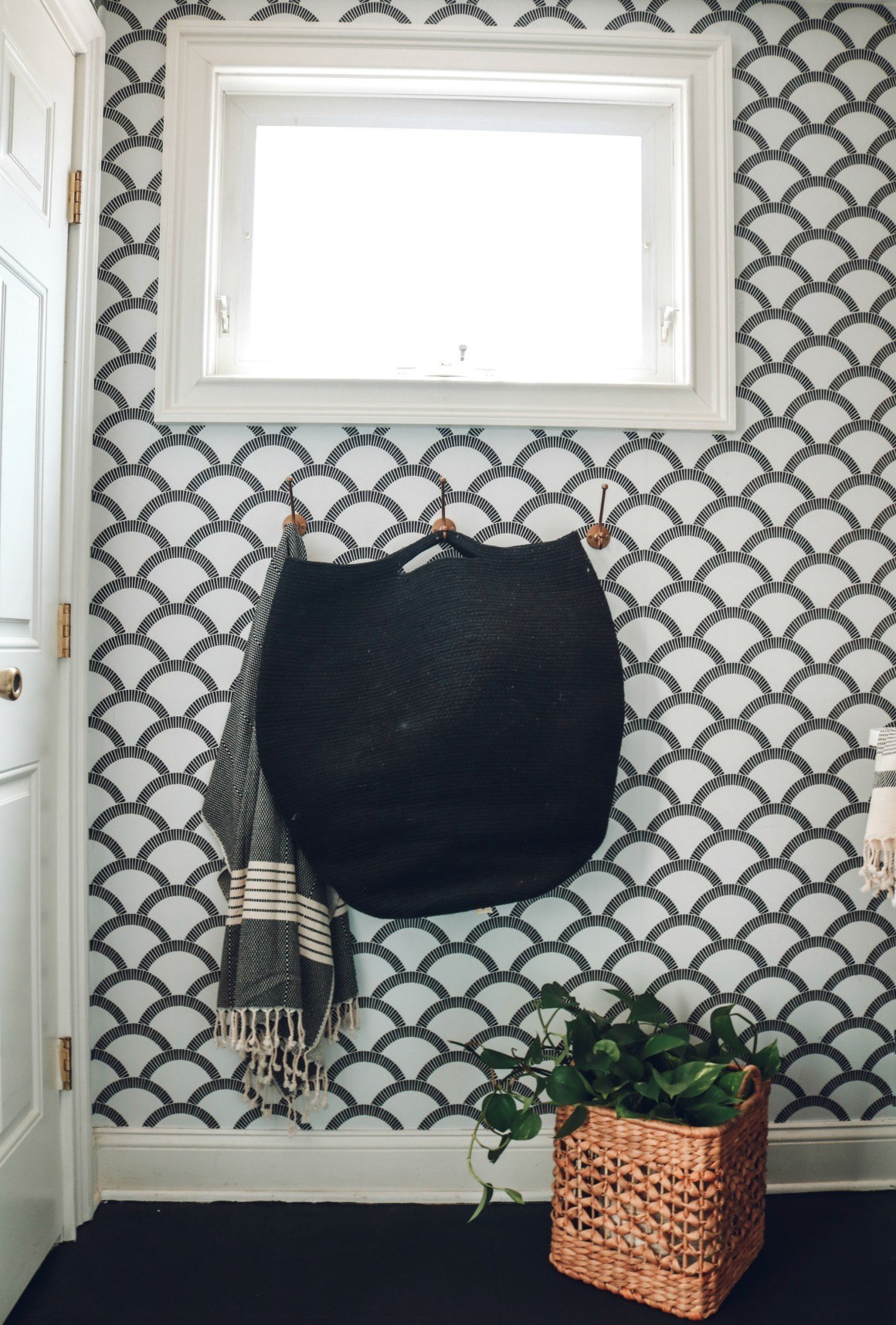 Wallpaper can be used in any room. I love using wallpaper in a laundry room to make the space more customized. You can find the wallpaper on Overstock by clicking right here!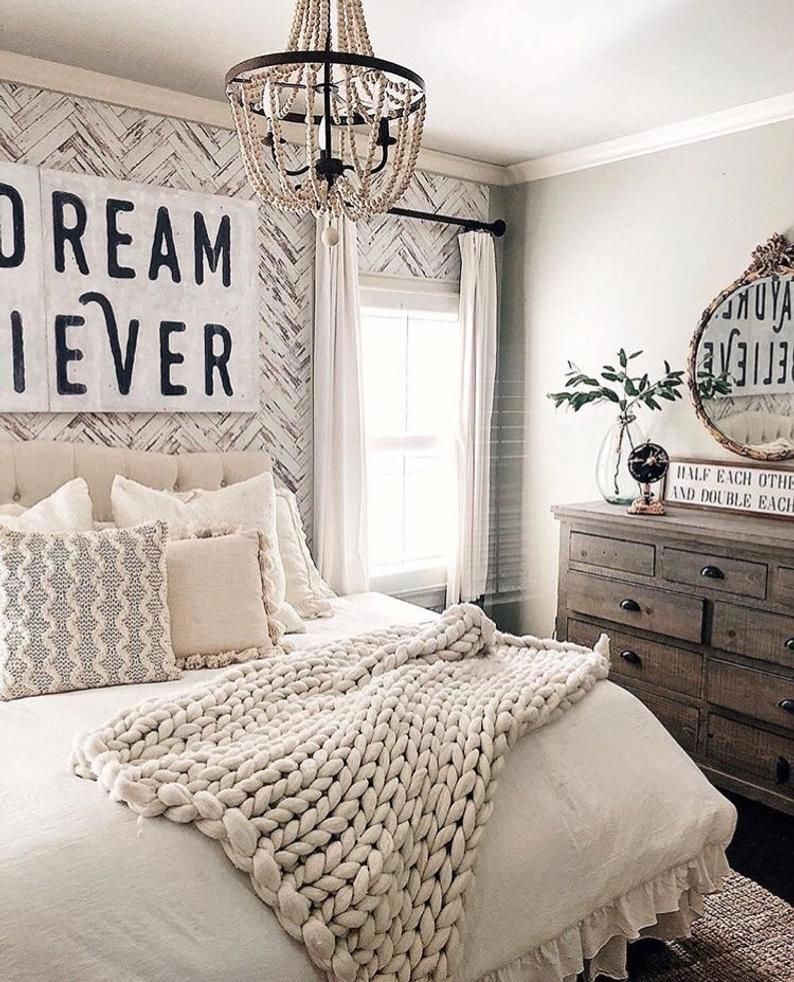 This herringbone wallpaper is a perfect example of how to bring texture into a room with wallpaper. I love that this wallpaper looks like wood and is so much easier to install than a wood accent wall.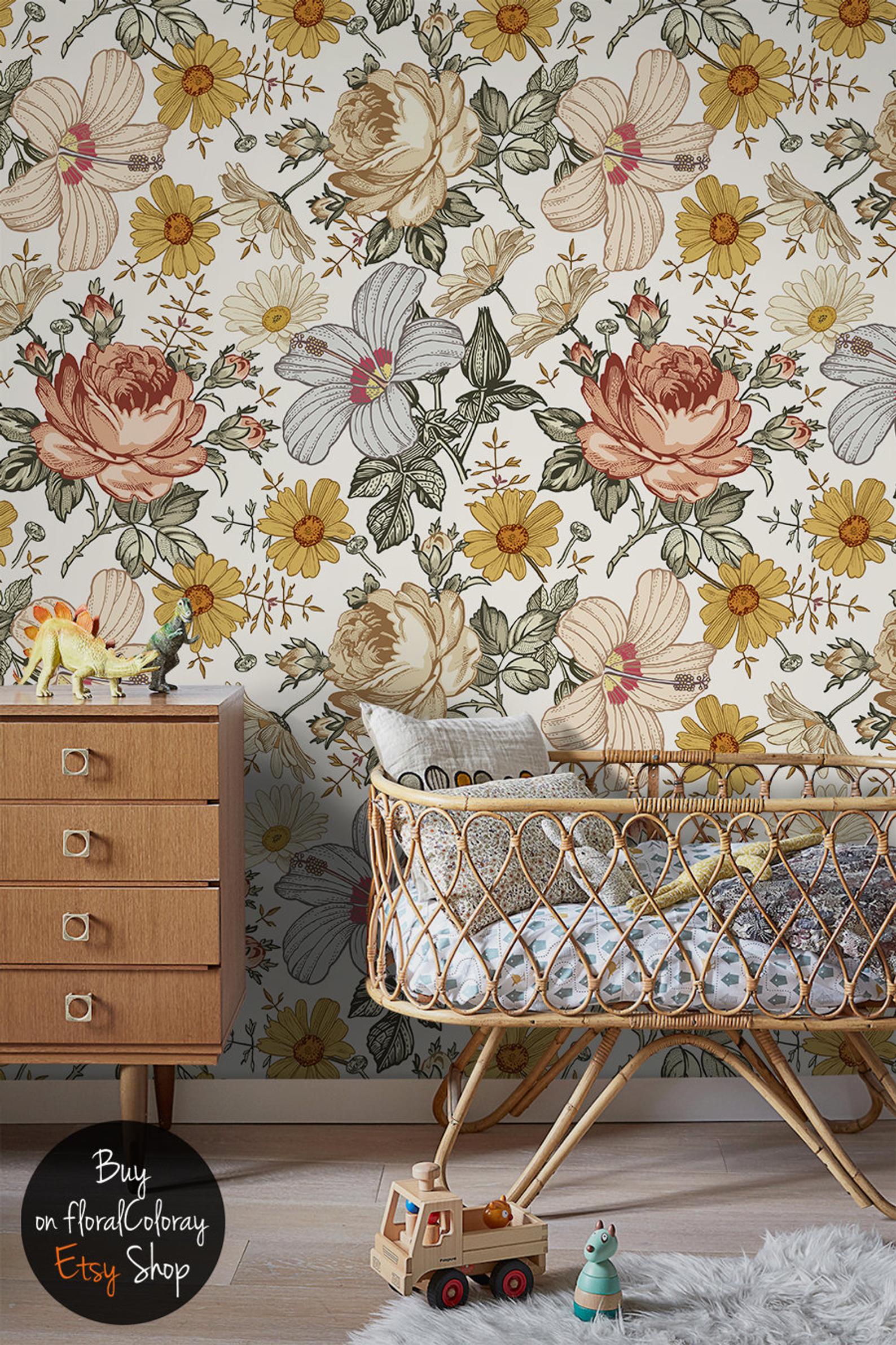 Florals are a great way to bring color into your cottage or farmhouse home. Don't be afraid of color. You can use color in your farmhouse or cottage home and this is an easy way to do it.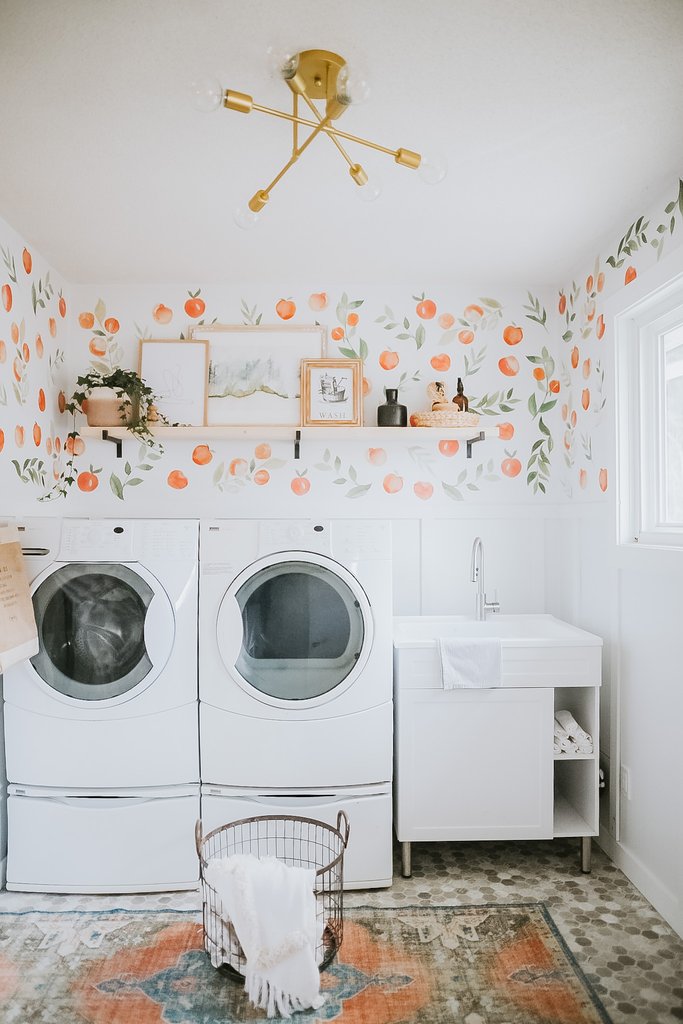 In addition to full panels of removable wallpaper, you can add the look of wallpaper with removable decals. These peach panels can be places in a pattern and are so easy to install!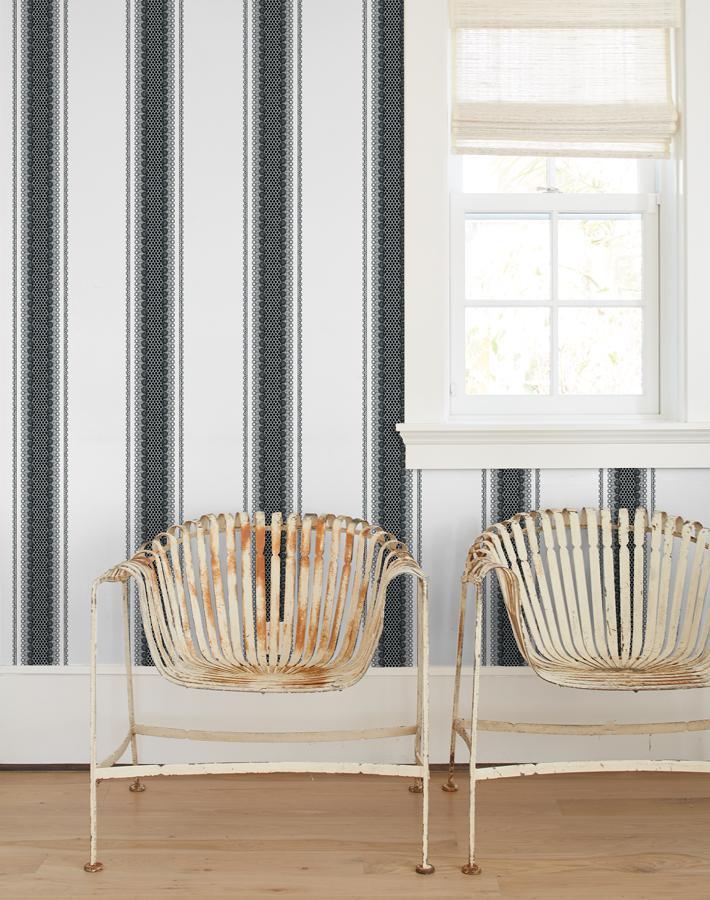 Add visual interest to your wall with stripes! I love the pattern inside of these striped wallpaper pattern. Such a gorgeous pattern and perfect for any room.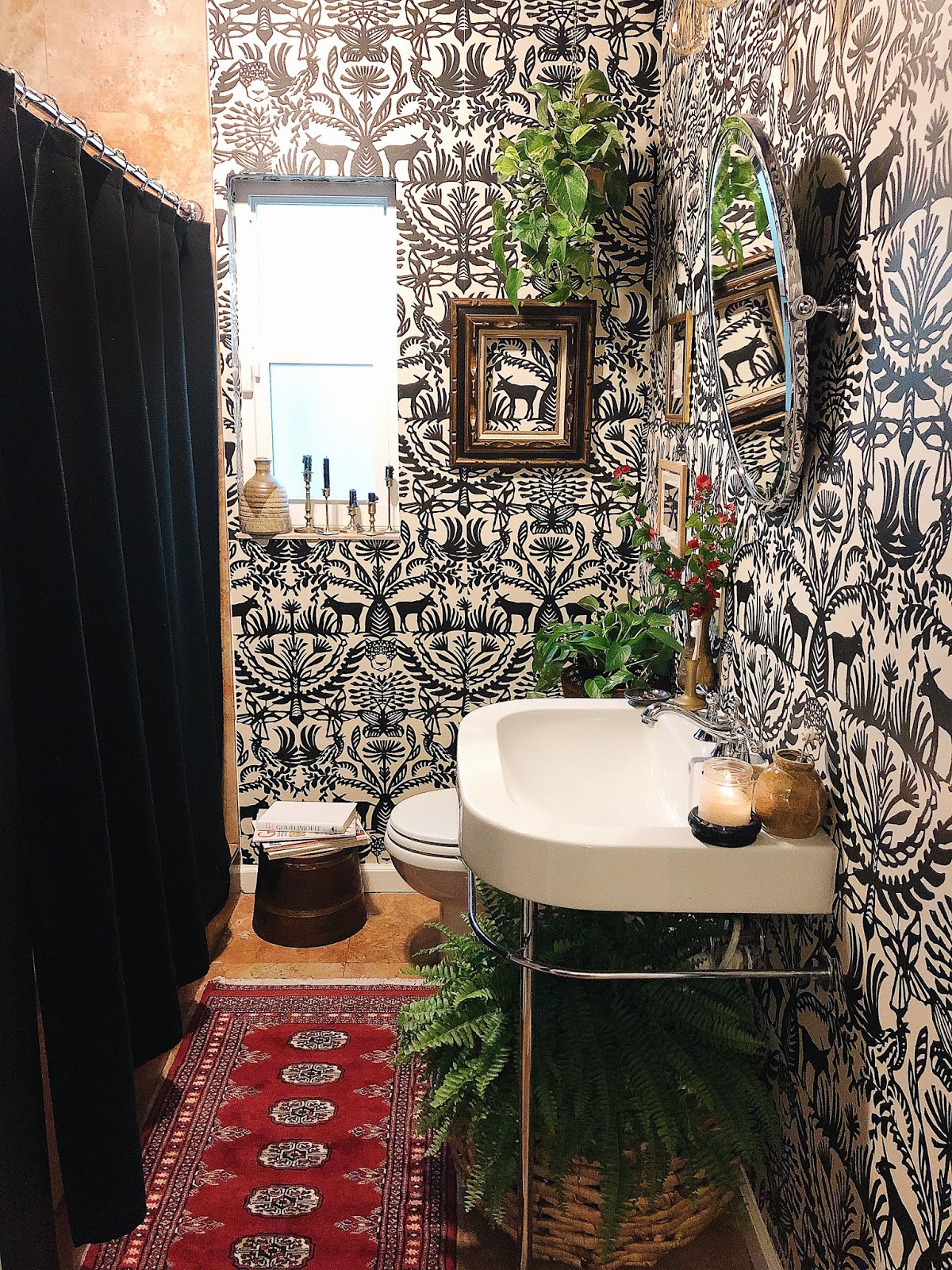 I love this black and white pattern. If you are worried about the room being too busy, consider adding a chair rail in the middle of the room and installing the paper above the railing. Or you can also just wallpaper one wall. Target has a similar removable paper — Target's Eulalia Wallpaper.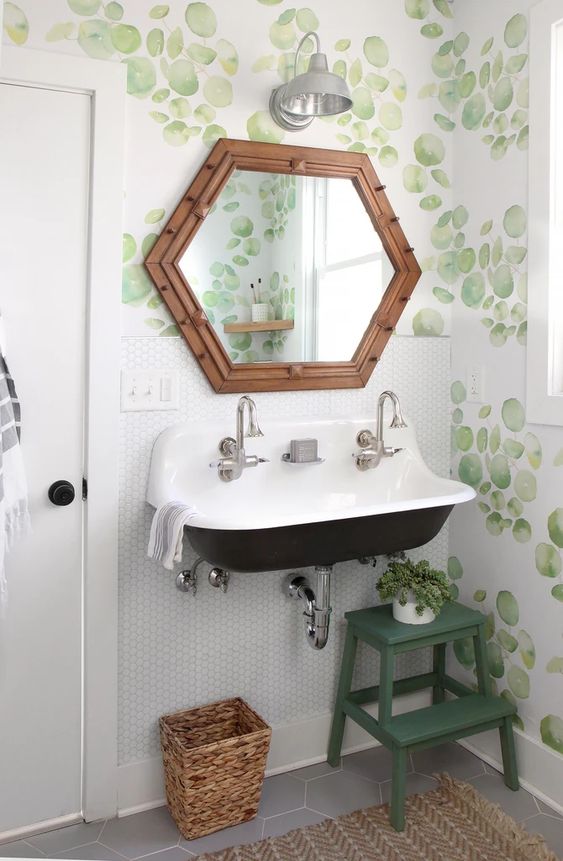 I love the fresh feeling this green leaf wallpaper brings to this small bathroom. If you add a color wallpaper, match the color with accessories like this green bench.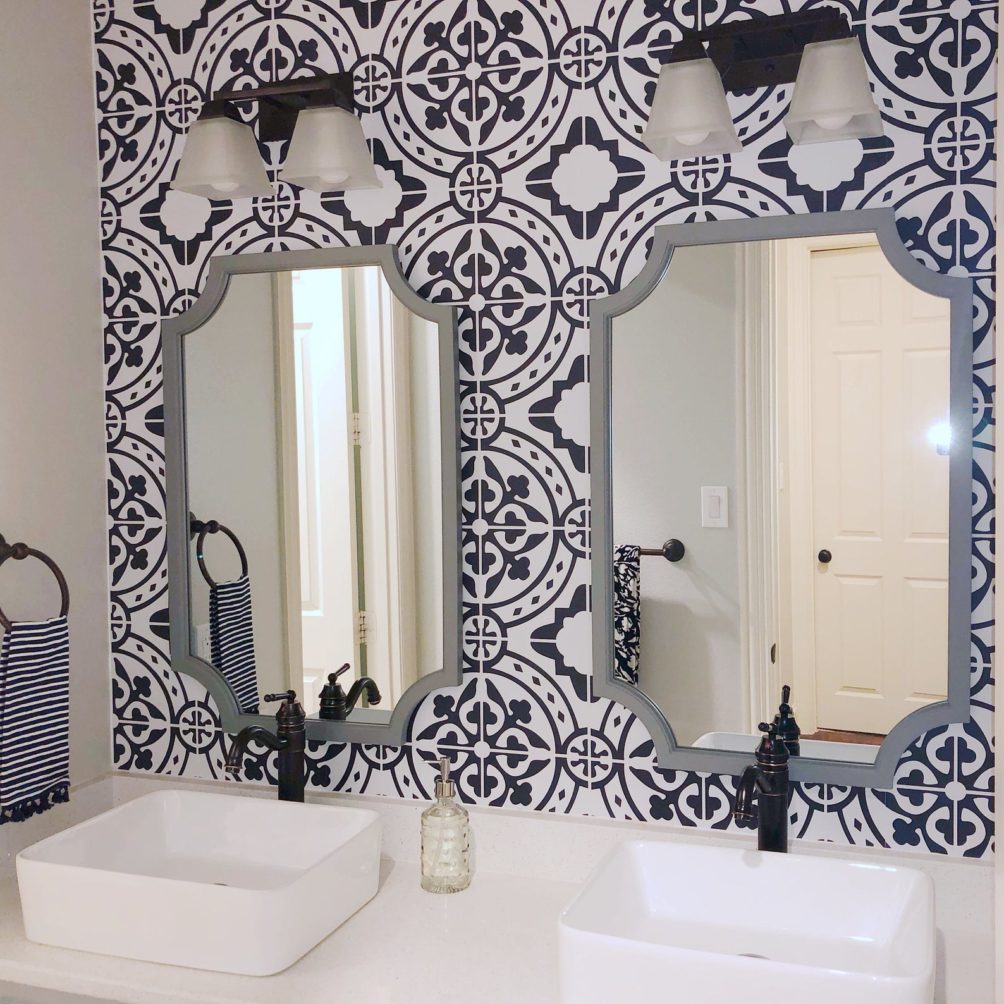 Do you love the moroccan tile trend but don't want invest in installing tile that is hard to change out? Try using removable wallpaper that looks like tile! Such a great way to try out a trend!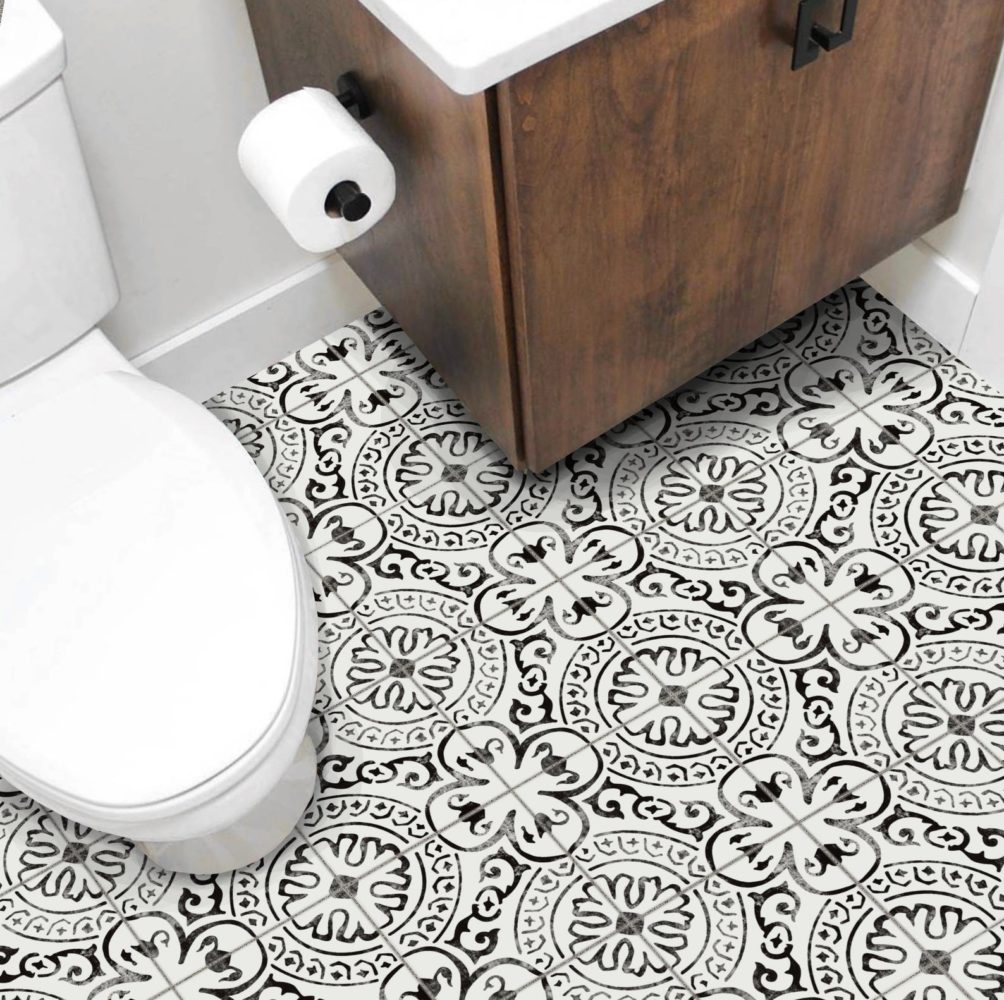 Peel and Stick Decals from Snazzy Decals on etsy
Here's another moroccan tile idea. Instead Of wallpaper panels, these are tile decals that can be used on walls or floors and easily removed if you get tired of the trend.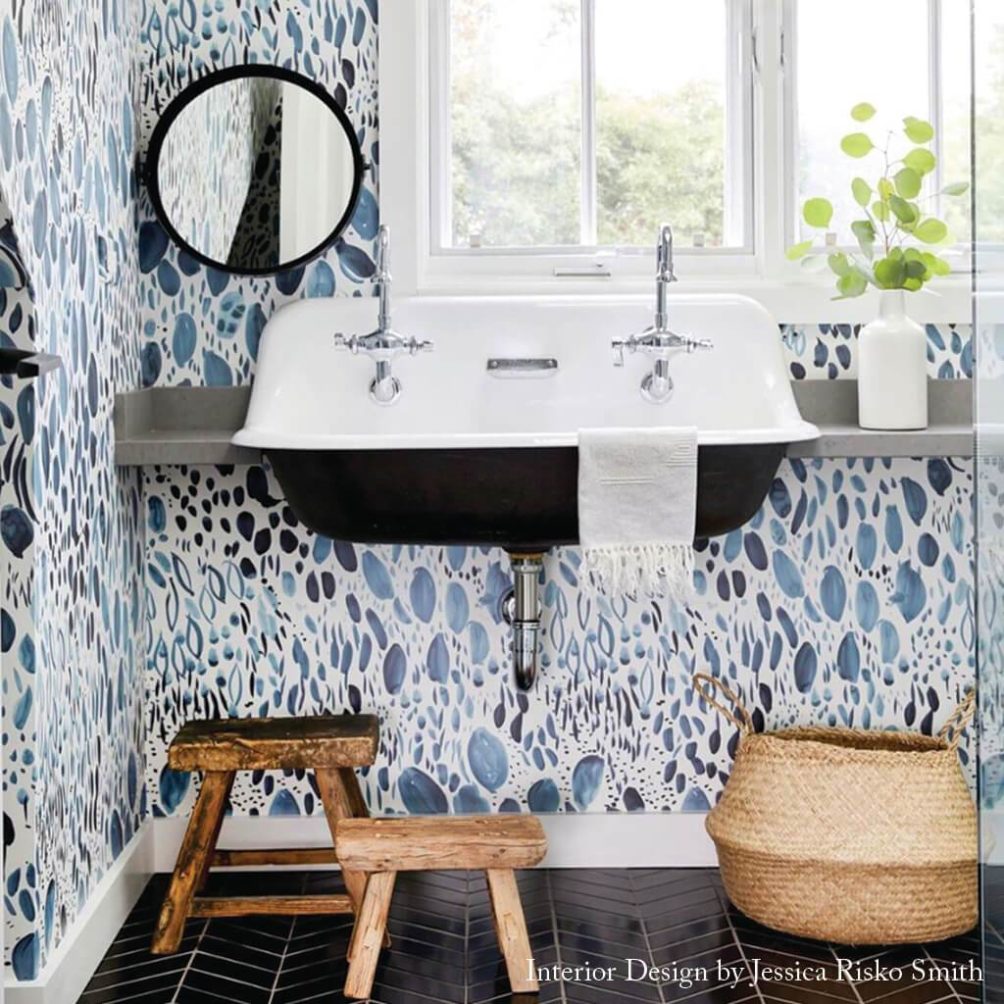 Blooms in Navy Removable Wallpaper from Rebecca Atwood
A bold pattern in monochromatic shades is soothing and adds so much interest to a plain room. I love this one with the natural wood and trough sink.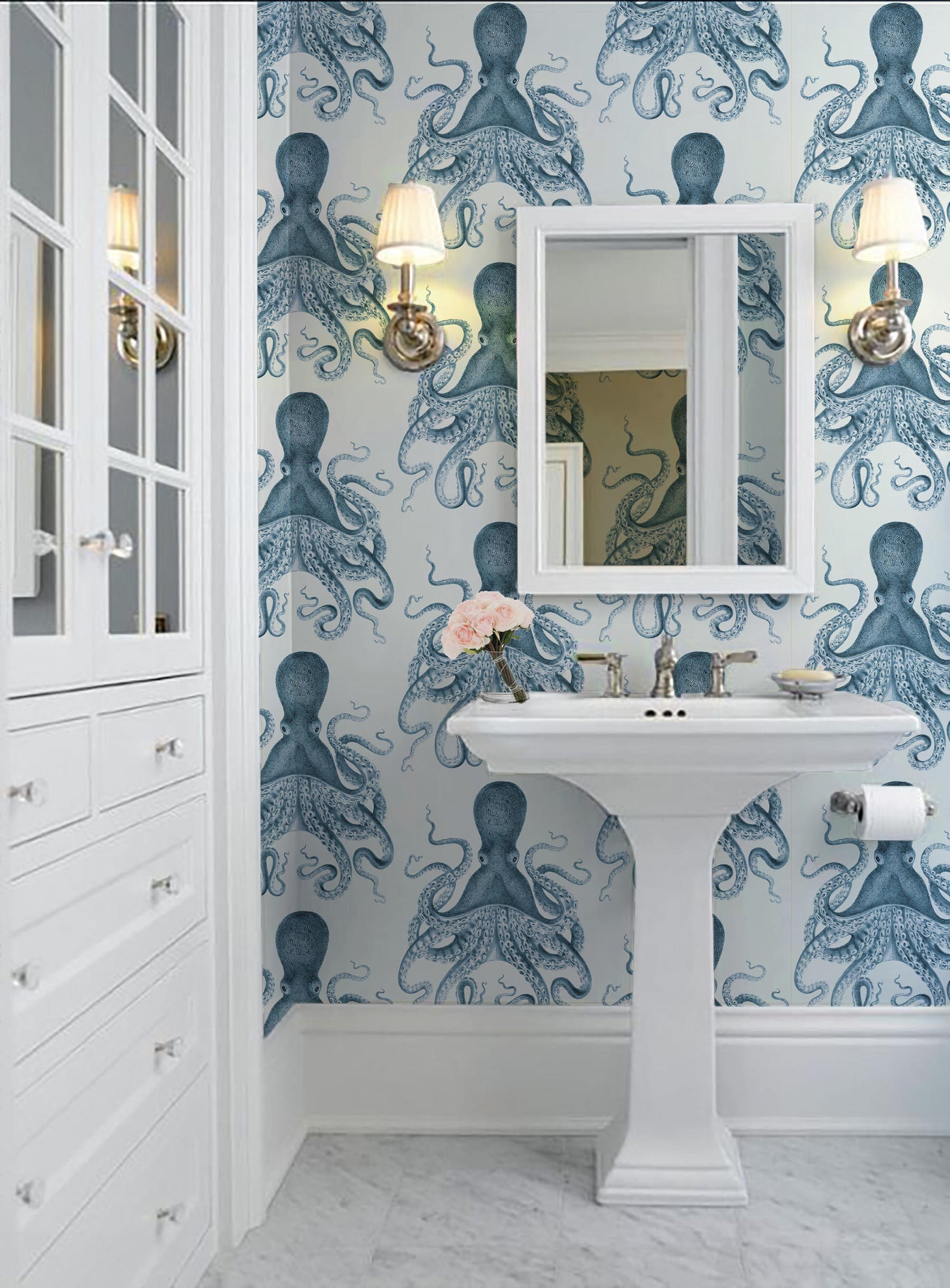 Octopus Removable Wallpaper from Wallpaperie on etsy
Add animals or wildlife to your home with removable wallpaper. This octopus wallpaper is so fun in a bathroom!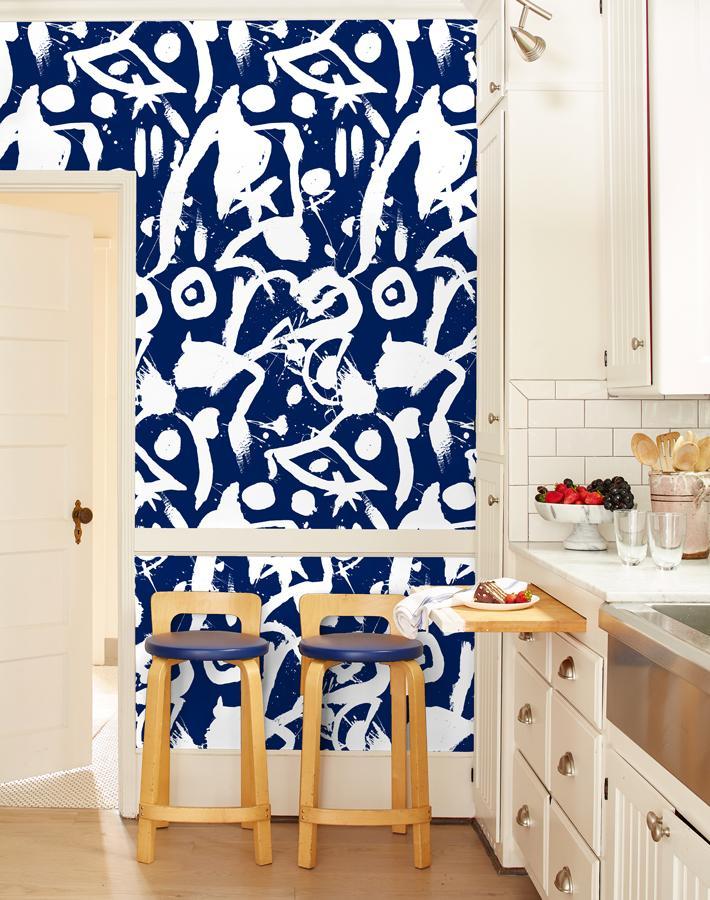 A bold wallpaper on one wall adds so much color and makes a great statement ina kitchen.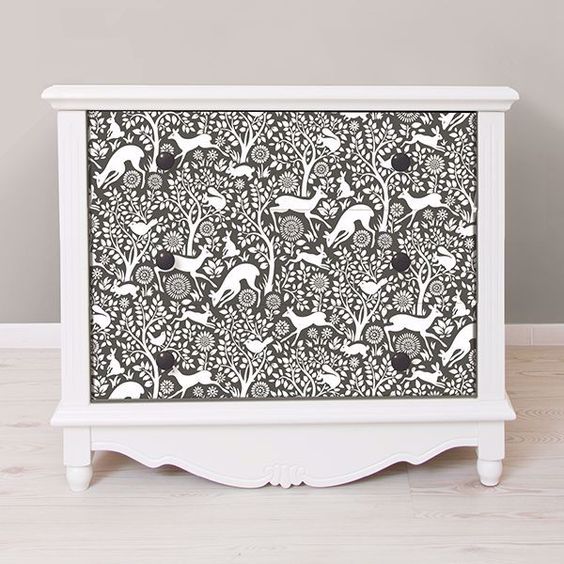 If you are worried about wallpapering a whole wall, bring the pattern into a room by wallpapering the front of a cabinet. This darling wallpaper is on sale at Walmart right now if you click here!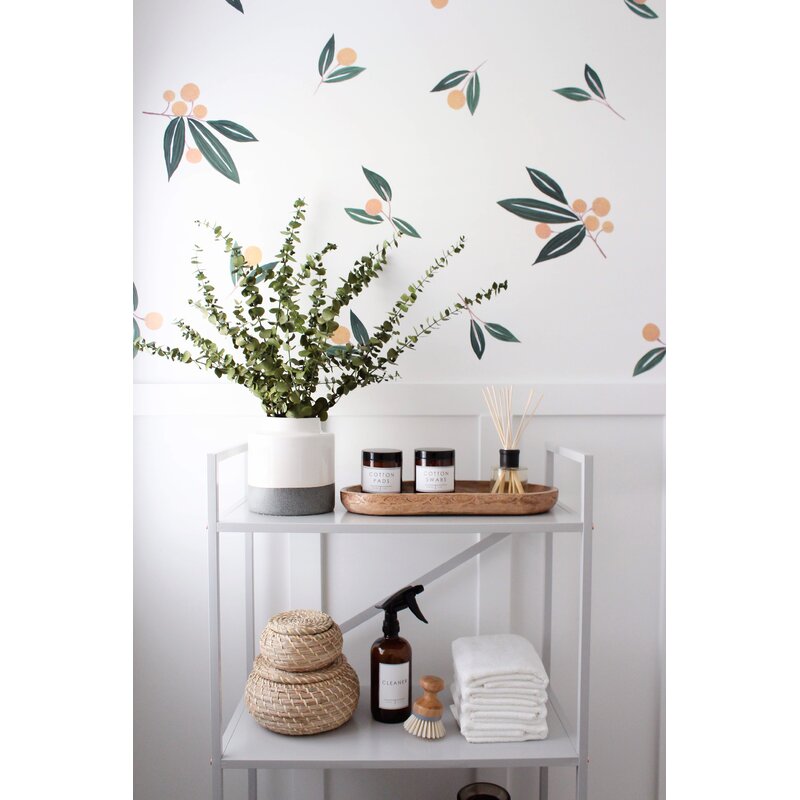 Here's another decal idea that is so easy to install and looks like wallpaper without the cost of time of installing wallpaper panels.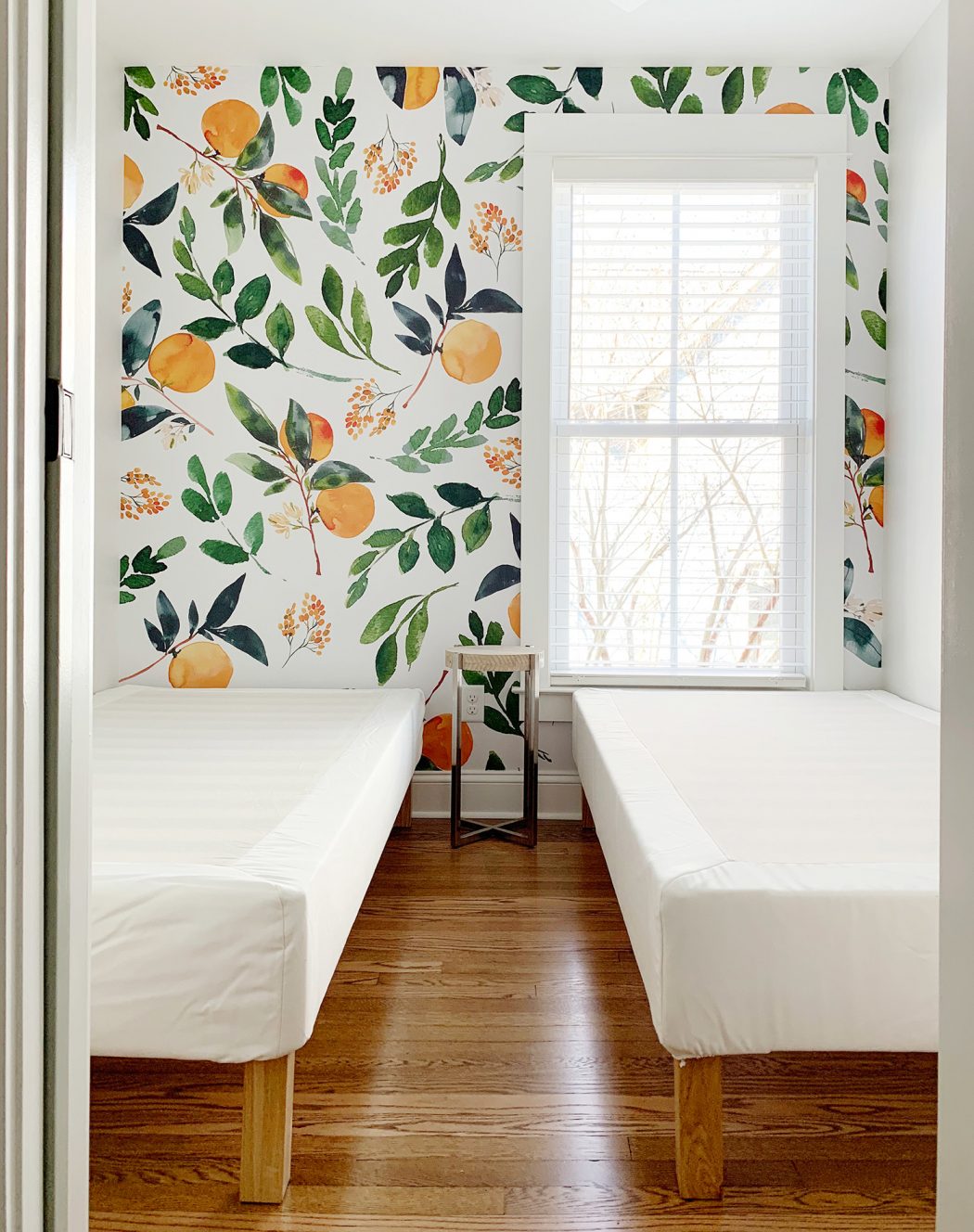 Botanical prints are beautiful in a farmhouse or cottage home. You traditionally see them in kitchens but how cute is this in a bedroom?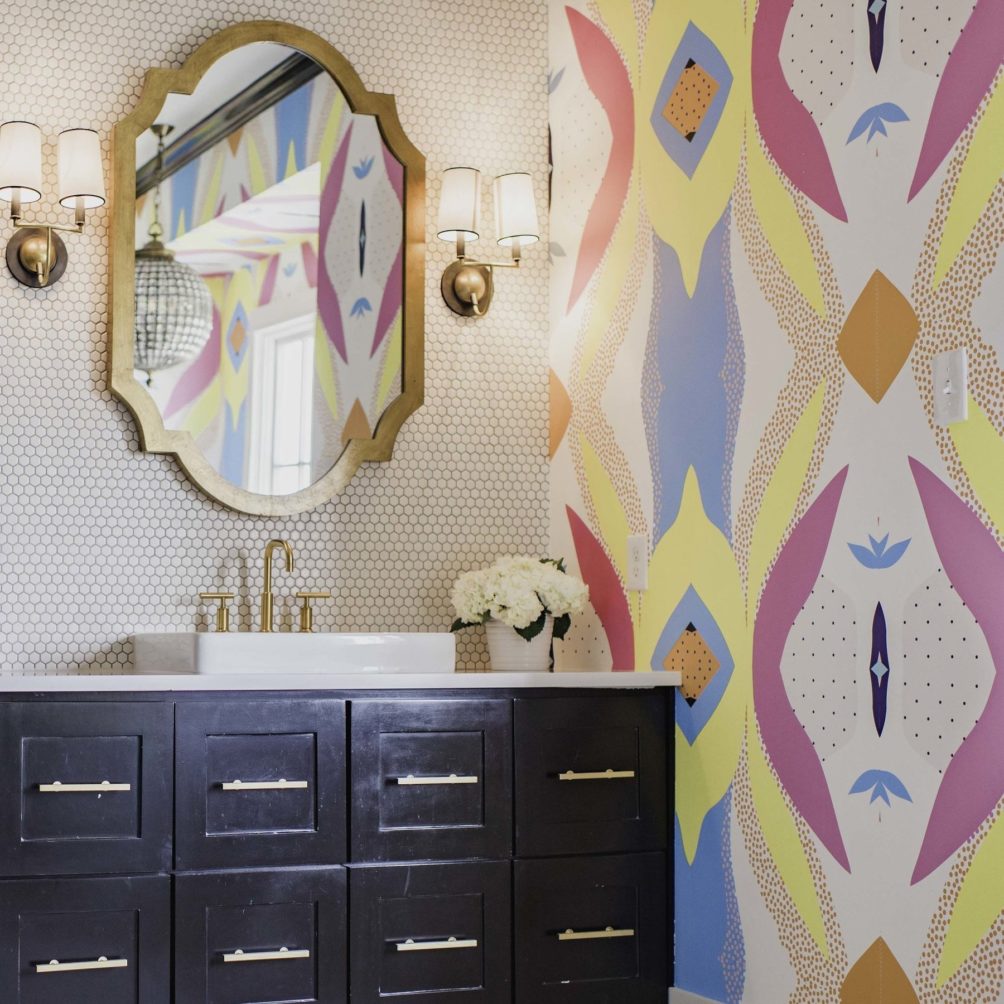 Another example of bringing a modern element into your cottage or farmhouse with removable wallpaper. Don't be afraid of experimenting with design and color!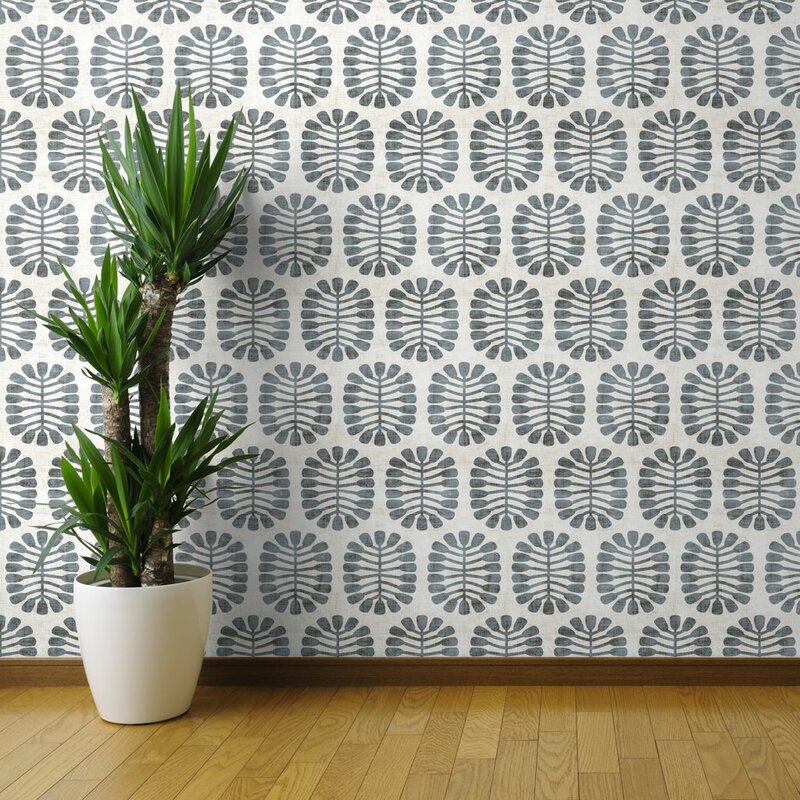 This grey and white pattern is so pretty and neutral enough to go with any decor.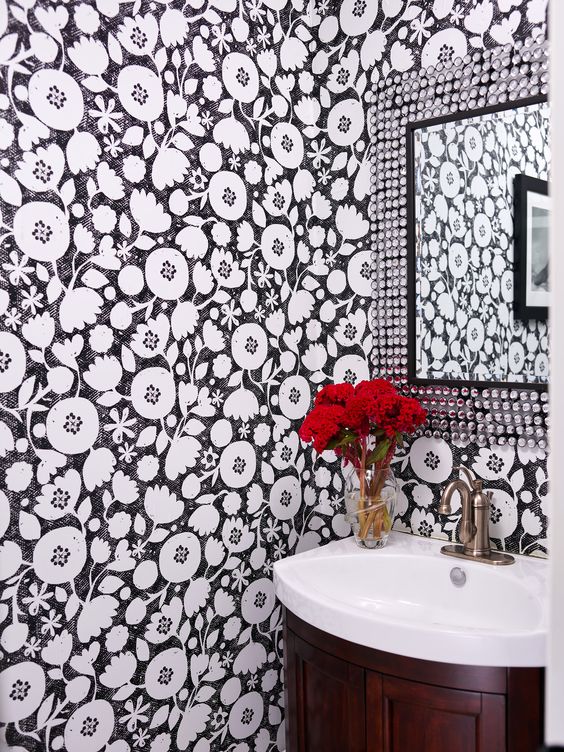 I love this black and white floral pattern. It's great in this small bath but also would be awesome as an accent wall in a bedroom or kitchen.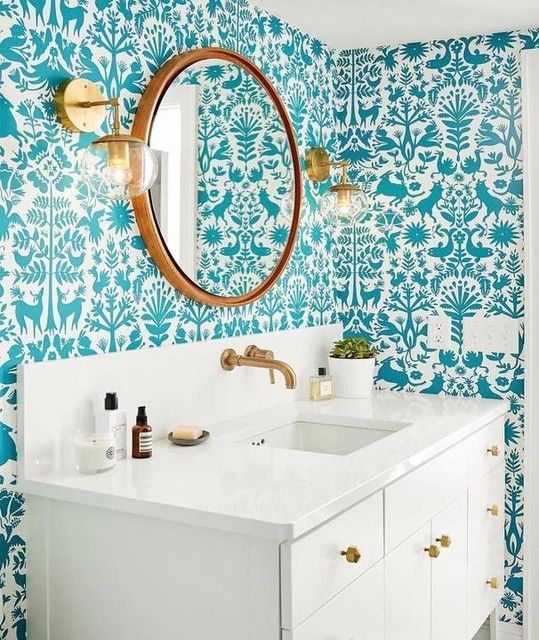 I LOVE chinoiserie wallpaper. It's a traditional pattern that dates back hundreds of years. I love it in a bright color as a spin on traditional chinoiserie wallpaper.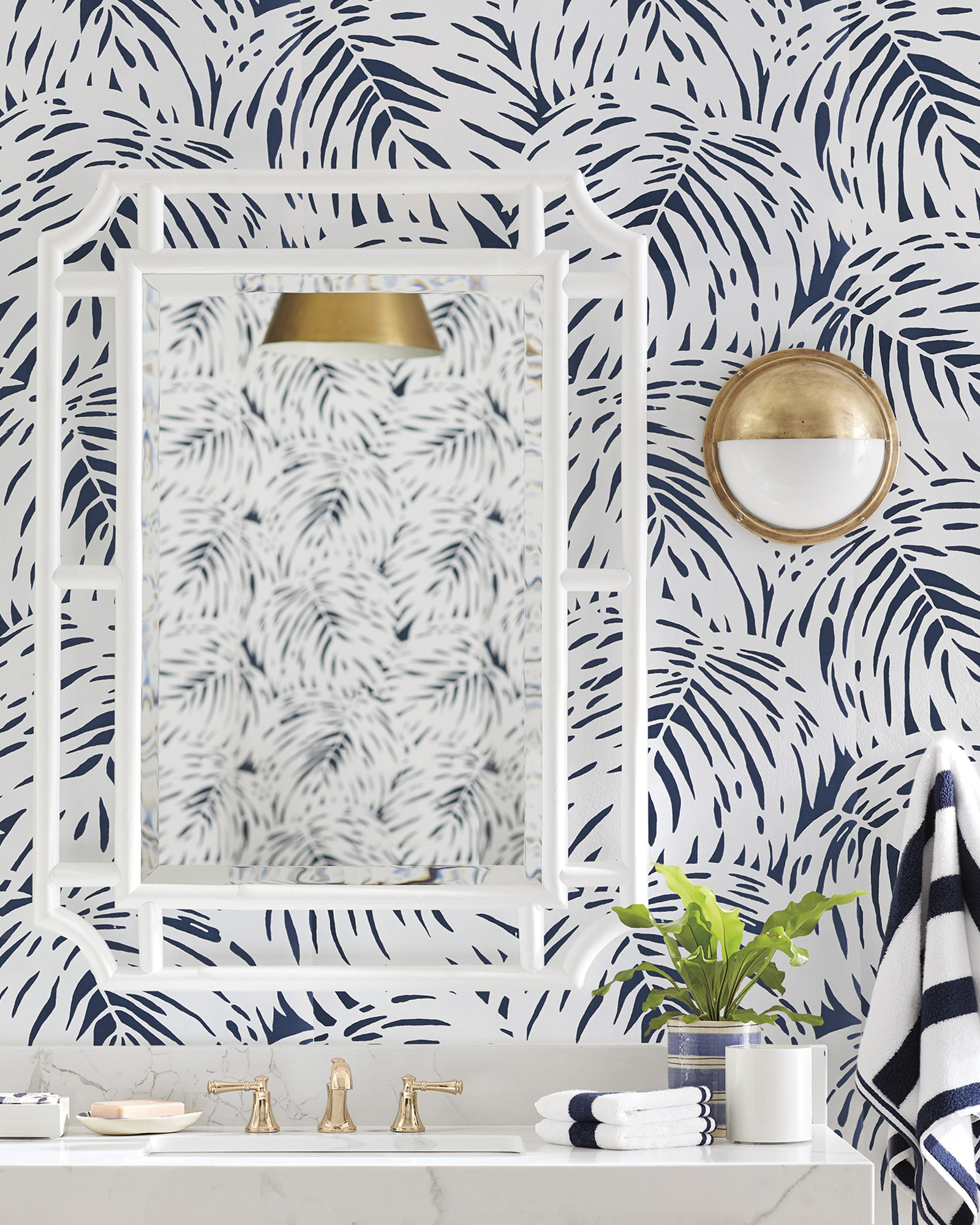 Palms are very on-trend right now. You can add this trend so easily in your home by wallpapering a room or wall. I love the bamboo mirror they paired with this palm paper.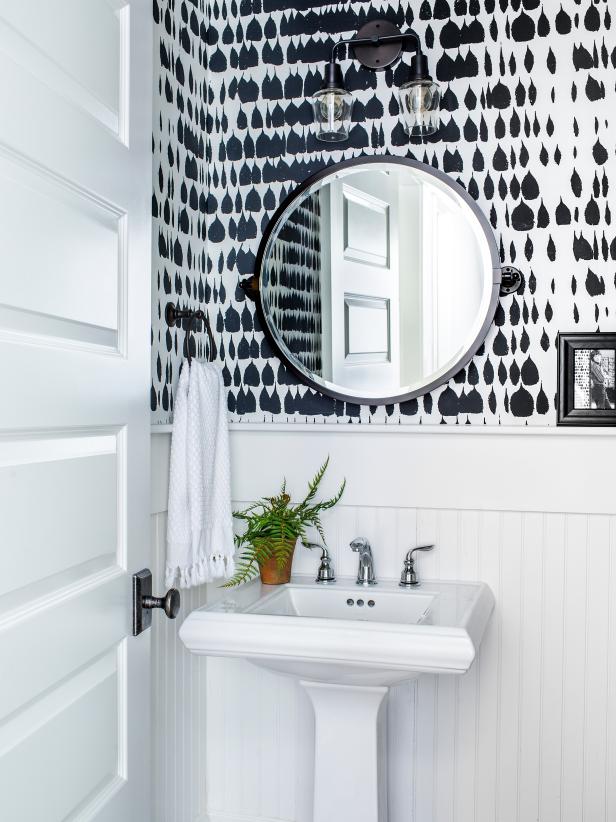 Here's another example of adding a modern pattern to a traditional room. Instead of seeming traditional, the wallpaper gives the room a fresh spin.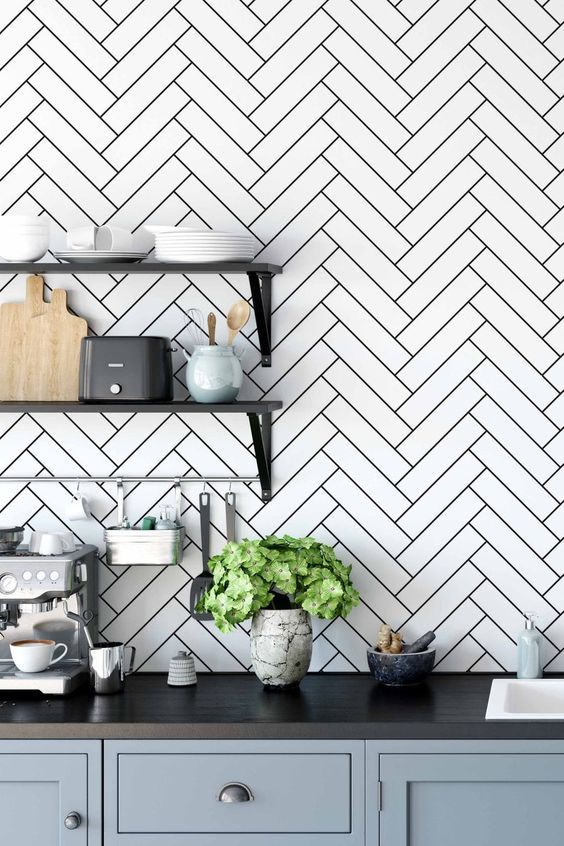 Removable Wallpaper is a wonderful way to add a backsplash or a full wall in a kitchen without going through the cost and effort of tiling. It's also an awesome idea of adding detail for renters!
Pin Removable Wallpaper Ideas for Later!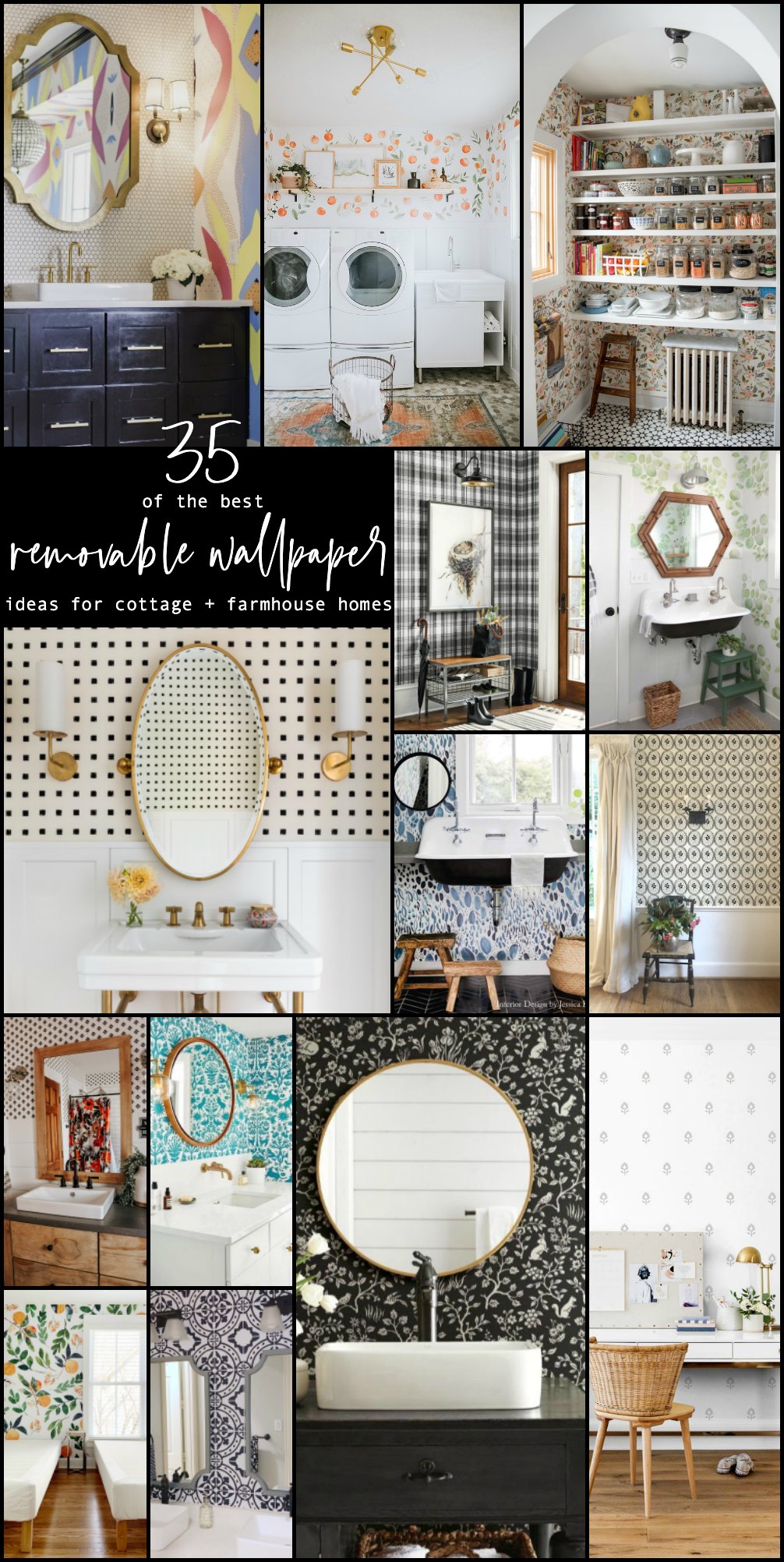 Which Wallpaper is Your Favorite??
xoxo