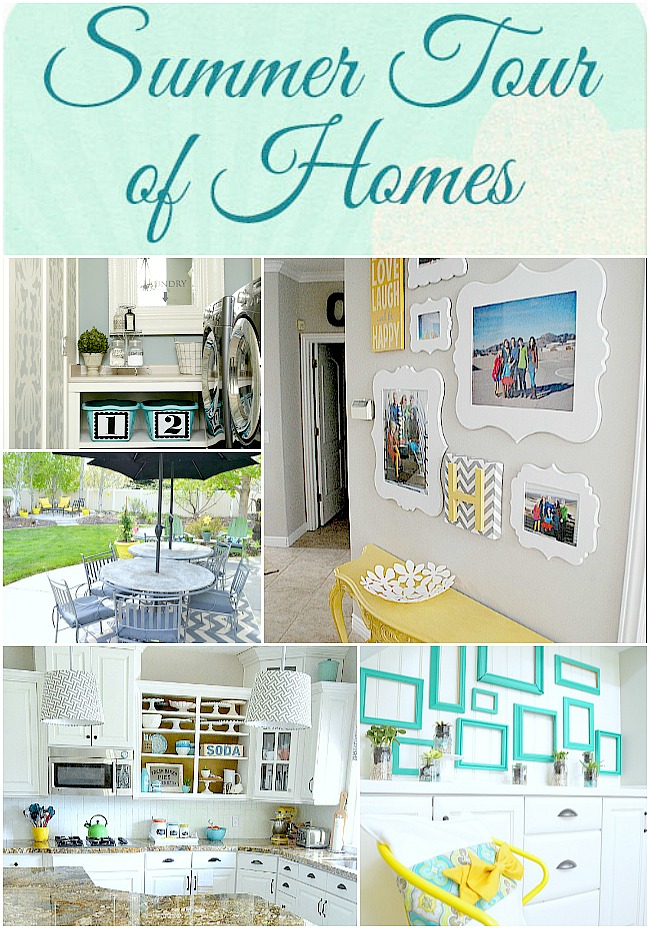 I have never posted a home tour. Why? I never think my home is ready. There seems to always be a room that needs a face-lift or things just aren't "done". So I was thrilled to be invited to Gina's Summer Home Tour Series. And even though about half of my home is either in the process of a makeover or in need of one, I am so excited to join in!!
I also have to say that yesterday was day 1 of the home tour and I was BLOWN away by the homes. Seriously AMAZING and INSPIRING spaces and ideas. So be sure to check out those homes. Plus, Beckie from Infarrantly Creative's home is the first one on the tour today, and you don't want to miss out on all of her amazing ideas. Her craft room she just finished is to-die-for. Don't miss it.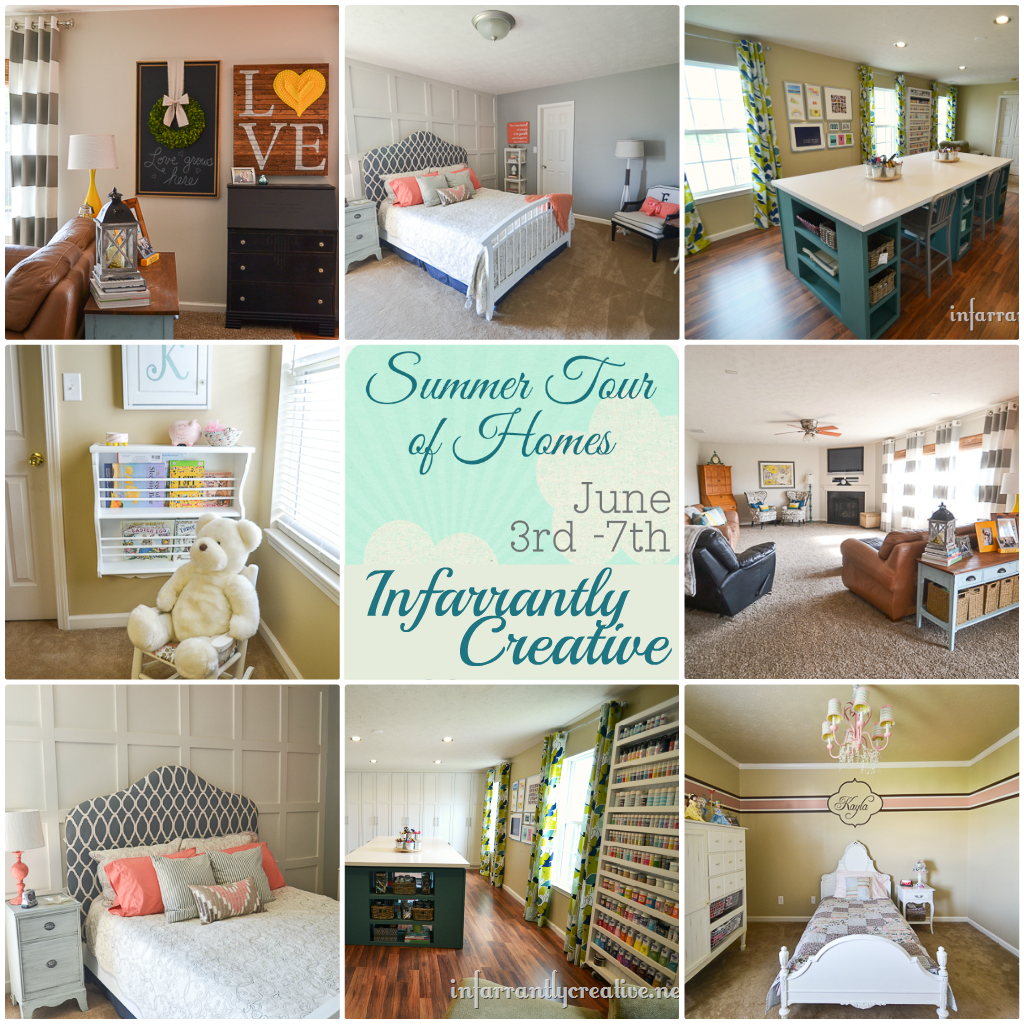 And now on to my home: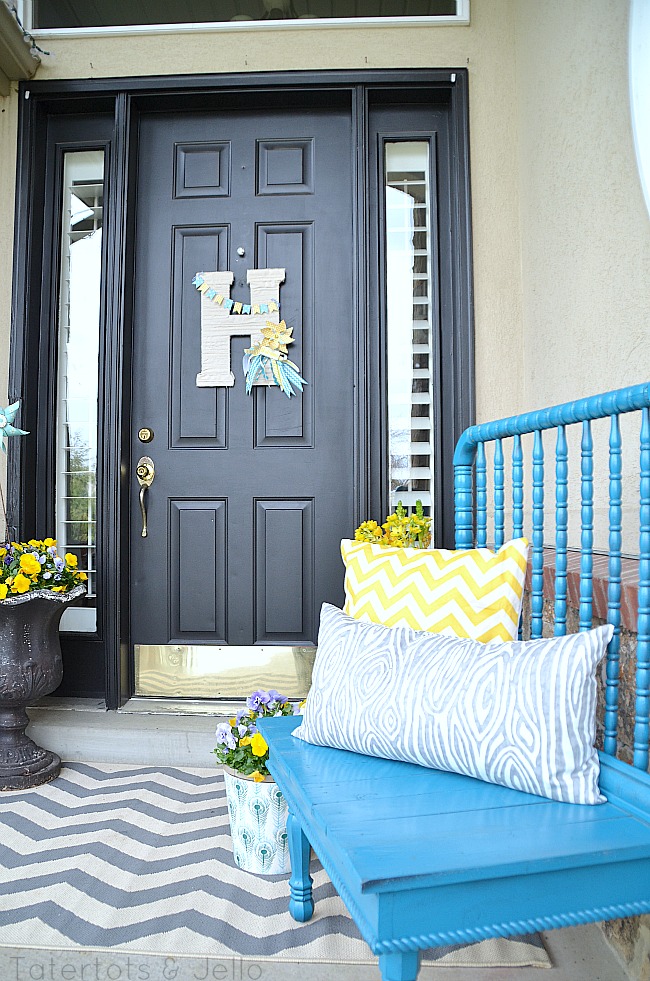 One of the first places that you see when you come into our home is our front hallway. This is where our Family Gallery Wall is displayed. It's one of my favorite projects EVER! My sister Wenderful took the colorful pictures and I love the scrolly frames and the yellow spray painted table that was my grandmothers.
Leading off the main hall is our White and Aqua Kitchen. Before it was yellow maple and dark backsplash. We painted the cabinets and I wanted to put in subway tile, but we opted to paint the tile since it was so much cheaper and it looks good. I still want to put in subway tile at some point.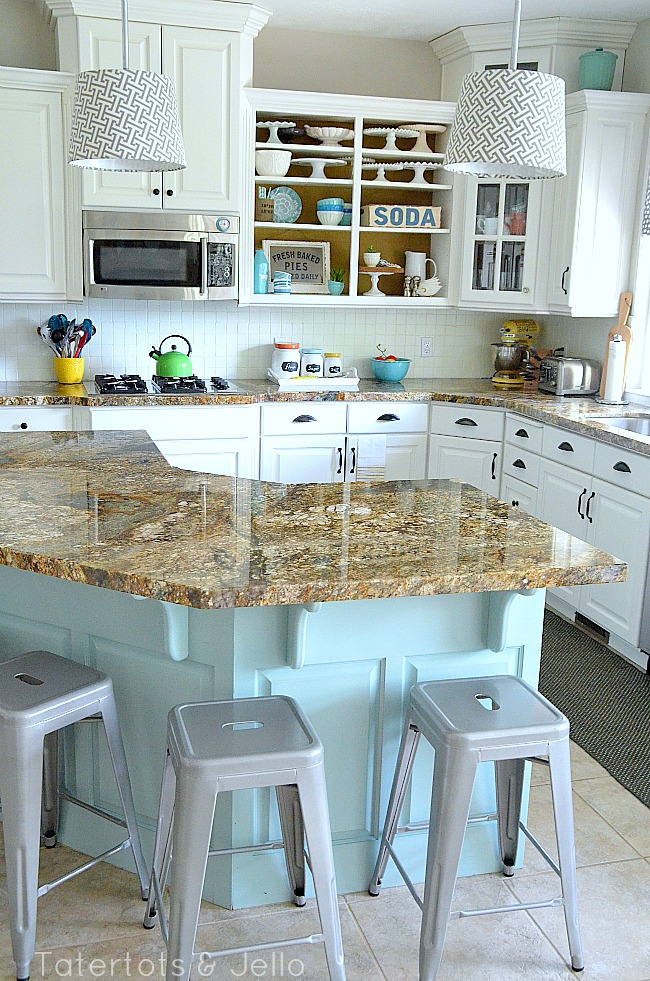 We painted the island a bluish-green and I was a little nervous that it wouldn't work with our brown granite, but I really like it. We painted the walls Martha Stewart's Sharkey Grey and it's a very neutral warm grey, which is perfect since I still have brown carpet. Someday I am hoping to put all hardwood floors on the main floor of the house.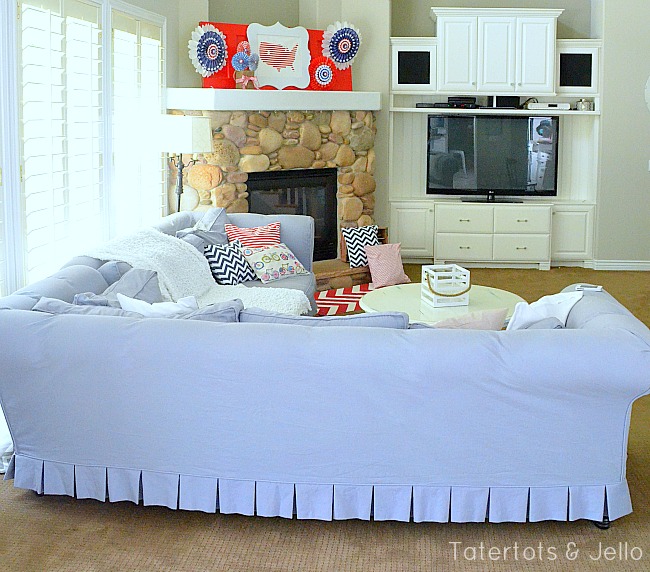 We have a family room that joins the kitchen space. It has wonderful, tall ceilings. We made over the built-in TV cabinet to accomodate a much larger TV and I painted it the same Decorator White as the kitchen. Right now my family room is decorated for the Fourth of July.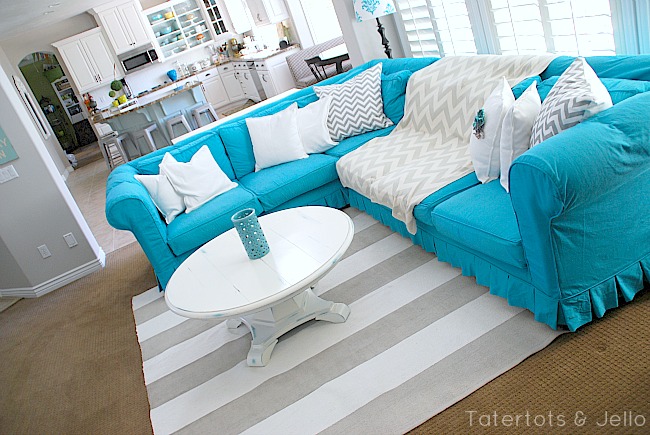 When my sister moved, I bought her HUGE brown sectional couch. I swear it's the comfiest thing ever! And it's so big — two full grown people can sleep on both ends of it. When we redid this space I had the couch slipcovered and it made SUCH a difference!! I have a slipcover in TURQUOISE:
And another in GREY. I switch them out during the year. And I am thinking of maybe having one in WHITE too.
Under the stairs in our family room is a little recessed cabinet. When we redid our kitchen we also painted this area white and installed beadboard. This is my favorite area to decorate for different seasons. Right now I have a fun frame wall that I created with thrifted frames and Pantone's Emerald Green paint color.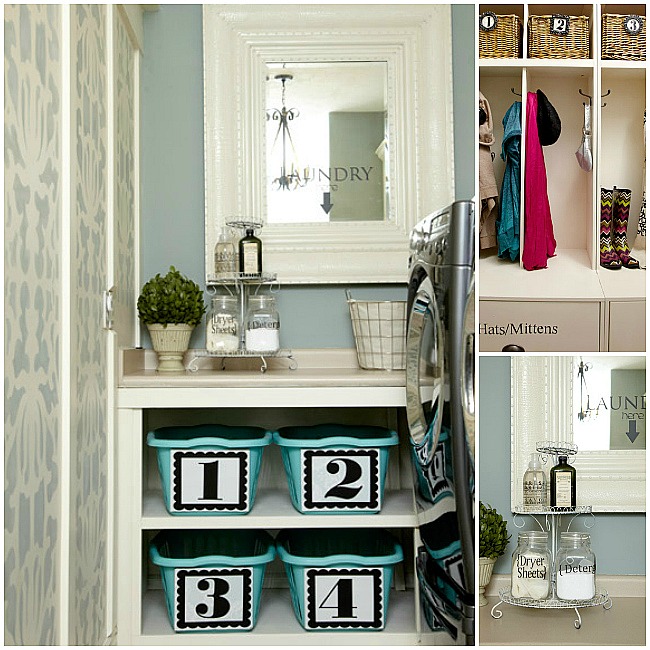 And right off of the family room is our laundry room. I took the room, painted white, added board and batten and stenciled between each section. Then I found a chandelier on Cragislist in Rhode Island and had it shipped to my home and installed it in the center of the room. We also installed recessed lights and put them on a dimmer which makes such a difference. I painted the cabinets – the top are white and the bottom are a teal/blue. We also took out a big closet in the room and put in some lockers so the kids have somewhere to put their boots and coats in the winter. My favorite part of the room is the crystal knobs.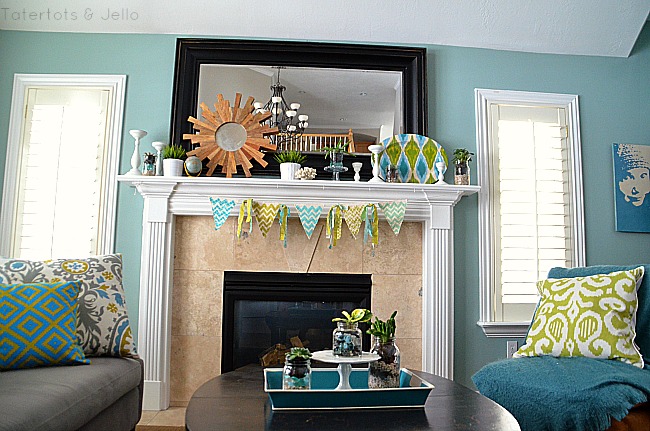 My living room is another area that I like to switch up often. It also has a mantel, which is a little more formal than the mantel in my family room. Right now I have a pretty Green, Turquoise and Wood mantelscape with succulents in mason jars.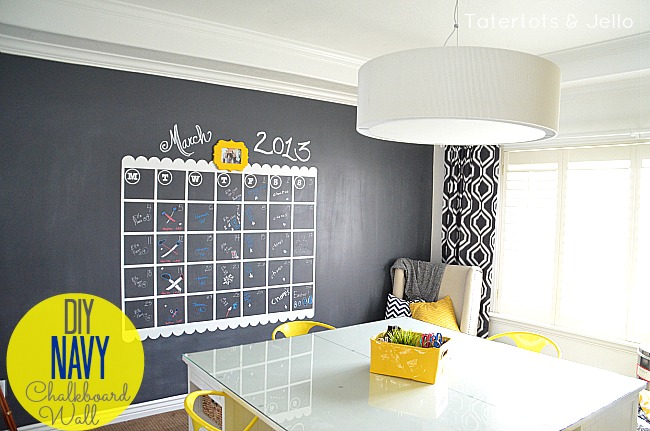 Right off of the living room is our formal dining room which I turned into my office about 8 years ago. Recently I acquired a new office so I have been transforming this space into a homework/music room for my kids. When we turned it into my office so many years ago, we took the open wall and added studs and drywall to create a wide doorway and then we installed paneled french doors to close off the space. It gives the room a little privacy while still maintaining the same formal dining room feel, for resale value. I am in the middle of making this space over — the GIANT navy chalkboard wall is one of the latest projects in that room.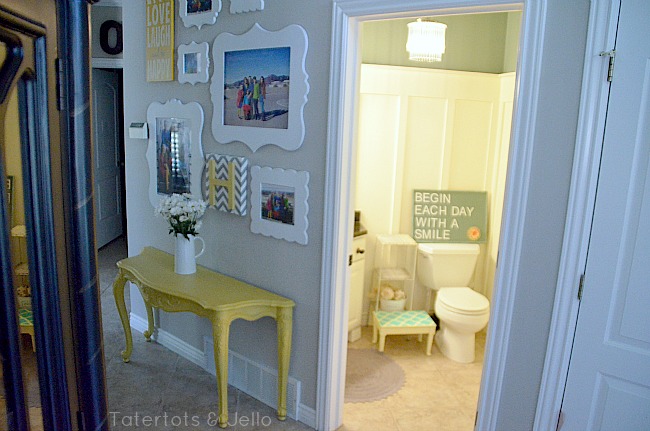 Another space on the main floor is the beachy powder room. I painted it white and added board and batten and I also painted the cabinet white too. I painted the ceiling a darker teal than the walls. And my favorite part of this room is the FREE 1940's chandelier that I scored off freecycle.com. All I did was put an ad on that site for chandeliers and someone responded saying they were redoing an old home and had a chandelier I could have. If you don't know that site, be sure to check it out for great deals. Everything is free.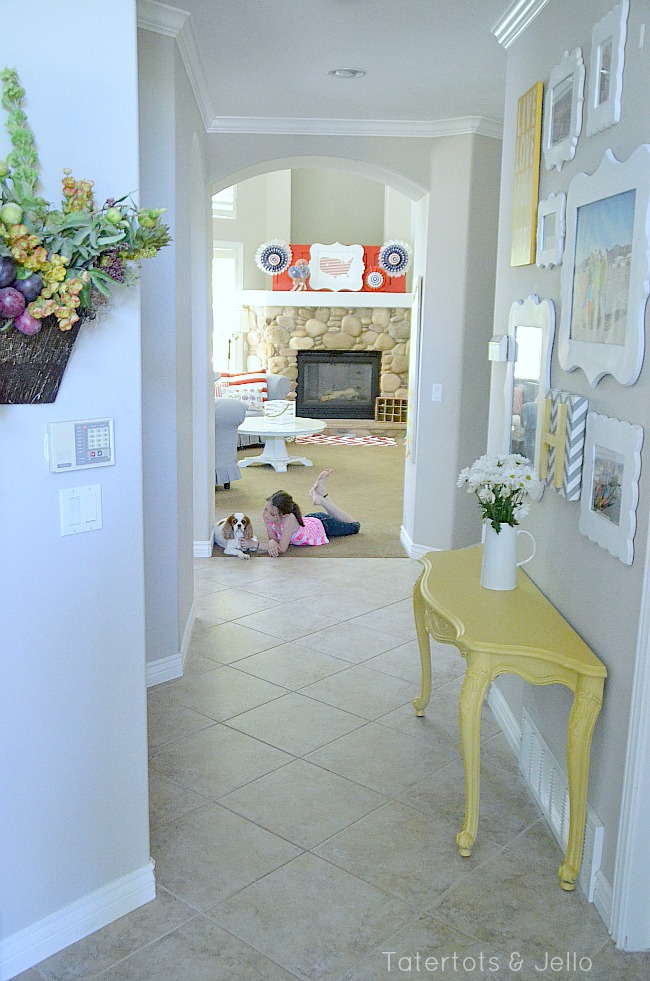 My younger girls have rooms next to each other upstairs with an adjoining bathroom. Hannah's space we redid a few months ago. We stenciled one wall, installed some storage on two sides of the room and I painted her bed. We also gave her chandelier a makeover as well as adding some jewelry storage, a new Scrolly Frame Bulletin Board and a Teen Command Station.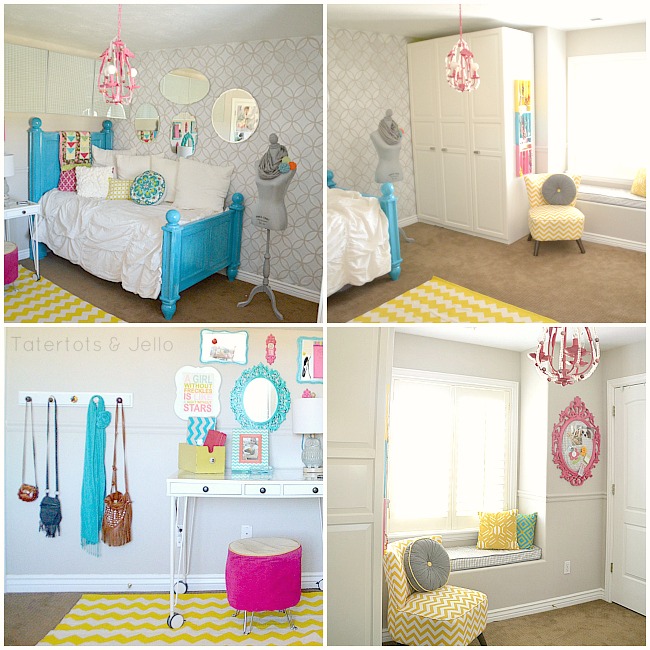 Ella has been begging me for a little room update. When she was younger she wanted a "Chinese Room". So I painted her room a bright melon color, I made some wainscoting with sheet metal. And made a focal point on her ceiling with some Chinese Fans.
My bedroom has been in the works for 3 years. I have a plan now and I am hoping to get it done this summer – yay!!!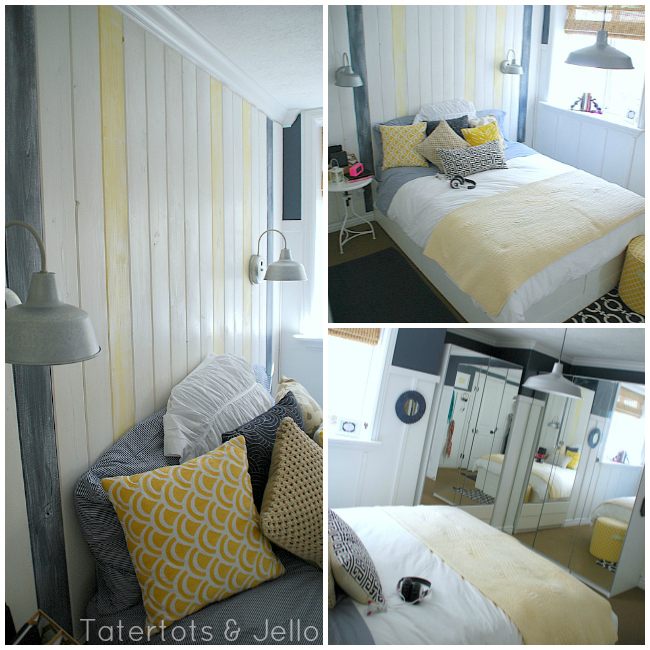 My third, and oldest daughter has a room in the basement. We redid her room about a year ago with a Nautical and Beachy vibe. We created a planked wall with painted and whitewashed planking. Then I put board and batten on the other walls and painted them navy and white. I also added hooks to the wall next to her closet and created a little extra accessory storage. All of these changes really brightened up her room SO much. It is such a different space now and she LOVES hanging out in her new room.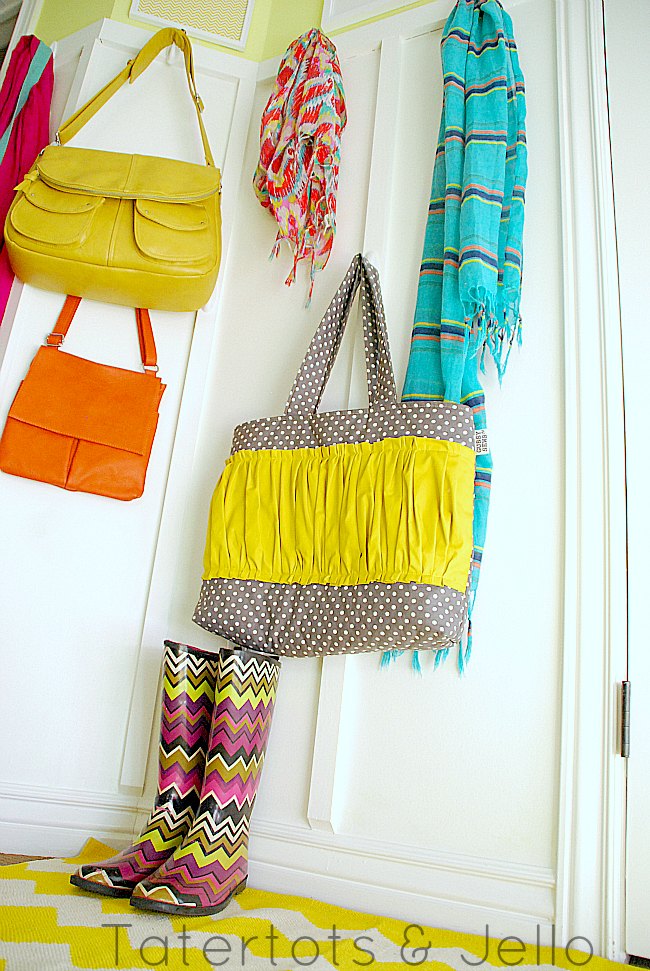 Our guest room is also in the basement, next to my daughter's room. This is one of my favorite rooms now. I painted the room the same color as the rest of the rooms upstairs – Sharkey Grey. Then I planked the focal wall. I wanted this room to kind of coordinate with my daughter's room which is next door. Instead of planking the wall vertically, we planked it horizontally. And whitewashed the boards. I love the way the accent light highlights these planked boards at night. It's so pretty! I also make a Beaded Chandelier for this room.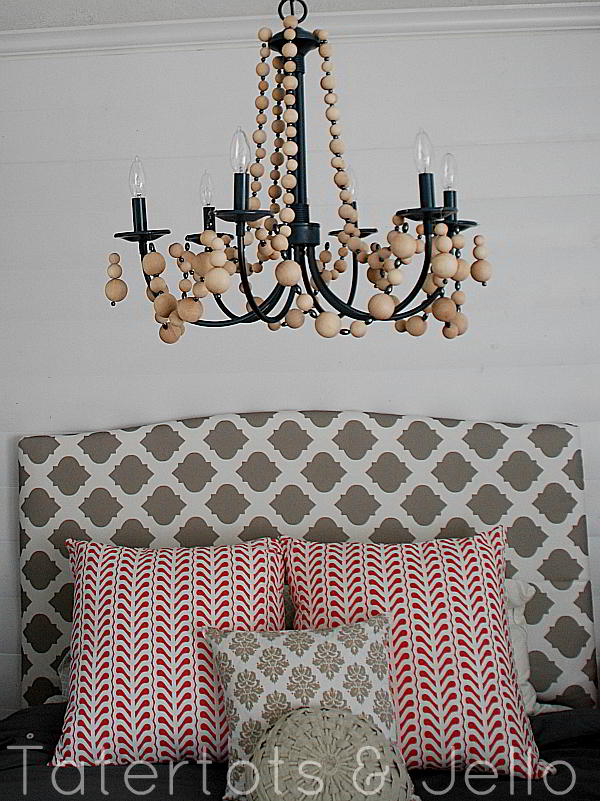 And I made a duvet out of a fabric shower curtain AND upholstered the existing headboard. Another of my favorite projects was the stenciled Greek Rug I painted for the floor. It's such a bright and welcoming room now.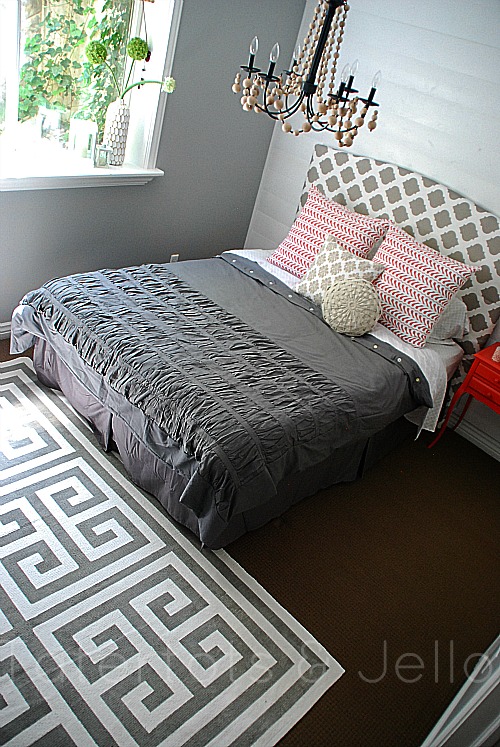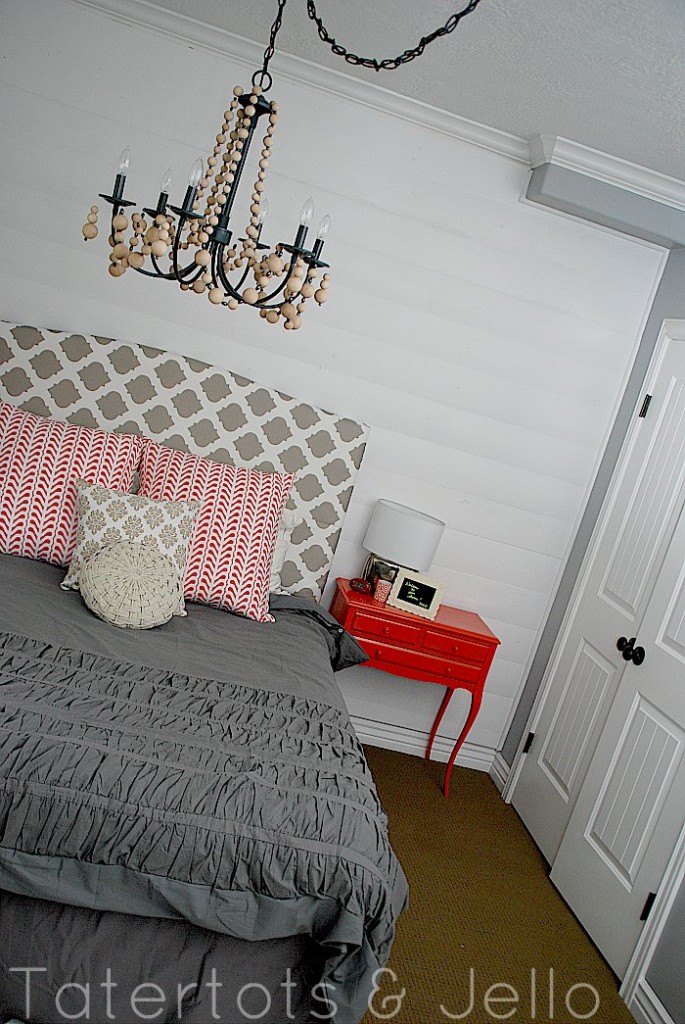 On the outside of the house, this year I painted all of my resin pots YELLOW. And paired with my grey and white outdoor rug, my outdoor space is so happy and pretty now.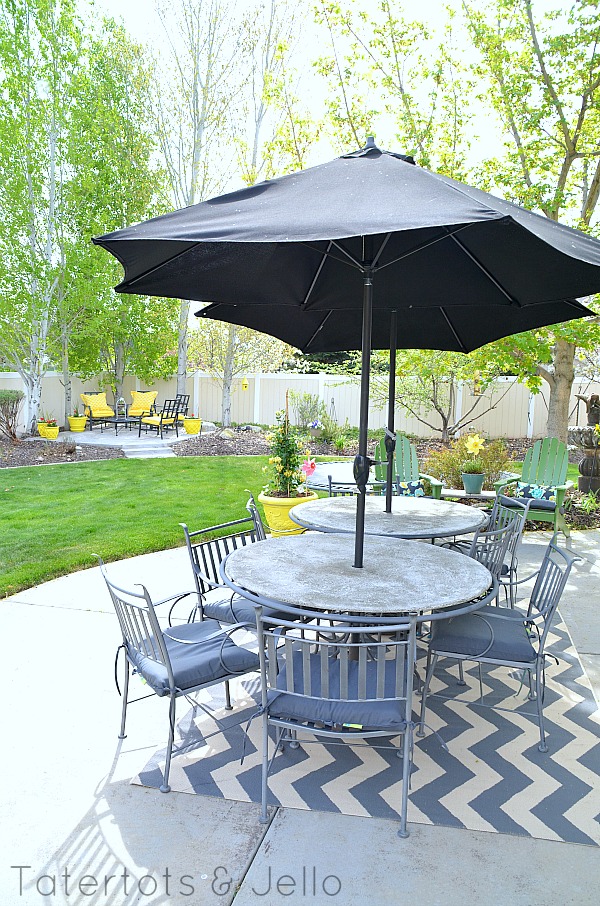 That's my home so far. Some of the spaces that I am working on finishing for 2013 are — my master bedroom, my girls' shared bathroom, my guest bathroom in the basement and my upstairs hallway. I hope you will stay tuned for those projects!!

One thing that has really taken my attention from my home in the last year is my NEW office! It's a 1905 cottage that we purchased last June and it's only 4 houses away from ours. We GUTTED it and have been rebuilding it completely. And I am so excited to say it's almost done!!! It really has been such a labor of love. Mostly because it has so much history in our area and we are so happy to be able to save it and restore it to something that I hope the original owners would love.

Here are a few pictures from this project: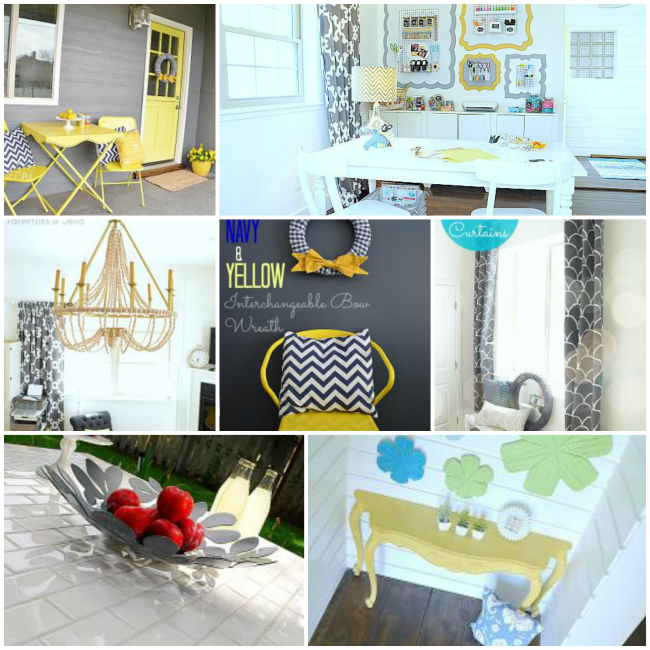 You can find out more about my #1905Cottage here. This is a project that I am just starting to blog about. I am so excited to share more about what we have done and what we have in store for this little gem.
And I have to keep it real. I have four kids. My husband travels. My home gets used and lived in. Most of the time, this is what it looks like around here: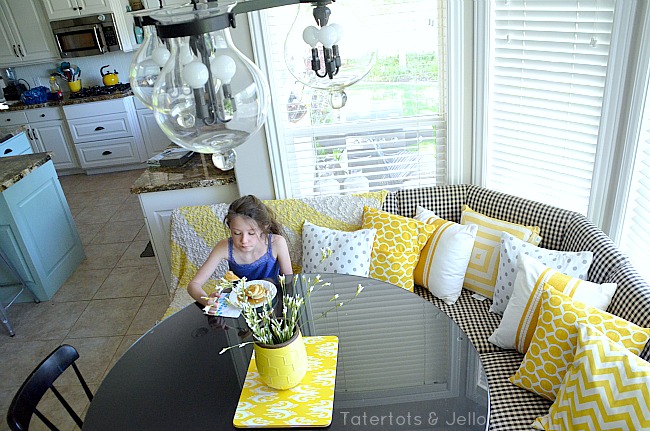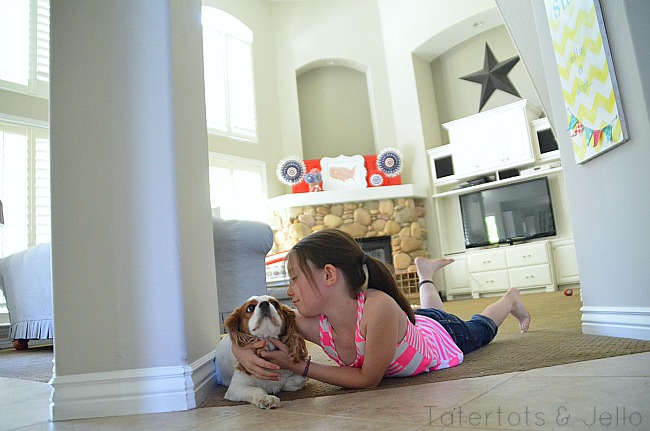 Be sure to head right over to the next house on the tour — Chris from Just a Girl is sharing her home. And it is amazing. You will love it!!!

And here are the rest of the homes on the tour. Plus, you can link up YOUR home on Friday and show it off. And there are prizes too – so fun!
Complete listing of all the home tours
DAY 1 (June 3rd)
– – – – –
DAY 2 (June 4th)
– – – – –
DAY 3 (June 5th)
– – – – –
DAY 4 (June 6th)
1- Rhoda @ Southern Hospitality
2- Traci @ Beneath My Heart
3-Stacy @ Not Just a Housewife
4-Jen @ Jennifer Rizzo
5-Lindsay @ Makely Home
6-Sandra @ Sawdust Girl
– – – – –
DAY 5 (June 7th)
Have a Happy Day!
xoxo