This is a sponsored conversation written by me on behalf of A&W® and 7UP®. The opinions and text are all mine.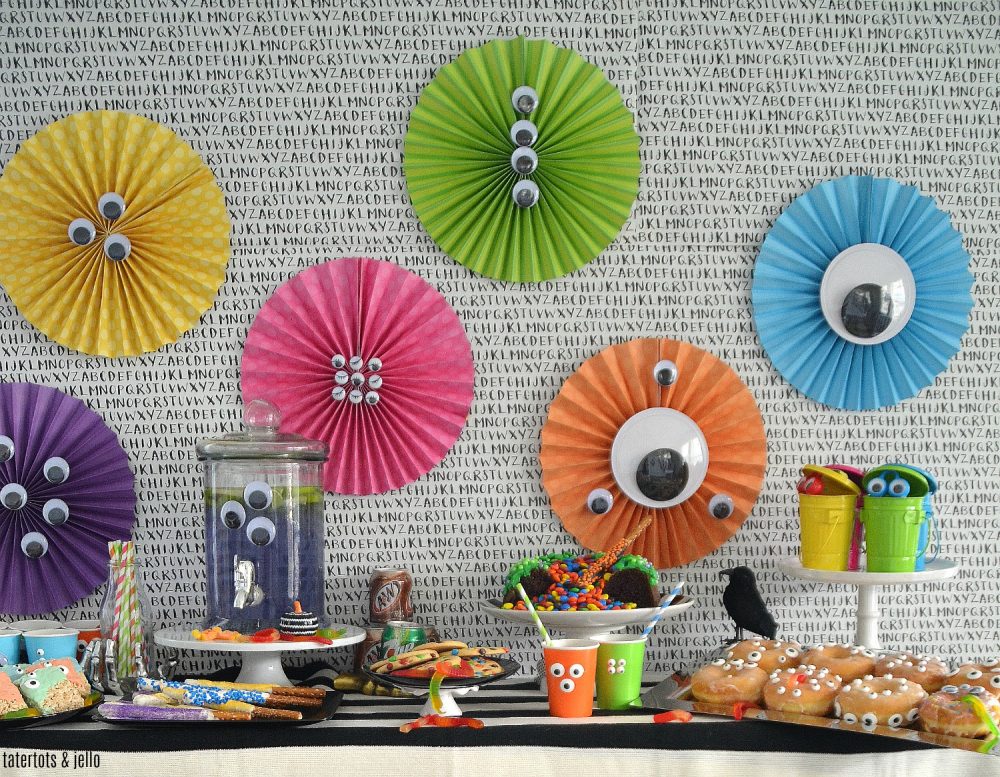 Monster Party Bubbling Witch Candy Cake Party Ideas
I've always loved Halloween. My mom loves to remind me that when I was small I dressed up all year long because I wanted it to be Halloween EVERY day. I still get SO excited this time of the year. I love thinking of new ways to decorate and new Halloween foods to make. Halloween parties are my favorite! So when I was asked by A&W and 7UP to make a Halloween party with recipes using their products, I was thrilled! I love A&W and 7UP AND I love a challenge! Monster Party Bubbling Witch Candy Cake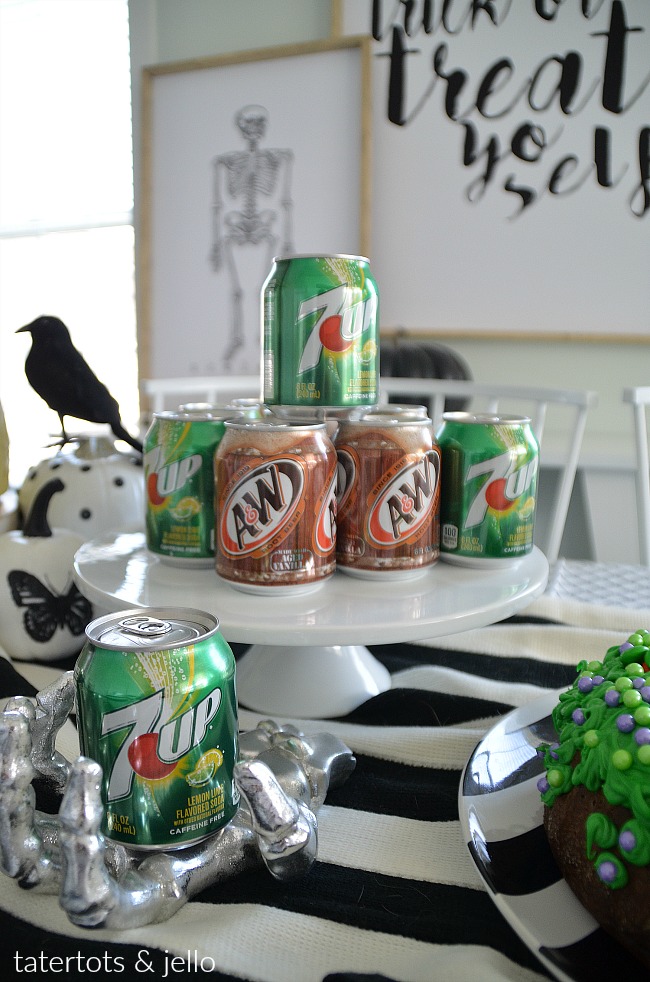 The challenge was to use A&W Root Beer and 7UP to create two Halloween-themed recipes!
A&W and 7UP has the most adorable Mini Monster cans coming out this fall! They are SO festive for Halloween; I thought it would be so awesome to create a Monster Party using these cans as inspiration for the party and incorporate a Witches Cauldron Cake to the Craveyard theme!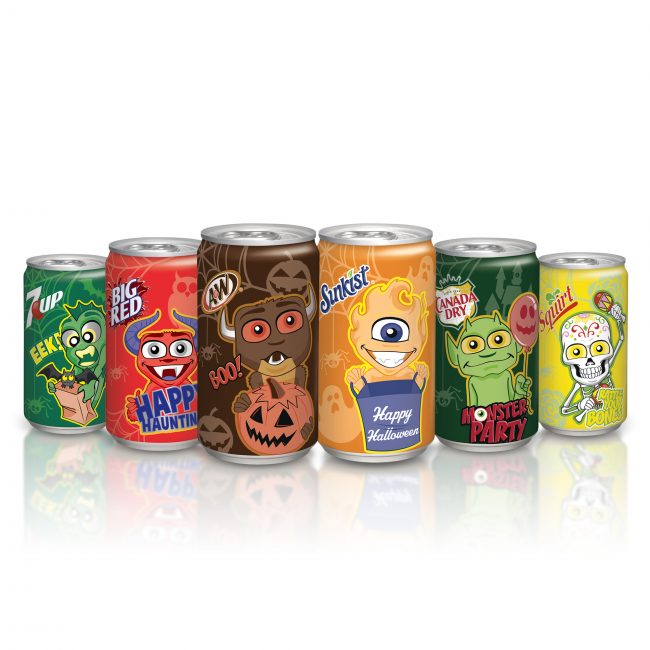 You can pick up YOUR Mini Monster Cans and 2 liters at Walmart stores on 9/15 through 10/31! Mini Monster cans are PERFECT for every Halloween party. Be sure to check them out on Snapchat too – they have a special Snapchat Code that will unlock a special Snapchat filter for 1 hour. There is a ghost icon on the cans and if you hold your phone (with Snapchat open) over the ghost icon and press the ghost icon on your screen (this does not require a video or picture taken) – this process unlocks the Snapchat geo filter!
My kids are SO excited about this!!
Here is how we made this fun and festive Halloween Monster-themed party!
We added googly eyes to donuts.
And we made little monster favors by gluing eyes onto little colored cans which we used as party favors.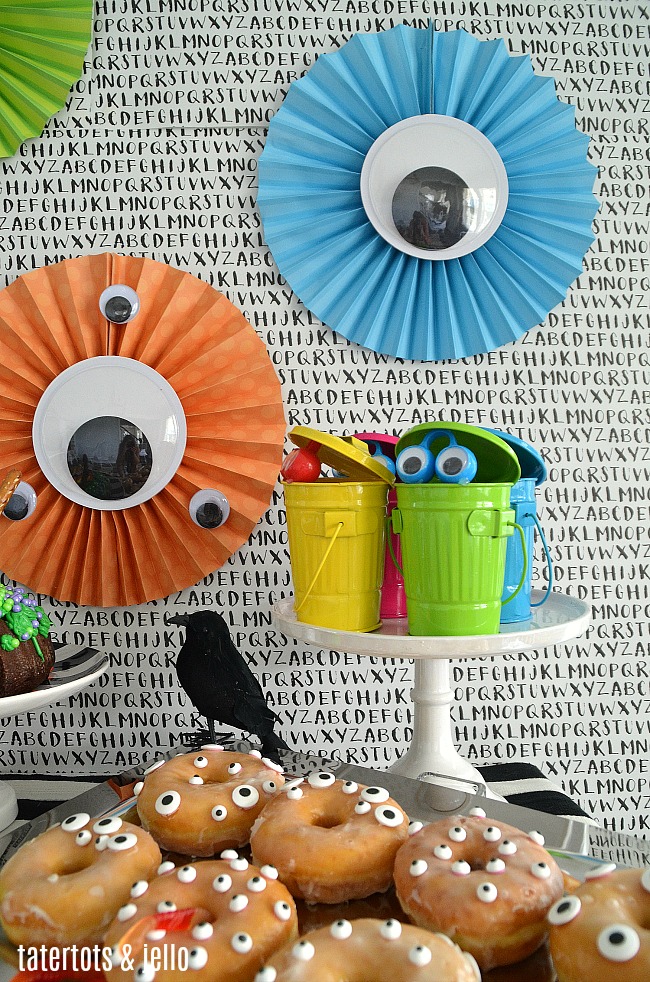 We filled the Monster Favors with candy for our guests!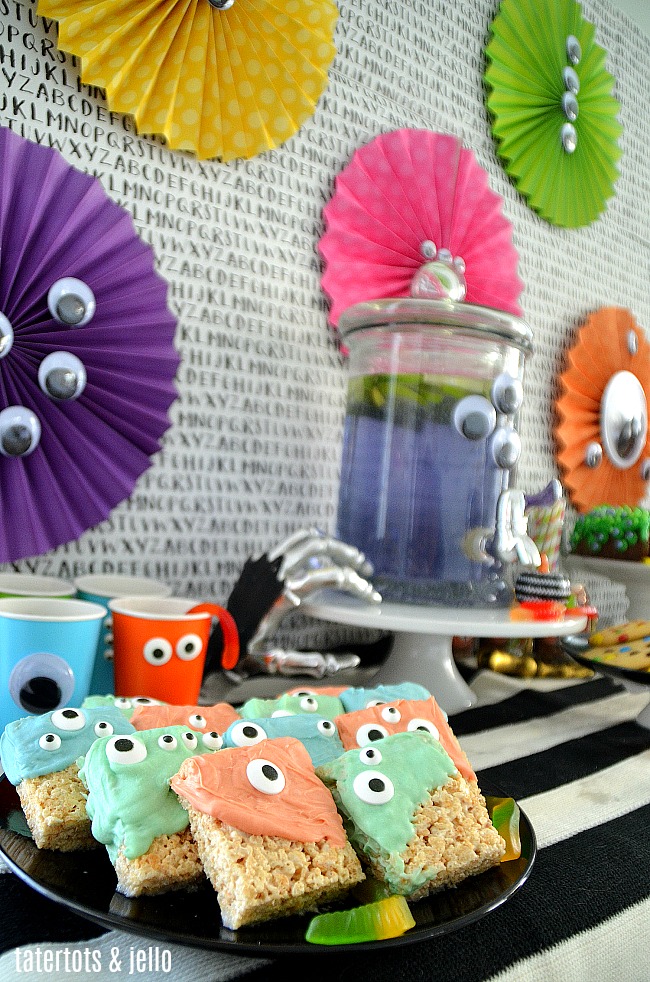 We also dipped rice krispy treats in colored chocolate and added googly eyes. EASY and aren't they cute?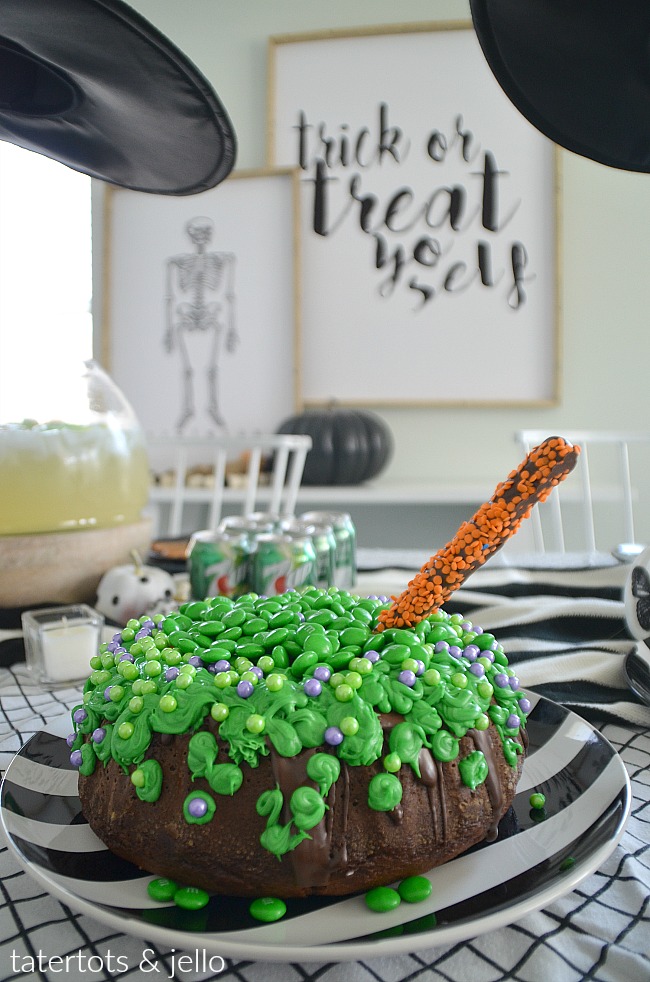 And a Witches Cauldron Cake – with a special candy surprise inside! The secret ingredient in this cake is A&W Root Beer which gives the cake an EXTRA rich flavor.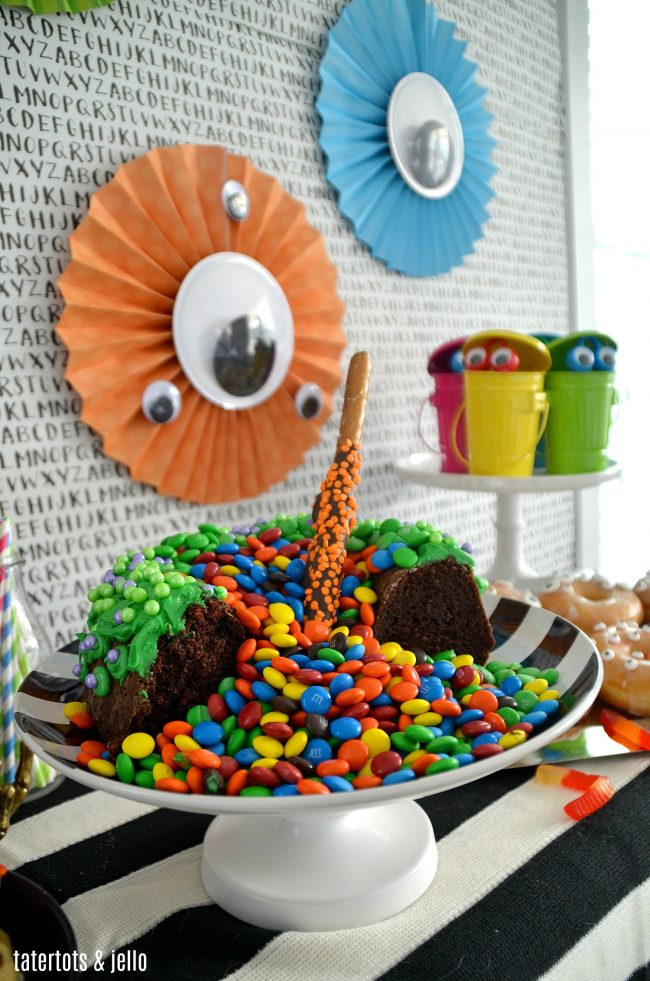 When you cut into the cake a COLORFUL candy surprise pours out!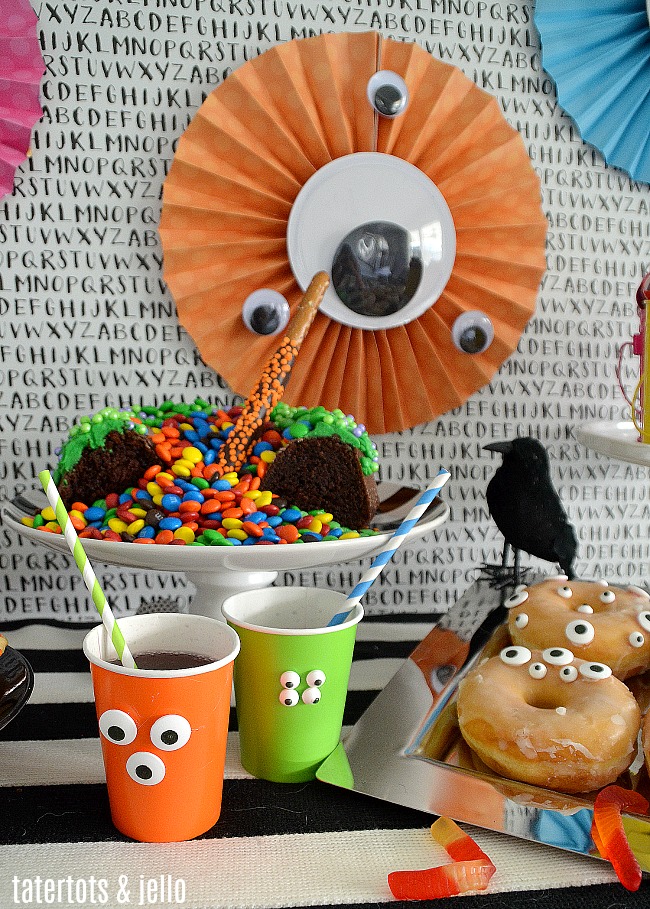 Monster Party Bubbling Witch Candy Cake
The best part about these recipes is they are SO easy – and they are memorable!
This Witches Cauldron Cake will be the highlight of your Halloween party.
Directions:
Witches Cauldron Bubbling Cake with Hidden Candy!
Recipe Type: Halloween
Cuisine: Cake
Author:
Prep time:
Cook time:
Total time:
Serves: 10
Witches Tea Party! Make a Witches Cauldron Cake with candy surprise and more festive Halloween food ideas!
Ingredients
1 Chocolate Cake Mix
1 cup A&W Root Beer
3 Eggs
1/3 cup Vegetable Oil
2 cups m&m's
Green frosting
Green round edible balls (optional)
Instructions
Grease and flour a bundt pan.
Bake the cake according to the directions, substituting the root beer for the water in the recipe. The root beer gives the cake a richer taste.
Let the cake cool completely, then invert the cake onto your platter. Refrigerate for an hour.
Put frosting in piping bag and pipe small round dots all over the top of the cake and down the sides, mimicking bubbles. Sprinkle with round edible balls (optional).
Pick the green m&m's out of your m&m's and set aside.
Fill the center of the cake with m&m's.
Layer the green m&m's on top to camouflage the rest of the candy underneath.
Serve – when you cut into the cake, the hidden candy filling will spill out!
We also made a refreshing Lime 7UP Punch!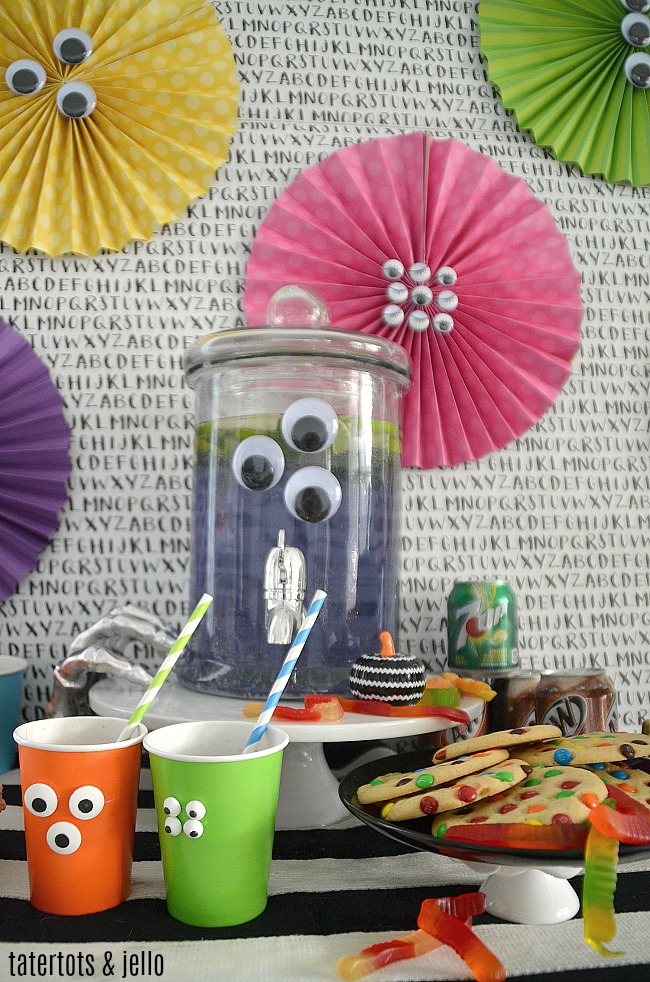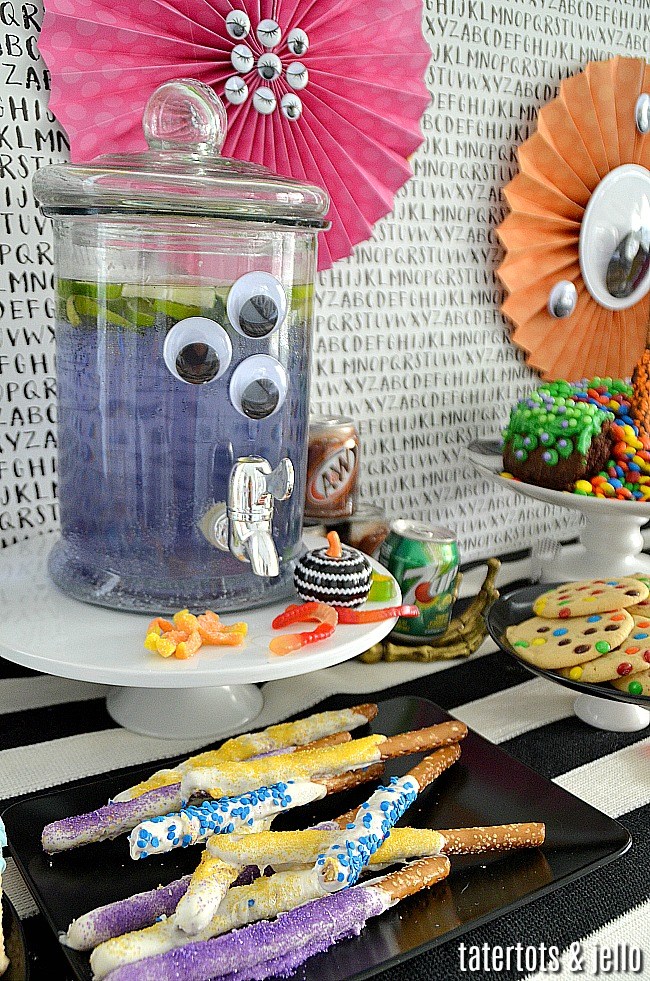 To make the punch, fill a container with ice, add a 2-liter bottle of 7UP and a 2-liter bottle of lemonade, a little blue food coloring and some lime wedges. YUM!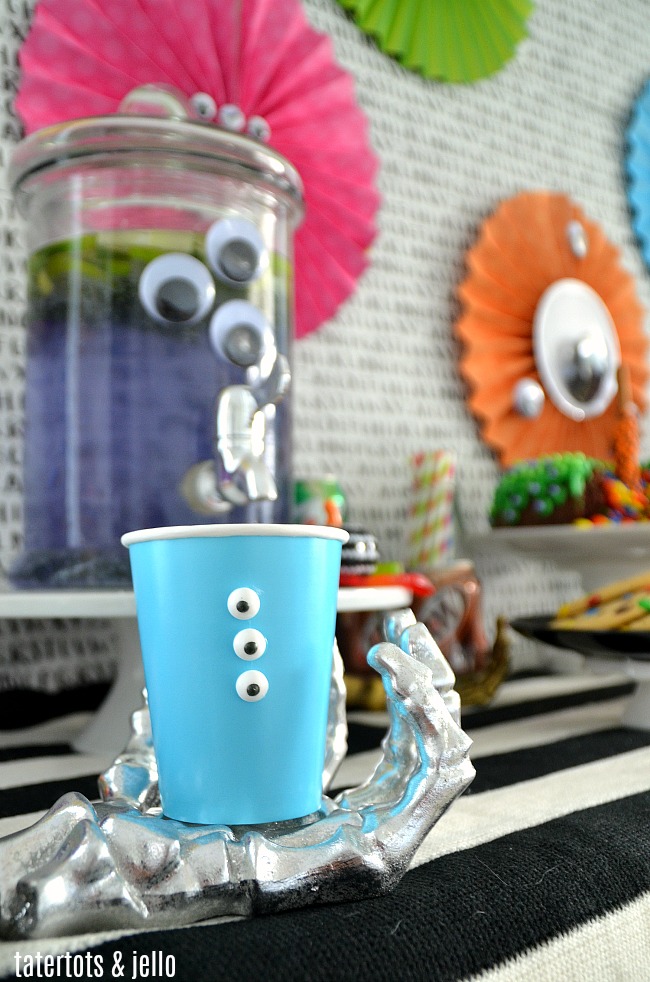 We embellished the cups with googly eyes. And we added different size googly eyes to paper fans for the backdrop. SO easy!
Check out TheCraveyard.com for more Halloween recipe inspiration!! I can't wait to see all of the recipes and inspiration!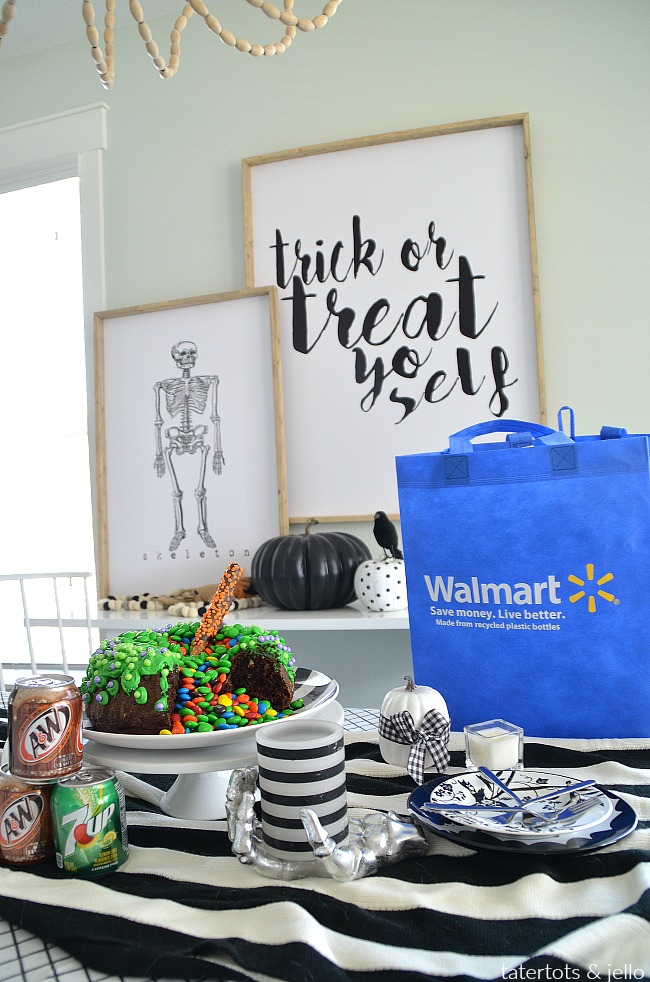 Monster Party Bubbling Witch Candy Cake
I've been shopping at Walmart for years – they have amazing prices. They have everything for YOUR Halloween needs. I got all of the ingredients for the recipes used in our Monster Party there.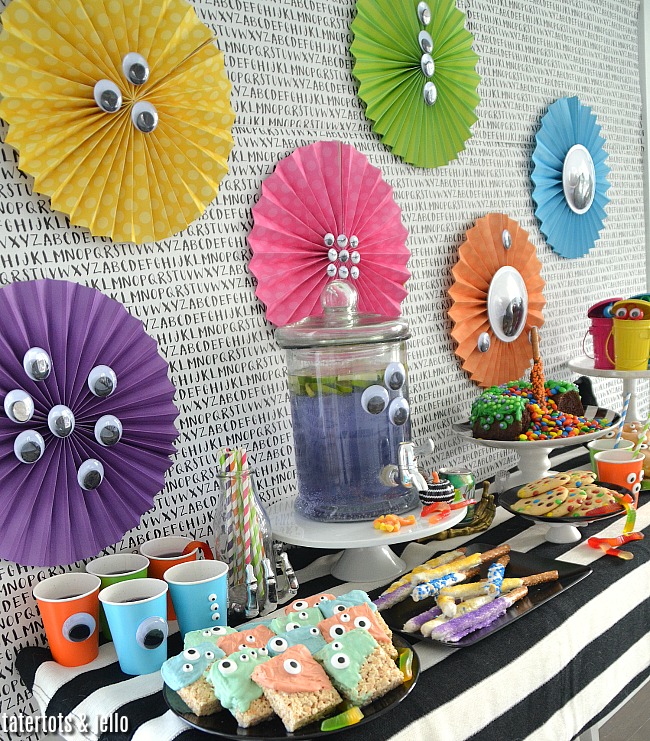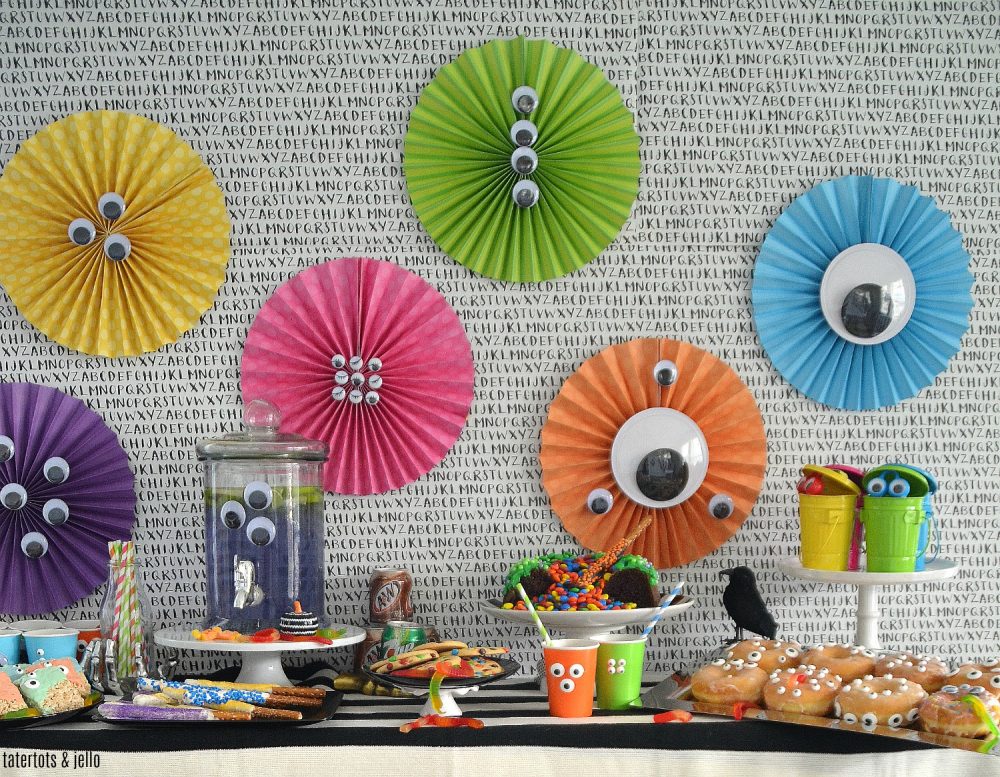 We had such a fun Monster Halloween Party!
We hope you enjoyed these easy ways to throw an AWESOME Halloween Party! And be sure to pick the adorable Mini Monster cans in Walmart on September 15th. I'll see you there!
xoxo