6 Ways to Create a Modern Farmhouse Halloween Entryway. Just because a space is small, doesn't mean it can't be BIG on style. Use removable wallpaper, spooky accents and an over-sized print to create a delightful Halloween space!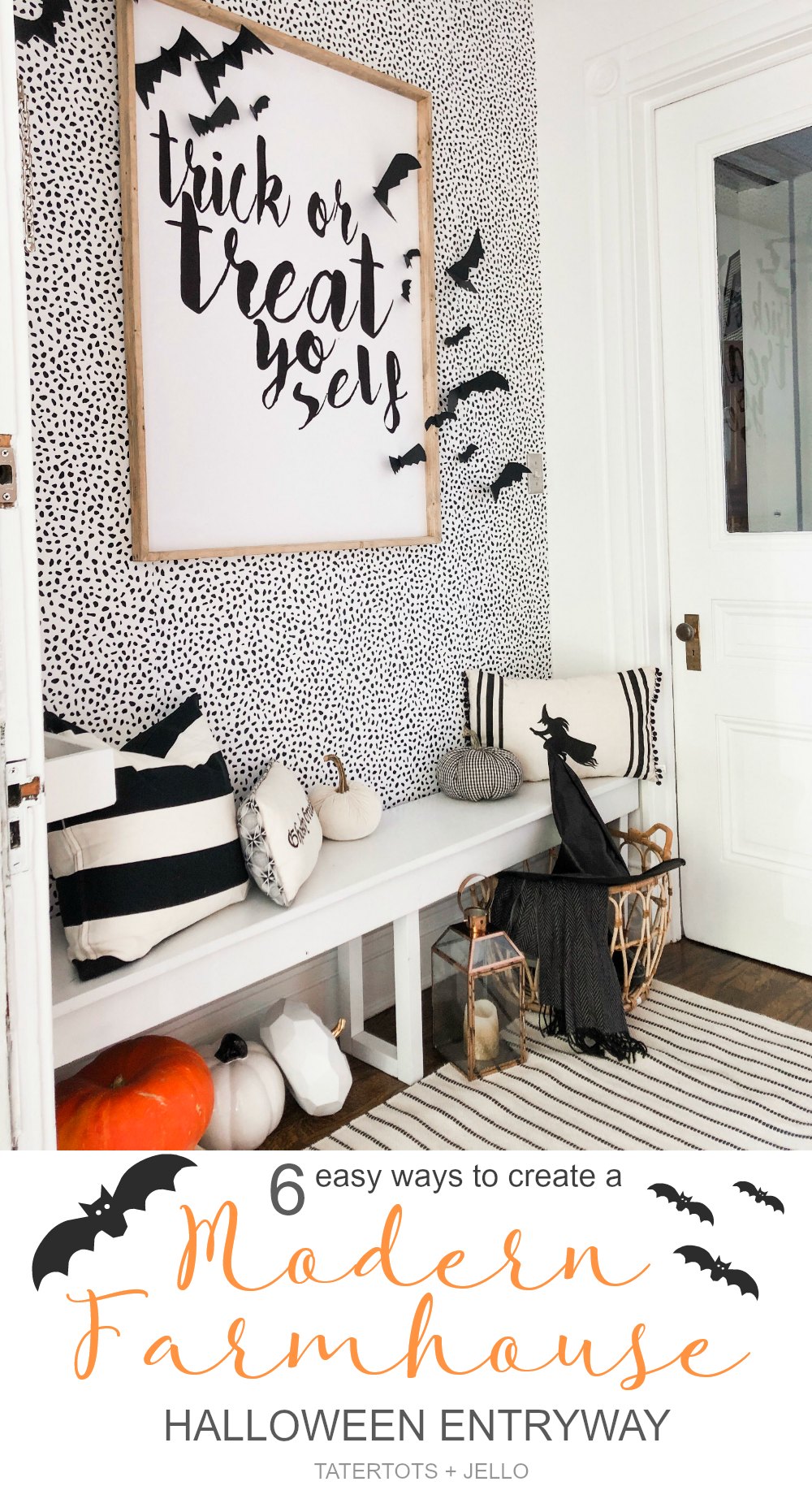 Modern Farmhouse Halloween Entryway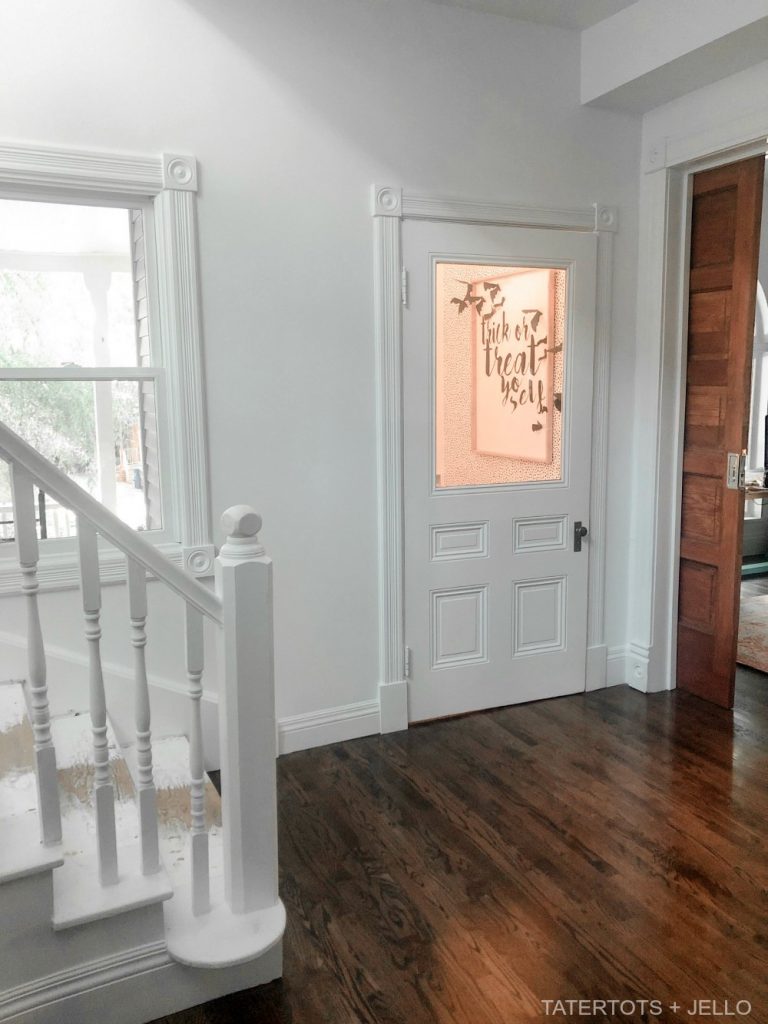 We recently moved into an 1891 cottage which we are renovating in Salt Lake City's Avenues neighborhood. It's a dream come true!! I love all of the quirkiness of old homes. One of my favorite things about our new OLD house is the tiny entryway at the front of our home!
20 Spooktacular Halloween Ideas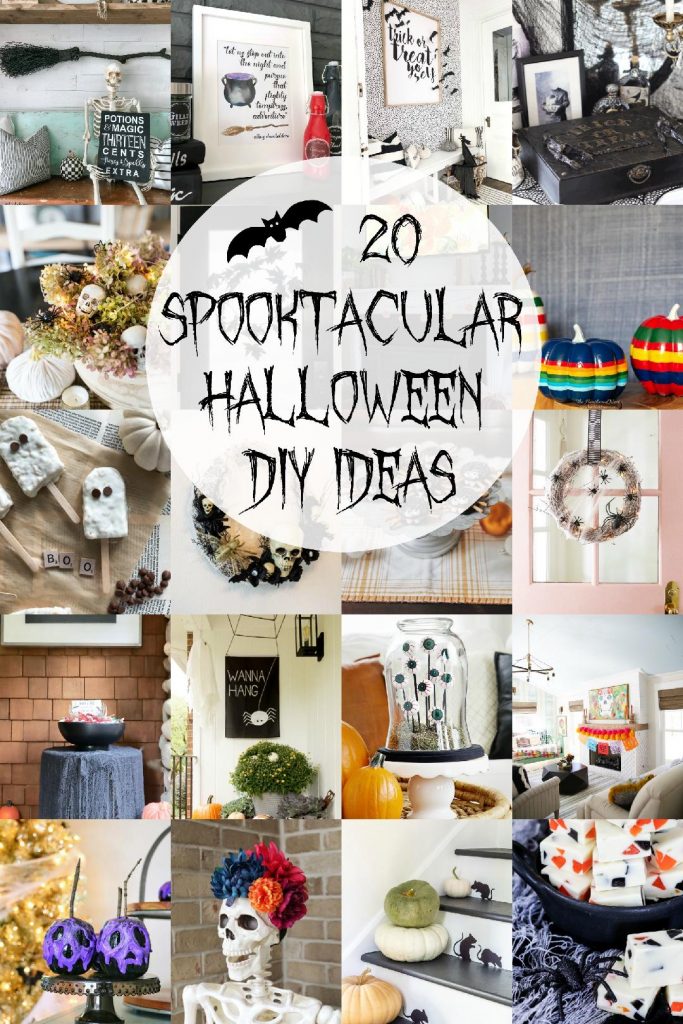 I'm joining 19 other creative friends to share easy DIY Halloween projects today! They look so spooky and fun! Be sure to scroll down to the bottom of the post and click over to see the tutorials. I love pinning projects onto my Pinterest Boards so I can quickly find them to make later.
Small Rooms Can Have Big Style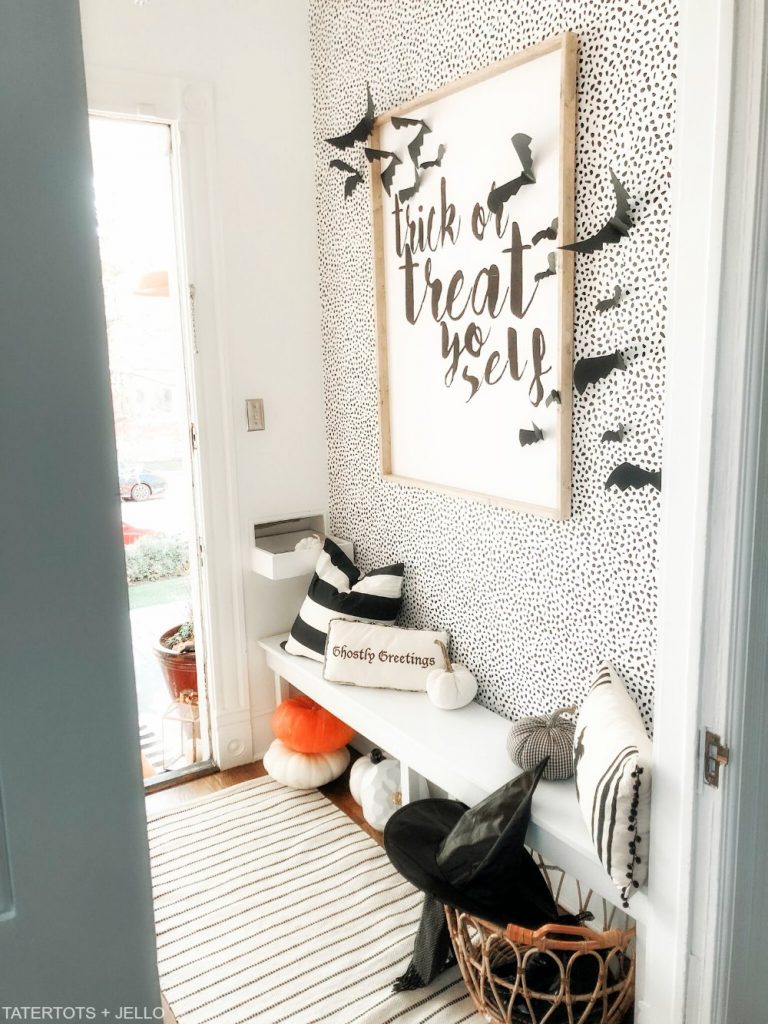 The room itself is less than 6-feet x 6-feet with an inner door to the main parts of our house. I think old homes then built this entryway area as a way to keep the houses warmer in the winter. I've noticed that when we keep the inner door shut it really does keep the cold out. And the inner door has the original doorknob and hinges which I LOVE!
This entryway room was one of my favorite things about the house as soon as I went through the home. I loved the size of it – it's so cozy! And the ceilings are so high that it makes the room seem not as small. Another thing I love about the room is it has a mail holder right underneath the mail slot. I still cannot believe that the mail comes right to my house! It's amazing!!
6 Ways to Create a Modern Farmhouse Entryway
I'm sharing six easy ways I created this Modern Farmhouse Entryway. These ideas would also work on any small space, like an accent wall, you want to style for Halloween!
Removable Wallpaper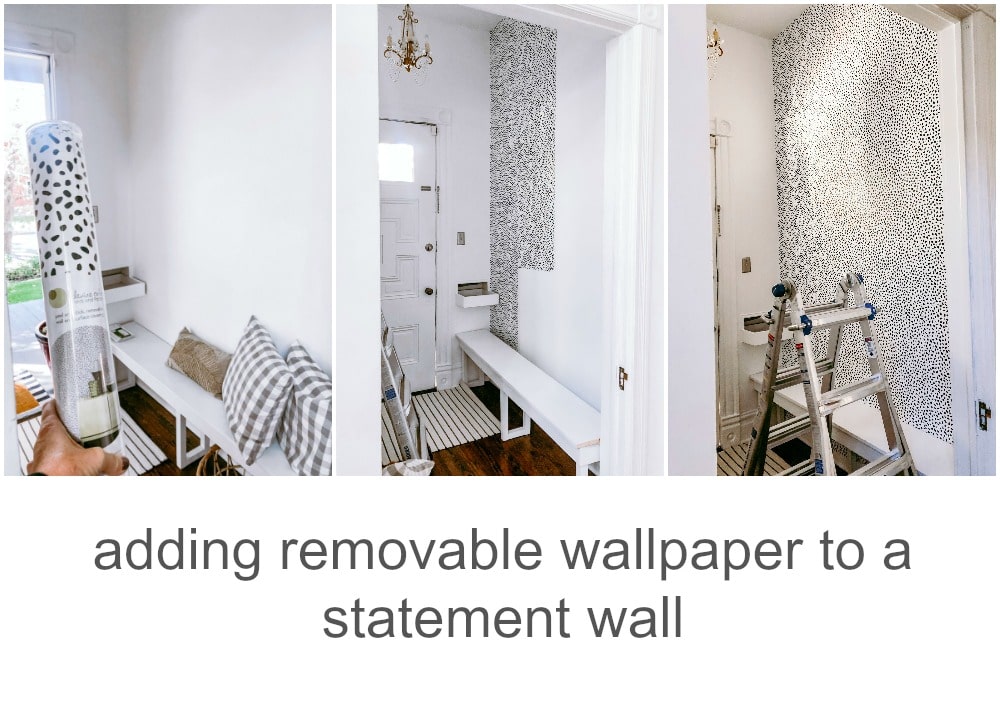 Can I just say that removable wallpaper is magical?? I really believe this. When we bought our first home in Utah 18 years ago it was filled with wallpaper. And I tell you, it was SUCH a pain to get that wallpaper off. Hours and hours and hours of scraping and peeling and sanding. Ugh. I swore I would never wallpaper anything in my life after going through that. Fast forward to now and I am obsessed with removeable wallpaper.
Removeable Wallpaper is Easier to Install
It's inexpensive, it makes a statement and it peels on and off so easily. I probably re-positioned the first row of this wallpaper 20 times until it looked straight. You see, this home has walls that are so crooked because it's almost 130 years old.
Removable Wallpaper is Easy to Change Out
I also have decorating ADD and I get tired of things really quickly. So I know I wouldn't be able to wallpaper something and live with it for 10 or 20 years. Removeable wallpaper is easy to change out. It's the perfect way to create a statement wall.
Pick a Neutral Pattern and Use it All Year
I love the pattern on this wallpaper and I plan to leave it up past Halloween. I think it will be so pretty styled for Christmas and I already have the room planned out for that holiday too!
Hang an Oversize Picture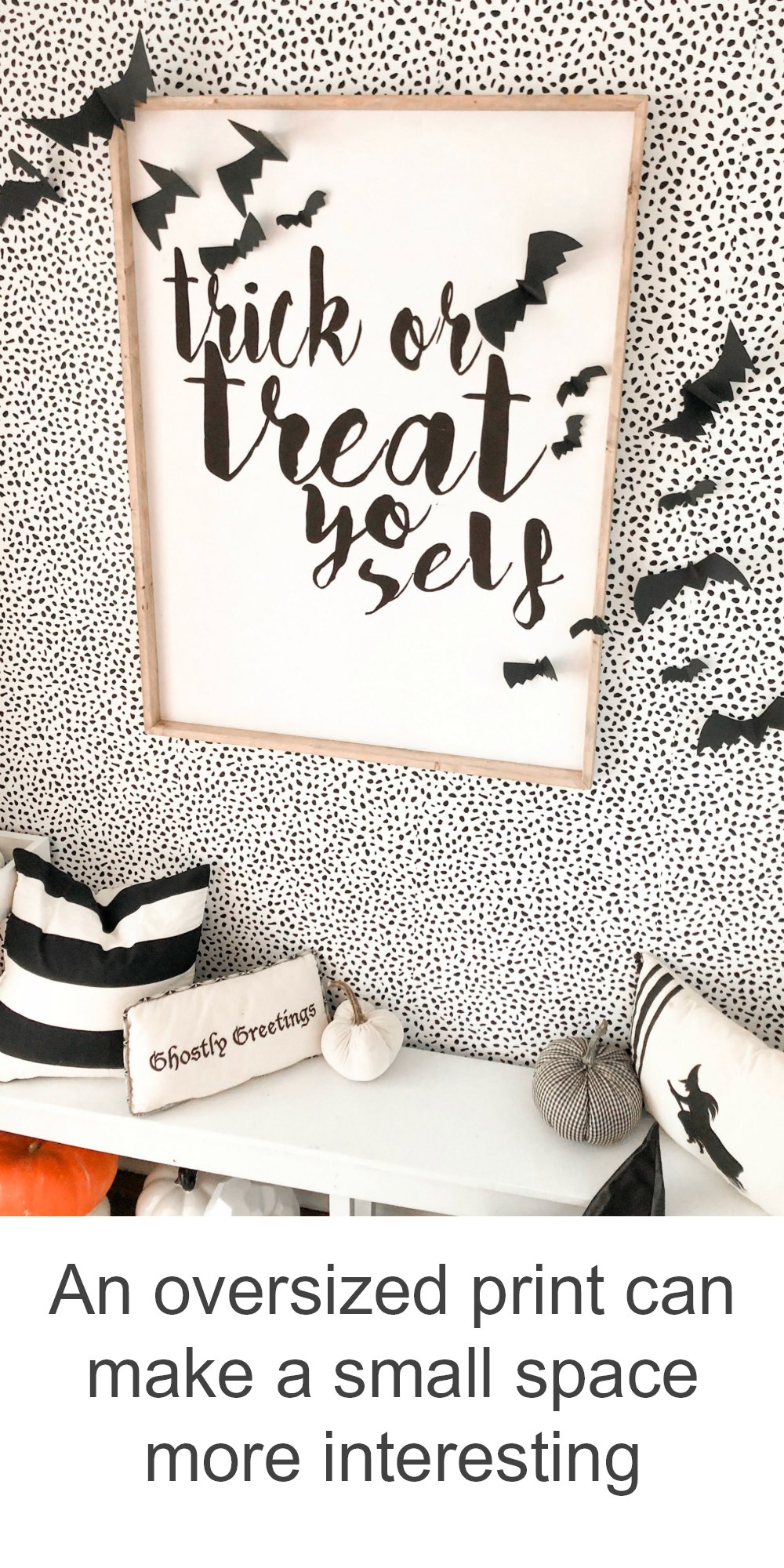 I think a huge picture in a small space really makes things more interesting. I love hanging a giant picture on a smaller wall. This is one of my favorites from one of my most loved handmade shops — Sincerely Us. Check out their shop – everything is so pretty and simple. I also have a few other framed prints from them that I can hang in this space when it isn't decorated for a holiday.
Add Bats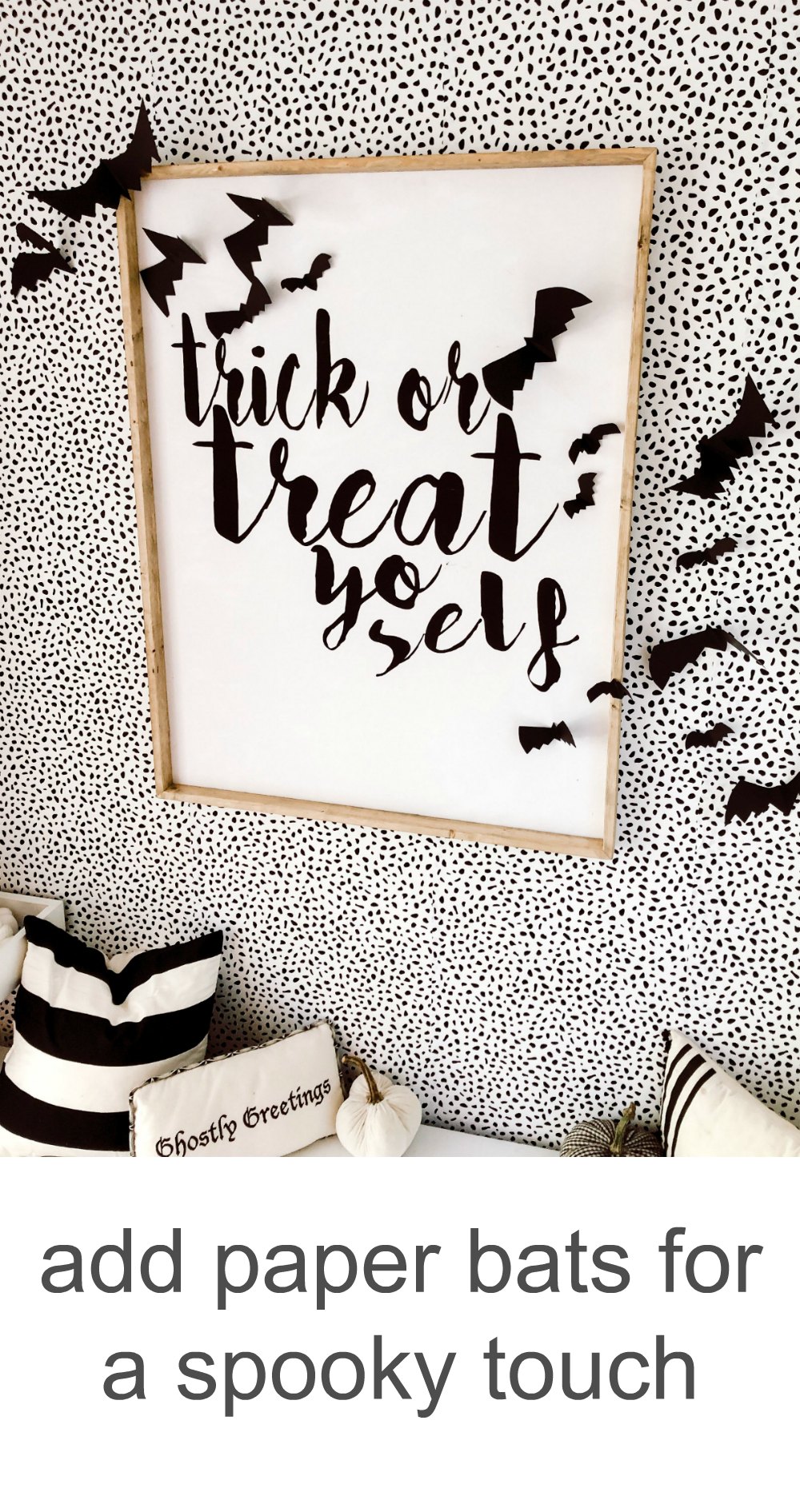 Adding paper bats to a wall or farmed print is so easy to do. I love the way the bats look three-dimensional. All I did was cut them out of paper and fold them in half. Then I used a little tape to hold them onto the paper and the wall.
Hang a Shelf or Add a Bench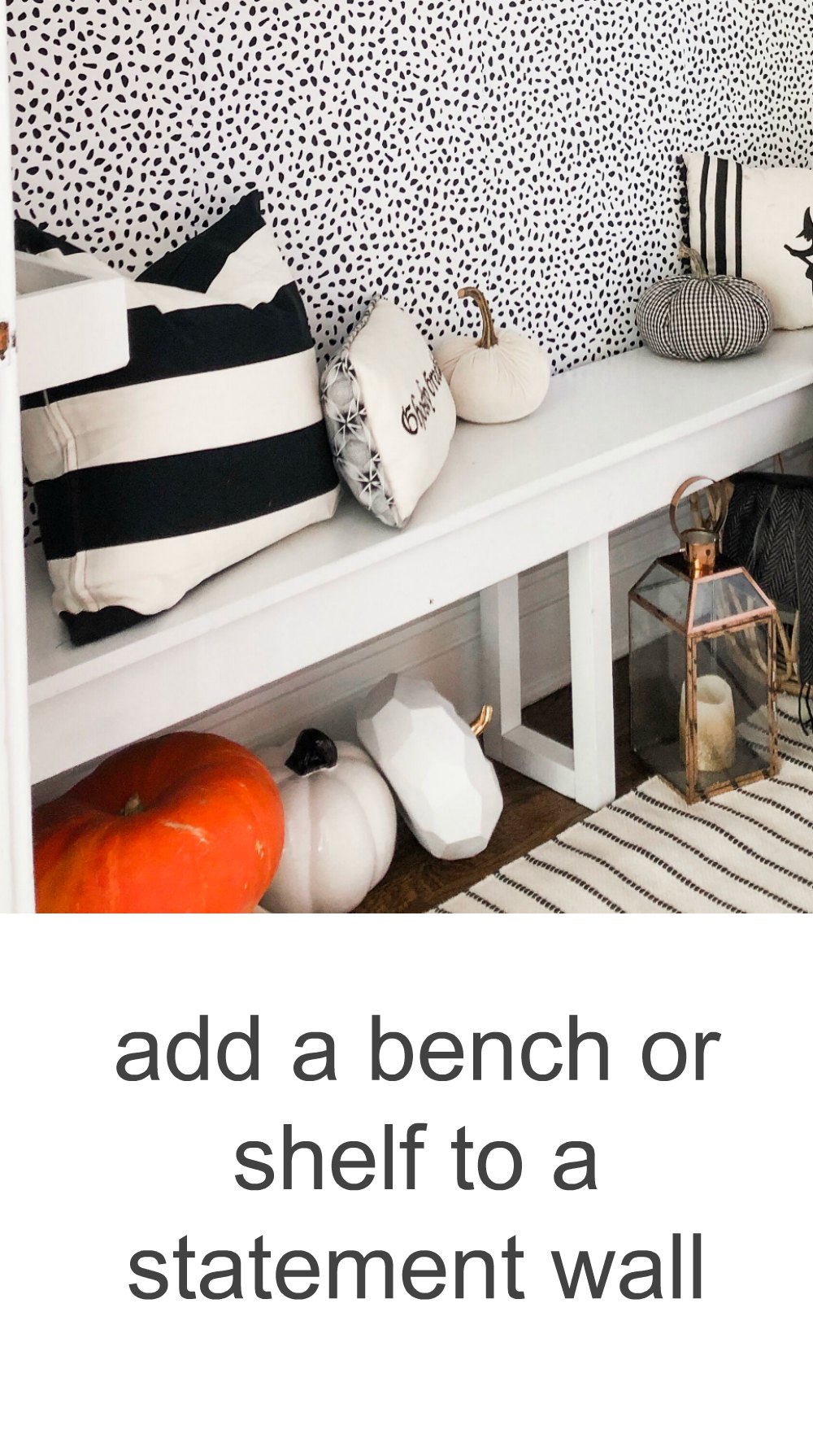 A shelf or a bench is a way to spotlight some Halloween items. Since my space is an entryway, I wanted to add a bench so that people can come in and take their snowy boots off. I added a basket under the bench so there is a place to store the shoes and boots. But if you are styling an accent wall, you can add a shelf under your framed print and add some spooky elements to the shelf.
Pillows and Other Halloween Items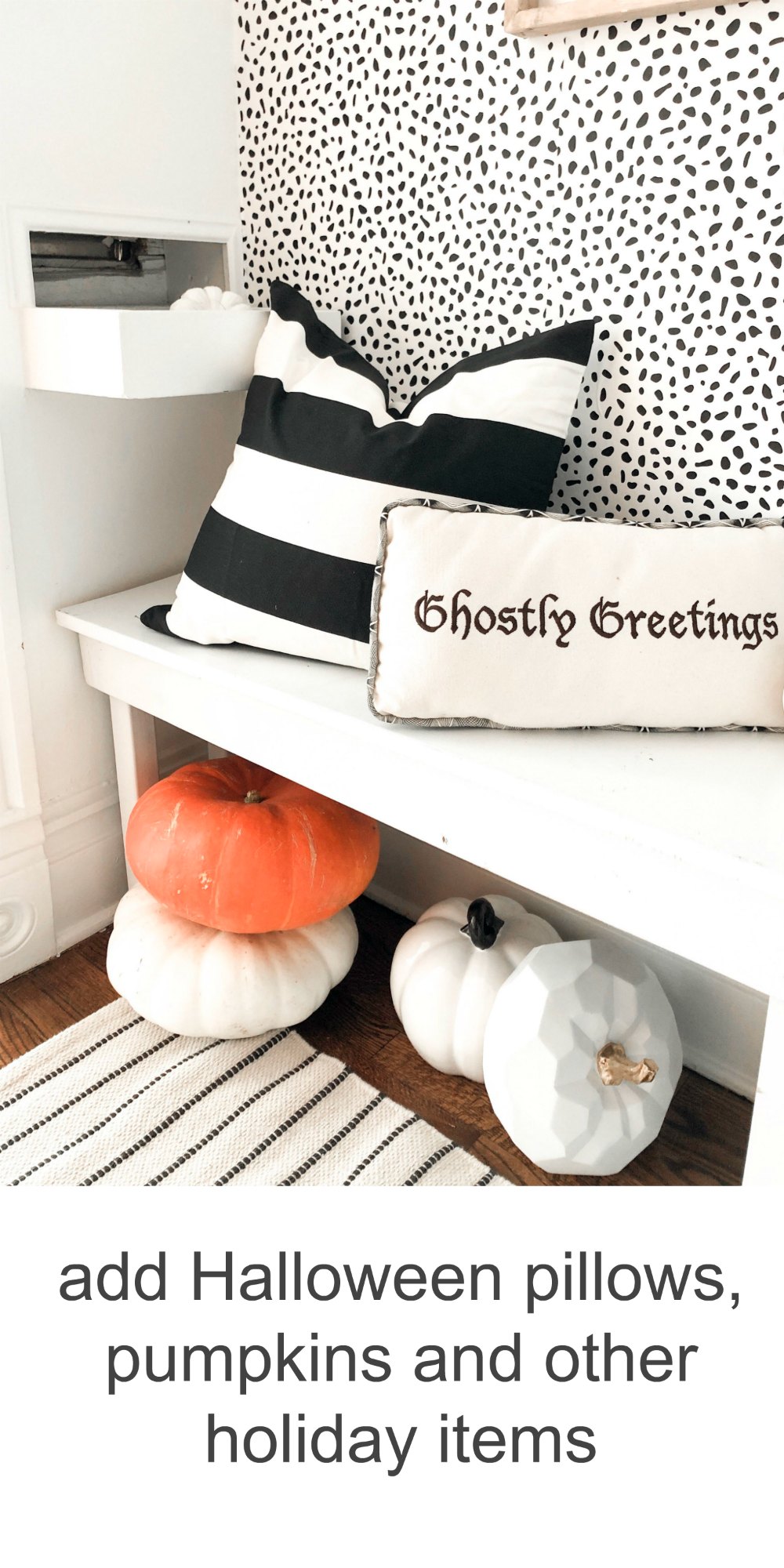 I added some black and white Halloween pillows to the bench. I also added some pumpkins on the bench and under the bench.
Include a Lantern or Other Light Source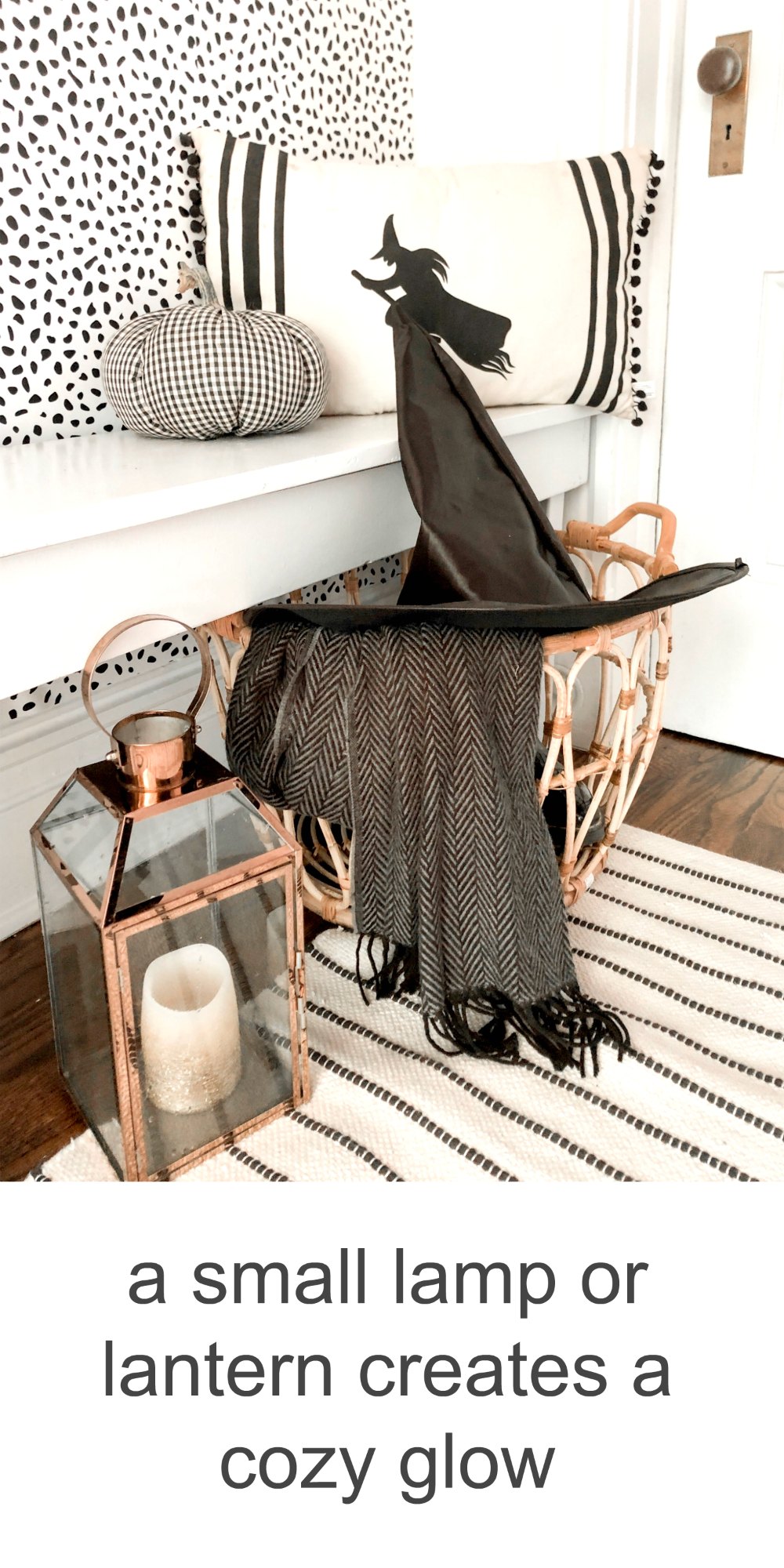 Something that really adds coziness to a small room is a small lamp or lantern. I love the way a small light source glows inside a small room, instead of the overhead light. I added a pretty rose gold lantern with a batter-operated light.
So that's it! 6 ways to create a Modern Farmhouse Halloween Entryway! I love that I can leave the main big elements in place and change the room up for different holidays so easily!
20 Spooktacular Halloween Ideas!
 Today I'm joined by a talented group of blogging friends who are also sharing their Halloween DIY ideas with you! Just click on the links below the images to be taken to see their full post...     
Pin It For Later!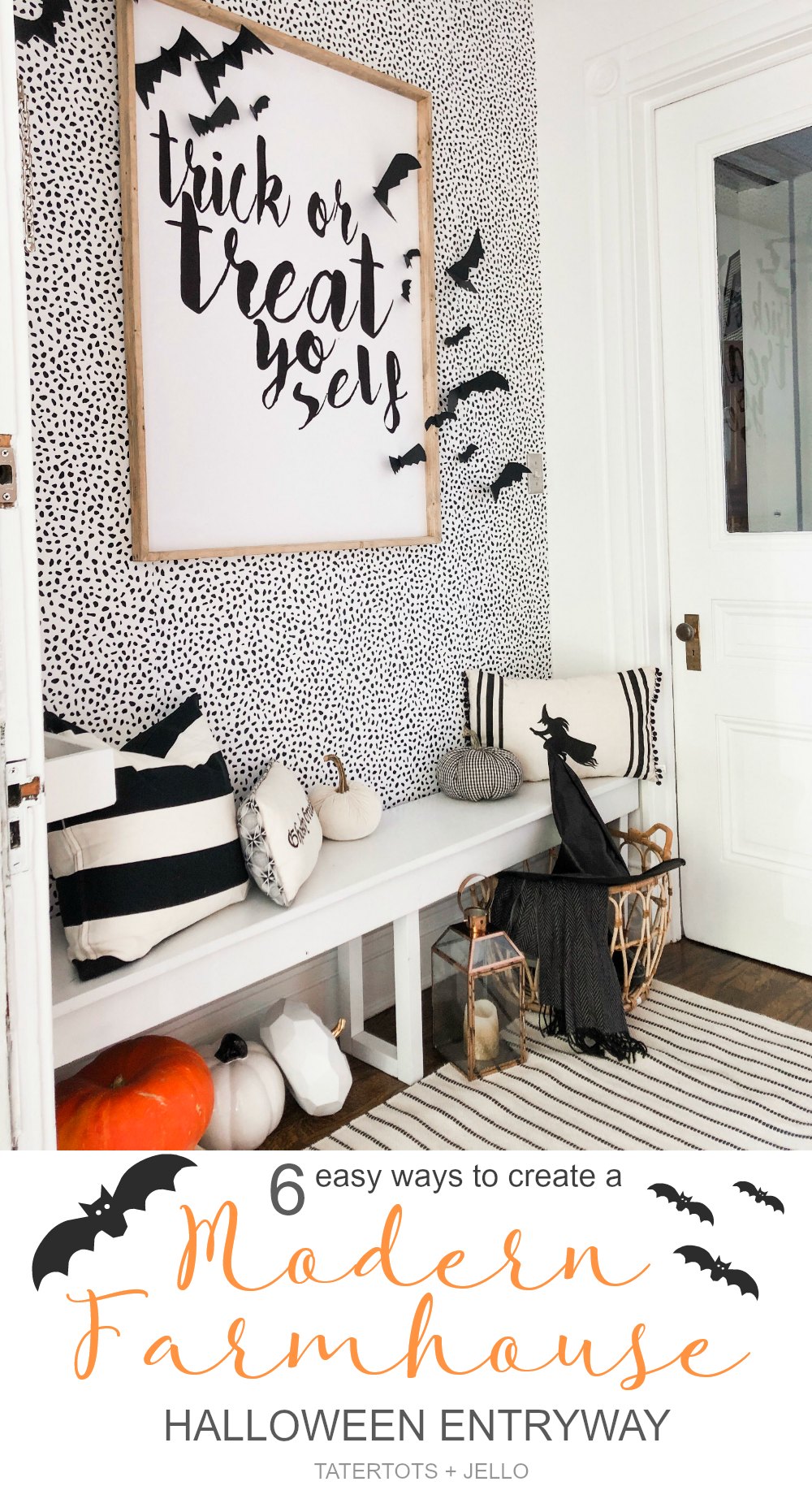 Have a Spooky Day!
xoxo