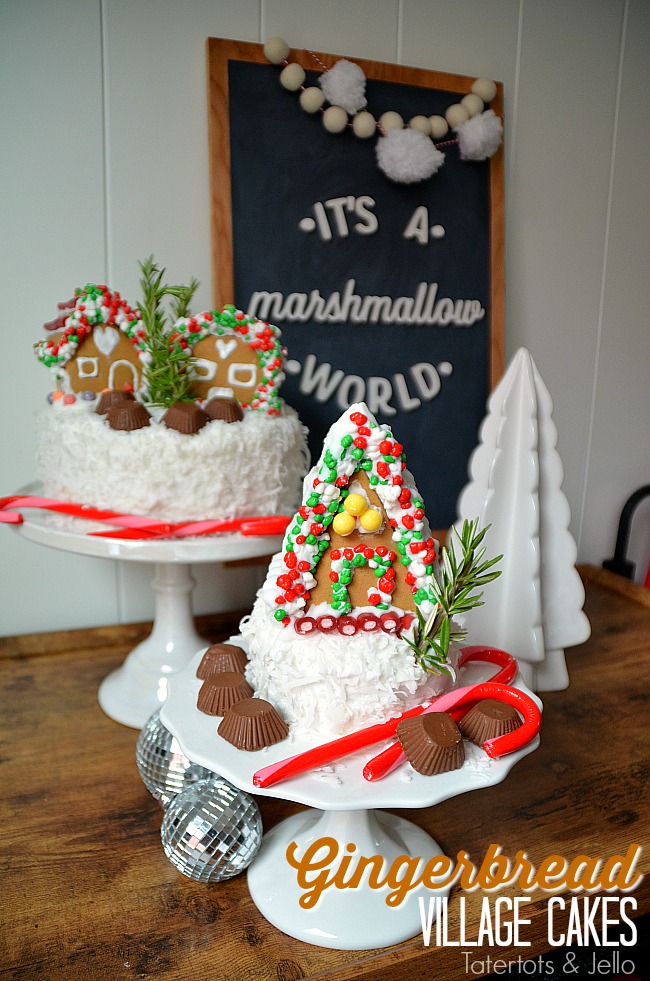 One of my favorite days of the year is my annual Tatertots and Jello cookie exchange
It's this Saturday, December 15th if you want to come.
---
---
Mini Gingerbread House Cakes
---
---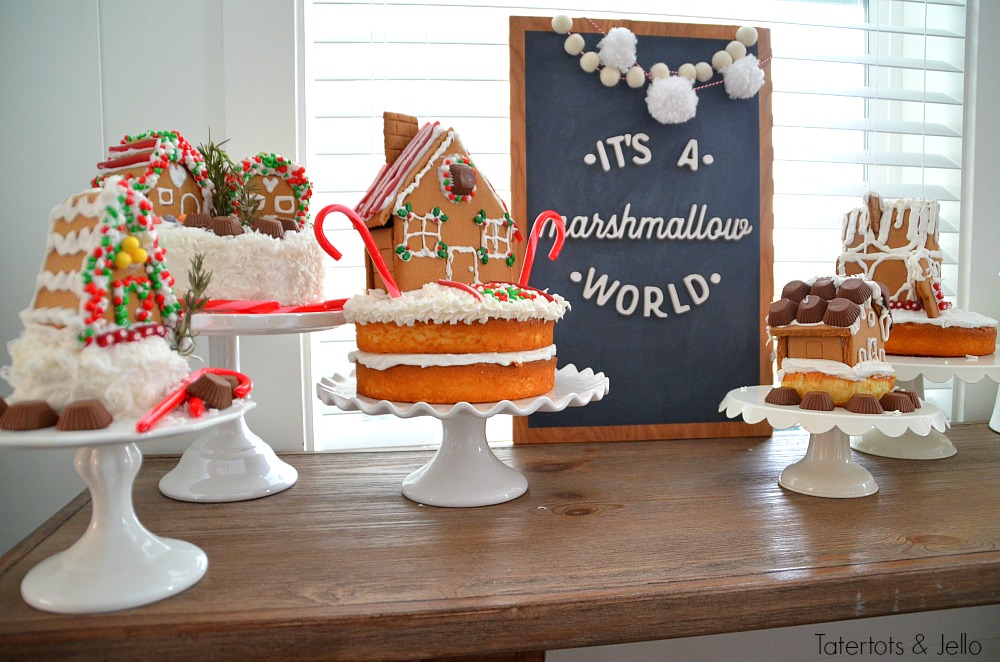 ---
Mini Gingerbread House Cakes
---
I love seeing all of the different cookies everyone brings but I also love making food for the party. A couple of years ago I made mini cakes with gingerbread houses on top. It was so simple to do.
Bake Simple Cake-Mix Cakes
I just made a few boxed cakes in different sizes. I iced between the cakes but left some naked.
Frost Some of the Cakes
I also frosted a couple of the cakes and sprinkled them with coconut and sprinkled them with coconut – like snow!
Kids Love Decorating Gingerbread House Cakes
To make things easier I used a gingerbread house kit. The one I found had four houses in one kit. The houses are mini gingerbread houses and perfect to sit on top of a cake! It's fun to see how everyone decorates their houses differently!The kids had a fun time helping me decorate the cakes!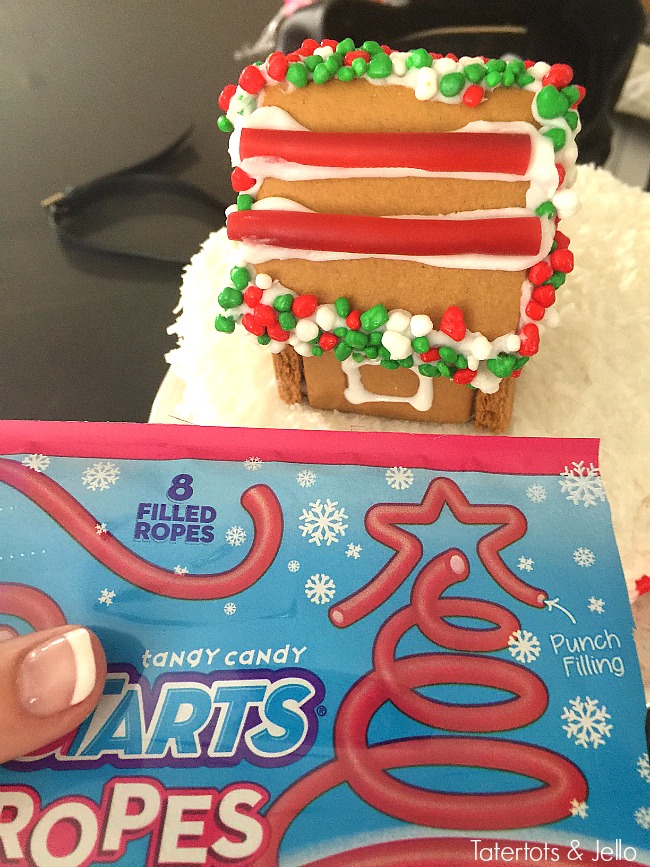 Use Simple Candy to Decorate Gingerbread House Cakes
You can use any kind of candy that you want to decorate our houses. I bought a variety.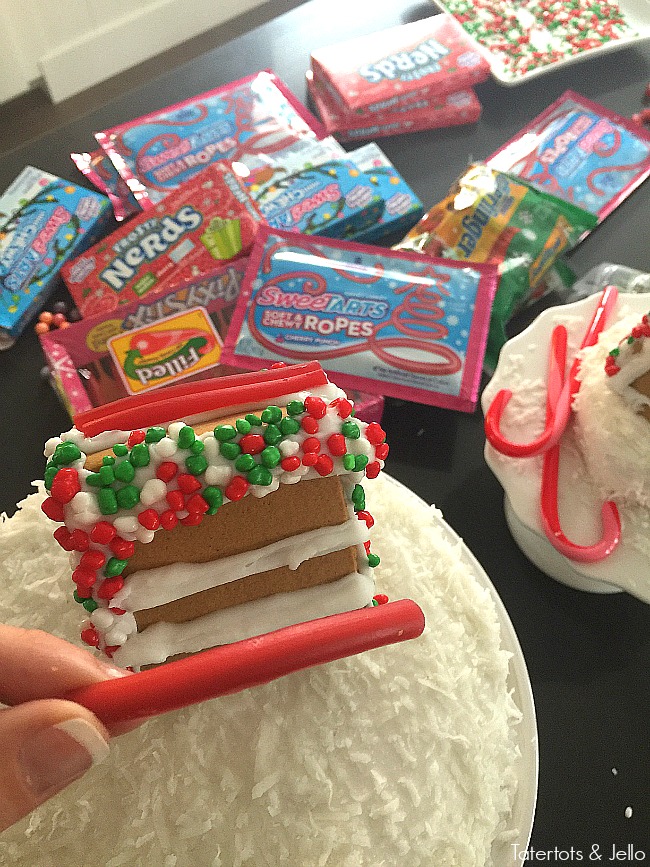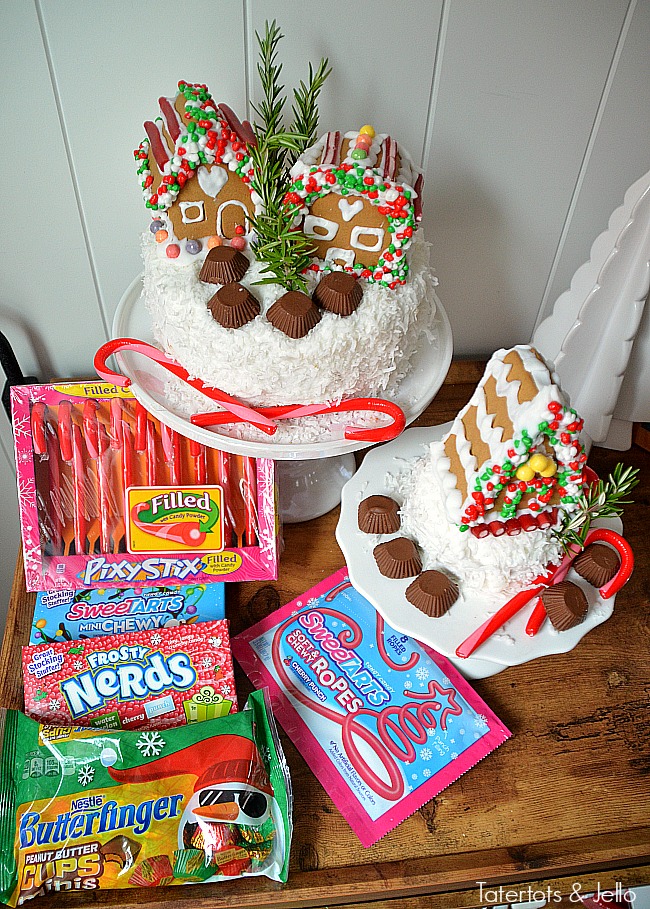 I used the licorice ropes for the roof of the two small houses on the large cake and I cut the ropes into small sections and used them under the house on the small cake.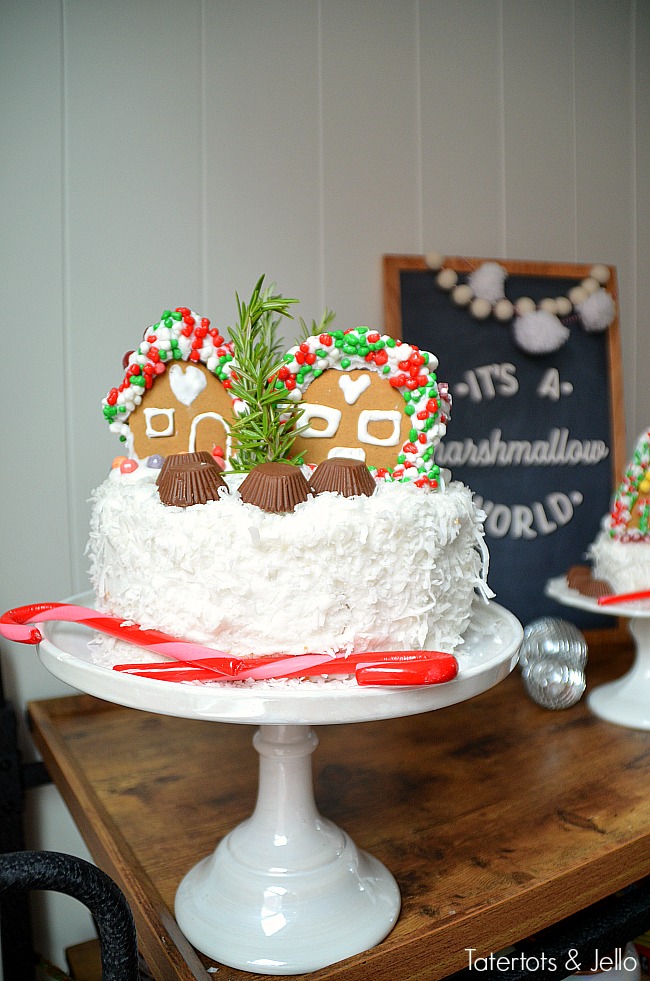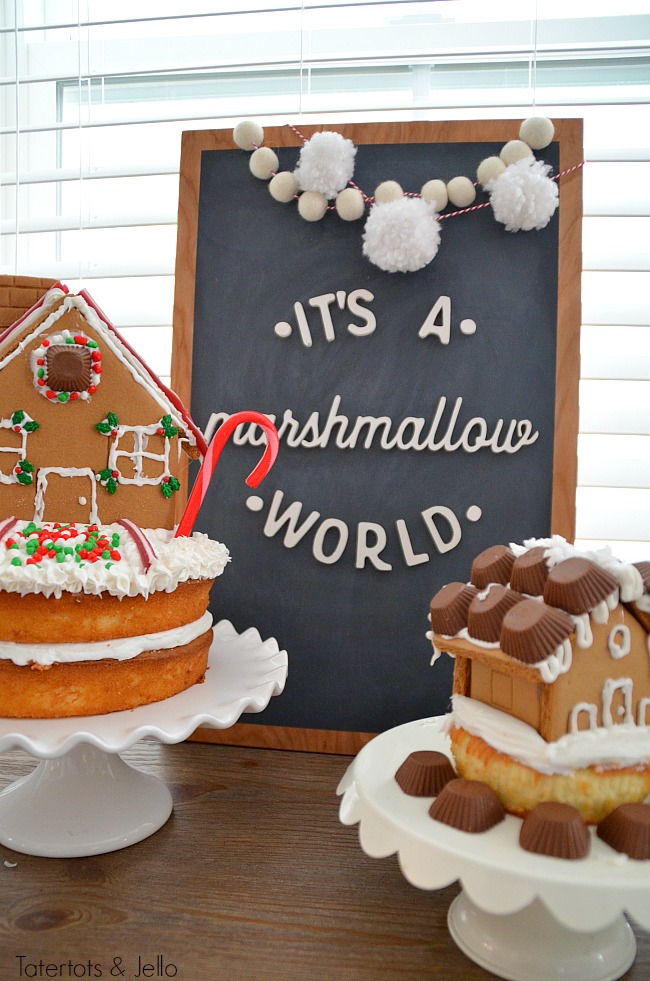 The cute Marshmallow sign is from the cutest show — Joobilee Designs!
---
How to Make Mini Gingerbread House Cakes
---
I thought the Butterfinger Peanut Butter Cups Minis were the perfect shape and size to make pavers on the large cake. They are also one of our very favorite candies. YUM!
I put some in a dish for the cookie exchange. I love the festive red and green foil – it's perfect for the holiday season. I also added a sprig of rosemary to some of the houses – I think it looks like a tree!!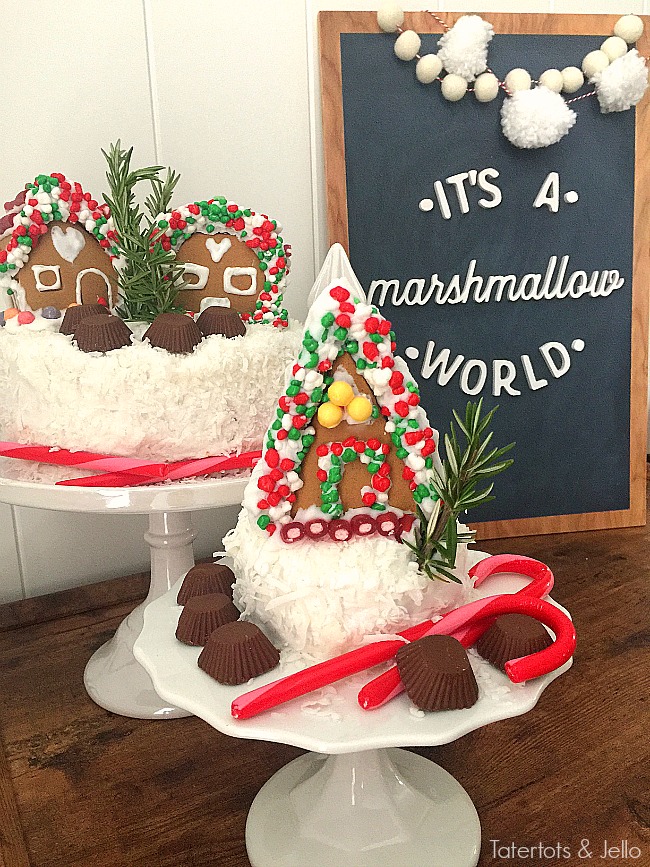 If you can't find the right sized gingerbread house kit, you can also use graham crackers to make your houses. And if people aren't going to eat your houses you can use hot glue to attach them all together to save time.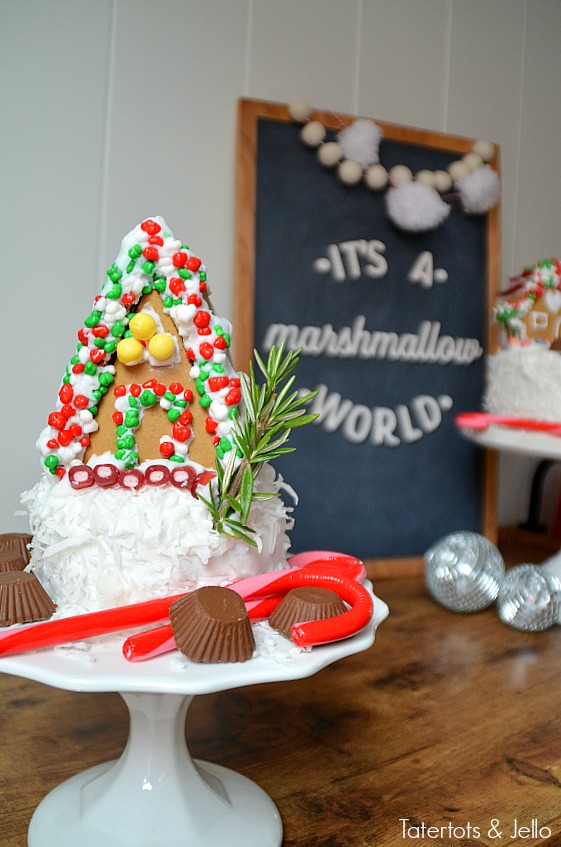 I think these Gingerbread House Cakes are a festive twist on traditional gingerbread houses. And PERFECT to make for a holiday event – like Christmas Eve Dinner or a Cookie Exchange!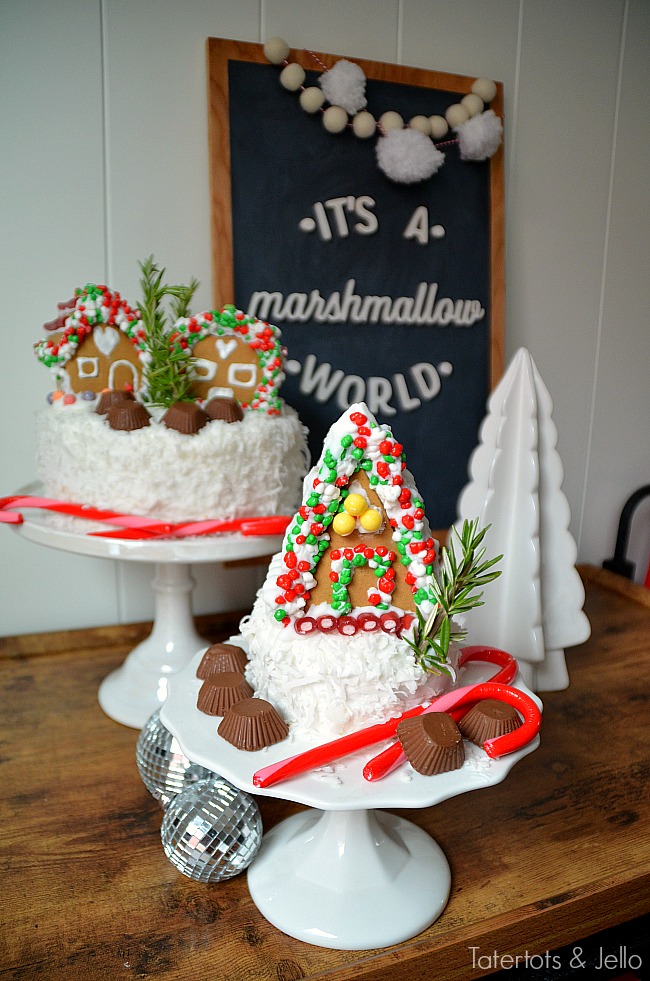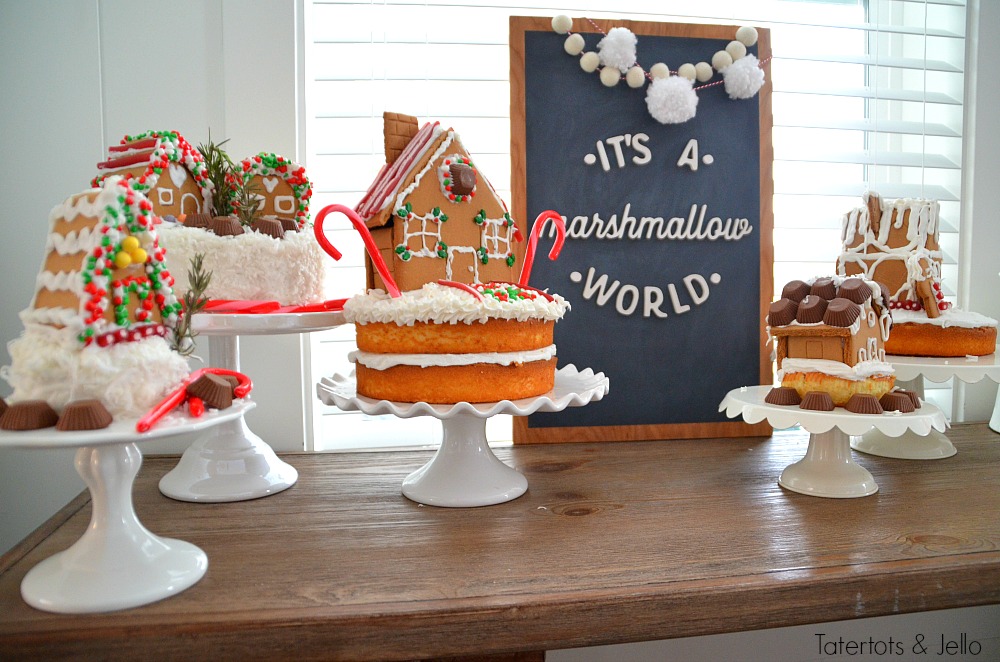 ---
Mini Gingerbread House Cakes
---
Are you planning any Holiday Parties?
Share YOUR ideas in the comments!
And send me an email if you want to come to my cookie exchange and need the address!
xoxo