My bedroom redo is coming along at a snail's pace – lol.
Will I ever get it done??
I wonder that every single day!
I finally bought a quilt from Target's Liberty of London line a couple of weeks ago. The same day I bought the quilt, I also bought a Liberty of London scarf. For awhile I was wrapping it around a pillow and putting it on my bed. I decided to make it into a pillow cover.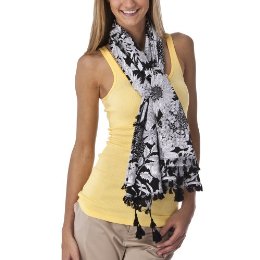 If you want to do this, make sure the scarf is wide enough. This particular scarf was really wide. The pillow I made the cover for is 20 inches by 20 inches. So the first thing I did was lay the scarf out on my cutting mat.
It had some cool fringe on the sides, so I wanted use those sides on the outside of the pillow cover. I cut out a square and added 1 inch to all sides for the seams. Then I cut out the back. Since it's a pillow cover, I made two sections for the back. One 20 inches wide by 18 inches long and the other 20 inches wide by 4 inches long.I also left fringe on two sides of one of the covers and two sides of the other so that there is fringe on all four sides.
I still had left over material, so I made a ruffle 2 1/2 inches wide and twice as long as the four sides of the pillows — 160 inches long. I had to sew the pieces together to make a ruffle that long. Then I put the ruffle on top of the pillow. But since it is the same material, they just kind of blended together. So I decided to put a darker ruffle underneath so that the scarf ruffle would stand out. So I cut out some black material with white dots — 4 inches wide by 120 inches long. (I didn't want it to be quite as ruffly as the top ruffle).
Then I pinned the two ruffles onto the top side of the pillow cover and sewed it on. Once the ruffle was on, I turned the top inside out and pinned it to the back of the pillow cover. Then I sewed the two side together. I did a double seam so it would be sturdy. I turned it right side out and put the pillow in and I was done!
Have a wonderful night!
XOXO