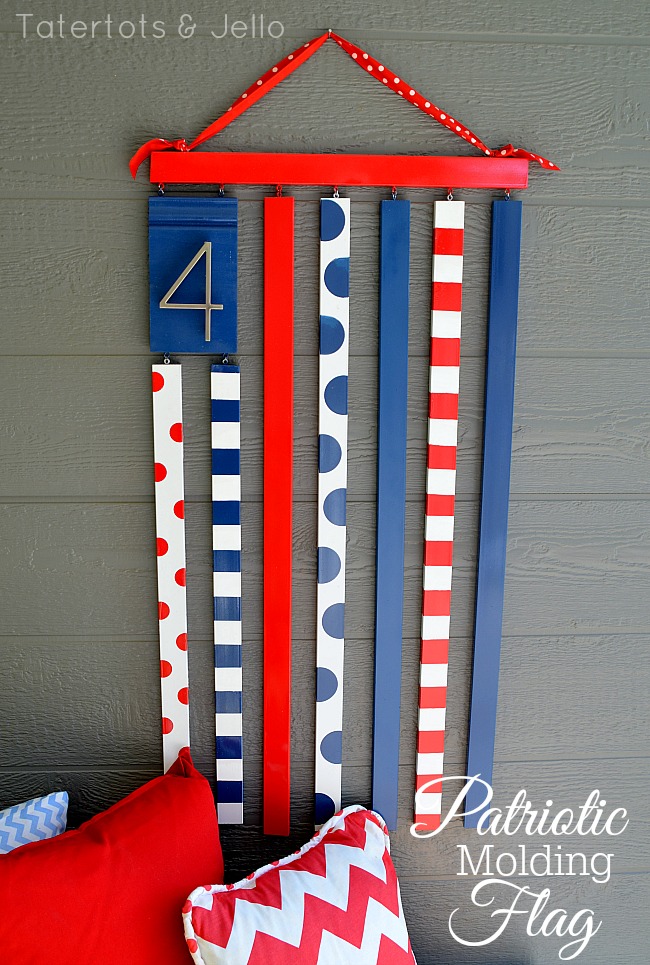 I love being a Lowes Creator. This month one of the themes we could choose from was Patriotic Projects.
I love the Fourth of July!!
When we moved into our neigborhood more than 10 years ago, we were surprised to find out that there was a HUGE hometown parade and pancake breakfast right around the corner. And this parade happens on the #1905Cottage's street. My kids love it because anyone can participate. So over the years they have decorated their bikes and loved being a part of the parade.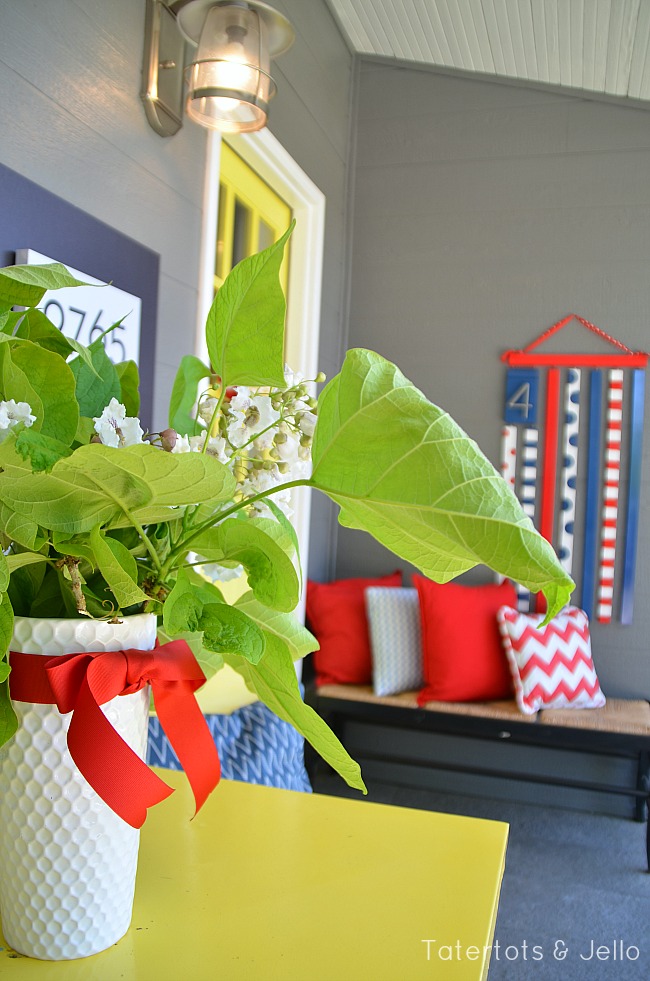 So I love decorating the cottage for this Patriotic Parade. And I wanted to come up with a whimsical flag to hang at the cottage. So I headed down to Lowes.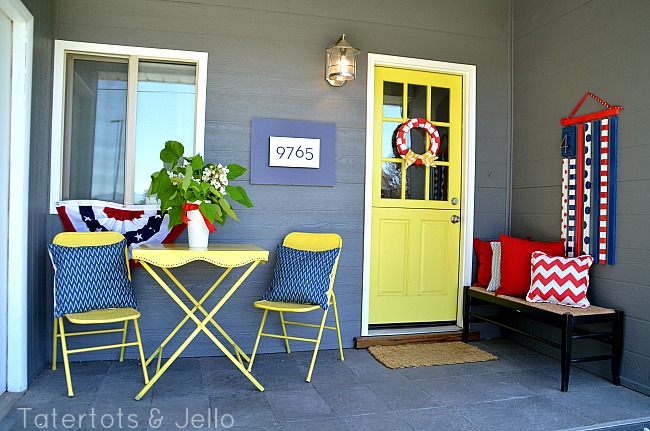 I picked up some square molding and had the nice Lowes guys cut them into 3 foot sections. Here's how I made the flag:
Square Molding (2 12 foot sections)
red, white and blue Spray Paint
Square Molding
Number 4 Address Plaque
Eye Hooks
Jump Rings
Ribbon
Painter's Tape
Vinyl and a Cutting Machine or Circle Punch

I trimmed one of the sections of molding into a 2 foot length for the top of the flag.
Then I layed the molding sections out along with the square one and cut two of the sections of molding under the square molding and cut them so they were the same length.
I spray painted three of the molding sections red, three blue, along with the square wood.
Then I cut two sizes of circles using my Cricut Explore machine and added them to two of the lengths of molding and spray painted those and peeled them off to reveal the polka dots.
I also added painter's tape to two lengths of molding, spray painted them white and peeled off the tape to reveal the colored stripes.
Once everything was painted, I layed the pieces out and arranged them the way I wanted.
Then I drilled 7 holes along the bottom of the 2-foot section of molding that I had sprayed red.
I screwed in the eye hooks.
Then I drilled holes at the top of each of the other sections of molding and added eye hooks.
I attached the top and bottom eye hooks with jump rings.
Then I added the "4" address number to the middle of the rectangular molding and hung the shorter molding pieces, using the same technique.
I also attached two eye hooks to the top of the flag and threaded a ribbon through each eye hook and hung it up!
I think its a festive little touch to the front porch!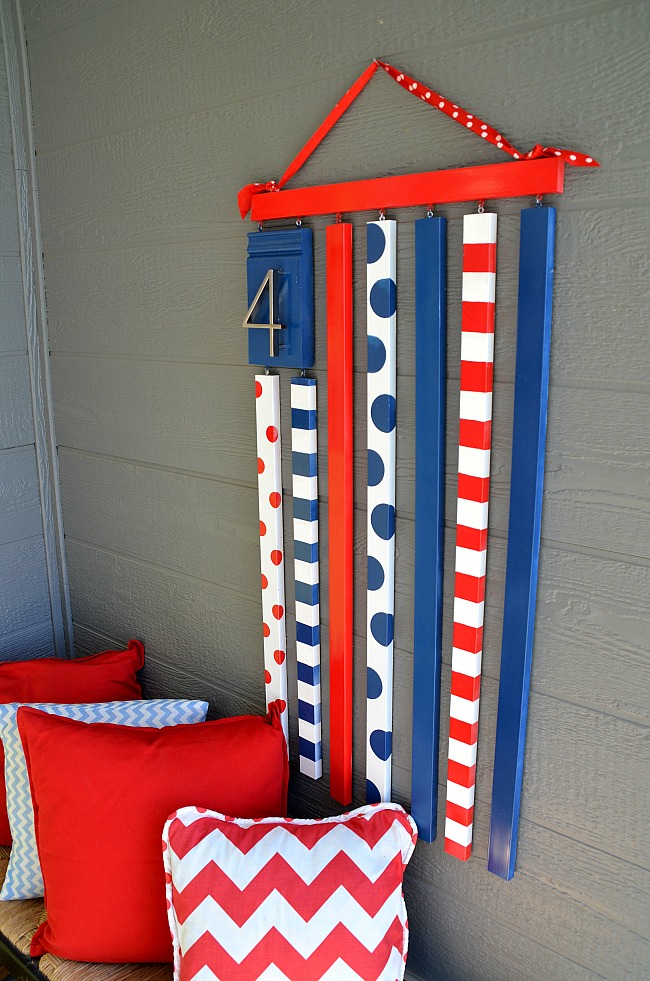 How do YOU decorate for the 4th??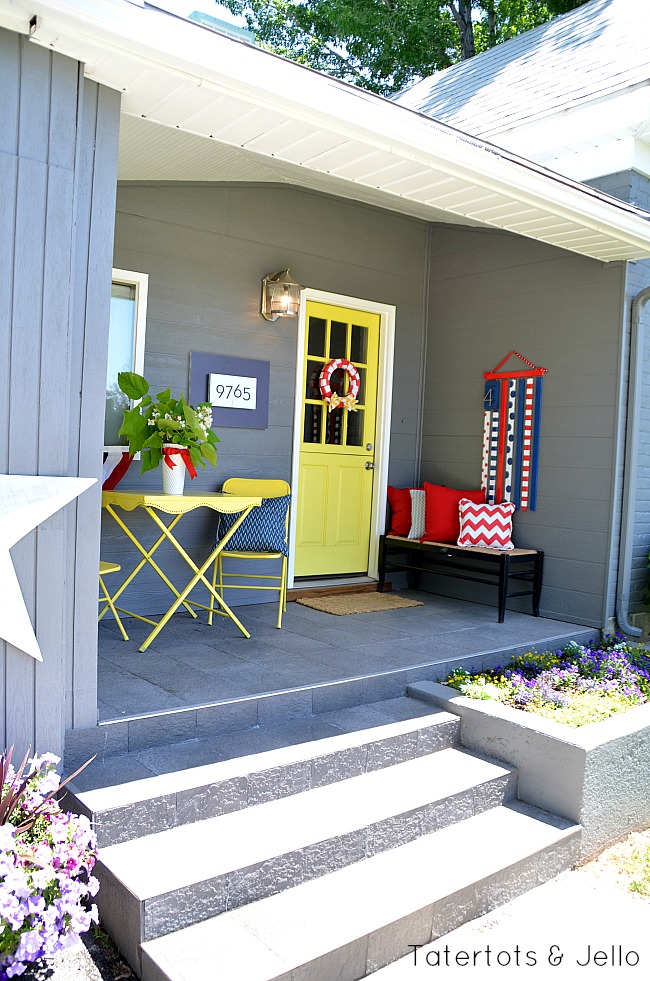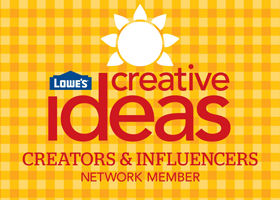 You can also follow Lowe's on Facebook for more great ideas and sign up for their FREE Creative Ideas Magazine with TONS of great DIY ideas and instructions!!
PS: I've linked up this post to these fabulous blogs this week!