Make an Easy Fall Stenciled Doormat! All you need is a plain doormat vinyl, and paint to create a welcoming doormat for Fall.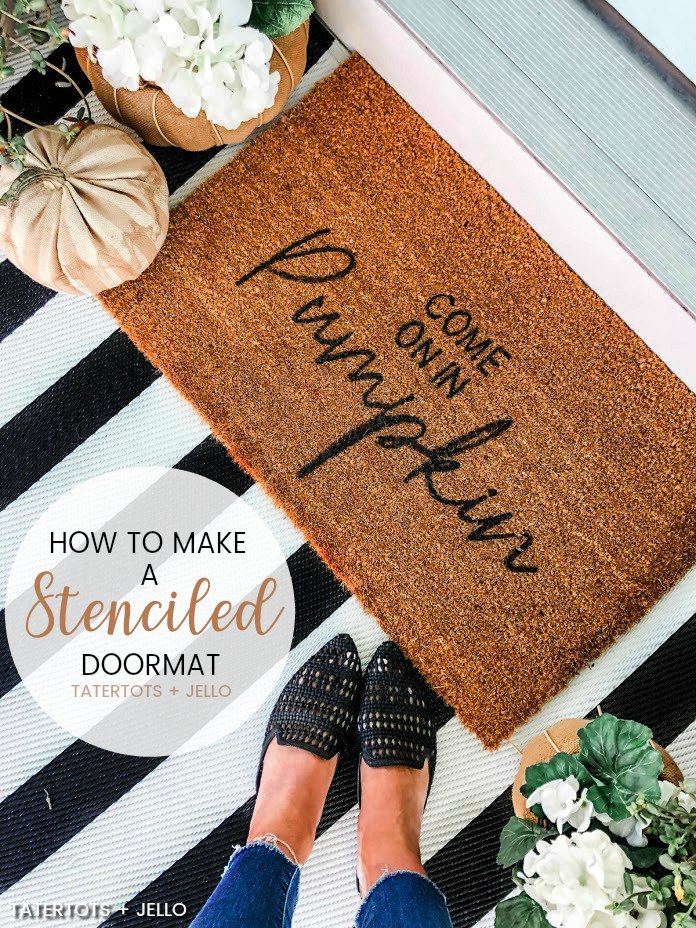 How to Make an Easy Fall Stenciled Doormat
I love stenciling doormats. They're so fun to make. You can add any saying or word that you want and create a totally unique doormat for your home. A couple of my favorites are the Welcome My Pretties Doormat I made last Halloween and the colorful Christmas Doormat from the holidays!
11 DIY Doormats
Be sure to scroll down to see ALL of the DIY Fall Doormats! So many cute ideas to brighten up your door for fall!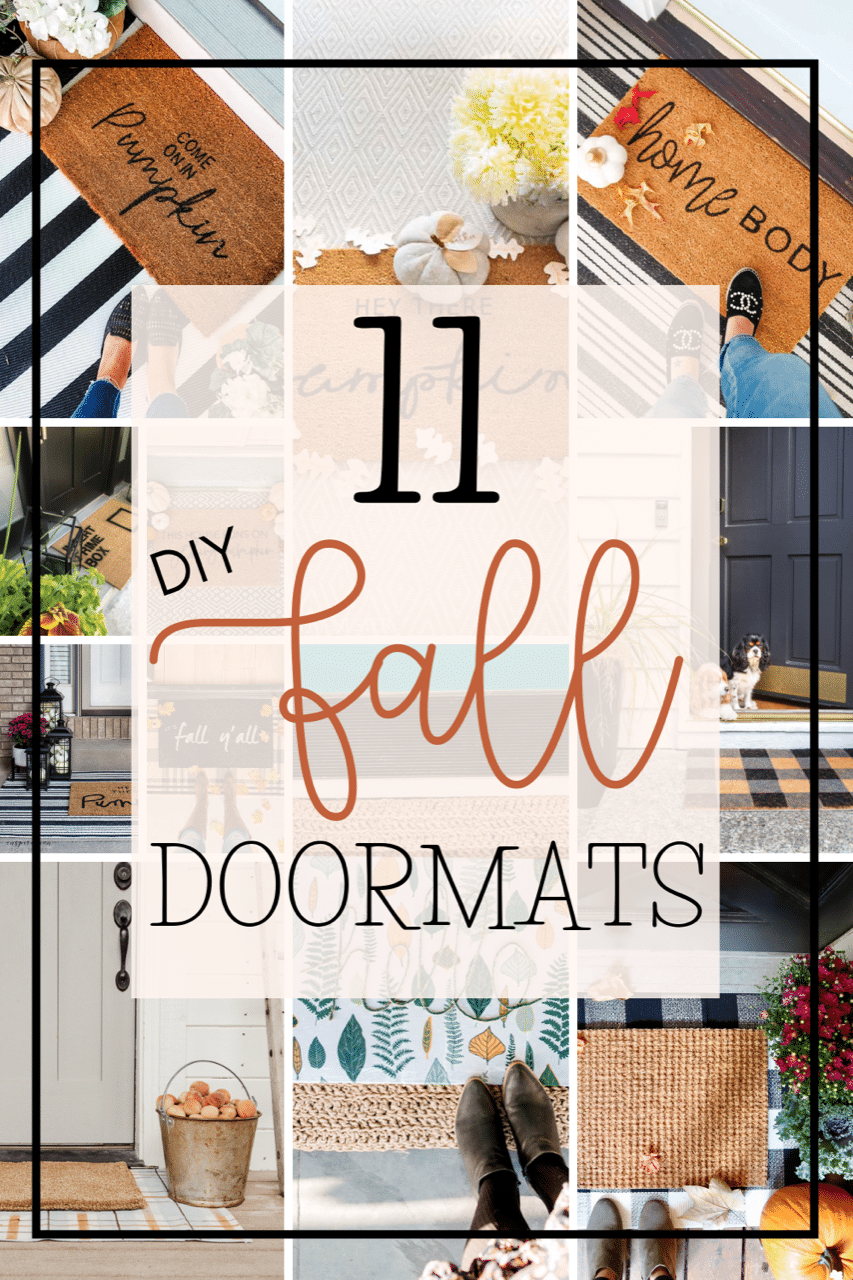 You Can Add Any Saying or Word
Doormats are practical but that doesn't mean they have to be boring. Take some paint and use your imagination to create a functional and cute doormat for fall.
Come On In Pumpkin Stenciled Doormat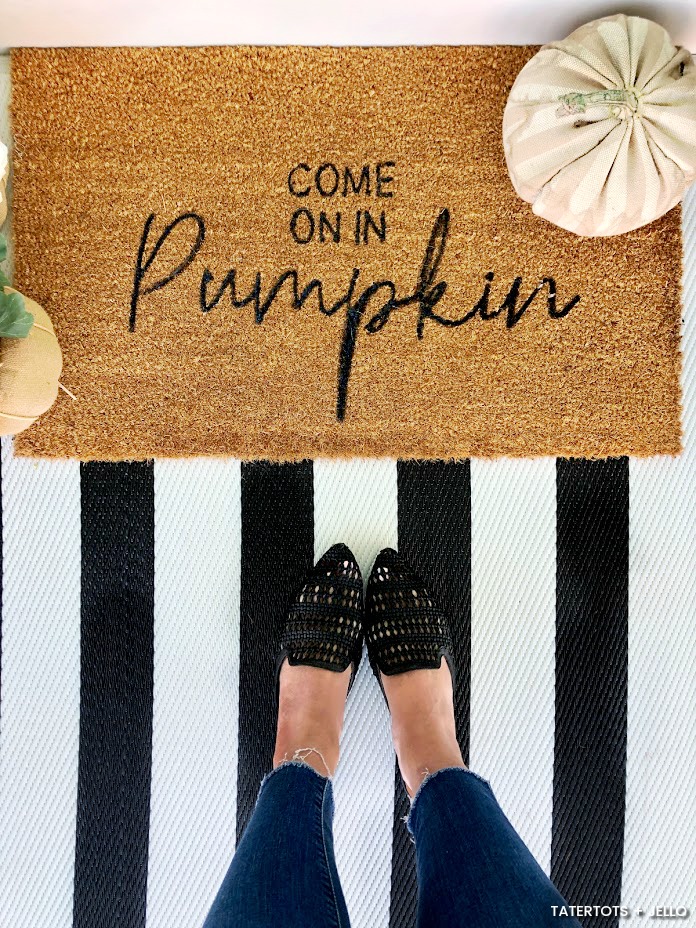 I have seen doormats that say "Hey, Pumpkin" and "Hello, Pumpkin". I decided to put a little spin on my doormat and created a stencil that says "Come On In Pumpkin".
How Do You Create a Vinyl Stencil?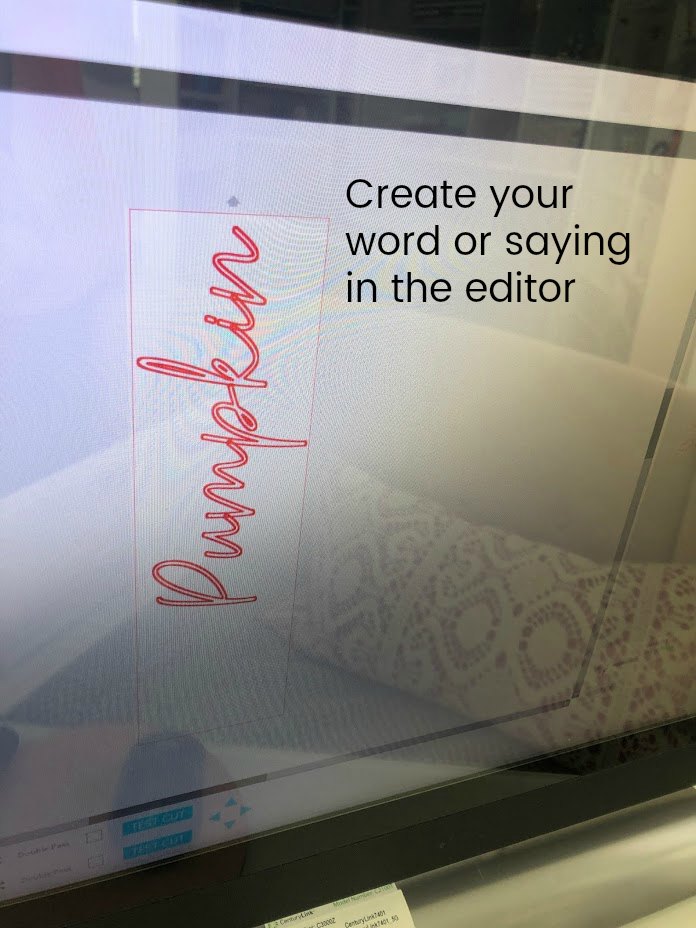 There are a couple of different ways to create stencils for this project. I used a craft cutting machine and spelled out my words. With a block font for the "Come On In" letters and a script for the "Pumpkin" letters. Then I cut the stencil out of vinyl using my Silhouette machine. Once it was cut out, I peeled the letters off of the vinyl, leaving the negative space which creates a stencil.
Can I Create a Stencil Without a Craft Cutting Machine?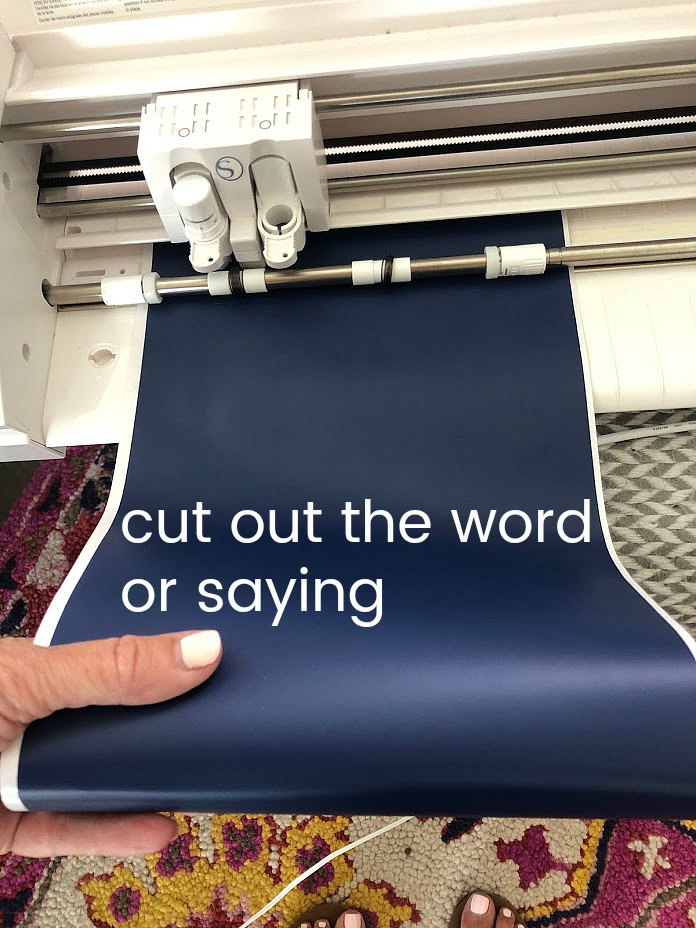 Don't worry if you don't have a craft cutting machine, you can still create a stencil! What you will want to do is use a online editor like PicMonkey and create your word inside of the editor. Then save it to your computer and put it into Microsoft Word as a picture. Then print the word on your computer. Once it's printed out, cut it out with scissors. Then trace the word onto vinyl and cut it out to create a stencil. You can use an exacto knife or very small scissors.
What Kind of Paint Do You Use on a Doormat?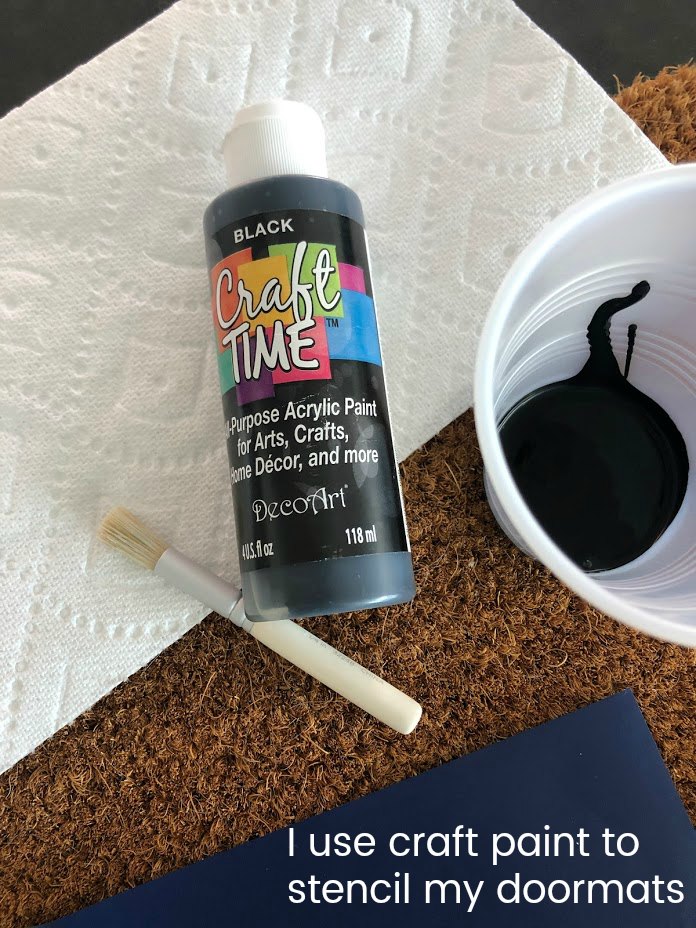 I've stenciled quite a few doormats and used quite a few different kinds of paints. To tell you the truth, all of the paints I have used have worked and lasted in all kinds of weather. So now I just use plain, inexpensive craft paint. You can also use outdoor paint and I've even used latex wall paint to create stenciled doormats.
Use Pins to Anchor the Vinyl on Your Doormat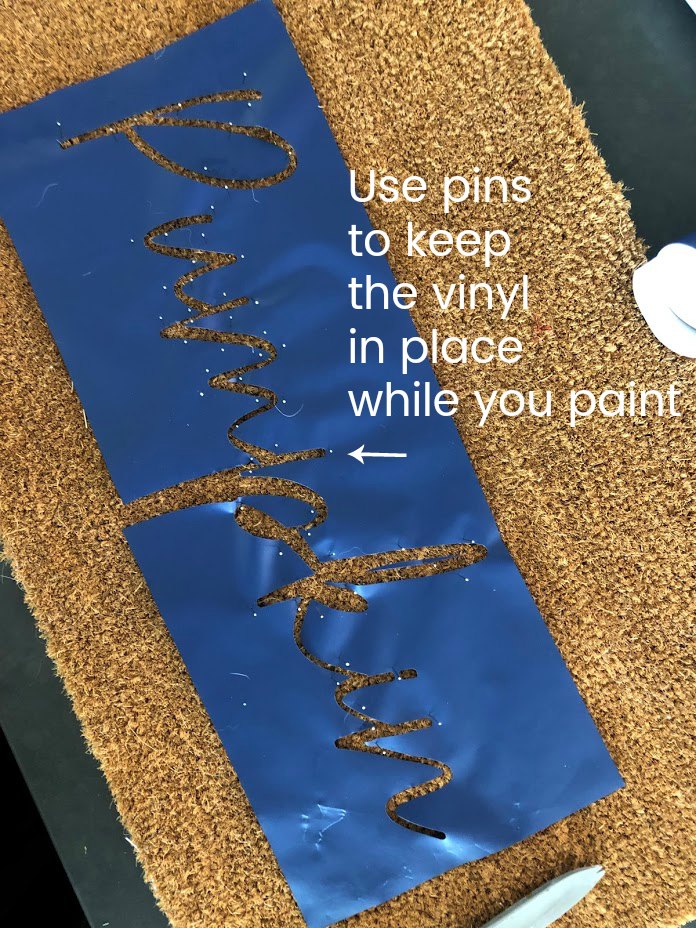 A trick that I have discovered when stenciling Coir Doormats is I anchor them with pins. Coir is a prickly kind of material and the vinyl has a hard time sticking to the coir. So I go around each edge of the vinyl and stick a pin through the vinyl into the coir to keep the vinyl from sliding around. If you are using a different material, like a cloth or plastic doormat, the vinyl will stick to those materials and you don't need to use pins.
Flat Brushes or Sponges Work Best to Stencil Doormats
I use stencil brushes to stencil my doormats. But you can also buy sponge tools with flat tops at your craft store or online and those work well too. I pour the paint onto a paper plate and dip my brush in the paint. I also have a damp paper towel that I use if I get too much paint on my brush.
Apply the Paint Directly Above the Stencil
The trick to getting clean lines when you stencil doormats is to apply the paint directly above the stencil. If you apply the paint at an angle the paint can get under the edge of the vinyl and you won't have straight edges.
Stencil the Doormat a Few Times
To get a dark color on the doormat I paint the doormat a few times. I will do one pass and then start over until I have the Word as dark as I want.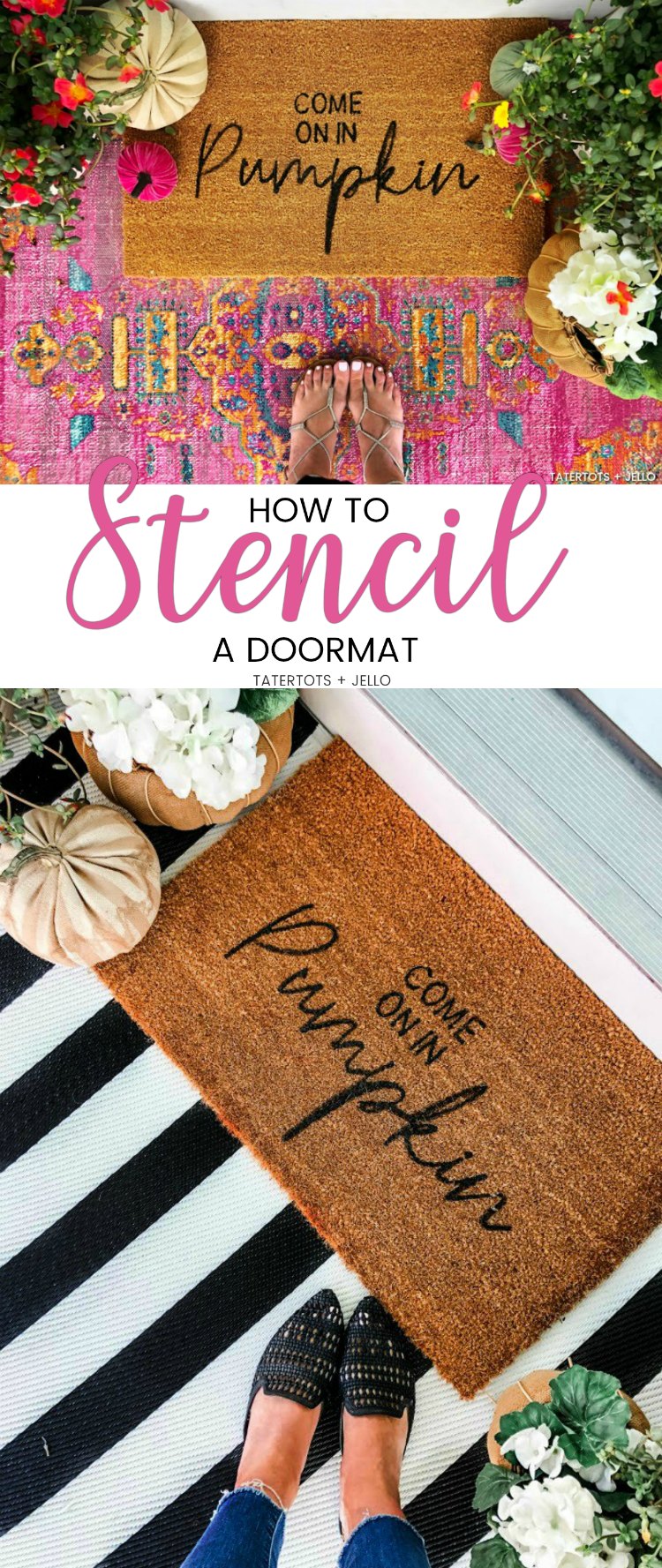 Enjoy Your New Doormat!
That's how you create a Stenciled Doormat for Fall – or ANYTIME of the year!
12 DIY Doormats
Be sure to check out these amazing DIY Doormats!

Cute Doormat | Happy Happy Nester
Drop Cloth Doormat | Twelve on Main

Easy Fall Stenciled Doormat | Tatertots & Jello
DIY Fall Doormat | Your Marketing BFF
DIY Fall Stenciled Doormat | Lolly Jane
Layered Fall Doormats | Inspiration for Moms

DIY Fall Doormat from a Shower Curtain | The DIY Mommy
How To Layer Doormats | My Sweet Savannah