Make a peony buffalo check hoop wreath. Celebrate summer with a bright and beautiful peony wreath on a modern wire hoop. I added Buffalo Check fabric to my wreath and mounted it on a fabric-covered frame.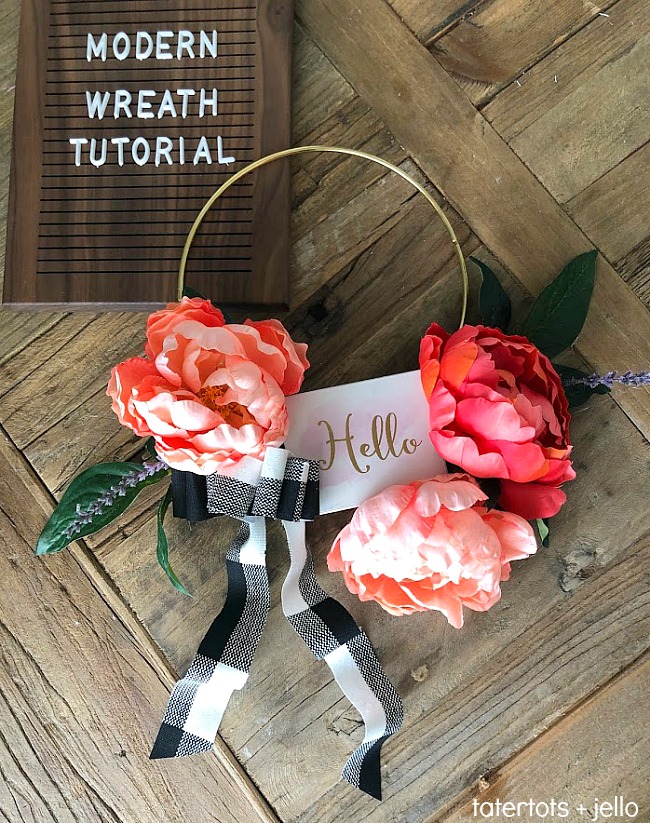 Hoop Wreaths are Modern and Easy to Create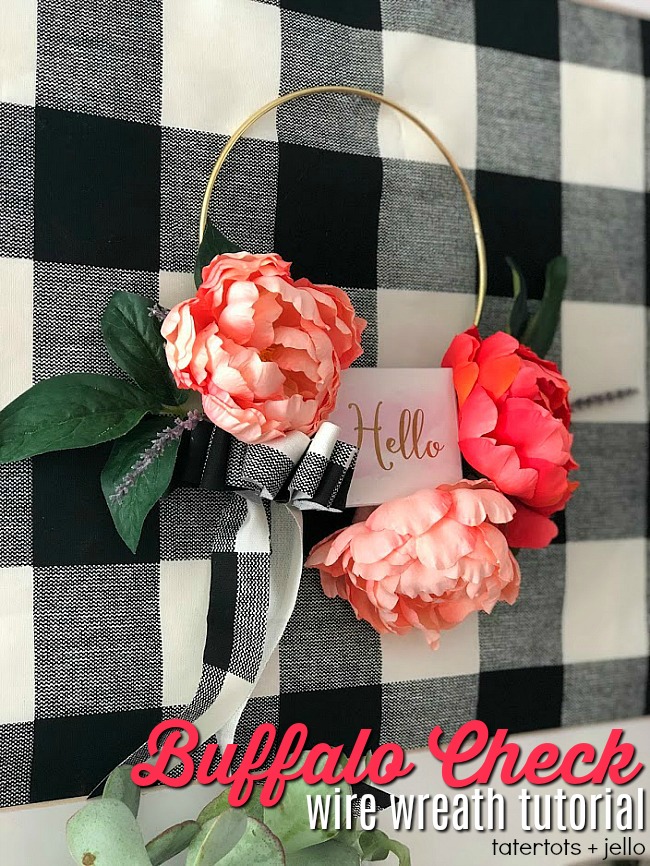 I love the look of hoop wreaths. I have made a few using embroidery hoops. I thought it would be fun to make a wreath using a wire hoop. You can find wire hoops in the craft store. Most are silver but all you need is a can of gold spray paint to transform your hoop into whatever color YOU want!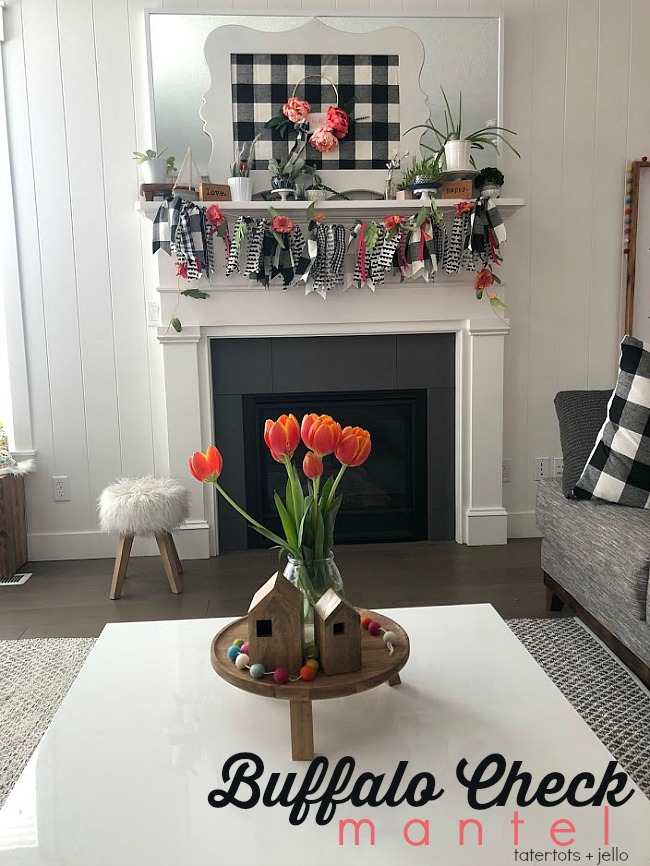 All you need is a can of spray paint
Hoop wreaths are easy to make because the hoop is the base of the wreath. You don't need to wrap the base with ribbon or fabric – the metal of the hoop is so modern and pretty. Then just add a few simple items and you have a wreath that is perfect for your decor.
Here's how to make a Peony Summer Hoop Wreath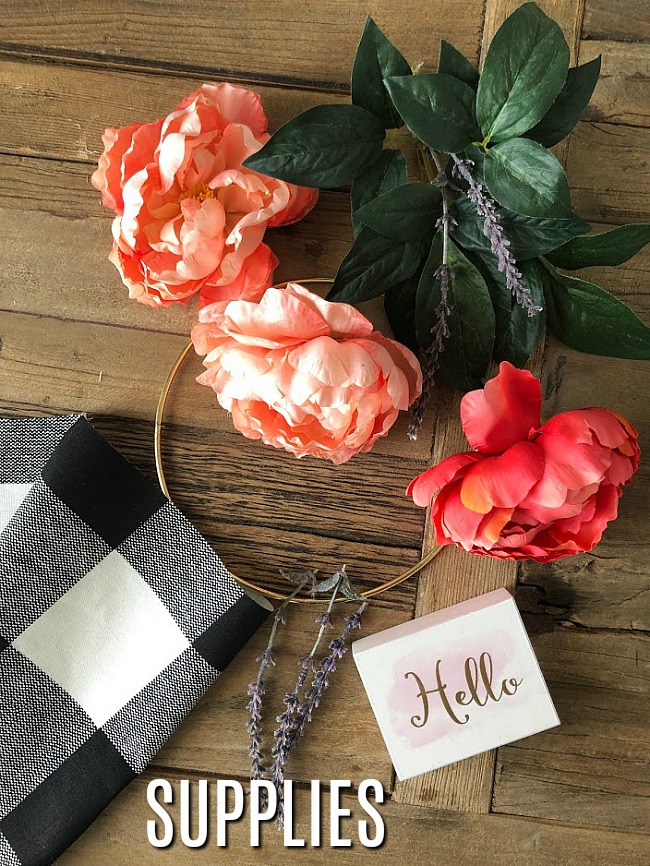 Supplies:
Wire Hoop
Spray Paint (if you want to change the hoop color)
Flowers
Ribbon or strips of fabric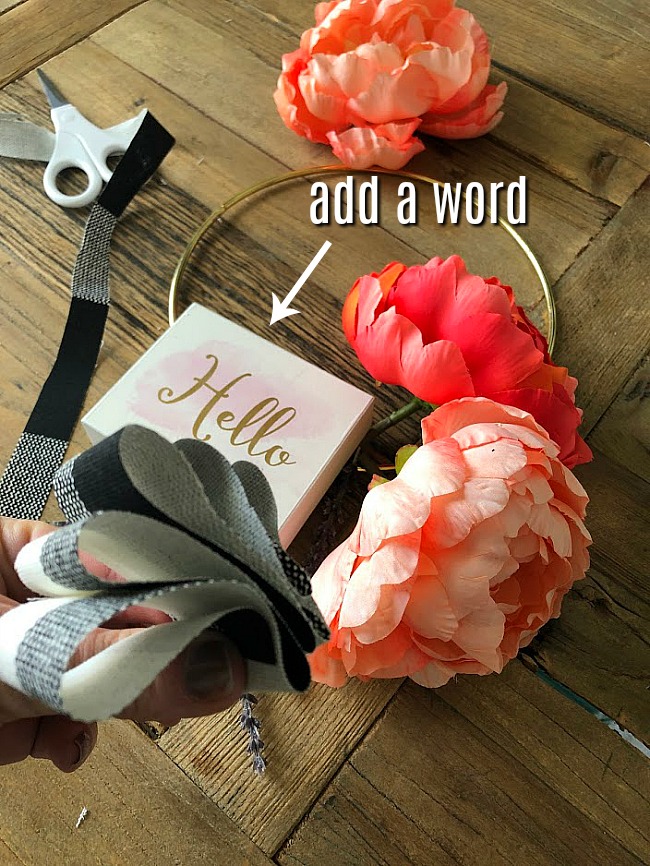 Directions:
Spray paint the hoop
If you want a color or different meal for your hoop, just spray paint the hoop
Add a wood block (optional)
You can add anything you want to your wreath. I added three big flowers, greenery and a wood block with a HELLO word on it. Get creative with YOURS!
Add flowers
Buy flowers to match your decor. Hot glue them onto the hoop. If you feel that they need to be more secure, you can take a small square of card stock or scrapbook paper and put that on the other side of the hoop. Hot glue the flower onto the hoop, then press the paper onto the other side of the hoop to secure it more firmly.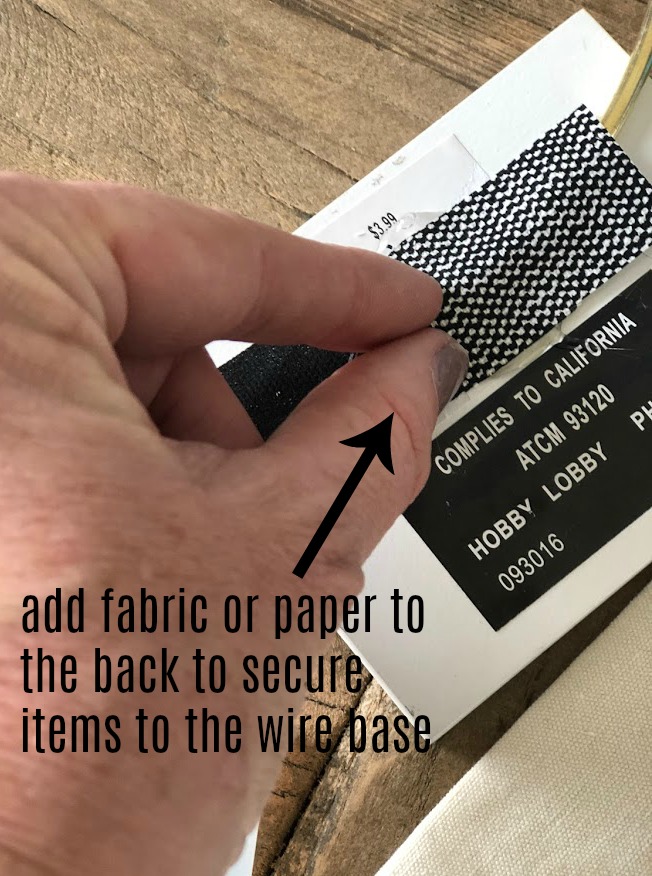 Add ribbon or strips of fabric
You can make a bow to add to the wreath. You can also use the ribbon at the top of the wreath to hang your wreath to your wall or door. Instead of hanging my wreath on my door or wall, I cut up strips of buffalo check fabric and made a bow. All I did was folded the fabric into loops and hot glued at the base of the loops to make a bow. Then I took a strip of fabric, tied it at the middle and hot glued the longer strip of fabric to the wire base and then hot glued the fabric bow onto the top.
Mount wreath to a fabric-covered frame (optional)
I mounted my wreath to a picture frame to create a focal point on my mantel. All I did was took a picture frame and wrapped the inside of the picture frame with buffalo check fabric. Then I hot glued the top of my wreath to the center of the fabric.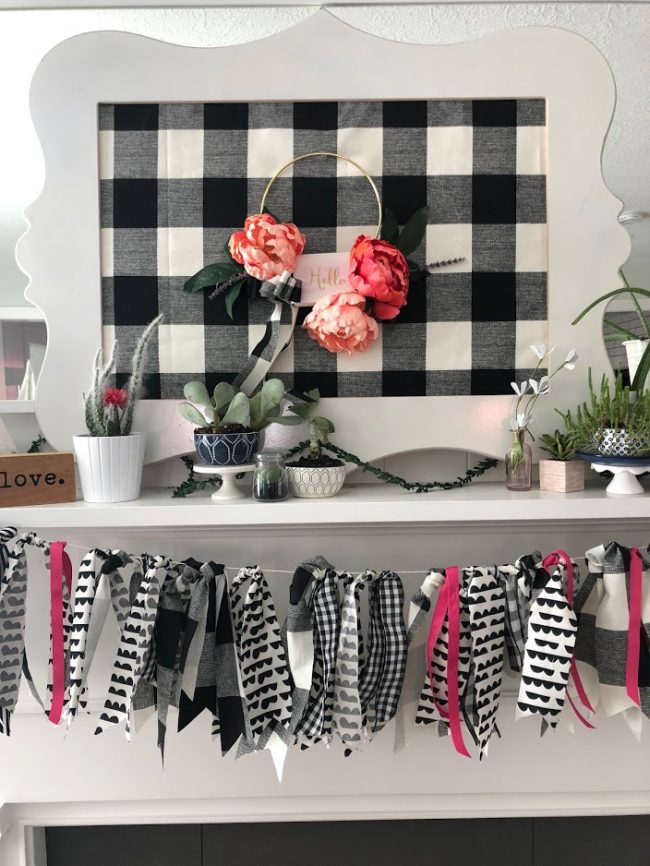 Enjoy your wreath
I placed the picture frame with the wreath on it above my fireplace. I also created a fabric bunting that matched the wreath and used the extra buffalo check fabric. You can find out how to make the bunting on my Fabric Bunting Tutorial.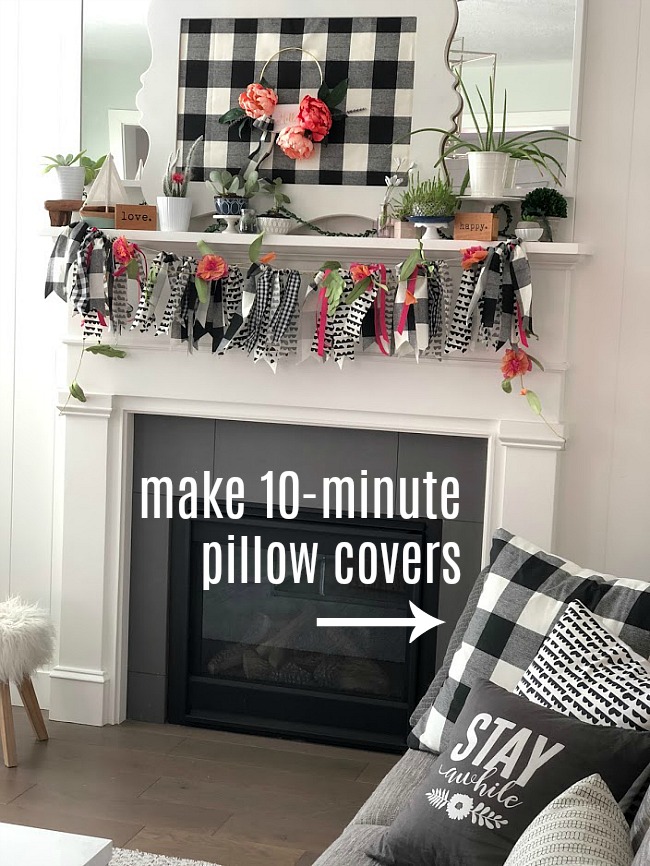 Make matching pillow covers
I also created SUPER easy 10-minute buffalo check pillow covers that go with my mantel.
Here are a couple other easy summer ideas: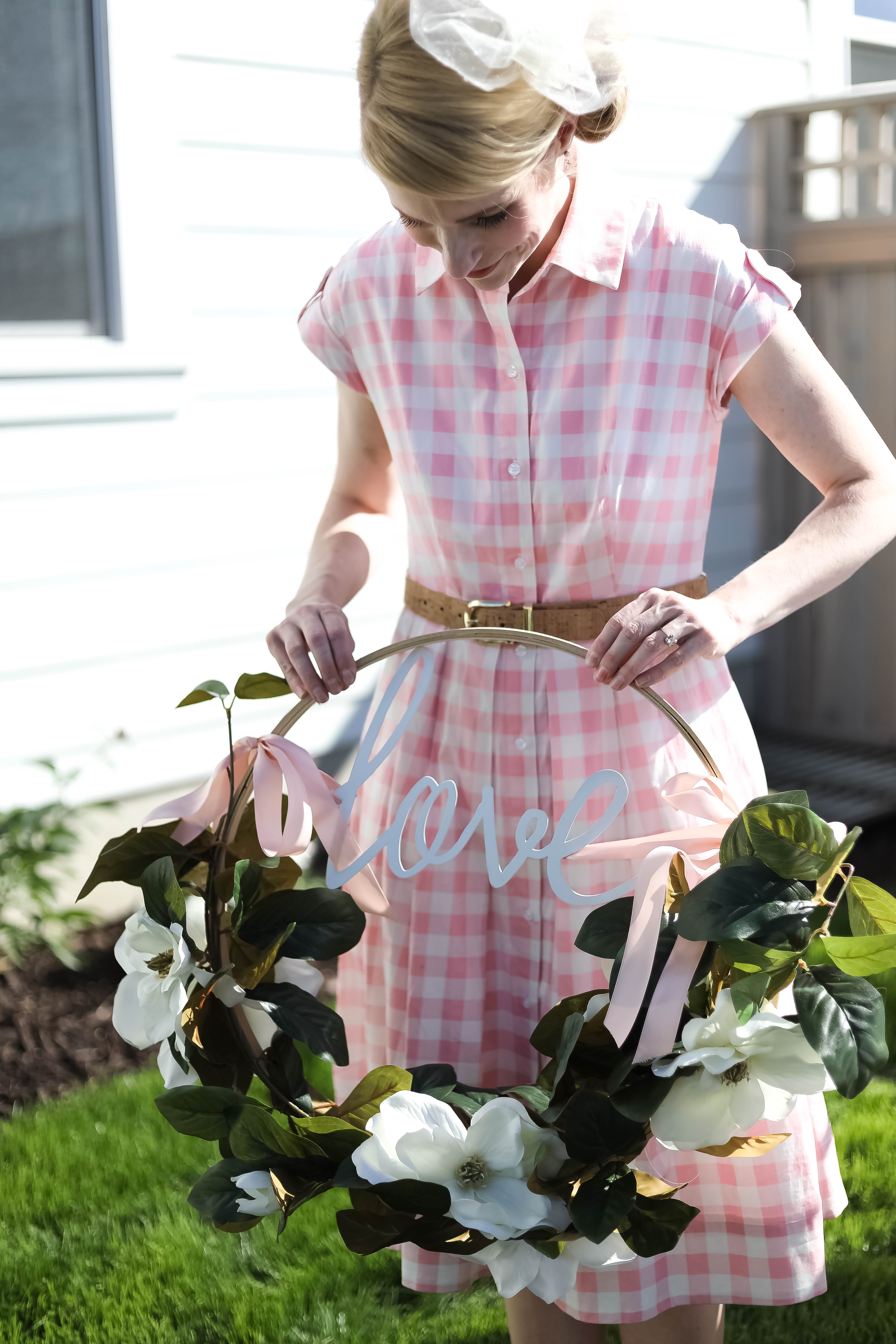 This wreath is SO easy to make. It seriously takes 10 minutes to assemble and looks AMAZING!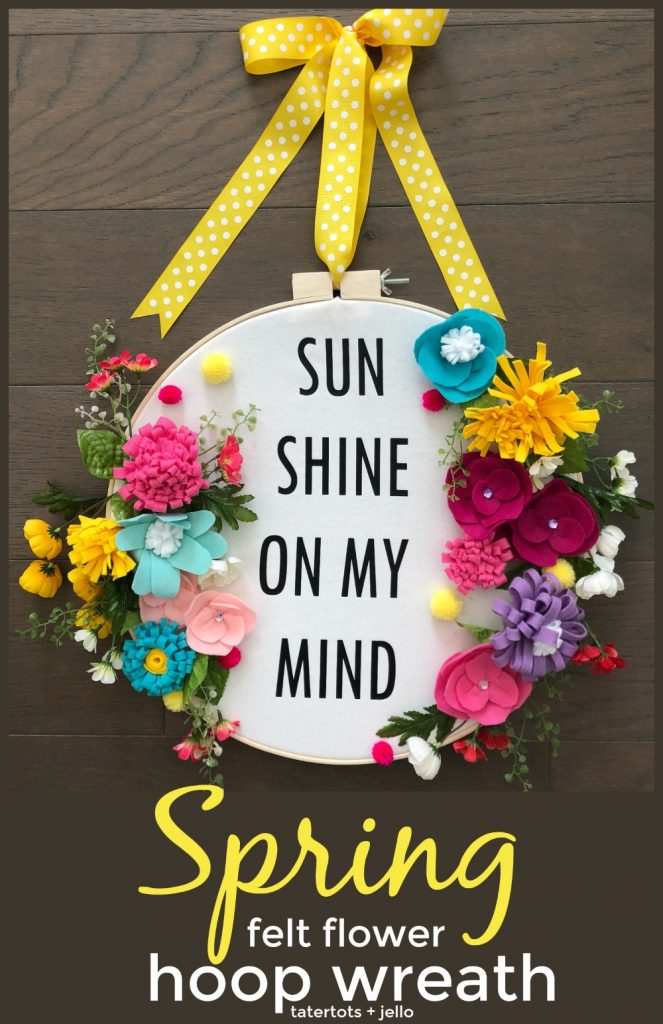 This wreath is so pretty. The felt flowers add a colorful and three-dimensional element that is beautiful.
This little wreaths use paper flowers. You can use scrapbook paper that really compliments your decor and a saying for a beautiful addition to a gallery wall in your home.
Have a Creative Day!
xoxo