Halloween Plate Wall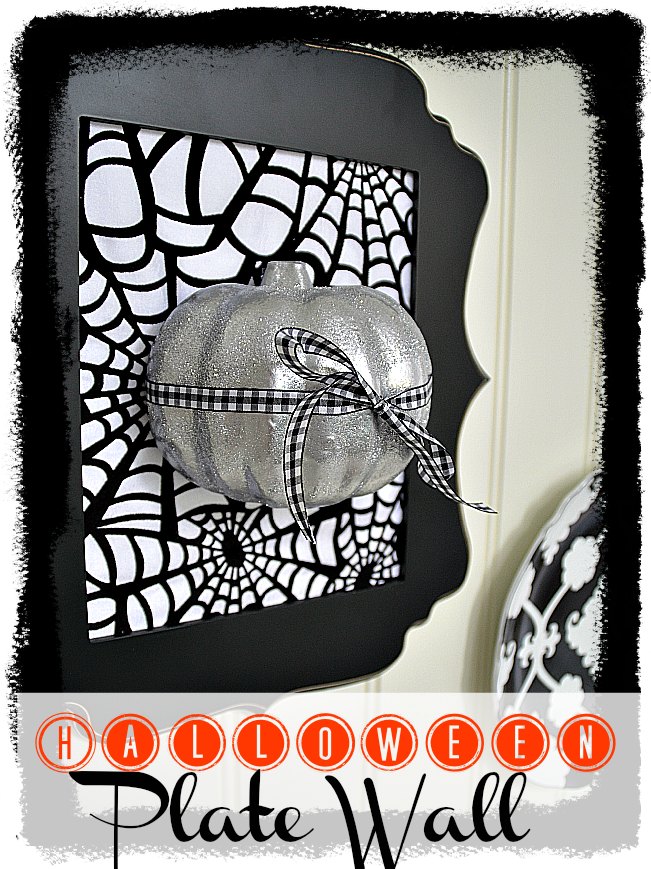 It's Day Four of PUMPKIN WEEK.
Thanks for joining in!!!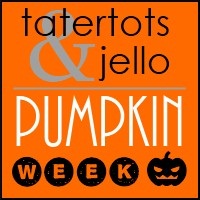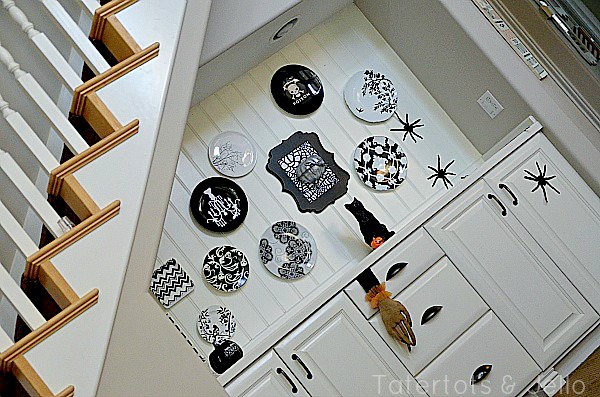 I have been meaning to make a plate wall for about 2 years. And since then I've been collecting plates to use on a potential plate wall. So whenever I saw a black and white plate on clearance I would snatch it up. I ended up having too many plates at the end. But I am sure I will use them all eventually hahaha!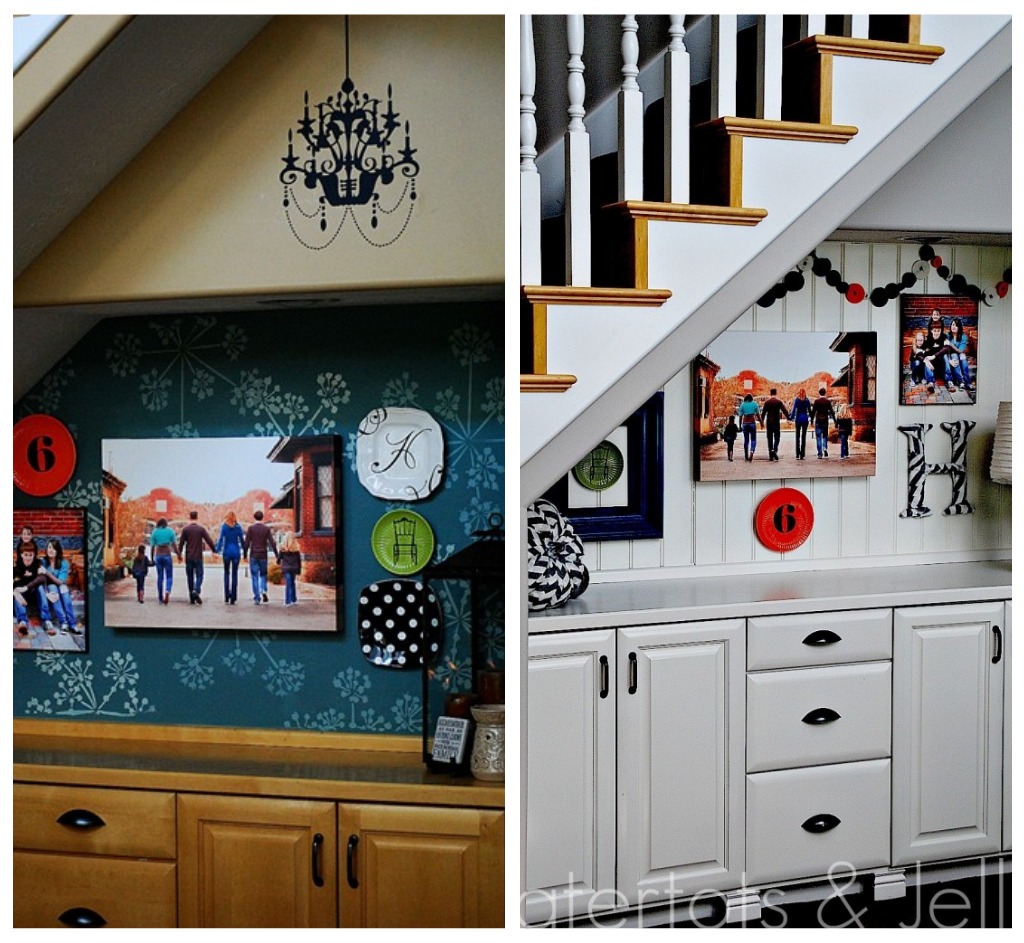 Last year we added beadboard to a little area in my family room and it's a perfect place for seasonal decorations. I knew I wanted to put my plate wall in this little nook. And since I knew it would be temporary I didn't want to put holes in the walls. So I relied on my handy-dandy favorites — Command Strips. They are so convenient.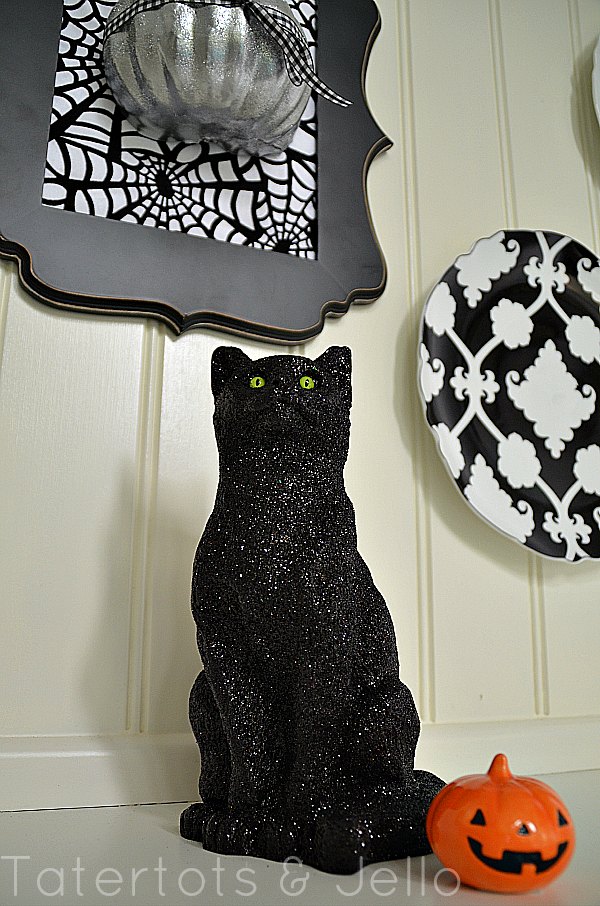 Here's how to create a plate wall with no holes: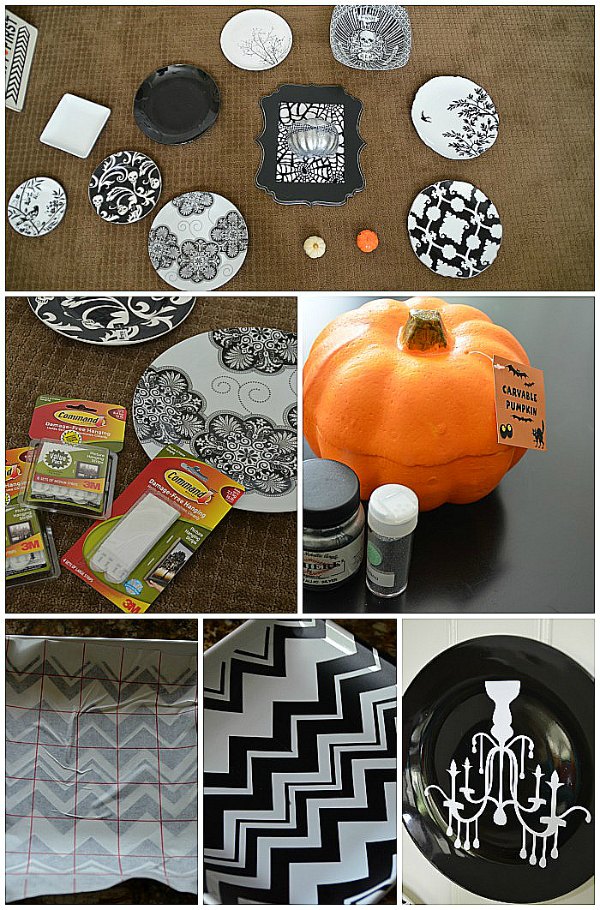 Measure out the space and measure it out on the floor.
Put the plates in the space and rearrange them until you come to a grouping that you like.
You don't want the plates to be TOO evenly spaced. You want it to look a little more random.
For my plate wall, I wanted a scrolly frame with a pumpkin to be the focal point. So I started with that frame and added plates around it.
A couple plates were blank and I added a pattern with vinyl from Silhouette's online store, and the other I added a vinyl chandelier — also a design from Silhouette's online store.
A couple of the plates had birds on them and I thought about printing off some crows with vinyl and covering over the birds, but I am not really into the "dark" side of Halloween, so I left them. If you want a "spookier" kind of wall, you could cover things on plates like birds with scarier elements.
Add the Command Strips to the back of the plates. Many of the plates have a slightly raised lip. You want to put the Command Strip on the highest part of the plate. You attach both command strips to the plate, with the velcro sides together and then press it onto the wall and press. You want one of the strips to stick to the wall, and the other to the plate.
And be sure to attach the command strips to the wall and let them sit for a hour before you hang the plates. You don't want any plates to fall off and break!! Once the strips have set for an hour, press the plate onto the wall and stick the velcro sides together. (see full instructions on the Command Strip package)
That's it!! Then add some accessories. I found the paper spiders at Target!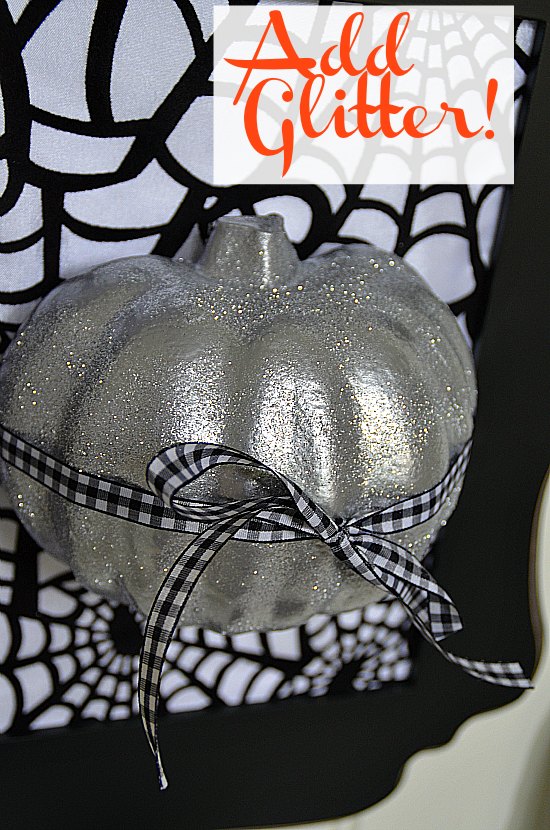 Here's how to make the framed pumpkin:
I bought the black frame at Hobby Lobby. Did you know you can bring up the coupon on your smartphone?? Get 40% off all the time without having to print anything off. I love that!
I took the glass off and lined the backing with some spider web material. I just taped the back with duct tape.
Then I cut a Dollar Store pumpkin in half with a knife.
I painted the pumpkin metallic silver and while it was wet I sprinkled Martha Stewart silver glitter on the pumpkin.
Then I wrapped a little black and white gingham ribbon around the pumpkin and tied it into a bow.
And I hot glued the pumpkin to the web material. Voila — a framed pumpkin.
NOTE — Be sure to hang plates with the appropriate size of strips. I tried to hang a heavy bowl and it was just too heavy and awkward for the strips. They aren't miracle strips lol.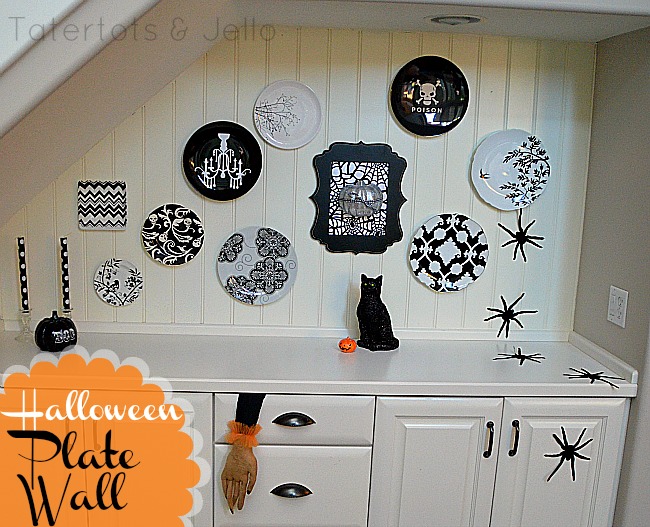 I was thinking a Thanksgiving Plate Wall might be the next project for that little space.
I spied some pretty Autumnal plates at TJ Maxx last week!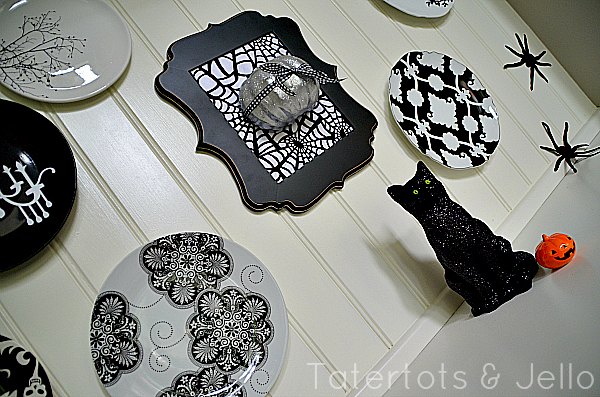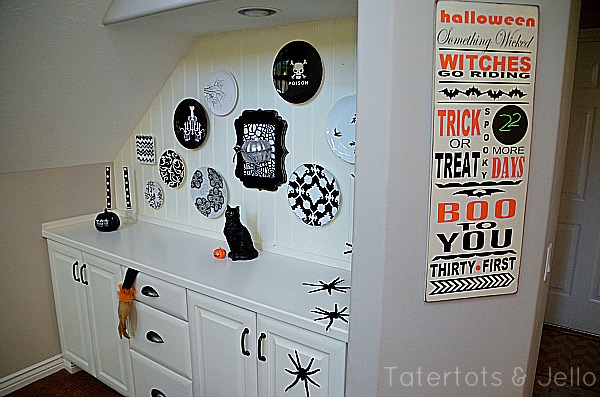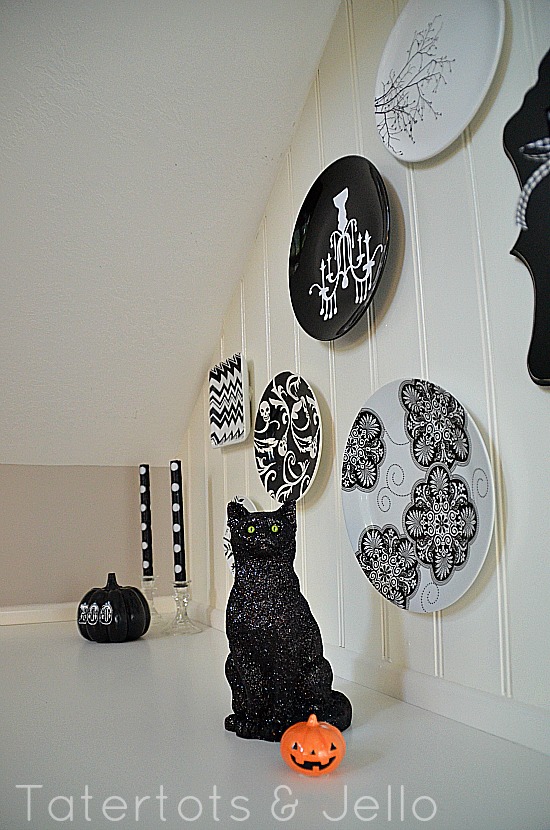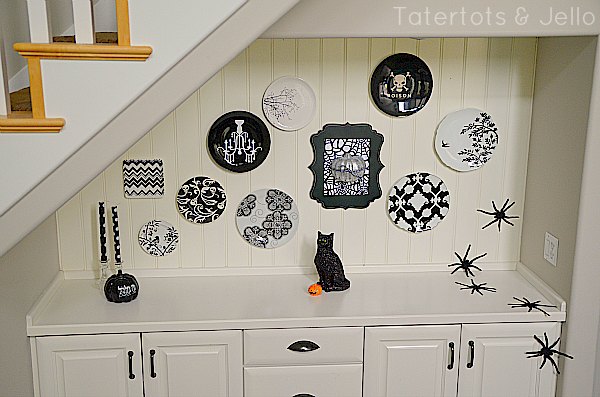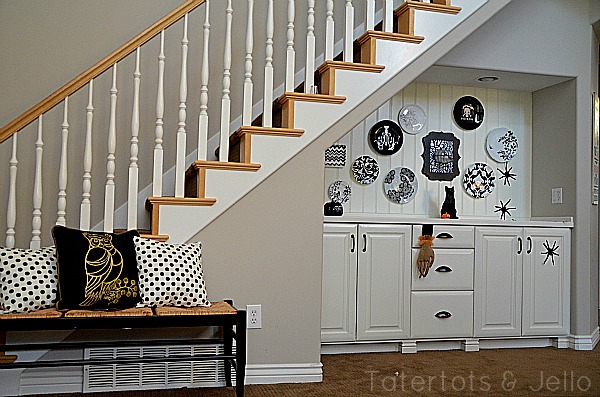 Sources:
Black Plate: Dollar Store
White Square Plate: Target
Round Skull Plate: TJ Maxx
White Round Plate with Branches: TJ Maxx
Black Scrolly Frame: Hobby Lobby
Black Poison Plate: Target
White Round Plate With Bird: Target (last year)
Black and White Graphic Plate: Target (last year)
Black and White Doily Plate: TJ Maxx
Black Glitter Cat: TJ Maxx
Orange Small Pumpkin: Target
Black BOO Pumpkin: Shopko (last year)
Black and White Polka Dot Candles: gift
Black Paper Spiders: Target
Fabric Witch Hand: gift
Have you started decorating for Fall??
Share YOUR ideas in the comments. And if you have blogged about your idea or shared it on Facebook, leave the URL — we would love to see YOUR idea!!!
xoxo

PS — I did use Command Strips for this post, but I bought them myself. I just like their products. All opinions are 100% mine.
PS — I'm linking up here: