Have you ever fallen in love with a … house? I have to confess, this happened to me.
I fell in love with a little cottage just around the corner from my home. It was built in 1905 — and even though it's been remodeled over the years, its charm shines through. I was afraid someone would buy it, tear it down, and build something else on it. That is what has happened with all of the other old houses in our neighborhood.
Ever since we moved into the neighborhood, almost 11 years ago, I would walk past this little tiny house and image what it has seen in its lifetime. I imagined the families that lived there, seeing electricity come into it's little corner of the world. I imagined the roads being paved. Cars replacing horse-drawn carts. The telephone. What was life like then??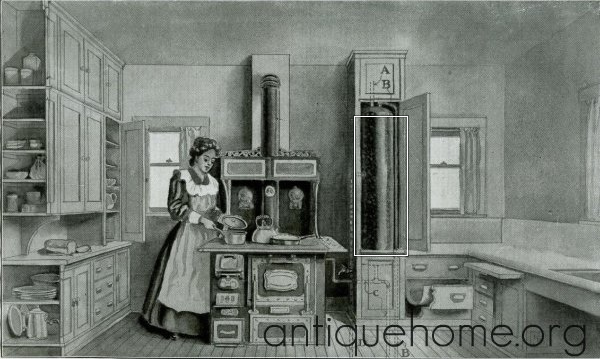 (image)
Then a few years ago this little tiny house came up for sale. I hoped that someone would buy it that would appreciate its history. I heard that there were people who wanted to buy it so they could tear it down and build something grander. That whole summer I walked past this little house and wondered what would become of it. I finally talked to my husband and by the end of the summer I had talked him into letting me make an offer on this little tiny home. So I did. And then I heard that it had been taken off the market.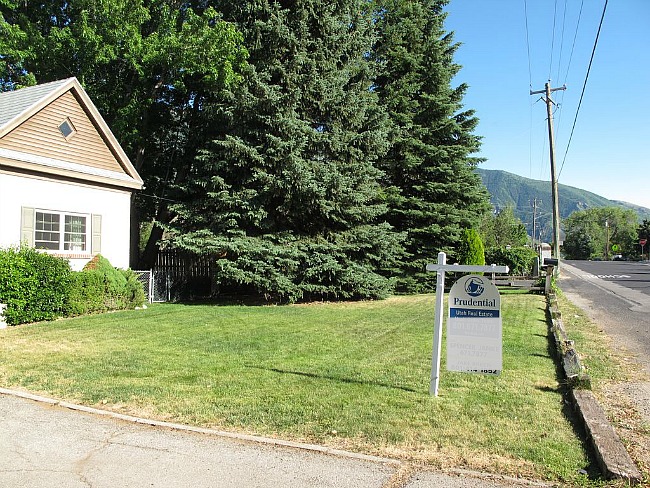 So I waited. I put aside any money that I had from blogging and thought if that little house ever came up for sale, I was going to try to buy it. I wanted to preserve that little piece of history. And then last year I got a phone call. The couple that owned that little house wanted to know if I still wanted to buy the home. They knew that I loved it and wouldn't tear it down.
This post has been about a year in the making. Last June we bought this little house. I wasn't sure why, but I felt an overwhelming feeling that this was right for us. And it has been an incredible experience. This is my new office. And I am not sure, but maybe a future site of craft weekends, or maybe one of my kids will live here someday or maybe even my husband and I will live here one day when our kids are grown.
All I know is that I love this little cottage and it has been so fun to work on it –trying to restore it to what it once was, maybe even a little better than it once was.
Here's what it looked like before we started on it (on the outside):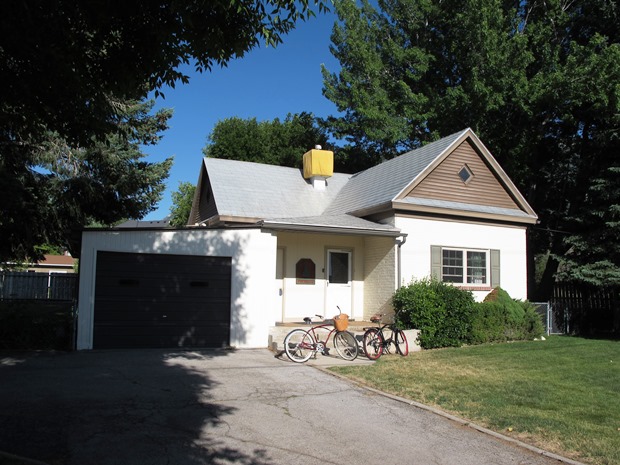 (You can see its charm already — and the awesome, old, huge trees that surround it.)
There isn't much left of the old buildings in our neighborhood. Our small community, now largely part of a bigger city, was founded around 1859, but there weren't very many people living here until around 1877 when it hit its stride as a mining town. In the 1880s, several homes were built along the main street, as well as a school and general store.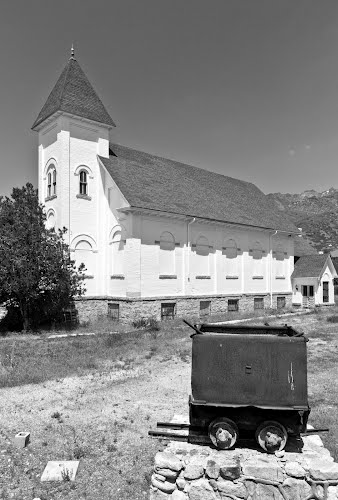 And that's where the story of this cottage begins: it's on the site of the original general store, and … as you'll see in later posts, we believe there is a bit of the original general store walls left in this cottage. The cottage itself wasn't built until 1905. Over the following century, it was loved by various families, expanded and "modernized," most recently by a nice couple who used it as a ski cottage for the past 20 years. They came in the winter and then it was empty for the majority of the year.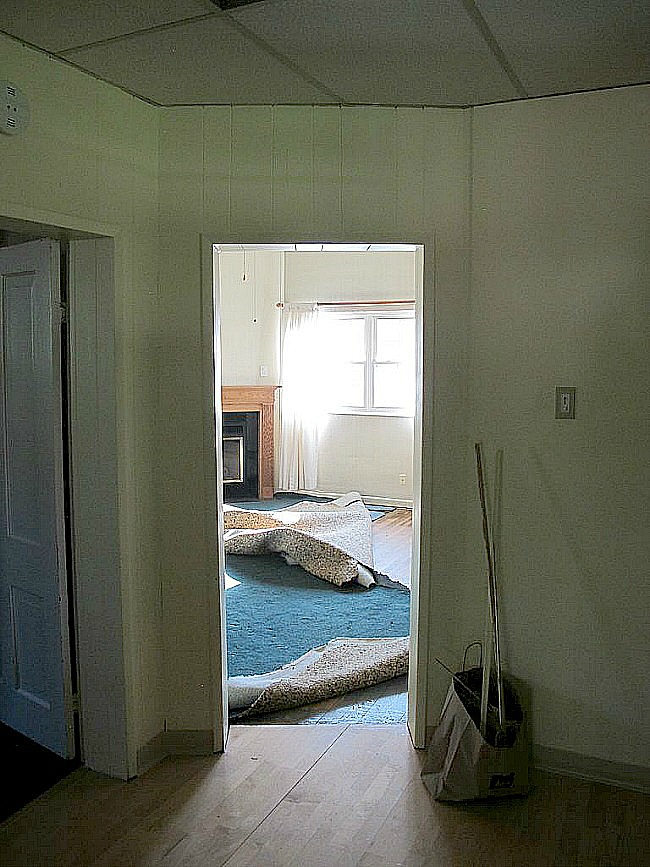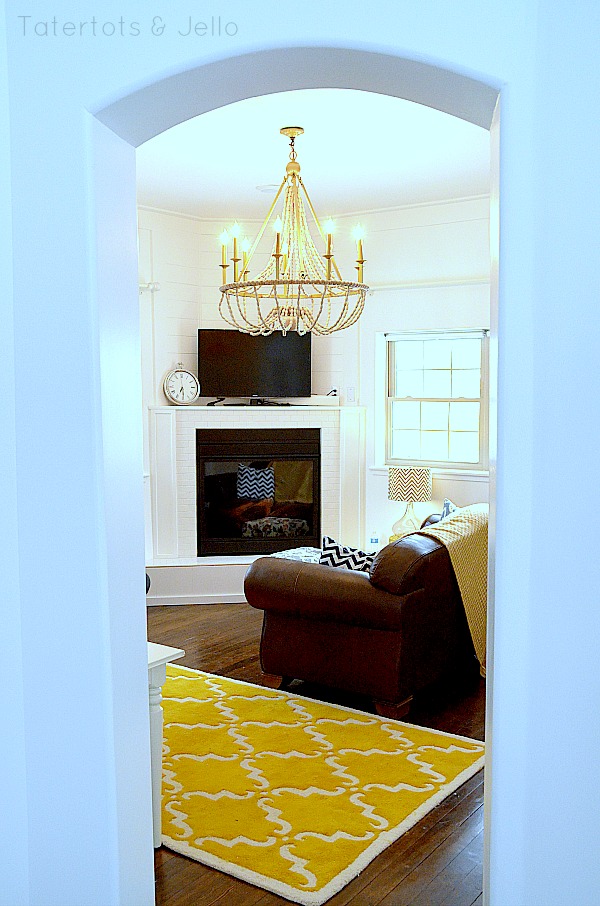 When it was originally built it had incredibly high ceilings for the time — 10 feet. Super tall doorways – 8 foot doors. And beautiful tall, narrow windows with arched brick on top. Over the years, various owners covered up the original knotless hardwood floors with layers of linoleum, took out the beautiful tall windows and replaced them with boxy square ones and dropped the ceilings and doorways.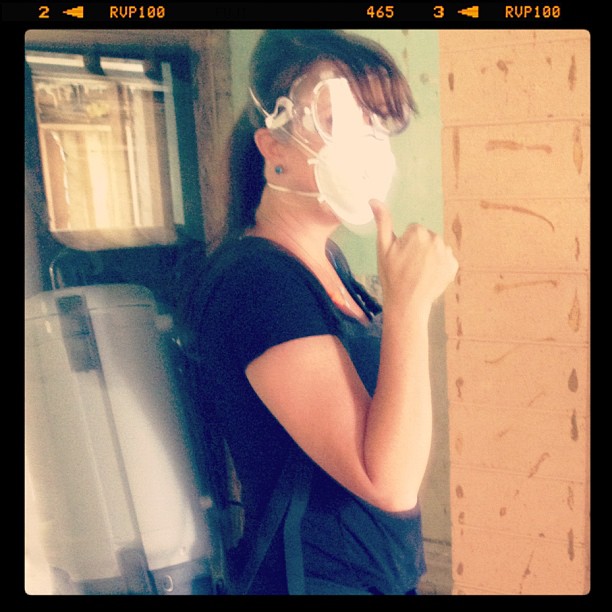 The 10-foot ceilings were dropped to barely 7 feet. A laundry room was added in the 50's to the front porch, but you had to go outside to access it.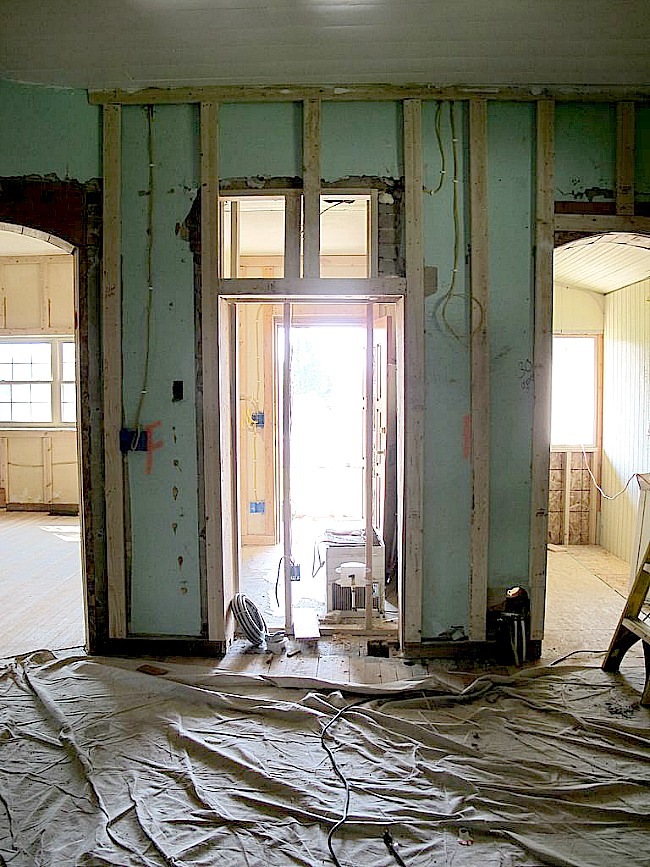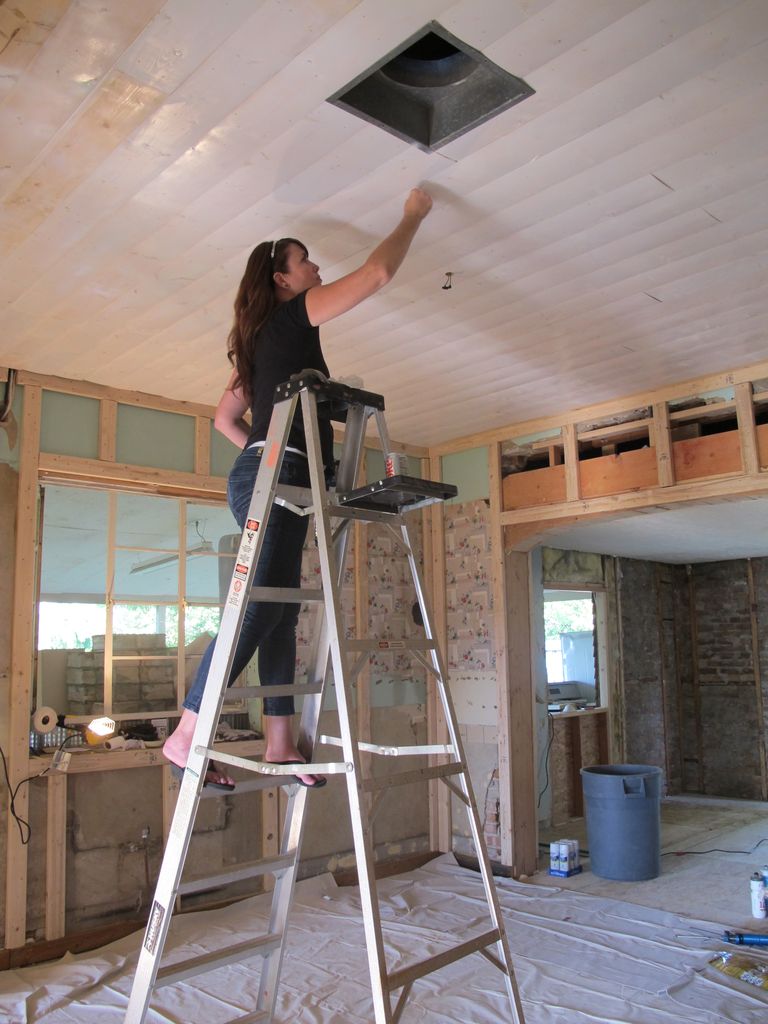 So we literally stripped the house to the walls. (Turns out they're about 9 inches thick, and brick and plaster.) In many ways it was like a new construction — we reframed the walls, we ran all new electrical and plumbing. Plus, I found one of the original light switches and we decided to put reproductions of these in all of the rooms – so fun!!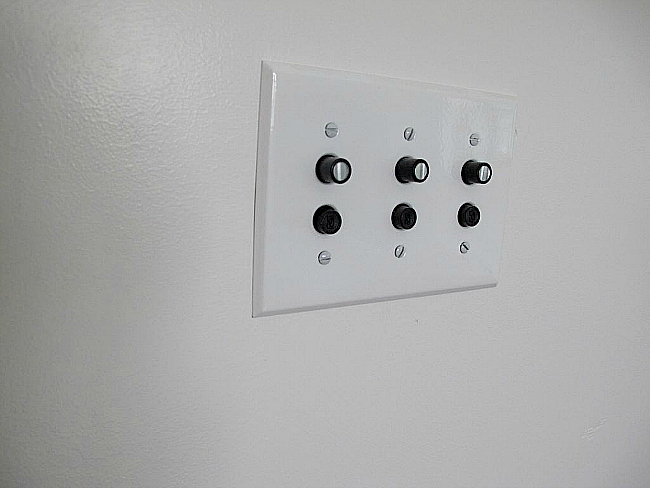 I'll tell you all about that and more!
Some of the upcoming posts will include:
Tile how-to's
Alternatives to crown molding and how to do molding like a pro
Taking out a Wall – what to consider
Creating a Planked Ceiling
Tiling a wall
Refacing a cracked cement porch and stairs
Adding a sliding door to an outside wall
Adding trim to windows to add character
Transforming a bureau into a DIY sink cabinet
Installing a farmhouse bathroom sink
Tiling an entire wall
Adding a light tunnel to a small room
Creating a barn door on a curved wall
How to create a charming dutchdoor for less
Replacing siding on your home
Creating a DIY pergola
Making a hanging bed swing
Creating a DIY upholstered headboard from plywood
Adding simple base moldings
Creating DIY windowsills
How to create an easy planked floor
The essential renovators' toolkit: the 10 tools you must own
How to create a Modern planked room
How to refinish antique wood floors
Crazy things we discovered about the house's history (here's a preview: "murder warrant" in the attic)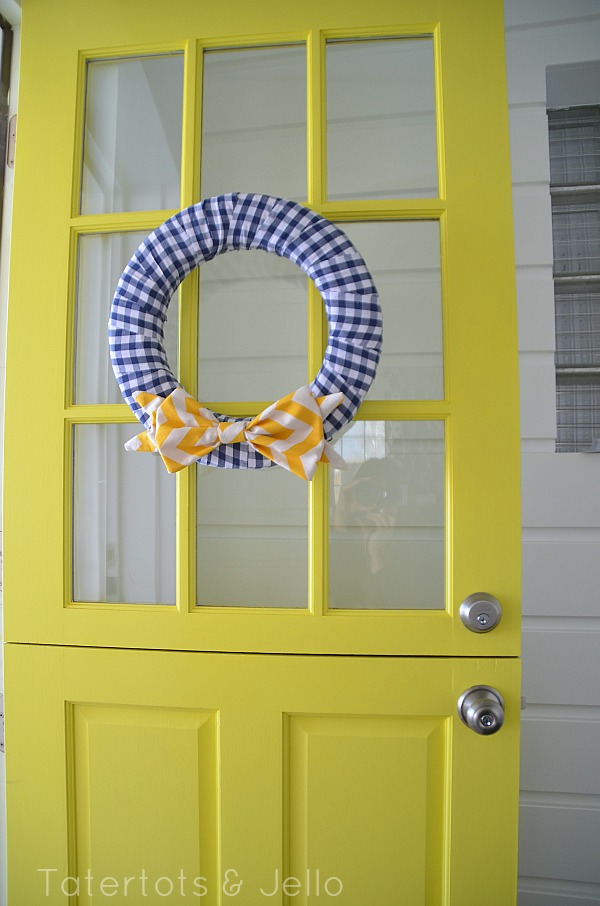 You may have noticed some of these projects over the past several months. I've been sneaking a few in here and there. (I've put them on this page if you want to see some.)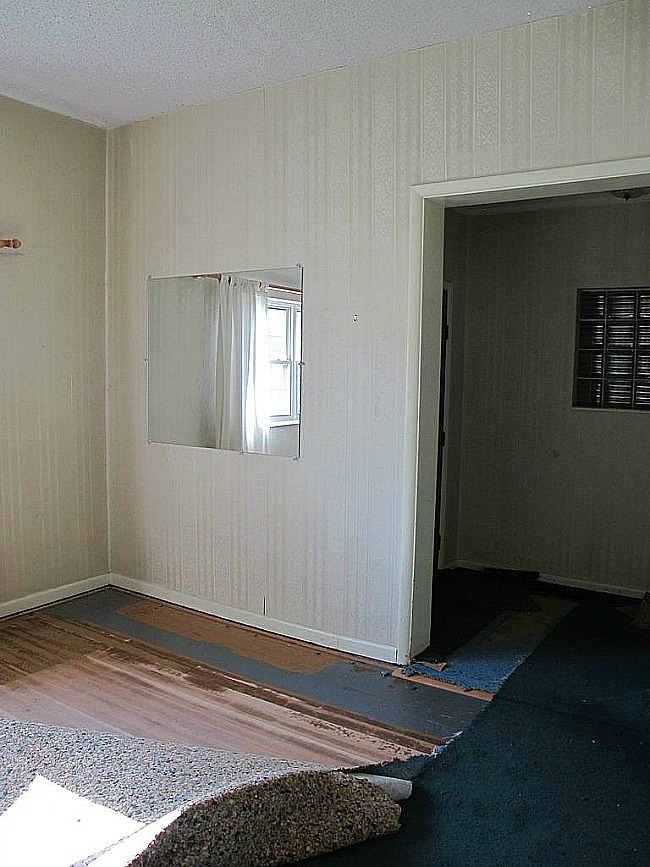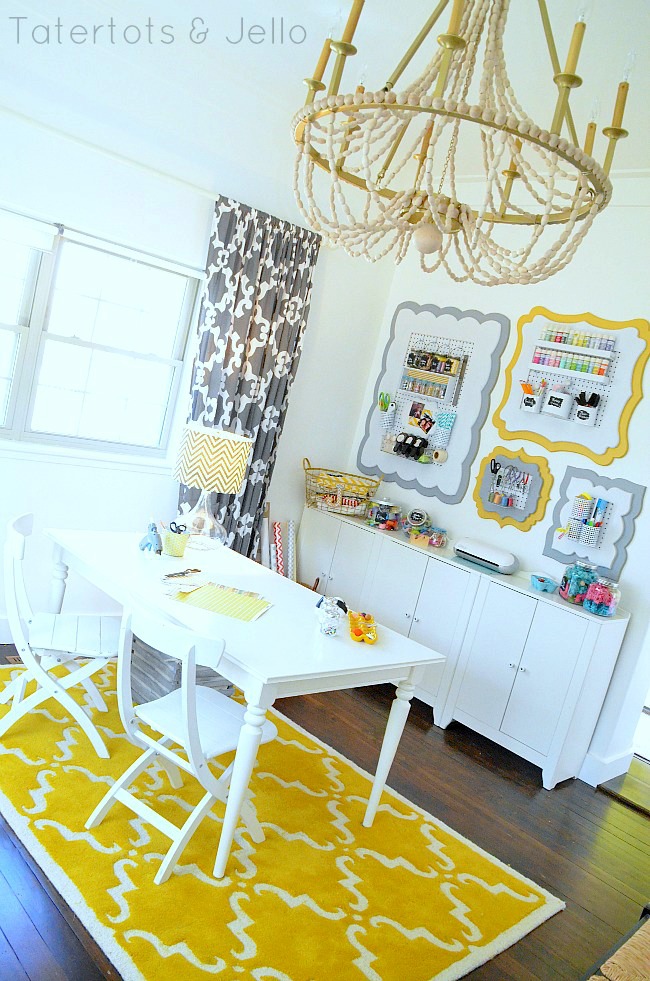 I also have a whole Pinterest Board — 1905 Cottage
It's dedicated to inspiration for projects I have done or am going to do with this space.
Check it out – there are tons of ideas for adding cottage charm to new OR old houses!!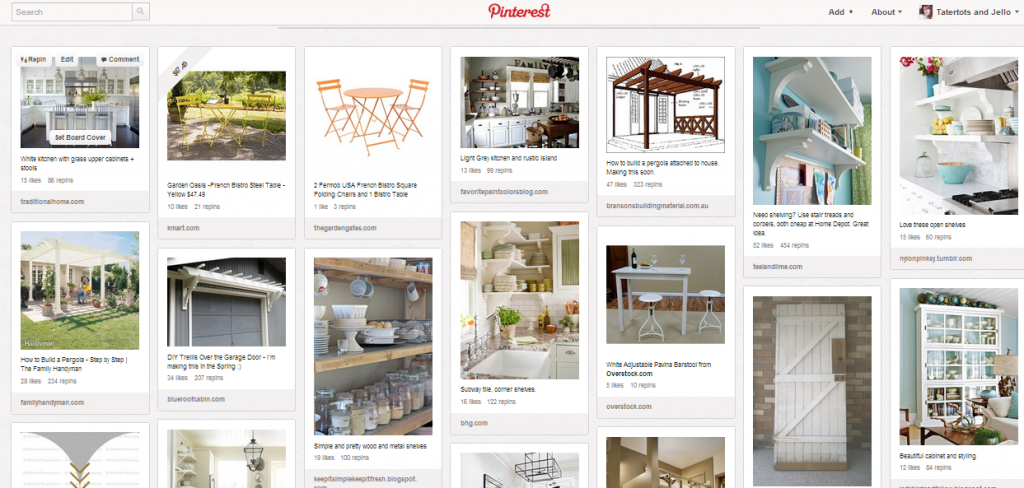 I am hoping to put the cottage on our city's historical register when I am done!
I hope YOU will follow along with me on this journey.
It really has been AMAZING so far and I am so excited to see what will happen next!!
And thanks to my husband, my family and friends who have been so incredibly supportive as I pursue this dream.
Have a Beautiful Day!
xoxo

PS — It's Friday!!
My favorite day of the week.
Tonight is the Weekend Wrap Up Party.
I love seeing and featuring YOUR ideas.
I hope you can stop by for the fun.
The party starts at 6 pm MST.