Fluffy cloud Slime is a softer, fluffier slime that kids will love to make. It only takes a few ingredients and provides hours of fun!
This post contains an affiliate link. Affiliate links add no cost to you and allow tatertots + jello to bring you free content and recipes. We hope you enjoy this kids craft!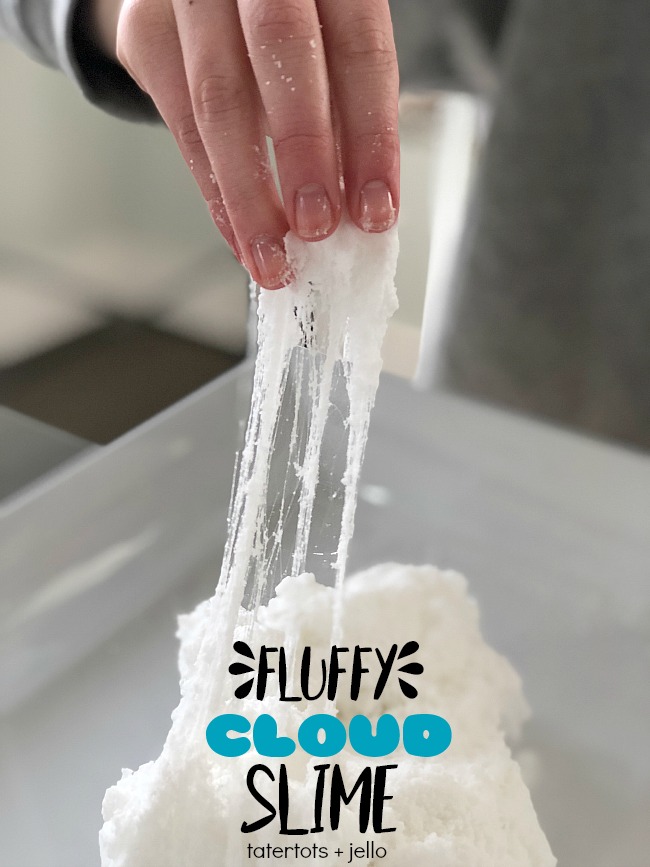 It's almost Spring! For some reason we love making slime in the Spring. Last year we shared our Safe Puffy Slime Recipe and we have made it SO much! Slime has been a great way for my kids to help with their anxiety. And my 10-year-old step-daughter loves slime too! We have been experimenting with some new slime ideas. Here's our latest favorite – Fluffy Cloud Slime.
And Fluffy Cloud Slime Activity is PERFECT to make during SPRING BREAK!!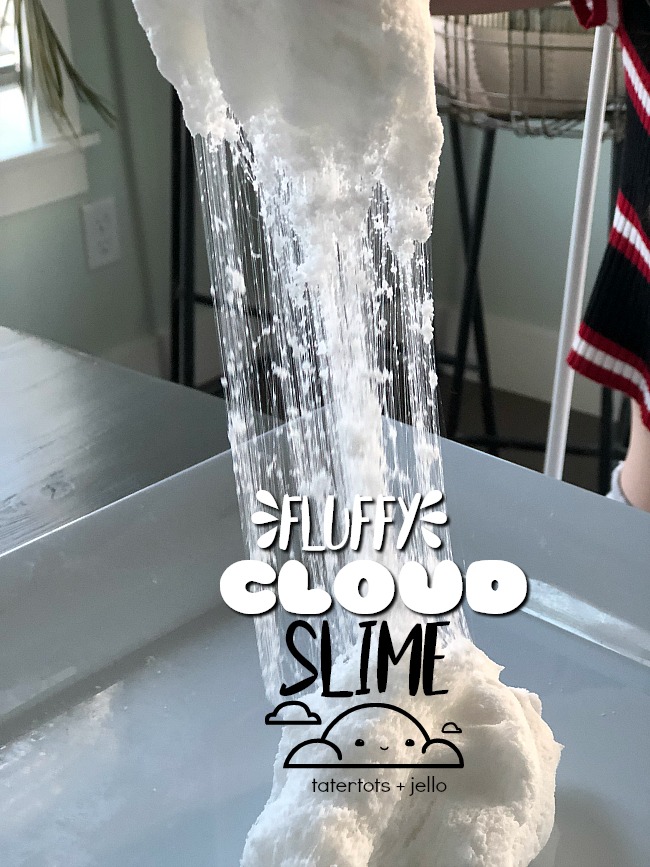 Fluffy Cloud Slime is So fluffy and pretty! It really looks like clouds. You can also add any color to your Cloud Slime if you want too! For this tutorial we made the clouds white, like real clouds.
Insta Snow is the Secret to Cloud Slime
The secret to making Cloud Slime is Insta Snow! Insta Snow is kind of magical and is fun to play with ALL by itself. It comes in a super small package – we ordered ours from Amazon. And don't worry – you might think this is never going to be enough to make anything, but the cool thing about Insta Snow is it EXPANDS! So you really only need a small amount. Of course we didn't know this when we were experimenting so we used WAY too much.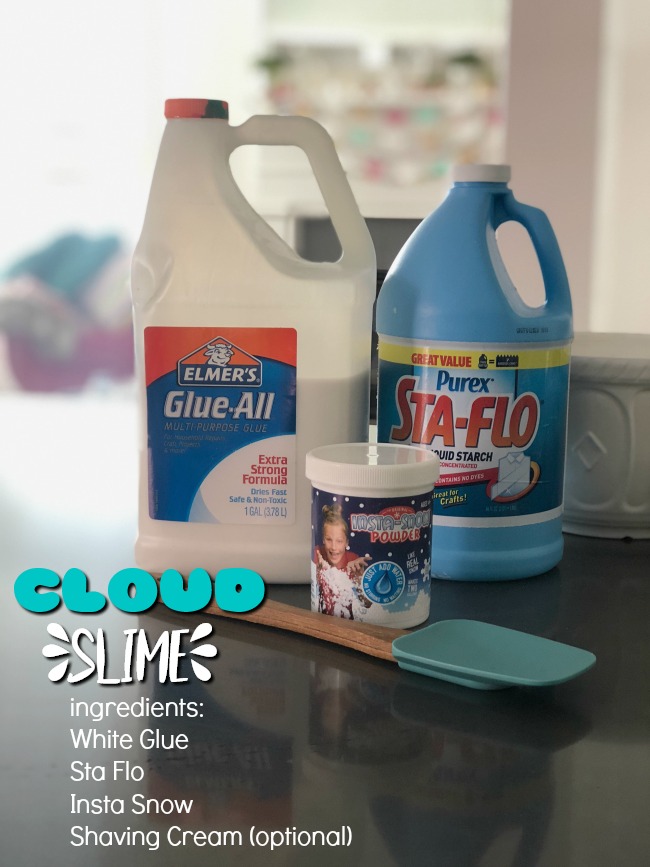 Buy Glue in Gallon Containers
We buy our glue on Amazon in gallons – it ends up being SO much cheaper and easier to buy it in bulk. You can use as much as you need, then put the lid on it and save it for another day. I have all of the links to the supplies at the bottom of the post.

Fluffy Slime is Easy to Make
You can see in the pictures that the Insta Snow we used filled up a whole bowl when it expanded and we only used about a cup of Insta Snow to begin with. I would say that the Insta Snow expands at least 4-5 times as it develops. So keep that in mind. You only need about 1 cup of Insta Snow total once it expands. So you only need to begin with 1/4 or 1/2 of a cup at the most before it expands. I hope that makes sense. We ended up having a lot of Insta Snow left over for more batches of Fluffy Cloud Slime.
Start By Making Puffy Slime
You start with our Puffy Slime Recipe. Just make the Safe Puffy Slime recipe like we showed in our tutorial from last Spring. Once you have the puffy slime all set up, make your Insta Snow in a separate container.
Make Insta Snow
Then all you do is mix the two together. Once it's pretty well mixed, transfer it to a hard surface and work the Insta Snow into the Puffy Slime mixture. It is a little messy until it is all incorporated together.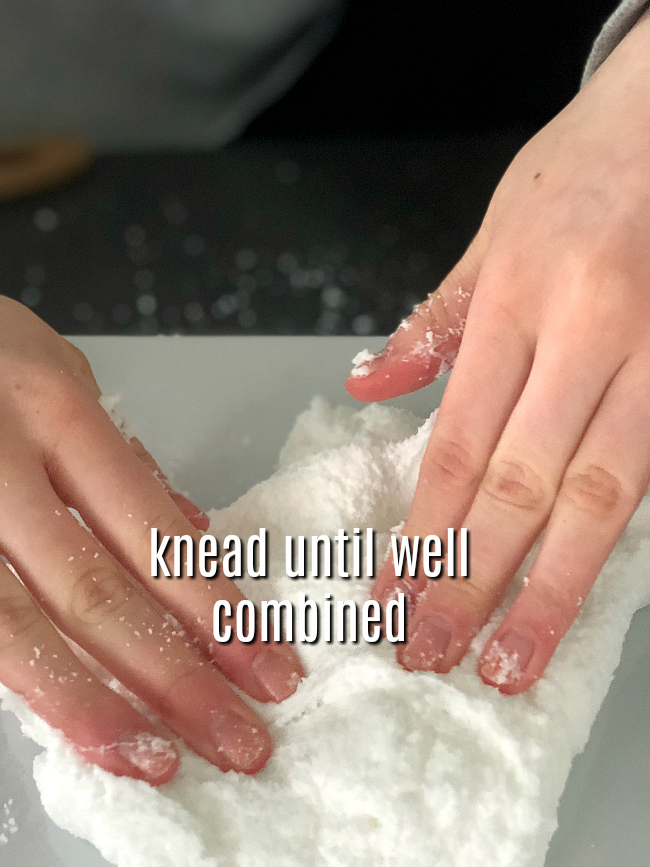 Combine Puffy Slime and Insta Snow
If the mixture seems sticky at the beginning, let it sit out for a few hours until it is a little less sticky and is the texture you want. Once the texture and stickiness is right make sure you keep the slime in a airtight container so it doesn't dry out.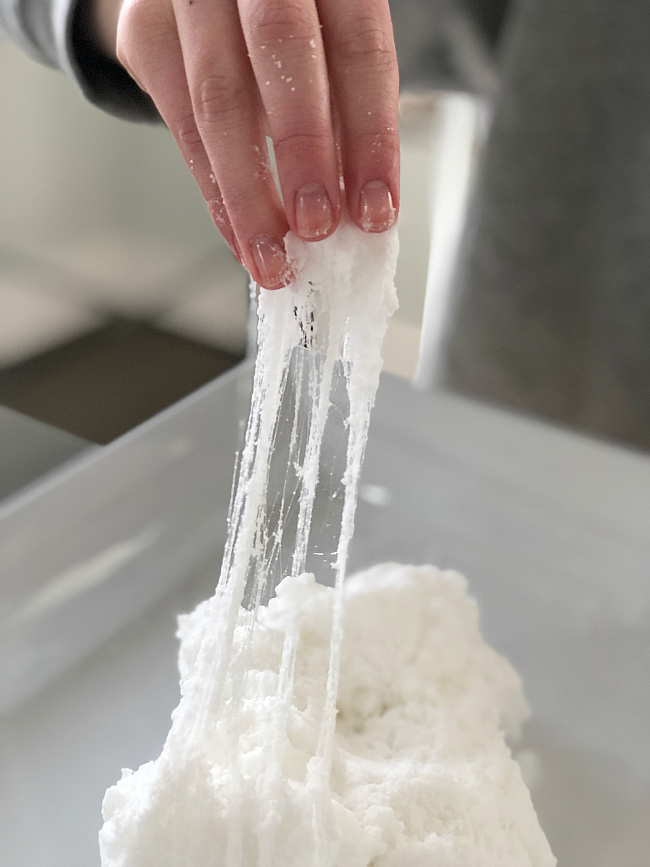 Printable Fluffy Cloud Slime Instructions
How to Make Fluffy Cloud Slime!
Recipe Type: kids craft
Cuisine: slime
Author:
Prep time:
Total time:
Serves: 1 big batch
How to Make Fluffy Cloud Slime – fluffier than traditional slime, Cloud Slime is light, fluffy and fun to play with! The secret ingredient is Insta Snow.
Ingredients
2 2/3 cups White Glue
1/3 cups of Insta Snow
2 cups Shaving Cream (optional)
2/3 cups Activator (I use Sta Flo because it's safer than Borax)
2/3 cups Water
Food Coloring (optional)
You can see all of the photos and more instructions on making the basic slime recipe – [b][url href="https://tatertotsandjello.com/2017/04/3-ingredient-safe-puffy-slime-recipe.html" target="_blank"]Safe Puffy Slime Recipe[/url][/b]. https://tatertotsandjello.com/2017/04/3-ingredient-safe-puffy-slime-recipe.html
Instructions
Put white glue in a medium bowl.
Add activator to slime, one tablespoon at a time, mixing after each to activate. Keep adding tablespoons of activator to slime mixture until the slime sticks together and not to the wooden spoon or whatever you are using to mix. Add food coloring now if you want to use it.
Put Insta Snow in a seperate medium bowl. Add HOT water to Insta Snow to activate. Fluff it up until it's fluffy.
Add slime to activated Insta Snow and combine well.
Once combined, put slime + Insta Snow slime on a hard surface and work the two together until totally incoporated.
Play with your FLUFFY CLOUD SLIME!
Fluffy Cloud Slime is a Fun Gift Idea
Fluffy Cloud Slime makes a fun gift too. Package it in little containers and your kids can give it to friends to play with.
How to Keep Slime From Getting Everywhere
Some people hate slime because it gets everywhere. Here are some ways to keep slime contained:
Have kids play with slime on a hard surface like a countertop or tray.
If the weather is good, have them play with slime outside.
Keep slime in a container with a lid.
After playing with slime, have kids wash their hands.
How to Keep Slime Fresh
I also make sure the slime is kept in air-tight containers that won't spill. They love playing with it and it's an inexpensive, soothing craft for them to make which brings out their creativity. So I say – go for it!
Slime Ingredients:
Make a Slime Container
And if your kids love to take their slime with them to show their friends. We made a Slime Playbox idea that's been fun! The only trick to this is ALWAYS keep the slime playbox on a flat surface. They love taking their slime to their friends where they can trade or combine slimes for new combinations!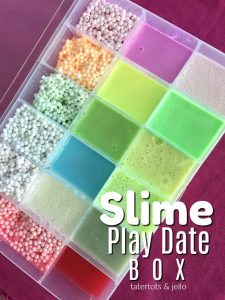 This is a little video I made showing how we made our Fluffy Cloud Slime:
More Slime Recipes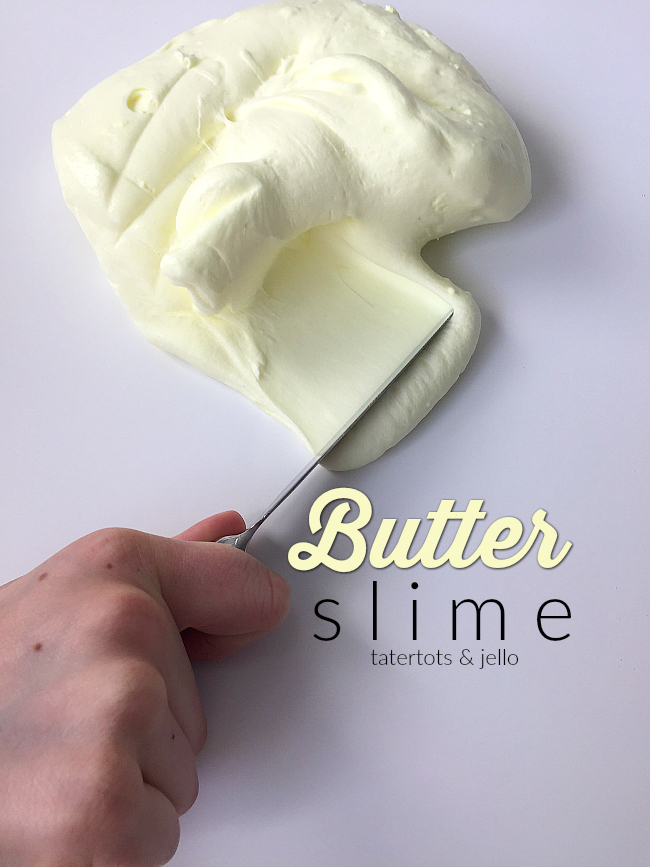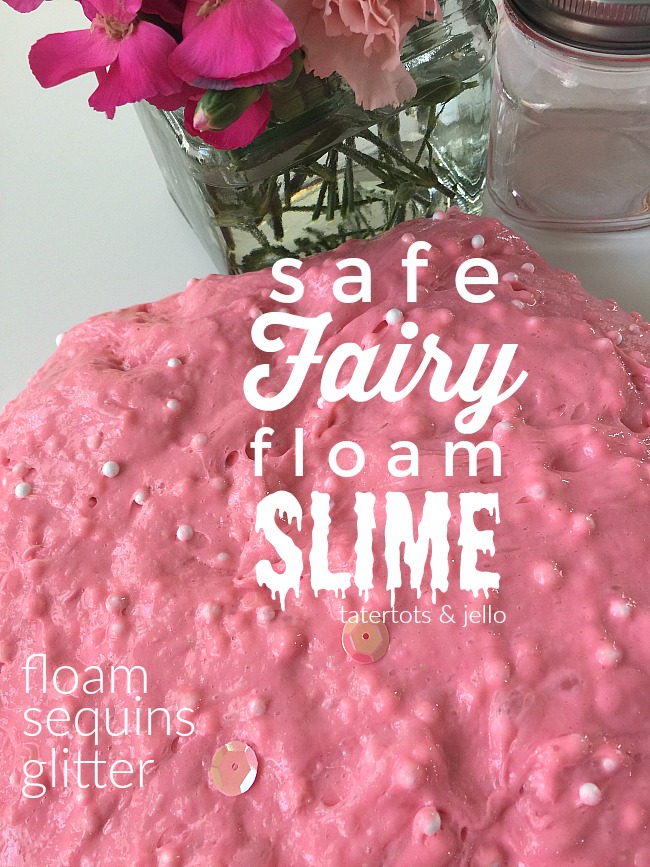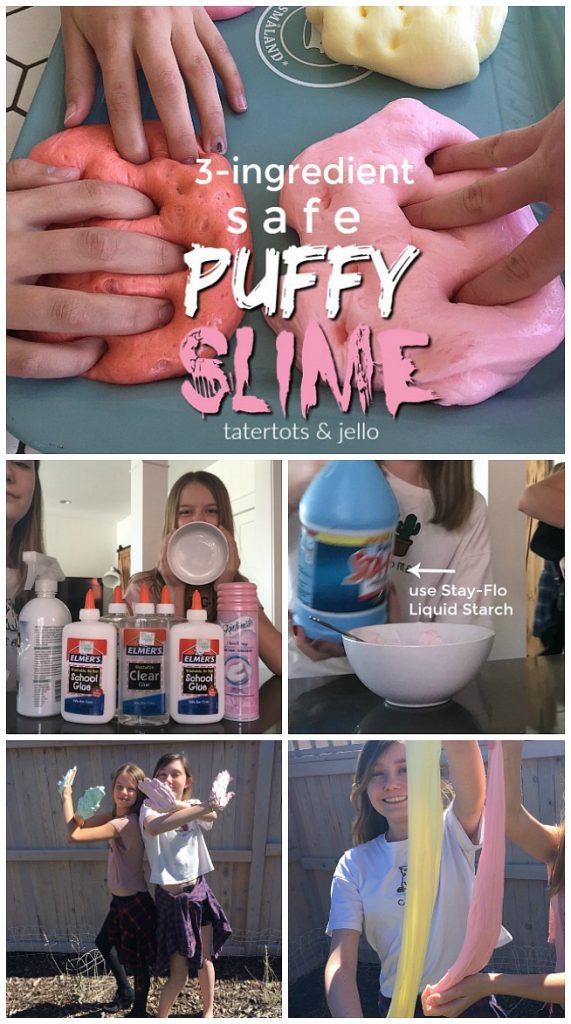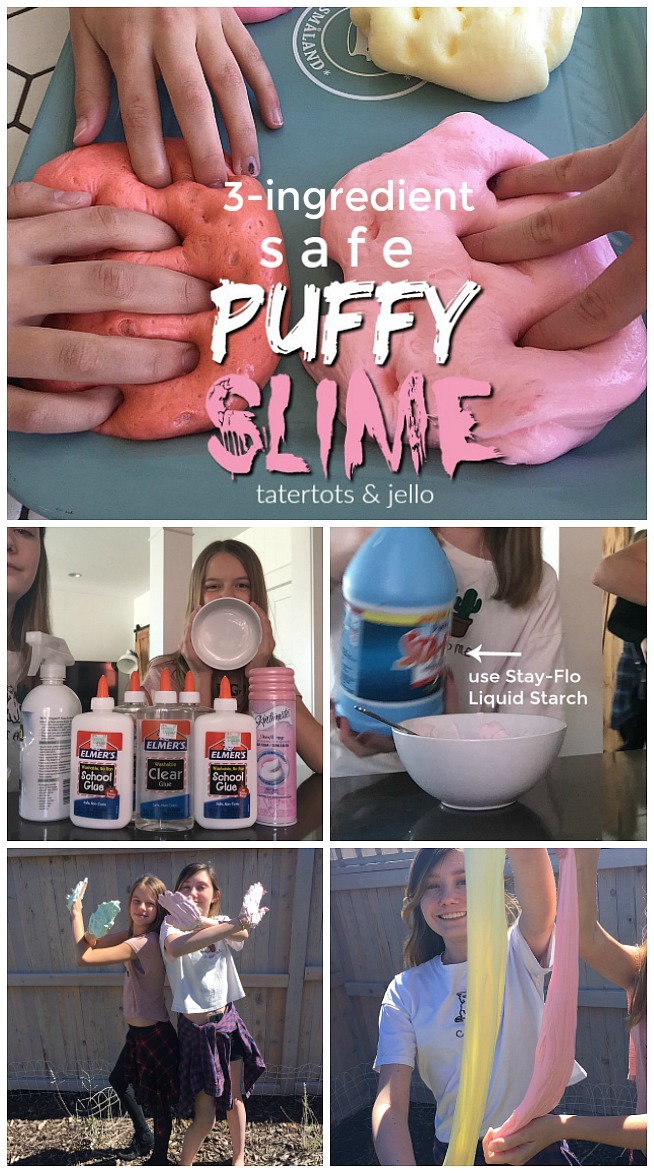 Have a FUN day!
xoxo